Passover dessert recipes that go beyond chocolate covered matzo! If you keep kosher for Passover, here are a handful of my favorite gluten-free recipes, all free of wheat and leavening for Pesach including my GF Chocolate Tahini Tart, pictured below!
Passover or Pesach celebrates the emancipation of the Jewish people from slavery. During the 8 days of Passover, Jews abstain from eating glutinous grains and yeasted baked goods to honor the time that our ancestors spent traversing the desert without time to stop and leaven bread. Instead, they combined flour and water into a crisp, unleavened flatbread called matzo or matzah, which is traditionally eaten during Passover in lieu of other bread products.
Despite the ban on flour and yeast, there are plenty of desserts to be enjoyed during this holiday besides chocolate covered matzo. I've compiled some favorite gluten-free passover dessert recipes from TBG archives here. There are nutty cakes, creamy custards and puddings, chocolatey treats, and raw/vegan/paleo pies and tarts.
Whether you celebrate Passover or not, I hope you'll enjoy these gluten-free Passover dessert recipes!
And if you're looking for a grain-free matzo-like substance, try these rustic cassava flour crackers, a reader favorite here at TBG.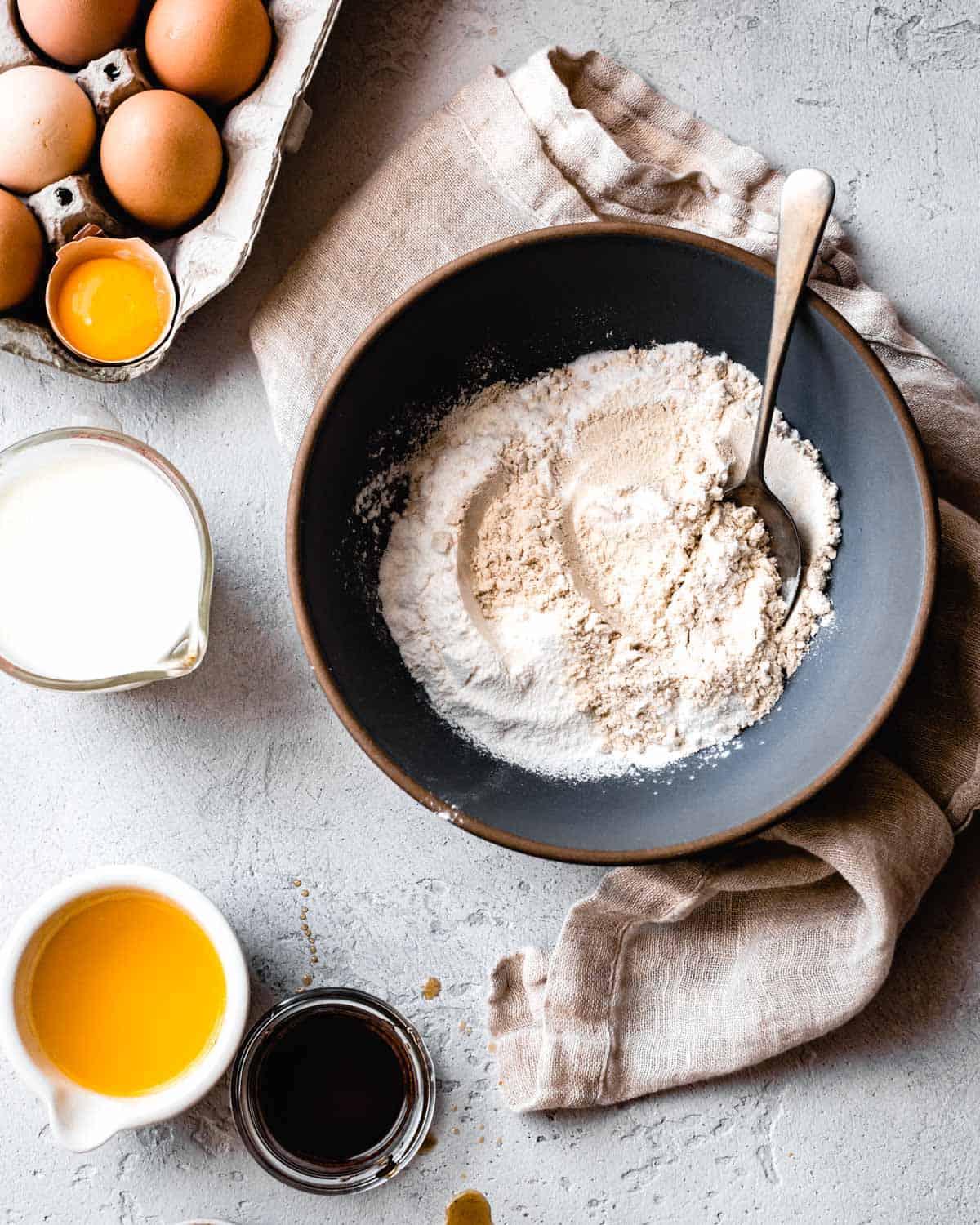 Which flours and ingredients are kosher for passover?
My family isn't particularly religious, so I learned a lot while researching this post! Namely that there is a quite a bit of gray area when it comes to deciding which foods are kosher for Passover.
Yeasted gluten-full grains, known as chametz, chamotz, or hametz, are clearly to be avoided. Some Jews clean their homes from top to bottom to remove every crumb, giving away or burning (!) any lingering bread products.
Some groups, particularly Ashkenazi Jews, also avoid kitinyot, or "little things" such as rice, corn, beans, and legumes that look similar to the forbidden grains. Sephardic Jews don't traditionally abstain from these ingredients.
Then there are chemical leavenings like baking soda, baking powder, and cream of tartar. My mom feels strongly that these are not kosher for Passover, since the "spirit of the law" is to avoid leavened baked goods and these chemical leavenings are a kind of newfangled loophole. But a New York Times article entitled "It's Passover - Lighten up!" says that these *are* kosher for Passover, as long as you source certified kosher brands. The rabbi interviewed said, "They're just minerals. What do we care about minerals?"
Many traditional passover recipes call for matzo meal in place of wheat flour, but other gluten-free and grain-free flours are kosher too.
Not kosher for Passover:
wheat and other wheat-hybrid grains
barley
rye
spelt
kamut
oats
leavening (yeast and sourdough)
beer and spirits made from these grains
Kosher for Passover:
millet
teff flour (brown or ivory)
buckwheat
amaranth
quinoa
coconut
almond flour / meal
hazelnut flour / meal
chestnut flour
mesquite flour
matzo meal
wine and non-grain spirits such as rum, tequila, and brandy
non-grain fermented foods such as cheese and yogurt
It's complicated (some Jews include these in their Passover victuals while others abstain):
rice (grain, flour, and rice bran oil)
corn (including cornstarch in ingredients such as baking powder and powdered sugar)
chickpeas, lentils, and other legumes and their flours
peanuts and peanut oil
dairy (kosher if the rest of the meal is vegetarian or pescatarian)
chemical leavening such as baking soda, baking powder, and cream of tartar (technically kosher as far as I can tell, but some folks abstain from these)
I've included recipes that use the above "gray area" ingredients, so if you prefer to abstain from these, feel free to swap ingredients, or ask me about substitution suggestions in the comments, or via DM or email.
Cakes & Quickbreads
Trade the small amount of rice flour for cassava or tapioca flour and omit the cream of tartar and you'll have a perfectly Passover dessert.
Adapted from Claudia Fleming via Alice Medrich's Pure Dessert, this cake tastes like a chocolate pistachio macaron in cake form. It's a great way to use up egg whites left over from making ice cream or creme brulee.
Hazelnut flour meets flourless chocolate cake for a Nutella vibe. I created this recipe for GFF Magazine a few years back and it's still a favorite.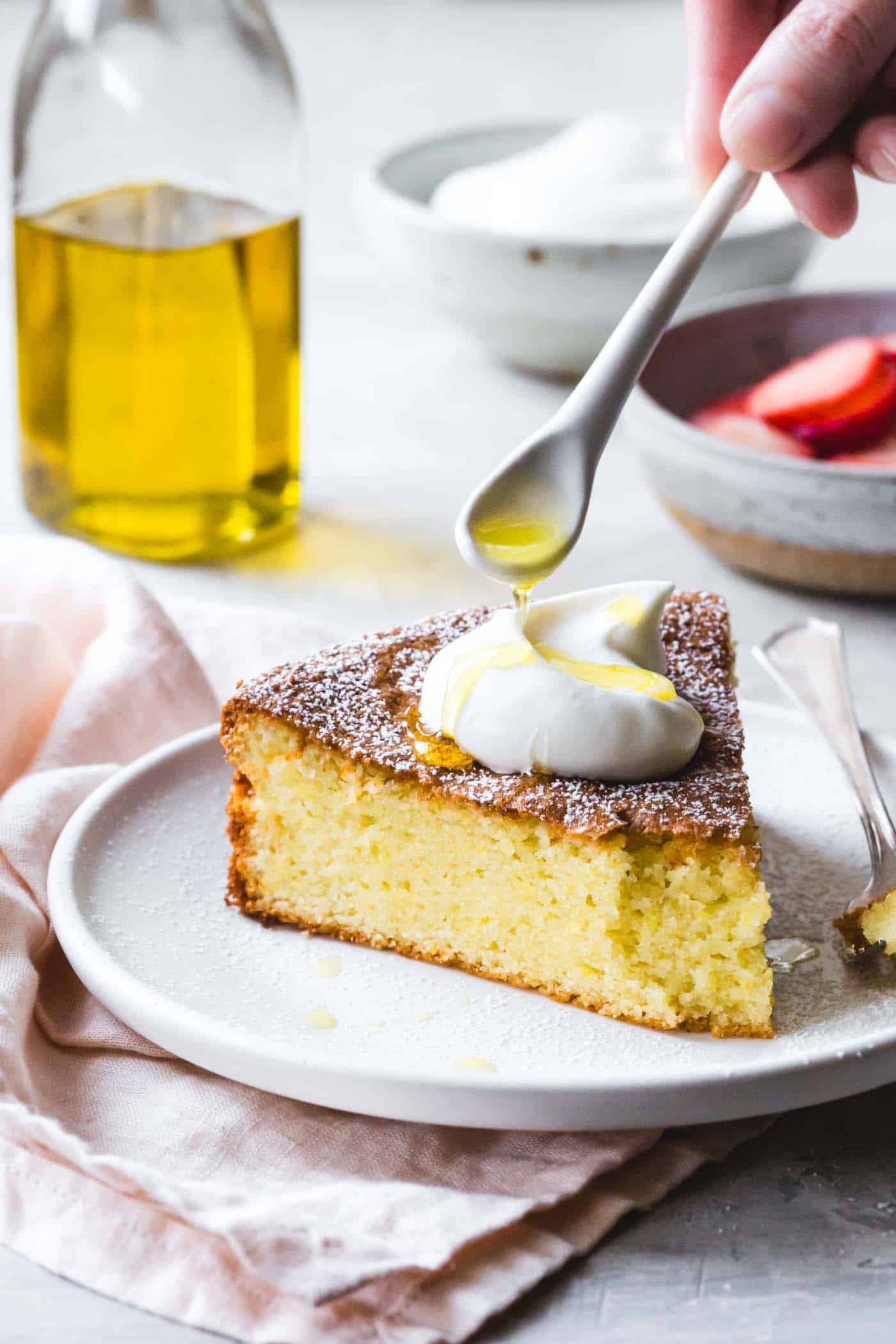 Omit the baking powder and cream of tartar if you like, and you'll still have a light and springy cake, thanks to whipped egg whites. A reader favorite!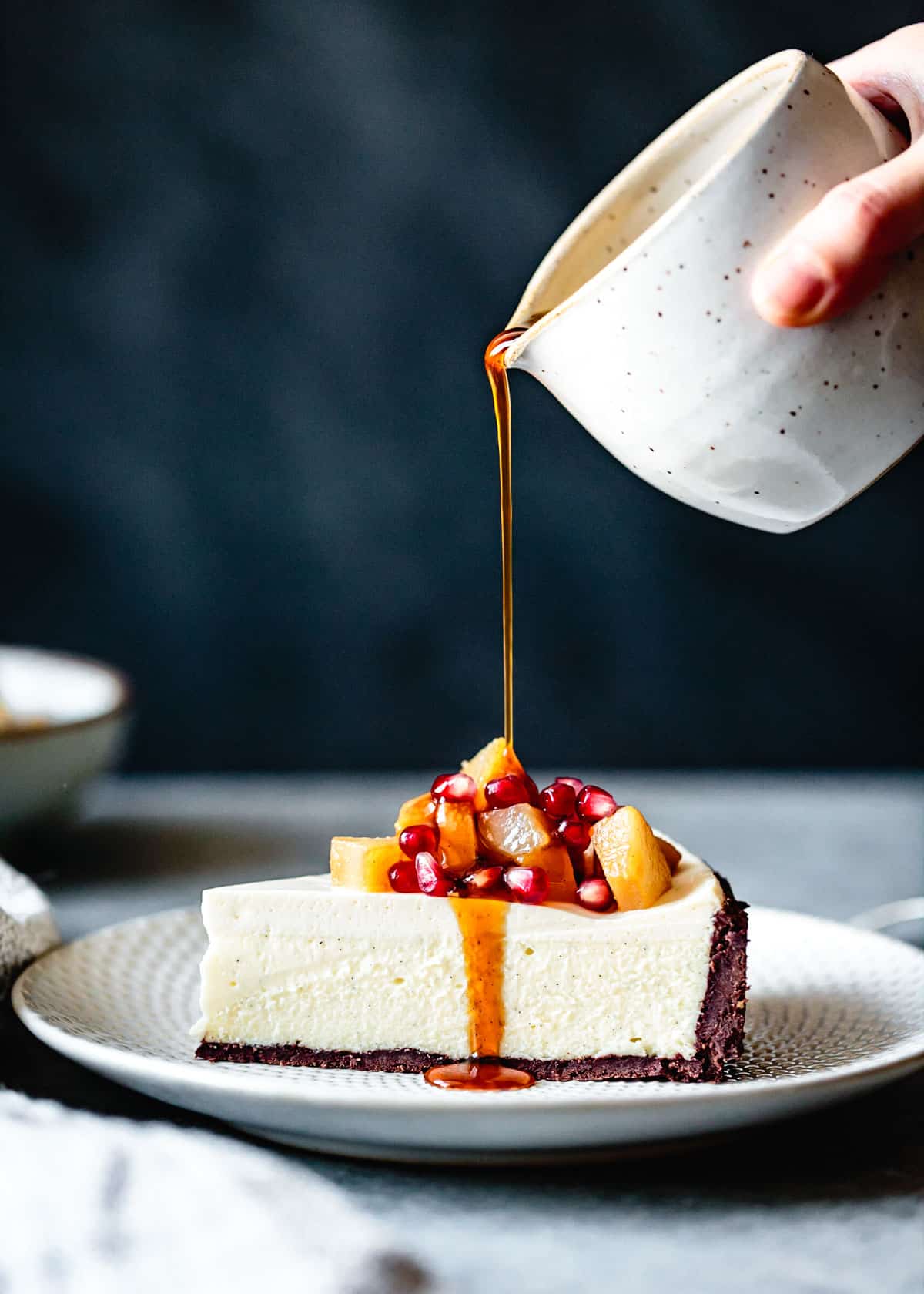 Use cassava flour instead of rice flour in the crust and revel in the subtle tang that vanilla-flecked fresh goat cheese lends to this beauty. Serve it plain, with fresh spring berries, or make the earl grey poached pears in the recipe.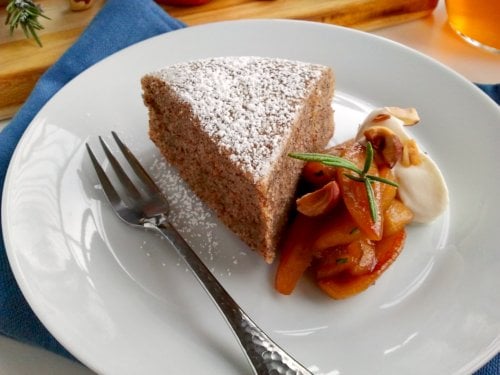 Don't let my funny photo from c. 2010 fool you – this cake is crazy flavorful and delicious thanks to vanilla bean browned butter, earthy buckwheat flour, and toasted hazelnuts. Or try this chocolate hazelnut cake instead.
Vegan and grain-free, this zucchini bread gets loads of flavor from sesame tahini and gooey chocolate chunks. Contains chemical leavenings.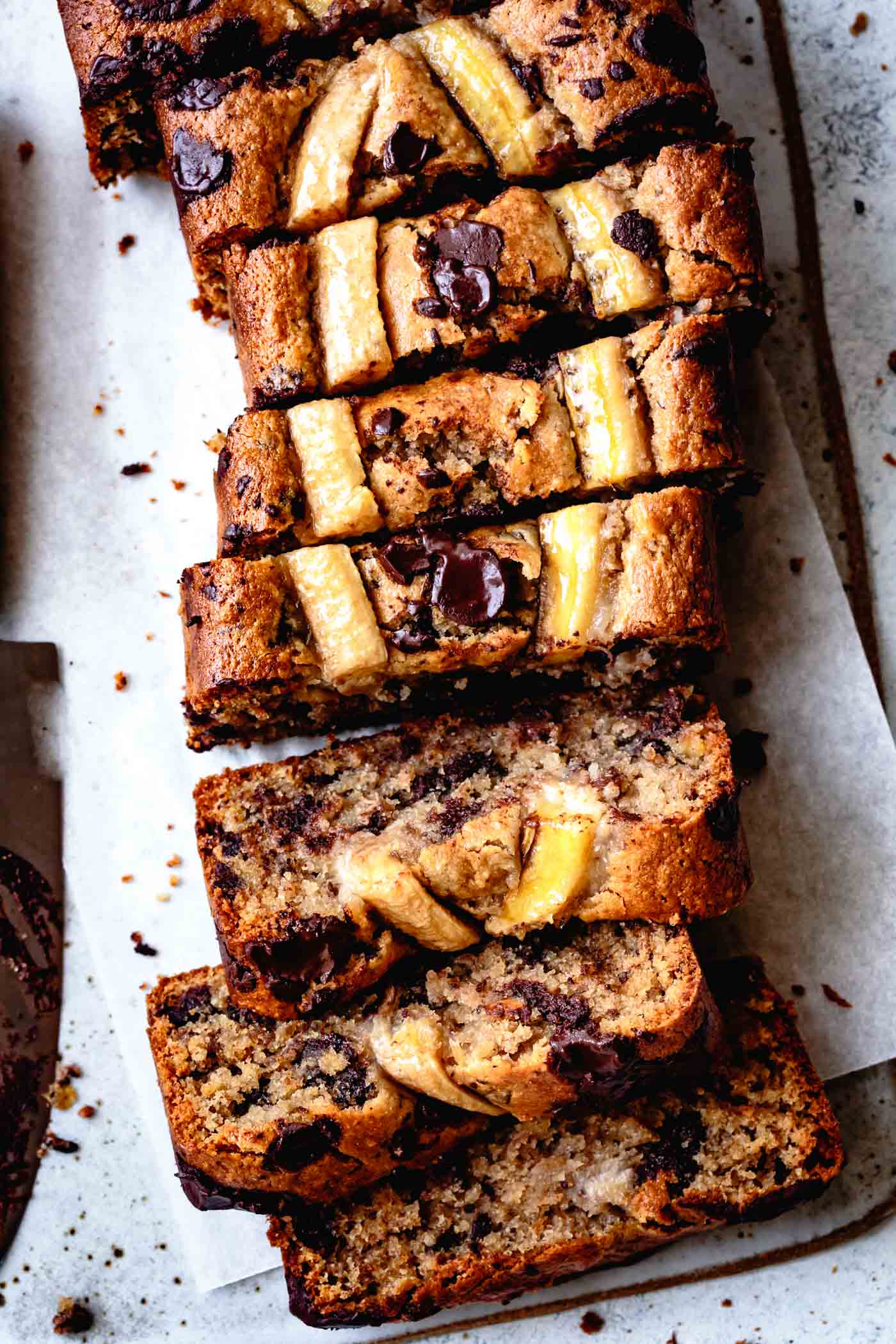 This tender banana bread tastes close to classic despite being maple-sweetened and free of grains, dairy, eggs, and refined sugar. Contains chemical leavenings.
Make the paleo version of this cake using cassava and coconut flours, and you'll have a gluten-free carrot cake fit for guests on Passover and Easter alike.
Pies, Tarts & Fruit Desserts
See this page for more pies, tarts, and galettes.
Swap the sweet rice flour for cassava flour and the oat flour for chestnut, millet, or sorghum flour and make any sweet tart you like – lemon, lime, blood orange, raspberry mascarpone, apricot, or rhubarb.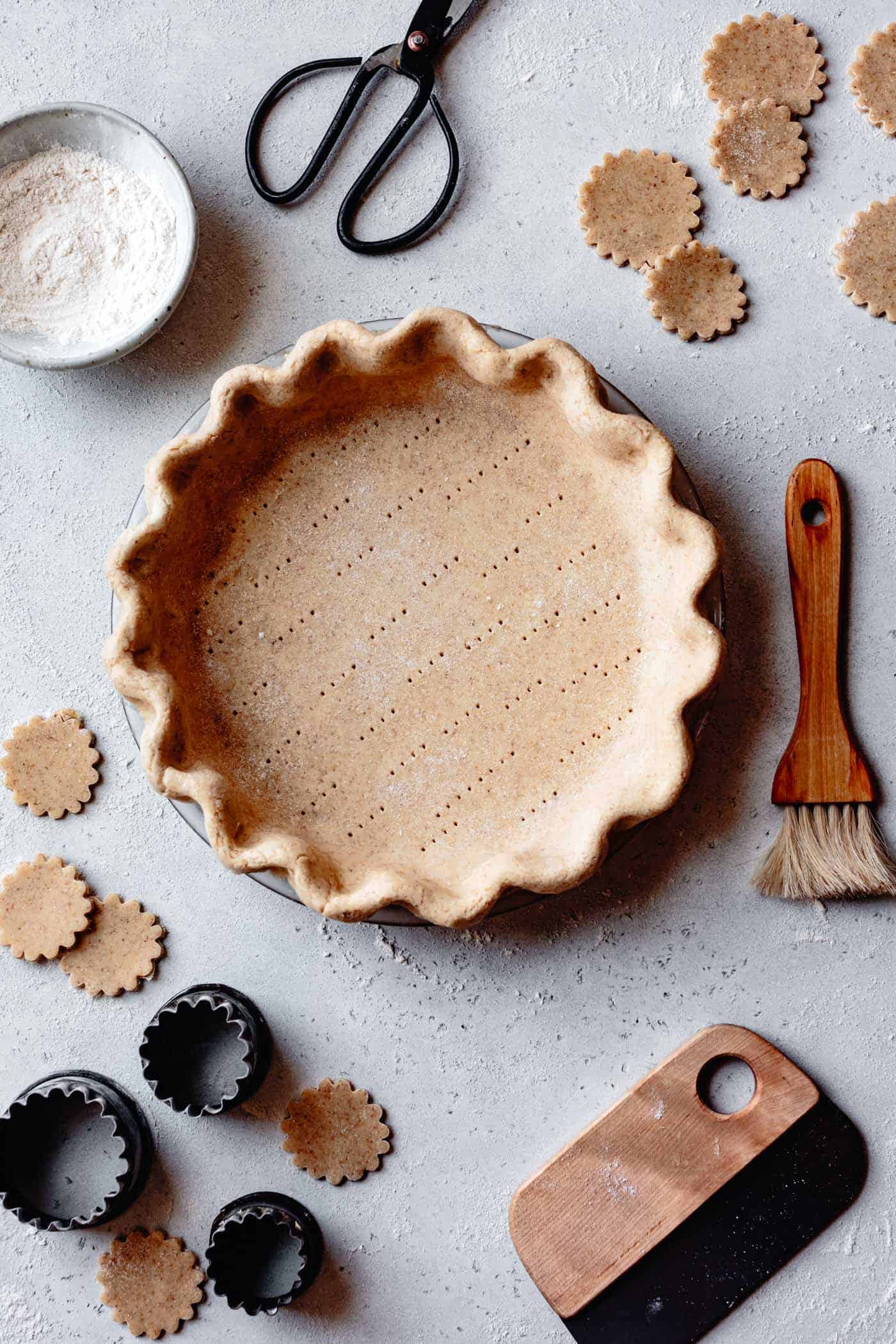 You'd never guess this flaky AF pie crust is completely gluten- and grain-free! Cassava, almond, and tapioca flours make it smooth and easy to work with. Use it to make any favorite seasonal fruit pie, pecan pie, galette, rustic tart, pandowdy, or gluten-free quiche.
Buttery caramelized apples meet crisp grain-free pie crust in this take on the French classic. Make this recipe using my paleo pie crust for a kosher Passover dessert.
With a press-in macadamia coconut crust, creamy cashew-lime filling, and dollops of coconut yogurt on top, this vibrant tart makes a stunning end to any supper. The crust tastes like the most divine macaroons!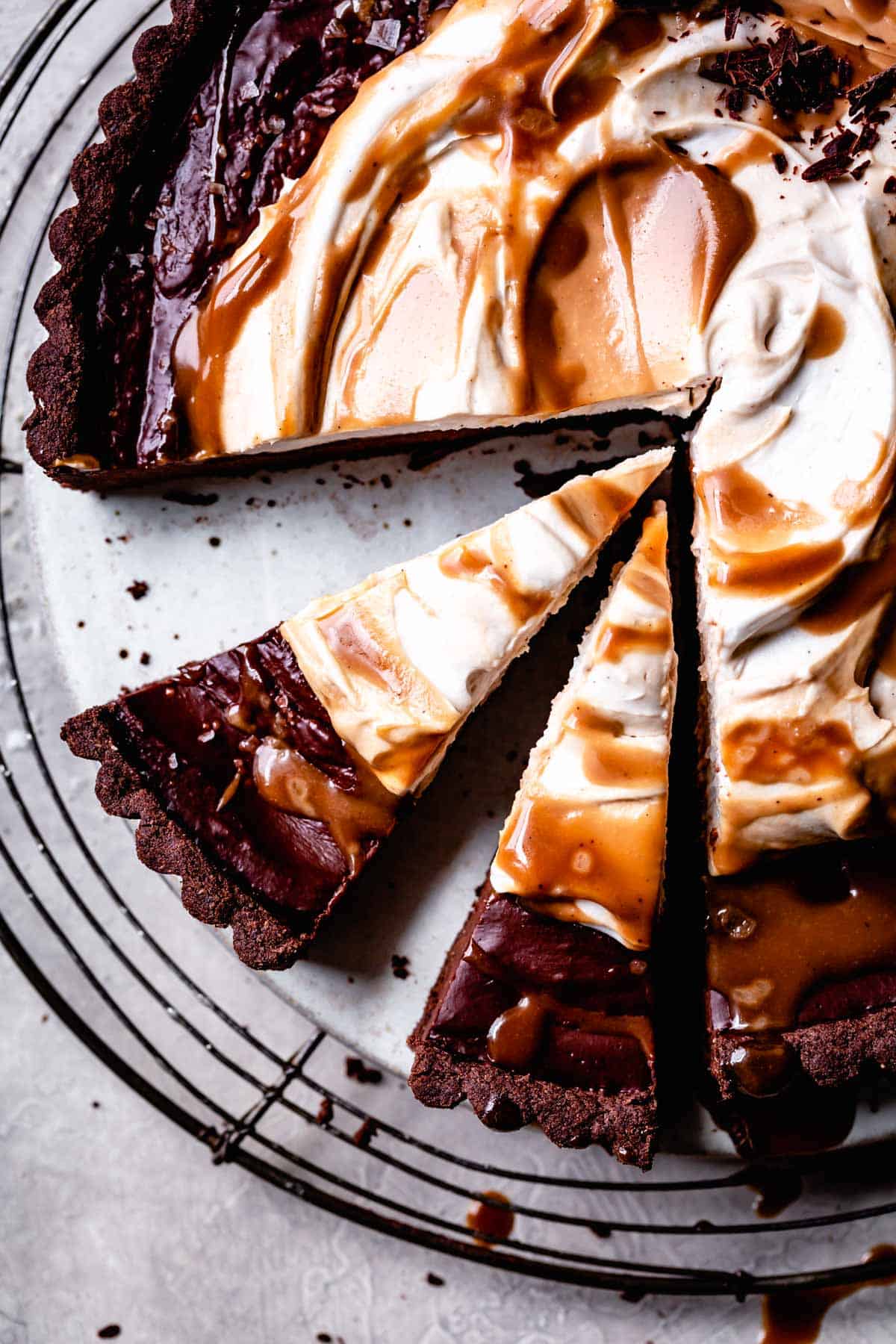 This reader-favorite recipe combines a cocoa-almond crust, chocolate tahini filling, coconut whip, and vegan caramel sauce. An over-the-top dessert for chocolate lovers only.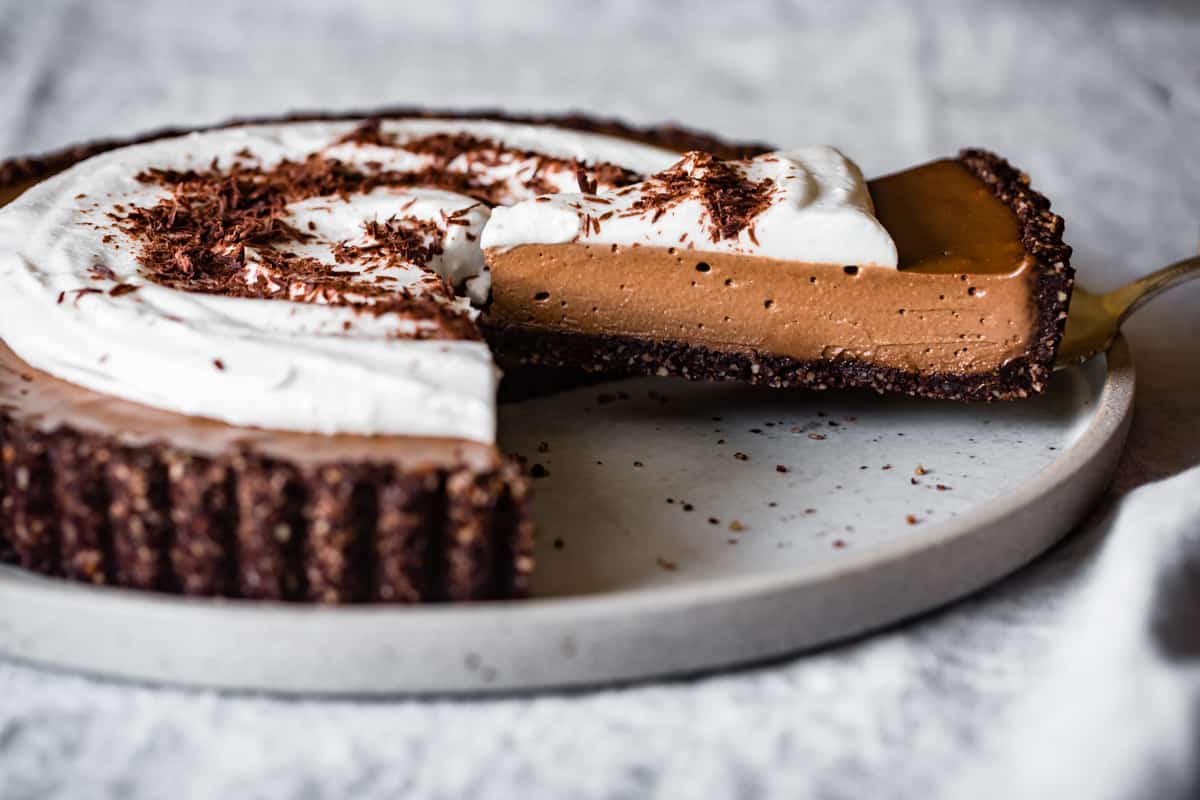 This vegan and paleo-friendly dessert looks impressive but it comes together in under an hour, no baking required.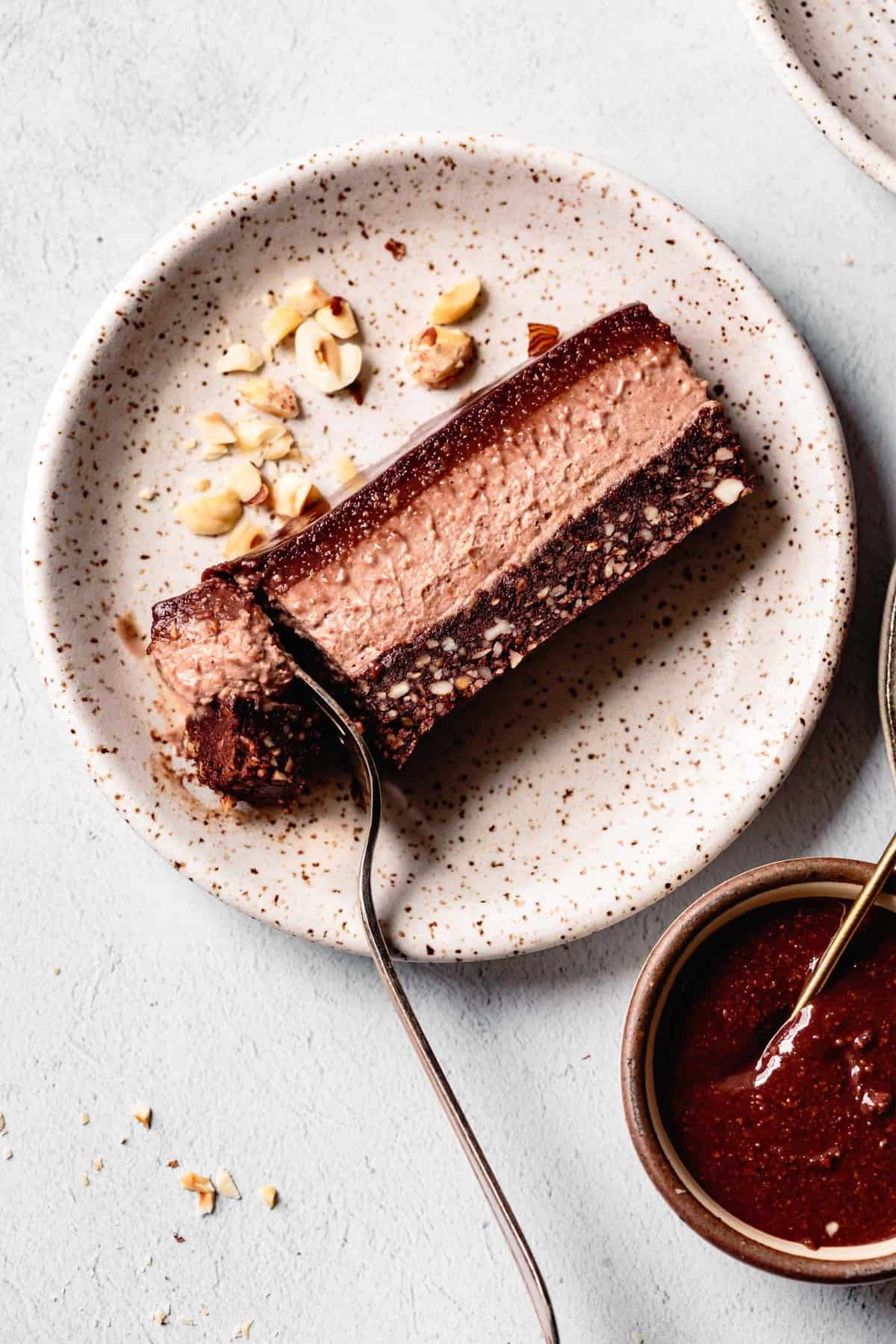 For chocolate hazelnut lovers only! This gf chocolate treat combines a press-in cocoa crust, mousse-like filling, and ganache topping for layers of chocolate hazelnut love.
A reader favorite, this luscious lemon dessert combines a nutty coconut crust with creamy lemon cashew filling.
See more Healthy No-Bake Desserts here!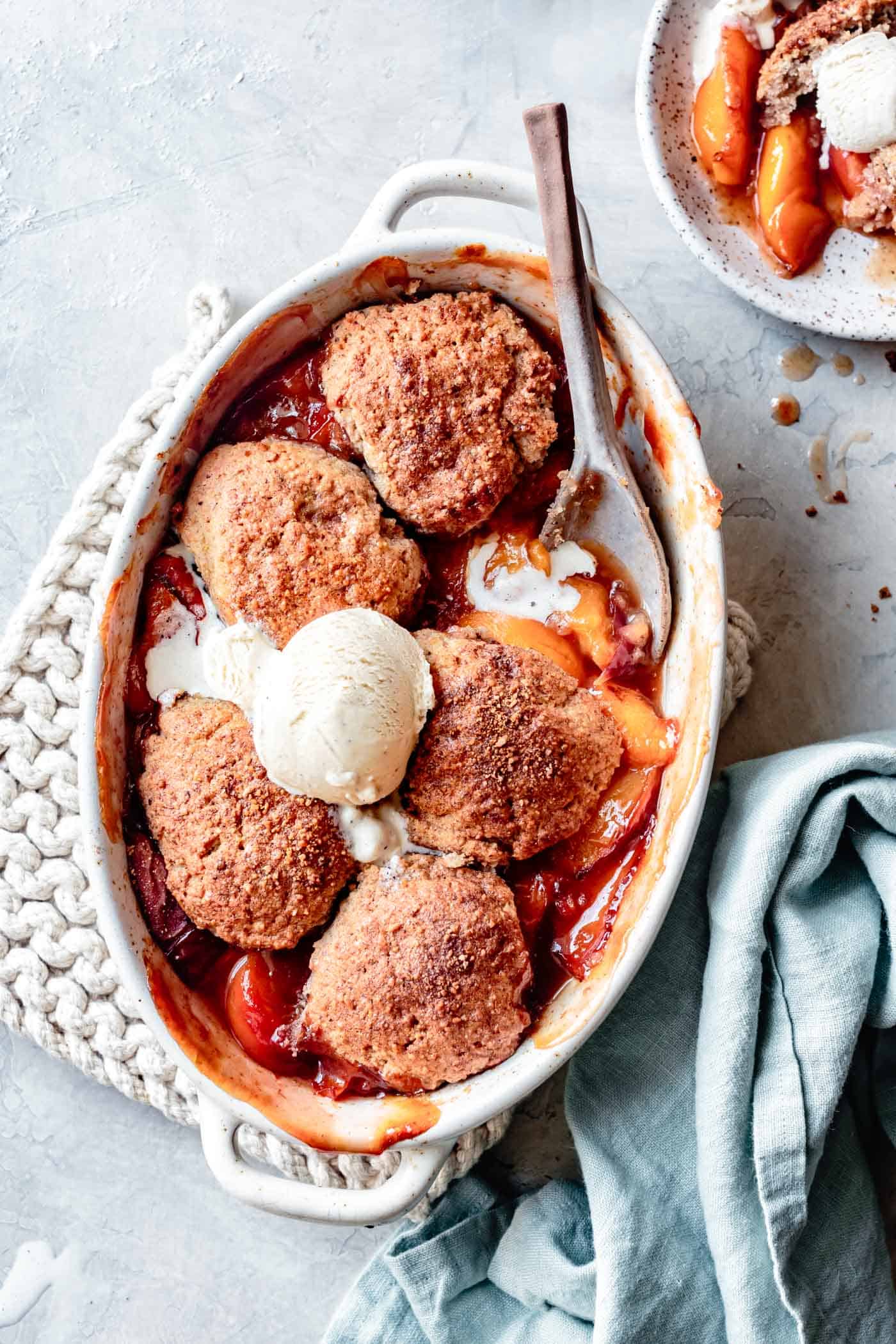 Top seasonal fruit with fluffy grain-free biscuits and vegan ice cream for a delightful Passover dessert. Contains chemical leavening.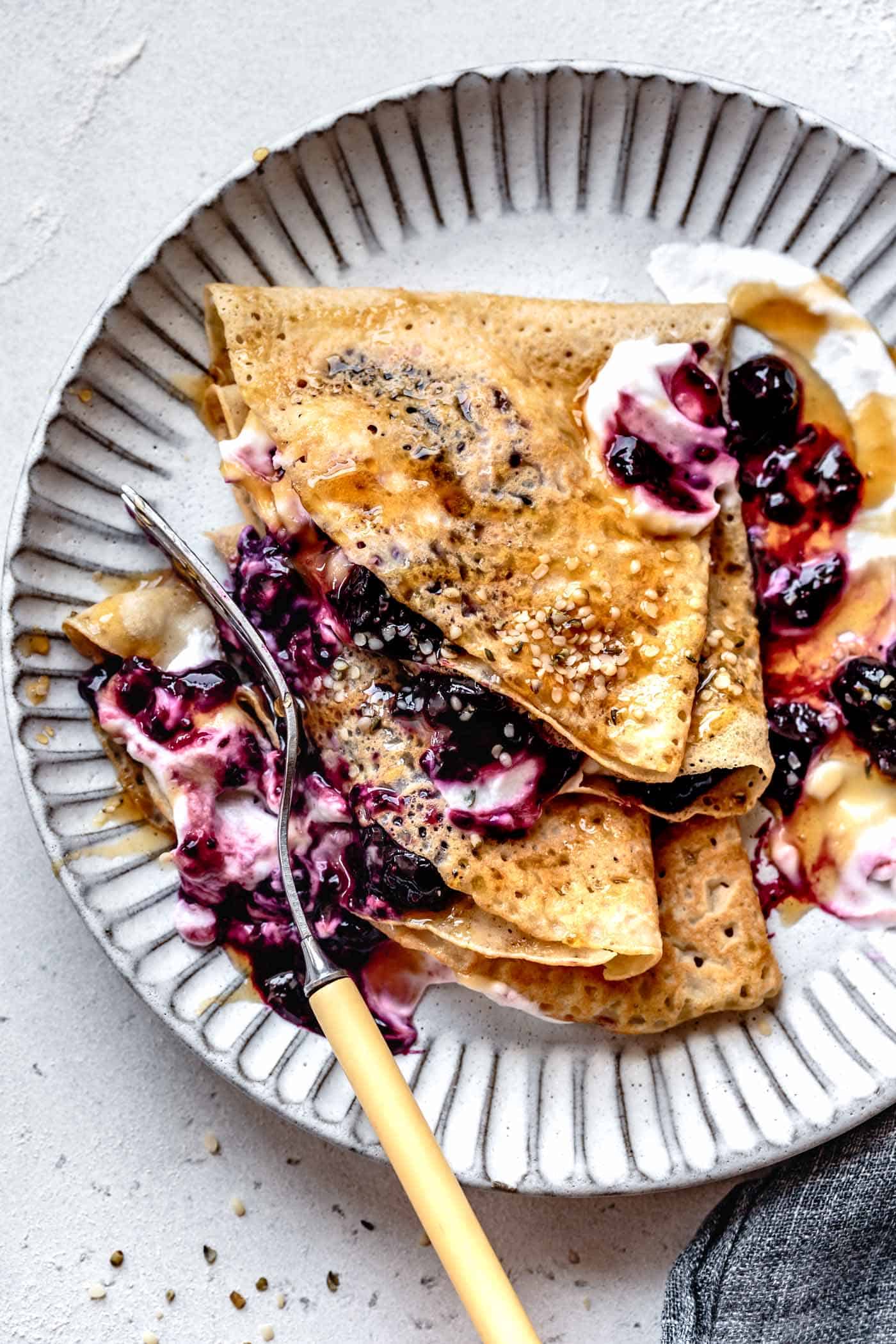 These lacy grain-free dairy-free crepes can swing sweet or savory. Top them with berry compote and coconut yogurt, or try my crepe hack with chocolate hazelnut spread and bananas. You might also like these fluffy almond flour pancakes.
Custards, Puddings, and Spoonable Sweets
If you abstain from corn during Passover, trade the cornstarch in the applicable recipes for tapioca or arrowroot starch. The texture will be a bit more loose and sticky.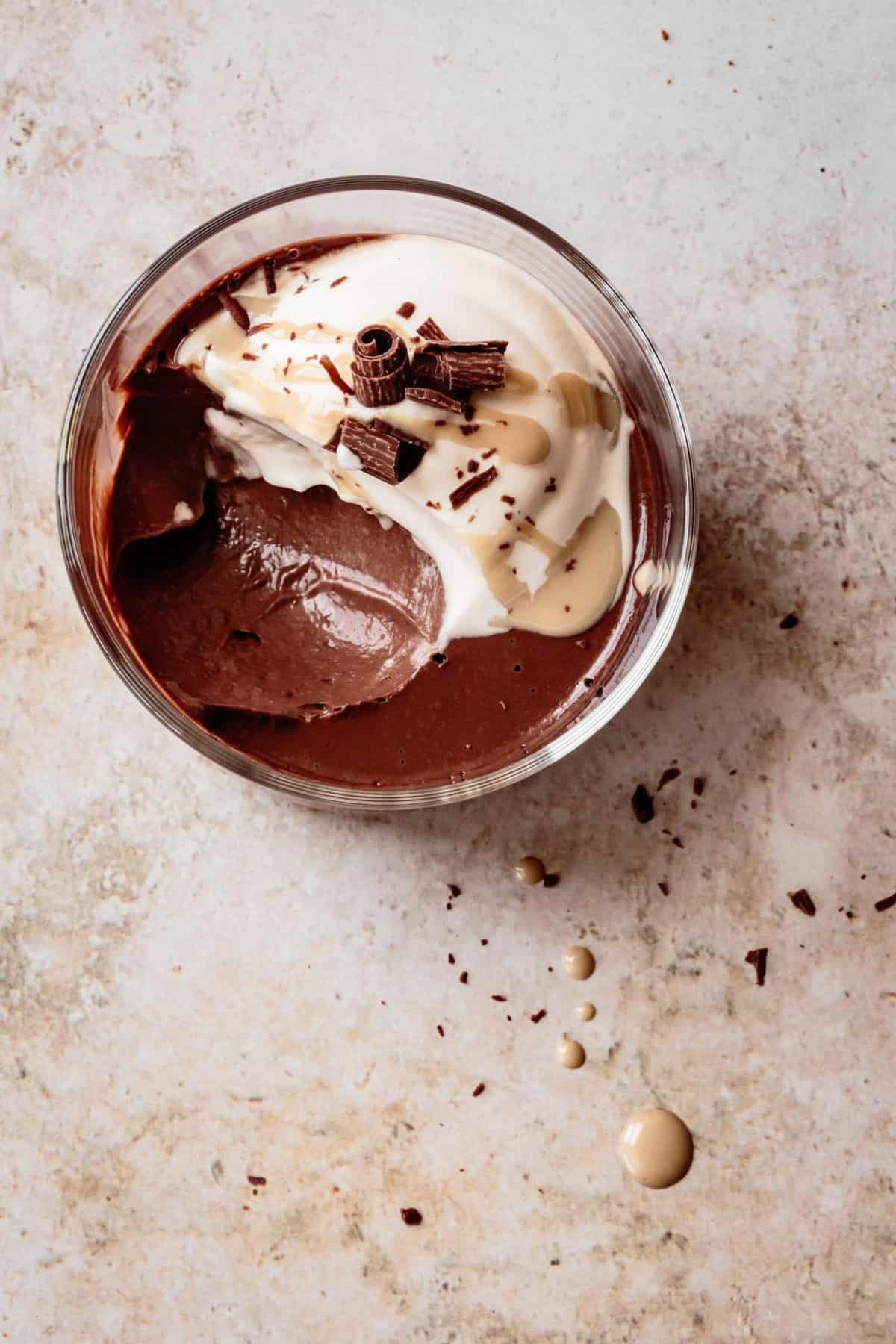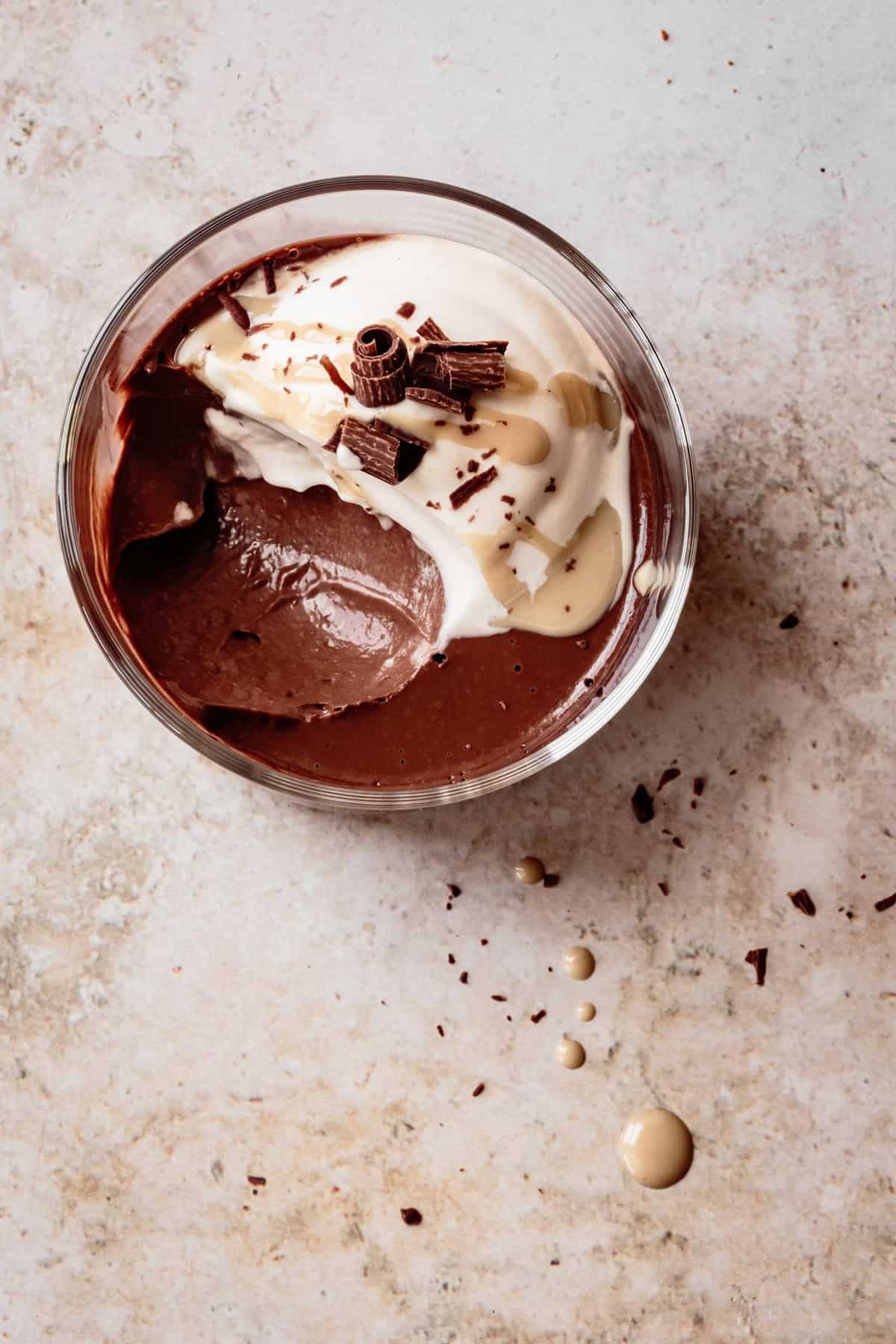 The easiest vegan paleo chocolate pudding you will ever make with just 4 main pantry ingredients and 5 minutes of active time. No cooking required! Maple-sweetened and naturally free of gluten, dairy, eggs, sugar, and nuts.
Simply the best, adapted from my friend Janet in her book Extra Helping. Or try my favorite vegan chocolate tapioca pudding.
Easy stove-top custards, rich with bittersweet chocolate, topped with a drizzle of good olive oil and flaky salt. Or try this dairy-free chocolate coconut pot de creme.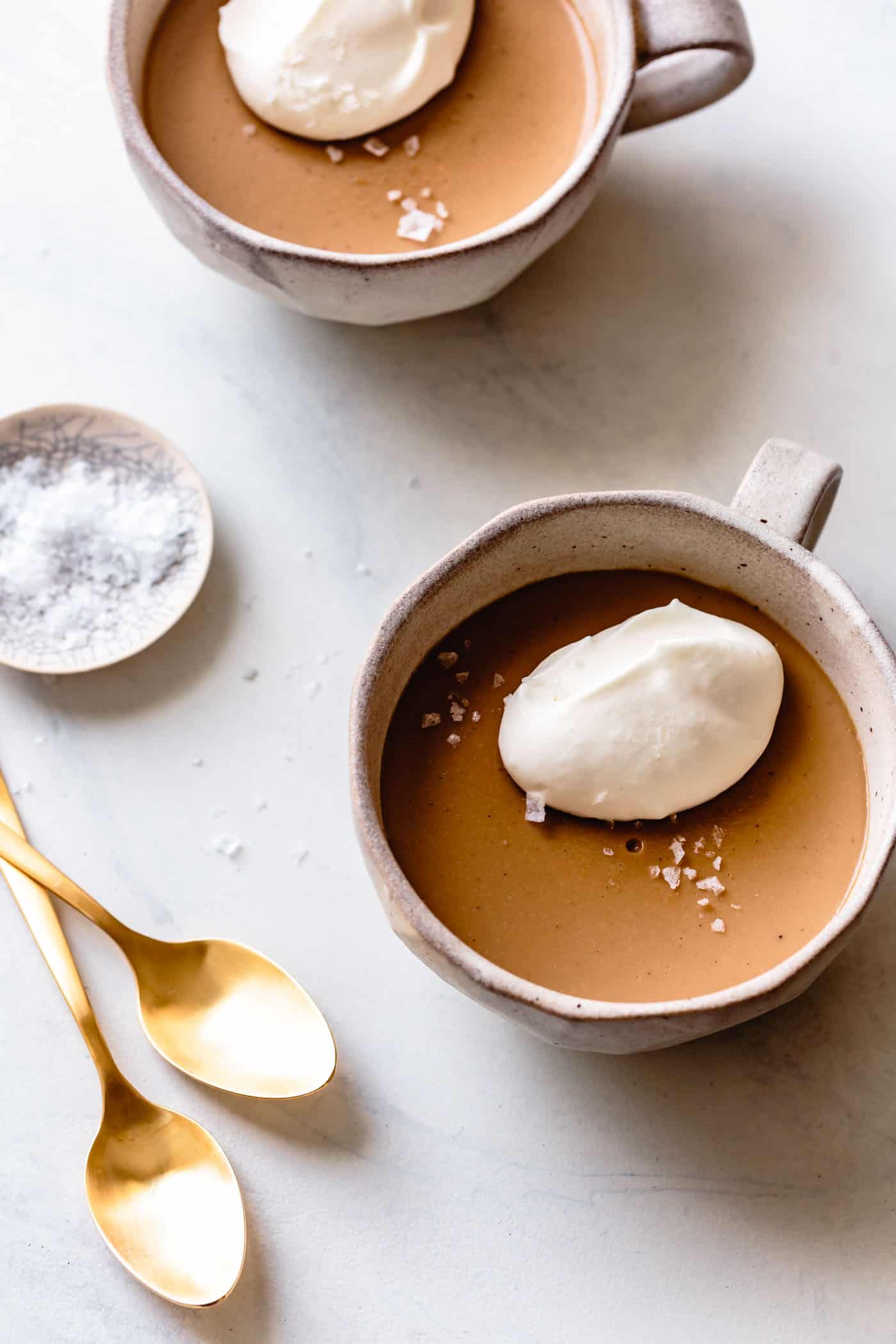 These easy, addictive puddings brim with brown sugar, vanilla, and a hit of flaky salt.
Crisp meringues meet softly whipped cream and fresh fruit for a bright spring dessert. Use frozen cherries, or swap them for strawberry rhubarb compote or poached rhubarb.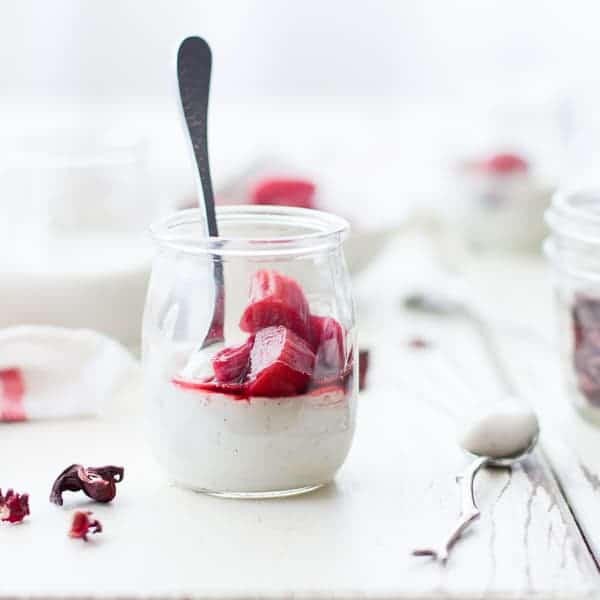 Naturally vegan and gluten-free, this traditional Hawaiian pudding is made with coconut milk, sugar, vanilla, and cornstarch (or use tapioca or arrowroot if you prefer). Hibiscus gives the rhubarb a vibrant hue and sweet-tart flavor.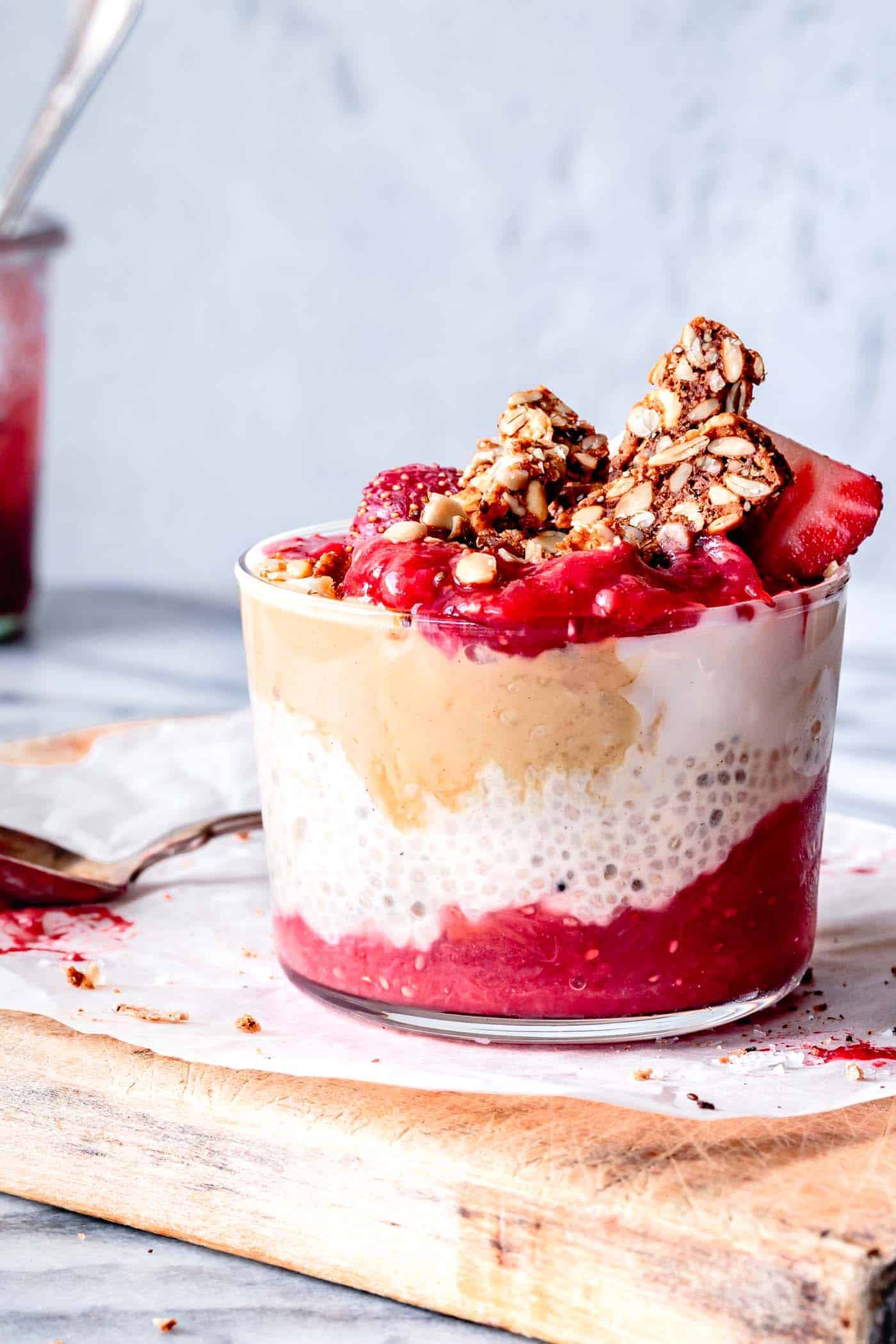 This creamy vegan pudding makes a nourishing breakfast, snack, or dessert.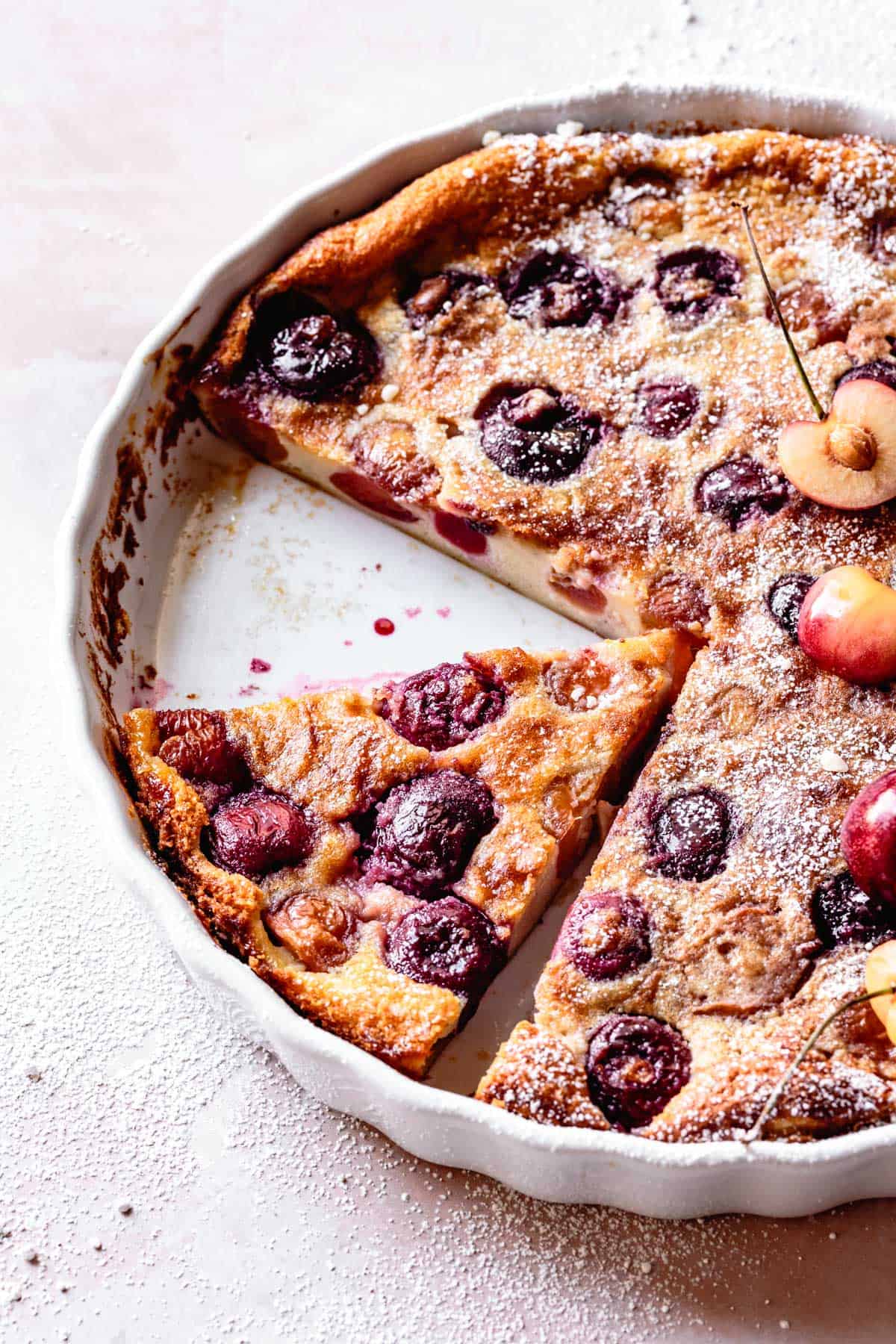 This classic French baked custard can be made with frozen cherries, berries, or stone fruit. Replace the oat flour with a different kosher flour such as sorghum, chestnut, teff, cassava, or half the amount of coconut flour to kosherize it.
Cookies & Bars
Finally – macaroons that don't taste like punishment! These boast a crisp, caramelized shell, and a chewy interior redolent with vanilla brown butter and almond.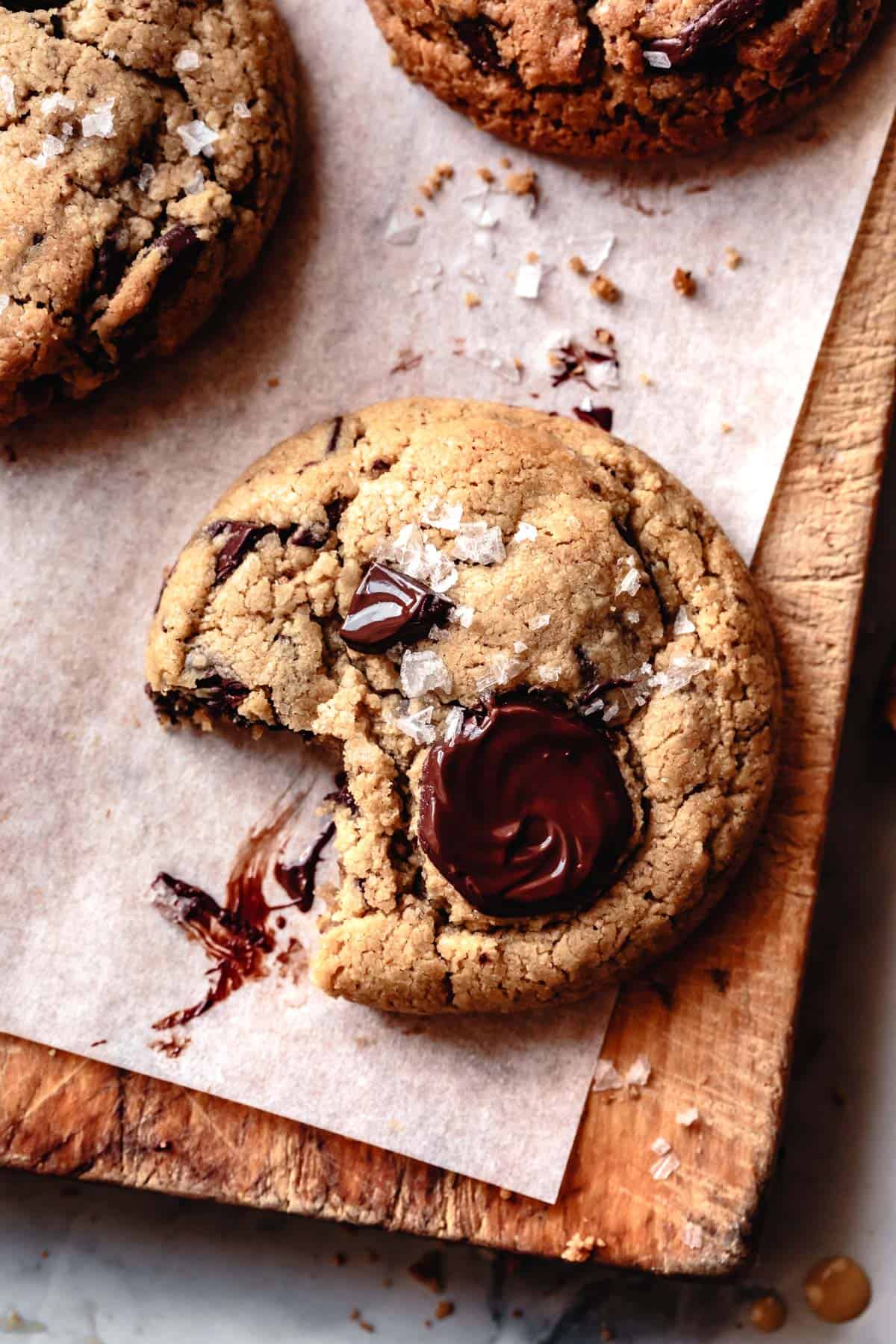 One of my favorite-ever cookies: soft, chewy, chocolatey, maple-sweetened, and loaded with sesame tahini goodness. Or try these paleo chocolate chip cookies, a similar recipe but made with cashew butter.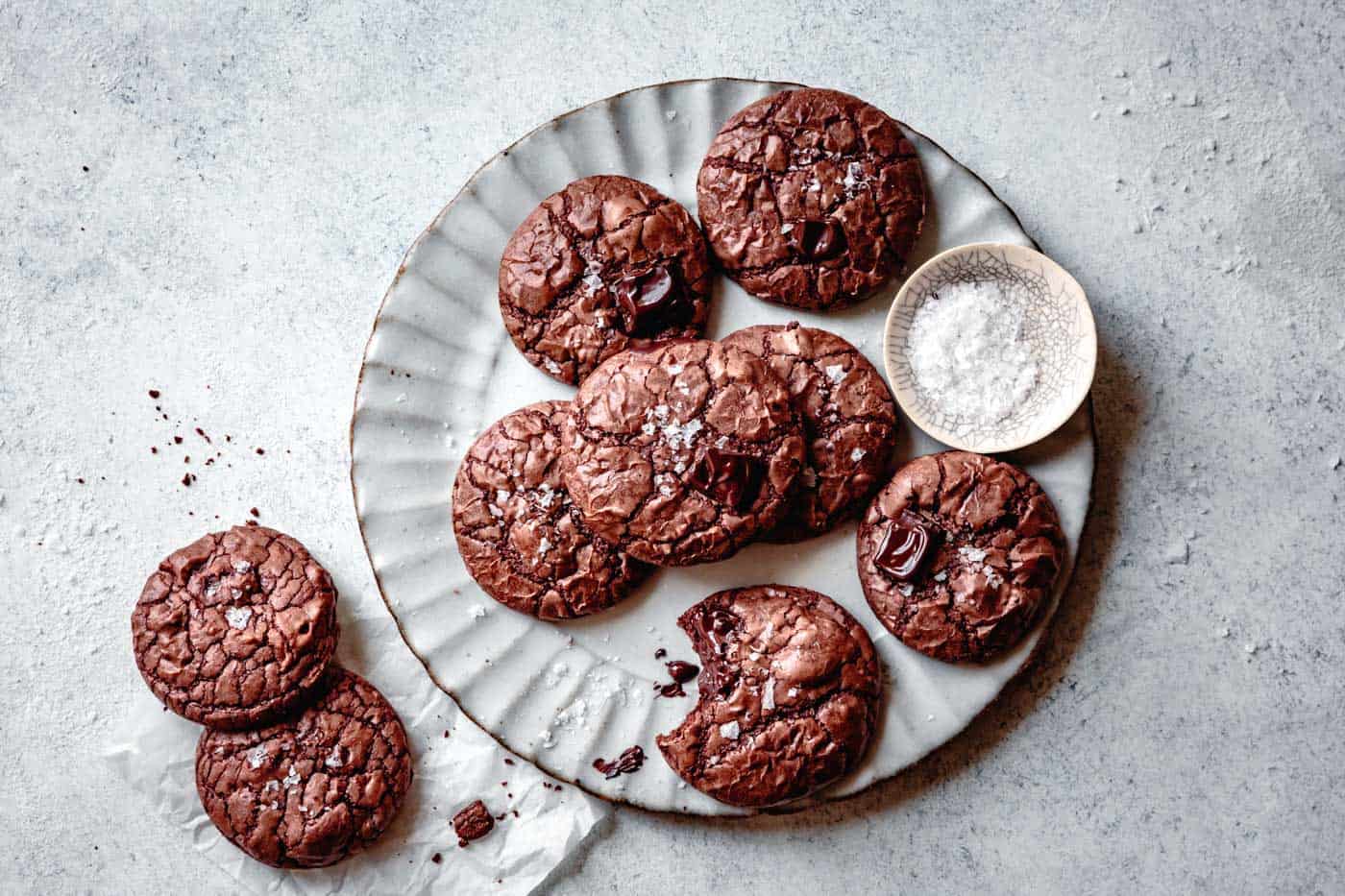 Like brownies in cookie form, these deeply chocolatey cookies can be made grain-free with cassava flour.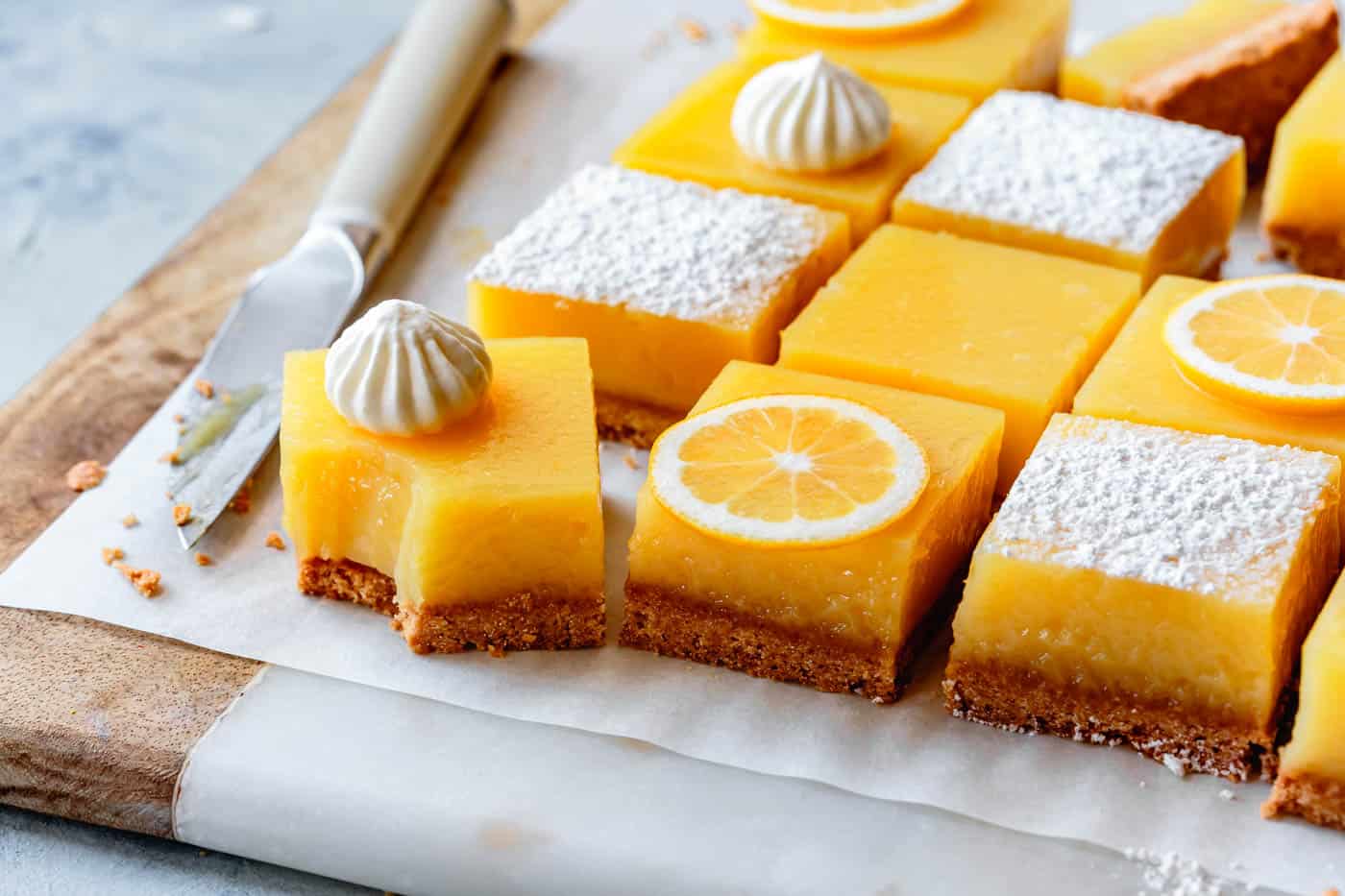 My favorite ever lemon bars. Swap the rice and oat flours in the crust for cassava and millet flours, or use the coconut flour crust from this recipe to make them kosher.
Teff flour makes these fudgy brownies kosher for passover while adding malty notes that play off addictive tahini frosting. Or try these Gluten-Free Cream Cheese Swirl Brownies.
Just cocoa, nuts, and dates, these healthy brownies topped with luscious ganache taste like a decadent treat. Or if you make your own nut milk, try these Almond Pulp Brownies.
Trade the sweet rice flour for any flavorful GF flour. My favorites are teff, chestnut, and buckwheat. Omit the whiskey here, or use brandy or dark or gold rum instead.
Vegan raspberry ice cream sandwiched between layers of no-bake brownie, all dipped in homemade magic shell.
See this post for more gluten-free dessert recipes!
Chocolate & Frozen Treats
These are a few of my favorite things, in ice cream form!
Easy to make in a blender and oh so tasty. Try these with tahini, almond, or hazelnut butter instead of peanut butter if you like.
Coconut milk, dark chocolate, and coconut oil form the base for these silky dairy-free chocolate truffles. Add a bit of kick with cinnamon and chili or leave them plain. Or try these classic homemade truffles, with or without citrus zest.
Homemade chocolate and pistachio butter elevate this healthier take on peanut butter cups.
Drizzle this luscious sauce over your favorite ice cream, vegan or not.
Wishing everyone a Happy Passover, Gut Yontif, and Chag Sameach!
*Bojon appétit! For more Bojon Gourmet in your life, follow along on Instagram, Facebook, or Pinterest, purchase my gluten-free cookbook Alternative Baker, or subscribe to receive new posts via email. And if you make one of these passover dessert recipes, I'd love to know. Leave a comment and rating below, and tag your Instagram snaps @The_Bojon_Gourmet and #bojongourmet.*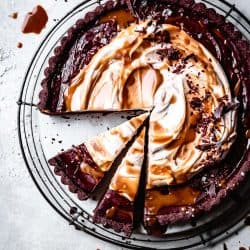 Passover Dessert Idea: Gluten Free Vegan Chocolate Tahini Tart
Print Recipe
Pin Recipe
This vegan chocolate tart in a gluten free almond flour tart crust gets a flavor boost from sesame tahini, flaky salt, and a swirl of coconut whipped cream, all drizzled with vegan caramel sauce laced with tahini. A decadent vegan & gluten-free chocolate dessert everyone can enjoy! Use cassava flour in place of sweet rice flour in the crust if you abstain from rice on Passover.
Servings:
12
to 16 servings
Ingredients
Filling:
8

ounces

bittersweet chocolate (preferably 65% cacao mass), roughly chopped

½

cup

(130 g) tahini

3

tablespoons

(58 g) maple syrup (more or less according to how sweet your chocolate is)

1

cup

(222 g) well-shaken full-fat coconut milk

1/8

teaspoon

fine sea salt
Caramel Sauce:
Remaining coconut milk from above (¾ cup / 175 ml)

¼

cup

(35 g) coconut sugar

1

tablespoon

vegan butter or coconut oil

2

tablespoons

tahini

Big pinch fine sea salt

¼

teaspoon

vanilla paste or extract
Whipped Coconut Cream:
1

(400 ml) can coconut cream, chilled overnight

¼

cup

(35) powdered sugar, sifted if lumpy

½

teaspoon

vanilla paste or extract

Flaky salt and chopped chocolate, for sprinkling
Instructions
Crust:
Position a rack in the center of the oven and preheat to 350ºF. Spray a loose-bottom, 9-inch round tart pan lightly with cooking spray and set aside.

In the bowl of a stand mixer fitted with the paddle attachment, combine the sweet rice and almond flours with the cocoa powder, tapioca starch, sugar and salt. Scatter the butter pieces over the top and drizzle with the vanilla extract. Turn the mixer to medium-low and run until the dough comes together in clumps and the butter is worked through, 3–5 minutes. (It will seem as though the dough won't come together, but don't worry – it will!)

Dump about half of the crumbs into the prepared pan and press evenly into the sides of the pan. Add the remaining crumbs and press evenly into the bottom – it usually takes me about 10 minutes to make it look pretty.

Place the pan on a rimmed baking sheet to catch any drips and bake until slightly puffed and firm to the touch, 20-25 minutes. Remove the crust from the oven and, while it's still hot, press the sides and bottom with the back of a spoon. This will help it hold together when cool. While the crust is still hot, scatter the chocolate in the bottom and let sit a few moments to melt. Use the back of a spoon or an offset spatula to spread the chocolate over the bottom and sides of the crust. Let cool completely.
Filling:
Place the chocolate and tahini in a medium-sized heatproof bowl and set aside. In a small saucepan, combine the maple, coconut milk, and salt. Place over medium heat and bring to just below a simmer. Pour the hot coconut milk over the chocolate and tahini. Stir until melted and smooth. You can either pour the warm filling directly into the baked tart shell. Or chill the filling for about 20 minutes, stirring every five minutes or so, until cool enough to hold a shape, then spread evenly into the baked tart shell. Chill until set, at least 2 hours and up to overnight.
Caramel:
In a small saucepan, combine the remaining coconut milk and coconut sugar. Bring to a simmer over medium heat. Lower to maintain a gentle simmer and cook, stirring frequently, until thickened and darkened in color, 5-10 minutes. Remove from the heat and stir in the vegan butter, tahini, salt, and vanilla. Use warm or chill until needed; rewarm to serve.
Whipped Coconut Cream:
Remove the chilled can from the refrigerator. Open the can from the bottom and pour off all the watery liquid that should had separated. Scoop out the solidified cream into the bowl of a stand mixer fitted with the whip attachment. Add the powdered sugar and vanilla. Whip on high speed until fluffy and thick, 1-2 minutes. Chill if not using right away.
Finish:
Remove the sides from the tart pan and use a small, offset spatula to release the tart from the bottom of the pan. Place on a serving platter or cutting board. Swirl the whipped coconut cream over the top of the tart and drizzle and swirl with some of the caramel. Top with chopped chocolate and flaky salt, passing more caramel sauce at the table.

Extra tart will keep well, covered and refrigerated, for up to 3 days.
Notes
Make ahead:
The crust can be frozen airtight (baked or unbaked) for up to 1 month.
The crust with filling keeps well, refrigerated airtight, for 1-2 days.
The caramel can be made up to 1 week in advance, refrigerated airtight.
The whipped coconut cream can be made 1 day in advance, refrigerated airtight.
Nutritional values are based on one of twelve servings.
Nutrition
Calories:
554
kcal
Carbohydrates:
41
g
Protein:
8
g
Fat:
43
g
Saturated Fat:
25
g
Cholesterol:
1
mg
Sodium:
143
mg
Potassium:
451
mg
Fiber:
5
g
Sugar:
20
g
Vitamin A:
285
IU
Vitamin C:
1.8
mg
Calcium:
62
mg
Iron:
4.9
mg