Passover dessert recipes that go beyond chocolate covered matzo and macaroons! If you keep kosher for Passover, here are a handful of my favorite gluten-free passover dessert recipes, all free of wheat and leavening for Pesach including my GF Chocolate Tahini Tart, pictured below. You'll find cakes, pies, tarts, cookies, puddings and more!
Passover or Pesach celebrates the emancipation of the Jewish people from slavery. During the 8 days of Passover, Jews abstain from eating glutinous grains and yeasted baked goods to honor the time that our ancestors spent traversing the desert without time to stop and leaven bread. Instead, they combined flour and water into a crisp, unleavened flatbread called matzo or matzah, which is traditionally eaten during Passover in lieu of other bread products.
Despite the ban on flour and yeast, there are plenty of Passover desserts to be enjoyed during this holiday besides chocolate covered matzo and coconut macaroons. I've compiled some favorite gluten-free passover dessert recipes from TBG archives here. There are nutty cakes, creamy custards and puddings, chocolatey treats, and raw/vegan/paleo pies and tarts.
Whether you celebrate Passover or not, I hope you'll enjoy these gluten-free Passover dessert recipes!
And if you're looking for a grain-free matzo-like substance, try these rustic cassava flour crackers, a reader favorite here at TBG.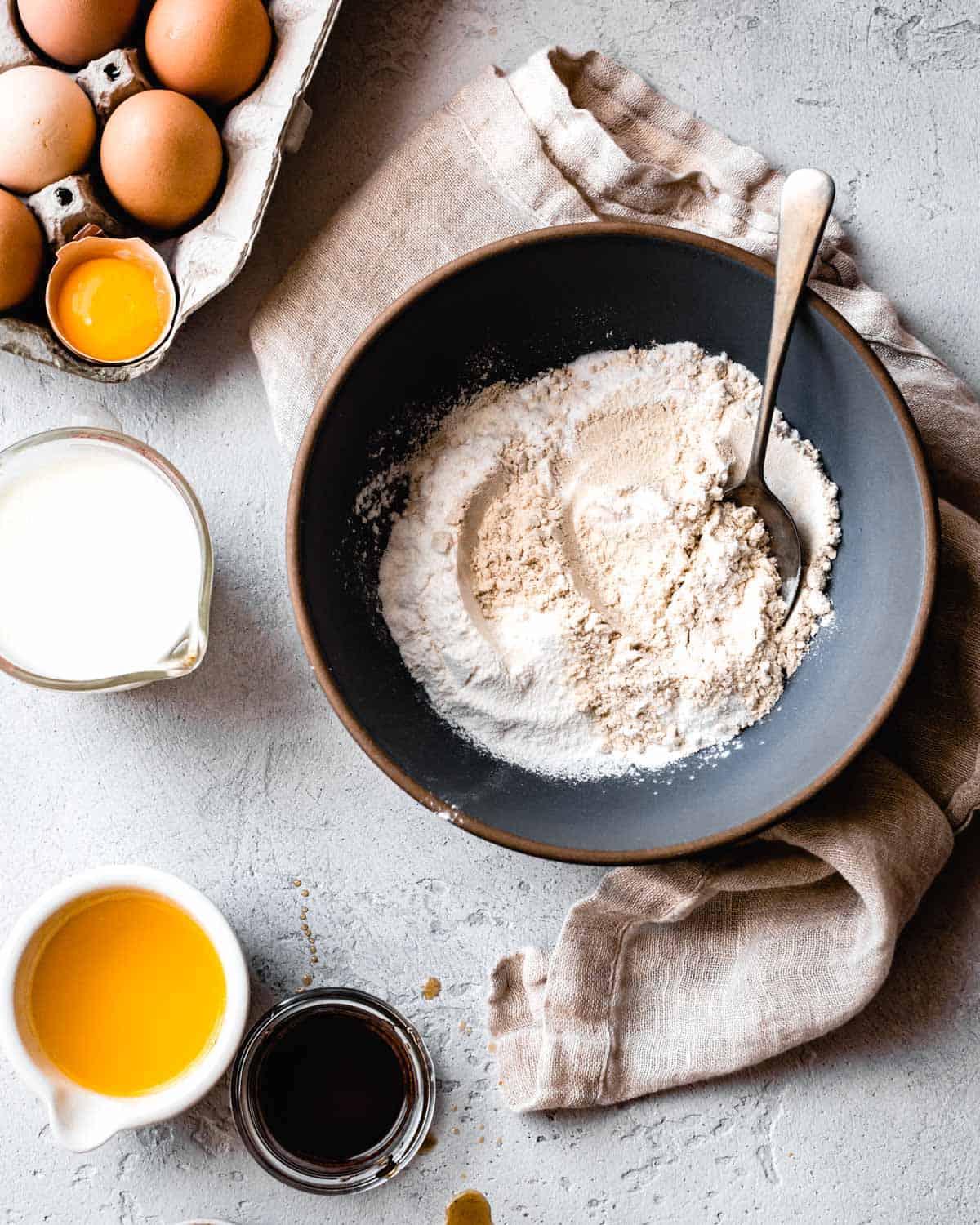 Which flours and ingredients are kosher for passover?
My family isn't particularly religious, so I learned a lot while researching this post! Namely that there is a quite a bit of gray area when it comes to deciding which foods are kosher for Passover.
Yeasted gluten-full grains, known as chametz, chamotz, or hametz, are clearly to be avoided. Some Jews clean their homes from top to bottom to remove every crumb, giving away or burning (!) any lingering bread products.
Some groups, particularly Ashkenazi Jews, also avoid kitinyot, or "little things" such as rice, corn, beans, and legumes that look similar to the forbidden grains. Sephardic Jews don't traditionally abstain from these ingredients.
Then there are chemical leavenings like baking soda, baking powder, and cream of tartar. My mom feels strongly that these are not kosher for Passover, since the "spirit of the law" is to avoid leavened baked goods and these chemical leavenings are a kind of newfangled loophole. But a New York Times article entitled "It's Passover - Lighten up!" says that these *are* kosher for Passover, as long as you source certified kosher brands. The rabbi interviewed said, "They're just minerals. What do we care about minerals?"
Many traditional passover dessert recipes call for matzo meal in place of wheat flour, but other gluten-free and grain-free flours are kosher too.
Not kosher for Passover:
wheat and other wheat-hybrid grains
barley
rye
spelt
kamut
oats
leavening (yeast and sourdough)
beer and spirits made from these grains
Kosher for Passover:
millet
teff flour (brown or ivory)
buckwheat
amaranth
quinoa
coconut
almond flour / meal
hazelnut flour / meal
chestnut flour
mesquite flour
matzo meal
wine and non-grain spirits such as rum, tequila, and brandy
non-grain fermented foods such as cheese and yogurt
It's complicated (some Jews include these in their Passover victuals while others abstain):
rice (grain, flour, and rice bran oil)
corn (including cornstarch in ingredients such as baking powder and powdered sugar)
chickpeas, lentils, and other legumes and their flours
peanuts and peanut oil
dairy (kosher if the rest of the meal is vegetarian or pescatarian)
chemical leavening such as baking soda, baking powder, and cream of tartar (technically kosher as far as I can tell, but some folks abstain from these)
I've included recipes that use the above "gray area" ingredients, so if you prefer to abstain from these, feel free to swap ingredients, or ask me about substitution suggestions in the comments, or via DM or email.
Cakes & Quickbreads
Pies, Tarts & Fruit Desserts
See this page for more pies, tarts, and galettes.
See more Healthy No-Bake Desserts here!
Custards, Puddings, and Spoonable Sweets
If you abstain from corn during Passover, trade the cornstarch in the applicable recipes for tapioca or arrowroot starch. The texture will be a bit more loose and sticky.
Cookies & Bars
See this post for more gluten-free dessert recipes!
Chocolate & Frozen Treats
Wishing everyone a Happy Passover, Gut Yontif, and Chag Sameach!
*Bojon appétit! For more Bojon Gourmet in your life, follow along on Instagram, Facebook, or Pinterest, purchase my gluten-free cookbook Alternative Baker, or subscribe to receive new posts via email. And if you make one of these passover dessert recipes, I'd love to know. Leave a comment and rating below, and tag your Instagram snaps @The_Bojon_Gourmet and #bojongourmet.*