With an easy press-in almond shortbread crust and luscious, tangy lemon curd, this French-style gluten-free lemon tart is an easier version of the classic. This is the same recipe as my gluten-free lemon bars, just in a different shape!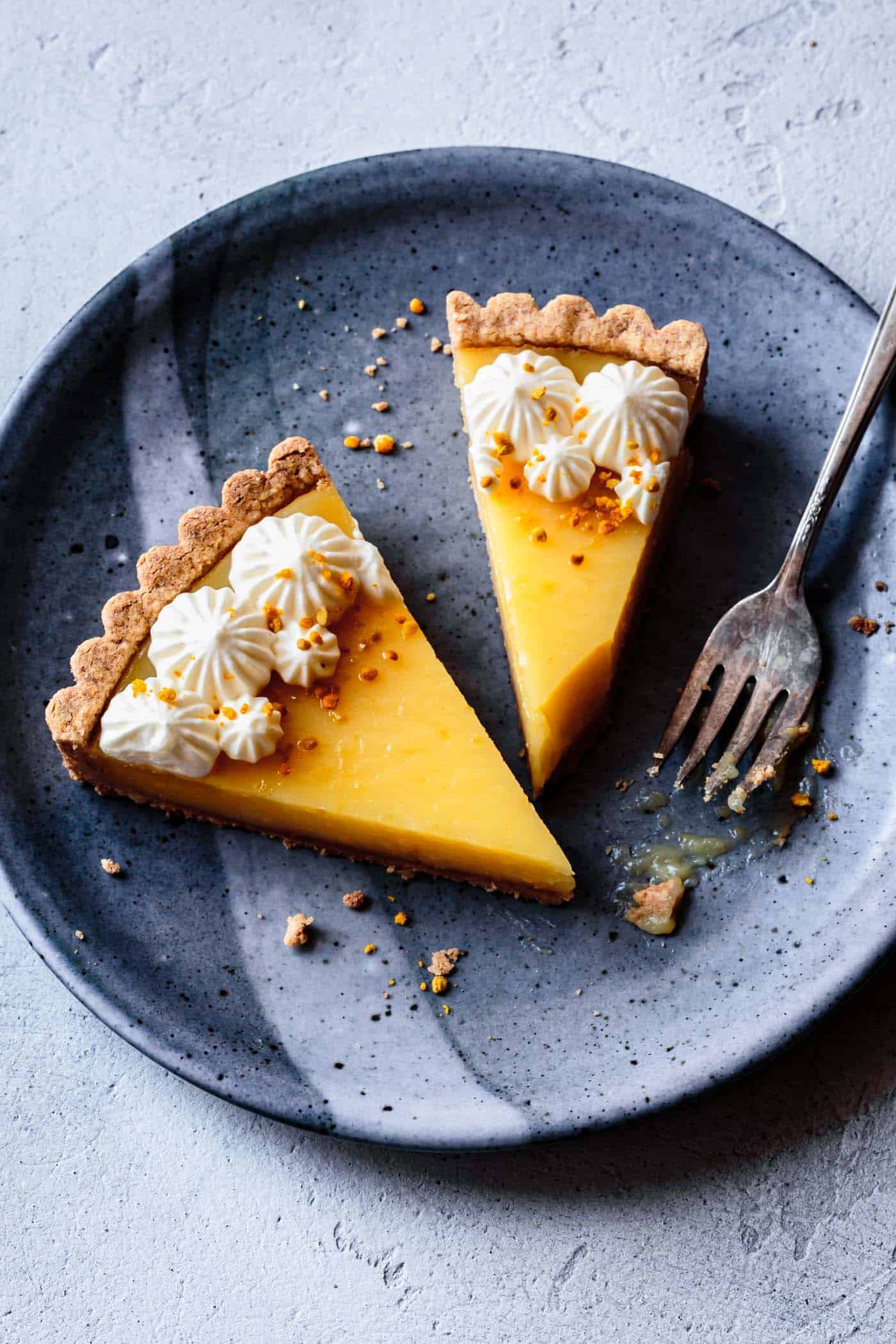 The Heavy Stuff (and I don't just mean this rich AF dessert)
A lot has happened since I shared what was supposed to be a two-part post (gluten-free tart crust & lemon tart filling) back in mid March. On the same day that California mandated shelter-in-place, our 10-year-old furbaby Catamus was diagnosed with cancer and given weeks to live.
Jay and I cried nonstop that week, between consultations with multiple pet oncologists, vets, and a holistic animal healer. A round of chemo, which carried a prognosis of little hope, left him horribly ill. So we switched tactics and decided to try a radical change in diet consisting of 90% human-grade raw meat combined with 10% cooked vegetables, plus some supplements formulated for felines. Overnight my career changed from recipe writer to personal cat chef.
I'm happy to share that currently Catamus is faring well. He's loving his new diet and showing his gratitude by scratching my favorite chair, walking across the dining table when he knows we're looking, waking us up at ungodly hours to let us know he's ready for his breakfast, and generally being his usual sassy self. We're enjoying every moment we get to spend with the little guy.
We're also taking things day by day during this intense time. I've been experiencing high levels of anxiety and trying to take care of myself as best I can. This has meant mostly staying off of social media, lots of phone calls with friends and family, and watching New Girl on Netflix when I need a good distraction. There are Zoom yoga, pilates, and Essentrics classes, lots of cooking, naps and sleeping in. I also started a nutrition protocol with Alison of Food by Mars. Sadly this lemon tart is not on it, but that's ok because it's long gone!
I hope you are all staying safe and well, and taking good care of yourselves as best you can. Please let me know how you're holding up in the comments! <3