I'm terrible at buying gifts. Awful. I could blame the whole Bojon (no job) thing, but really I'm just selfish and lazy. If my gift to you can be a batch of cupcakes or a tart for your party, I consider that the ultimate win, since I love baking. (Shopping for gifts, not so much. Yes, it's all about me.)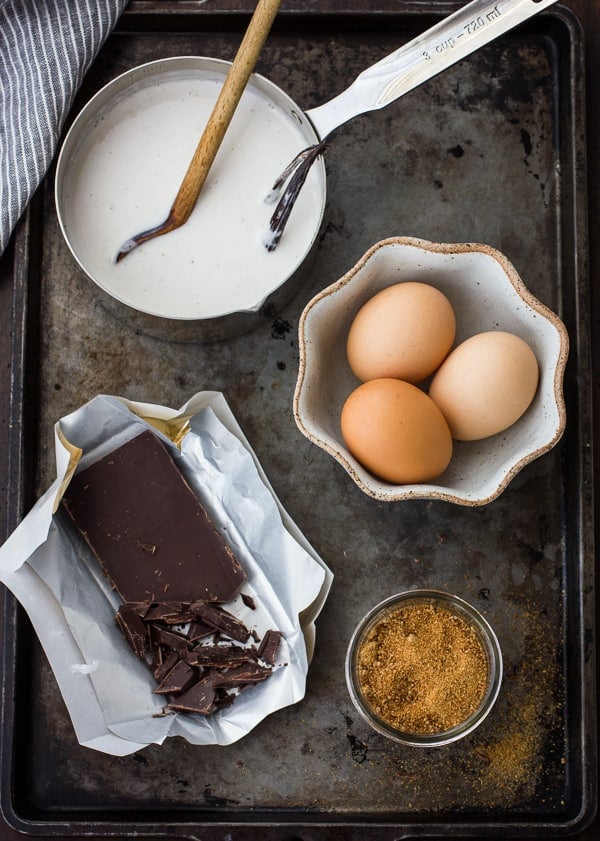 My sister doesn't seem to mind. In fact, I know that a new dessert is a success when she takes a bite and says, "I want this for my birthday!" The dessert in question is always chocolate, and it's a bonus if it's boozy to boot.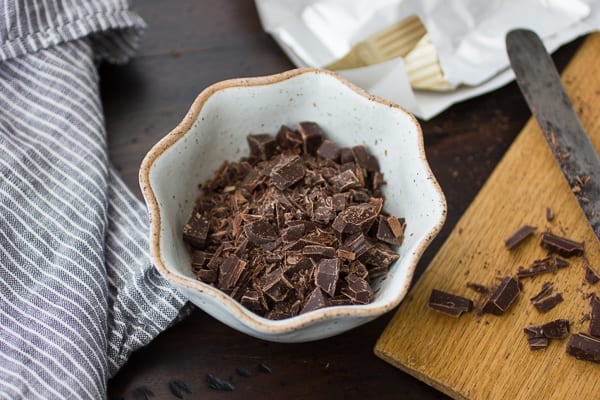 These pots de crème fit the bill. They contain lots of bittersweet chocolate plus a hit of cocoa powder for big chocolate flavor. They also carry a splash of rum in both the custards and the whipped cream topping.
I adapted this recipe from a chocolate hazelnut pot de crème in Aran Goyoaga's Small Plates and Sweet Treats, a beautiful gluten-free cookbook from the creator of Canelle e Vanille. Aran uses coconut milk in place of cream, which makes these friendly for the lactose-intolerant. The coconut milk adds its soft flavor, and it also seems to let the other flavors come through more clearly than regular dairy, which has a muting effect. (That being said, I adore these with a big dollop of rum-spiked whipped cream; though you could try using coconut milk whipped cream in its place if you want this completely dairy-free.)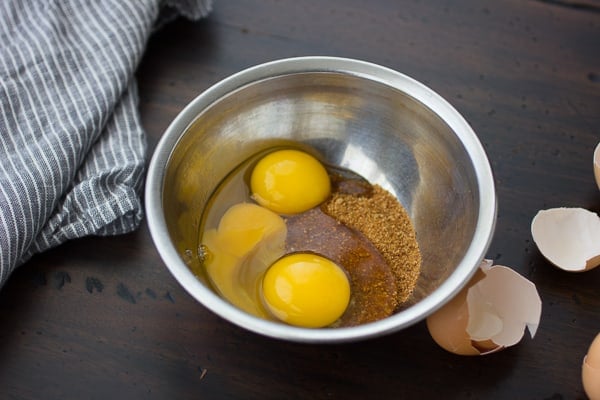 My friend Christine (who is way better at gifts than I am) gave me a bag filled with Tahitian vanilla beans and extract after I told her how much I hoard the two. I use a bean in the custard, which imparts its wild floral scent and pretty flecks of seed, and a splash of the extract in the topping.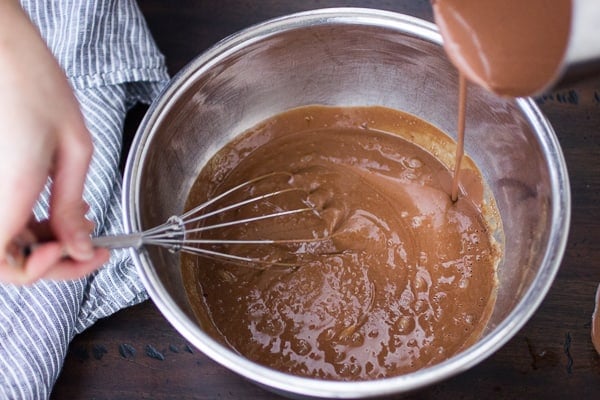 The texture of these custards is other-worldly – silky smooth and creamy beyond belief. The coconut milk adds a nice fruitiness along with the rum, coconut sugar, and floral Tahitian vanilla. A few cacao nibs and flakes of Maldon salt add an addictive crunch.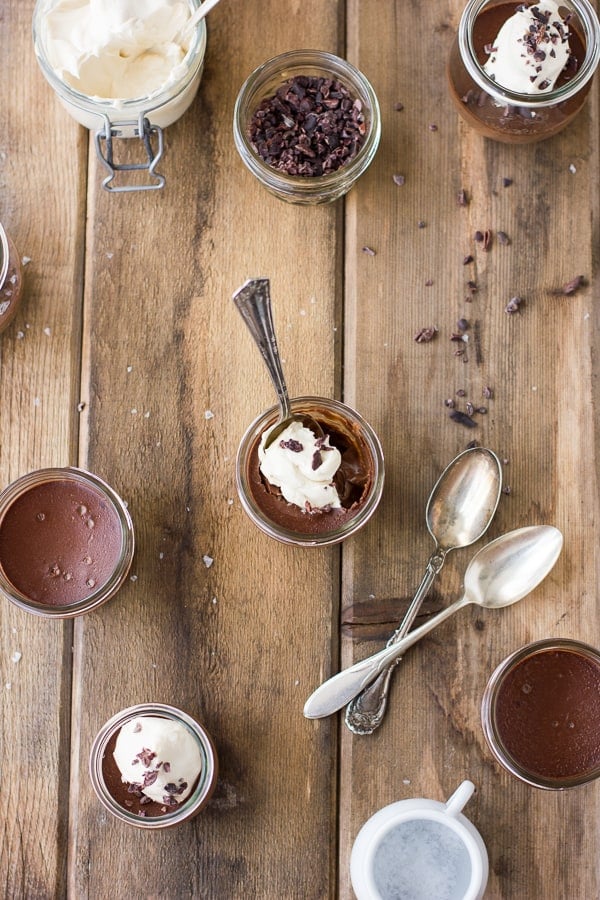 Don't be intimidated by baking the custards – it's totally doable, and the best way to get that softly set texture. (Though this is a good stovetop version if you prefer.)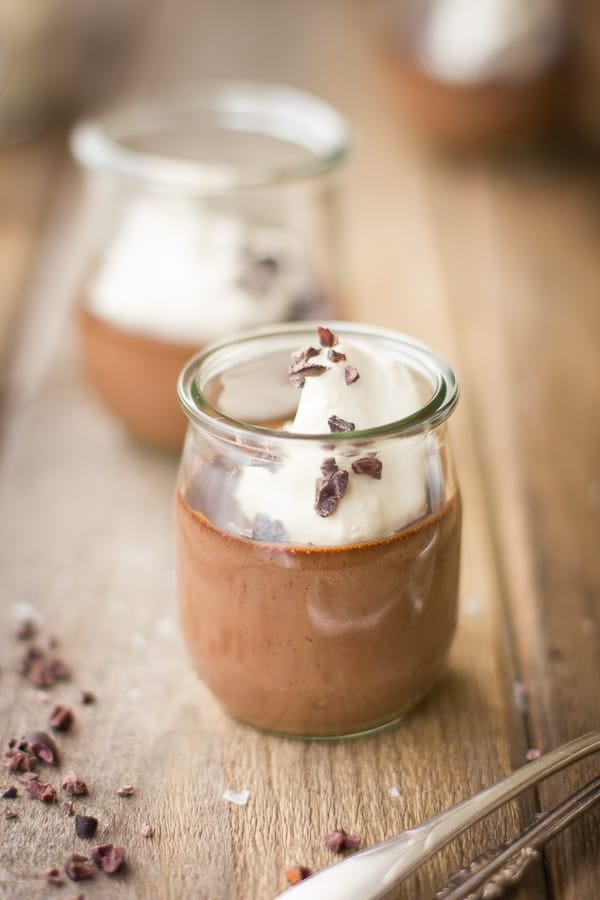 Baked in tiny mason jars or espresso cups, they make the perfect party dessert.
No one will even miss the presents.
Chocolove:
(Raw, Vegan) Chocolate Cheesecakes
(Vegan) Chocolate Chile Coconut Milk Truffles
(Gluten-Free, Vegan) Hippie Crispy Treats
One year ago:
Cointreau-Glazed Cranberry Clementine Tea Cake
Chocolate and Coconut Milk Pots de Crème with Tahitian Vanilla and Rum
Inspired by the Chocolate, Hazelnut and Fleur de Sel Pot de Crème from Small Plates and Sweet Treats by Aran Goyoaga
Tahitian vanilla bean and extract make these puddings extra-special, though they will still be delicious made with Madagascar Bourbon vanilla. You can use only half a bean if you want to conserve the precious things; I used 1 small one here. Do be sure to use a good dark chocolate with 70% cacao mass; Scharffen Berger and Guittard are two that I like.
4-ounce mason jars are a pretty and practical alternative to ramekins, and they make pots de crème that are just the right size; you can order them here. Heat-proof espresso cups work, too. If you want these to be completely dairy-free, try using coconut whipped cream for the topping.
Makes 6 dainty yet rich servings (about 4 ounces each)
For the pots de crèmes:
1 (13.5 ounce / 400 mL) can full-fat coconut milk (1 3/4 cups)
1 vanilla bean (preferably Tahitian), split lengthwise and scraped
pinch salt
3 ounces (85 grams) bittersweet chocolate (70% cacao mass), finely chopped
1 tablespoon cocoa powder (I use Dutch-process, but natural should work, too)
1 large egg
2 large egg yolks
1/4 cup (1.25 ounces / 35 grams) coconut sugar (or unrefined or brown cane sugar)
1 tablespoon dark rum
For serving:
3/4 cup (175 mL) heavy whipping cream
1 tablespoon coconut sugar
1/2 teaspoon vanilla extract (preferably Tahitian)
splash dark rum, to taste
cacao nibs
flaky salt, such as Maldon
Make the Pots de Crème:
Position a rack in the center of the oven and preheat to 300ºF (150ºC). Place six (four-ounce) ramekins, canning jars, or small coffee cups in a baking pan with 2-inch high sides.
In a medium saucepan, gently warm the coconut milk with the vanilla pod and seeds until the coconut milk is steamy-hot, swirling occasionally. Cover and let steep 10 minutes. Remove the vanilla pod (you can rinse, dry, and save it for another use). Whisk in the salt, chocolate, and cocoa powder until completely smooth.
Meanwhile, whisk together the egg, egg yolks, and coconut sugar in a medium bowl. Slowly whisk the warm chocolate mixture into the egg mixture until smooth, then whisk in the rum.
Transfer the custard to a measuring pitcher and carefully divide it evenly among the ramekins in their baking pan. Pour enough hot water to come halfway up the sides of the jars. Carefully transfer the pan to the oven.
Bake the custards until they are mostly set and wiggle like Jell-o when you give the pan a gentle shake, 30-45 minutes. Let the custards cool slightly, remove from the pan, and let cool to room temperature. Chill the custards until set, about 3 hours (or cover and chill for up to 3 days).
Make the whipped cream:
Whip the cream with the coconut sugar, vanilla extract, and rum until it holds soft peaks. Serve the pots de crème dolloped with the whipped cream and topped with a few cacao nibs and flakes of salt.