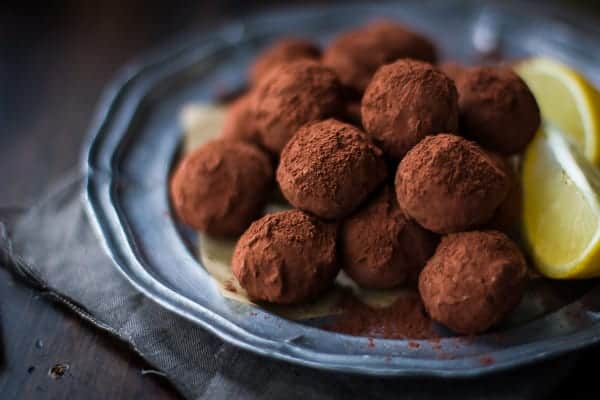 I'm really not a pink-heart-shaped-sprinkles kind of gal. In fact, the whole of Valentine's (a.k.a. Singles Awareness) Day pretty much makes me want to hurl. (But don't let that stop you from sending me flowers and jewelry, mkay?)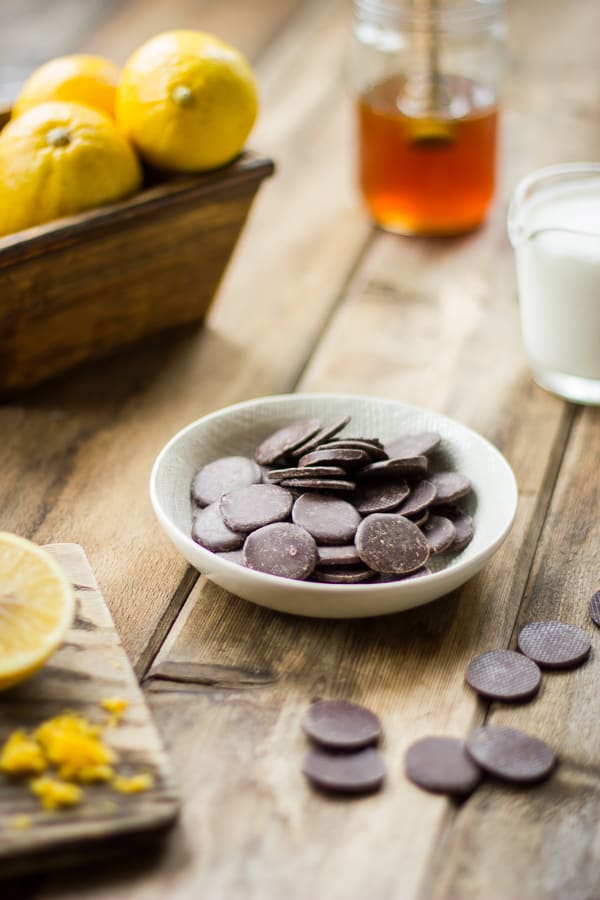 I've found that a bit of dark chocolate can salvage the most dire of situations, and that includes obnoxious hallmark holidays designed to "make people not involved in romance feel stupid." (Brilliant quote courtesy of Bridget Jones.) It's a bonus if that chocolate is worked into a buttery-soft ganache infused with the floral citrus notes of fresh bergamot zest. In fact, having your maw coated in chocolate is a great way to prevent militant, anti-V-day rants.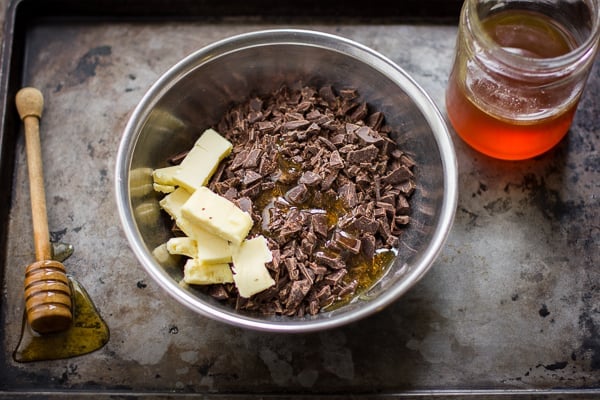 A bergamot truffle is a mouthful of love.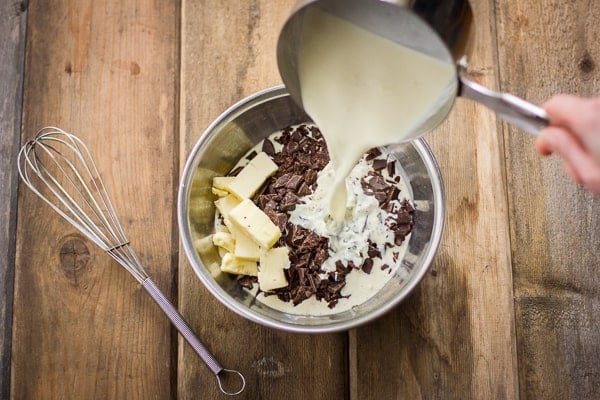 Jay kindly picked up some fresh bergamots for me the last time he found himself near the Berkeley Bowl, which, come mid-winter, boasts the most extensive citrus collection we have ever seen. Last year I had a blast making bergamot scones, ice cream, bitters, and mojitos. But these truffles may take the cake. The soft centers get their voluptuous texture from cream, butter, and honey, all infused with bergamot zest and whisked into dark chocolate.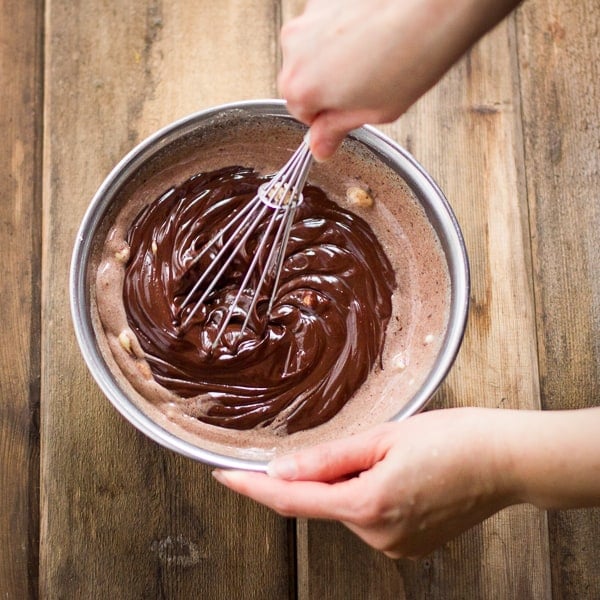 Bergamot is the citrus fruit that gives Earl Grey its musky flavor. The juice
is tart, like a lemon, but the fragrant zest is the true jewel, tasting of champagne and roses and fancy perfume. Like all citrus, it pairs brilliantly with chocolate. I picked Tcho's 66% for its citrusy notes, but any bittersweet chocolate that you like the flavor of will work beautifully.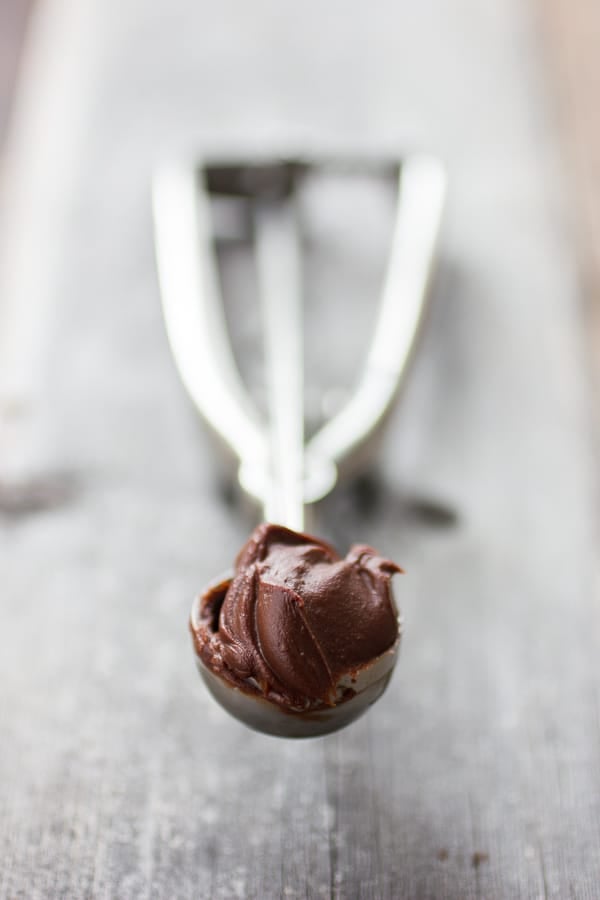 The first bite of these tastes familiar, reminiscing of chocolate-coated orangettes or foil-wrapped, citrus-shaped chocolate slices. But once the creamy chocolate melts away, you're left with the unmistakeable flavor of bergamot's other-worldliness: deep and mysterious and light and bright, all at once.
Truffles are one of those fun kitchen projects that perhaps you never thought you'd be able to make in your home, but turn out to be totally do-able. For a dairy-free option, try these coconut milk-based truffles.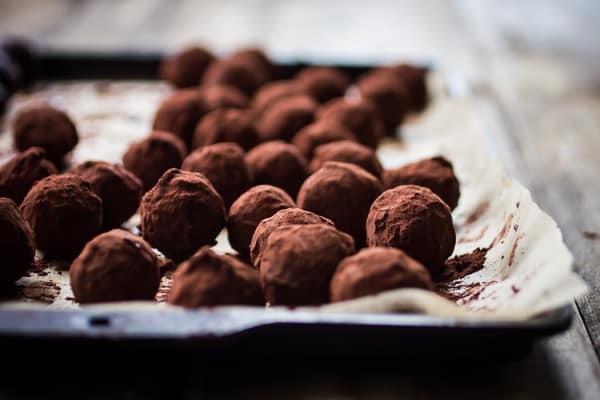 You can order fresh bergamots here. But if you don't have any on hand, don't despair: these would be perfect plain, too. Or try infusing the cream with a couple tablespoons of Earl Grey tea, crushed espresso beans, or lavender buds.
In fact, while I'm thinking of it, here are some other truffle flavors I'm dreaming up:
Maple Bourbon
Smoked Cardamom
Rosemary Olive Oil
Goat Cheese
Pink Peppercorn
Grapefruit Tarragon
Coffee Caramel
Please do your part to prevent militant, anti-V-day rants: make these truffles today. They are certain to quell even the most vehement V-day haters.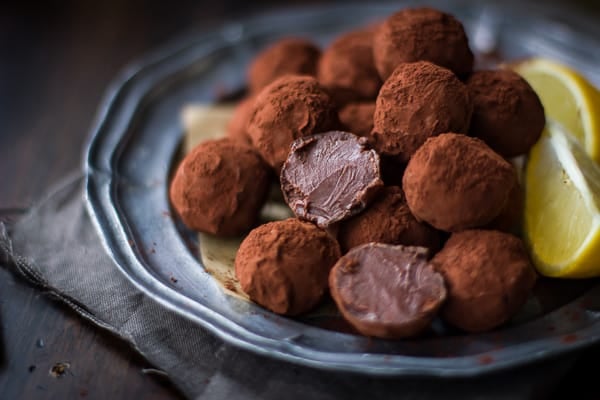 For more Bojon Gourmet in your life, follow me on Facebook, Twitter, Pinterest, or subscribe to receive posts via email. You can also Follow my blog with Bloglovin.
Choco-love:
Chocolate and Coconut Milk Pots de Crème
Chocolate Bouchons Cakes with Black Pepper Ice Cream
Salty Double-Rye Chocolate Chip Cookies
One year ago:
Chocolate Bergamot Scones
Homemade Irish Cream Liqueur
Two years ago:
Buckwheat Hazelnut Brown Butter Cake, Cider-Glazed Apples
Three years ago:
Pear, Blue Cheese and Hazelnut Tart
Four years ago:
Pumpkin Challah
Oven-Roasted Potatoes and Parsnips
Bergamot Truffles
The zest of fresh bergamot flavors these creamy chocolate morsels, and a little goes a long way. You can order them here. (The juice works beautifully in place of lemon in any cocktail.) If you don't have access to the fresh fruit, you could try stirring a tablespoon or two of bergamot olive oil, which is easier to come by, into the ganache until it tastes well-balanced. Otherwise, try steeping the cream with 2 tablespoons of good Earl Grey or jasmine tea, or go for lavender buds, vanilla bean, or crushed coffee instead. Or skip the flavorings altogether and just enjoy pure chocolate bliss.
I used Tcho's 66% baking chocolate and Valrhona's cocoa powder for these guys, both of which I highly recommend. Dutch-processed cocoa is a darker reddish-brown than the natural stuff, and it has a milder, less acidic flavor, both of which make it preferable for truffle-coating purposes. Do be sure to use a bittersweet chocolate with 65-70% cacao mass so that the finished ganache is the correct consistency. I would recommend staying away from chocolate chips, which contain stabilizers to keep them from melting. Instead, buy some nice bars and chop them up.
Makes 40-50 one-inch truffles
For the ganache:
1 cup heavy cream
1 teaspoon firmly packed fresh bergamot zest (from 2 small bergamots)
2 tablespoons mild honey
2 tablespoons unsalted butter, cut into small pieces
8 ounces finely chopped bittersweet chocolate (65-70% cacao mass, about 1 1/2 cups)
To finish the truffles:
8 ounces finely chopped bittersweet chocolate (65-70% cacao mass, about 1 1/2 cups)
1 cup cocoa powder (preferably dutch-processed)
Make the ganache:
In a small pot, heat the cream, bergamot zest, and honey over a medium flame, swirling the pan occasionally until steamy-hot. Cover the pot and let infuse 10 minutes. Re-heat the cream until steamy-hot again.
Meanwhile, place the butter and 8 ounces of chocolate in a small, heat-proof bowl. Pour the cream through a fine-mesh strainer and into the chocolate, pressing on the zest to extract all the good stuff. Let sit 1 minute, then gently whisk until the ganache is silky smooth. Cover the bowl and chill until the ganache is firm enough to hold its shape when scooped, about 1 hour. The ganache is easiest to work with when still slightly pliant.
Line a rimmed baking sheet with parchment paper and use a tiny (#100) spring-loaded ice cream scoop (or a teaspoon) to scoop scant 1″ balls of ganache onto the pan. (Alternatively, scrape the ganache into a pastry bag lined with a large, plain tip and pipe into mounds.) Chill the balls until firm but still slightly pliant, 30 minutes.
Use your fingertips to squish the balls into round, even spheres, then chill again for 30 minutes.
Roll each ball between your palms to get them even rounder. Chill until very firm, 1 hour. (You can repeat this step for super-round truffles.)
Temper the chocolate and get ready to roll:
Place the remaining 8 ounces of chocolate in a small metal bowl. Make sure the bowl and anything that touches the chocolate is bone-dry, as any tiny drop of water could cause the chocolate to seize up into impossible globules. Place the bowl over a pan filled with 2 inches of steaming (not simmering) water. Stir the chocolate occasionally until it has all
melted. Remove the bowl from the pot, set it on a towel, and let the chocolate sit, stirring it occasionally, until it is cool to the touch. If done properly, this will temper the chocolate (i.e. put it back into a stable emulsion) but it isn't a huge deal here, as the truffles will get coated in cocoa, which will hide any "blooming" (i.e. the separating out of cocoa solids). Note: if the chocolate gets too cold and starts setting up before you want it to, set it back over the pot of barely steaming water, stirring, until it has melted again.
Sift the cocoa powder into a shallow bowl.
Set up a station like so (assuming you are right-handed): bowl of melted chocolate with a small spatula or spoon sitting in it on your left, cocoa powder in the middle, and sheet pan holding chilled ganache balls on your right. Once you get chocolate on your hands, you won't want to touch anything. (You can wear latex gloves for this, if you like, though I go commando.)
Smear about 1 tablespoon of chocolate on the palm of your left hand. Pick up a ganache ball and quickly roll it around in the chocolate, coating it completely. Immediately drop the coated ball into the bowl of cocoa powder and toss it around to coat it. Repeat this with as many balls as will fit in the cocoa bowl, then remove the balls to a plate (I just use the same sheet pan that the chilled balls are on). Keep this up until all the balls are coated in chocolate and cocoa.
Congratulations, you made truffles! Store these babies at cool room temperature. They should keep for at least a week or two, and possibly for a month or more. If the truffles crack (mine have been doing that lately) store them in the refrigerator, removing them 1 hour before serving.