With crisp, golden shells and chewy middles infused with almond, vanilla, brown butter, and coconut, these are the most flavorful gluten-free macaroons you'll ever taste!
Made with 7 ingredients and 15 minutes of active time, plus an hour to chill the dough. A foolproof recipe that's Kosher for Passover but delicious any day. Find all my favorite GF Passover Desserts here!
As a child, my experience with coconut macaroons was limited to stale, too-sweet, cardboard-textured blobs eaten from a tin out of desperation around Passover. As an adult, I've tried many recipes over the years, usually made with just egg whites, shredded coconut, and sugar – none of them particularly satisfying.
For this reason, I used to consider macaroons to be a sort of punishment dessert – a shonde (shame) of a cookie.
But then I found this recipe, which I've adapted from a stunning cookbook called The Sweet Life: Desserts from Chanterelle by Kate Zuckerman. (My other favorite way to use up egg whites, brown butter financiers, comes from this same book!)
Here, traditional coconut macaroons are balanced with a base of fragrant almond paste and a pour of golden, vanilla bean-infused brown butter. The result: macaroons that aren't just good, they're a downright mitzvah.
These GF macaroons are:
crispy on the outside
rich and chewy in the middle
loaded with flavor
so easy to make
super addicting
taste like toasted marshmallows!
Let's whip up a batch!
What are macaroons?
Coconut macaroons (not to be confused with macarons - see below) are a cookie commonly made from shredded coconut, sugar, and egg whites. They're inexpensive and easy to make, and they're a great way to use up extra egg whites leftover from making egg yolk-based custards such as homemade ice cream.
Coconut macaroons can be a polarizing cookie because many people have a hard time with shredded coconut. And, as I mentioned above, they can be bland, overly-sweet, and dry.
But this recipe changed my mind. They're chewy, rich, just sweet enough, and loaded with the flavors of caramelized butter, vanilla, and almond. They don't even need to be dunked in chocolate to be made palatable (although you certainly could!)
Now I would gladly eat these coconut macaroons any day of the year. I hope you love them too!
Ingredients & Substitution Suggestions
These gluten-free coconut macaroons come together with just a handful of ingredients.
Unsweetened shredded coconut forms the bulk of these cookies, lending them their characteristic chew and mild flavor. I don't recommend swapping this for another coconut product, and be sure you're buying unsweetened (available at natural grocers).
Egg whites bind the macaroons together. I don't recommend subbing this ingredient out, though there are many other vegan macaroon recipes online!
Butter browned with vanilla bean adds incredible flavor. For dairy-free, sub plant butter, and watch it carefully as it browns. If you don't have a vanilla bean on hand, use 1/2 teaspoon vanilla extract added with the egg whites.
Almond paste makes these macaroons extra-rich and chewy, adding floral almond notes. If you don't have any on hand, try adding a little extra almond flour and sugar instead, plus a tiny bit of almond extract. Marzipan is sweeter but it would probably work here too.
Sugar adds sweetness and moisture. I used organic sugar here. Or try using maple sugar or coconut sugar instead.
A good hit of sea salt sharpens the flavor.
Almond flour absorbs extra moisture. You could use 2 teaspoons coconut flour in its place, or try potato starch, rice flour, or GF all-purpose flour.
How to Make Gluten-Free Macaroons
This recipe is slightly more involved than most macaroon recipes. It requires browning butter and buying some almond paste, but I promise you, it's worth it! These are the absolute best, most flavorful and addicting coconut macaroons out there.
You'll never look back.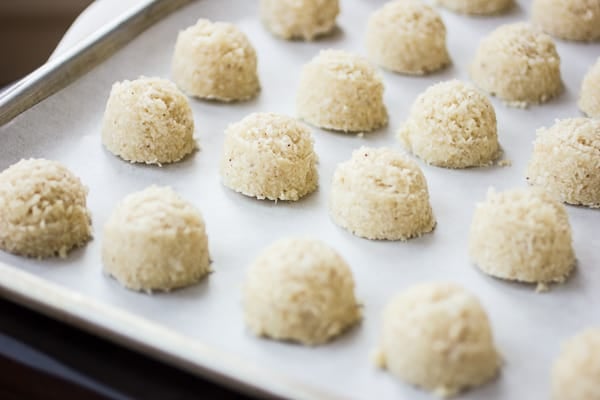 Jewish Macaroons aka Passover Macaroons
Because macaroons are usually free of grains and leavening, they're kosher for Passover and often associated with the holiday. But this version is so flavorful and delicious, you'll want to eat them all year round!
While many coconut macaroon recipes are dairy-free, these macaroons get a pour of brown butter which makes them extra-rich and yummy. If you're strictly kosher, be sure to serve these alongside a vegetarian meal, or make these with plant-based butter.
Macaroons vs. Macarons – what's the diff?
Jewish coconut macaroons differ from French macarons, although both are thought to hail from Italy dating back to the 8th or 9th century. The word "macaroon" comes from the Italian word ammaccare which means "to crush" and referred to the ground almonds usually present in both recipes.
Coconut macaroons are the bites of shredded coconut goodness described above. French Macarons also start with an egg white base but contain almond flour instead of coconut. When baked, they're sandwiched together with ganache or buttercream.
While French macarons are notoriously difficult to get right at home, coconut macaroons are a snap to make. And these easy coconut macaroons are more delicious than most.
Vanilla Bean Brown Butter + Almond Paste = Macaroon Magic
Brown butter has the bacon-like (yet kosher) ability to make anything taste better. Here, along with nutty almond paste, it adds richness and moisture to these gluten free macaroons that other macaroons can only dream of. The brown butter adds burnt caramel undertones, the vanilla bean tastes complex and floral, and the almond paste adds nutty richness. One macaroon taster described them as tasting like toasted marshmallows.
The cookies bake up with a crisp, golden shell which gives way to a chewy middle, permeated by the delicate flavors of almond, vanilla and coconut. They don't even need to be dipped in chocolate, they are that good.
The Best Gluten Free Macaroons
These gluten free macaroons bake up with crispy, craggy outsides and chewy centers. They're infused with the flavors of brown butter, vanilla, coconut, and a good hit of salt to contrast the sweetness.
Make these macaroons. Because dessert should not be punishment. Not even during Passover.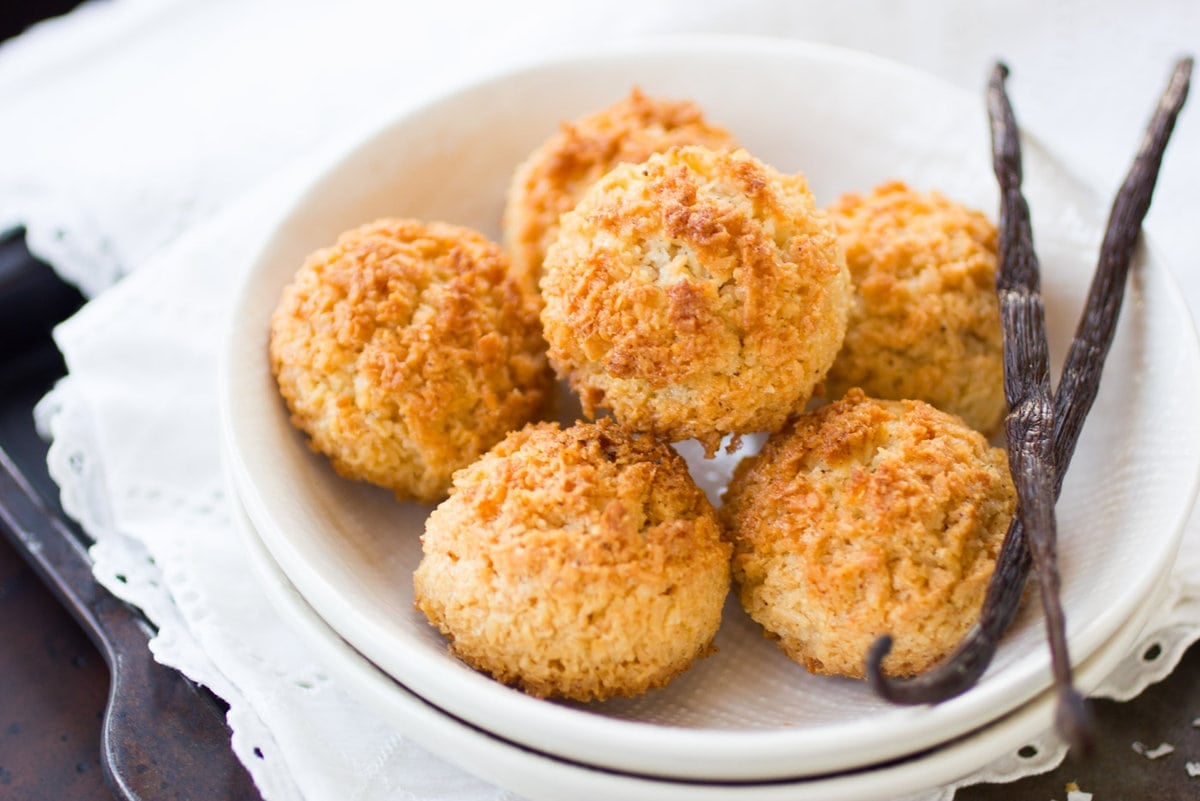 Looking for ways to use up your leftover egg yolks? Try one of my many ice cream recipes!
*Bojon appétit! For more Bojon Gourmet in your life, follow along on Instagram, Facebook, or Pinterest, purchase my gluten-free cookbook Alternative Baker, or subscribe to receive new posts via email. And if you make this gluten-free coconut macaroon recipe, I'd love to know. Leave a comment and rating below, and tag your Instagram snaps @The_Bojon_Gourmet and #bojongourmet.*
Gluten-Free Coconut Macaroons with Brown Butter
Print Recipe
Pin Recipe
With crisp, golden shells and chewy middles infused with almond, vanilla, brown butter, and coconut, these are the very best gluten-free macaroons you'll ever taste!
These take just 30 minutes of active time to whip up, plus an hour to chill the dough. Kosher for Passover but delicious any day.
Servings:
28
one-inch cookies.
Ingredients
½

vanilla bean, split lengthwise and scraped

(or ½ teaspoon vanilla extract added with the egg whites)

6

tablespoons

unsalted butter

(3 ounces)

¼

cup

fresh and soft almond paste

(2 ounces) (see note for sub)

¾

cup

organic granulated sugar

(or maple sugar / coconut sugar) (6 ounces)

4

egg whites

(about 4 ounces / ½ cup)

¼

teaspoon

fine sea salt

3

cups

unsweetened shredded coconut

(8 ¾ ounces)

2

tablespoons

blanched almond flour

(or potato starch, rice flour, or all-purpose flour)
Instructions
Brown the butter:
Combine the vanilla pod and scrapings with the butter in a small saucepan. Cook over medium heat, swirling occasionally, until the butter turns golden with brown flecks and smells nutty, 5 minutes or so. The butter will foam up when it's nearly done, so watch it carefully at this point.

When the butter has browned, pour it into a heatproof measuring cup to stop the cooking. Remove the vanilla pod (you can wash and dry it and stick it in a jar with alcohol and more vanilla beans to make vanilla extract) and set aside.
Make the dough:
Meanwhile, in the bowl of a stand mixer fitted with the paddle attachment, beat the almond paste with the sugar and 1 egg white on medium speed until smooth.

Add the remaining 3 egg whites, salt, and coconut, beating until combined, then add the flour and beat until incorporated.

Turn the mixer to low and, with the motor running, drizzle in the brown butter, mixing until the dough is homogenous.

Remove the bowl from the stand mixer and give the dough a stir with a sturdy spatula to make sure it is thoroughly combined. Chill the dough 1 hour. Or cover and chill for up to 2 days.
Bake the macaroons:
Position a rack in the upper third of the oven and preheat to 350º. Stack a rimmed baking sheet atop another rimmed baking sheet (this will prevent the bottoms of the cookies from burning) and line the top one with parchment paper.

Scoop the chilled dough into 1-inch balls (I like to use a #40 spring-loaded ice cream scoop) and place them 1-inch apart.

Bake the cookies until they're golden all over, 20-25 minutes, rotating the pan once halfway through to ensure even baking.

Remove the cookies to a cooling rack and let cool completely before storing in an airtight container at room temperature. These macaroons are best they day they are baked, but will keep for up to a few days.
Notes
Adapted slightly from The Sweet Life, Desserts from Chanterelle.
These are kosher for passover, though sticklers will want to wait 2 hours before or after eating meat as they do contain dairy. Or use plant-based butter and watch closely during the browning process.
This dough needs to chill for an hour prior to baking, so plan accordingly.
If you don't have a vanilla bean, you can add 1/2 teaspoon vanilla extract with the egg whites instead; almond-lovers may wish to add 1/4 teaspoon or so of almond extract.
In place of almond paste, try adding an additional 2 tablespoons each almond flour and sugar.
All ounce measurements are by weight.
If you're looking for a way to use up the extra egg yolks, I have plenty of ice cream recipes in the archives

; personal favorites include

Irish Coffee

,

Cacao Nib

and

Chocolate Mint Chip

.
Nutritional values are based on one of twenty eight macaroons.
Nutrition
Calories:
123
kcal
Carbohydrates:
9
g
Protein:
1
g
Fat:
10
g
Saturated Fat:
7
g
Cholesterol:
6
mg
Sodium:
53
mg
Potassium:
67
mg
Fiber:
2
g
Sugar:
7
g
Vitamin A:
75
IU
Vitamin C:
0.2
mg
Calcium:
8
mg
Iron:
0.4
mg