With an easy press-in almond shortbread crust and luscious, tangy lemon curd, this French-style gluten-free lemon tart is an easier version of the classic. This is the same recipe as my gluten-free lemon bars, just in a different shape!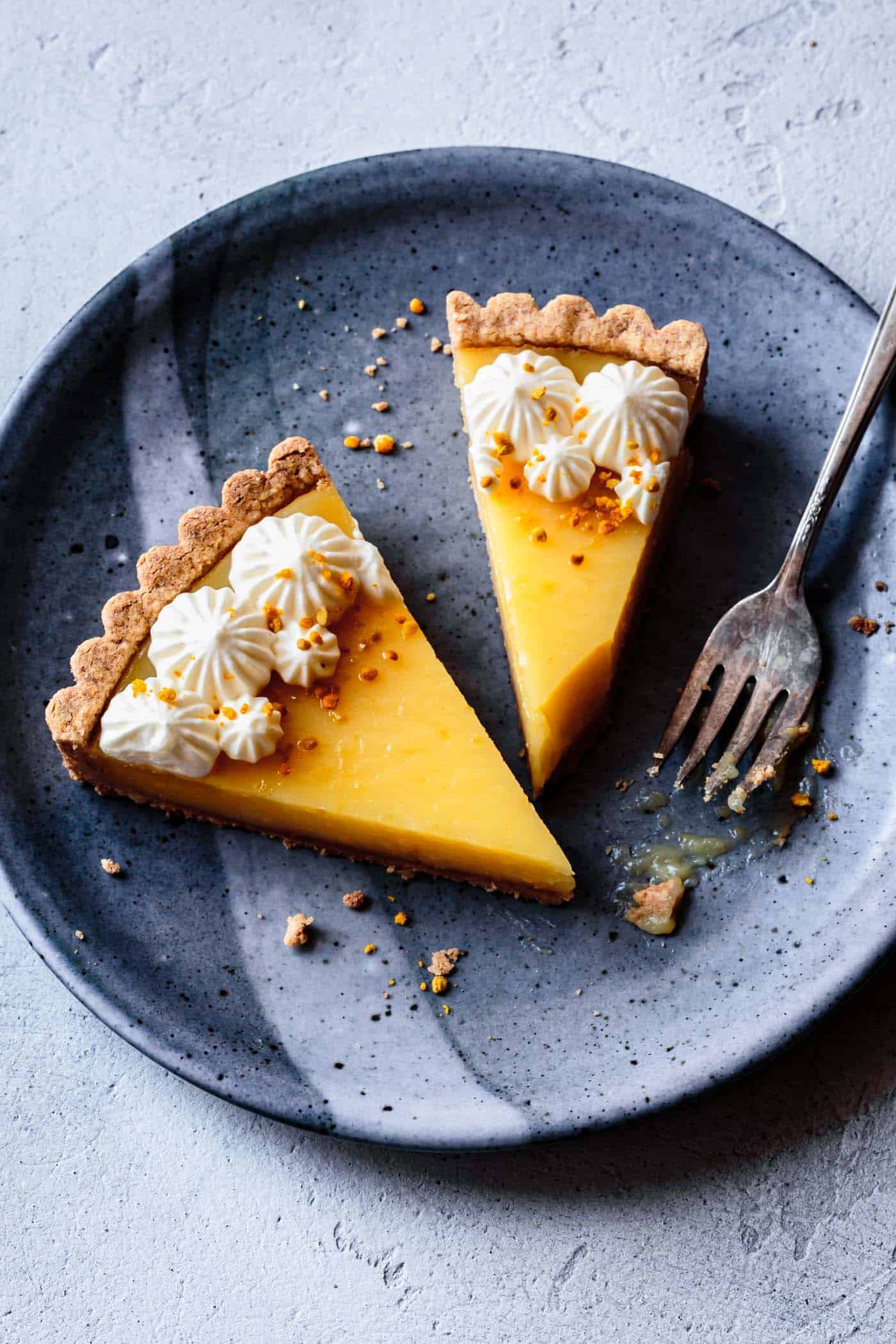 The Heavy Stuff (and I don't just mean this rich AF dessert)
A lot has happened since I shared what was supposed to be a two-part post (gluten-free tart crust & lemon tart filling) back in mid March. On the same day that California mandated shelter-in-place, our 10-year-old furbaby Catamus was diagnosed with cancer and given weeks to live.
Jay and I cried nonstop that week, between consultations with multiple pet oncologists, vets, and a holistic animal healer. A round of chemo, which carried a prognosis of little hope, left him horribly ill. So we switched tactics and decided to try a radical change in diet consisting of 90% human-grade raw meat combined with 10% cooked vegetables, plus some supplements formulated for felines. Overnight my career changed from recipe writer to personal cat chef.
I'm happy to share that currently Catamus is faring well. He's loving his new diet and showing his gratitude by scratching my favorite chair, walking across the dining table when he knows we're looking, waking us up at ungodly hours to let us know he's ready for his breakfast, and generally being his usual sassy self. We're enjoying every moment we get to spend with the little guy.
We're also taking things day by day during this intense time. I've been experiencing high levels of anxiety and trying to take care of myself as best I can. This has meant mostly staying off of social media, lots of phone calls with friends and family, and watching New Girl on Netflix when I need a good distraction. There are Zoom yoga, pilates, and Essentrics classes, lots of cooking, naps and sleeping in. I also started a nutrition protocol with Alison of Food by Mars. Sadly this lemon tart is not on it, but that's ok because it's long gone!
I hope you are all staying safe and well, and taking good care of yourselves as best you can. Please let me know how you're holding up in the comments! <3
An Impractical Dessert for Unprecedented Times
I know that gluten-free lemon tart may not be the recipe you're looking for at this moment in time. It makes enough for 10 or 12 servings. You probably don't want to eat the whole thing yourself because it has about a zillion calories. It doesn't freeze well. It's full of immune system-supressing sugar. It uses eggs, which you may not be able to find.
But I figured we could all use a little edible sunshine right now, especially me. So I'm sharing the lemon curd tart recipe nonetheless.
If you're looking for some pantry-friendlier recipes, here are some that folks have been making a lot of lately:
Ingredients:
How to Make Gluten-Free Lemon Curd Tart
This recipes turns out a classic-tasting French lemon tart, but it's easier than most. It starts with my gluten-free tart crust recipe, which is made by simply whizzing all the ingredients together in a food processor and pressing it into a tart pan. Parbake the crust, press it with the back of a spoon to compress the crumb, and fill it with lemon curd.
Watch the video on how to make gluten-free tart crust and lemon tart here!
If you don't have a tart pan, never fear – this exact same recipe makes gluten-free lemon bars in an 8-inch square baking pan.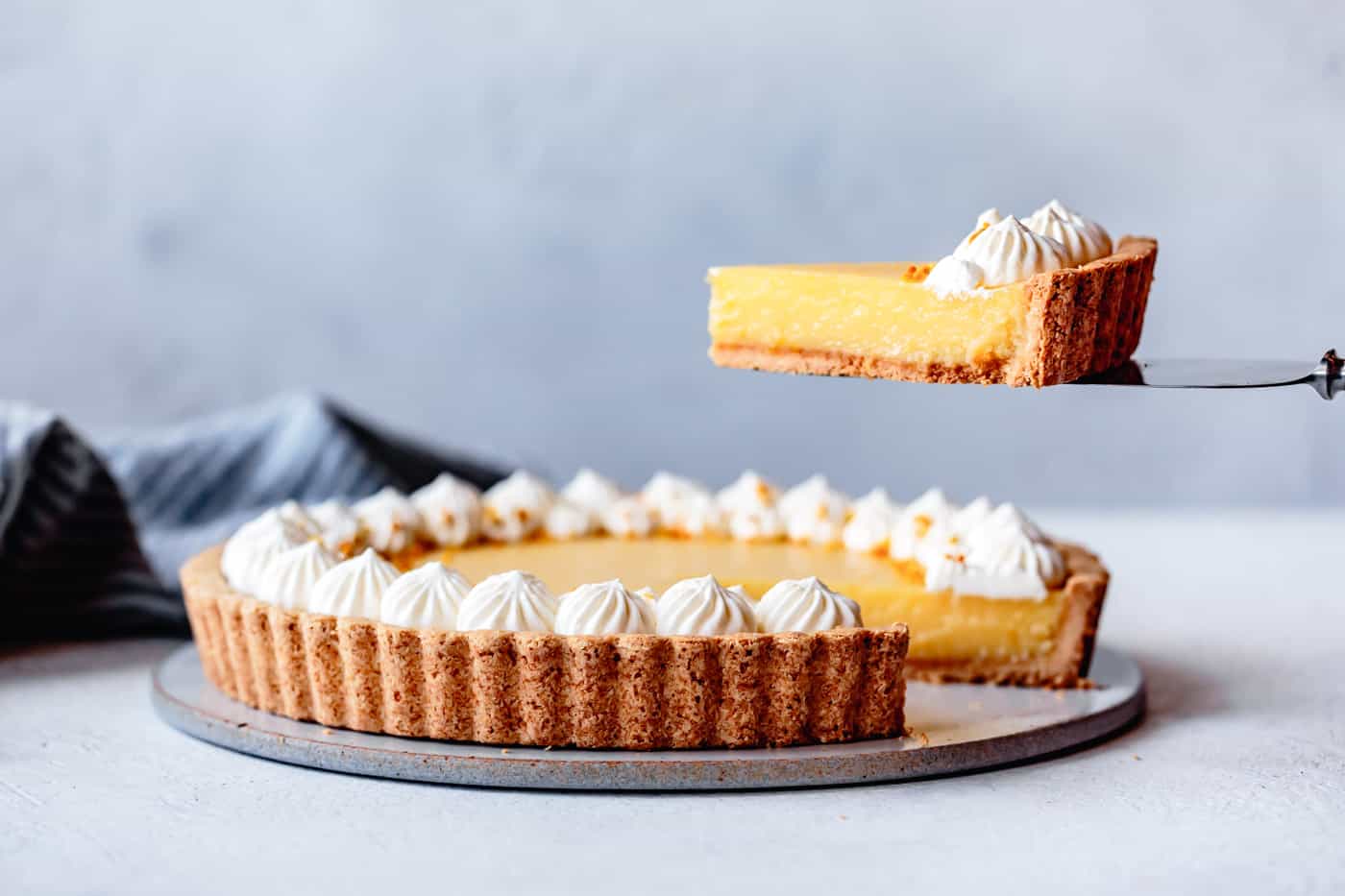 Luscious Lemon Curd
My classic lemon curd is thick and tangy from loads of lemon juice, eggs to thicken it, lots of butter to make it rich and creamy, and just enough sugar to offset the tart lemons. Make the curd on the stovetop, stirring constantly until it thickens and registers 165ºF on an instant read thermometer if you've got one. Strain the hot curd, whisk in the butter, and your lemon curd is done! You can store it in the fridge to slather on toast, biscuits, or swirl into yogurt. Or proceed with this recipe and pour it into the parbaked crust.
Bake the tart until the curd is slightly puffed and wiggles like firm jello. Let it cool completely, then chill until firm. Garnish, slice, and serve your brilliant creation for a dessert that's fancy enough for special occasions.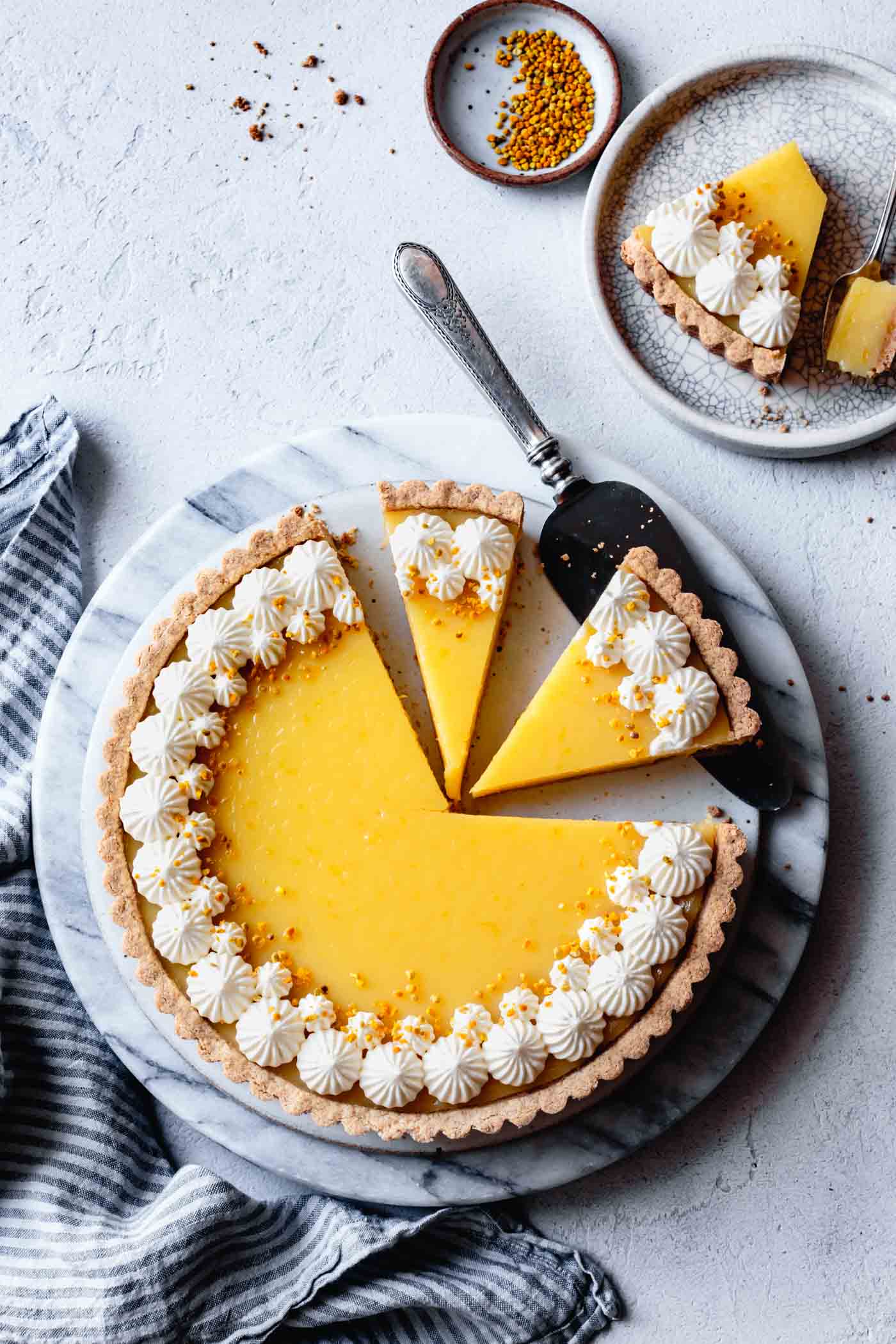 Lemon Tart Love
Dip your fork into a slice of this lemon tart and you'll cut through softly whipped cream, dreamy curd singing with lemon flavor, and tender cookie-like crust. I decorated mine with piped whipped cream and crème fraîche and a sprinkle of bee pollen, which I highly recommend! If meringue is your speed, you could also make a simple Italian meringue with the extra egg whites. Pipe or dollop it on top, and torch it with a crème brulée torch for a lemon meringue tart.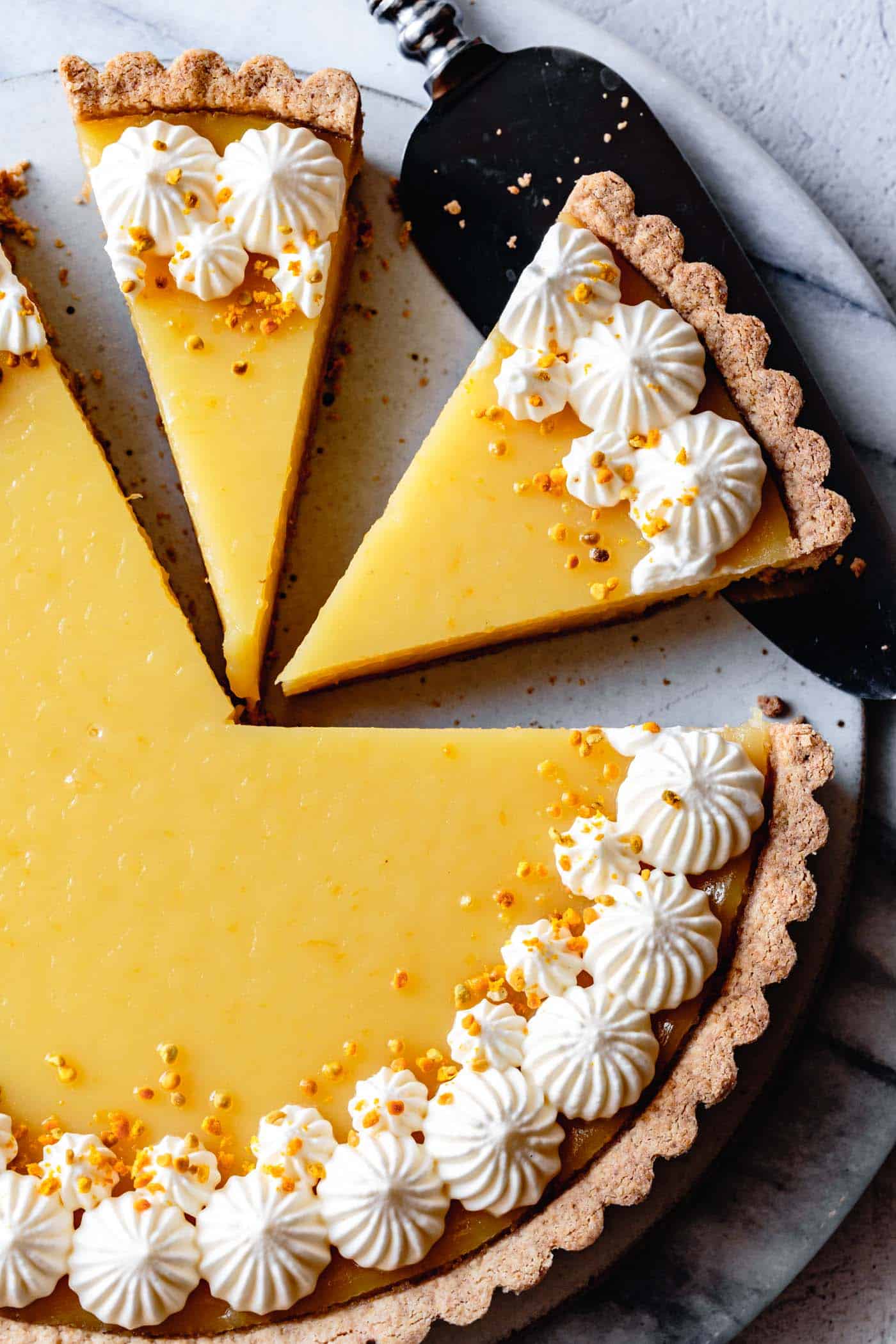 Variation: Meyer Lemon Tart
Got Meyer lemons? Lucky you! Make this tart with the lesser amount of sugar and use Meyer lemon zest and juice in place of the regular lemon zest and juice.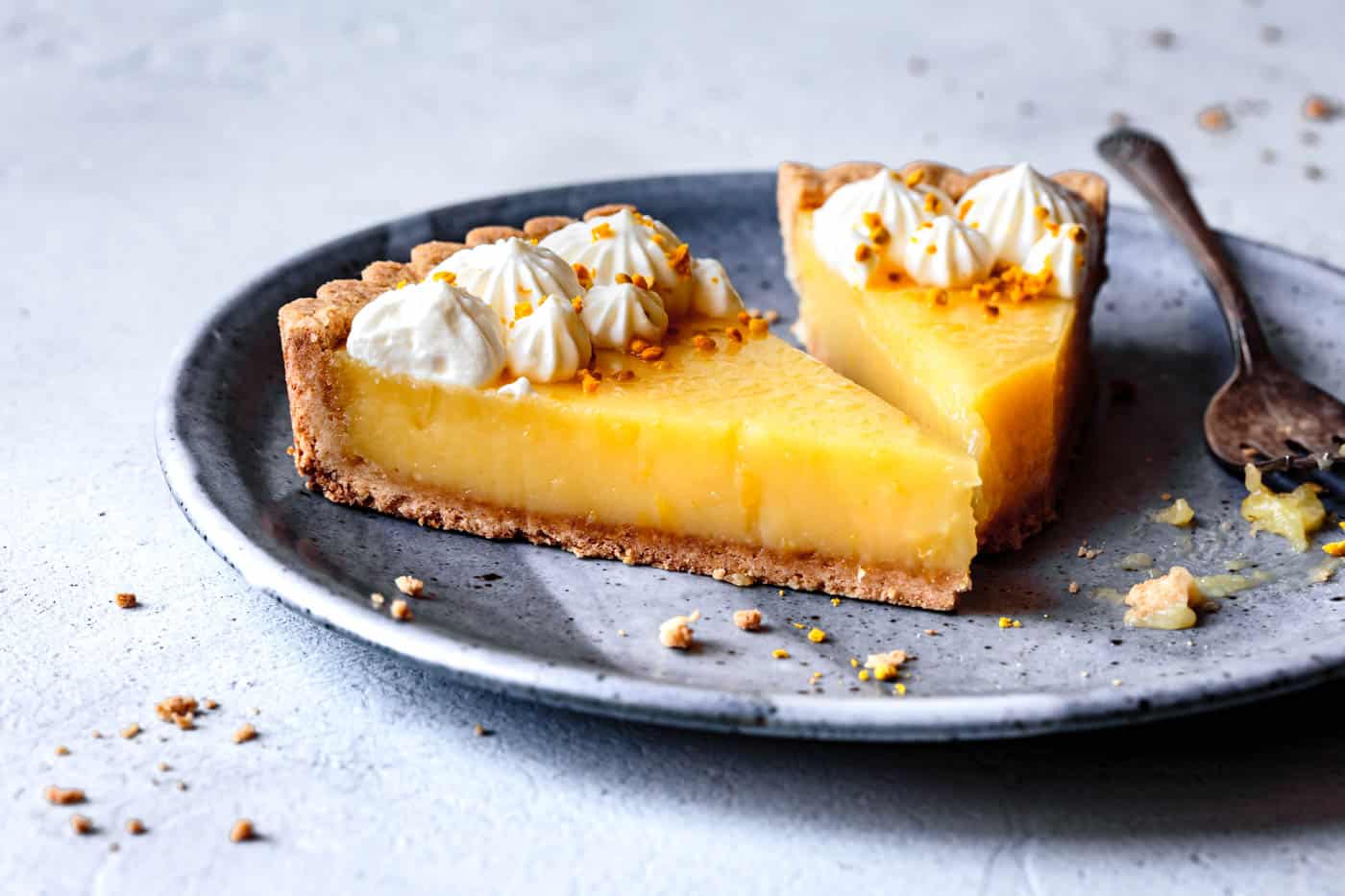 Gluten-Free Vegan Lemon Tart
This no-bake lemon tart recipe is vegan, paleo, eggless, and raw. A fan favorite on TBG, it makes a nice stand in for this more traditional lemon tart, but it's still rich and delicious.
All the Citrus Tarts (plus a couple of pies):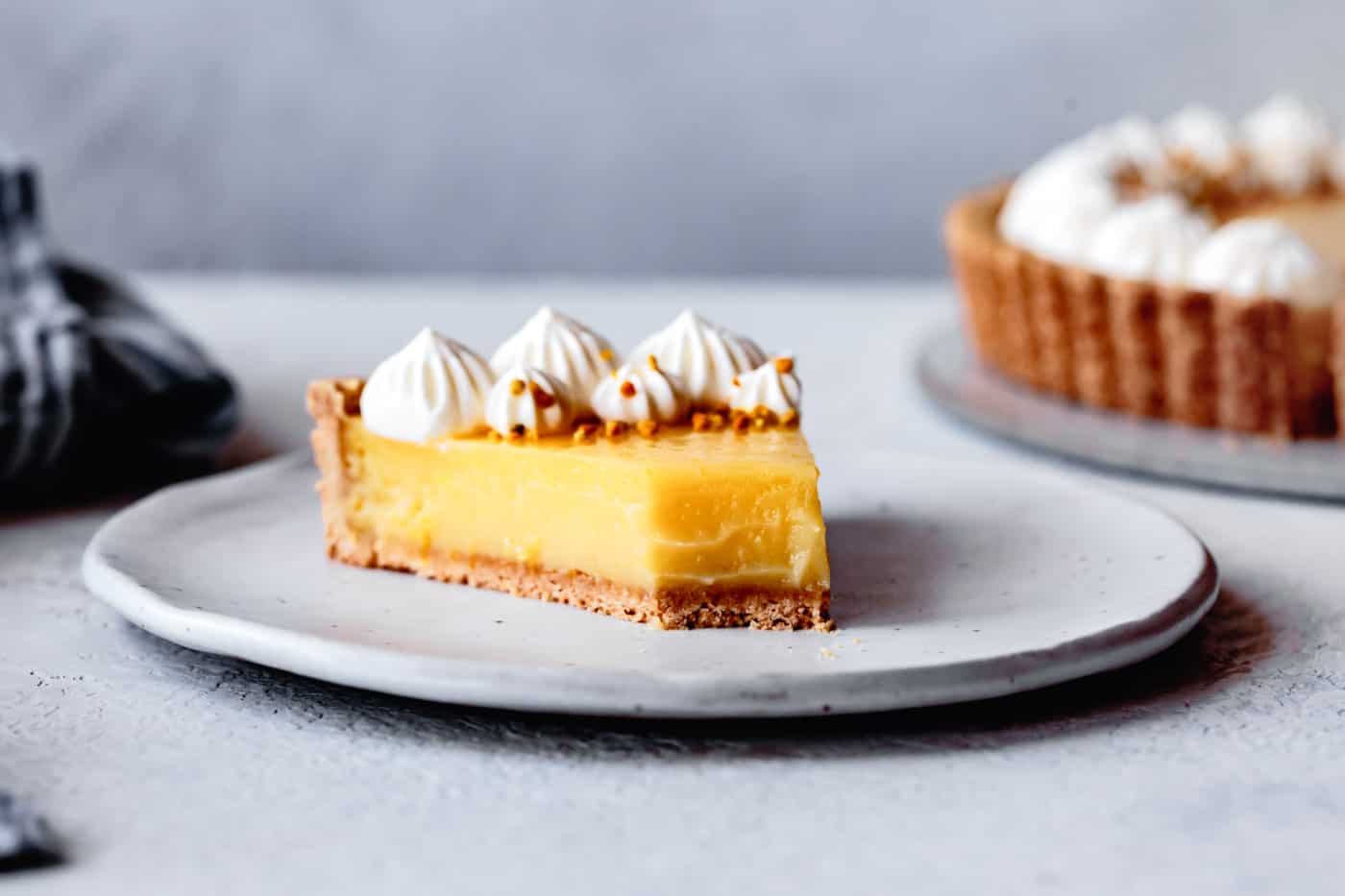 Got extra egg whites from making this gluten-free lemon tart? Here are some recipes that use them: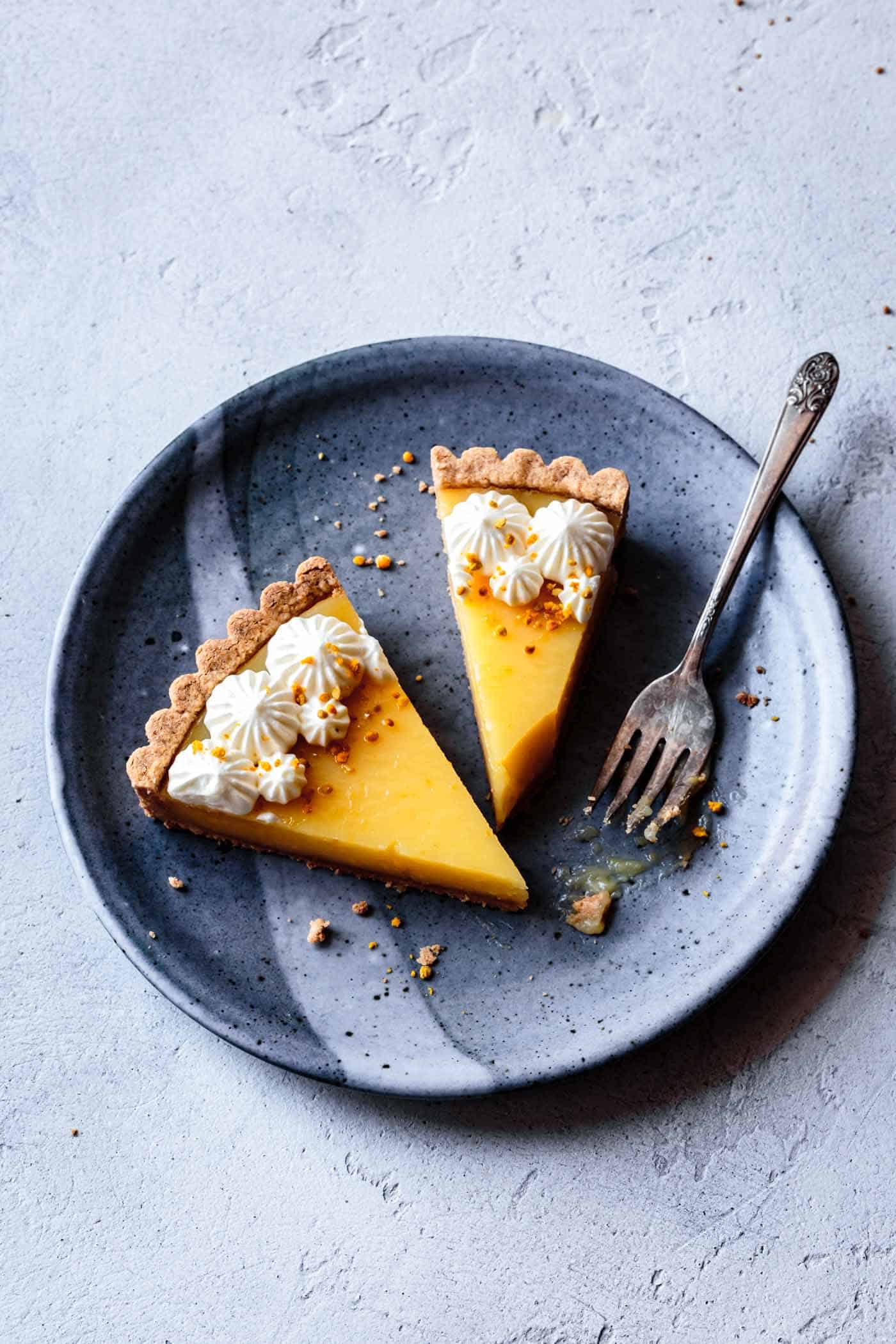 Looking for more ways to use lemons? Try these recipes:
*Bojon appétit! For more Bojon Gourmet in your life, follow along on Instagram, Facebook, or Pinterest, purchase my gluten-free cookbook Alternative Baker, or subscribe to receive new posts via email. And if you make this gluten-free lemon tart recipe, I'd love to see. Tag your Instagram snaps @The_Bojon_Gourmet and #bojongourmet.*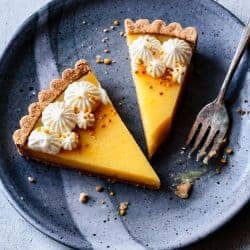 Gluten-Free Lemon Tart
Print Recipe
Pin Recipe
With creamy, tangy lemon curd and a salty-sweet almond flour shortbread crust, this French-style lemon curd tart is easier than the classic.
Ingredients
Filling:
10

tablespoons

(140 g) unsalted butter, sliced

1

tablespoon

firmly packed finely grated lemon zest (from about 2 large lemons)

1 ½

cups

(340 g) organic granulated sugar (or 1 ¼ cups / 275 g for extra tangy bars)

1/8

teaspoon

fine sea salt

4

large eggs

2

large egg yolks

1

cup

(235 ml) strained lemon juice (from about 6 large lemons)

Optional garnishes: heavy cream and crème fraiche whipped to firm peaks, bee pollen for sprinkling
Instructions
Crust:
Prepare, parbake, and press the tart crust as directed.
Filling:
Lower the oven temperature to 325ºF.

Place the butter and lemon zest in a heatproof bowl. Place a mesh strainer over the bowl and set aside.

In a medium, heavy-bottomed saucepan, whisk together the sugar, salt, eggs, and egg yolks to combine. Gradually whisk in the lemon juice.

Place the pot over medium-low heat and cook, stirring constantly with a heatproof silicone spatula, until the mixture thickens slightly and reaches 160-165ºF on an instant-read thermometer, 5–10 minutes. As you stir, be sure to scrape the entire bottom and corners of the pan, so that the mixture heats as evenly as possible. It will start out thick and cloudy from the undissolved sugar, then will turn thin and translucent, and finally begin to thicken and turn cloudy again as the eggs cook. Lower the heat to very low as it gets closer to being done. If the mixture starts to curdle or bubble, immediately remove it from the heat and proceed to the next step.

Immediately pour the curd through the strainer and into the bowl of butter to stop the cooking. Whisk to incorporate the butter and lemon zest, making sure there are no clumps of lemon zest.

Pour the cooked curd over the baked and pressed down crust. If you have extra curd, you can save it in the refrigerator for up to 1 week. It's delicious swirled into yogurt or slathered on toast or biscuits.

Bake the tart at 325ºF (don't forget to lower the oven temp!) until the sides are barely puffed and the center wobbles like firm Jell-O when you give it a gentle shake, 15–25 minutes. It should not be wet or watery looking (underbaked), nor should it be puffed in the center or cracking (overbaked). Remove the tart from the oven and let cool to room temperature for about an hour, then chill until firm, 3-4 hours or overnight.

When the tart is cold, loosen and remove the sides of the tart crust and slide it onto a cutting board. Cut into wedges with a large, sharp chef's knife. For the cleanest cuts, dip the knife in very hot water and wipe the blade clean between cuts.

Just before serving, dust the tart with a bit of powdered sugar or garnish with lemon wheels and/or whipped crème fraîche if you like.

The tart keeps well, refrigerated, for up to 3 days, though the crust is the crispest within the first 1–2 days.
Notes
Gluten-Free Lemon Bars:
No tart pan? No problem! Bake the same recipes as lemon bars following the recipe here.
Meyer Lemon Tart:
Use the smaller amount of sugar and make the tart with Meyer lemon zest and juice.
Make-Ahead:
This lemon tart is best within two days of baking when the crust is crisp. It keeps well in the fridge for up to 4 days. I don't recommend freezing the bars once baked since it might make the curd grainy or watery.
However, you can make the crust ahead and freeze it – baked or unbaked – until you're ready for tart. You can prepare the lemon zest and juice a day or two ahead and refrigerate them until you're ready to bake. You can also cook the curd ahead of time, chill it for up to 3 days, and soften it in a bain marie before pouring it into the baked crust and proceeding with the recipe.
Nutrition values are for 1 of 10 servings of the filling only.
Nutrition
Calories:
259
kcal
Carbohydrates:
32
g
Protein:
3
g
Fat:
14
g
Saturated Fat:
8
g
Cholesterol:
135
mg
Sodium:
156
mg
Potassium:
53
mg
Fiber:
1
g
Sugar:
31
g
Vitamin A:
497
IU
Vitamin C:
10
mg
Calcium:
19
mg
Iron:
1
mg