Vegan key lime pie that's entirely grain-free, paleo-friendly, and refined sugar-free bursting with the flavors of bright citrus and luscious coconut.
This healthy key lime pie recipe comes together with minimal effort, no baking required!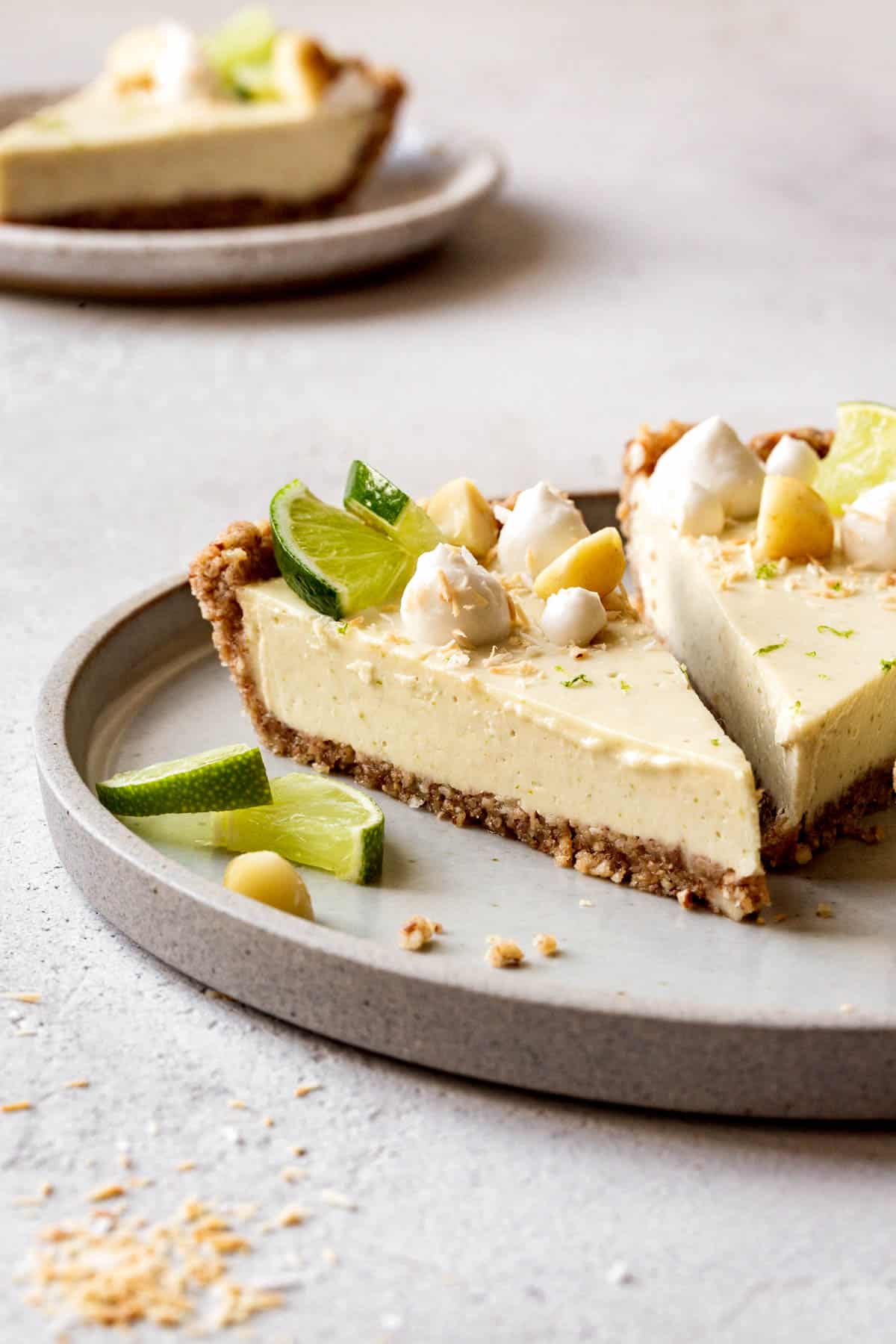 Key lime pie is divine any time of year, but I especially appreciate it during winter and early spring, when I'm craving fruit desserts but there's still not much in season in California. Enter lime pie, with its bright hue and sunny taste chasing away the dregs of winter. Macadamia nuts, cashews, and coconut all whisper of tropical vacations and sunny beaches.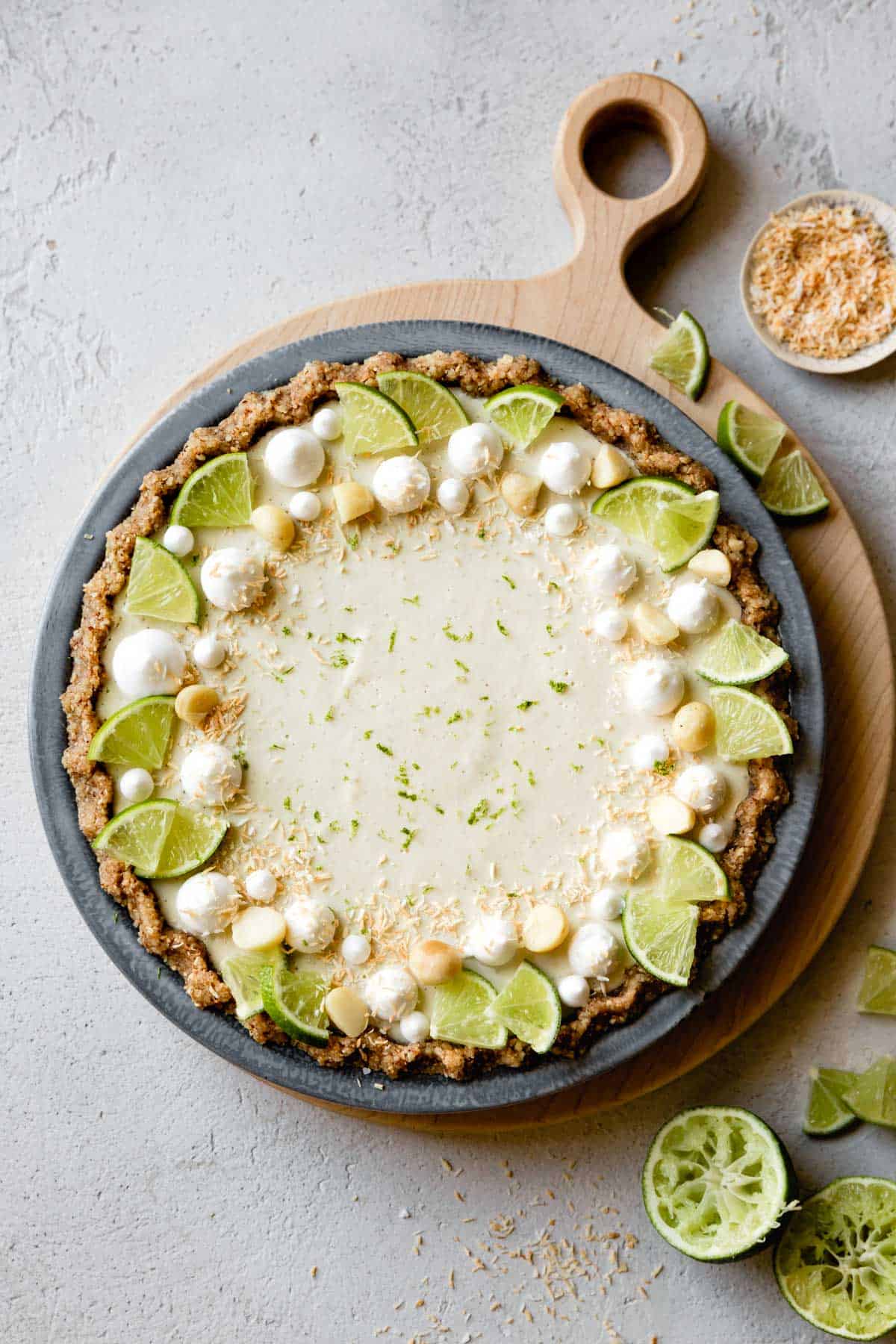 After I shared this no-bake lemon tart several years ago, I immediately started plotting a coconut-lime version of it. It was worth the wait! So today I present to you this vegan key lime pie recipe accented with a toasted coconut crust, a coconut-cashew key lime filling, and a coconut yogurt topping. It's tangy, creamy, bright, and so satisfying. I hope you love it as much as we do!
Find more healthy no-bake dessert recipes here!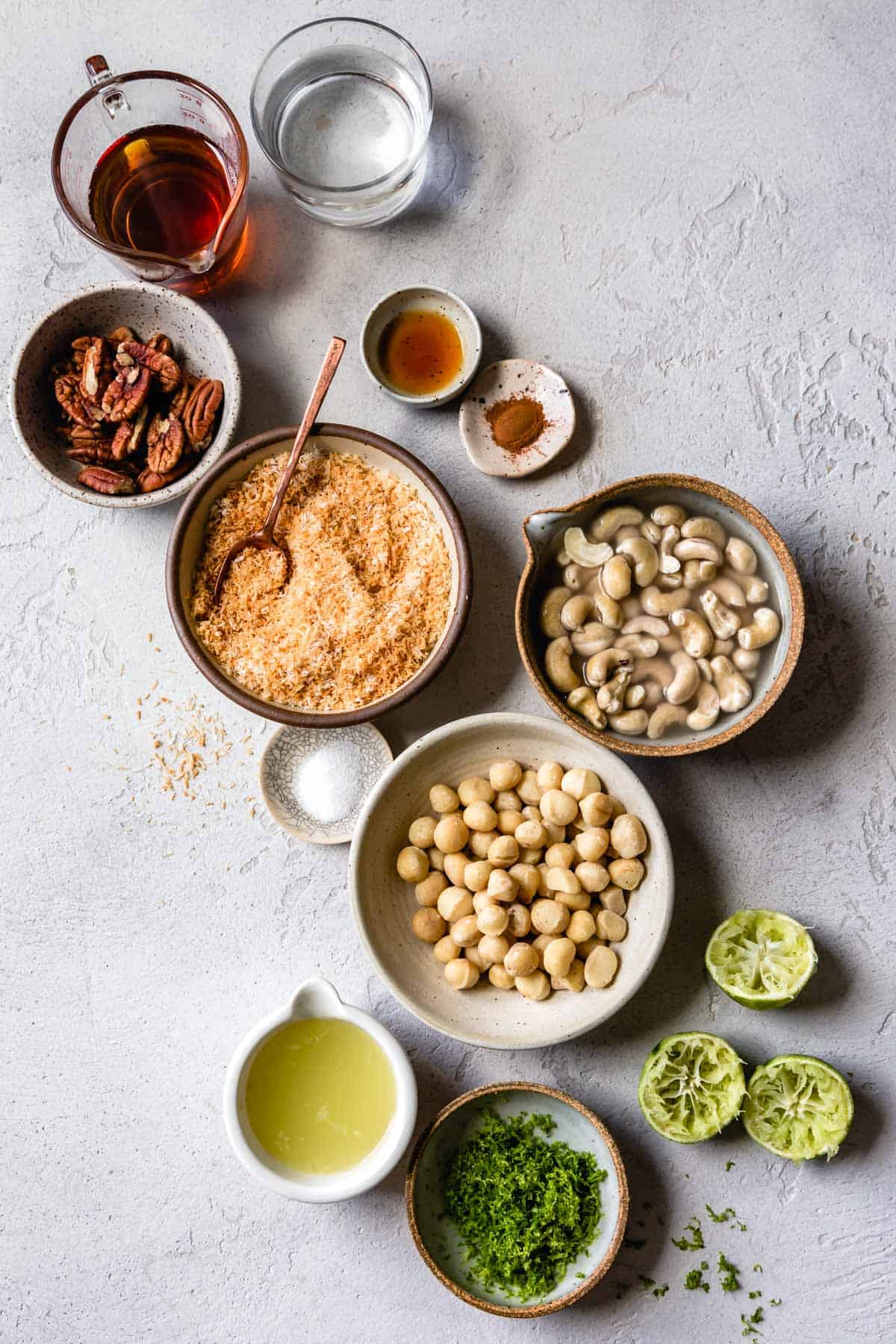 Vegan Key Lime Pie Ingredients & Substitution Suggestions
No-Bake Coconut-Macadamia Crust
I make this pie with a nut crust to keep it simple, vegan, and paleo. For a more traditional key lime pie, use my homemade gluten-free graham cracker crust. My almond flour tart crust recipe would also work.
Pecans, macadamia nuts, and toasted coconut form the base of the crust. But you can use any nuts you like: cashews, pistachios, almonds, brazil nuts, or anything else you have on hand. I left the nuts raw for a more neutral flavor, but you can use toasted nuts if you prefer. I do like the caramel notes toasted coconut lends the crust.
Maple syrup holds the crust together. You could use another liquid sweetener, such as honey, agave, or date syrup.
Vanilla, cinnamon, and salt add addictive flavor and a graham cracker vibe. I struggled to not eat all the crust straight from the food processor because it tastes like the most divine macaroons ever.
"Key" Lime Pie Filling
As I explain below, I use regular limes here, which are easier to find than key limes. Look for limes that have thin, shiny skin and are more yellow than green – the cue for ripe limes with copious juice. That said, you could make this pie with any citrus fruits. I'm currently dreaming of a tangerine vanilla version! Zest the limes first with a microplane, then juice them.
Soaked cashews add body. You can either soak the cashews in cool water for 4-8 hours, or do a quick soak with boiling water for 1-2 hours. I wouldn't recommend subbing a different nut for the cashews, as cashews have a uniquely silky texture and neutral flavor when pureed. But you could use an equal amount of raw cashew butter by weight.
Maple syrup adds sweetness. I prefer a lighter maple syrup for a more neutral flavor. Or try another liquid sweetener such as agave or honey. Both are sweeter than maple, so start with half the amount and add more to your taste.
Coconut water (or water) adds moisture. I love the depth of flavor and natural sweetness that coconut water adds here. But if you don't have any on hand, use regular water (preferably filtered) and add a little more sweetener to your taste.
Vanilla and salt sharpen the flavors.
Coconut oil sets the filling as it hardens in the fridge. I like the flavor of raw extra-virgin coconut oil, but you could use refined coconut oil if you want less coconut flavor. Or you could try palm oil; just make sure it isn't red or it will turn the filling brown. I add just enough coconut oil to give a soft set to the filling, which continues to firm after a day or two in the fridge. If you want it to firm up more quickly, add 2 more tablespoons of coconut oil to the filling.
How to Make Vegan Key Lime Pie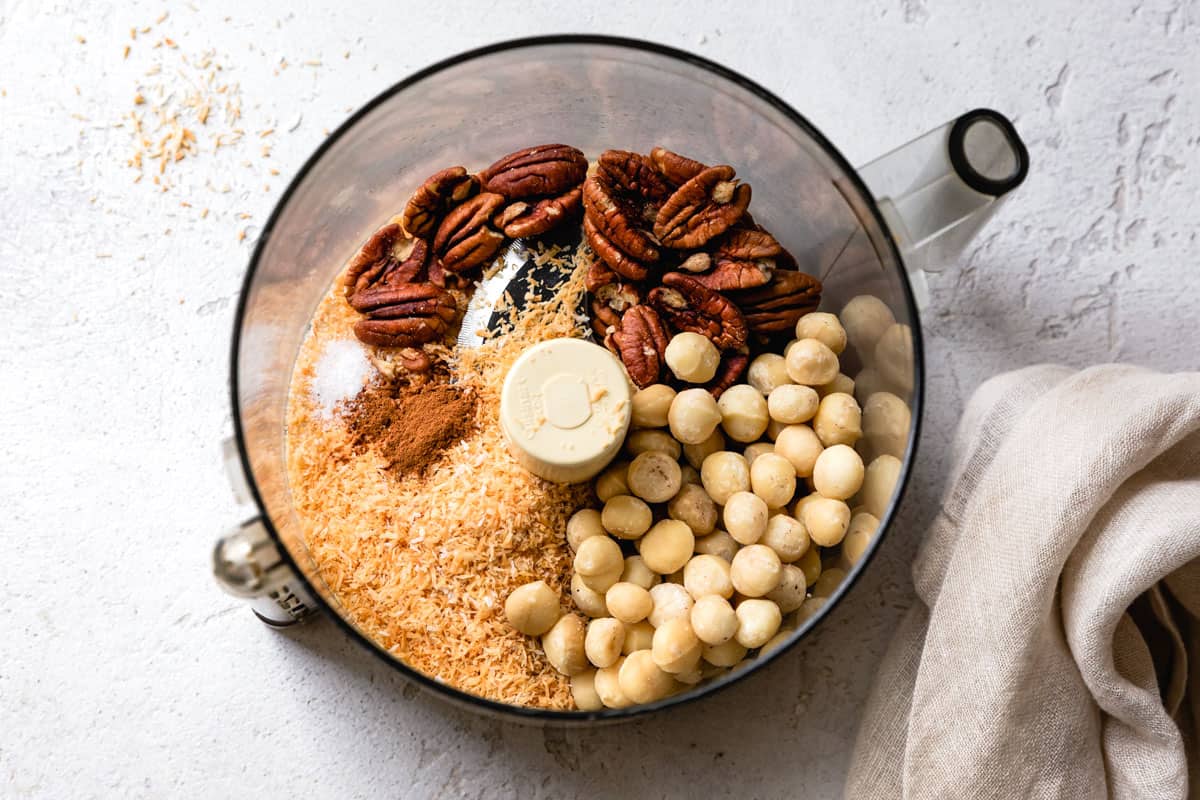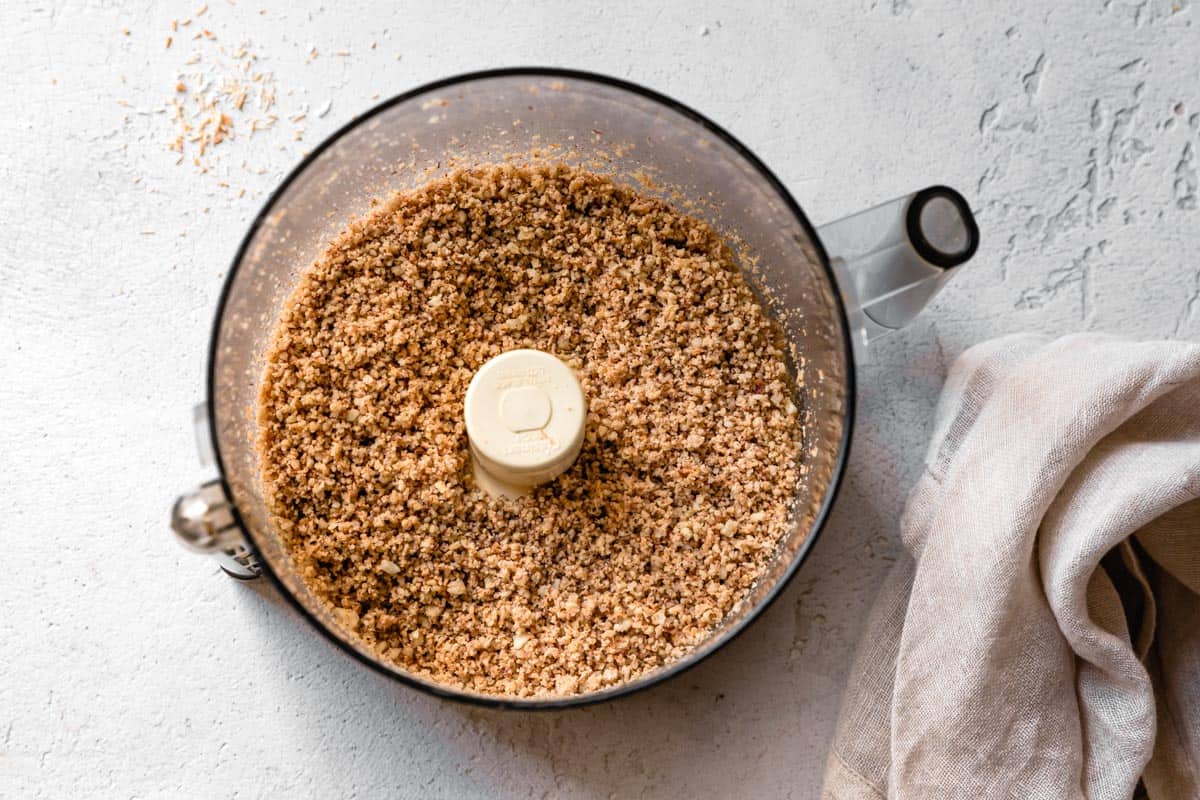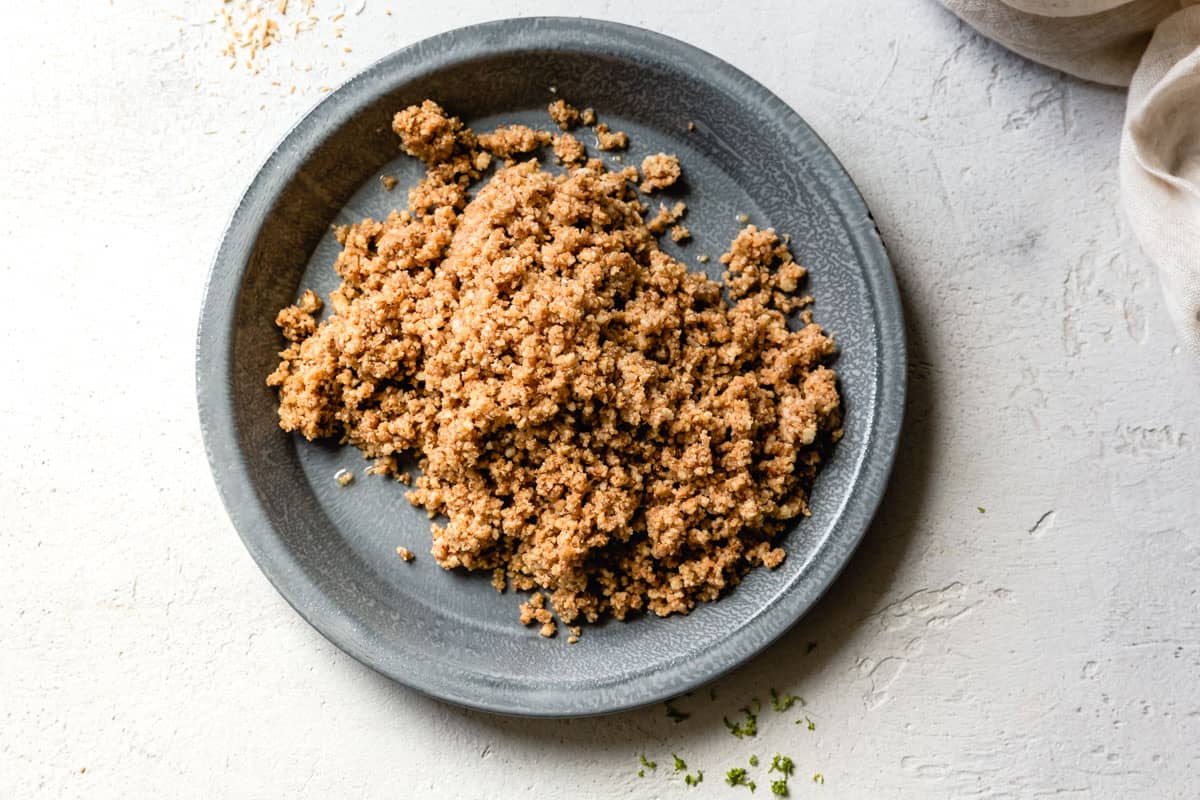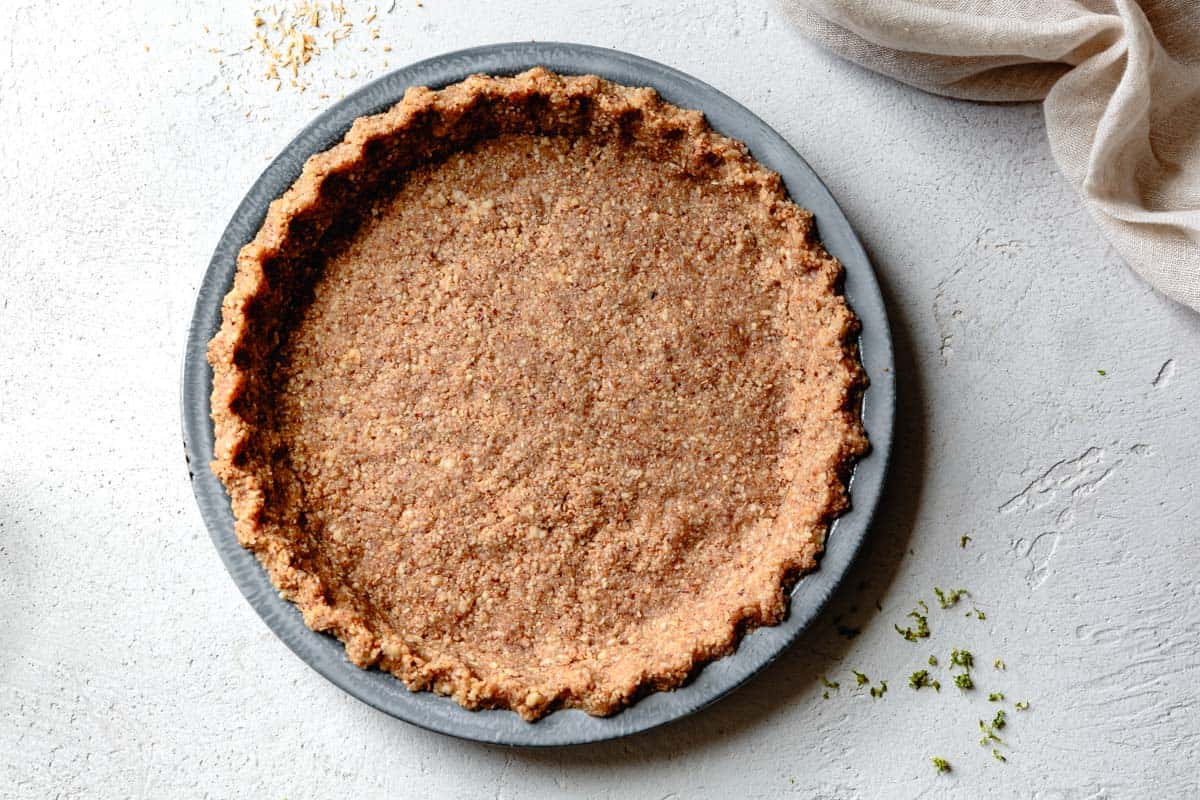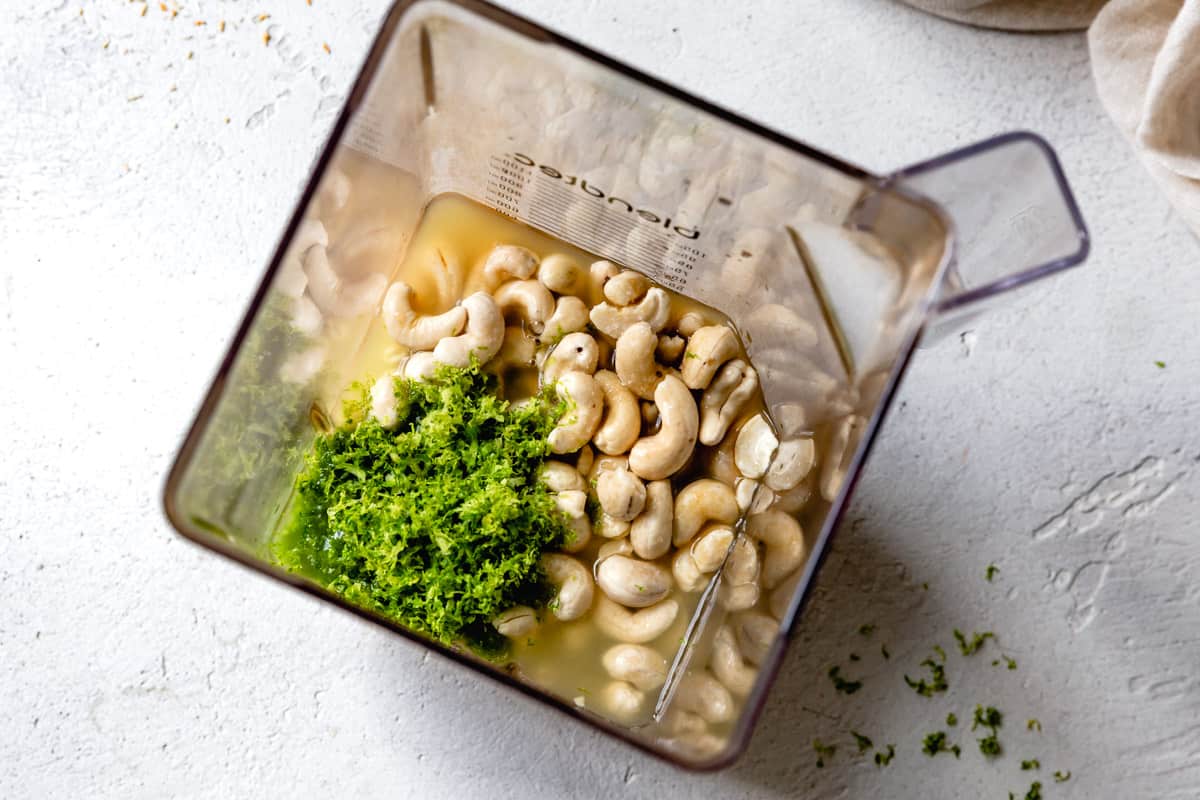 Key Lime Pie Origins
Key lime pie dates back to the 1930s where it was said to have been invented by the maker of sweetened condensed milk. Traditional key lime pie is typically formed in a graham cracker crust. The filling consists of raw egg yolks beaten with key lime juice and sweetened condensed milk. The acids in the lime juice go to work on the proteins in the eggs and milk to firm up the filling to a sliceable consistency.
While I love a classic key lime pie, the idea of eating raw eggs always puts me off. Plus it's loaded with refined sugar, which I'm trying to limit.
In my healthy key lime pie recipe, whole food ingredients stand in. Ground nuts and coconut form the crust with a touch of maple syrup. Soaked cashews and extra-virgin coconut oil give the filling body loaded with healthy fats.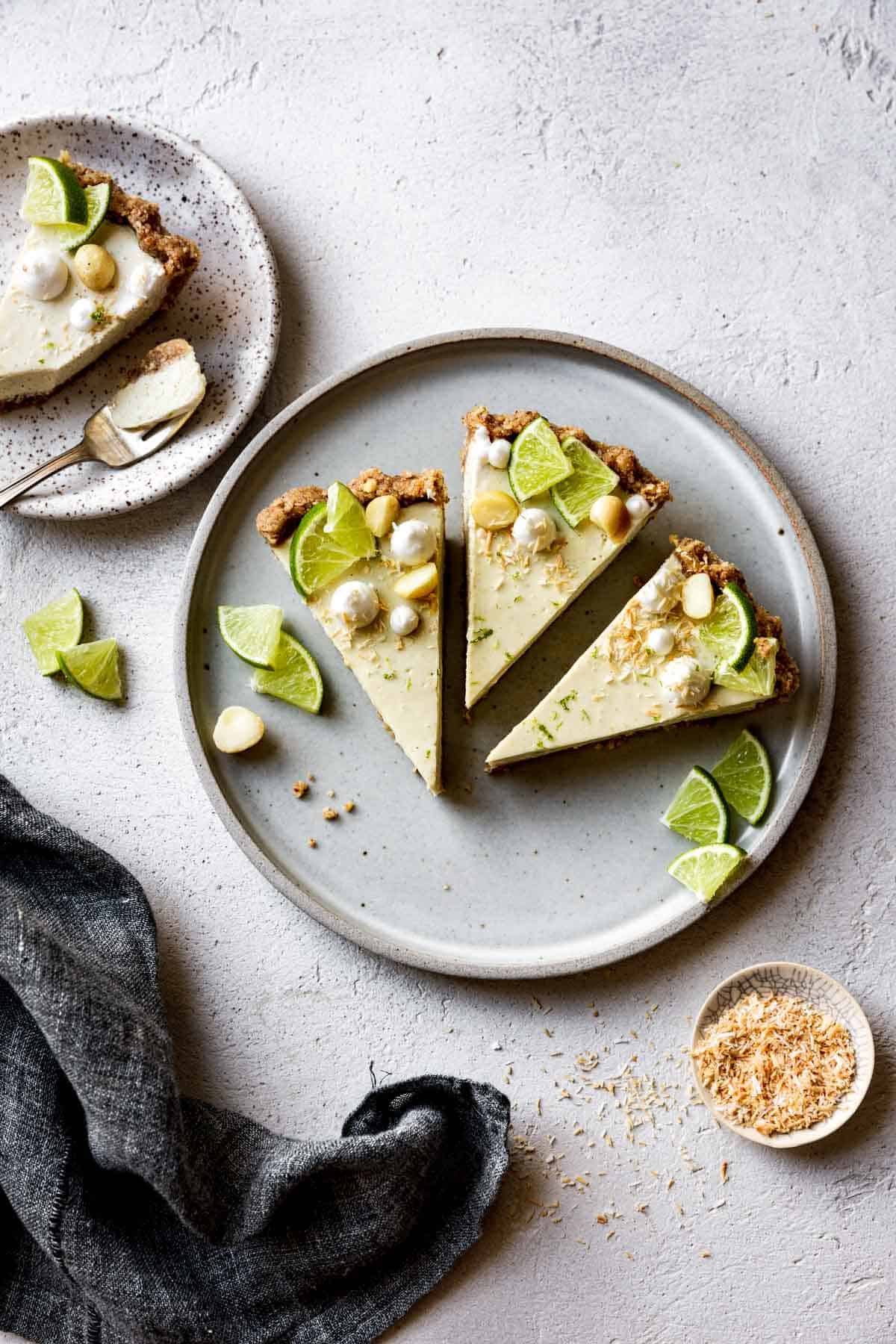 Key Lime Substitute
Can you make key lime pie with regular limes? Yes you can! Traditional key lime pie is made with a variety of limes called key limes, which are very small and not readily available in many parts of the US and the world. But key lime pie has become the ubiquitous term for any lime pie, regardless of what kind of limes went into it.
Key limes are more yellow in hue, and they're said to be more aromatic than the larger, deep-green limes that are more common. If you're lucky enough to find some key limes and you use them to make this pie, please let me know how it is!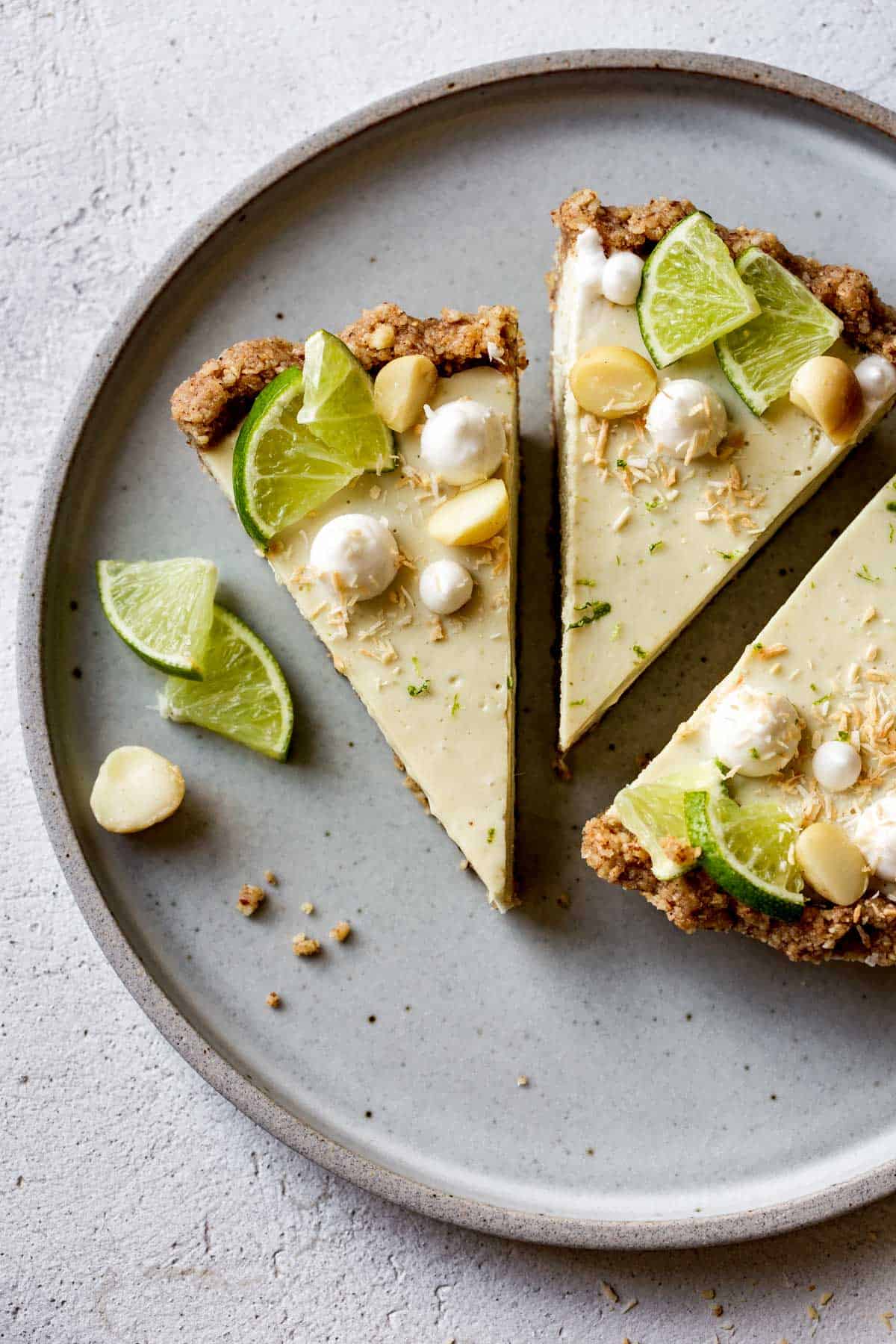 No-Bake Key Lime Pie
No oven? No problem! This raw key lime pie recipe doesn't require any baking aside from toasting the coconut, which is optional, and you can have it whipped up in under an hour. It benefits from setting in the fridge for several hours, but you can also pop it in the freezer to speed this up. Or if you're really in a hurry, shape the pie in individual cups or jars, that way it won't matter if the filling is too soft to slice.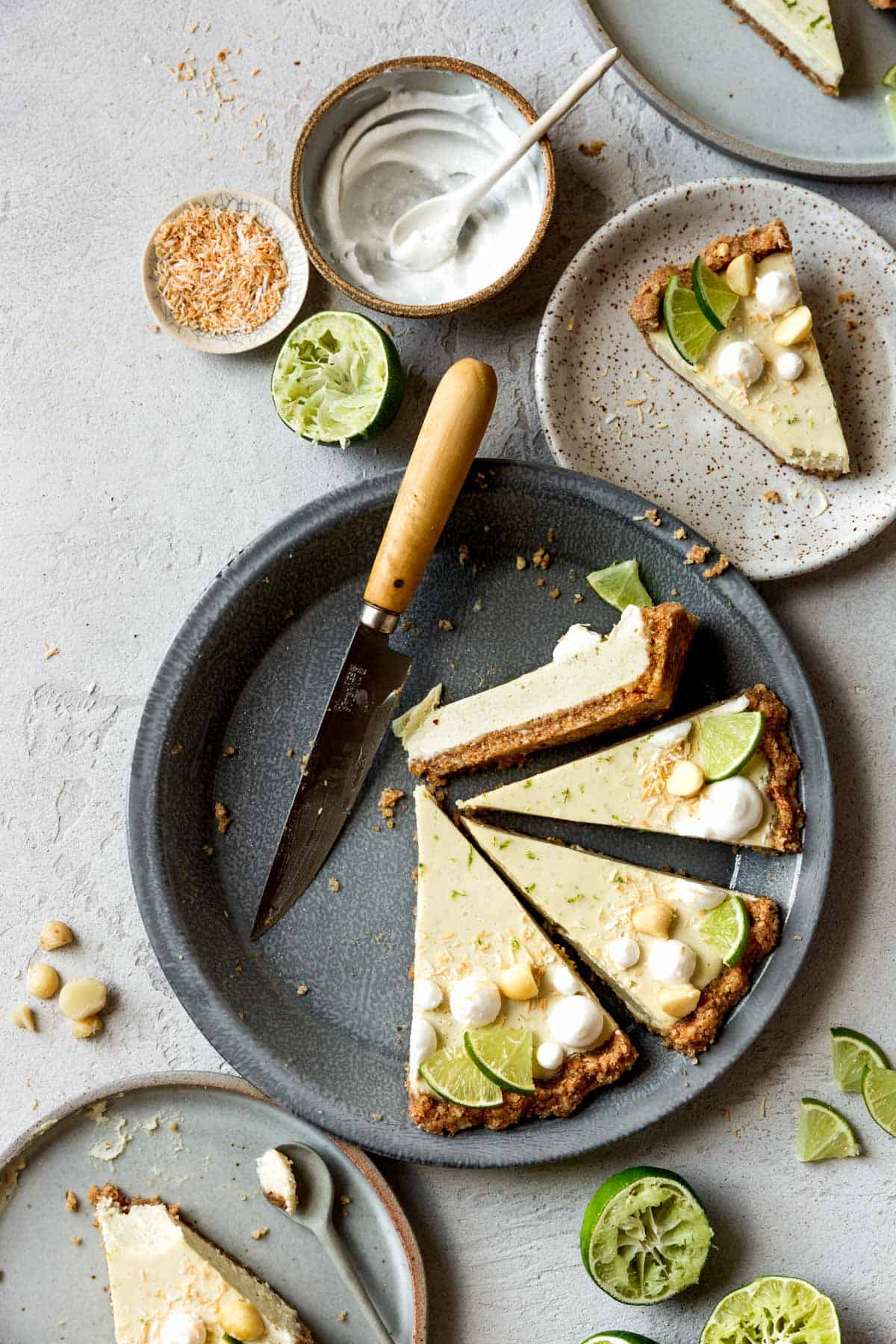 Healthy Key Lime Pie
This paleo key lime pie is full of satiating healthy fats and fiber from nuts and coconut. Plus it's loaded with vitamin C from fresh lime juice and zest. Though healthier than it's traditional key lime counterpart, it tastes rich and decadent with a refreshing tartness that makes your toes curl.
Bite into a slice of this vegan paleo key lime pie and enjoy the luscious coconut filling bursting with bright citrus. Sink your teeth into the nutty crust kissed with warmth and sweetness. Cool coconut topping smooths out the edges.
Any way you slice it, this vegan key lime pie is a dessert that everyone will love.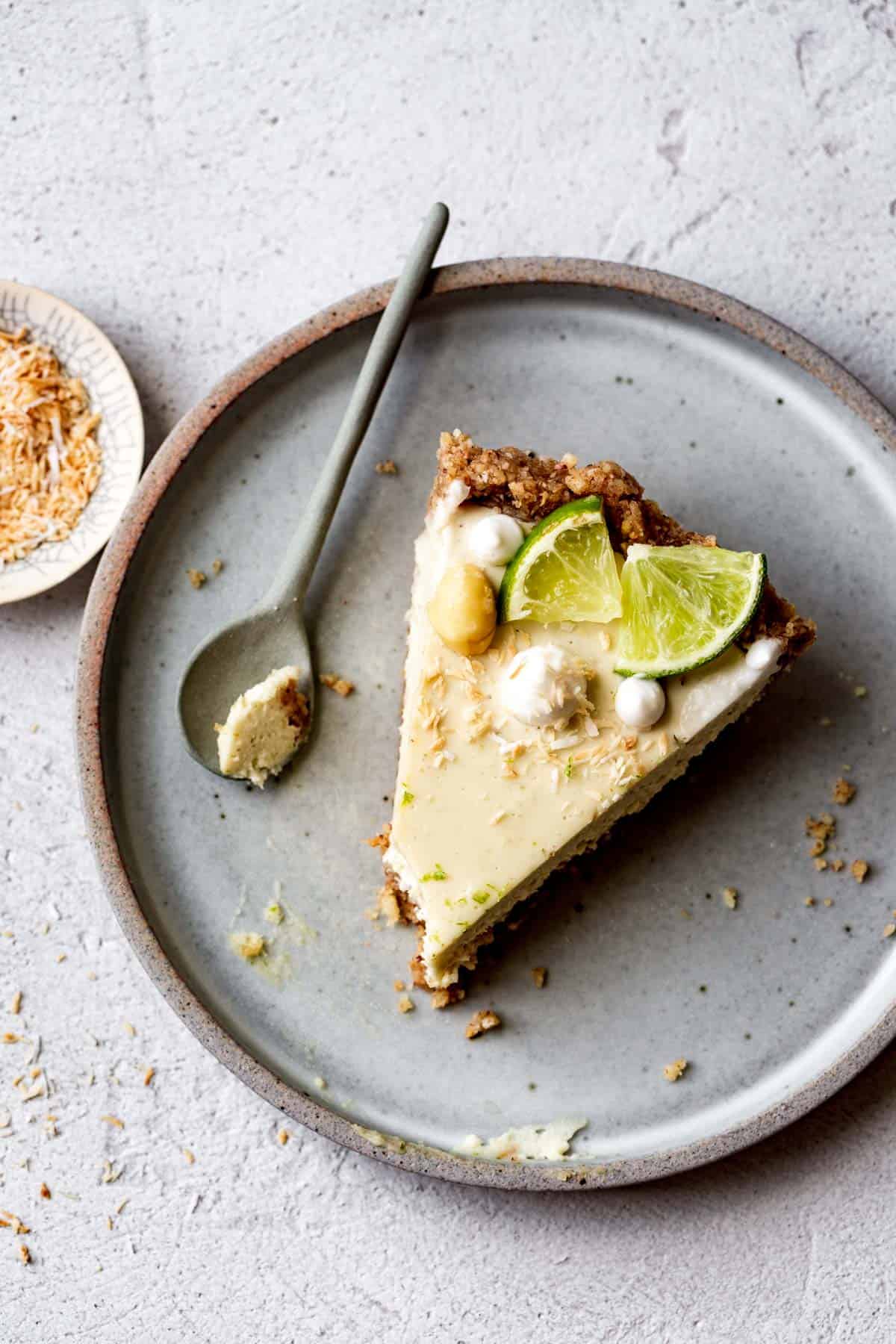 Bojon appétit! For more Bojon Gourmet in your life, follow along on Instagram, Facebook, or Pinterest, purchase my gluten-free cookbook Alternative Baker, or subscribe to receive new posts via email. And if you make this vegan key lime pie recipe, I'd love to know. Leave a comment and rating below, and tag your Instagram snaps @The_Bojon_Gourmet and #bojongourmet.
More Gluten-Free Citrus Desserts
More Healthy Vegan No-Bake Desserts
How to Make Vegan Key Lime Pie
Print Recipe
Pin Recipe
Vegan key lime pie that's entirely grain-free, paleo-friendly, and refined sugar-free bursting with the flavors of bright citrus and luscious coconut. This pie takes only 30 minutes of active time to make; give yourself at least one hour to soak the cashews and 4 hours to chill the pie (or an hour in the freezer).
Servings:
12
small but rich servings
Ingredients
CRUST:
1

cup

(130 g) raw or lightly toasted macadamia nuts (or other nuts)

1

cup

(110 g) raw or lightly toasted pecans (or other nuts)

1

cup

(70 g) raw or lightly toasted unsweetened shredded coconut

¼

teaspoon

ground cinnamon

½

teaspoon

vanilla extract

⅛

teaspoon

fine sea salt

2

tablespoons

maple syrup (30 ml)

spray oil, for the pan
FILLING:
1 ¾

cups

(230 g) raw cashews, soaked in cool water for 4-12 hours or covered in boiling water and soaked 1-2 hours

zest from 5-6 large limes (2 tablespoons lightly packed)

½

cup

+ 2 tablespoons (145 ml) lime juice (from 5-6 large limes)

½

cup

+ 2 tablespoons coconut water (or use filtered water and add more maple syrup to taste)

½

cup

(120 ml) maple syrup (preferably light in color)

½

teaspoon

vanilla extract

⅛

teaspoon

fine sea salt

½

cup

+ 2 tablespoons melted and cooled extra-virgin coconut oil (125g) (increase to ¾ cup / 180 g if serving right away so it sets up faster)
FOR SERVING (OPTIONAL):
whipped coconut cream or thick coconut yogurt (see note)

lime slices

toasted coconut

macadamia nuts
Equipment
food processor

high-speed blender
Instructions
CRUST:
In the bowl of a food processor, pulse the macadamia nuts, pecans, coconut, cinnamon, and salt until finely ground. Take care not to over-process or the mixture will turn to nut butter.

Drizzle in the maple syrup and vanilla and pulse until the mixture clumps together.

Use moistened fingers to press the crust into the sides, then the bottom, of a lightly oiled 9-inch pie pan or loose-bottom tart pan. Chill while you make the filling
FILLING:
Rinse and drain the cashews and place them in the bowl of a high-speed blender with the lime zest and juice, coconut water, maple syrup, vanilla, and salt. Blend on low, gradually increasing to high until silky smooth, 2-3 minutes, scraping down the sides of the blender as needed.

Add the melted coconut oil and blend until just combined. Taste, adding more sweetener if you feel the filling needs it. Pour the filling into the chilled crust, and chill until firm, about 4 hours (or cover and chill overnight).
Notes
Do-ahead:
This pie keeps beautifully for up to 3 days, so feel free to make it ahead.
I find it easiest to make the crust in a food processor and the filling in a blender. But you can make both components in either if you prefer. If using a food processor for the filling, add the coconut water after you've pureed the cashew-lime-maple mixture so it doesn't splash everywhere.
For an extra-green pie, add 1-3 teaspoons of matcha green tea powder until you like the color. Or add spirulina, chlorella, or a handful of spinach leaves.
I used thick coconut yogurt to top this pie. The brands Culina, Coyo, and Cocojune all work well for this, though Culina is thick enough to pipe. Alternatively, make whipped coconut cream by chilling a can of coconut cream for several hours or overnight. Open the can without tilting or shaking, and remove the thick coconut cream from the top, discarding the liquid. Whip on high until thickened, then sweeten to taste with a little maple syrup and a splash of vanilla.
Nutritional values are for 1 of 12 servings.
Nutrition
Calories:
421
kcal
Carbohydrates:
23
g
Protein:
6
g
Fat:
37
g
Saturated Fat:
16
g
Sodium:
66
mg
Potassium:
316
mg
Fiber:
4
g
Sugar:
13
g
Vitamin A:
10
IU
Vitamin C:
4
mg
Calcium:
47
mg
Iron:
2
mg