The easiest vegan paleo chocolate pudding you will ever make with just 4 main pantry ingredients and 5 minutes of active time. Maple-sweetened and naturally free of gluten, dairy, eggs, sugar, and nuts.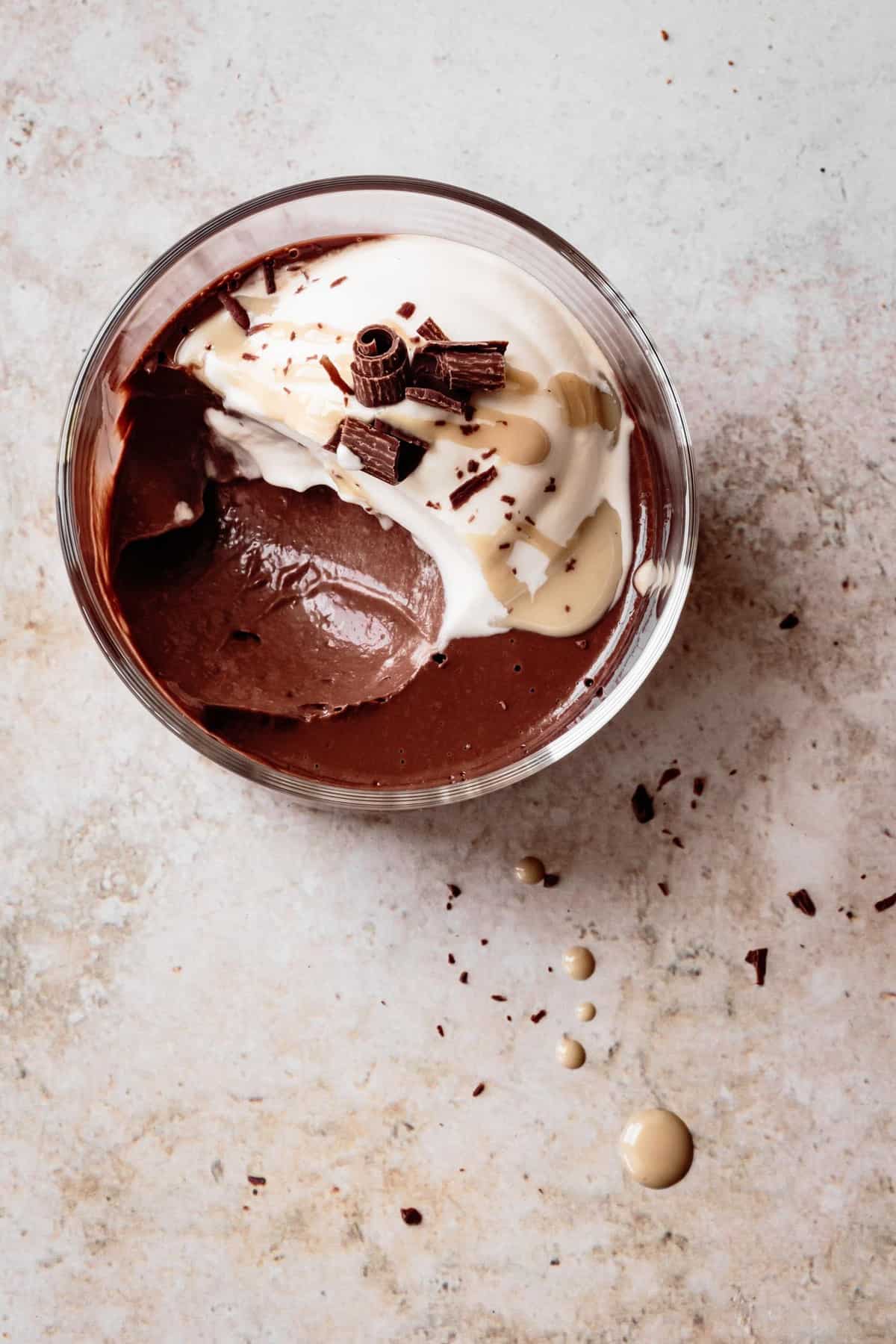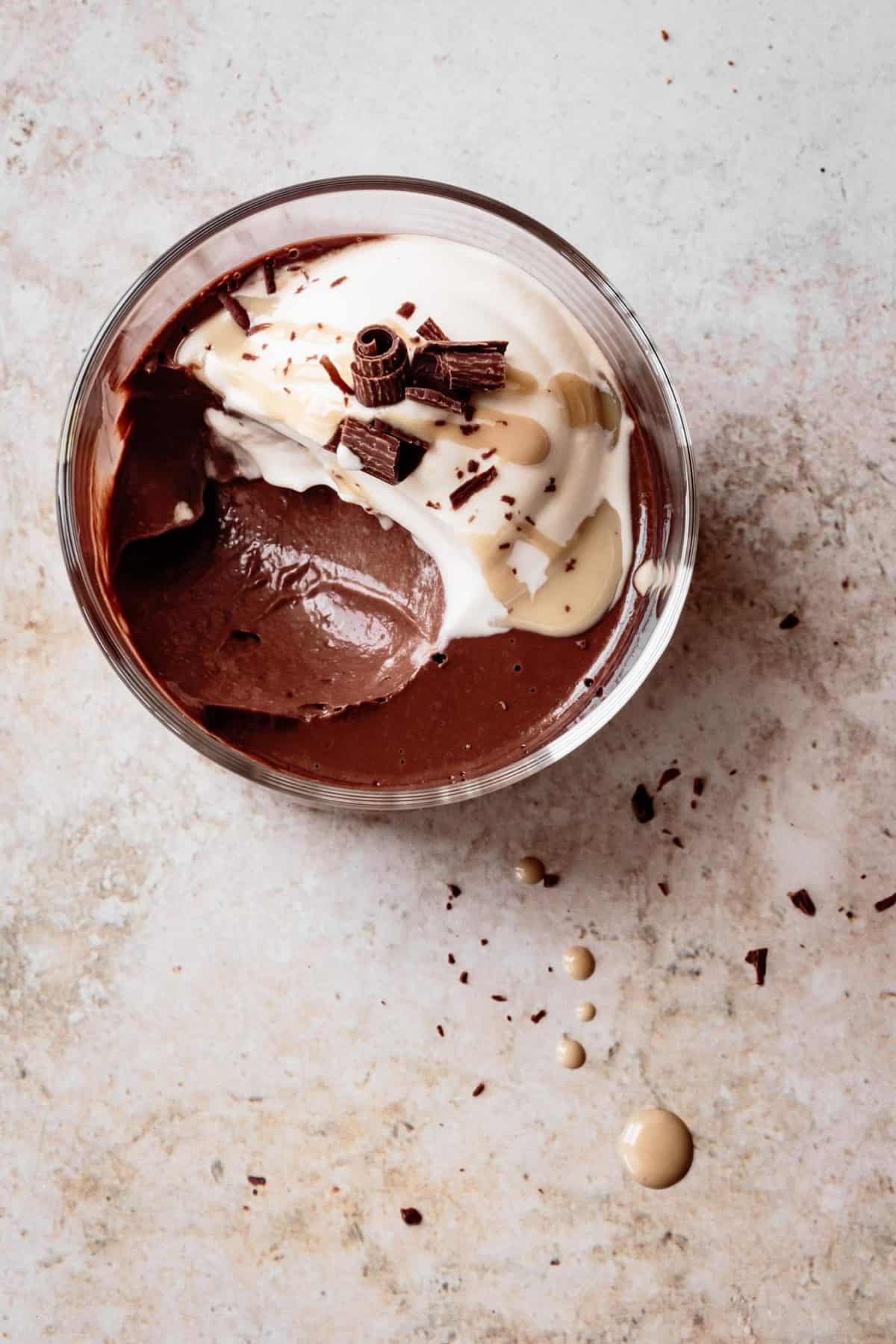 I'm never not craving pudding. Whether it's classic chocolate pudding, butterscotch pudding, pumpkin pudding, rice pudding, tapioca pudding, pot de creme, breakfast chia pudding, or chocolate pudding pie, I'm here for it.
I also have a thing for chocolate and tahini, be it in the form of cookies, more cookies, tart, hot fudge sauce, zucchini bread, or brownies.
Really, this moment was inevitable. I've been tinkering with this tahini chocolate pudding recipe for close to a year now, and I couldn't be more excited to share it today!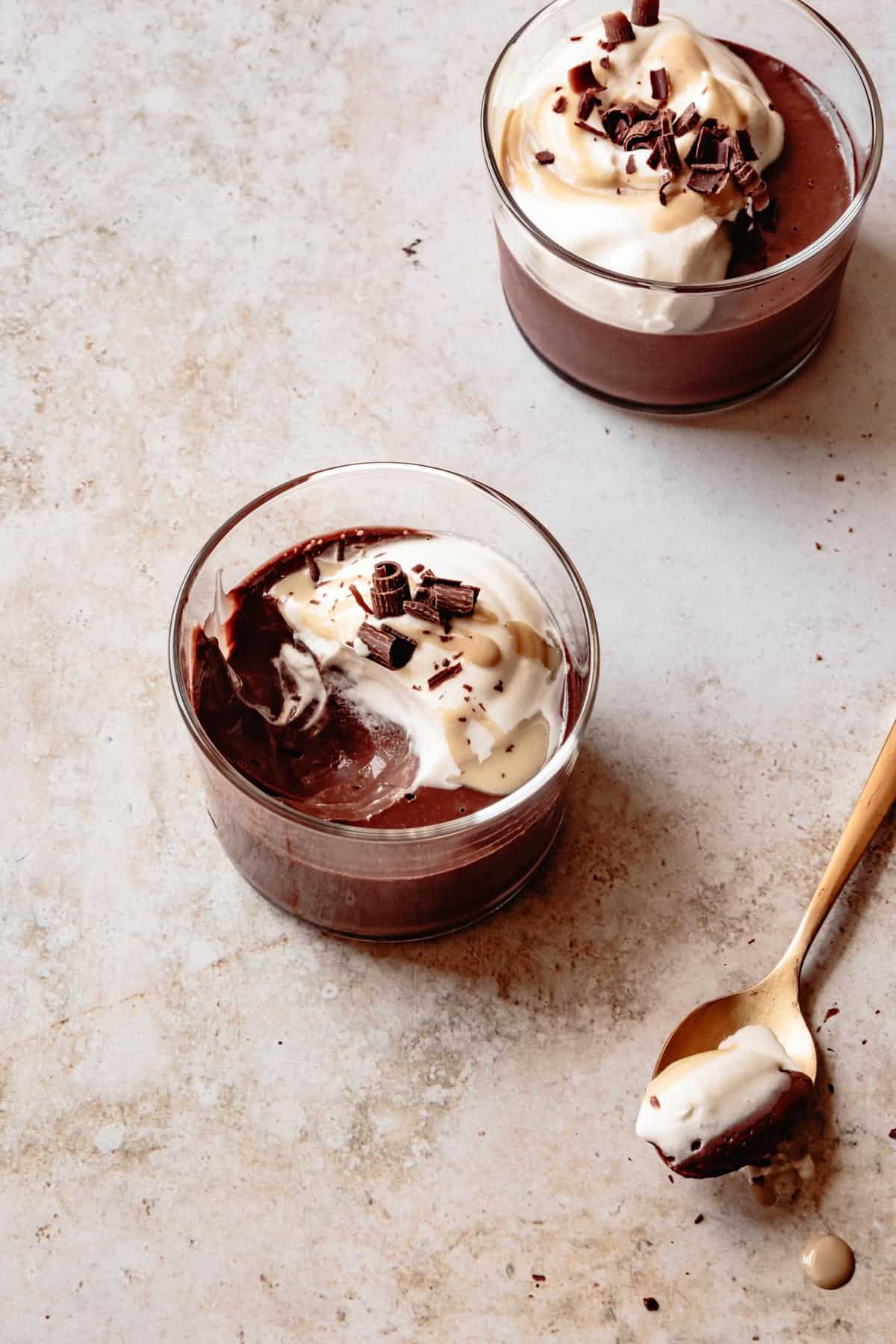 The Easiest Healthy Chocolate Pudding
Many years ago when TBG was just a little baby, I shared a raw vegan chocolate pudding recipe that uses similar ingredients to this one – nut milk, cocoa powder, maple syrup, and coconut oil, set with lecithin and agar powder. I crave this pudding often, but I don't usually have those ingredients around.
This paleo chocolate pudding recipe satisfies my sweet tooth in a similar way but with a tahini twist. As a bonus, I always have the ingredients at hand! The recipe could not be easier, made with just 4 main ingredients (plus vanilla, salt, and water) and 5ish minutes of active time, no cooking required.
Tahini Chocolate Pudding
Tahini gives this vegan chocolate pudding recipe a subtle sesame flavor. This flavor combination has a similar vibe to chocolate and peanut butter, and it always reminds me of the marbled chocolate halva my mom used to buy for us when I was little.
But this recipe also works just as well with any favorite creamy nut or seed butter, so use what you've got. I recently made a chocolate peanut butter pie with a variation of the recipe, and the combo was just as delicious. Suggestions below!
Top these paleo puddings with a dollop of coconut yogurt or whipped coconut cream, a drizzle of tahini, and a sprinkle of chocolate shavings. Serve with a side of vegan gluten-free graham crackers if you like, for a s'mores vibe.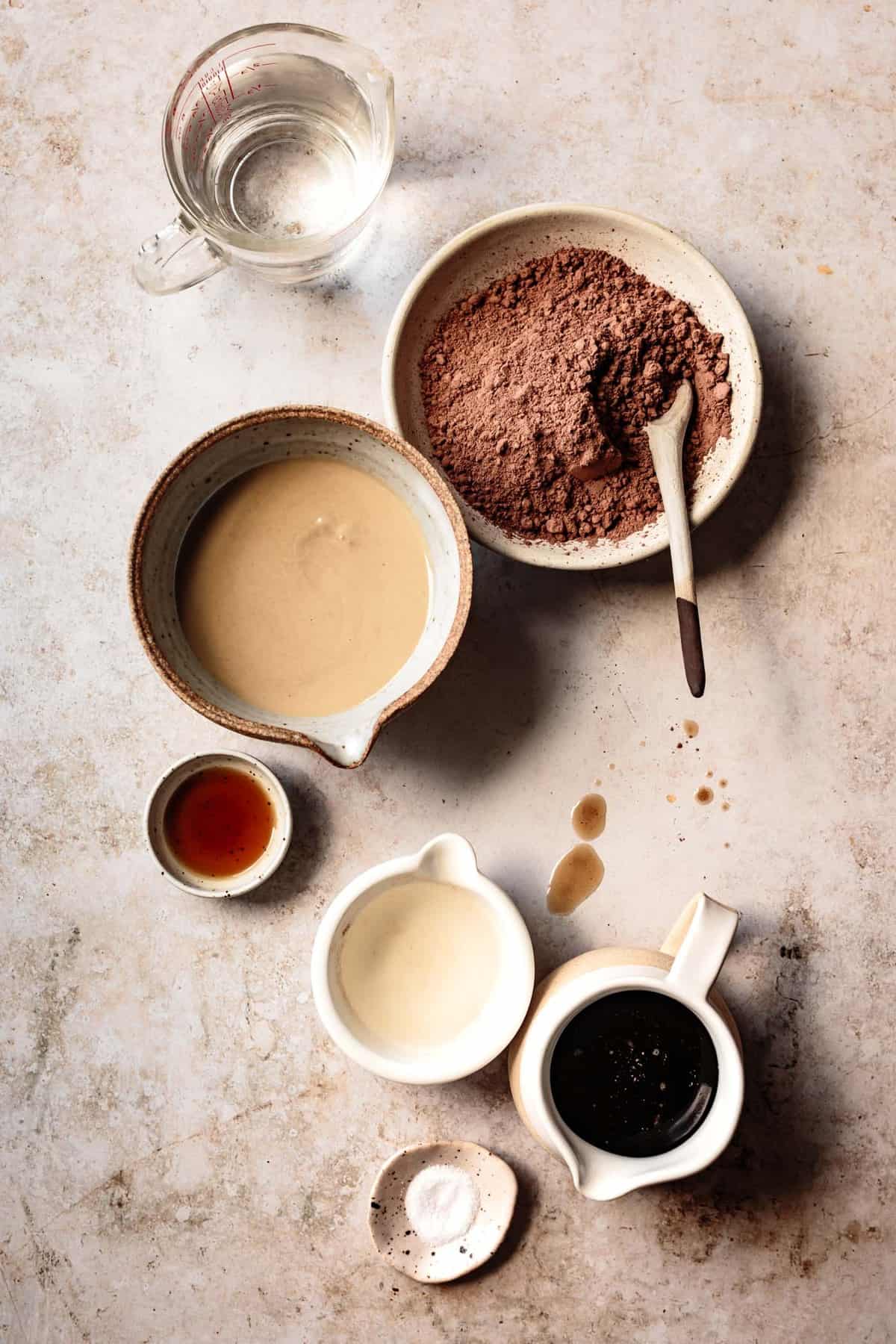 Healthy Chocolate Pudding Ingredients & Substitution Suggestions
Nut or seed butter forms the base of this pudding. I use tahini because I love the sesame flavor it adds, but any creamy nut or seed butter will work. Cashew butter would make a neutral base, while peanut, almond, or hazelnut would add luscious complimentary flavors. Use what you've got!
Cacao or cocoa powder give this pudding a rich chocolate flavor. I like using raw cacao powder, but natural cocoa powder and dutch-process cocoa work too.
Water blends with the tahini and cocoa powder to form a thick base. I've tested this with all water and with a mix of water and plant milk, and I didn't really have a preference. There's enough richness from the tahini that the pudding tastes super rich and thick either way.
Maple syrup sweetens the pudding naturally. Any grade will work, so use what you've got. Other liquid sweeteners will work here as well, just add them to your taste since they can vary in sweetness.
Vanilla and salt sharpen the flavor.
Coconut oil sets the pudding into a thickly scoopable texture that literally melts in your mouth. It's important to measure the coconut oil accurately, since too little will give you loose pudding that doesn't set up well. If your pudding does end up too soft after 3 hours of chilling, you can melt it down and whisk or blend in another tablespoon or two of melted coconut oil, then chill again. I'm often asked for coconut substitutions, and you could try palm oil, melted ghee (for non-vegan) or cacao butter, which are all solid when cold.
How to Make Paleo Chocolate Pudding
Classic chocolate pudding is made by cooking milk with starch, sugar, and cocoa until thick, then adding in chocolate. But this paleo chocolate pudding recipe comes together with no cooking required.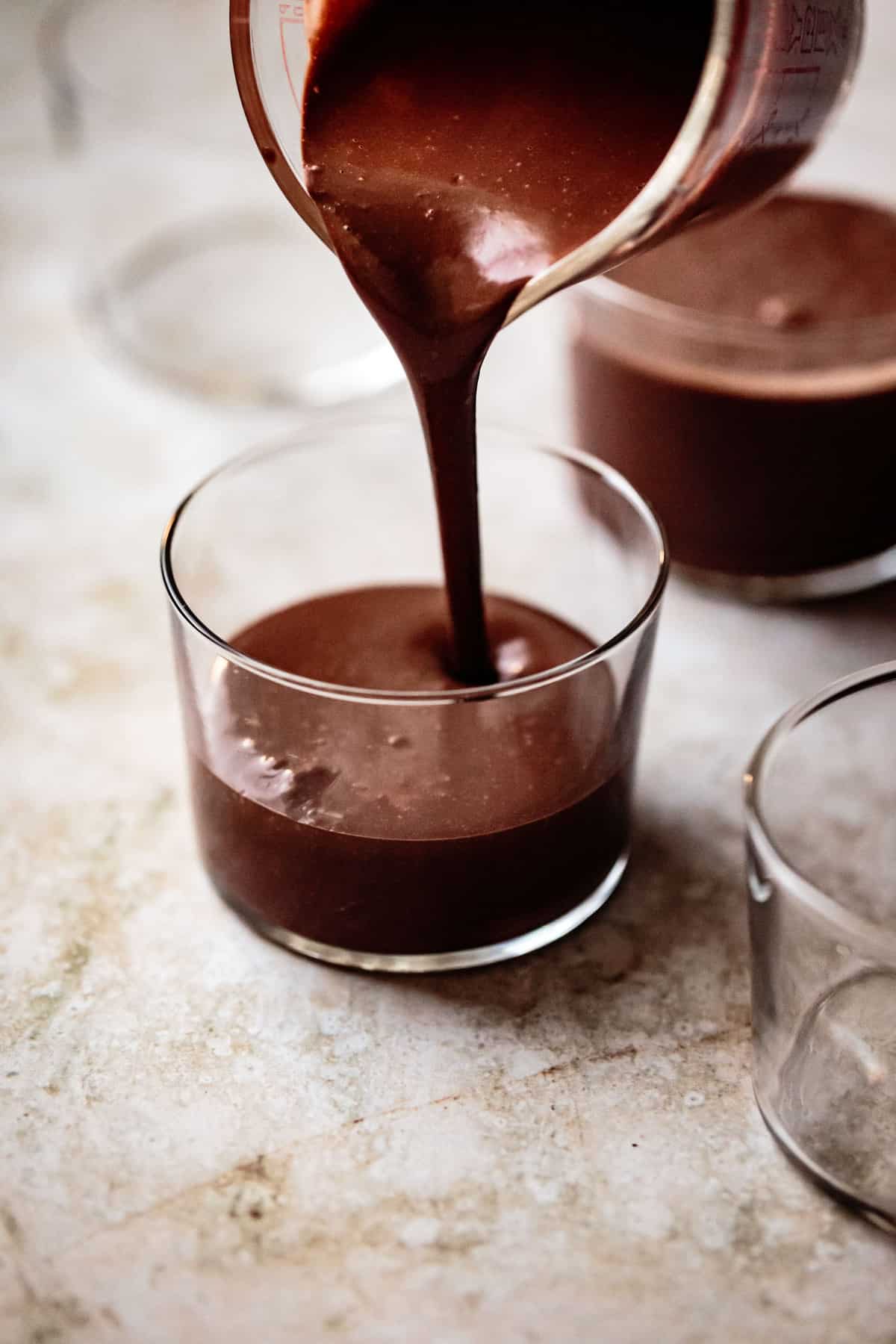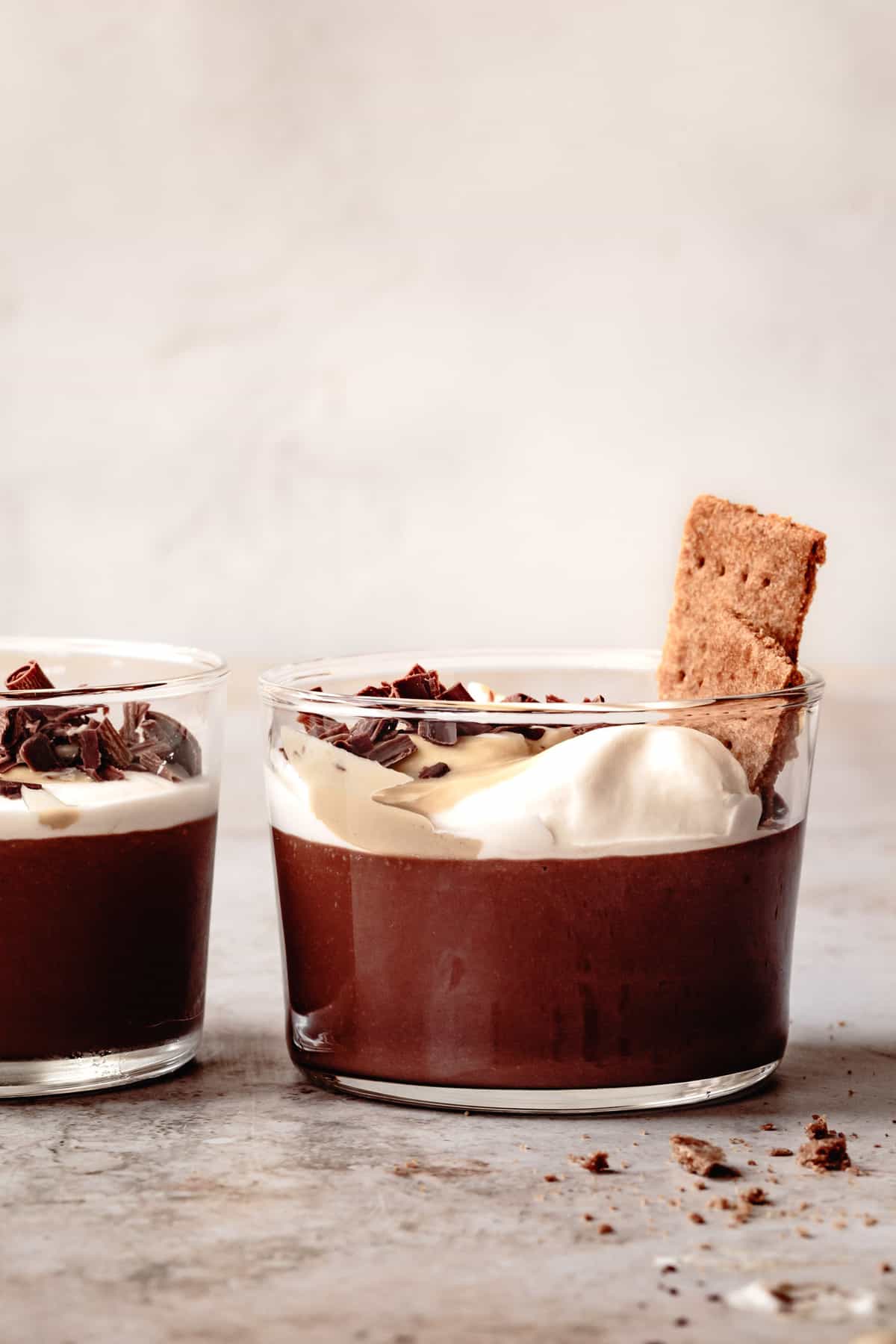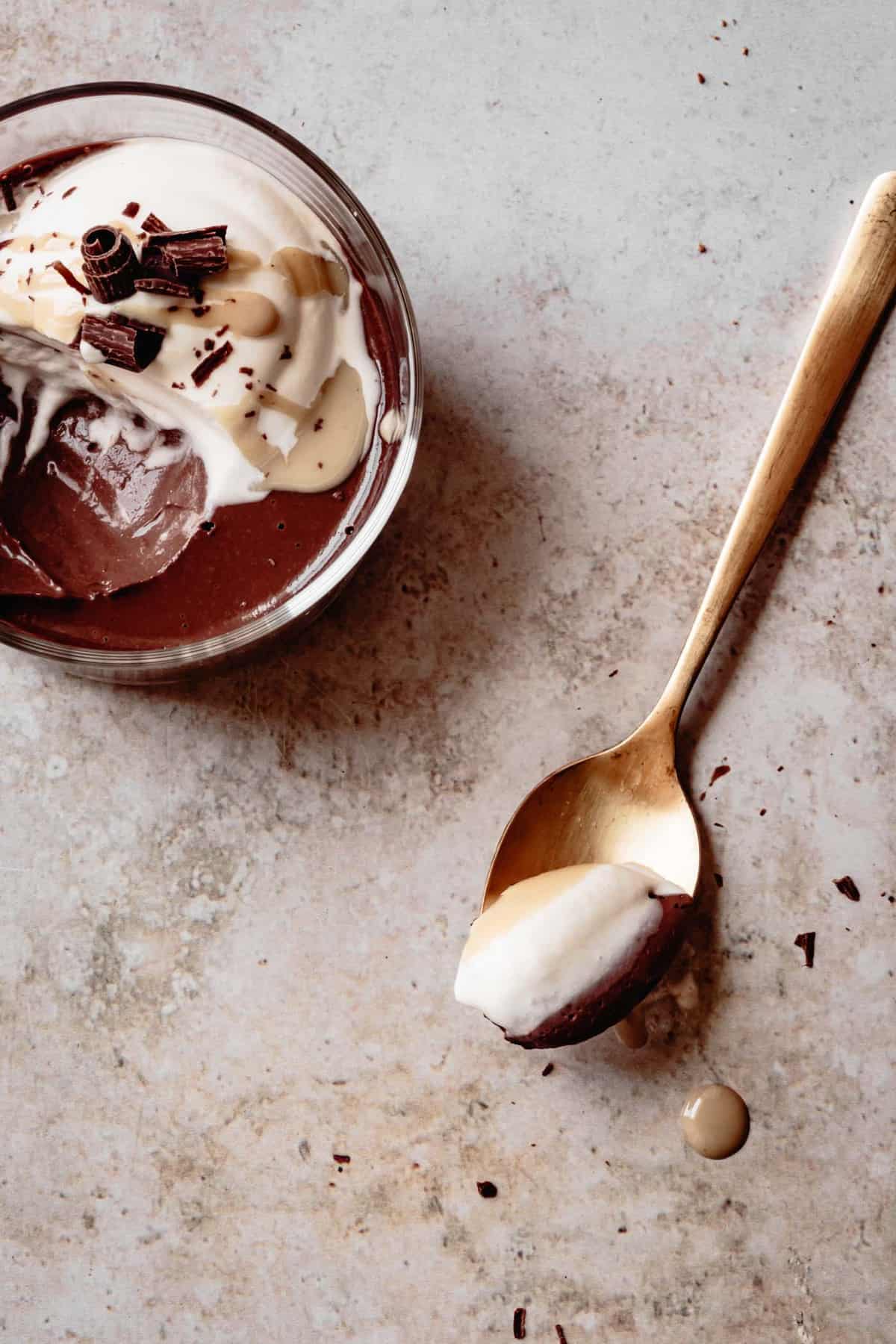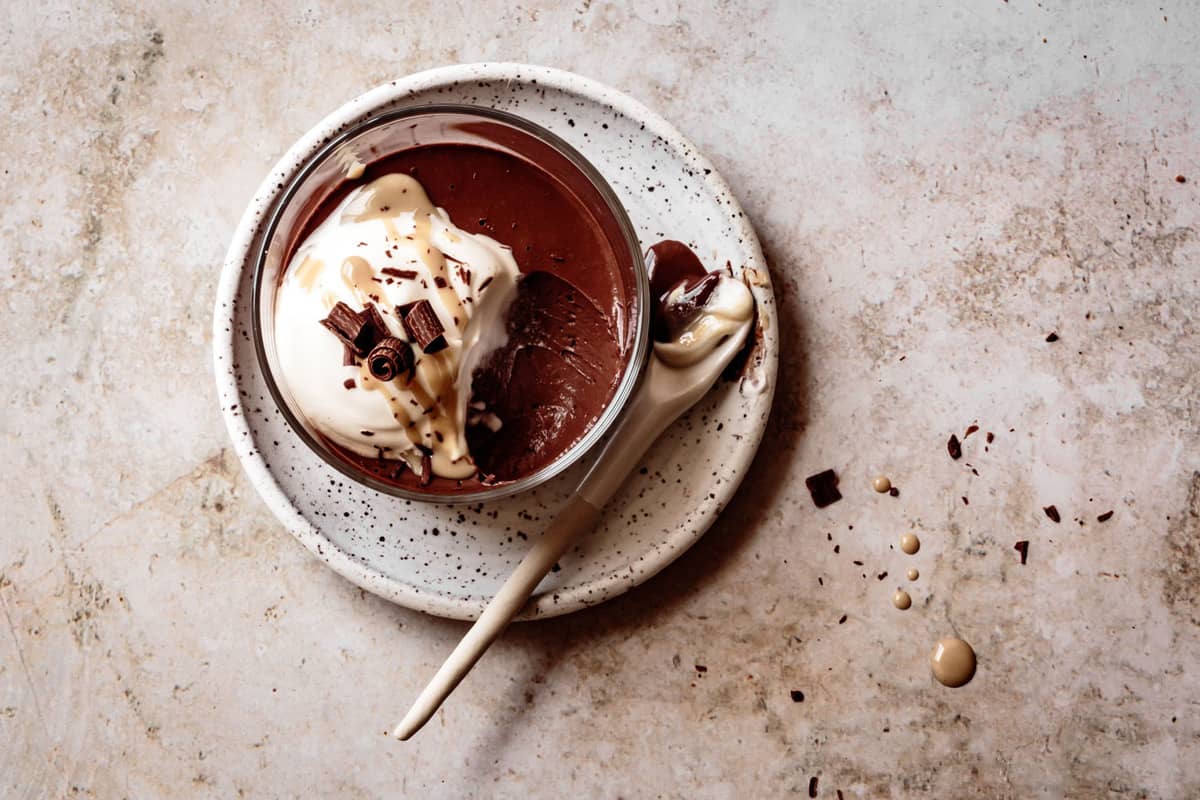 Magical Chocolate Pudding for Everyone
This healthy chocolate pudding recipe doesn't seem like it should work, but it does, magically, every time. Here's what I love about it:
It comes together in a snap with pantry-friendly ingredients.
It's suitable for many dietary preferences: paleo, vegan, and gluten-free.
Allergy-friendly: dairy-free, egg-free, nut-free, refined sugar-free, maple-sweetened.
No cooking required.
Keeps brilliantly for up to several days.
Easy to transport to parties, picnics, potlucks, and on road trips and campouts.
Rich, luscious, and chocolatey.
Made with good-for-you ingredients, but tastes and feels like a decadent chocolate treat!
If you give it a whirl, please let me know how you like it.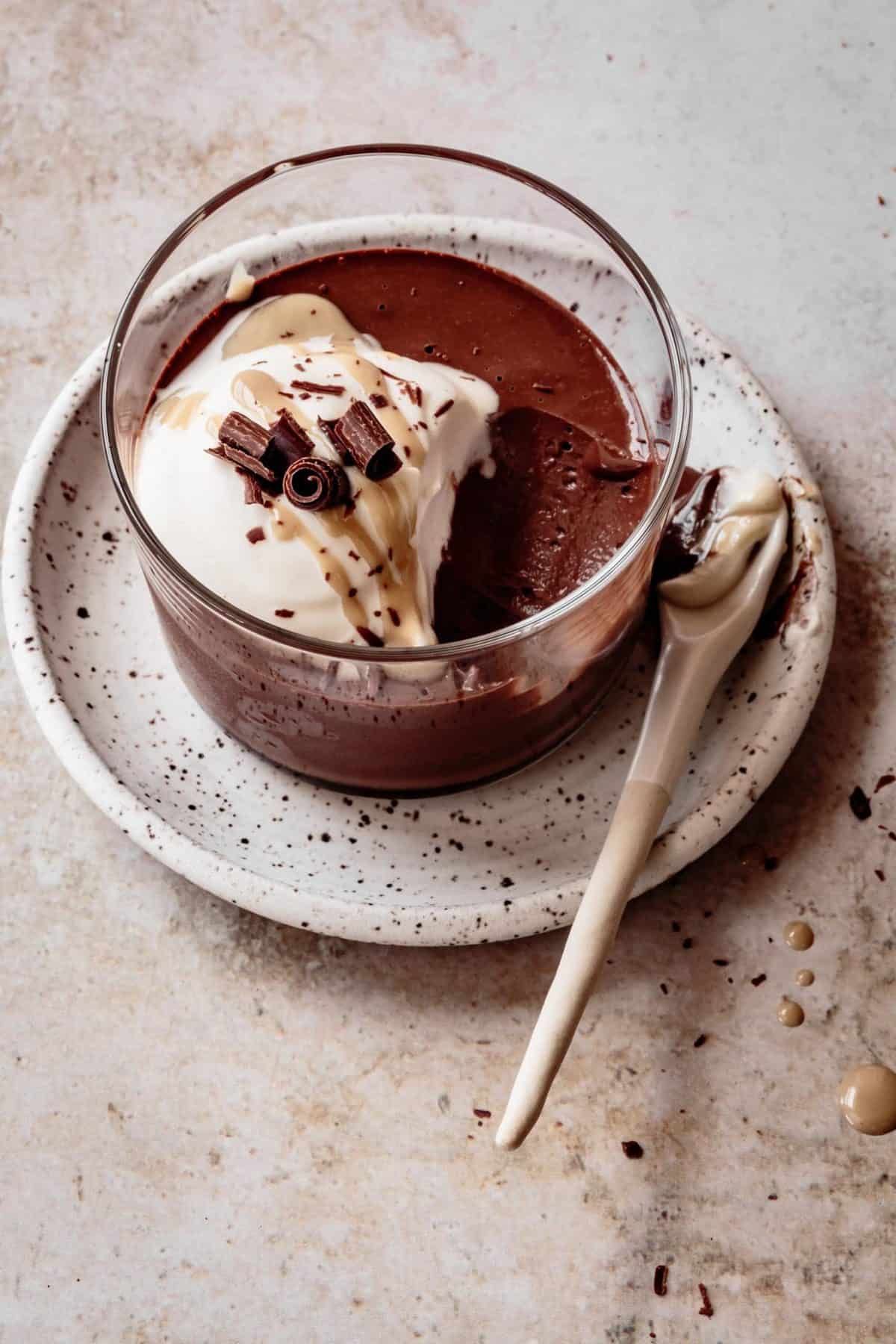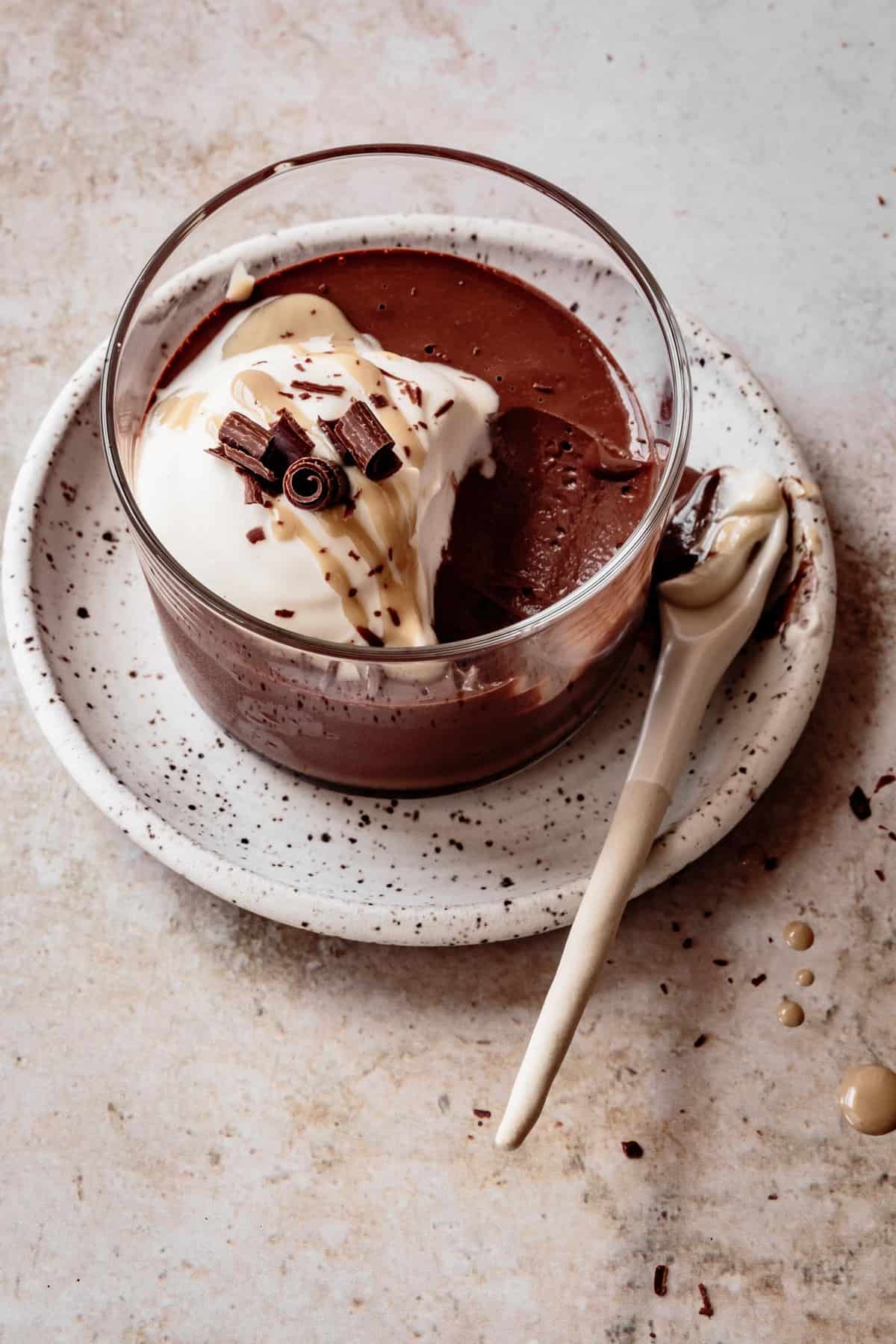 *Bojon appétit! For more Bojon Gourmet in your life, follow along on Instagram, Facebook, or Pinterest, purchase my gluten-free cookbook Alternative Baker, or subscribe to receive new posts via email. And if you make this paleo chocolate pudding recipe, I'd love to know. Leave a comment and rating below, and tag your Instagram snaps @The_Bojon_Gourmet and #bojongourmet.*
More Healthy Chocolate Recipes:
More Chocolate Tahini Recipes:
Paleo Chocolate Pudding (vegan)
Print Recipe
Pin Recipe
The luscious chocolate pudding of your dreams, made paleo and vegan with good-for-you ingredients! Maple-sweetened and naturally free of gluten, dairy, eggs, sugar, and nuts. Be sure to make these in advance; they need to chill for 3 hours or so until scoopable. Alternatively, pop them in the freezer for 20 minutes or so to speed this up!
Servings:
6
small but rich servings
Ingredients
1 ¼

cups

filtered water (or half water, half plant milk such as almond or oat milk)

1

cup

(70 g) raw cacao powder, natural cocoa powder, or dutch-process cocoa powder

½

cup

(130 g) well-stirred runny tahini such as Seed and Mill, Soom, or Kevala

(or any creamy nut or seed butter)

¼

cup

+ 3 tablespoons (130 g) maple syrup (or more, to your taste)

1

teaspoon

vanilla extract

¼

teaspoon

fine sea salt

3

tablespoons

(40 g) melted extra-virgin coconut oil

For serving (optional): tahini, whipped coconut cream or coconut yogurt, chocolate shavings
Instructions
Combine the water, cacao or cocoa powder, tahini, maple syrup, vanilla, and salt in a blender.

Blend on medium speed until well combined, about 30 seconds, scraping down the sides of the blender once or twice.

Add the melted coconut oil and blend until combined, 20 seconds or so. The pudding will be very runny at this point, but it will firm up as it chills.

Pour the pudding into individual cups or jars. Chill until firm, at least 2 hours and up to 4 days. You can pop them in the freezer for 20 minutes or so to speed this up!

Serve with toppings if desired.
Notes
Substitution suggestions:
In place of tahini, use any creamy nut or seed butter you like (cashew, peanut, almond, hazelnut, sunflower, etc.)
In place of maple syrup, use another liquid sweetener to your taste such as honey or coconut nectar.
In place of coconut oil, use another oil that's solid at room temperature palm oil, ghee (which won't be vegan), or try cacao butter. You may need to experiment with the quantity of oil since these vary in firmness.
Since ingredients can vary, if for some reason your pudding is too soft once it's been chilled for several hours, you can melt it back down and whisk or blend in a tablespoon or two more melted coconut oil, then chill again.
The puddings tend to get more firm as they hang out in the fridge. If your puddings are *too* firm when you go to serve them, let them sit at room temperature for 15 minutes or so before serving.
Nutrition values are for 1 of 6 servings.
Nutrition
Calories:
250
kcal
Carbohydrates:
22
g
Protein:
6
g
Fat:
20
g
Saturated Fat:
9
g
Polyunsaturated Fat:
5
g
Monounsaturated Fat:
5
g
Sodium:
108
mg
Potassium:
341
mg
Fiber:
6
g
Sugar:
8
g
Vitamin A:
13
IU
Vitamin C:
1
mg
Calcium:
61
mg
Iron:
3
mg