Gooey, maple-sweetened apples, tender almond flour pie crust, all kissed with a hint of cinnamon. This paleo apple pie tastes like fall on a plate.
I recently invested in an electric blanket and let me tell you it's been life-changing. I keep it between the top sheet and the duvet, and turn it to medium 30 minutes before getting into bed when it's chilly. Slipping into a warm bed makes me feel instantly relaxed. I don't know how I ever slept in a cold bed before.
The smell of this paleo apple pie baking is just about as cozy as getting into a heated bed on a chilly fall night in San Francisco. As the buttery crust browns, juicy apples cook, and the whole kitchen smells like maple, spice, and all things nice. There's just something about the scent of apple desserts baking that smells unbearably delicious.
Apple Pie: Gluten-Free, Grain-Free, Vegan... or not!
I'm calling this a "paleo apple pie" because I happened to use my new grain-free pie crust recipe to make it. Alternatively, tuck these apples into my favorite gluten-free pie crust if you're good with grains, or use my ultra-flaky wheat flour pie crust (or sourdough crust!) if gluten is your friend. For a gluten-free dairy-free apple pie, use a good vegan butter in any of the aforementioned crust recipes.
The tart apple filling gets sweetened with maple syrup and flavored with a dash of cinnamon, a bit of lemon, and a little salt. Top a slice with vanilla ice cream and revel in the flavors of fall.
Paleo Apple Pie Ingredients:
A boatload of apples fill this pie. Choose large, tart baking apples such as granny smith. The tangy flavor will give the pie depth, and large apples will be easier to process. If you must use sweeter or softer apples, use less maple syrup and more starch to absorb the juices.
Maple syrup adds sweetness and earthy flavor. I like a nice dark maple syrup here.
Starch of some sort helps firm up the filling. I/ve tested this with tapioca starch and cornstarch (which isn't technically paleo) and both work. Arrowroot starch is similar to tapioca and would also work.
Lemon zest and juice brighten the flavors.
A touch of cinnamon adds that classic apple pie taste. I like my pie lightly spiced in order to really taste the apples, but feel free use more cinnamon if you prefer. You can also add other spices: ginger, cardamom, nutmeg, allspice cloves... do you!
Salt sharpens the flavors.
A bit of milk of some sort brushed over the top makes the crust pretty. I used canned full-fat coconut milk, but any milk or plant milk will work.
A bit of coarse sugar gives the top crust a bit of sparkle. You can use maple sugar to make this officially paleo if you like.
How to make paleo apple pie: step-by-step instructions and photos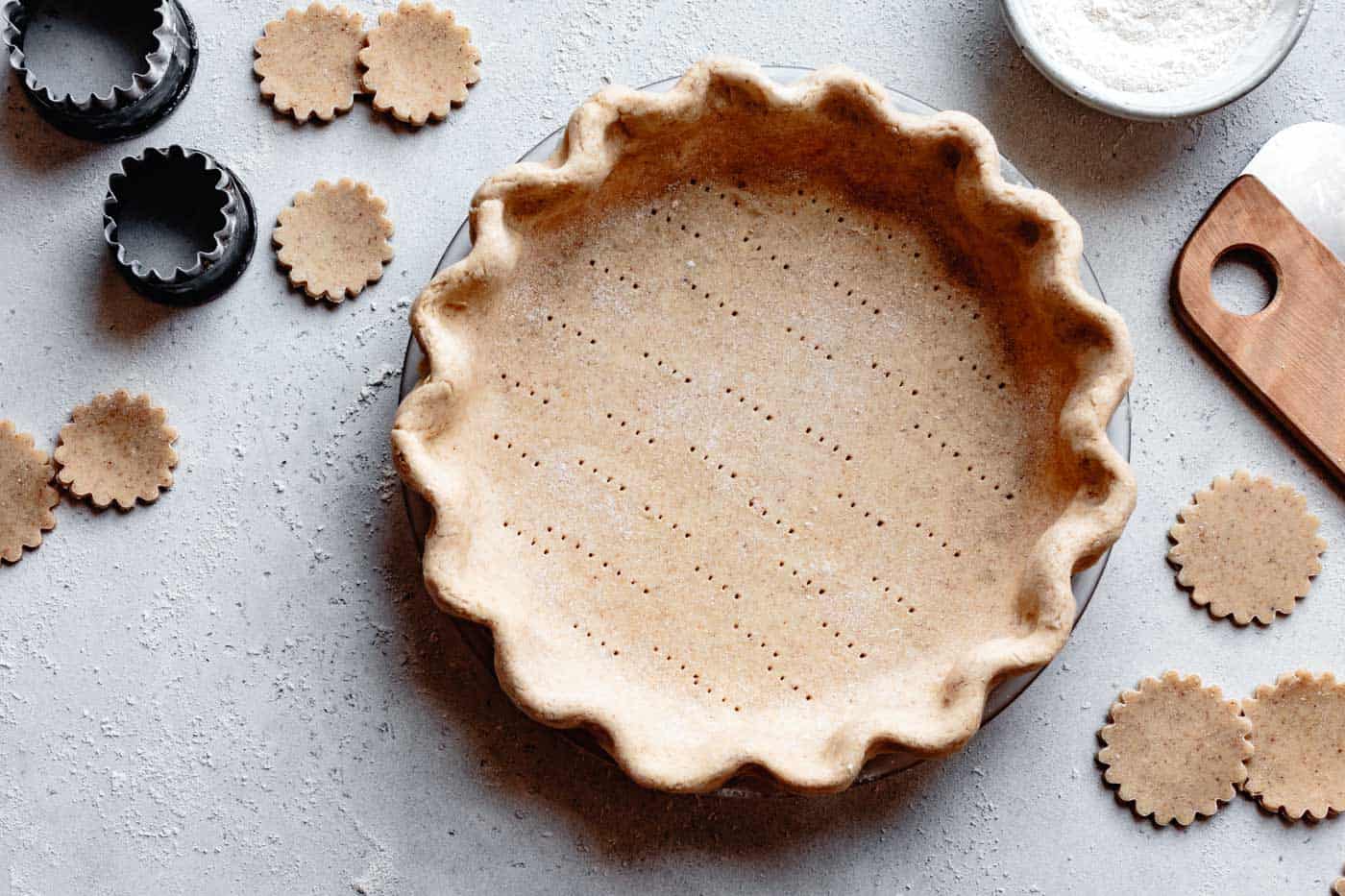 Step 1: Make a double batch of paleo pie crust dough. Shape half into a crust as instructed.
Step 2: Roll the other half of paleo pie crust dough to 1/4-inch thick and cut out shapes with a fluted biscuit cutter, small glass, or other cookie cutter.
Step 3: Peel and slice the apples and toss them with the other filling ingredients. Let sit 10–20 minutes. This will make the apples easier to to pack into the pie crust.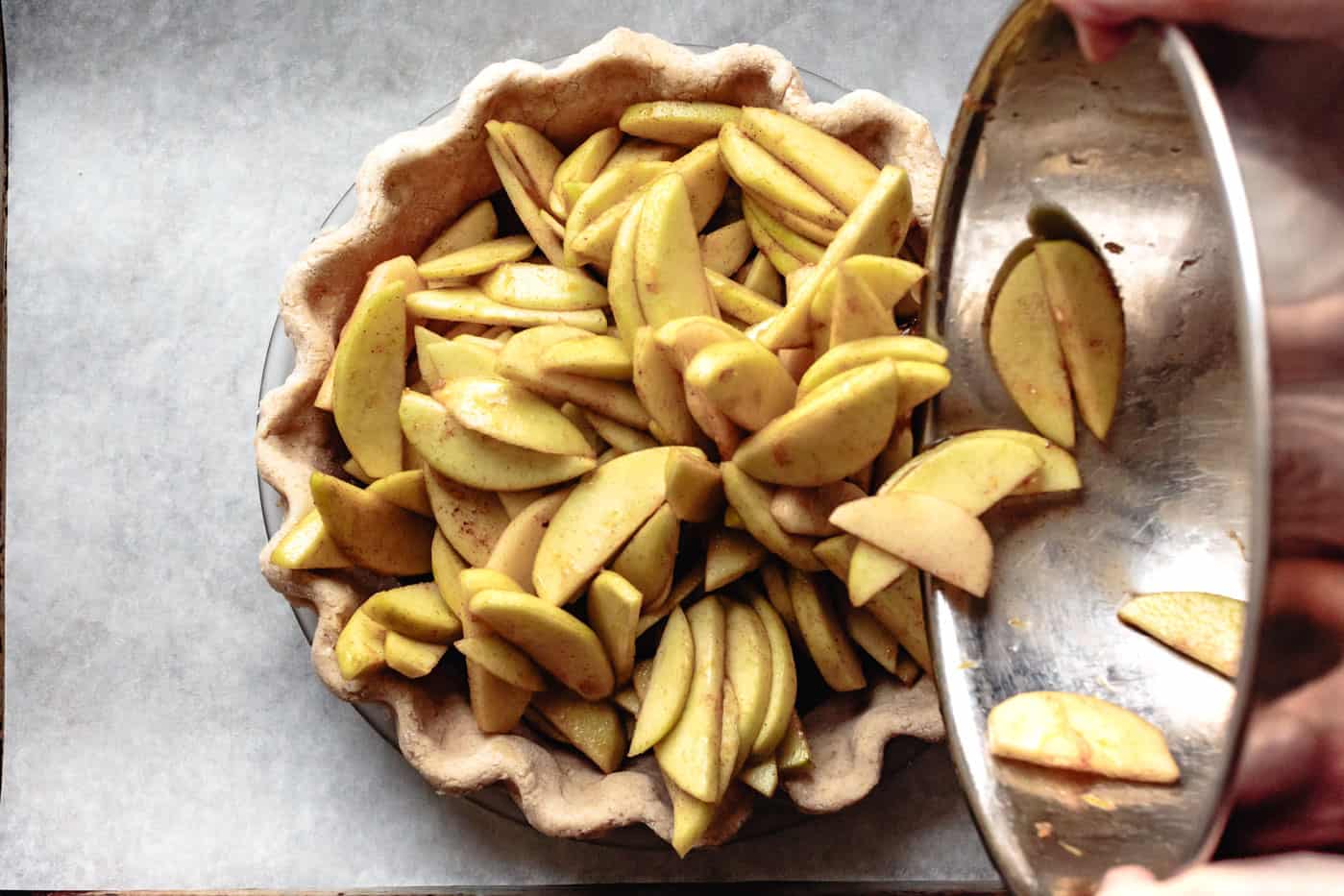 Step 4: Pour the apples and juices into the crust...
...and use your hands to pack the apples down.
Step 5: Top the pie with the dough rounds...
...brush with milk...
and sprinkle with sugar.
Step 6: Bake the pie until the crust is deep golden and the apples are bubbling vigorously. This pie likes a nice, long bake to really cook the apples. Let the pie cool for at least a couple of hours to firm up the filling. Use a sharp knife to cut the pie and serve with ice cream.
My Best Gluten-Free Apple Pie
Bite into a slice of paleo apple pie and revel in cozy baked apples kissed with maple and cinnamon, all wrapped up in a tender crust you wouldn't know was grain-free. Don't skip a scoop of vanilla ice cream, dairy-free if you like. My current favorite paleo ice cream is Vixen Kitchen which comes from Santa Cruz, California.
*Bojon appétit! For more Bojon Gourmet in your life, follow along on Instagram, Facebook, or Pinterest, purchase my gluten-free cookbook Alternative Baker, or subscribe to receive new posts via email. And if you make this paleo apple pie recipe, I'd love to know. Leave a comment and rating below, and tag your Instagram snaps @The_Bojon_Gourmet and #bojongourmet.*
More Gluten-Free Apple Desserts:
More Ins-PIE-ration:
More Paleo Recipes:
Paleo Apple Pie
Print Recipe
Pin Recipe
Gooey, maple-sweetened apples, tender almond flour pie crust, all kissed with a hint of cinnamon. This paleo apple pie tastes like fall on a plate.
Servings:
8
-10 servings (1 double-crust 9-inch pie)
Ingredients
2

recipes paleo pie crust

(or your favorite pie crust)

2 ½ - 3

pounds

tart, firm baking apples, such as Granny Smith

(about 7-8 large apples)

½

cup

(120 ml) maple syrup

1

teaspoon

finely grated zest from ½ a large lemon

2

tablespoons

(30 ml) strained lemon juice

2

tablespoons

(14 g) tapioca or arrowroot starch

(or cornstarch for not paleo)

½

teaspoon

ground cinnamon

¼

teaspoon

fine sea salt

2

tablespoons

coconut milk for brushing the dough

(or other plant milk or cream)

1

tablespoon

turbinado, demerara, or maple sugar for sprinkling, optional

paleo vanilla ice cream

(for serving)
Instructions
For the crust, prepare the dough, shape half of it into a 9-inch (23-cm) crust as directed, and chill the unbaked crust until firm, at least 30 minutes. Patch any holes or tears with extra dough scraps.

Line a rimmed baking sheet with parchment paper for easy cleanup.

For the filling, peel the apples, cut them off the core and slice them a scant ¼-inch thick. You should have 7 cups total. Place the apple slices in a large bowl and gently toss with the maple syrup, lemon zest and juice, tapioca starch, cinnamon and salt. Let sit 10–20 minutes, tossing a few times, to draw out the juices.

On a surface dusted lightly with cassava flour, roll out the other piece of dough to about ¼ inch thick. Use a fluted biscuit cutter or small glass to cut 1 ½ and/or 2-inch rounds close together. Stack the rounds on a plate and chill until firm, 20 minutes. Optionally, press the dough scraps together, wrap and chill until firm, and repeat the rolling/cutting process once more. You can save the scraps to make a small galette or other treat!

Meanwhile, position a rack in the lower third of the oven, place a baking stone on the rack if you have one and preheat to 400ºF.

Pour the apples and their liquid into the unbaked crust and pack the apples down snugly. Lay the chilled dough rounds over the top of the fruit, leaving lots of windows for steam to escape. To finish, brush the rounds with the milk and sprinkle with the sugar.

Place the pie on the lined baking sheet and place in the oven on the baking stone. Bake at 400ºF for 15 minutes, then decrease the oven temperature to 350ºF and continue baking until the crust is golden and the fruit is bubbling furiously, 70-80 more minutes. These apples like a nice long bake!

Let the pie cool completely to set the fruit, at least 2 hours, then cut into wedges and serve at room temperature. I find that a small serrated knife works best to cut the topping. The pie is best the day of baking and will keep at room temperature for up to 1 day or refrigerated for up to 3 days. You can freeze extra pie, but the crust doesn't retain its crispness.
Notes
Do Ahead:
The pie crust (bottom and top rounds) can both be made ahead, covered, and refrigerated for up to 1 day. The pie can be baked 1 day ahead and kept at cool room temperature until ready to serve. Extra pie can be frozen, but the crust will soften.
Crust options:
I've made this pie with my paleo pie crust, but if you're good with grains try my flaky gluten-free pie crust or wheat flour pie crust (or sourdough!) instead.
Vegan & Nut-Free Options:
Use a good vegan butter for any of the above crust recipes to make it vegan. The paleo pie crust recipe has almond flour in it by default, but I've listed nut-free alternatives in the recipe.
Nutrition values are for 1 of 8 servings.
Nutrition
Calories:
466
kcal
Carbohydrates:
85
g
Protein:
4
g
Fat:
14
g
Saturated Fat:
5
g
Sodium:
283
mg
Potassium:
436
mg
Fiber:
9
g
Sugar:
46
g
Vitamin A:
168
IU
Vitamin C:
16
mg
Calcium:
50
mg
Iron:
2
mg