No oven? No problem! These easy and healthy no-bake desserts have your sweet cravings covered, no heat necessary. While many no-bake desserts rely on premade cookies and loads of dairy and sugar, these sweet treats work for a variety of diets: gluten-free, grain-free, refined sugar-free, dairy-free, raw, paleo, and vegan.
A healthier take on peanut butter cups. Homemade honeyed pistachio butter fills raw chocolate shells made from cacao butter, cacao powder, and maple syrup. Flaky salt and cacao nibs add addictive crunch. Mix up a batch for a healthy Halloween treat or anytime indulgence.
With a grain-free press-in crust, vegan cashew cream filling, and maple sweetened coconut whip, this no-bake chocolate cream tart is as nourishing as it is delicious.
Almonds, cashews, maple, and coconut form the base for this über-lemony tart topped with coconut cream and summer berries. This recipes always reminds me of my mom since I served it at her 70th birthday one June. This healthy no-bake tart would make an ideal finish for a Mother's Day brunch.
Grasshopper Pie gets a healthy update from cashews, coconut, matcha, fresh mint, and an almond-cocoa crust. Optionally refined sugar-free. Whip these up for a naturally green Saint Patrick's day treat.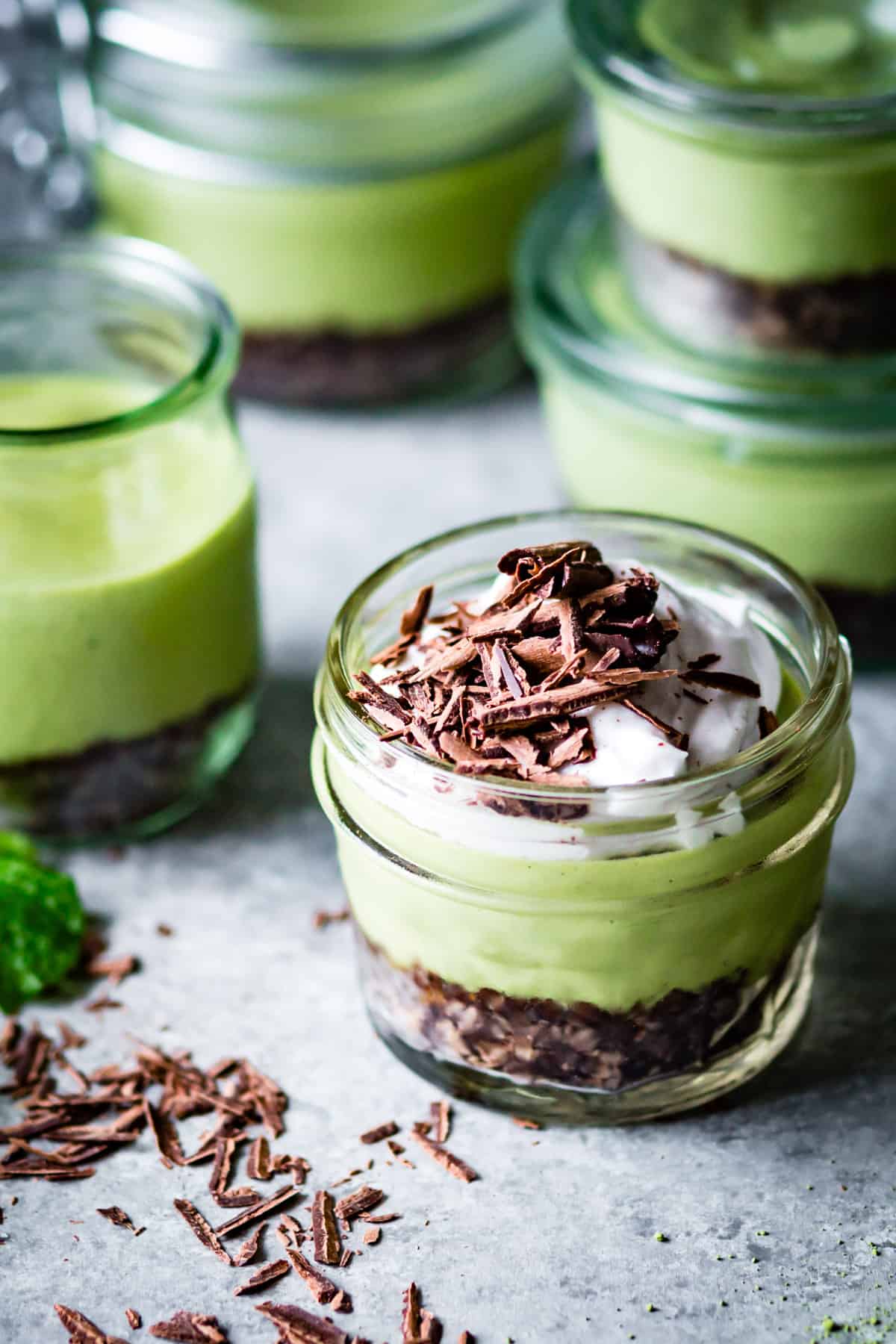 Chewy bars of chocolatey bliss. Dates, nuts, and cocoa powder form a fudgy base crowned with creamy coconut maple ganache. These are perfect for the holidays (or anytime) when you crave a decadent, easy-peasy, and healthy sweet.
Homemade vegan raspberry ice cream tucked between two thin layers of no bake brownie, all dunked in raw chocolate and finished with crunchy cacao nibs. Dates and maple syrup give them mild sweetness in every creamy-crunchy-chewy bite. Make these with fresh berries in the summer, or use frozen during cooler months.
If you make your own nut milk and wonder what to do with the leftover pulp, try these ultra-nourishing energy bites that taste like healthy chocolate cake. These are as appropriate before or after a workout as they are for dessert. The kids in my family love them too!
Nutty tart crust gets a rich filling reminiscent of fluffy pumpkin cheesecake swirled with cashew cream and laced with bright spices. I developed this for my family's Thanksgiving where we have a mix of dietary preferences and allergies, and it was preferred over every traditional dessert!
From my cookbook Alternative Baker! These addictive bars get loads of flavor from toasted oats, tart cherries, almond butter, maple, chocolate, and hempseeds. Grab one for breakfast on the go or bring a batch on a road trip or hike.
This stupid-easy pudding kissed with pumpkin and spices tastes just like pumpkin pie. Dress it up with whipped mascarpone, toasted buckwheat, and pecans for an easy Thanksgiving or weeknight dessert.
Silky smooth and not-too-sweet, this easy butterscotch pudding recipe hits all the salty sweet brown sugar notes of your favorite childhood treat. I originally posted this back in 2011 and I've made it dozens of times whenever I have a surplus of milk on hand. It takes just minutes of hands-on time and a few hours to chill. Dangerously simple, and egg-free too.
These chewy, gooey, chocolaty crispy treats are an ever-popular Food52 community pick, and were included in Food52 Baking! They're made with ingredients you can find at your local health-food co-op: maple syrup, chocolate, almond butter, and crisp brown rice cereal. They also happen to be gluten-free and vegan, and are quite sturdy enough to pack into a lunchbox or take on a hike, picnic, or peace rally.
Adapted from my Hippie Crispy Treats, above. This extra-wholesome variation gets sweetness from coconut nectar and a host of goodness from hemp seeds, cacao nibs, and superfood chocolate. A gluten-free, vegan, and refined sugar-free recipe that still tastes like a treat.
These stovetop pots de crème are the easiest dinner party (or anytime!) dessert. Rich and creamy chocolate custards get an unexpected savory-sweet twist from peppery olive oil and crunches of flaky salt. Add fresh rosemary for an extra eye-opening variation.
Peppermint bark grows up with extra dark chocolate, a smattering of cacao nibs, and a few flecks of flaky salt, no tempering required. This all-natural peppermint bark uses organic chocolates and naturally-dyed candy cane. These make a lovely edible gift during the winter holidays.
These vegan no-bake cheesecakes are made from nuts, maple, cocoa, and coconut oil. You'll love swirling the glossy ganache into their tops. The entire recipe can be made in a food processor and one small bowl, and it's fun, and kind of magical, to see the way the ingredients transform into each layer. Make mini cheesecakes in jars, or double the recipe in a springform pan to feed a crowd.
*Bojon appétit! For more Bojon Gourmet in your life, follow along on Instagram,  Facebook, or Pinterest, purchase my gluten-free cookbook Alternative Baker, or subscribe to receive new posts via email. And if you make these no-bake desserts, I'd love to see. Tag your Instagram snaps  @The_Bojon_Gourmet  and  #bojongourmet.*