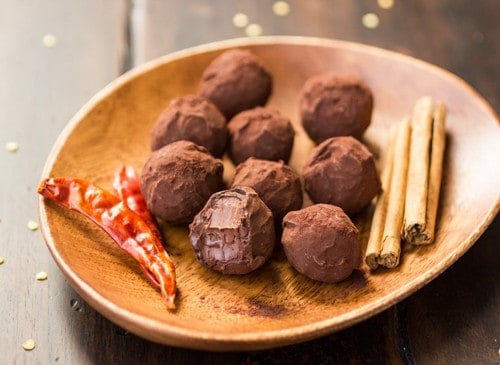 Forgive me for not posting a truffle recipe sooner, but I've been in recovery from truffle trauma for some time now. Folks, this is no truffling matter.
(Sorry – too many Marx Brothers videos.)
The first event occurred when I worked at a restaurant I lovingly refer to as Pome (though it would be more apt to take a tip from Sara Barron and call it simply "Hell"). We used to make truffles to give to the lucky (and usually high-maintenance) patrons, gratis, after their exorbitant meals, presumably to soften the blow of the bill when it came crashing down on their idyllic evening. (On second thought, they probably all had expense accounts.)
It was often my job to roll the truffles, and, in order to protect the congealed ganache from the brutal heat of the ancient oven, I would do so in the walk-in refrigerator. This wouldn't have phased me save for the fact that the walk-in often contained a pig.
A dead, partially dismembered pig, dangling from the ceiling.
So me and the partially dismembered pig would hang out (me, figuratively; the pig, literally), rolling truffles, in a tiny, 40 degree room.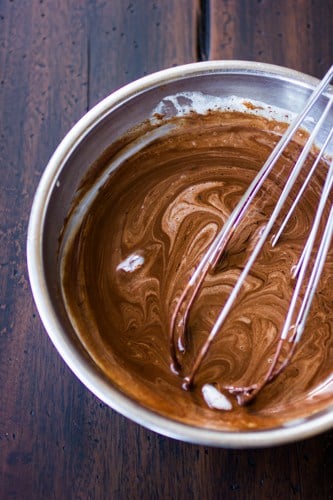 It surprises me that with these unpleasant associations I had any truffle-making gusto left after I quit. But that winter I decided to make truffles for everyone I knew. And not just one type – I decided to make nine different kinds of truffles; three flavors each of rolled, filled, and cut truffles. This decision was followed by an intense week of steeping, chopping, whisking, dipping, dredging, and "tasting" so much ganache that I never wanted to see the stuff again.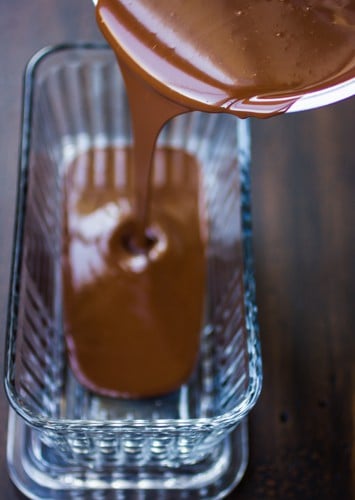 But last week I had a birthday party with guests who were variously gluten-intolerant and/or vegan. Since I haven't braved many gluten-free and vegan treats (those scare me, and besides – I love butter), I should have made these. (What I actually did was make these gluten-free brownies and top them with this white chocolate peppermint cream. I then handed the vegan a bar of dark chocolate and told him to have at it.)
Had I been using my noggin, I would have made these truffles, because not only are they gluten-free and vegan, they also taste so amazing that even a person with no food allergies would enjoy them (and in our case, are currently enjoying them) immensely. They were inspired by a couple of favorite blogs: Love and Lemons and Green Kitchen Stories, as well as my own traditional truffle-making experience (minus the pig).
The ganache begins with coconut milk steeped with chiles de arbol and ceylon cinnamon. Chiles de arbol are fairly hot (a 7 on a scale of 1-10) skinny red peppers, and they not only give the ganache a capsicum kick, they add their own savory-sweet flavor as well. Ceylon cinnamon is the real deal; the sticks are delicate, like parchment paper, and easily broken up. Their flavor is more nuanced and subtle than the cassia cinnamon that one usually finds, less bright and spicy, and it blends beautifully with the fruity coconut milk and chocolate, letting the chile be the star of the show. (Either type of cinnamon will be delicious here, though.)
The hot, spiced coconut milk gets strained and whisked into chopped bittersweet chocolate and softened coconut oil to make a creamy ganache (that I bet would make a killer glaze for a vegan chocolate cake). The ganache chills until firm enough to scoop or pipe into tablespoon-sized balls. The balls are rolled smooth, then they (along with your hands and anything you try to touch with them) get coated in melted chocolate and dredged in velvety cocoa powder.
The finished ganache is so creamy and rich, no one will ever guess that these truffles weren't made with butter and cream. A small box of them would make a welcome gift; or drop them into mini-muffin cup liners and serve them at a cocktail party. I bet you could even plop them into some hot milk and whisk like mad for instant spicy hot chocolate bombs. (Note to self: do this.)
Truffle-making isn't hard, it just feels strange doing it for the first time, like anything else. If you're new to rolling truffles, take a look through Deb's post, which does an excellent job of demystifying the truffling experience. (Heck, it even helped kick my own truffle trauma.)
The trickiest part is coating cold ganache balls in warm chocolate. But know that you can skip the chocolate-coating if you like and just roll the balls in cocoa powder (or chopped nuts or shredded coconut). If you do so, serve them within an hour or two, as the cocoa will absorb the moisture in the ganache and the truffle will lose its velveteen appearance.
And nothing could be more traumatic than that.
Vegan with a vengeance:
Hippy Crispy Treats
Raw Chocolate Pudding
Chocolate Coconut Milk Tapioca Pudding
One year ago:
Holiday Vittles
Maple Bourbon Pecan Pie
Two years ago:
Bojon Eggnog (fully cooked, fully awesome)
Sage, Thyme and Mimolette Cheese Straws
Three years ago:
Roasted Winter Squash and Sage Tart
Triple Ginger Molasses Cookies
Satsuma, Ginger and Oat Scones
(Vegan) Chocolate Chile Coconut Milk Truffles
Inspired by Love and Lemons, Green Kitchen Stories and Smitten Kitchen
Chiles de arbol can be found in the Latin-American section of grocery stores, and are also available here. Their heat may vary, and the heat seems to increase as the finished ganache and truffles sit. I used three 2 1/2″ long peppers, and the spiciness is quite prominent; use only two small ones if you want less heat. (Lacking chiles de arbol, you could try substituting red pepper flakes, though the amount may take some experimentation. I would start with 1/2 teaspoon and work up from there.)
To make these officially vegan, you'll need to use a bittersweet chocolate that's made with vegan sweetener. Do take care to use a chocolate with a 70% cacao mass, as a lower amount will likely result in overly-soft ganache, whereas darker chocolate could cause the ganache to "break" as you whisk it. I'm partial to Scharffen Berger, but Guittard and Valrhona are also excellent brands. Velvety dutch-processed cocoa powder looks the prettiest and has a milder flavor than the natural stuff, but either will work for coating the truffles. As I mentioned above, you can skip the pesky chocolate coating altogether and just roll the truffles in cocoa powder, nuts, or shredded coconut shortly before serving.
The amount here makes, I feel, enough truffles to make truffle-making worth your while, but not so many as to be overwhelming. If having a touch of leftover coconut milk drives you crazy, or if you want to dive into truffle-making head-first, try the following amounts: 1 can (13.5 ounces) coconut milk, 9 ounces chopped chocolate, 3 chiles, 4 cinnamon sticks, a scant 1/4 teaspoon of salt, and 1/4 cup coconut oil. This will yield about 45 truffles.
All ounce measurements are by weight.
Makes about thirty 1″ truffles
Spiced Coconut Milk ganache:
1 cup plus 2 tablespoons (9 ounces) full-fat coconut milk
2 or 3 (2-3″ long) chiles de arbol, crumbled
3 (3″ long) cinnamon sticks (preferably ceylon), broken into a few pieces
a big pinch of fine sea or kosher salt (about 1/8 teaspoon)
6 ounces bittersweet chocolate (70% cacao mass), finely chopped (about 1 1/4 cups)
3 tablespoons softened extra-virgin coconut oil
Coating:
4 ounces bittersweet chocolate (70% cacao mass), finely chopped (about 1 cup)
1/2 cup cocoa powder (preferably dutch-processed)
Make the ganache:
In a small saucepan, combine the coconut milk, chiles, cinnamon sticks and salt. Warm gently over a medium flame, swirling frequently, until the mixture is steamy-hot, with small bubbles around the edge of the pan. Cover and let steep 15-20 minutes.
Meanwhile, place the 6 ounces of chopped chocolate and coconut oil in a medium, heat-proof bowl. Have a fine-mesh sieve on stand-by.
When the coconut milk has steeped, rewarm it until steamy hot again, then strain it over the chocolate, pressing on the chiles and cinnamon to extract all the good stuff. Let the mixture sit for 1 minute, then gently whisk the mixture until completely smooth. Pour the ganache into a shallow pan, cover, and chill until firm, at least 2 hours, or up to a few days.
Shape the truffles:
Use a tiny (#100) spring loaded ice cream scoop to form scant 1″ balls of ganache, placing the balls on a small, rimmed baking sheet lined with parchment (for easy clean-up). Alternately, scrape the ganache into a piping bag fitted with a wide, plain tip and pipe into tablespoon-sized mounds, or use a large plastic baggie with a corner cut off to do the same.
Let the ganache balls chill until firm, 30-60 minutes.
Remove the ganache balls and, working quickly, roll each one between your palms to make a round-ish ball. You can also squeeze the balls into shape with your fingers. For rounder truffles, repeat the chilling and rolling process once more. Chill the balls again until firm, 30-60 minutes. If you want to coat the truffles in chocolate, proceed to the next step. Otherwise, roll the balls in cocoa powder, chopped toasted nuts, or toasted coconut flakes, and serve them within a couple of hours.
Coat the truffles in chocolate:
Place the 4 ounces of chocolate in a small metal bowl. Make sure the bowl and anything that touches the chocolate is bone-dry, as any tiny drop of water could cause the chocolate to seize up into impossible globules. Place the bowl over a pan filled with 2 inches of steaming (not simmering) water. Stir the chocolate occasionally until it has all melted. Remove the bowl from the pot, set it on a towel, and let the chocolate sit, stirring it occasionally, until it is body-temperature. If done properly, this will temper the chocolate (i.e. put it back into a stable emulsion) but it isn't a huge deal here, as the truffles will get coated in cocoa, which will hide any "blooming" (i.e. the separating out of cocoa solids). Note: if the chocolate gets too cold and starts setting up before you want it to, set it back over the pot of barely steaming water, stirring, until it has melted again.
Sift the cocoa powder into a shallow bowl.
Set up a station like so (assuming you are right-handed): bowl of melted chocolate with a small spatula or spoon sitting in it on your left, cocoa powder in the middle, and sheet pan holding chilled ganache balls on your right. Once you get chocolate on your hands, you won't want to touch anything. (You can wear latex gloves for this, if you like, though I go commando when making a small batch like this.)
Smear about 1 tablespoon of chocolate on the palm of your left hand. Pick up a ganache ball and quickly roll it around in the chocolate, coating it completely. Immediately drop the coated ball into the bowl of cocoa powder and toss it around to coat it. Repeat this with as many balls as will fit in the cocoa bowl, then remove the balls to a plate (I just use the same sheet pan that the chilled balls are on). Keep this up until all the balls are coated in chocolate and cocoa.
Congratulations, you made truffles! Store these babies at cool room temperature. They should keep for at least a week or two, and possibly for a month or more.