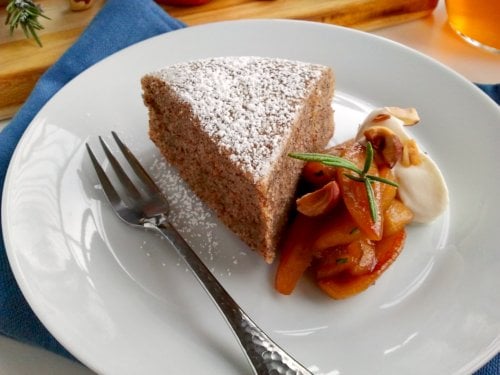 I make it no secret that I prefer a simple tea cake (and really just about any other type of confection) to the layered, iced, fondanted extravaganzas to which some people aspire. I may or may not have been traumatized six years ago when a caterer friend-of-a-friend considered hiring me to make a gluten-free wedding cake. I told her that I had yet to make a wedding cake at all, but that I was well-versed in the art of gluten-free baking, and that I could probably put something decent together.
She instructed me to make a sample tiered cake, ice it, decorate it, photograph it, and put it on a website (other things that I told her I didn't know how to do) so that she could show her client that I was competent. 'It will totally be worth your while,' she insisted, tempting me with a future full of cake-based fortune and fame.
I believed her (and was also psyched to have an excuse to bake something) soI purchased ingredients, cake pans, cardboard cake rounds, piping bags and tips, offset spatulas, and fresh flowers, and set to work.
Always concerned with flavor, I asked my friend Blanche what type of cake I should bake and she suggested lemon poppyseed. I whipped up a swiss meringue buttercream, flavored it with vanilla, and spent what felt like hours crumb coating, shellacking and smoothing. My piping skills were not the best, and neither was my food photography, but I was proud of my work. Jay created a simple website for me and I emailed the caterer the link.
The next day, I got a call. 'THE CAKE HAS TO LOOK PROFESSIONAL!' the caterer, who had previously seemed like a nice, if somewhat unstable, person, screeched into the phone before slamming it down. I never heard from her again, but the erstwhile cake was a huge hit at Jay's office, and the website would become my first quasi-blog in which Jay would post a photo and description of the treat du jour to let his co-workers know what was available in the office kitchenette.
So it's no wonder that I go for cakes that look plain on the outside, but are moist and flavorful enough to stand on their own without being masked by frilly sugar paste and flowers. The flavors of this cake – butter browned with vanilla bean, toasted hazelnuts, earthy buckwheat – belie its humble appearance with a complexity akin to a fine wine or chocolate..
..or perhaps a hand-made apple cider aged in whiskey barrels.
The idea for this cake came to me as a way to make use of some very special apple cider that our friends Bill and Chava carried to California all the way from Wales. Bill and Chava ferment their cider from home-grown cider apples using old-school methods. Since cider apples are lower in sugar and higher in tannins (the chemical that causes apples to turn brown when cut) the cider turns a shade of deep amber that commercial cider-makers can only achieve by adding coloring.
Welsh Mountain Cider is not a girly drink by any means. Unlike the cold, sweet, fizzy ciders that ladies who dislike beer order in bars when the wine selection is sufficiently dubious, Welsh Mountain Cider is still, and dry enough to enjoy with dinner. It has a funky edge reminiscent of wild-fermented or Lambic ales, and its stint in whiskey barrels gives it a distinctly smoky finish. If you ever travel to Wales, you must stop by the farm and pick up a case. I'm crossing my fingers that they'll start exporting to a local purveyor of unique libations, such as Monk's Kettle, because we are down to our last pint.
So I baked up this cake, and served it with wedges of pink lady apples caramelized in Welsh Mountain Cider and finished with rosemary and tangy crème fraîche.
The cake recipe hinges on financier, the ingenious French (what else?) confection comprised of ground nuts folded into sugar, browned butter, egg whites and flour. The golden cakes originated near the financial district of Paris where they were baked into small molds shaped like gold bricks and named after the 'financers' who would enjoy the cakes for an afternoon pick-me-up. I've been enamored with financiers (the cakes, not the French money men) not only for their light-dense texture, deep flavor, and versatility, but also for their ability to turn egg whites (which custard devotees like myself often have in abundance) into something stunningly delicious (unlike meringues). This magical cake is easy to make – just whisk all the ingredients together – and it containsno leavening. No obscure, gluten-free substitutions are necessary, save for buckwheat flour, which you can find in most grocery stores. Un-whipped egg whites do all the work of sticking the ingredients together and baking up into a sturdy yet tender confection.
'It tastes like chocolate,' Jay mused, taking a bite of pillowy-warm cake. Indeed, the earthy flavors of vanilla, caramelized milk solids, toasted nuts and buckwheat echoed the full spectrum of taste that comes from cacao. This cake would be equally delightful served with a dark chocolate sauce (an excellent one comes from David Lebovitz – I've been serving it on various desserts at my work for the past three years, and we just started making a cocktail with it, too) in place of the caramelized apples.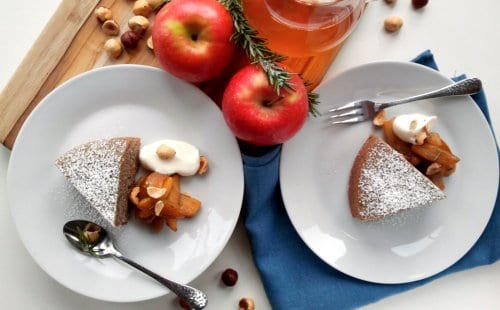 If you lack Welsh Mountain Cider (and chances are, you do), use a splash of hard cider, whiskey or calvados in its place. And if you doubt that a financier cake is 'professional-looking' enough for a special occasion, Suzanne Goin of Lucques fame writes in her book that she had a similar one at her wedding, decorated simply with sauteed pears and chocolate sauce.
So there.
Nuts for cake:
Berry-Fig Financiers
(Gluten-Free) Meyer Lemon Almond Cake
(Gluten-Free) Chocolate Hazelnut Financier Cake
One year ago:
Pear, Blue Cheese and Hazelnut Tart
Two years ago:
Pumpkin Challah
Oven Roasted Potatoes and Parsnips
(Gluten-Free) Buckwheat Hazelnut Brown Butter Cake, with Cider Glazed Apples
Double the recipe to make a 9 or 10″ round cake, or bake the cake in smaller buttered and floured molds, or in mini muffin tins lined with muffin cups. Leftover cake is excellent toasted and smeared with jam (cherry!) or chocolate-hazelnut spread for a sweet breakfast or afternoon snack, tea or coffee optional but highly recommended.
For a variation, bake the fruit (glazed apples, sauteed pears, fresh berries or cherries) right into the cake – you will want to bake the batter first, fruit-free, for about 10-15 minutes, then add the fruit, so that it doesn't sink to the bottom. If you need a way to use up your egg yolks, try one of my many fun ice cream recipes, such as Cacao Nib, Lemon Verbena or Horchata.
Makes one 6″ round cake, or 6 dainty servings
The cake:
4 ounces (1 stick/8 tablespoons) unsalted butter, plus a bit of softened butter for greasing the pan
1/2 vanilla bean, split and scraped
1/2 cup whole, raw hazelnuts
1/4 cup plus 2 tablespoons (1 3/4 ounces) buckwheat flour
1/2 cup (2 ounces) powdered sugar
1/4 teaspoon plus 1/8 teaspoon fine sea salt
1/2 cup egg whites (from 3-4 large eggs)
3 tablespoons (1 1/2 ounces) granulated sugar
The apples:
2 large baking apples, such as pink ladies or fujis
2 tablespoons butter
2 tablespoons sugar
2 tablespoons hard apple cider (or whiskey)
1 teaspoon finely chopped rosemary
lightly sweetened whipped cream and/or creme fraiche, for serving
Bake the cake:
Position a rack in the center of the oven and preheat to 350º (or 375º for small cakes). Grease a 6″ round cake pan with 2″ high sides with softened butter, line with a round of parchment paper, and grease the parchment (or dust the greased pan with a bit of buckwheat flour and tap out the excess).
Combine the butter and vanilla bean pod and scrapings in a medium saucepan. Cook over medium heat, swirling occasionally, until the butter browns and smells nutty, 5 – 10 minutes. The butter will foam up, and the milk solids on the bottom of the pan should be a rich brown color, not black. The rest of the butter will remain golden-amber. Watch it carefully, as it can go from brown to burnt in little time. Remove from the heat and let cool sightly.
Meanwhile, spread the hazelnuts on a small, rimmed baking sheet and toast in the oven until slightly darkened, 10-12 minutes. Let cool enough to handle, then rub between your hands to flake off as much of the papery skins as will easily come off. Let the nuts cool completely.
Finely grind the toasted, rubbed, and cooled hazelnuts with the flour, powdered sugar and salt in a food processor (or a coffee grinder in batches) until floury in consistency.
In a heatproof metal bowl, combine the egg whites and granulated sugar. Place the bowl over a low flame (or a pot of simmering water) and whisk until the whites are warm to the touch and the sugars are dissolved. Remove from the heat, and whisk in the nut mixture. Place the bowl on a damp towel to secure, and gradually whisk in the warm butter, 1/4 cup at a time, so that the mixture emulsifies. You will have a fairly loose batter, brownish-grey from the hazels and buckwheat. (The batter can be baked directly, or stored in the fridge for several days.)
Scrape the batter into the prepared pan(s) and bake until puffed and golden, and a toothpick inserted in the center comes out clean, about 35 minutes for a 6″ cake, and less time for smaller cakes.
While the cake bakes, prepare the apples:
Peel the apples (I like to use a t-shaped vegetable peeler) and cut them off the core, then into 1/2″ wedges. Melt the 2 tablespoons butter in a wide, heavy-bottomed skillet over a medium-high flame. Add the sugar, swirling to combine, then the apples. Let the apples sit for a minute or two to sear, then toss them. Repeat the searing and tossing for 10 minutes or so, until the apples are very soft and very golden (watch them more closely toward the end as they will caramelize more rapidly). Remove from the heat and pour over the cider or whiskey, stirring and scraping any browned bits, then stir in the rosemary. (The apples can be made ahead and stored in the fridge – re-caramelize in a pan before serving.)
Let the cake cool 10 minutes, then invert it onto a plate and peel off the parchment. Sprinkle with powdered sugar and serve warm or at room temperature with a mound of glazed apples and a scoop of softly whipped cream.
The cake keeps well for up to 4 days, at room temperature, in an air-tight container.