Paleo crepes free of dairy, gluten, and grains that taste just like traditional crepes?! Seems too good to be true. But this paleo crepe recipe delivers just that. Made with a handful of pantry-friendly ingredients, the batter for these lacy almond flour crepes comes together in a blender in minutes. Fill them with any sweet or savory fixings you like.
Thanks to Bob's Red Mill for sponsoring this post!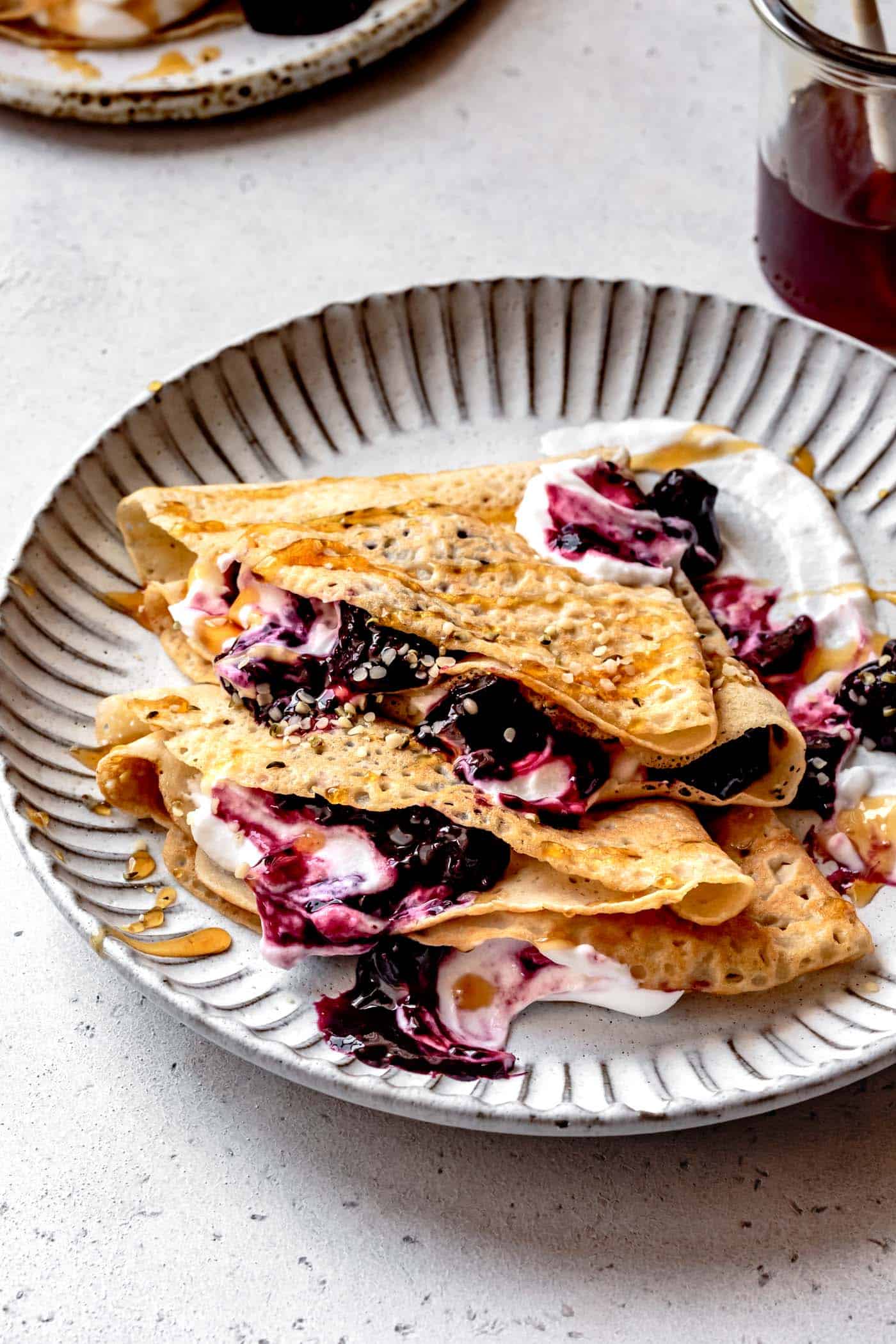 A Crepe Affair to Remember
Like the cliché that I am, I fell in love with crepes (or should I say, les crêpes) when I traveled to Paris the summer after I graduated from high school. I loved strolling the cobblestone streets with a crepe cone in hand stuffed with cheese and veggies for lunch. At night I'd indulge in dessert versions loaded with berries, bananas, Nutella, and whipped cream.
In college back in the states, I worked part-time at a cute design shop downtown where we sold high-end housewares. I spent part of my paycheck on a gorgeous crepe pan. At the time it seemed exorbitant, but I still have my trusty crepe pan, the one shown in these photos! While I should have been cramming facts for art history tests that I would immediately forget afterwards, I'd instead spend evenings learning how to swirl and flip the flat, lacy French pancakes, to the delight of my hungry housemates. My favorite crepe recipe came from Cook's Illustrated and was a traditional combination of eggs, milk, wheat flour, salt, and melted butter.
When I later worked as a pastry chef, I'd put dessert crepes on the menu only once a year, on Valentine's Day, when I'd serve them with blood oranges and chocolate sauce. With my crepe pan in hand, I'd stand over the industrial stove flipping dozens of crepes in preparation for dinner service, feet aching, and cursing myself for my love of crepes.
My Best Paleo Crepe Recipe
Now that I've had some time to recover from working in the restaurant industry, I'm ready to revisit crepes, and I'm excited to share this almond flour crepe recipe with you today! It's one of my favorite gluten-free breakfast recipes ever, and it's also a paleo-friendly recipe.
I've shared recipes on TBG for buckwheat crepes and gluten-free crepes, as well as the crepe's Jewish cousin, blintzes (in buckwheat and chestnut form, and another blintz recipe in my cookbook). Plus I love almond flour pancakes.
Craving an almond flour crepe recipe, I tweaked my favorite classic crepe recipe to make these gluten-free dairy-free crepes. While many almond flour crepe recipes use a high proportion of eggs, I prefer my paleo crepes to taste like the classic French favorite. So I swapped in almond milk for the dairy milk, ghee for the butter, and almond, cassava, and tapioca flours for the wheat.
Six batches later, I'm more than satisfied with this paleo crepe recipe. These are sturdy enough to roll and fold, but tender enough to yield under the tines of a fork. They don't taste overly eggy, and their neutral flavor makes them equally suitable to sweet and savory fillings (more crepe filling ideas below!) The batter comes together in a few seconds with a blender.
I've given lots of tips in the recipe for how to cook crepes painlessly. So if it's your first time, don't worry – you're in good hands here!
Almond Flour Crepes How-To Video
My friends Nadia and Rob captured the making of these paleo crepes in this beautiful video!

Paleo Crepe Ingredients & Substitution Suggestions
These paleo crepes use just a handful of pantry-friendly ingredients.
A trio of flours makes these crepes undetectably gluten- and grain-free. I use Bob's Red Mill flours, which are certified gluten-free. Find their products via their store locator or order online.

Blanched almond flour promotes browning and adds protein that helps create a sturdy texture. You could substitute almond meal or hazelnut meal, or you could make your own nut flour by processing the nuts of your choice by weight with the other flours until very finely ground. For a nut-free option, use more cassava flour by weight and add more milk if needed.
Cassava flour's soft, starchy consistency and mild flavor mimics wheat flour. If you don't have cassava flour, try sweet rice flour (for a non-paleo option), a smaller amount of coconut flour, or a GF or Paleo all-purpose blend.
Tapioca flour makes the crepes tender and pliable. You could also try arrowroot.

Plant milk moistens this liquidy batter. I use a high-quality fresh almond milk, but any plant milk should work.
Eggs add structure and a tender, pillowy texture. If you can't tolerate egg, you could try this with Just Egg (which isn't paleo) for gluten-free vegan crepes.
Ghee adds richness. You can also use butter, or coconut oil or plant butter for dairy-free.
Salt sharpens the flavor. Decrease the salt if you're using a salty plant butter.
How to Make Paleo Crepes: step-by-step instructions and photos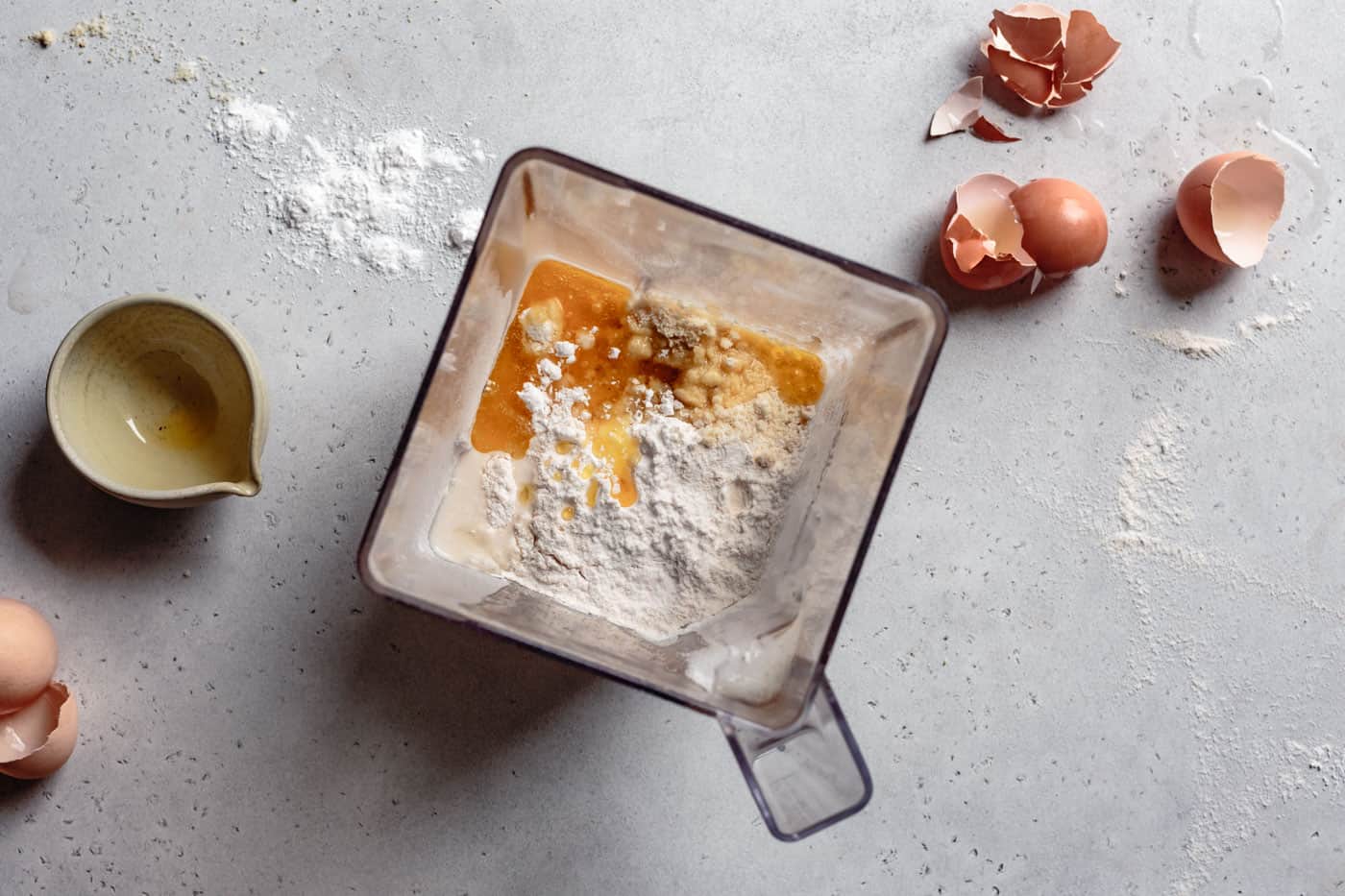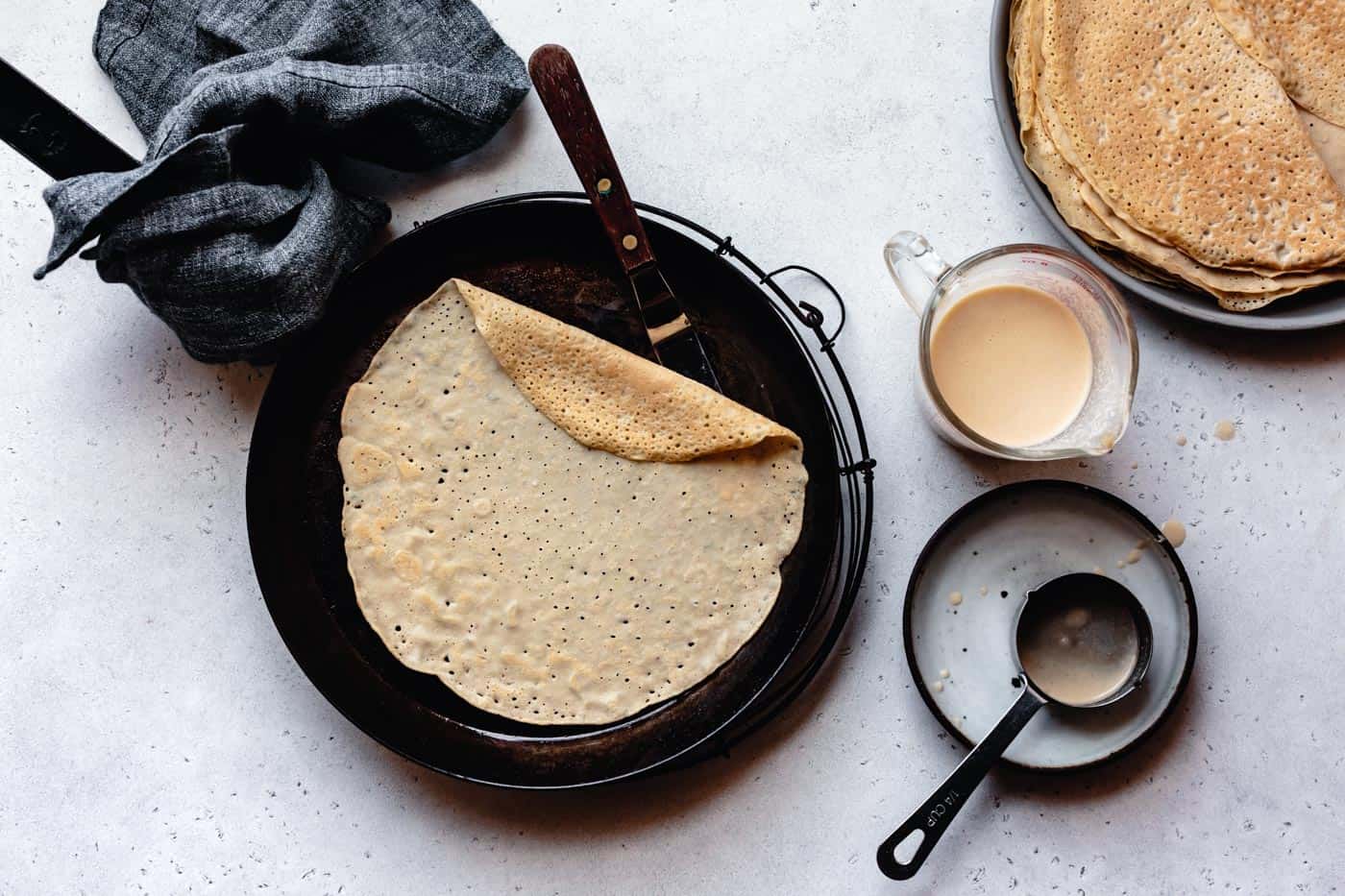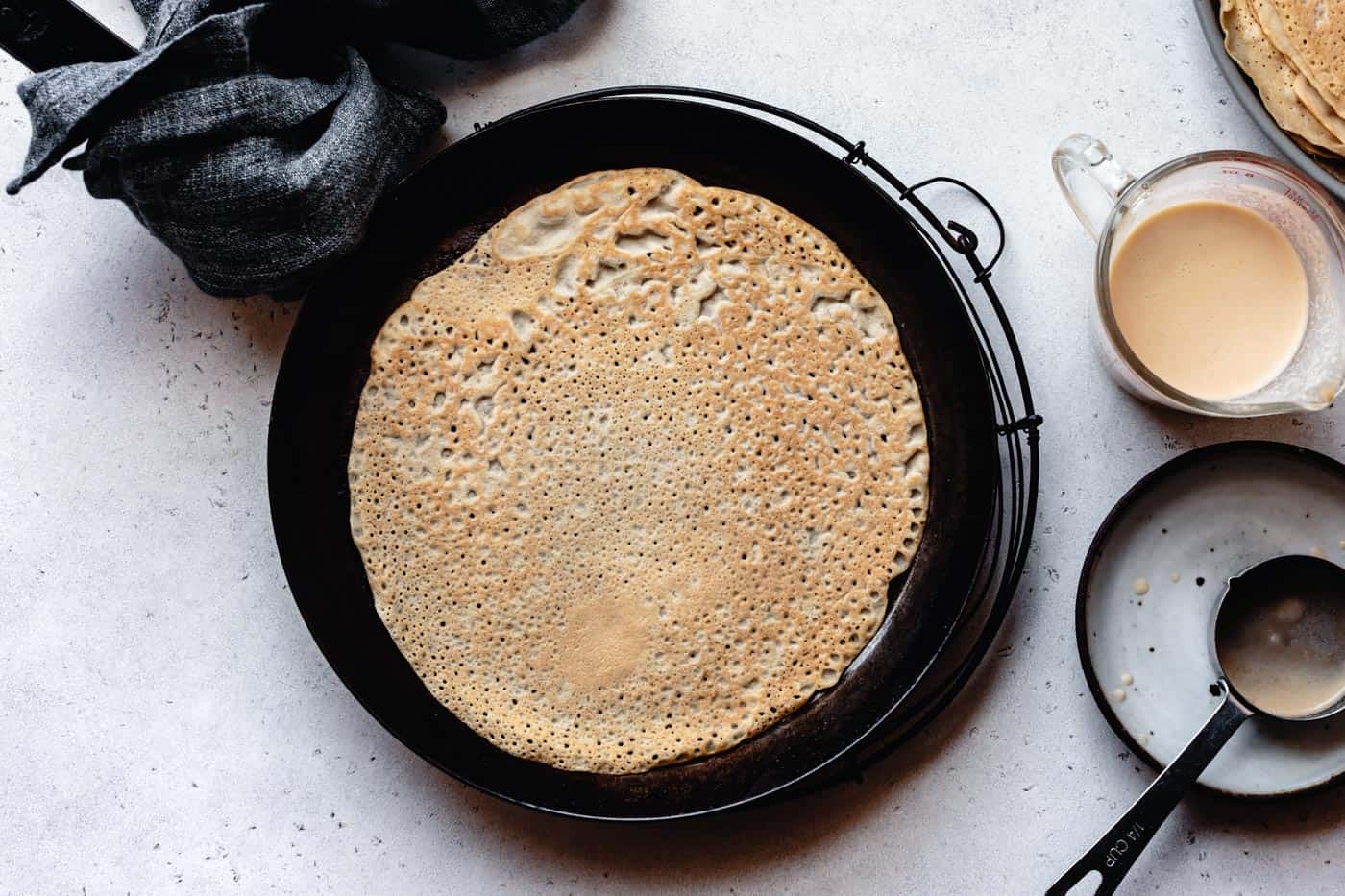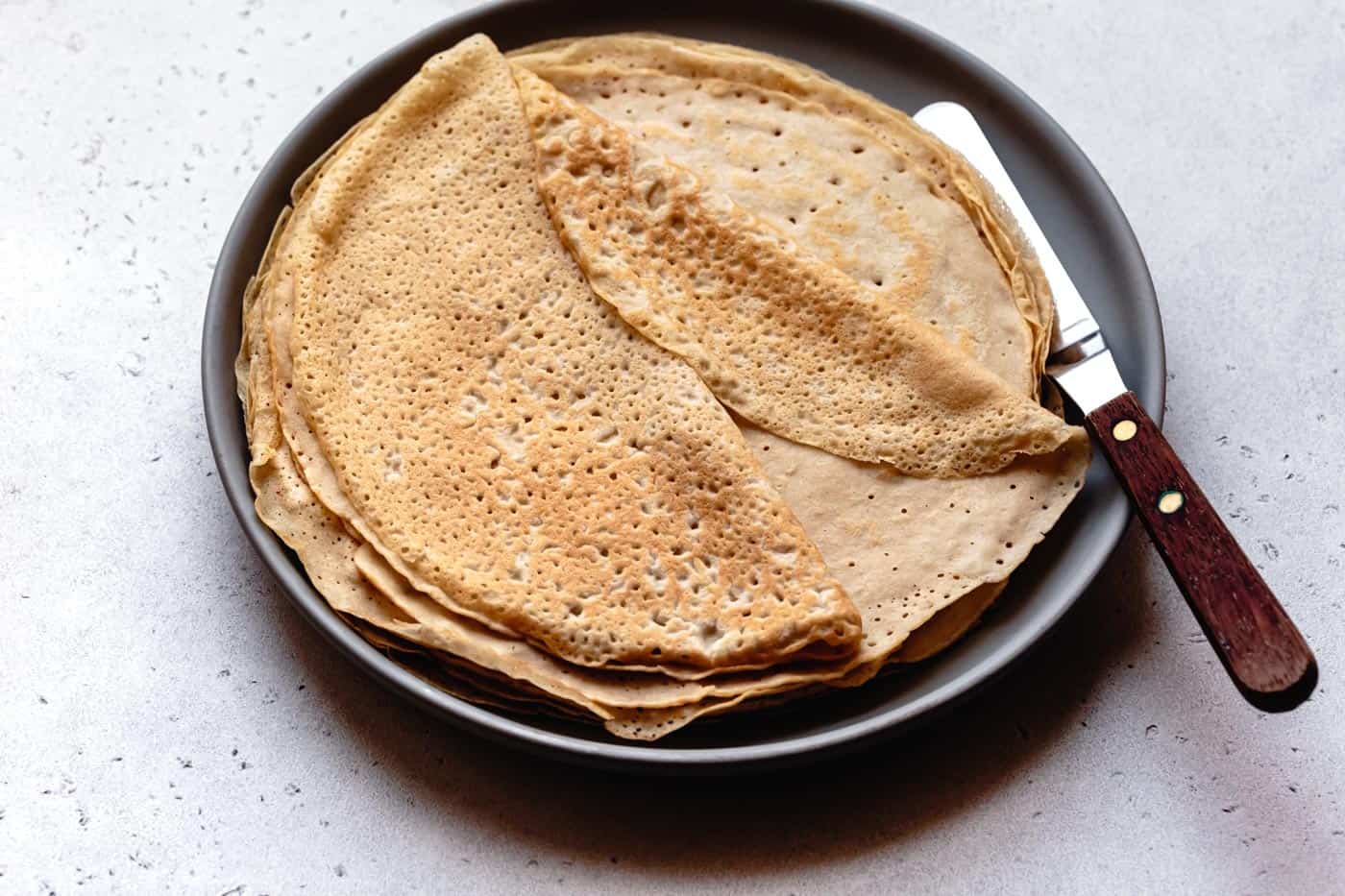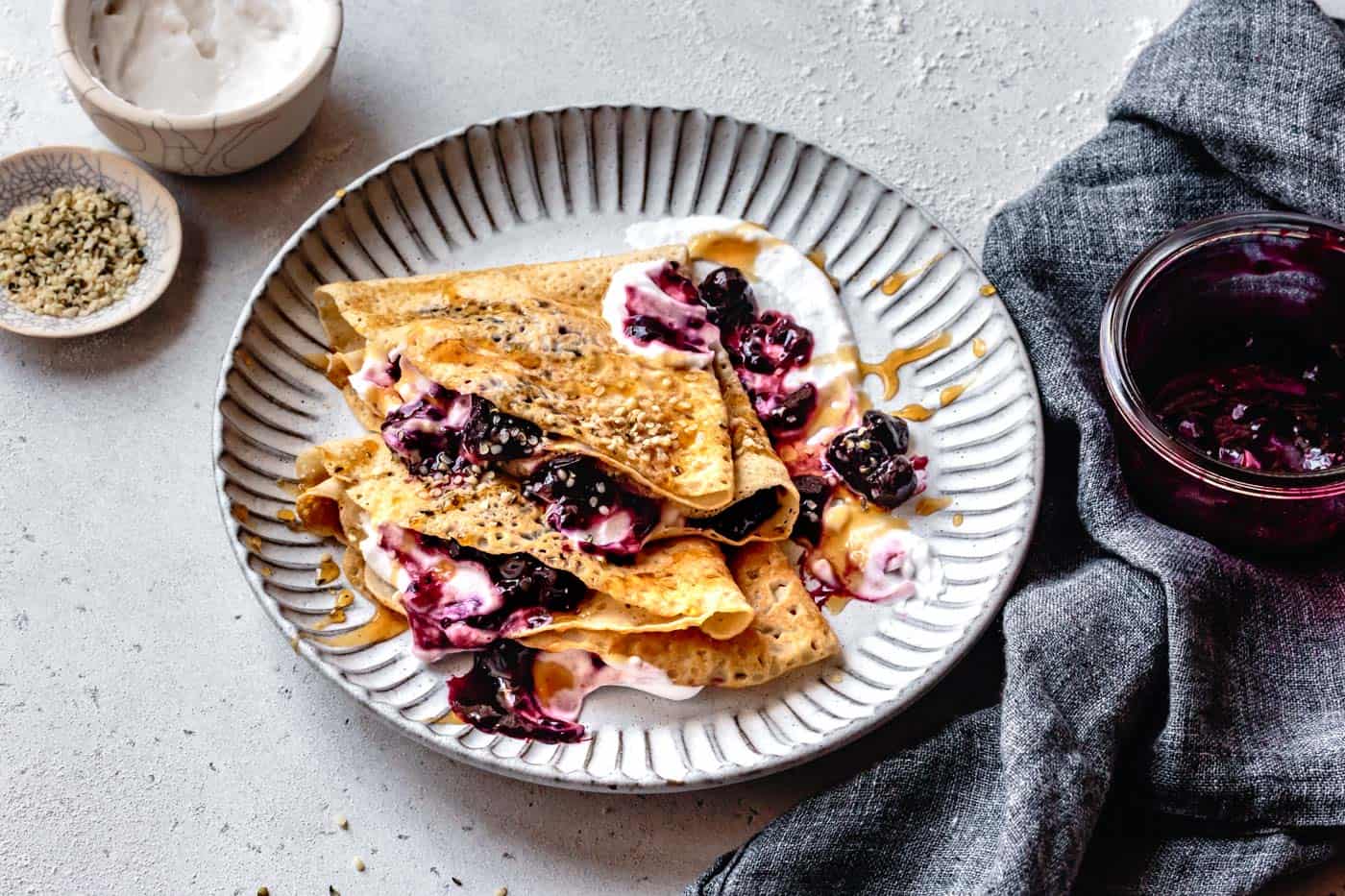 The Best Crepe Pan
I wish I could recommend my beloved crepe pan, but sadly any branding is long worn off. But this De Beyer crepe pan seems to be a favorite, and it's quite affordable too.
If you don't have a crepe pan handy, just use any skillet that's easy to maneuver. Ceramic nonstick is a good choice because they're usually quite light.
Almond Flour Crepes All Day Long
These healthy crepes are tender and full of flavor. Their neutral taste makes them appropriate for any meal of the day. Fill them with fruit and yogurt for breakfast, with lox and cream cheese for brunch, with turkey and cheese for lunch, with sautéed veggies for dinner, or with chocolate sauce and bananas for dessert. Or get fancy and use them to make a crepe cake.
Healthy Crepe Filling Ideas
These almond flour crepes are loaded with flavor all on their own. But here are some ideas for how to gussy them up.
Sweet Crepe Filling Ideas
plant yogurt
nutella or nut or seed butter
bananas, berries, figs, peaches, or other fruit
sautéed pears or apples
lemon juice and powdered sugar
Savory Crepe Filling Ideas
grated cheese (dairy or plant-based)
meats such as turkey or ham
breakfast crepes with cream cheese, lox, capers, and red or green onion
sprouts or arugula
sautéed mushrooms
wilted spinach or other greens
caramelized onion or leeks
However you serve them, I hope you love these paleo crepes as much as we do!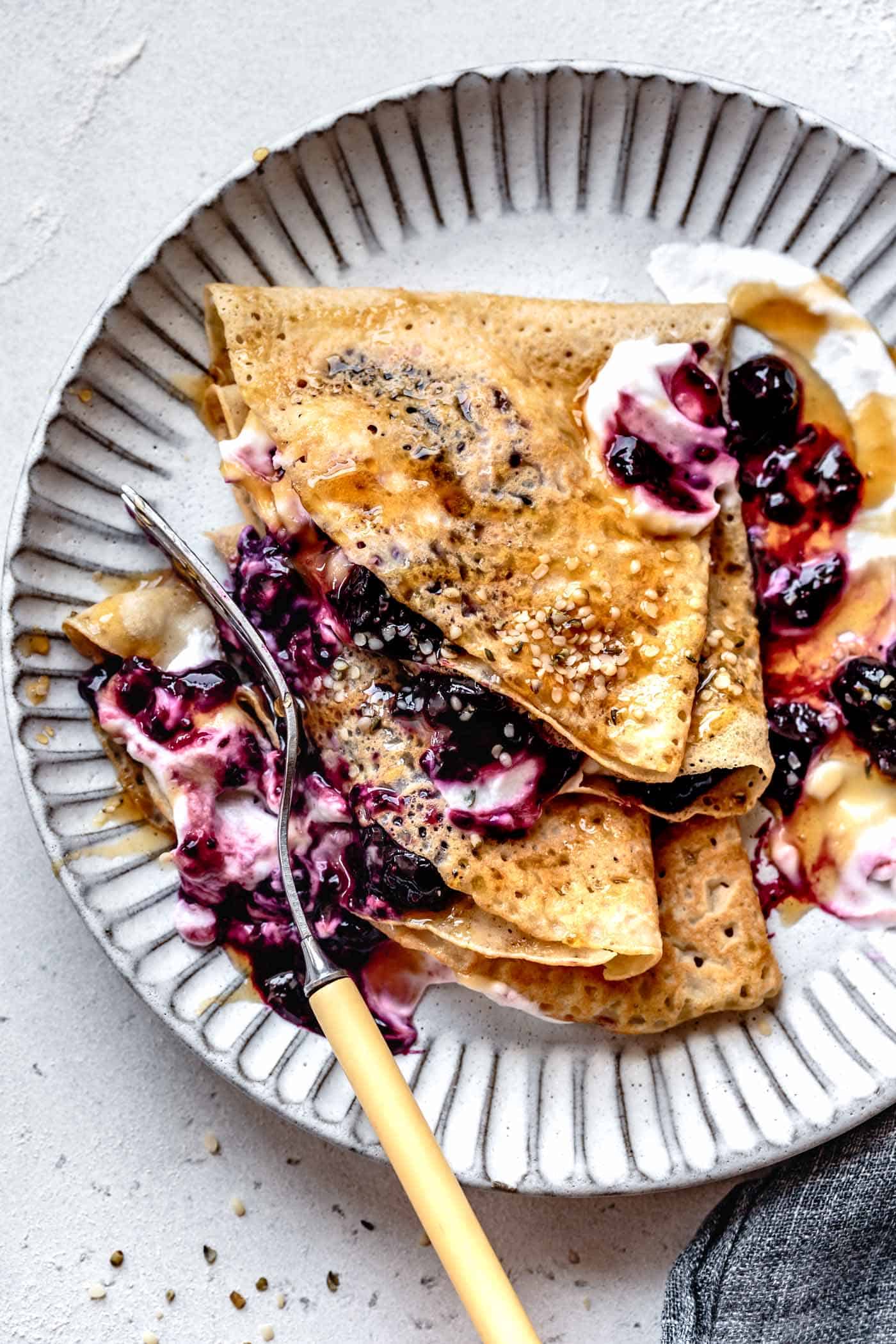 More Crepe Recipes:
More Gluten-Free Pancake Recipes:
More Baking with Almond Flour:
*Bojon appétit! For more Bojon Gourmet in your life, follow along on Instagram, Facebook, or Pinterest, purchase my gluten-free cookbook Alternative Baker, or subscribe to receive new posts via email. And if you make this paleo crepe recipe, I'd love to know. Leave a comment and rating below, and tag your Instagram snaps @The_Bojon_Gourmet and #bojongourmet.*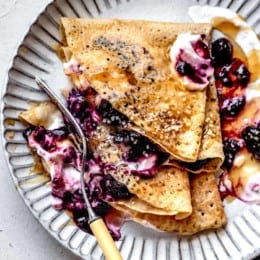 Paleo Crepes
Print Recipe
Pin Recipe
Free of gluten, grains, and dairy, these tender almond flour crepes taste close to classic. Fill them with whatever sweet or savory fillings you like. Shown here with blueberry chia jam, coconut yogurt, honey, and hemp seeds. For a savory version, try sauteed mushrooms, vegan cheese, sprouts, and tapenade or other sauce or spread.
Instructions
In a blender: Combine the ingredients in a blender in the order listed (eggs, milk, flours, salt, ghee). Blend 20-30 seconds on medium-low until well-combined. Use right away, or chill overnight or up to 3 days. Stir well to re-combine.

In a bowl: Sift together the flours and salt. Add the eggs, ghee, and 1/4 cup of the milk and whisk to form a smooth, thick batter. Gradually whisk in the remaining milk.

Pour the batter into a 2-cup measuring cup and stick a spoon in there to stir the batter frequently since the flour likes to sink to the bottom. To cook the crepes, you'll want the following: a ¼ cup measuring cup set on a small plate to catch drips, a small metal spatula, a plate to stack the finished crepes on, some ghee for the pan, paper towel for wiping the pan.

Heat an 8-inch crepe pan or skillet over medium heat until very hot but not smoking, 2-3 minutes. Add a small pat of ghee to the pan and use a scrunched up paper towel to wipe it around the pan; you just want a super-thin layer of ghee to prevent sticking, but not so much that the batter slips and slides all over the place when you swirl it around the pan.

Give the batter a stir and pour a scant ¼ cup into the measuring cup.

When the pan is hot, grasp it in your left hand (if right-handed) and pour ¼ cup of batter onto the left side of the pan. Quickly tilt the pan to the right, shuffling it to spread the batter evenly into a thin layer that coats the bottom of the pan. If there are any holes, fill them in with a few drops of batter. It will take a few tries to get the hang of this, so don't worry if the first few crepes aren't camera-ready!

Place the pan back on the heat and cook the crepe on the first side until the edges are golden and the top is fairly dry, about a minute. Slide a thin metal spatula under the crepe to make sure it hasn't stuck (I like using a tiny offset spatula), then grasp an edge with both sets of fingers and flip it over. (Or use a wide metal spatula to flip if you haven't burned off all your fingerprints flipping crepes like I have.)

Cook the crepe on the second side until golden in spots and cooked through, about 1 minute more. Flip the crepe onto a large plate, ugly side up.

At this point, you can adjust your batter if needed. If it's too thin, add another tablespoon or two of almond flour. Too thick, thin with a tablespoon or two of milk.

As you work, adjust the heat under the pan as needed. You want enough heat to give the crepes a lacy look and golden hue, but not so much that the pan smokes or the batter goes crazy when you pour it into the pan. If your crepes are pale and thin, turn up the heat. If the pan starts smoking, lower the heat.

Cook the remaining crepes, repeating the ghee-spreading, batter-shuffling, finger-burning process. Stack the crepes as you go. They'll be brittle at first, but stacking helps them steam and soften as they sit.

When all your crepes have cooked, reheat each crepe in a hot pan until warmed through. You can put fillings inside them and fold them up into quarters. Or fold the plain crepes into quarters, place on place, and top with the fixings of your choice. The "tortilla hack" that went viral on social media also works for crepes!

If you don't want to cook all your crepes, at once, you can store the batter for up to 3 days in the fridge for freshly cooked crepes when you want them. Cooked crepes also keep well, tightly wrapped and refrigerated, for up to 3 days.
Video
Notes
Do-Ahead:
Crepe batter keeps refrigerated for up to 3 days. Stir well to recombine before cooking.
Cooked crepes keep, refrigerated airtight, for up to 3 days. Heat before serving.
For sweet crepes, feel free to add ½ tablespoon maple syrup, ½ teaspoon vanilla extract, and/or a few scrapes of lemon zest.
See filling suggestions in the post above!
Nutritional values are based on one of twelve crepes.
Nutrition
Calories:
76
kcal
Carbohydrates:
5
g
Protein:
2
g
Fat:
5
g
Saturated Fat:
2
g
Trans Fat:
1
g
Cholesterol:
47
mg
Sodium:
140
mg
Potassium:
16
mg
Fiber:
1
g
Sugar:
1
g
Vitamin A:
59
IU
Vitamin C:
1
mg
Calcium:
43
mg
Iron:
1
mg