A grain-free take on the Swedish crispbread Knäckebröd. These paleo crackers are crispy, crunchy, and delicious with all your favorite cracker accoutrements. Effortless to make and imminently customizable. Gluten-free, dairy-free, vegan, nut-free, and paleo-friendly. Thanks to Bob's Red Mill for sponsoring this post!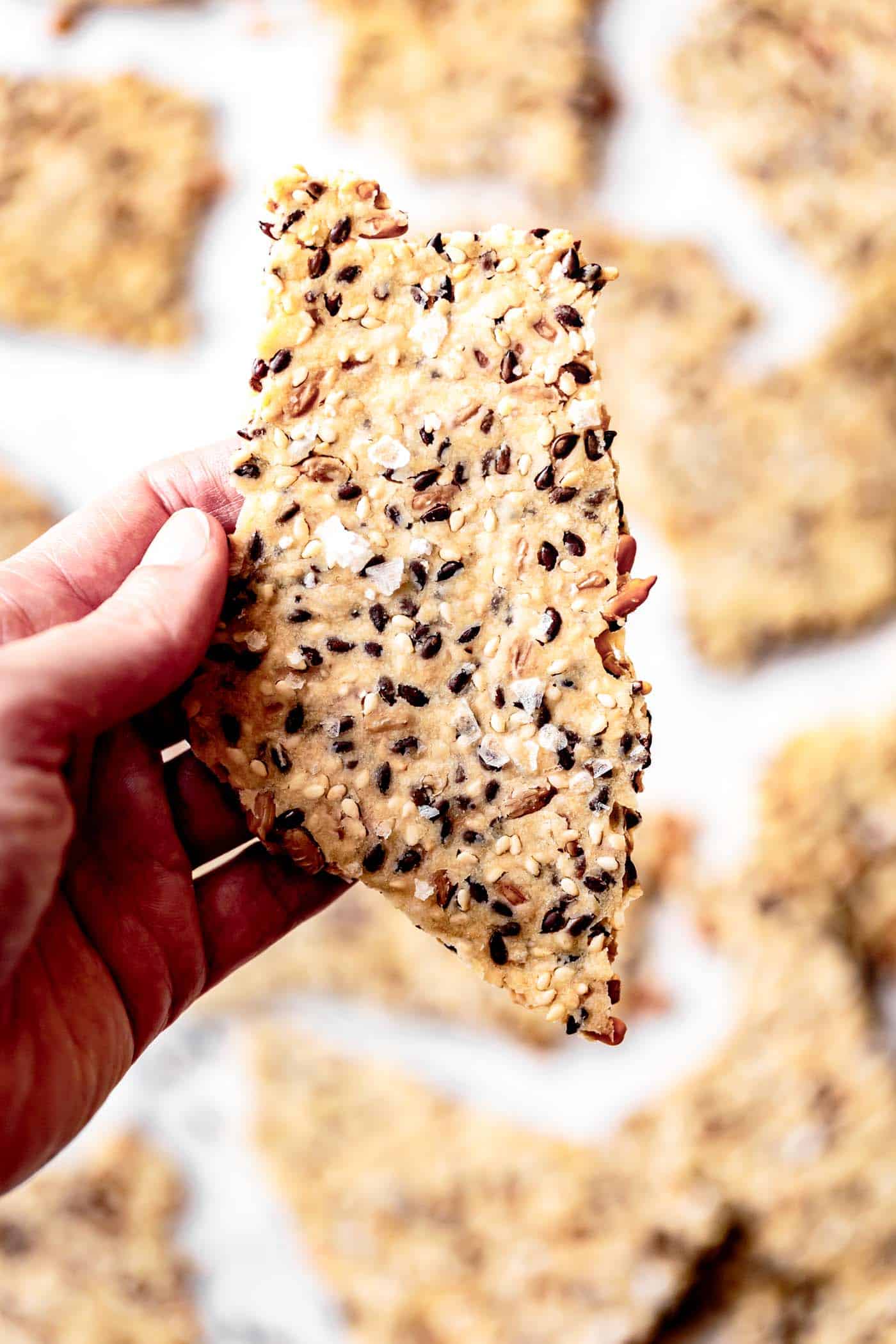 I'm going on month 8 of an interesting elimination diet that I started earlier this year for health reasons. Among the things I had to cut out of my diet were eggs, almonds, yeast, grains, and dairy. This meant I couldn't have bread of any kind – even most grain-free breads rely on eggs and almond flour.
My most insatiable craving during this time was avocado toast. Pre-elimination diet, I regularly made it using a thick slice of gluten-free sourdough toasted in a skillet with ghee, and chunks of firm-ripe avocado folded with lemon juice, olive oil, and salt until it formed a chunky emulsion. I could not stop thinking about it.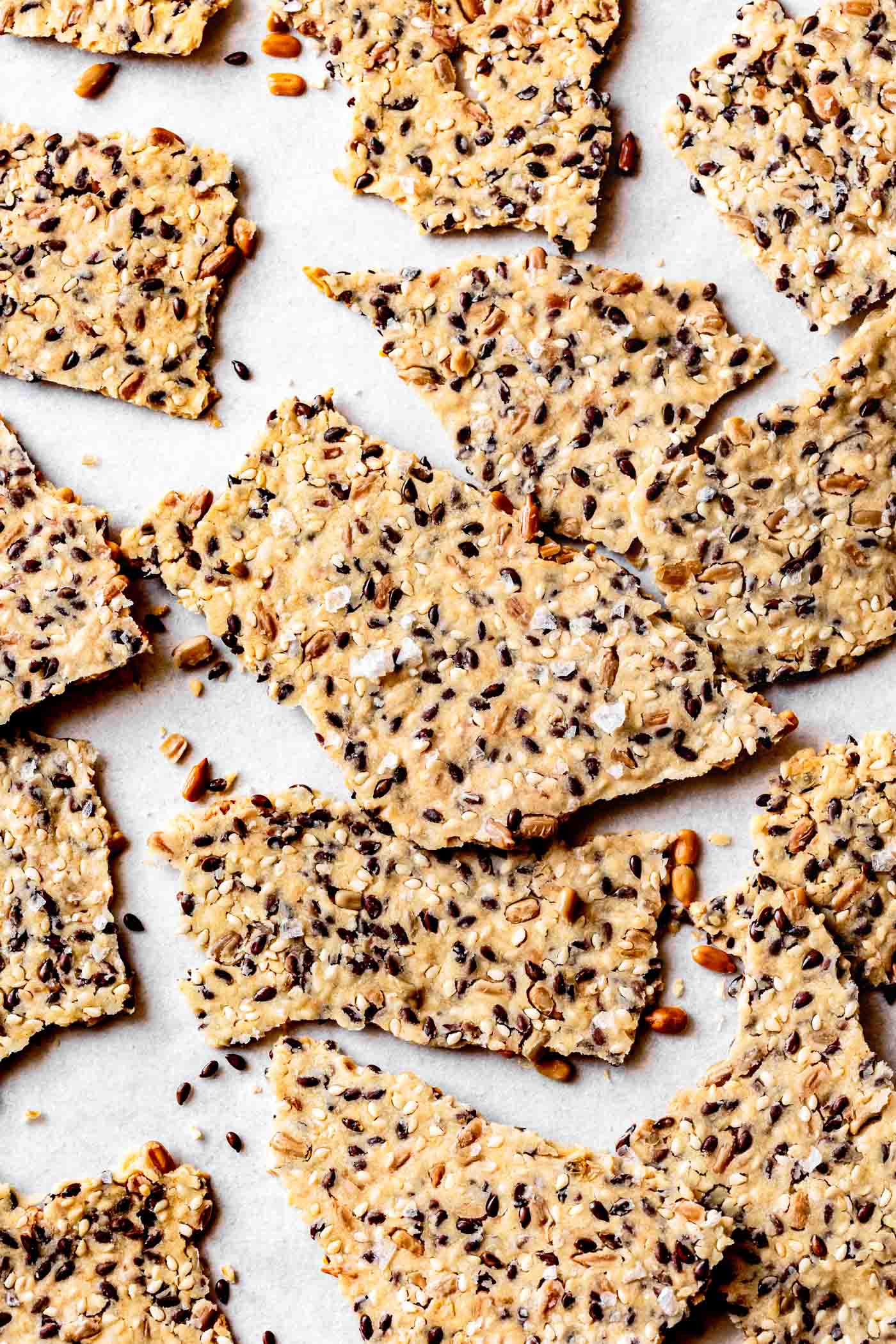 Swedish Crackers to the Rescue
Then one happy day, my dear friend Mia, who's half Swedish, sent me a recipe for the traditional crispbread called Knäckebröd, a crunchy rustic cracker made with loads of seeds bound together with flour, water, salt, and oil. Mia said, "We eat knäckebröd on a daily basis. For Swedes it's our crack! It's traditionally made with rye flour. So good!"
Mia's recipe called for buckwheat or spelt flour, but I decided to try making it with cassava flour realizing that if it turned out, I'd *actually* be able to eat it.
It worked like a charm. And when I piled a rustic grain-free cracker with avocados, pickled onion, cucumber, and dill, I practically wept with relief.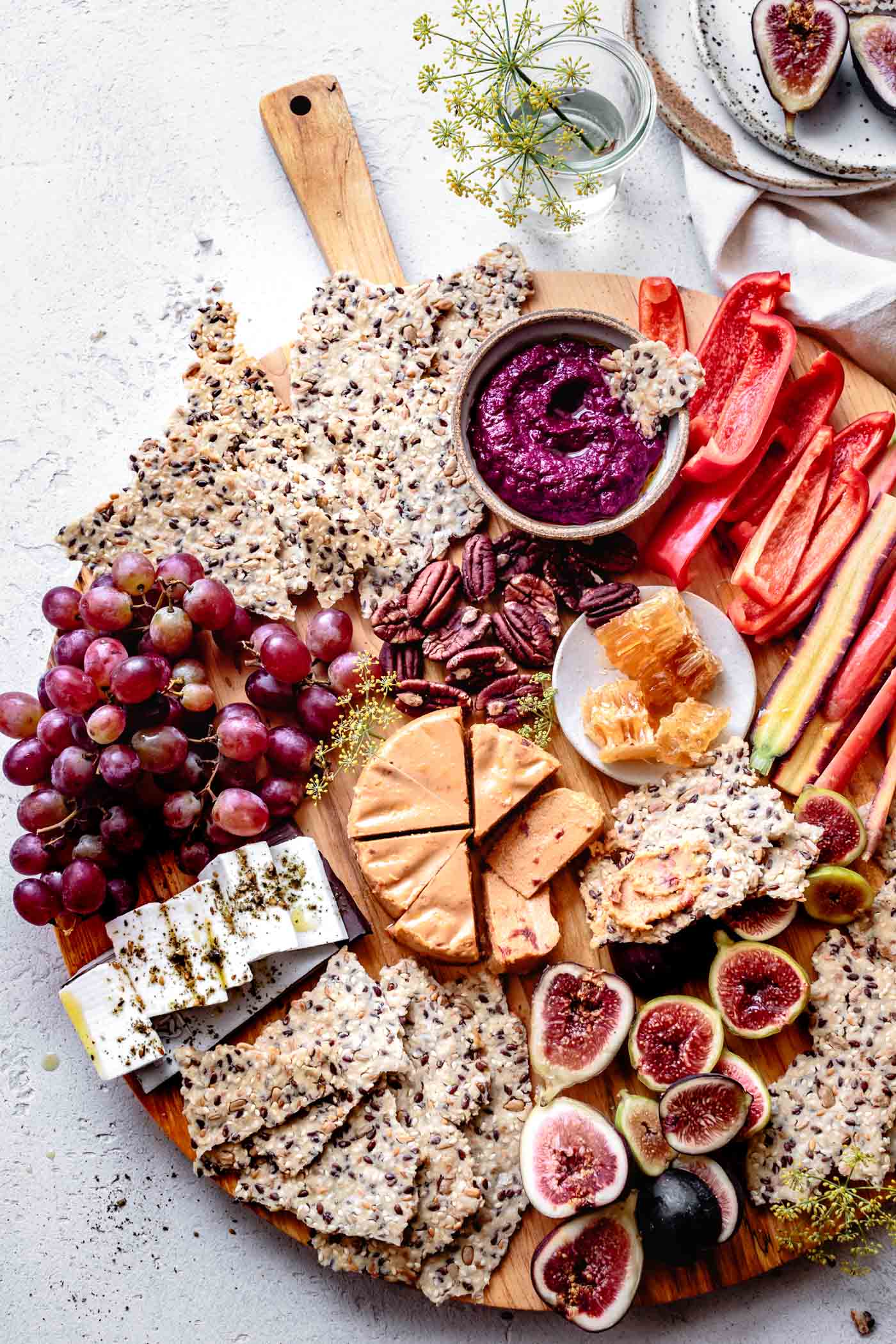 Cassava Flour Crackers = Sneakily Grain-Free Crackers
Bob's Red Mill Cassava flour has been my savior during this strange year. With it, I've made all sorts of goodies to satisfy my sweet tooth: paleo cookies, zucchini bread, chocolate tart, cobbler, banana bread, pie crust, and loads more recipes that are in the works!
Cassava flour comes from a tuber and is commonly used in cuisines of South America, Asia, and Africa. It's grain-free, but it actually resembles glutenous flour more than many gluten-free grain flours thanks to its starchy, sticky quality and mild taste. Cassava flour is also prebiotic, meaning it makes a happy environment for good gut bacteria to flourish. What's not to love?
For these paleo crackers, I swapped cassava flour in for the traditional flours used for knäckebröd – rye or buckwheat – and it only needed a little extra water to help the dough come together.
These paleo crackers are indistinguishable from their gluteny counterpart. They also happen to be vegan, gluten-free, dairy-free, and nut-free.
Ingredients
This paleo cracker recipe starts with cassava flour from Bob's Red Mill. Look for cassava flour with other alternative flours at your grocer, or order it directly from Bob's. If you don't have cassava flour, you can make these crackers gluten-free with buckwheat or corn flour. Or try a more traditional version with rye flour or another glutenous flour such as spelt or barley.
A mix of seeds make these deliciously flavorful, crisp, and nutritious. The classic version uses equal amounts of sesame, flax, and sunflower seeds. But you could try using just one type of seed, or experiment with other mild seeds such as pumpkin, black sesame, poppy, or chia.
A little bit of olive oil adds richness and some savory flavor, but other oils could easily stand in.
Water brings the dough together and salt adds flavor.
How to Make Paleo Crackers with Cassava Flour: step-by-step photos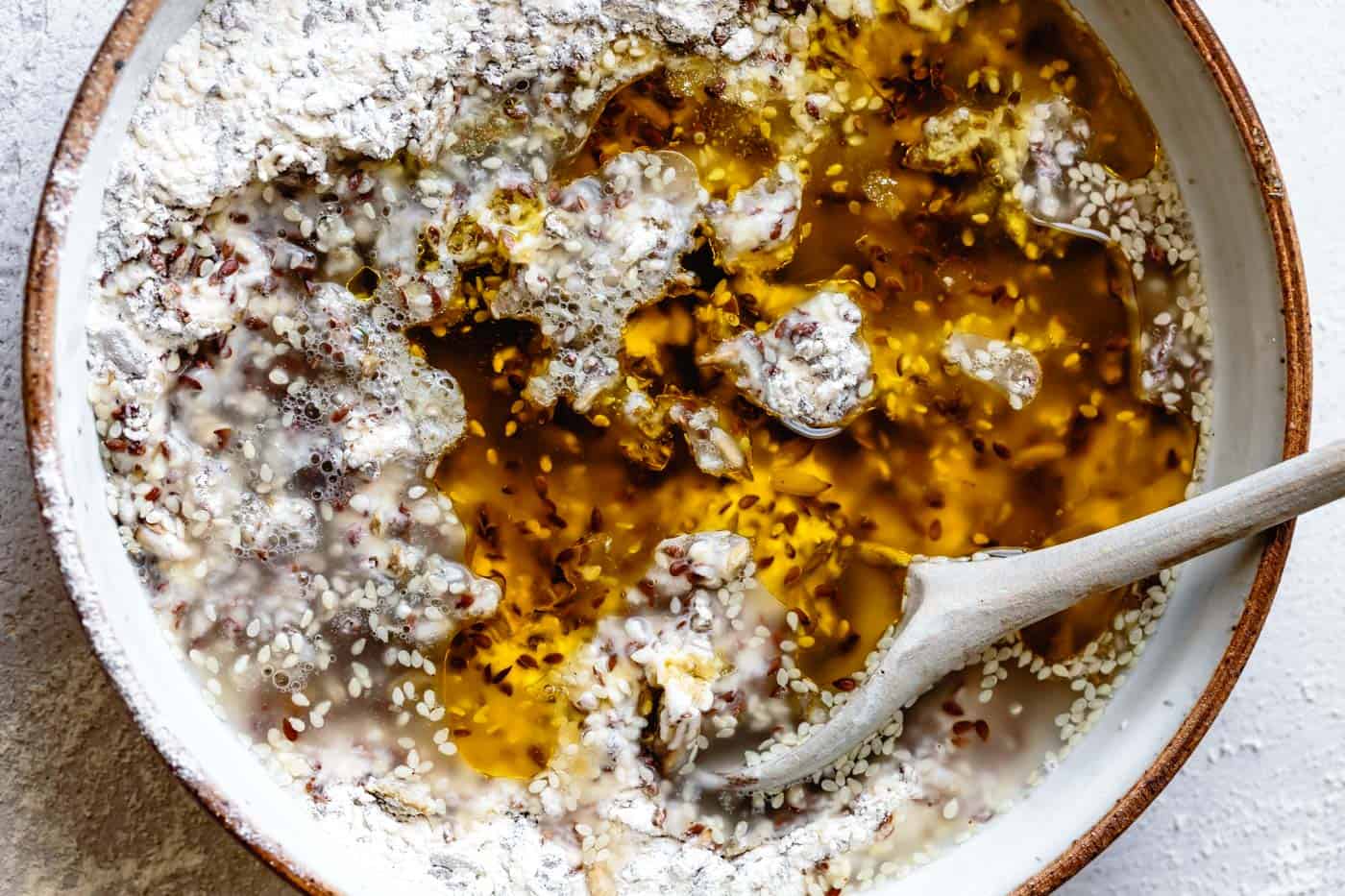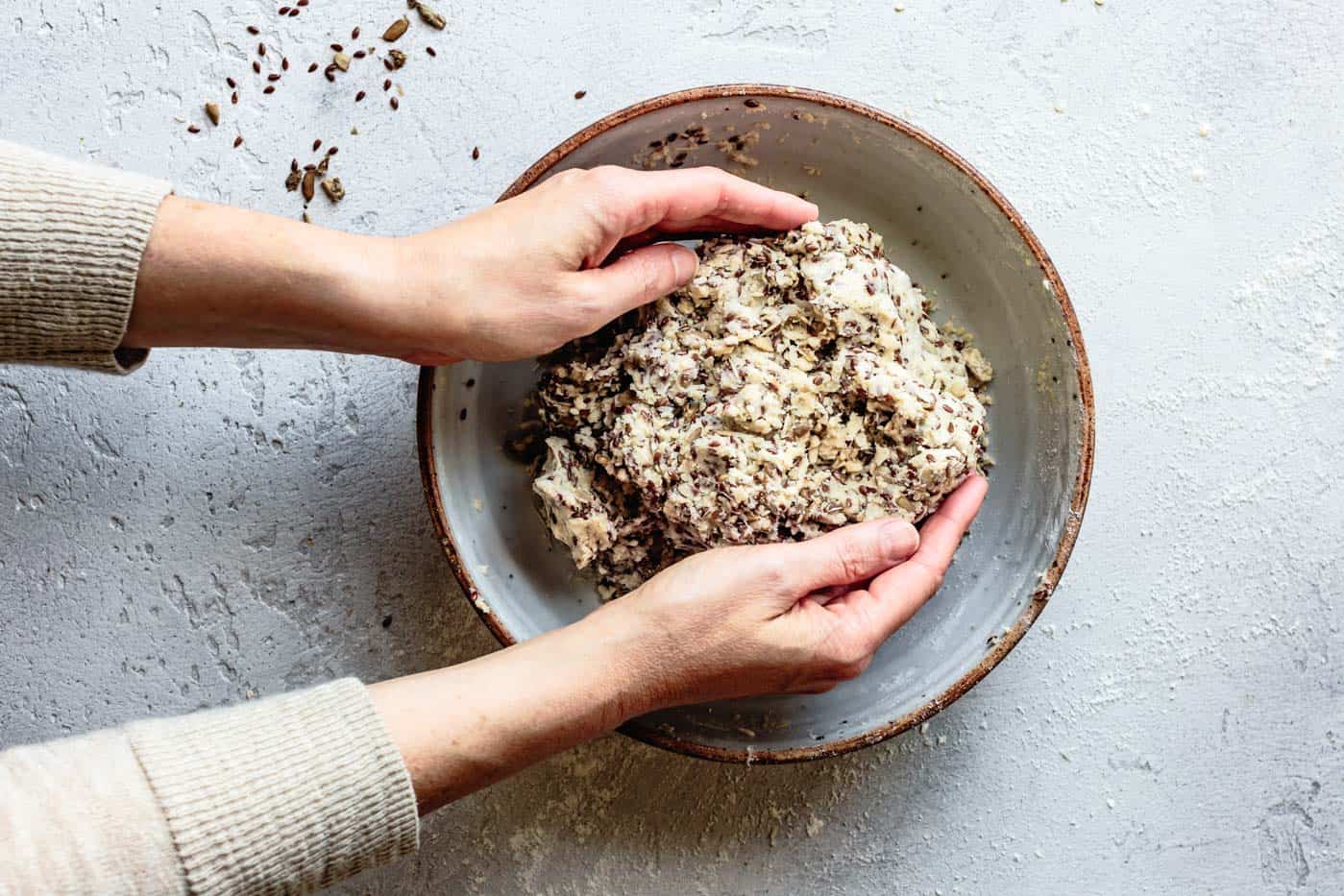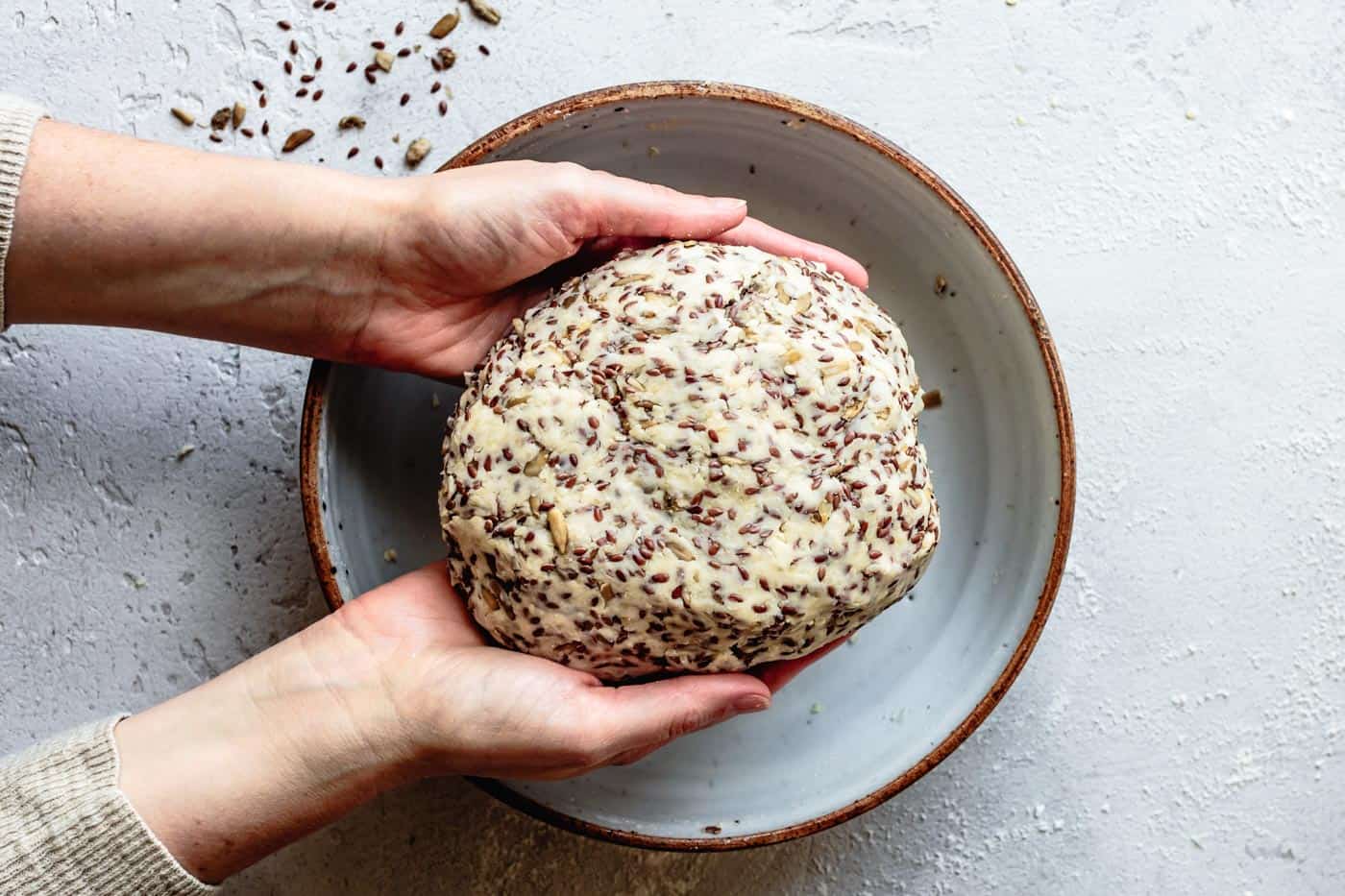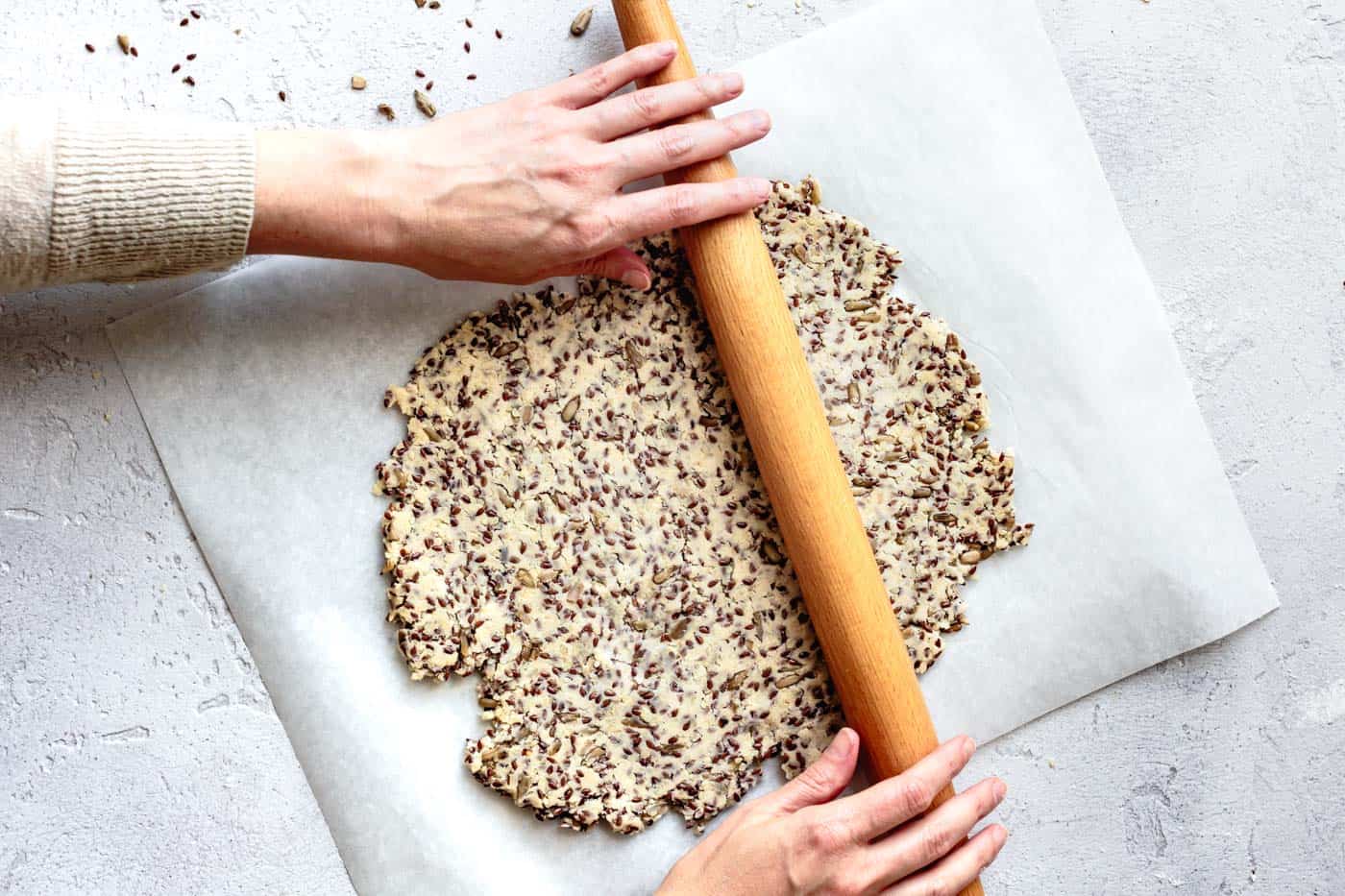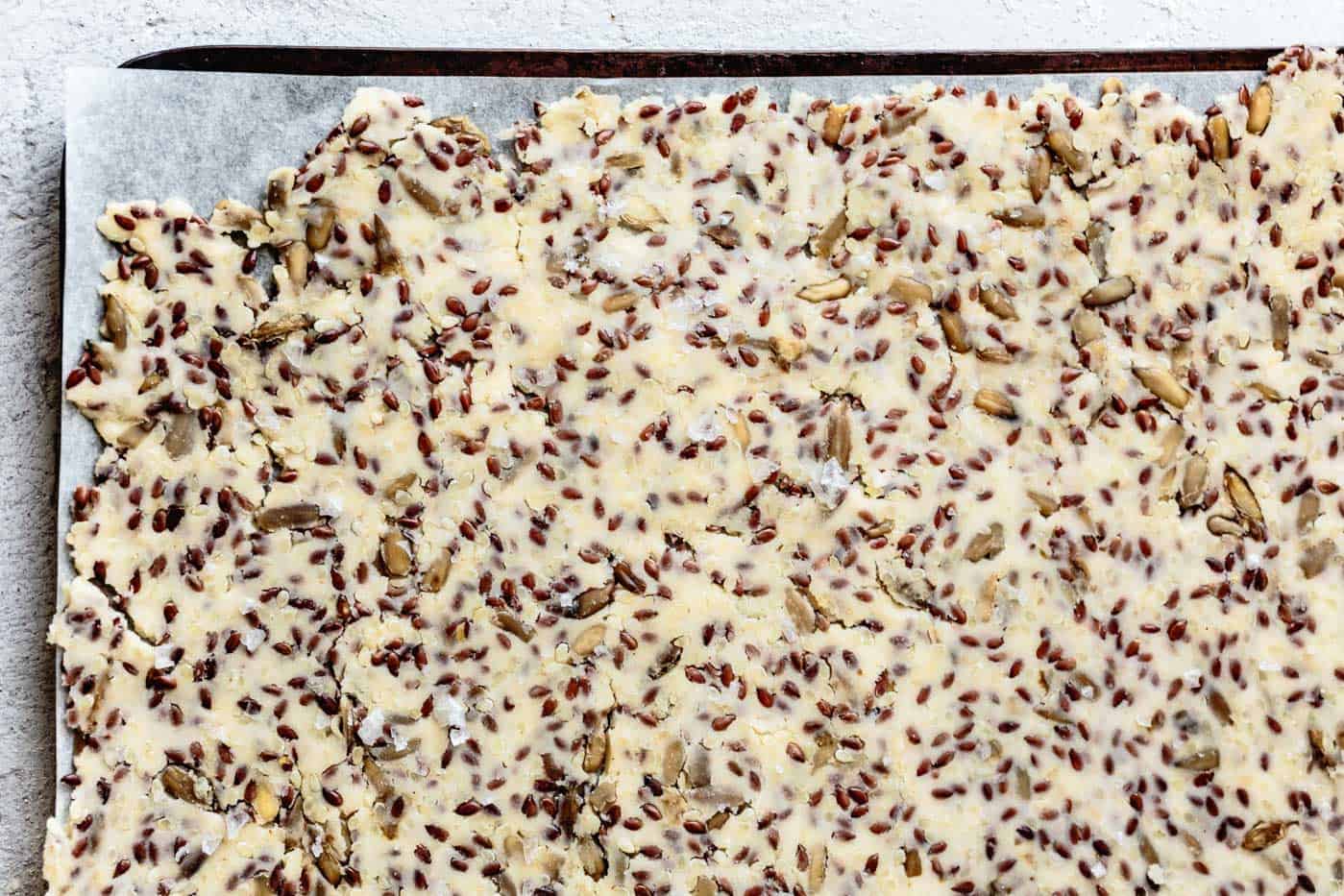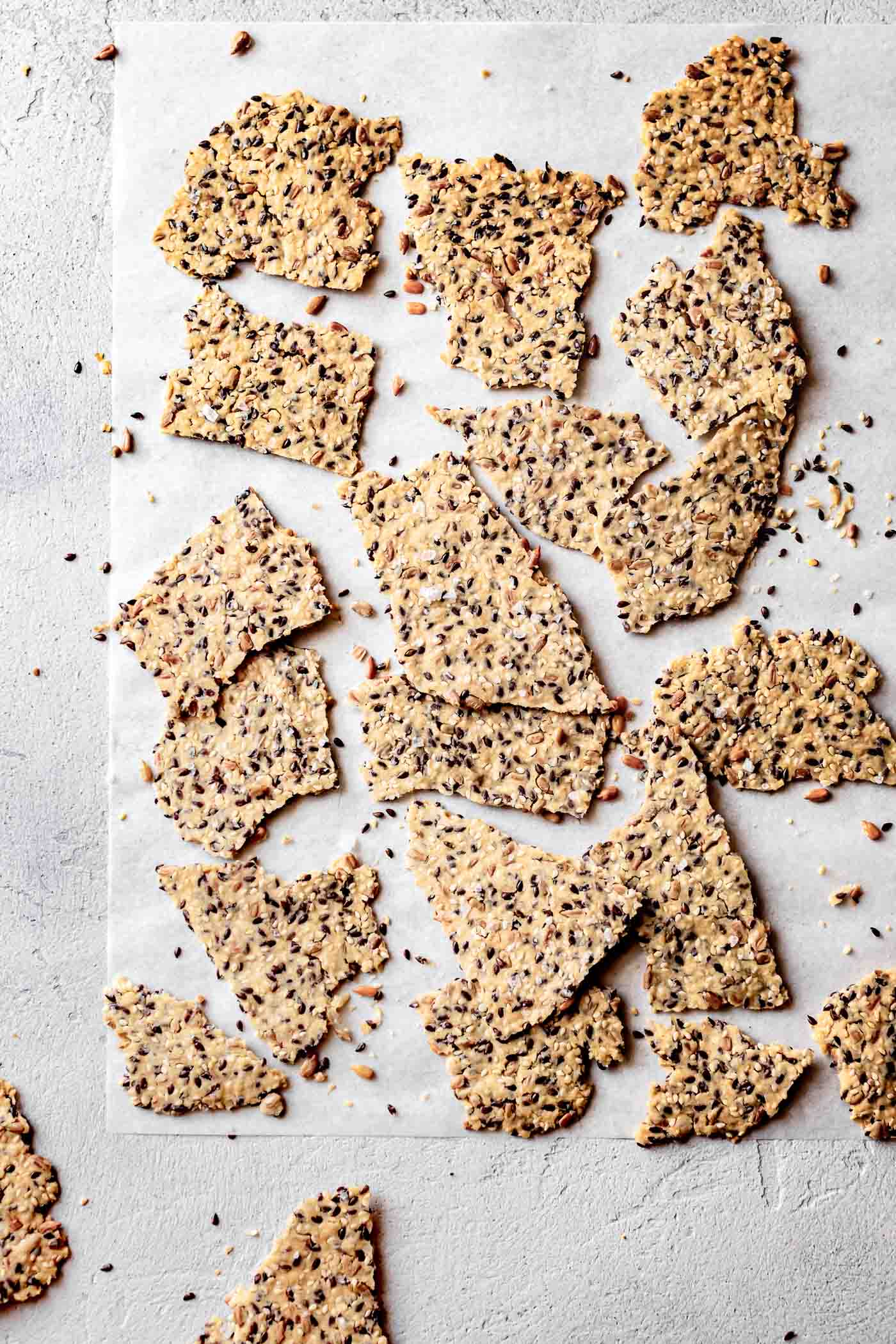 How to enjoy the best paleo crackers:
Treat them like toast or a bagel and top with avocado, cucumber, dill, pickled onion, and lox.
Serve them with an assortment of your favorite cheeses – plant-based or dairy.
Top with goat cheese and fruit preserves, or PBJ.
Use them to scoop up tofu salad, egg salad, or tuna salad.
Serve to the side of a bowl of soup or a big salad.
More things to dip cassava crackers in:
A Vegan Cheeseboard with Gluten-Free Crackers
Dress these healthy paleo crackers up with a seasonal cheeseboard (vegan if you like!) Here's what I put on mine for early fall:
fresh figs & grapes
carrot sticks and bell peppers
vegan feta topped with olive oil and za'atar
Miyoko's sundried tomato cheese wheel
honeycomb & toasted pecans
beet & walnut dip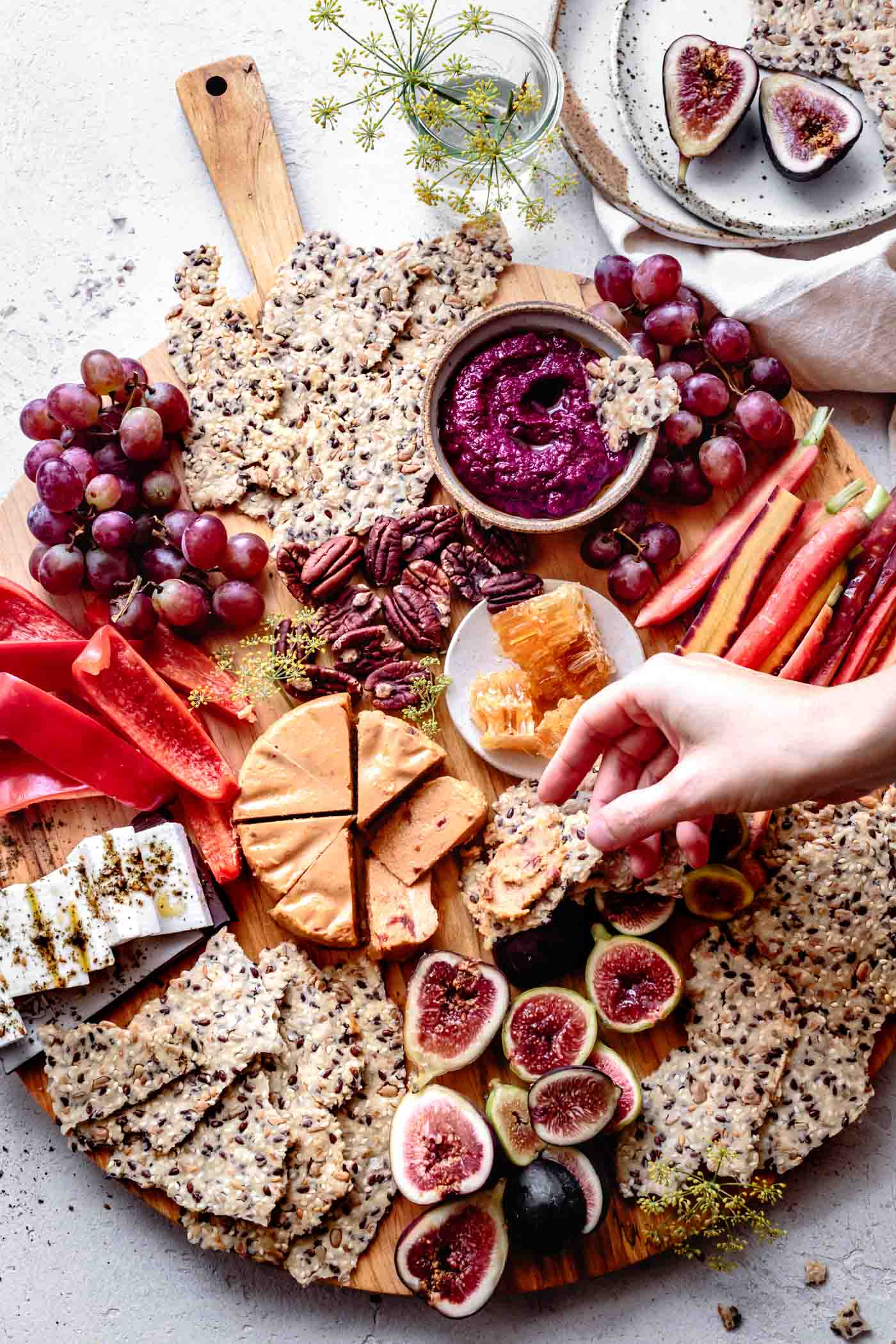 More cassava flour recipes:
More cracker & flatbread recipes:
*Bojon appétit! For more Bojon Gourmet in your life, follow along on Instagram, Facebook, or Pinterest, purchase my gluten-free cookbook Alternative Baker, or subscribe to receive new posts via email. And if you make this paleo cracker recipe, I'd love to see. Tag your Instagram snaps @The_Bojon_Gourmet and #bojongourmet.*
Rustic Paleo Crackers with Cassava Flour & Seeds
Print Recipe
Pin Recipe
A grain-free take on the Swedish crispbread Knäckebröd. These paleo crackers are crispy, crunchy, and delicious with all your favorite cracker accoutrements (see suggestions in the main post). Effortless to make and imminently customizable (see note for suggestions). Gluten-free, dairy-free, vegan, nut-free, and paleo-friendly.
Ingredients
1

cup

(160 g) cassava flour

(or buckwheat, rye, or corn flour for traditional, non-paleo version)

½

cup

(85 g) flax seeds

½

cup

(70 g) sesame seeds

½

cup

(60 g) sunflower seeds

½

teaspoon

fine sea salt

1

cup

+ 2 tablespoons (265 ml) boiling water

(reduce to 1 cup if using a flour other than cassava)

¼

cup

(55 g) olive oil, plus 2 tablespoons for brushing

flaky salt, for sprinkling
Instructions
Position racks in the upper and lower thirds of the oven and preheat to 300ºF.

Stir together the flour, seeds, and salt in a large bowl.

Add the olive oil and water, stir to combine. Let sit 10 minutes, then knead with your hands in the bowl into a smooth ball. Divide in two.

Roll one piece of dough between two pieces of parchment paper into a large, thin sheet that's about the size of a baking sheet. If the dough cracks or tears, just squish it back together. You can trim away the wonky edges, stick them into the corners, and continue rolling to make a rectangle. Repeat with the other piece of dough.

Brush the dough all over with olive oil and sprinkle with flaky salt.

Bake the crackers until light golden, about 40-50 minutes (check at 15 minutes if using a different flour as some bake much faster than others).

Let the crackers cool, then break them into 2 to 3-inch pieces. If the crackers aren't crisp enough after cooling, just return them to the oven for another 10 minutes or so.

Store the crackers airtight for up to a week or two… if you can make them last that long!
Notes
Substitution suggestions:
For a non-paleo version, try these with buckwheat or corn flour. Or for a more traditional gluten-ful version, use rye flour or spelt flour.
Feel free to play fast and loose with the seeds, using any combination you like. You can try adding hemp, poppy, chia, and/or pumpkin seeds.
Seasoning suggestions (add to the dough or on top of the crackers):
-minced fresh rosemary
-everything bagel seasoning
-1 teaspoon cumin or fennel seed
-oregano
-garlic and/or onion powder
-nigella seed
-flavorful oil, such as walnut or toasted sesame
-chile flakes, Aleppo pepper, or togarashi
-nutritional yeast
Nutrition values are for 1 of 40 crackers.
Nutrition
Calories:
58
kcal
Carbohydrates:
4
g
Protein:
1
g
Fat:
4
g
Saturated Fat:
1
g
Sodium:
30
mg
Potassium:
37
mg
Fiber:
1
g
Sugar:
1
g
Vitamin C:
1
mg
Calcium:
29
mg
Iron:
1
mg