This paleo apple crisp (a.k.a paleo apple crumble) combines gooey baked apples with a crunchy almond flour crumble topping. A healthy apple crisp that rivals any classic recipe!
This almond flour apple crisp is made with just a handful of easy ingredients. It's free of gluten, grains, refined sugar, and dairy, but still tastes like a treat.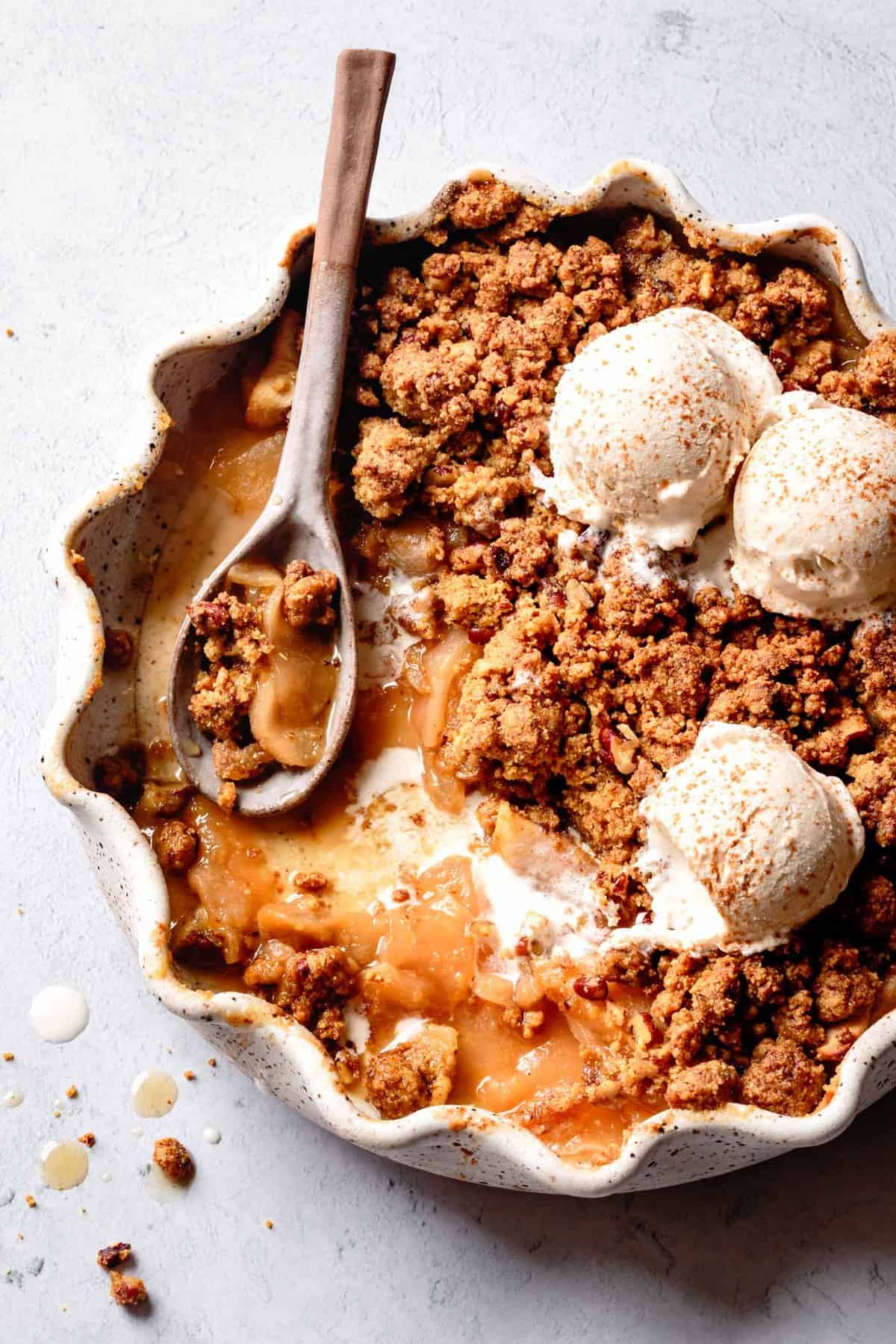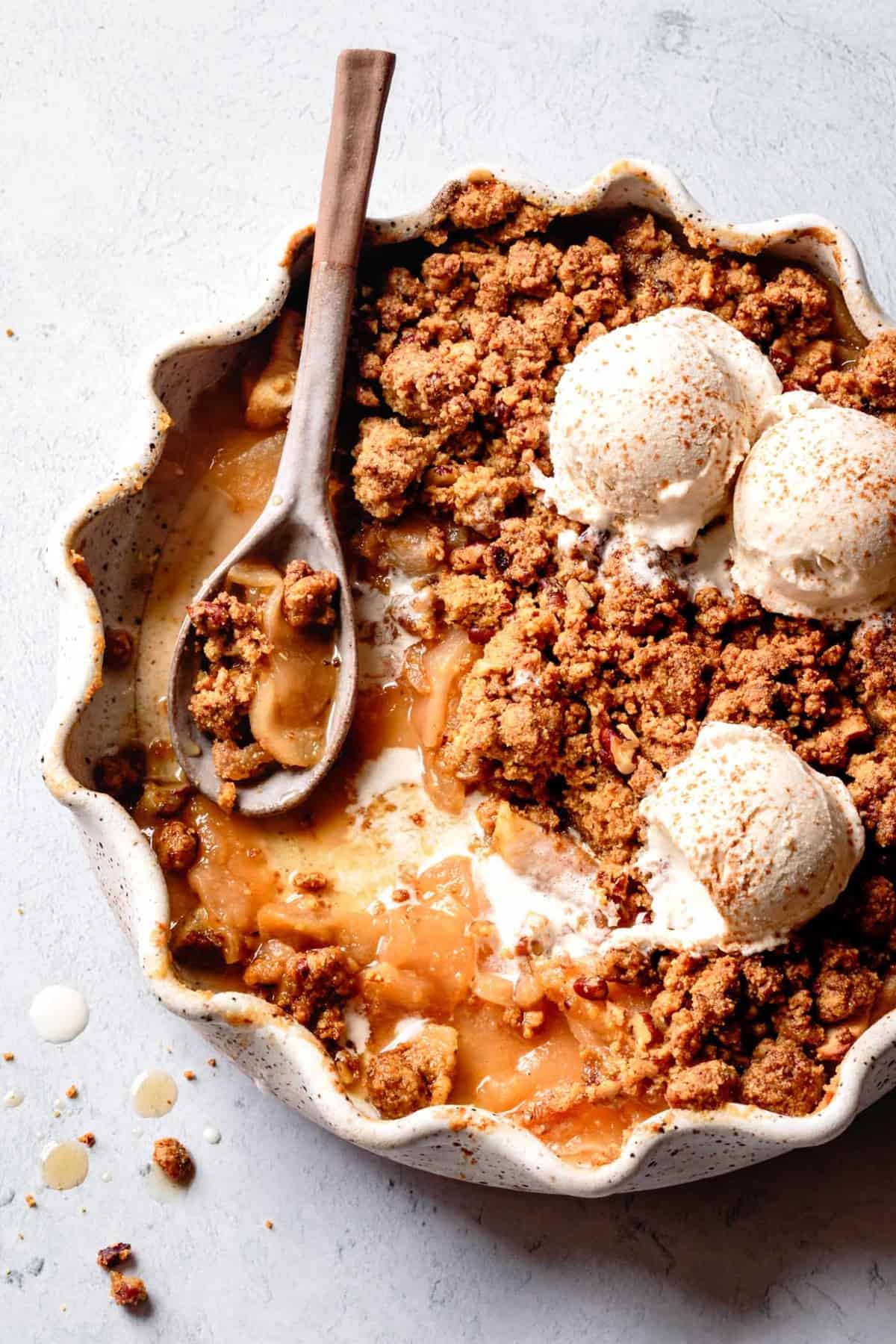 Fruit crisps and crumbles are some of my all-time favorite desserts. They're easy to make with whatever fruit happens to be in season. I love the satisfying combination of tastes and textures: tangy stewed fruit, salty-sweet crumble, and scoops of melty ice cream.
And yet as simple and homey as they are, fruit crisps, especially the more allergy-friendly varieties, can be tricky. I've made versions with watery fruit, dry fruit, and gelled fruit. I've suffered pasty, bland toppings that disintegrate in the oven, and overly firm toppings that separate from the filling. Some versions had good textures, but tasted overly sweet.
After tinkering with this paleo apple crisp recipe for the past year, I'm finally 100% happy with it. I'm excited to share it with you today!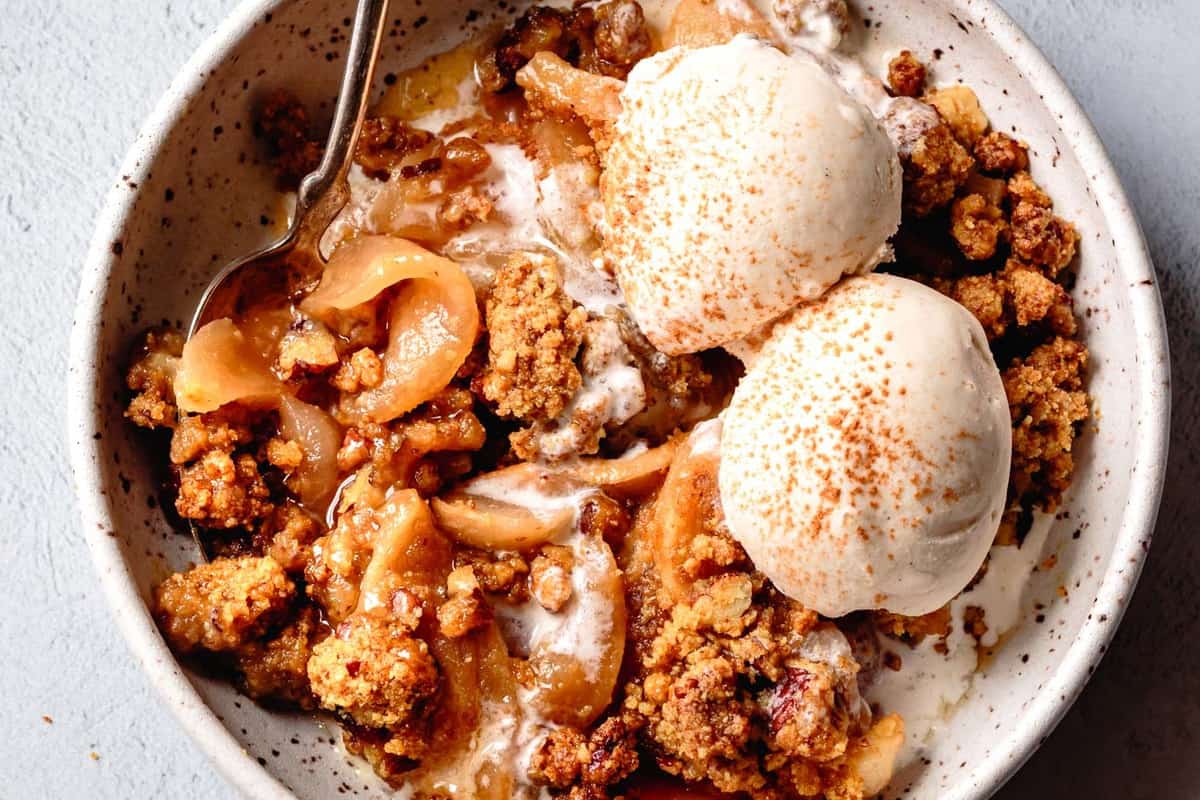 In Search of the Best Paleo Apple Crisp
I adapted this paleo apple crisp from my favorite gluten-free apple crisp. It has all the cozy flavors and textures that I love, but it's grain-free and naturally sweetened.
A couple of key ingredients and techniques make this grain-free apple crisp shine.
The Apples
Baked apples can be drier than other fruits, but adding too much maple syrup made them overly sweet when eaten with the also-sweet topping. I added a pour of fresh-pressed apple juice and a touch of lemon to keep them moist and tender. This ups the fresh apple flavor, keeping the fruit vibrant-tasting and balanced.
Dotting the apples with butter adds richness, and baking the apples on their own first makes them extra tender.
The Paleo Crisp Topping
Paleo and gluten-free crisp toppings can be a tricky balance. We need enough sticky ingredients and proteins to form those much sought-after clumps and clusters. But too much starch can make the topping soft and chewy. I tried different ratios of almond flour, cassava flour, and tapioca flour plus butter and sweetener to bind it together.
This streusel-like topping bakes up with clusters of varying sizes. It sinks into the apples a bit, but stands up to the fruit juices nicely. And it's got a lovely balance of sweet, salty, and spicy notes that play beautifully with the roasted apples.
Things I love about this paleo apple crumble:
tender, sweet-tart apples
crunchy almond flour crumble topping
warm flavors of butter, spice, and toasty nuts
minimal sweetness so you can really taste the fruit
allergy-friendly: no gluten, grains, refined sugar, with dairy-free and nut-free options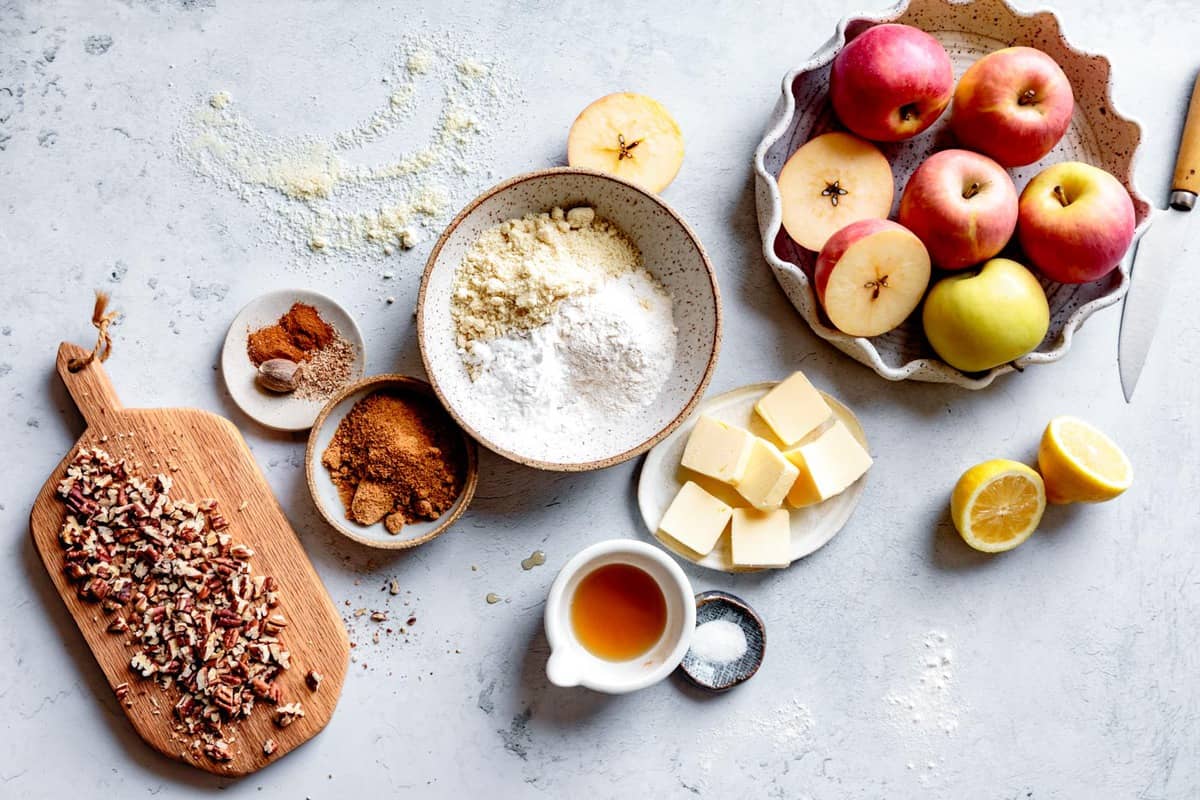 Healthy Apple Crisp Ingredients and Substitution Suggestions
Baked Apples
Apples are the star of this show. I use sweet-tart fuji apples here, which stand up well to baking. Other similar apples are honeycrisp and pink lady. If you use a more tart baking apple such as granny smith, you may want to add a couple more tablespoons of maple syrup to sweeten the apples. I don't recommend using softer apple varieties such as Gravensteins as these will break down into applesauce and be too mushy.
Apple cider or apple juice adds moisture and big apple flavor. I prefer fresh-pressed apple cider, found with other fresh fruit and veggie juices at natural foods stores or farmers markets, but shelf-stable apple juice will work too. Or go wild and use hard apple cider, orange juice, cranberry juice, or pomegranate juice instead. See the recipe notes for boozy variations!
Maple syrup adds a touch of sweetness. Increase the maple if your apples are very tart, or sub any other sweetener you like.
Lemon and salt sharpen the flavors.
Butter adds richness. Use dairy-free butter if you prefer. I haven't tested this with coconut oil, but I think it would work; you might need to add a teaspoon or two of plant milk since butter is about 85% fat and 15% milk solids and water.
Almond Flour Crumble Topping
Almond flour makes the crisp topping clumpy and crunchy. Almond meal and hazelnut meal work well to. Or you could use any nut or seed, ground to a flour. Try tiger nut flour for a nut-free option, though you may need to add more butter since it can be more absorbent than nut flour.
Cassava and tapioca flours help the crumble hold together. You can sub any paleo or gluten-free AP flour for the cassava flour. Use sweet rice flour if grains aren't an issue. Try cornstarch in place of the tapioca flour if you prefer.
Toasted pecans or walnuts add crunch and flavor. Other nuts, such as sliced almonds or chopped hazelnuts, work too. For nut-free, omit the nuts or sub pumpkin seeds.
Coconut sugar or maple sugar add natural sweetness. You can use brown sugar if you prefer.
Cinnamon, nutmeg, and salt add flavor and spicy goodness. Sometimes I use my homemade pumpkin spice if I have some on hand, and it gives the topping a lovely golden hue (shown here). See the recipe notes for a masala chai apple crisp variation.
Melted butter brings the crumble topping together, making it rich and streusel-like. This works equally well with vegan butter such as Miyoko's. For extra flavor, try the browned butter variation in the notes.
How to Make Grain-Free Apple Crisp
For this recipe, I like to bake the apples first to make them super tender. Then we add an easy almond flour crumble topping that's made by simply stirring the ingredients together.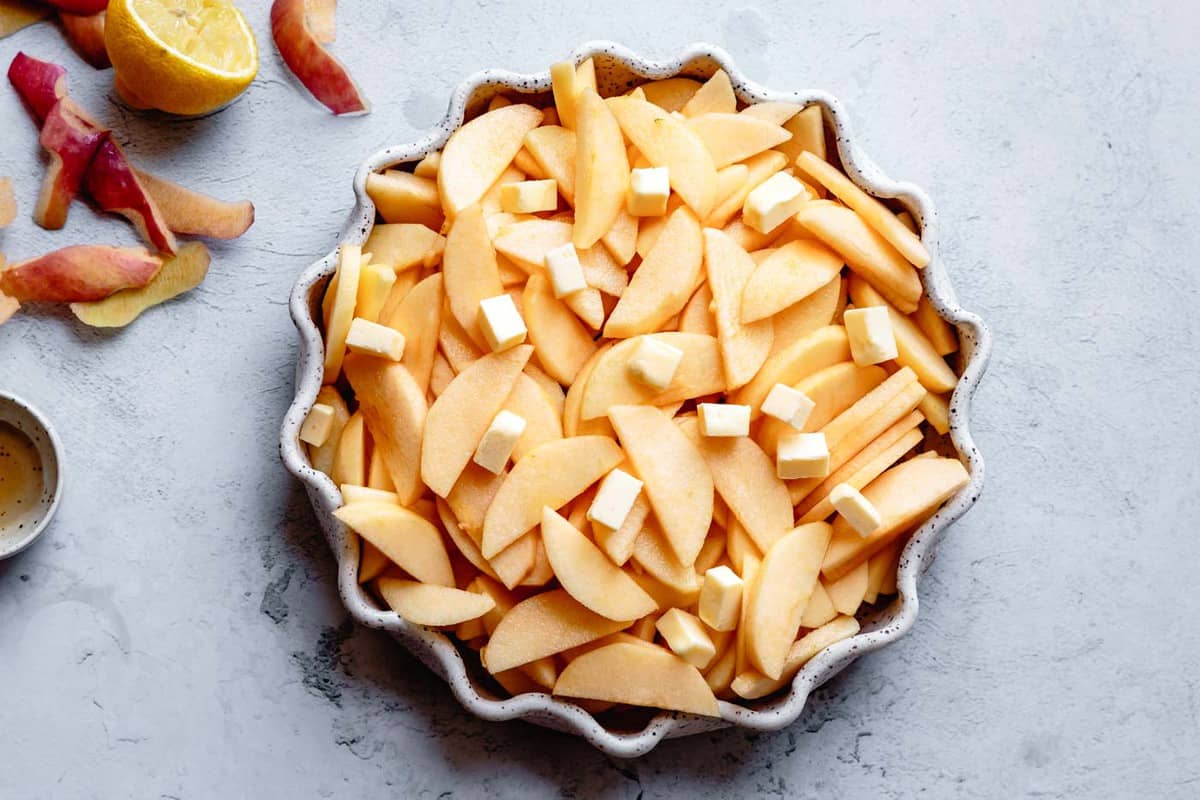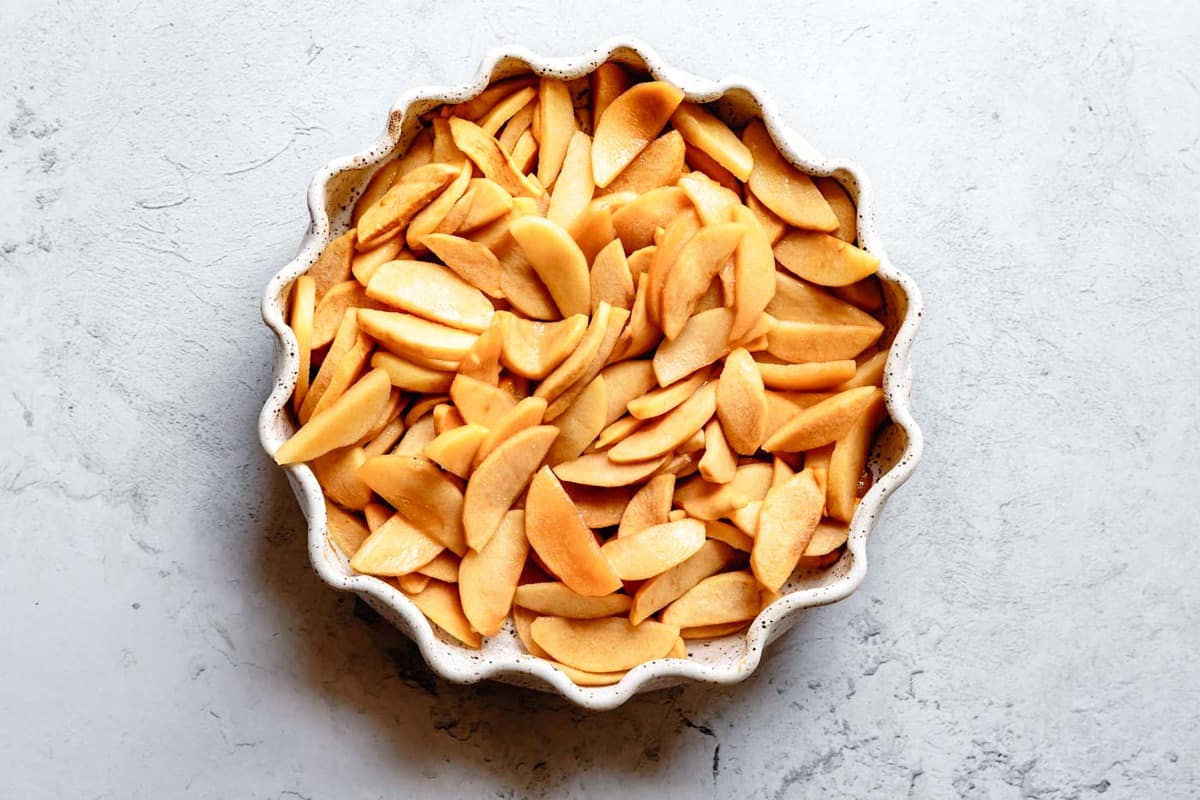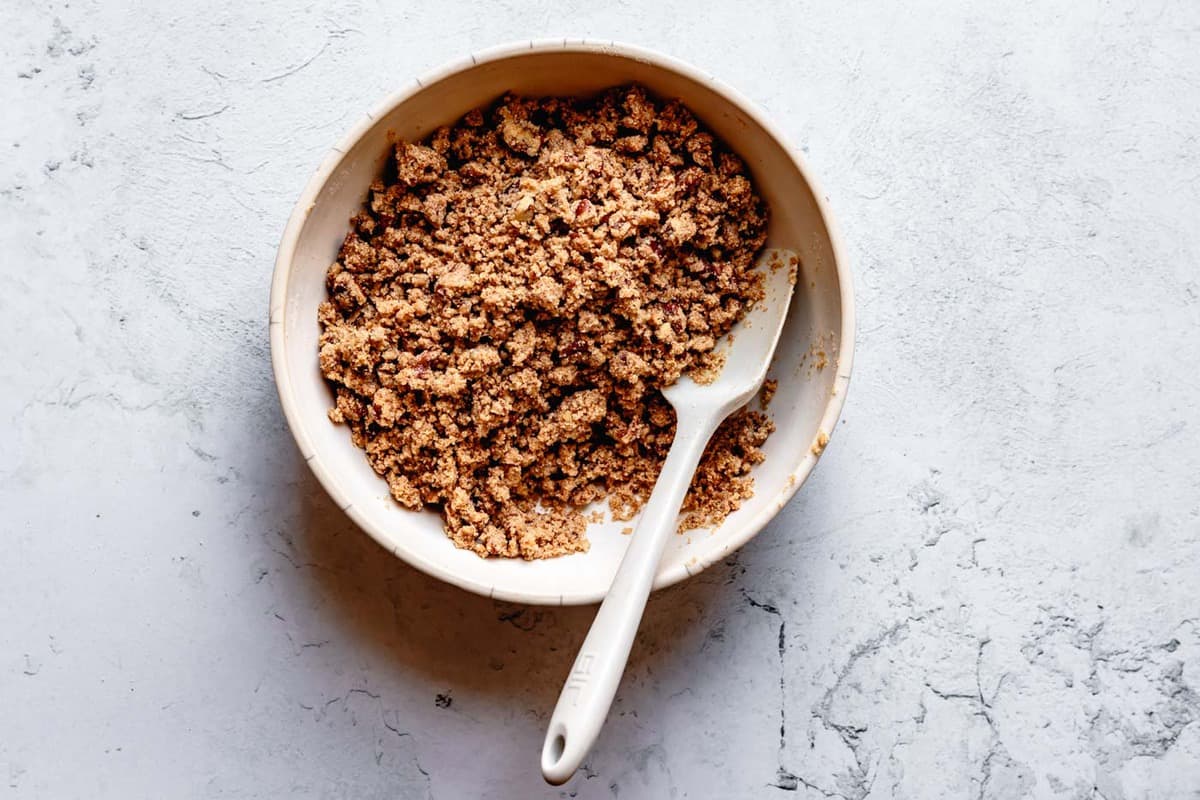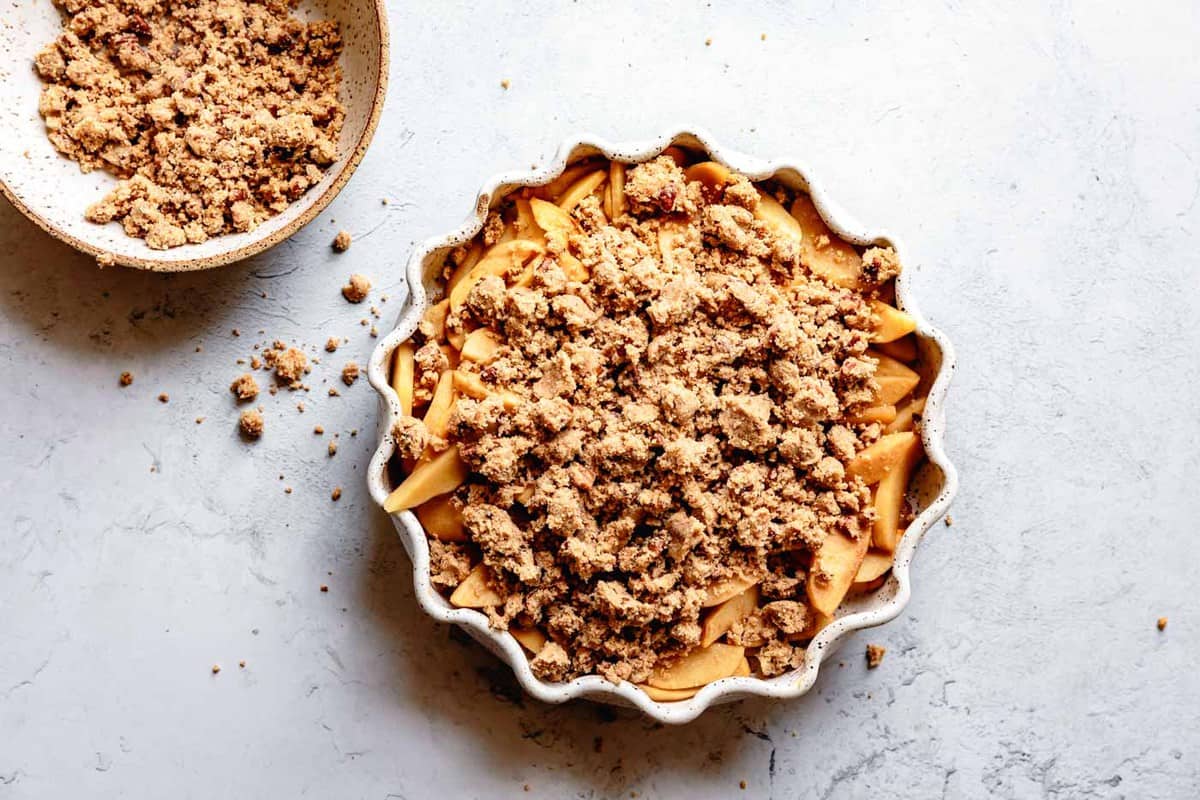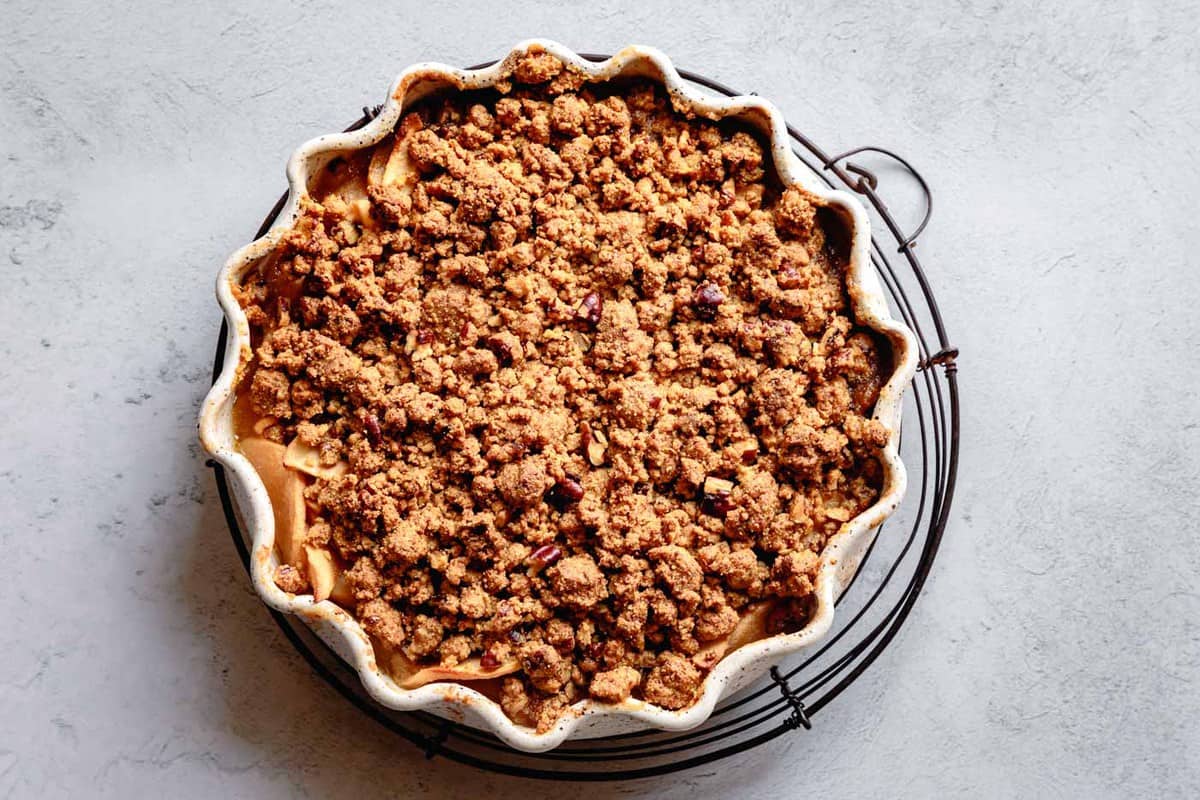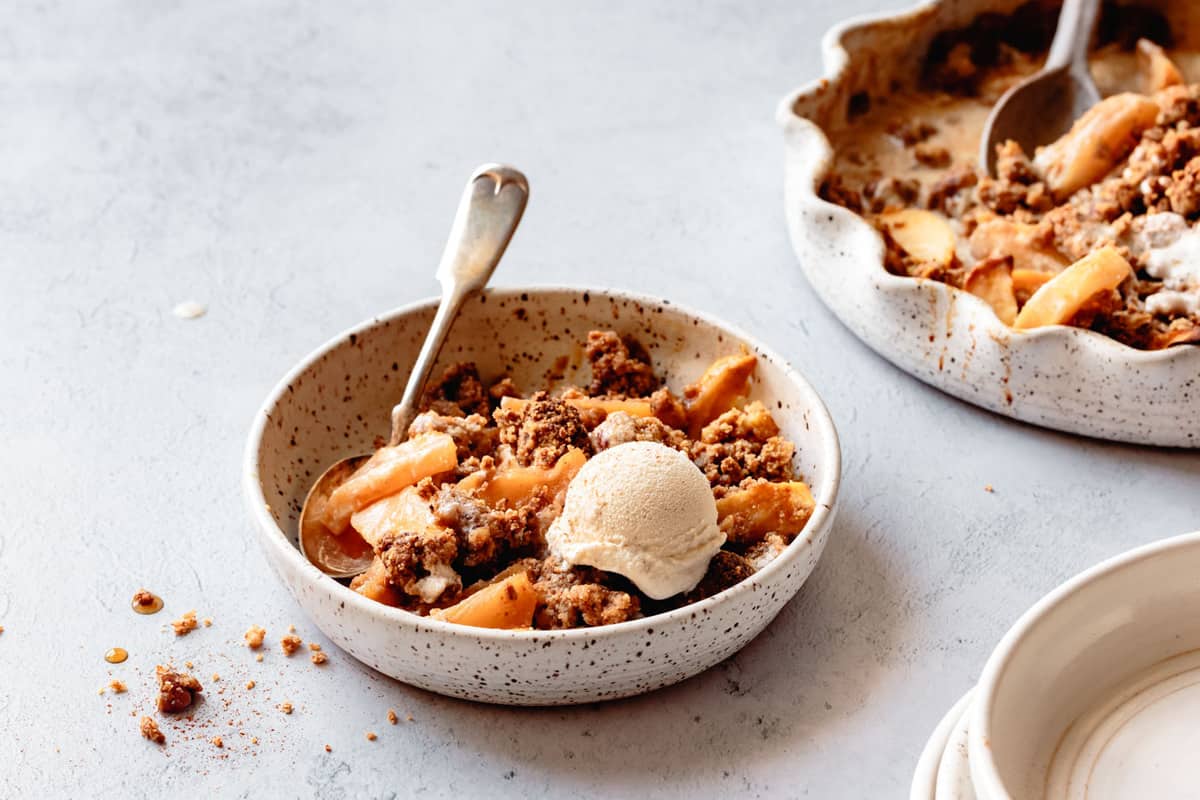 Serve warm paleo crisp with scoops of your favorite ice cream. This is my favorite paleo cashew ice cream and my favorite paleo coconut milk ice cream. Or serve this with non-paleo homemade vanilla, horchata, ginger, or maple ice cream.
Healthy Apple Crisp for Everyone
Whip up this paleo apple dessert for a casual weeknight treat, or bake a double batch to feed a crowd. Top it with scoops of drippy vanilla ice cream or rich coconut yogurt for a cozy dessert. Leftover crisp is divine for breakfast with some plain yogurt on the side.
See the recipe notes for some flavor variations such as brown butter apple crisp, masala chai crisp, and boozy apple crisp.
However you make the recipe, I hope you love as much as we do!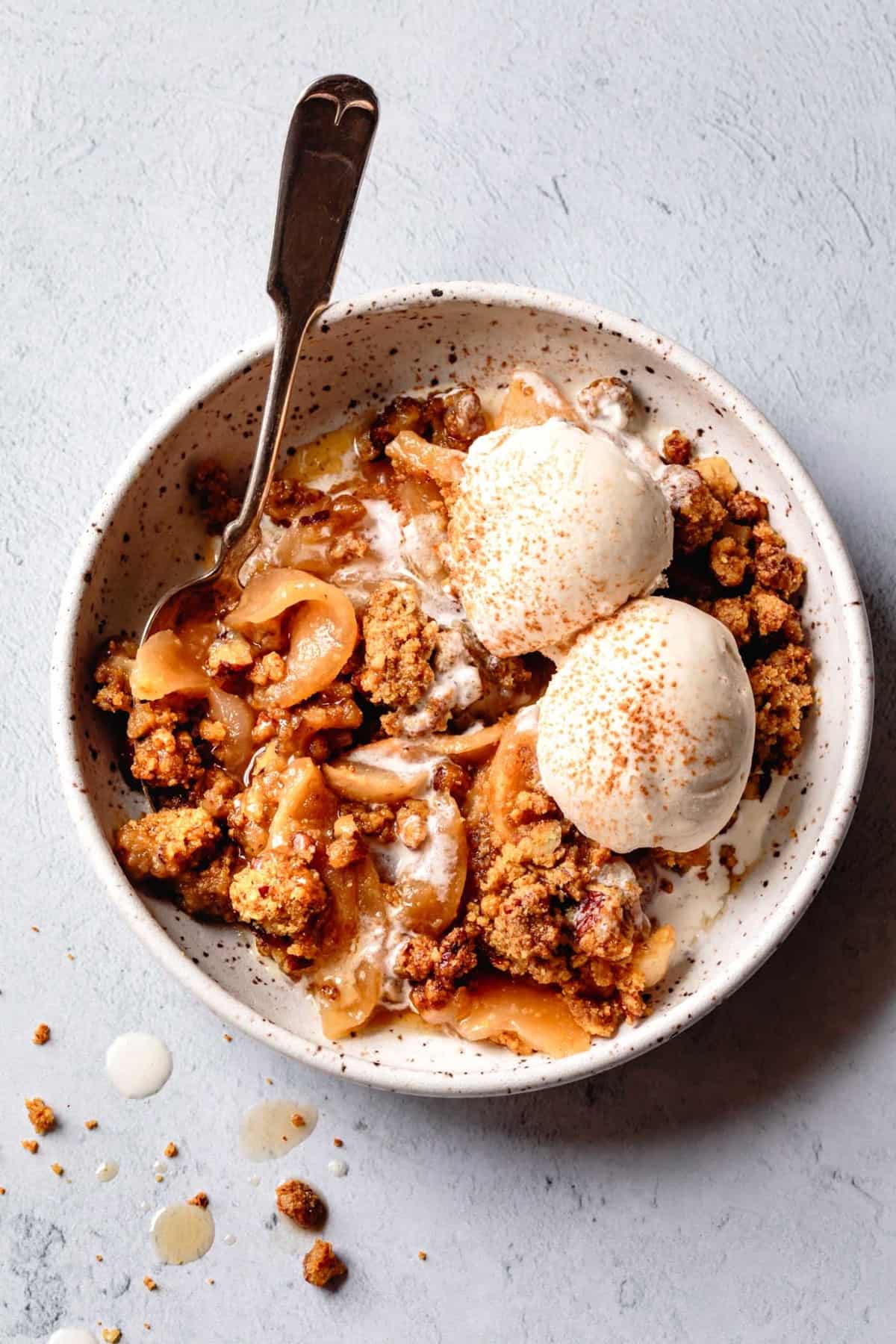 All the Paleo Crisps and Crumbles
Try this almond flour crumble topping with any fruits you like! Here are a few favorites:
More Gluten-Free Apple Desserts
More Paleo Desserts
Bojon appétit! For more Bojon Gourmet in your life, follow along on Instagram, Facebook, or Pinterest, purchase my gluten-free cookbook Alternative Baker, or subscribe to receive new posts via email. And if you make this paleo apple crisp recipe, I'd love to know. Leave a comment and rating below, and tag your Instagram snaps @The_Bojon_Gourmet and #bojongourmet.
Paleo Apple Crisp with Almond Flour Crumble
Print Recipe
Pin Recipe
With tender sweet-tart apples and a crunchy spiced topping, this paleo apple crisp makes a cozy fall (or anytime!) dessert.
Ingredients
Apples:
2

pounds

sweet-tart apples (such as fuji, honeycrisp, or pink lady; about 7 medium)

¼

cup

apple cider or juice

1

tablespoon

maple syrup (more if your apples are very tart)

1 ½

tablespoons

lemon juice

⅛

teaspoon

fine sea or kosher salt

3

tablespoons

unsalted butter (dairy or vegan), diced
Crumble Topping:
¾

cup

(80 g) blanched almond flour (or almond meal or hazelnut meal; try tiger nut flour for nut-free)

¼

cup

(35 g) cassava flour (or sweet rice or GF AP flour for non-paleo)

1 ½

tablespoons

(11 g) tapioca flour (or cornstarch)

½

cup

(50 g) toasted pecans or walnuts, coarsely chopped (omit for nut-free or use pumpkin seeds)

⅓

cup

(45 g) coconut sugar or maple sugar

½

teaspoon

ground cinnamon

¼

teaspoon

freshly grated nutmeg

¼

teaspoon

fine sea or kosher salt

5

tablespoons

(70 g) unsalted dairy or vegan butter or coconut oil, melted

Non-dairy vanilla ice cream, for serving
Instructions
Apples:
Position a rack in the lower third of the oven and preheat to 350ºF.

Peel the apples using a T-shaped vegetable peeler. Cut the apple flesh off the core by standing a peeled apple upright and cutting downward next to the core to remove large chunks of apples. Place the chunks cut side-down and slice them fairly thin – about three-eighths of an inch.

Toss the apples in a large bowl with the apple cider, maple syrup, lemon juice, and salt.

Scrape the apples into a 9-inch round baking dish with 2-inch high sides (or an 8x8-inch square pan). Bake at 350 until bubbling, 30-35 minutes. Stir gently.
Topping:
While the apples bake, prepare the topping. Place the almond, cassava, and tapioca flours in a large bowl with the nuts, coconut sugar, cinnamon, nutmeg, and salt. Stir to combine.

Stir in the melted butter until combined; the mixture will resemble gravel.

Crumble the topping over the baked apples. Return to the oven and bake until the topping is deep golden and the apples are bubbling, 40-50 minutes.

Let cool slightly, at least 10 minutes. The topping will become more crisp as it cools and the juices will soak back into the apples. Serve warm or at room temperature with ice cream.
Notes
This crisp is best within a few hours of baking, but leftovers keep well covered and refrigerated for up to 3 days. I love eating cold leftovers for breakfast with a scoop of plain yogurt. Or you can reheat them in a 350º oven or toaster oven until warm, about 10 minutes.
To feed a crowd, double the recipe and prepare it in a 9x13-inch baking dish, increasing the bake times as needed.
Brown Butter Apple Crisp:
Brown the butter (with half a vanilla bean, if you like). Stir 3 tablespoons melted browned butter into the apples and use the rest in the topping.
Boozy Apple Crisp:
Use hard apple cider, GF bourbon, brandy, or Calvados instead of some or all of the apple cider.
Pumpkin Spice Apple Crisp:
Use 1 teaspoon golden pumpkin spice mix in place of the cinnamon and nutmeg.
Masala Chai-Spiced Apple Crisp:
Stir together ½ teaspoon each ground ginger, cinnamon, and cardamom. Use ½ teaspoon of this mixture in the apples and the rest in the topping.
Paleo Peach Crisp:
Omit the apples and apple juice and make the filling with 2 pounds of unpeeled peaches, cut into wedges, plus 1 tablespoon tapioca flour to thicken the juices.
Nutrition
Calories:
417
kcal
Carbohydrates:
42
g
Protein:
4
g
Fat:
28
g
Saturated Fat:
11
g
Polyunsaturated Fat:
2
g
Monounsaturated Fat:
7
g
Trans Fat:
1
g
Cholesterol:
40
mg
Sodium:
299
mg
Potassium:
224
mg
Fiber:
6
g
Sugar:
26
g
Vitamin A:
554
IU
Vitamin C:
9
mg
Calcium:
63
mg
Iron:
1
mg