This dairy free & gluten free carrot cake gets a tender, springy crumb from a blend of whole grain flours. Gently spiced with cinnamon and ginger and slathered with vegan cream cheese frosting, this healthy carrot cake is easy enough to bake on a weeknight but dressy enough for spring festivities. Updated March 31, 2021 to include a paleo option. Thanks to Bob's Red Mill for sponsoring this post!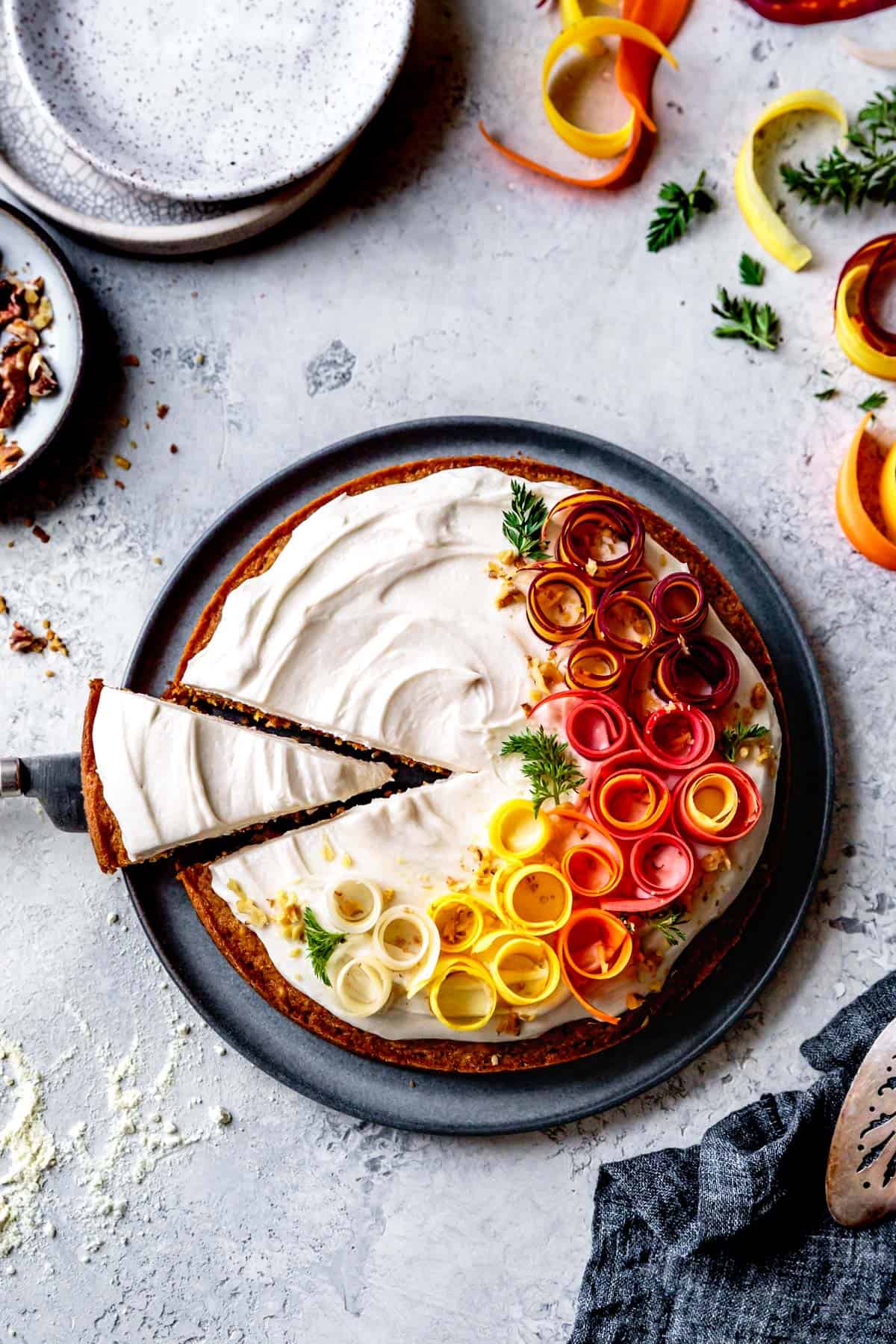 I don't know when or why carrot cake came to be associated with Easter. I'm guessing it's because... Easter bunnies eat carrots? I actually consider carrot cake more of a fall dessert, the season during which spiced cakes, breads, and orange veggies are both de rigueur. But I'm not complaining. Because just like pumpkin pie, I crave carrot cake year-round. And now that I've developed my favorite ever dairy free and gluten free carrot cake recipe, I can have it all the time too.
This cake can be in and out of the oven in under an hour meaning that you can have carrot cake any night of the week. But dress it up in curls of rainbow carrot ribbons and it stars at any gathering – springtime or otherwise!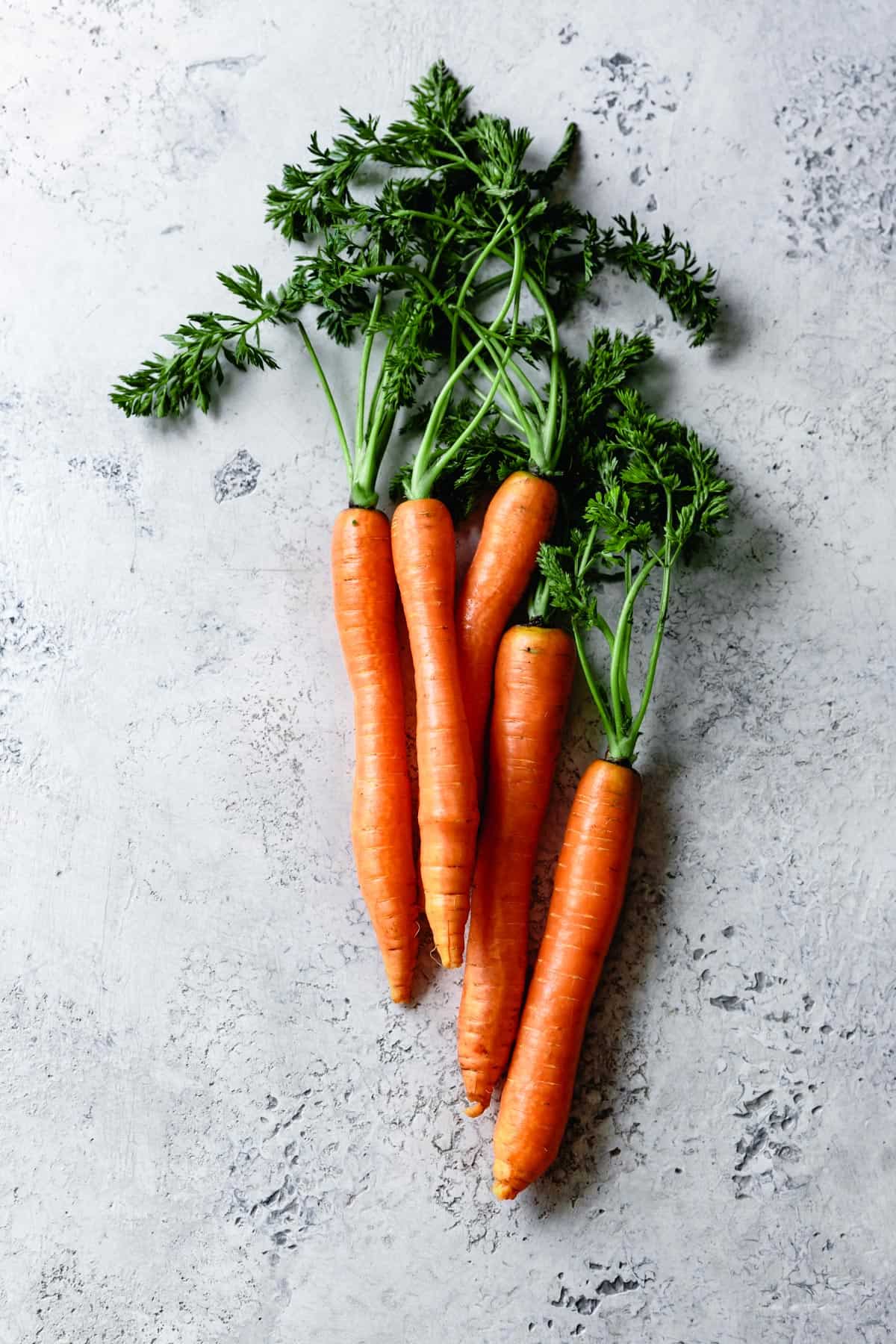 Questing for the Best Ever Carrot Cake
When I was a kid, I used to buy squares of carrot cake topped with cream cheese frosting and wrapped in cellophane at our local grocer. I have no idea where these squares of spiced goodness came from, but to my young self they were sheer heaven – tender, soft, gently spiced, and slathered in tangy, sugary frosting. I would take this cake over just about any other goody (save chocolate dipped Häagen Dazs ice cream bars) and this memory is the metric to which I measure all carrot cakes.
I've made many a carrot cake over the years and never met one I didn't like. But when it came time to develop a recipe of my own, I knew it would take some trial and error. When I hit upon this formula, which tasted like an elevated version of my childhood obsession, I thought to myself, "I wish all cakes had this taste and texture."
I first developed this gluten free carrot cake recipe for my Alternative Baking column in GFF Magazine. The issue featured oat flour, and though the cake uses a few different flours, the whole wheaty flavor of the oat flour is what stands out the most.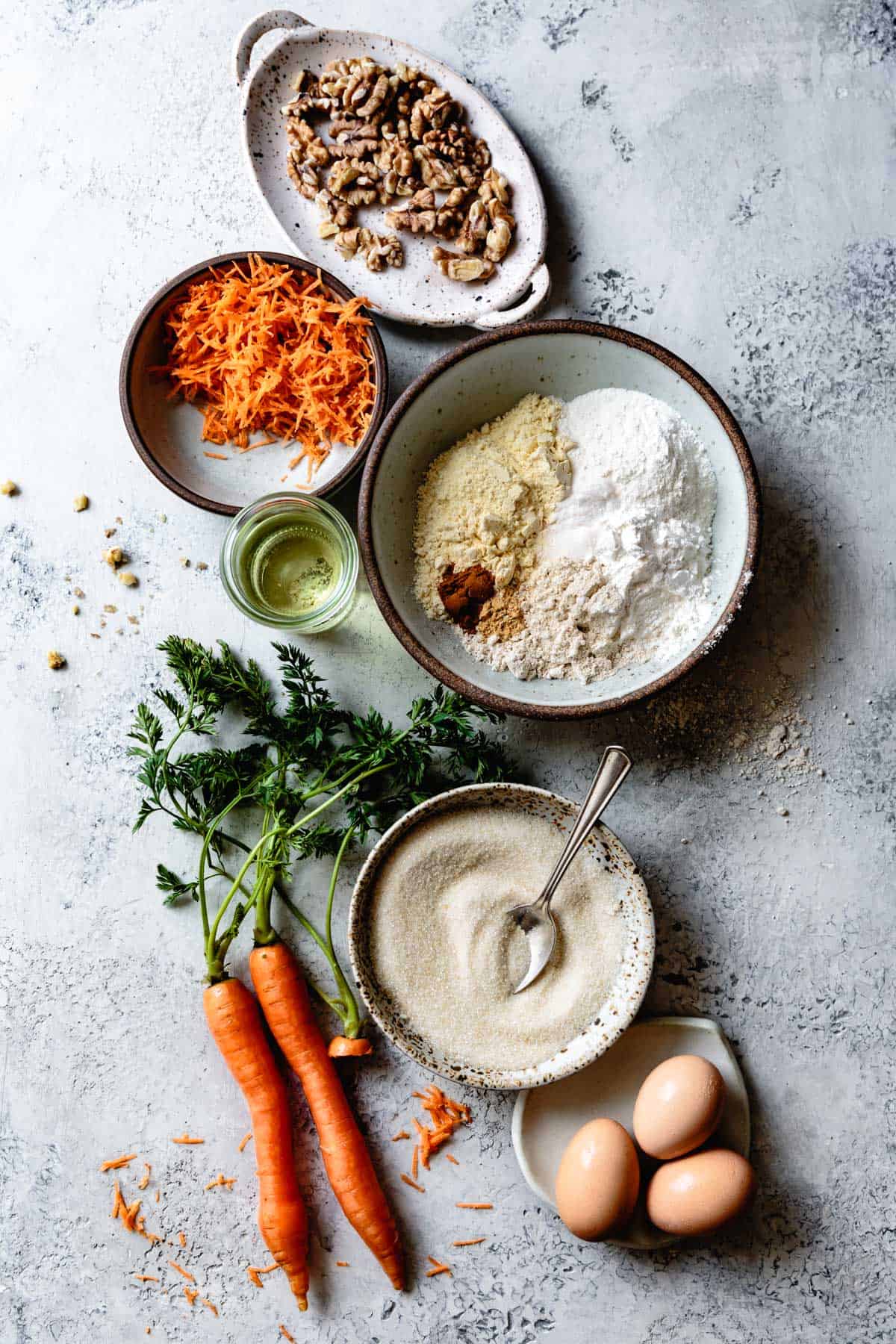 A Somewhat Healthy Carrot Cake Recipe
Carrot cake is already on the healthy end of the spectrum as far as cakes are concerned. In fact, carrot cake became popular in the US during the 1960's when oil was thought to be healthier than butter. Grated carrots add fiber, moisture, and sweetness, meaning that less sugar is needed. Many carrot cake recipes use whole wheat flour, and some add in hearty mix-ins such as raisins, nuts, pineapple, and/or coconut.
My carrot cake recipe straddles the line between healthy and not. On the healthy side, we have half a pound of grated carrots, a relatively small amount of sugar as far as cakes go (just over 1/2 cup in the cake batter and 1 cup powdered sugar in the frosting), and over 50% whole grain flour (oat and millet). Walnuts and sunflower oil add healthy fats, and 3 eggs add protein. You could bake these in muffin cups and serve them with dairy-free yogurt for breakfast if you like.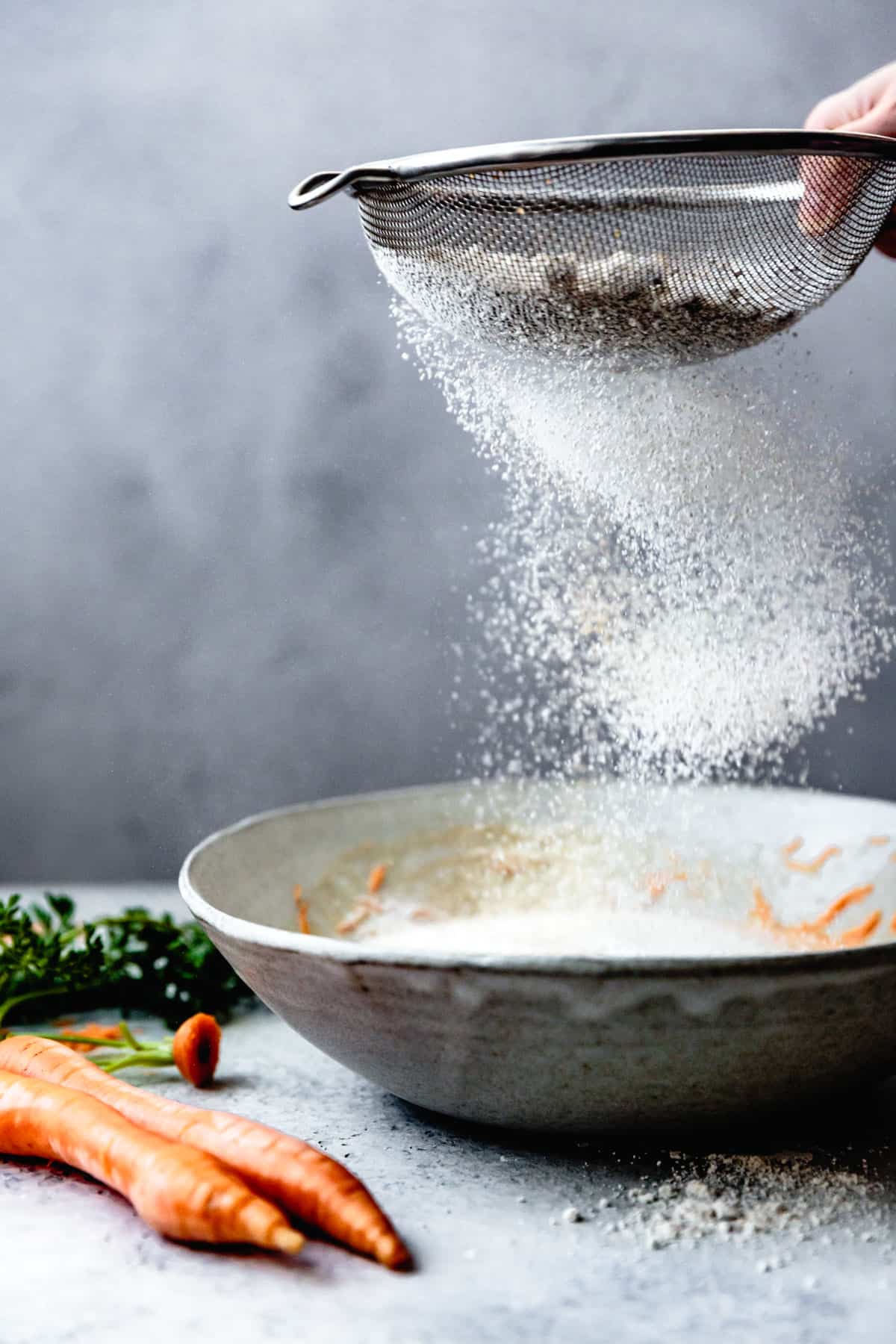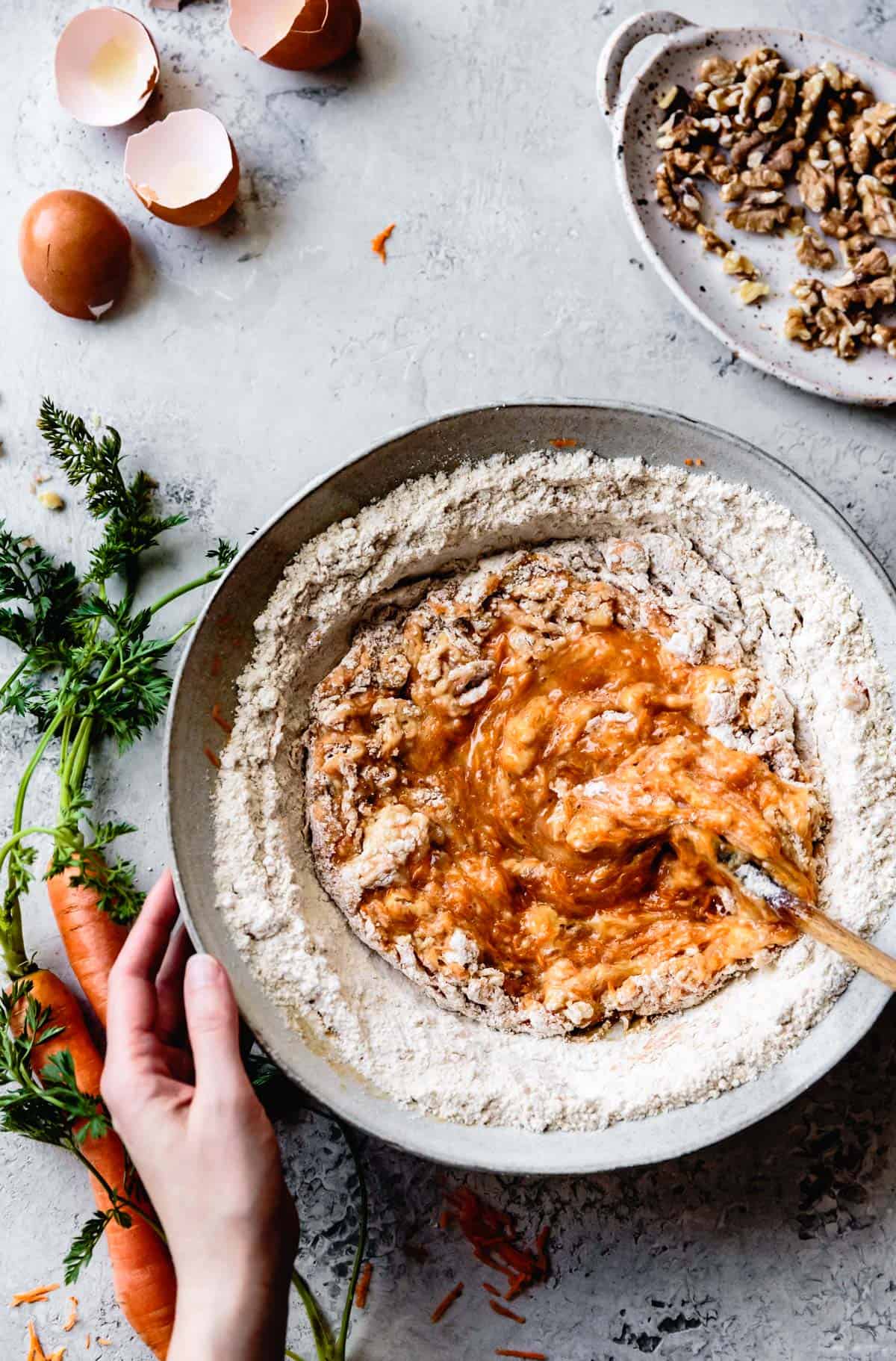 Ingredients & Substitution Suggestions
FLOURS
This recipe features a blend of Bob's Red Mill gluten free flours. I use this combination in many recipes and it acts similarly to a blend of whole wheat and all purpose flour – versatile, but with a lovely earthy flavor.
SUGAR
Organic granulated sugar keeps the color of the cake brighter than brown sugar, and the cake still has plenty of flavor.
EGGS
This gluten free carrot cake uses 3 eggs for a single cake, which is more than usual. I began testing this carrot cake recipe with 1 egg and half a cup of buttermilk, but it was too crumbly. Since eggs increase both structure and fluffiness in cakes thanks to their high levels of protein, I added an additional egg and decreased the buttermilk to 1/4 cup. Last I tried omitting the buttermilk altogether and using three eggs. This version was the clear winner – sturdy enough to slice and the fluffiest of the bunch. It also made the cake dairy-free and cut out an additional ingredient, so you don't have to buy a whole carton of buttermilk for just a quarter cup. Win win win.
OIL
Carrot cakes are traditionally made with oil rather than butter. While I'm a fan of butter, I've come to prefer oil-based cakes, which stay soft and tender even when refrigerated. Oil has the added bonus of needing to be simply stirred into the batter, no softening and stand-mixing required as with butter cakes. Sunflower oil is my go-to neutral oil, but you can use anything you prefer such as canola, grapeseed, or even a light olive oil.
SPICES
After several trials, I learned that I prefer my carrot cake with just ground cinnamon and ginger. These spices add warmth and flavor depth while still tasting light and bright. Cloves, allspice, and nutmeg all felt heavy or muddy to my palate. I would like to try a variation of this cake with cardamom, but I'm so in love with the flavor as-is I have yet to change it up. I also haven't tried this cake with fresh ginger, despite loving fresh ginger in other carrot cake recipes. And now I'm curious to try this cake with the spice blend hawaij like Molly's!
LEAVENING
Baking powder and baking soda play an especially important role in gluten free baking. Sweet rice flour reacts to acidity in recipes, becoming more sticky with more acidity. Adding alkaline baking soda to cakes can sometimes help the crumb be softer and less gummy depending on the other ingredients in the recipe. Baking soda also increases caramelization in recipes and helps this cake turn golden on top when properly baked. I bumped up the amount of baking powder to make the cake extra fluffy since gluten free cakes tend to need a little extra help in that department.
NUTS
I like a handful of toasted walnuts in my carrot cake, but if they aren't your jam, you can absolutely leave them out. A friend of mine also suggested adding raisins soaked in rum or brandy, which sounds like a capital idea to me!
Dairy Free Carrot Cake
Since this cake recipe uses oil instead of butter and eggs instead of buttermilk in the batter, I wanted to try topping it with a vegan cream cheese frosting to make it completely dairy-free. You can read all about it and get the recipe here.
Paleo Carrot Cake
I recently tested a grain-free carrot cake variation and it worked like a charm! Made with cassava and coconut flours, this version is nut-free as well. Plus it's kosher for Passover! Get the recipe in the notes section of the recipe card below and top it off with paleo cream cheese frosting.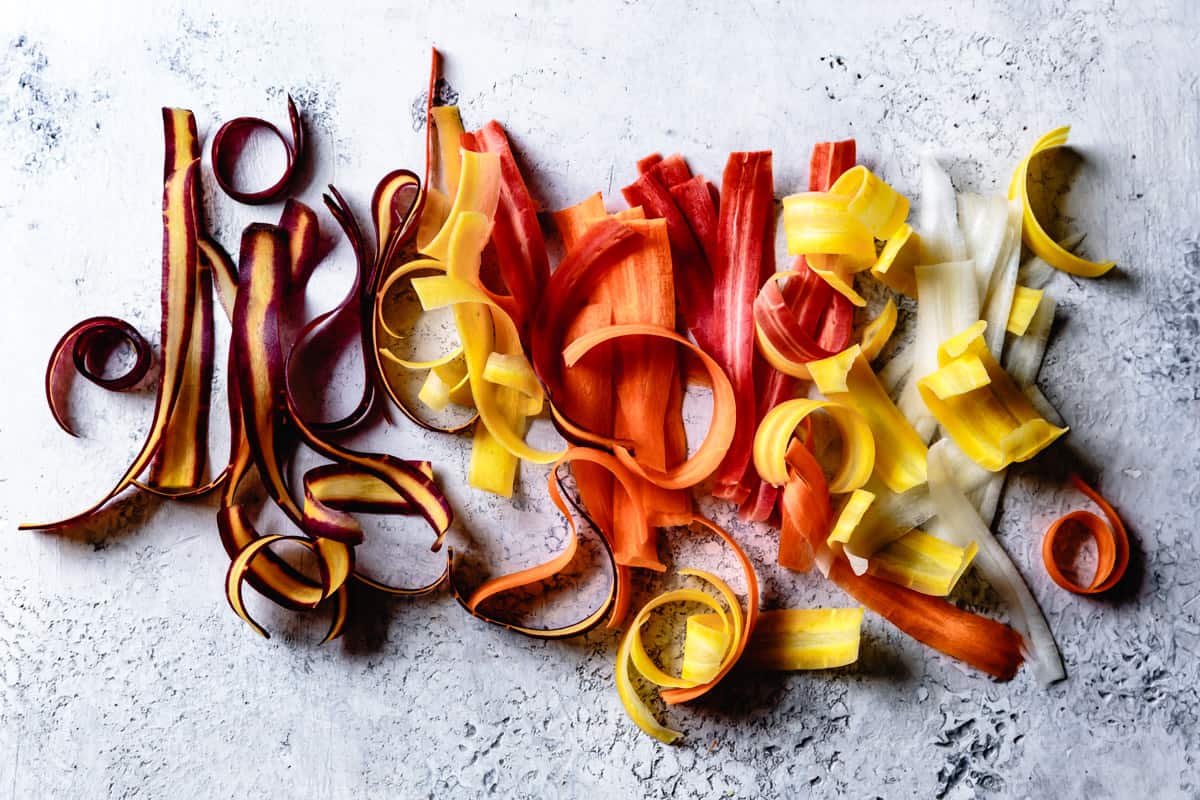 Carrot Ribbon Flair
Ribbons cut with a vegetable peeler from rainbow carrots make a pretty, natural decoration for the top of this cake. I was inspired by a few recipes around the web (here, here, and here) to make a carrot ribbon ombré on top. I wasn't sure how the ribbons would taste, but I found I actually enjoyed some crispy bits of carrot with my slice!
Just peel the carrots, then lay a carrot down and begin peeling big strips from just one side of the carrot to form wide ribbons. I prefer using a T-shaped peeler for more control. You can use whatever color of carrots you like, or get a rainbow-hued bunch like I did here.
Gluten Free Carrot Cake Cupcakes and Carrot Muffins
If little cakelets are what you're after, divide the batter among muffin tins lined with paper cups and decrease the baking time as needed. You should get 10-12 carrot cupcakes or muffins out of one recipe. For muffins, leave off the frosting and top the unbaked batter with an extra handful of walnuts. For gluten free carrot cupcakes, use a piping bag to pipe pretty swirls of frosting on top.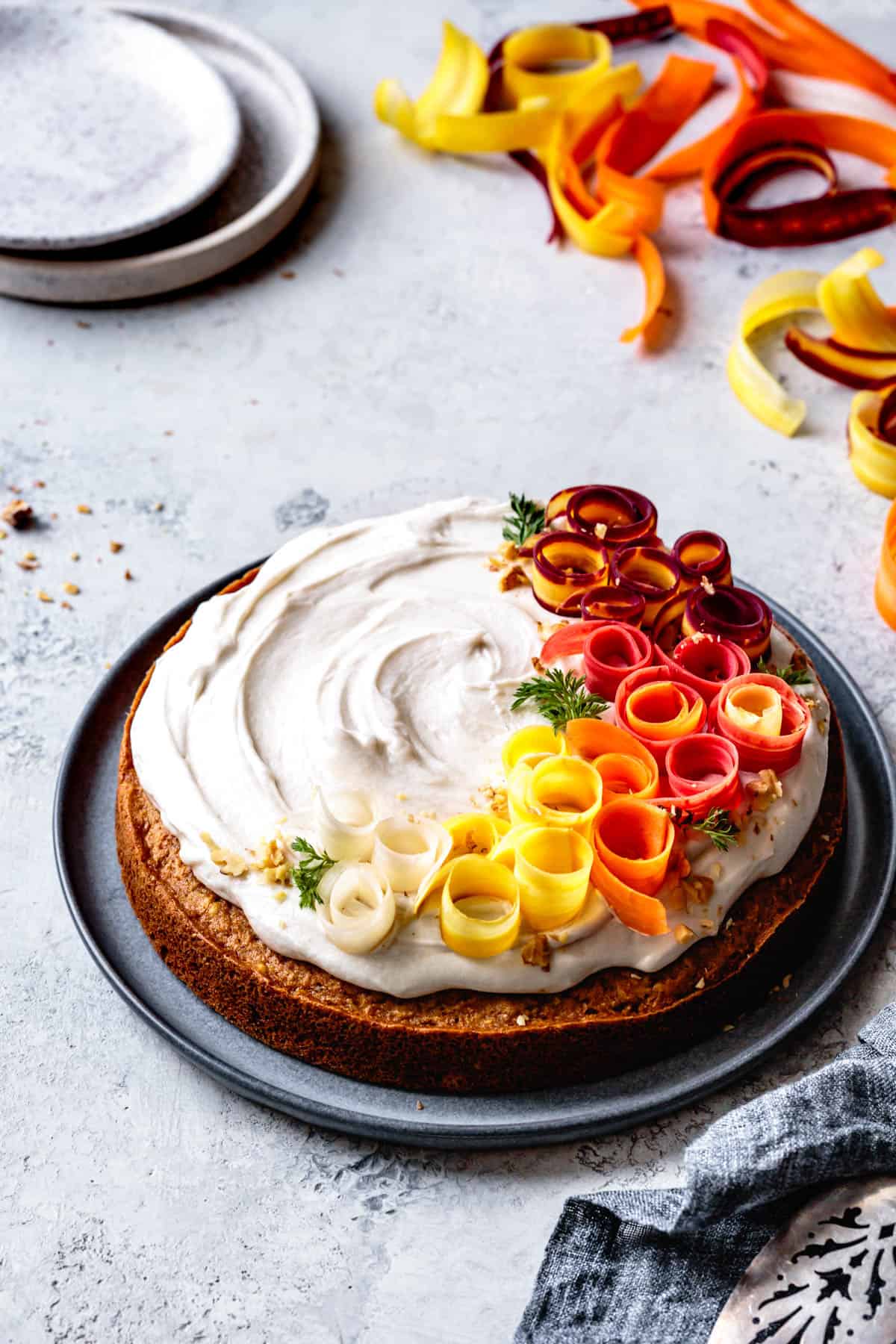 Got leftover carrots? Try these recipes:
Looking for more healthy cake recipes? Try these: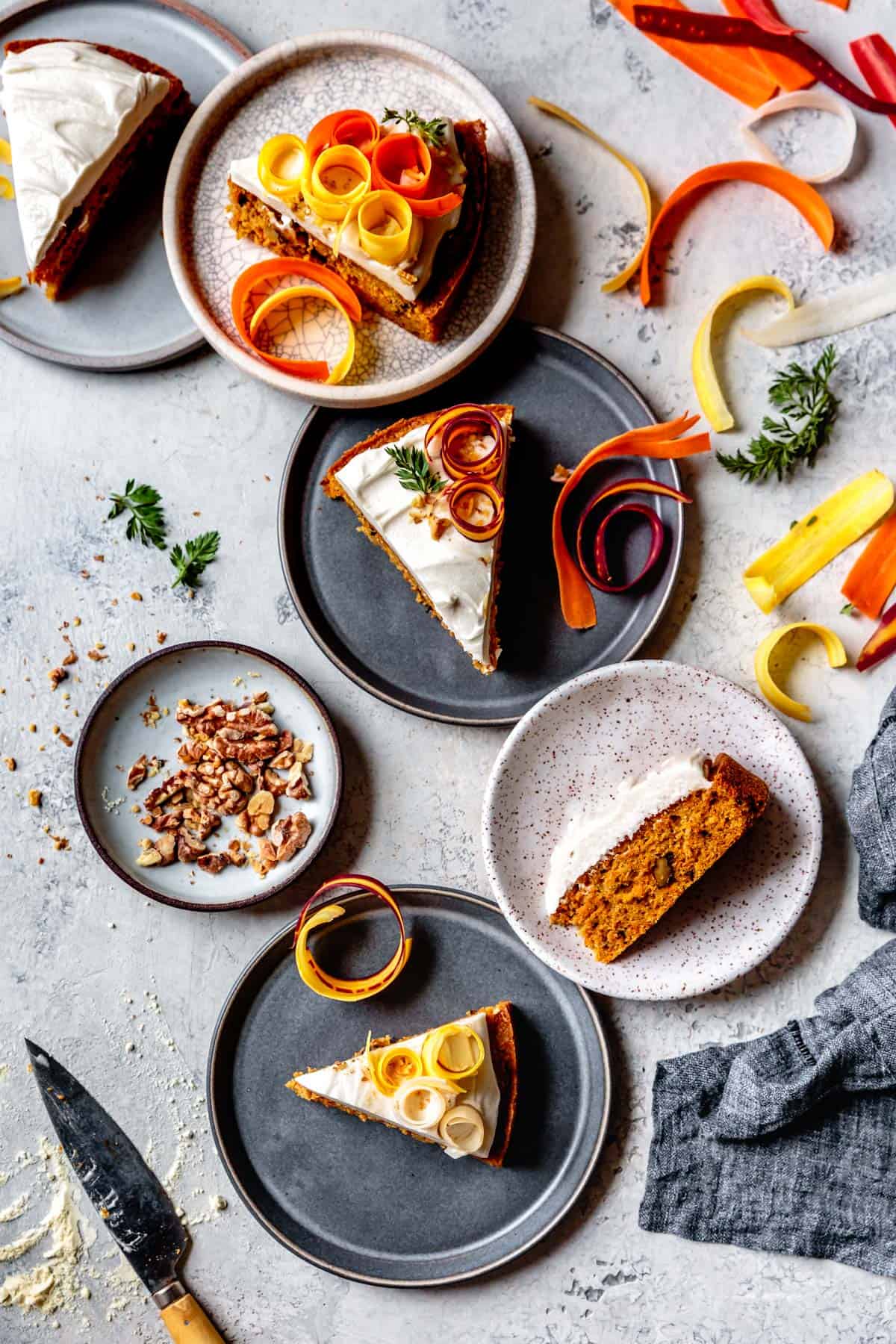 *Bojon appétit! For more Bojon Gourmet in your life, follow along on Instagram, Facebook, or Pinterest, purchase my gluten-free cookbook Alternative Baker, or subscribe to receive new posts via email. And if you make this gluten free dairy free carrot cake, I'd love to see. Tag your Instagram snaps @The_Bojon_Gourmet and #bojongourmet.*
Dairy Free & Gluten Free Carrot Cake
Print Recipe
Pin Recipe
Earthy oat flour gives this cake a healthy, whole-wheat vibe, brightly spiced with cinnamon and ginger, while luscious cream cheese frosting keeps it tasting like a treat. Be sure to grate the carrots on the small holes of a box grater – the ones that measure about 1/8-inch in diameter; they help the cake bake up with a light and springy crumb. If dairy isn't an issue for you or your guests, you can make this with regular cream cheese frosting.
Ingredients
Cake:
1

teaspoon

vegan butter or coconut oil, for the pan

8

ounces

carrots (about 4 medium), grated on smallest holes of box grater (1¼ cups packed)

3

large eggs

½

cup

+ 2 tablespoons (130 g) organic granulated sugar

½

cup

sunflower oil (or other neutral vegetable oil)

2

tablespoons

(14 g) Bob's Red Mill tapioca flour

1 ½

teaspoons

baking powder

½

teaspoon

baking soda

½

teaspoon

fine sea salt

½

teaspoon

ground cinnamon

½

teaspoon

ground ginger

½

cup

(50 g) chopped toasted walnuts or pecans, plus more for sprinkling
Instructions
Position a rack in the center of the oven and preheat to 350ºF. Butter a 9-inch round cake pan and line the bottom with a round of parchment paper cut to fit.

In a large bowl, stir together the grated carrots, eggs, sugar, and oil until combined. Place a medium mesh strainer over the bowl and add the oat, sweet rice, millet, and tapioca flours along with the baking powder, baking soda, salt, cinnamon, and ginger. Sift the dry ingredients into the wet ingredients, stirring until combined. Stir in the walnuts.

Scrape the batter into the prepared pan and smooth into an even layer. Bake the cake until a toothpick inserted near the center comes out clean, 22-30 minutes. Remove from the oven and let cool 20 minutes in the pan. Turn the cake out onto a serving board to cool completely.

Spread the cream cheese frosting over the cooled cake. Chill briefly if the frosting is becoming overly soft.

Peel the carrots. Lay a carrot on a cutting board and begin peeling long, wide strips from one side. Repeat with the other carrots; you'll have more carrot ribbons than you need for one cake. (Throw them in a salad!) Use your fingers to curl the ribbons into rounds and stick them into the frosting; the frosting will hold them in place. Sprinkle the cake with finely chopped walnuts and decorate with carrot greens.

Chill the cake until firm enough to slice, 30 minutes and up to several hours, then cut into wedges. Let the cake slices stand at room temperature to soften the frosting and serve. Leftover cake keeps well, refrigerated airtight, for up to 4 days.
Notes
Paleo Carrot Cake (kosher for Passover)
Replace the sugar with 1/2 cup maple syrup (+2 tablespoons if you like it sweeter). Use avocado oil, mild olive oil, or melted coconut oil in place of the sunflower oil. Replace the flours with 3/4 cup (105 g) Bob's Red Mill cassava flour and 1/4 cup (25 g) Bob's Red Mill coconut flour. Top the cake with paleo cream cheese frosting, whipped coconut cream or thick coconut yogurt.
Nutritional values are based on one of twelve servings.
Nutrition
Calories:
303
kcal
Carbohydrates:
35
g
Protein:
4
g
Fat:
17
g
Saturated Fat:
2
g
Cholesterol:
41
mg
Sodium:
214
mg
Potassium:
215
mg
Fiber:
2
g
Sugar:
21
g
Vitamin A:
4930
IU
Vitamin C:
1.7
mg
Calcium:
45
mg
Iron:
0.8
mg