With creamy, tangy lemon curd and a salty-sweet almond flour shortbread crust, these gluten-free lemon bars are just the thing to make when life hands you all the lemons. These are easy to make and oh so satisfying.
Thanks to Vermont Creamery for sponsoring this post!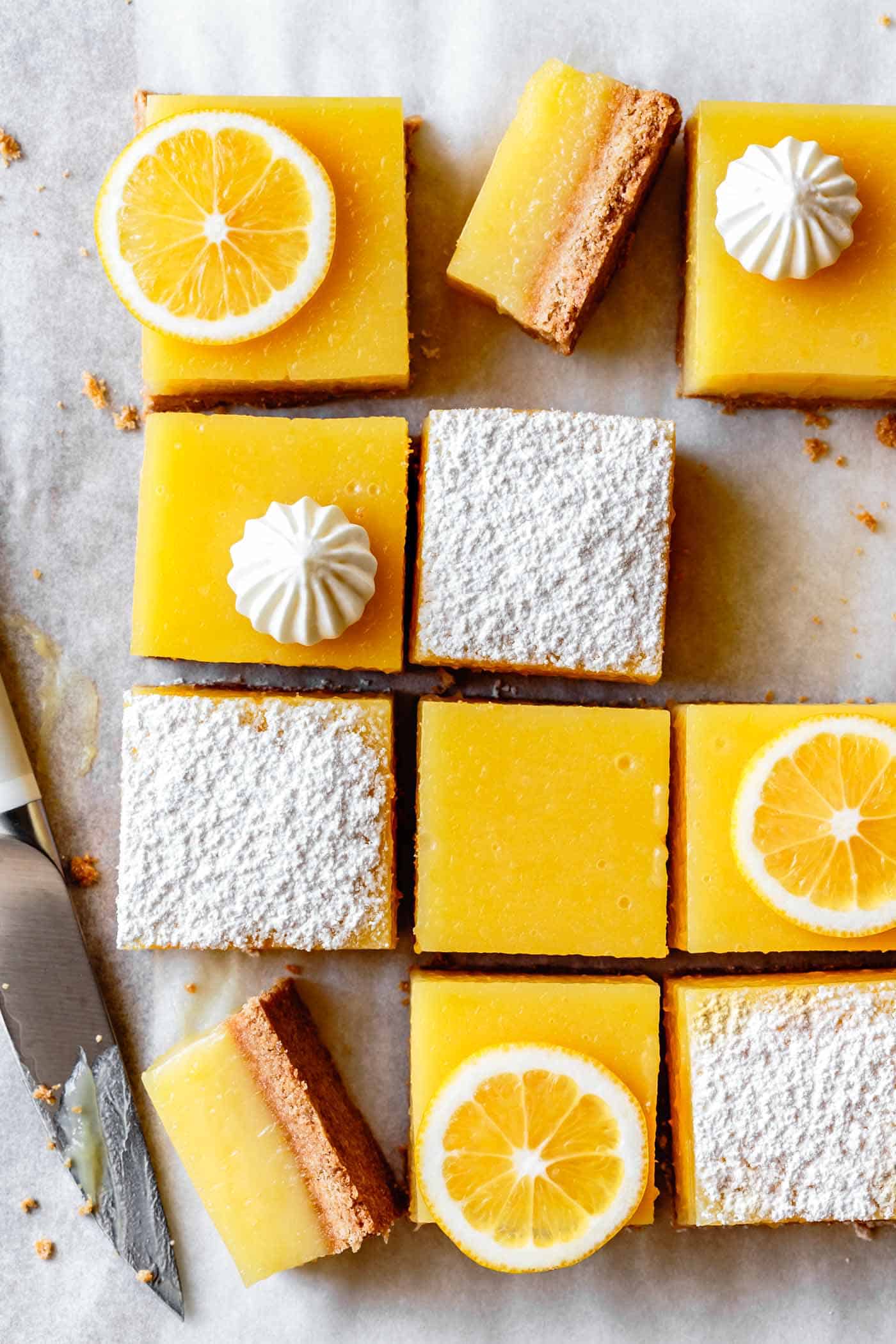 My Favorite Gluten-Free Lemon Bar Recipe
I have strong feelings about lemon bars. When made well, they're sweet-tart, creamy, buttery, and super satisfying. But so much can go wrong with lemon bars. The crust can be pasty, bland, and underbaked. The filling can be gummy and cloyingly sweet. The lemon flavor can be weak, overpowered by eggs and sugar.
This gluten-free lemon bar recipe starts with a buttery gluten-free shortbread crust that's baked until golden and flavorful. Next comes an easy lemon curd, set with just the right amount of egg, loads of butter, and extra tangy lemon juice. Both components feature creamy cultured butter from Vermont Creamery and together they form gluten-free lemon bar bliss.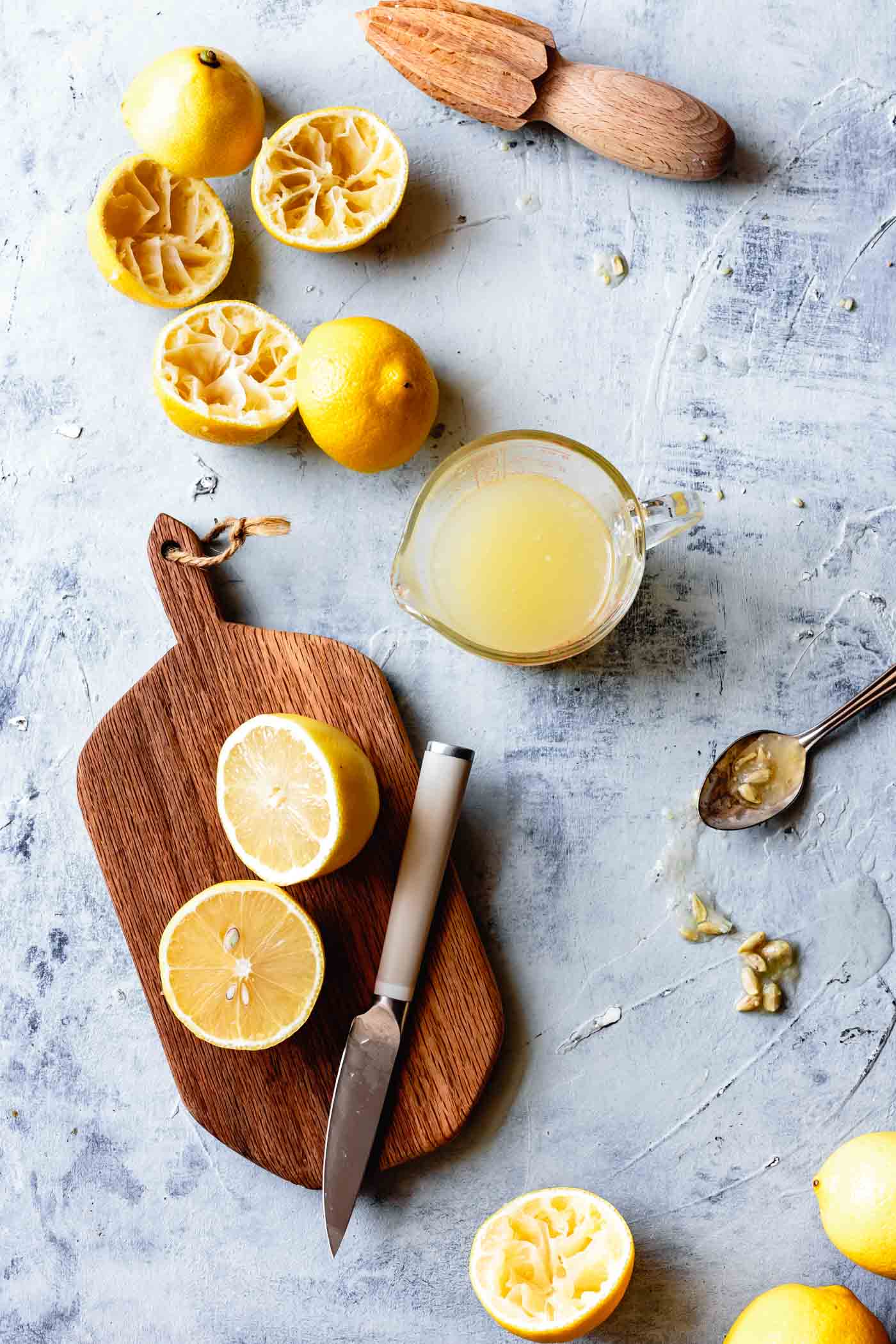 I adapted this recipe from the one in my cookbook Alternative Baker. My talented friends Nadia and Rob made a video of the original recipe from my book; you can see how easy they are to make!
I've also shared this recipe in tart form; same ingredients and process, different shape! You can get my gluten-free lemon tart recipe here. And you can find all my favorite bar cookie recipes here.
Ingredients for Gluten-Free Lemon Squares
This recipe starts with my favorite almond flour shortbread crust.
Sugar sweetens the crust and the lemon curd. I use organic granulated sugar, which has a pale blond hue and slightly caramel flavor. The curd needs a good dose of sugar to offset the tartness of all that lemon juice. But I've given a lower sugar, extra-tangy variation in the recipe.
Cultured butter from Vermont Creamery tastes fresh and clean, with extra lactic flavor from the culturing process. Cold butter moistens the crust giving it a delicate shortbread consistency. It also adds body to the lemon curd, helping it set softly when chilled and making the bars melt in your mouth.
Salt makes this gluten-free shortbread crust completely addictive. And it makes the flavors pop in the lemon curd.
Vanilla adds a whiff of floral flavor to the shortbread crust.
Six lemons go into this recipe in the form of finely grated zest and 1 cup of juice. I use regular organic lemons here, but you can find a Meyer lemon bar recipe in my book Alternative Baker.
You can optionally top these gluten-free lemon bars with powdered sugar or thinly sliced lemon wheels. Or my personal favorite: Vermont Creamery crème fraîche whipped with heavy cream until firm, and then piped atop the bars.
Easy Gluten-Free Shortbread Crust with Almond Flour
This gluten-free shortbread crust is my go-to recipe for gluten-free bars and tarts. Take a bite of buttery shortbread, meltingly tender and full of flavor from gluten-free flours and good hit of salt, and you'll be hooked too.
I've used this gluten-free tart crust recipe in many other recipes here on TBG and also in my book Alternative Baker including this Gluten-Free Lime Curd Tart.
To make the crust, combine the flours, sugar, and salt in the bowl of a food processor or stand mixer. Add the butter and vanilla and run until the dough comes together in large, moist clumps.
Dump the dough into the pan and press into a thin layer. Prebake the crust until golden, then use the back of a large spoon to press the crust down. This helps the crust hold together once the bars are baked.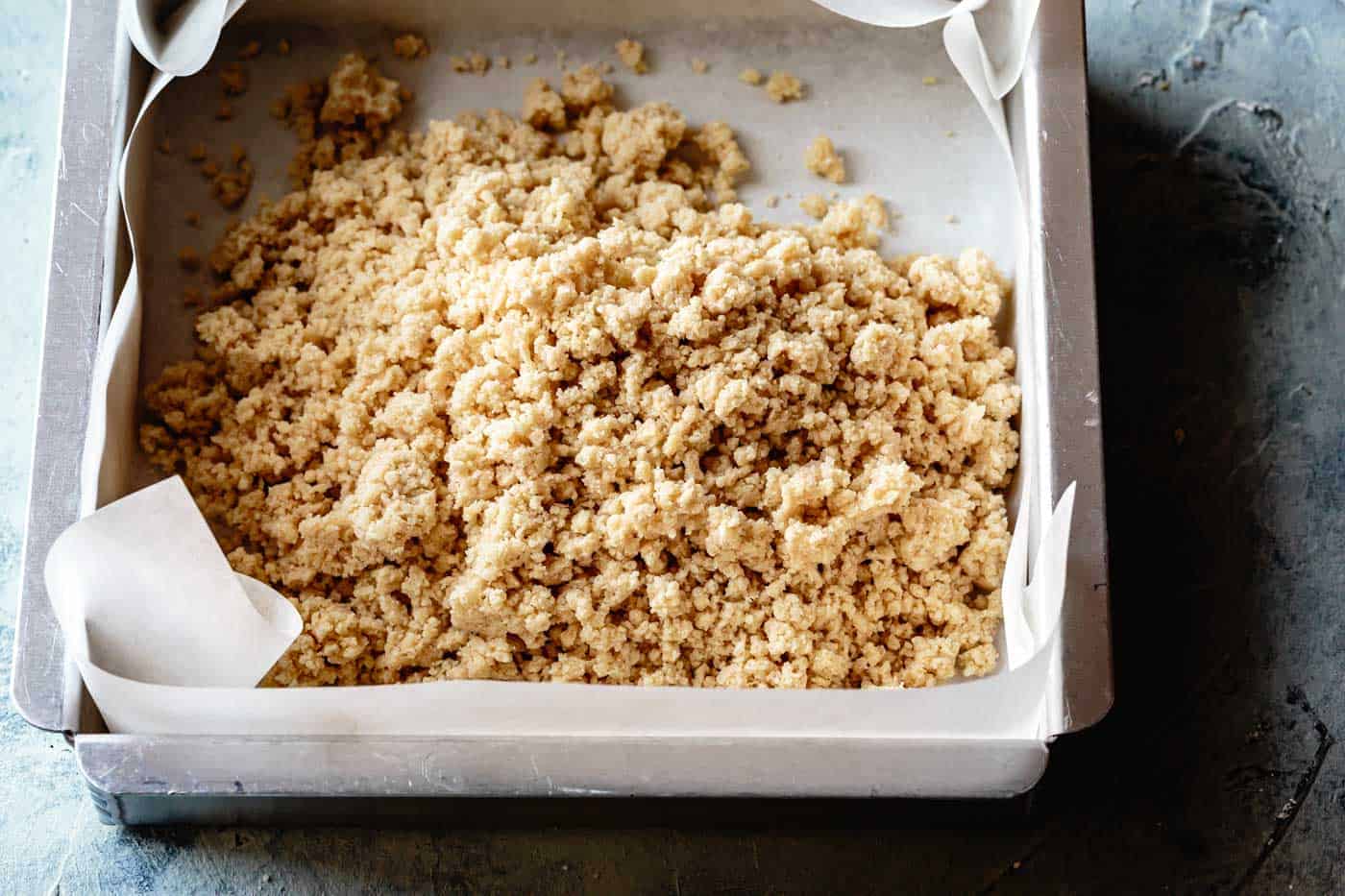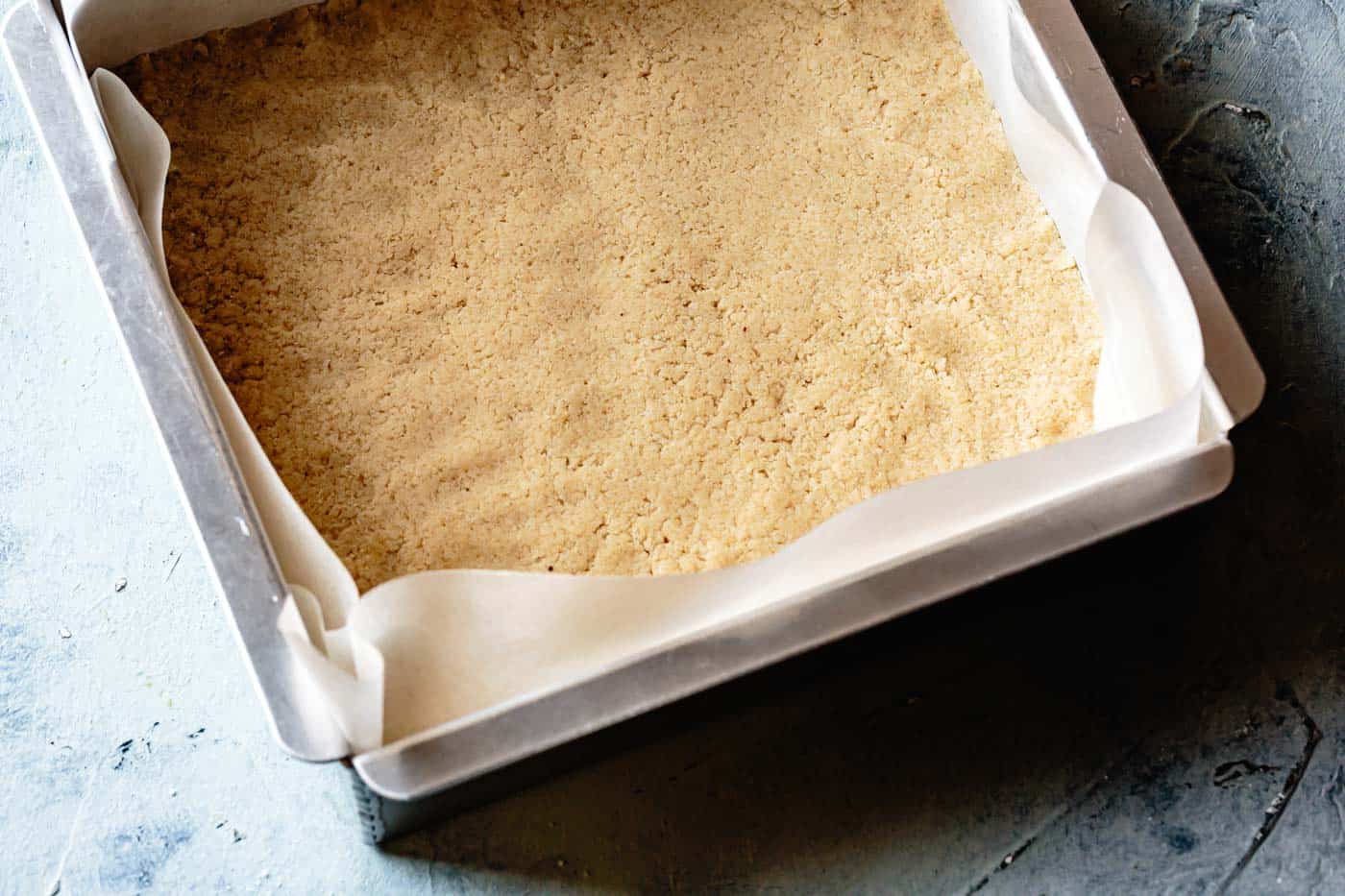 The Creamiest Lemon Curd Recipe
Making creamy, rich lemon curd is not hard, but it does require a few key techniques:
First, you have to separate a couple of eggs.
Next, place cold butter and lemon zest in a bowl and set a mesh strainer over the top. When you've cooked your curd base, you'll strain it right into the cold butter to stop the cooking.
To cook the curd, many recipes call for using a double boiler. But I prefer to throw caution to the wind and cook my curd right in a saucepan set over very low heat. You just need to stir it constantly and keep a close watch.
Combine the eggs and egg yolks, sugar, and lemon juice in a small saucepan. Choose one with a heavy bottom to conduct the heat evenly. Cook until the curd had thickened slightly, then immediately strain into the cold butter to oust any eggy bits. Stir to incorporate the butter.
At this point, you have silky lemon curd which you can chill and spread on toast and scones. Or you can pour the lemon curd into a baked crust to make these gluten-free lemon bars or a gluten-free lemon tart.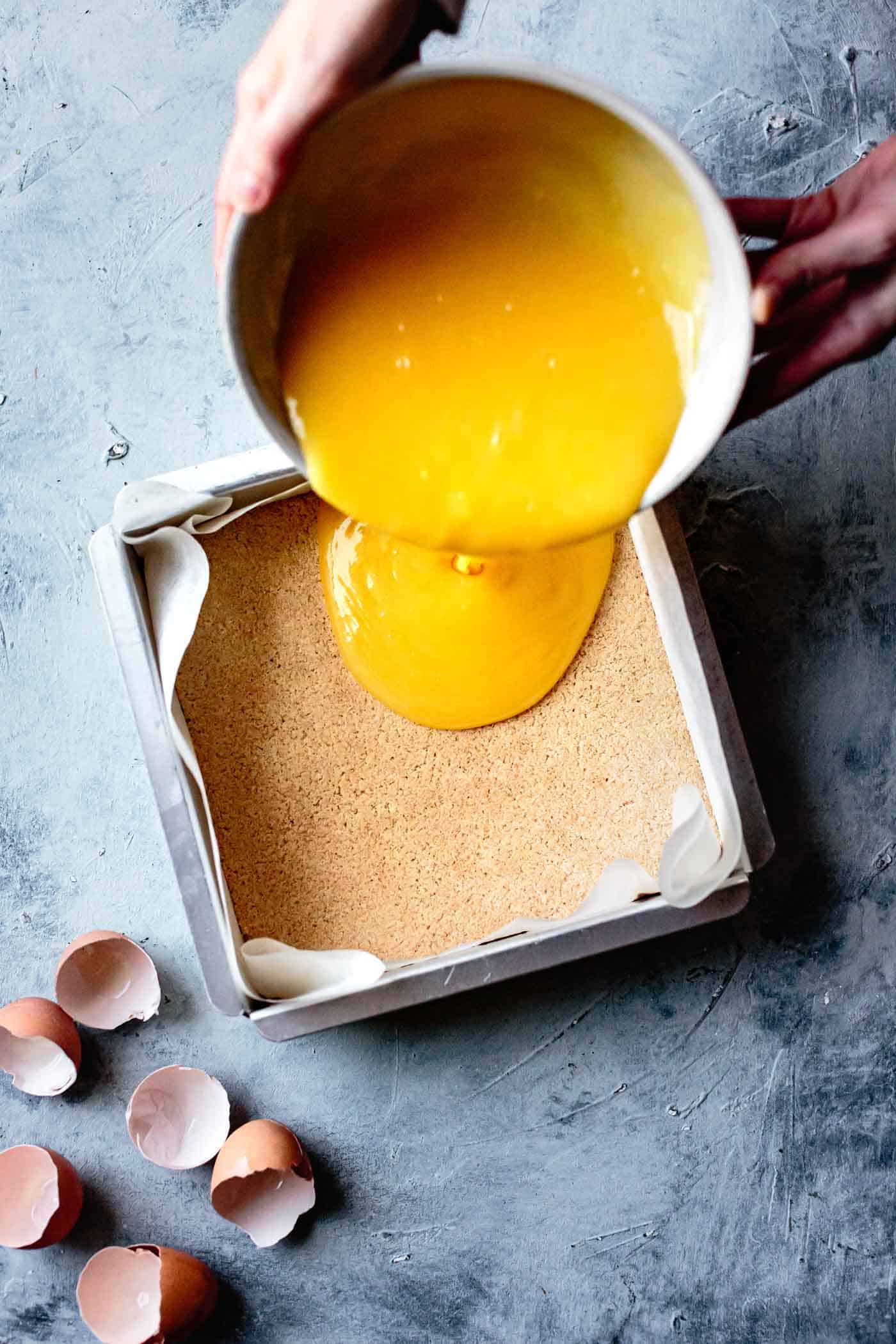 How to Make GF Lemon Bars
Once you've baked your crust and cooked your lemon curd, simply pour the curd over the crust. Bake the bars just until the edges start to puff. The center should wiggle like firm Jell-o when you give the pan a shake. This helps keep the curd soft and delicate.
Let the cooked lemon bars cool, then chill them until very cold, at least 3 hours or overnight. The butter will help the curd firm up to a softly sliceable consistency.
Remove the lemon bars from the pan and peel away the parchment paper. Cut the bars with a large, sharp chef's knife dipped in hot water and wiped clean between cuts. You can cut these into 16 small squares. Or for larger bars, cut into 12 rectangles.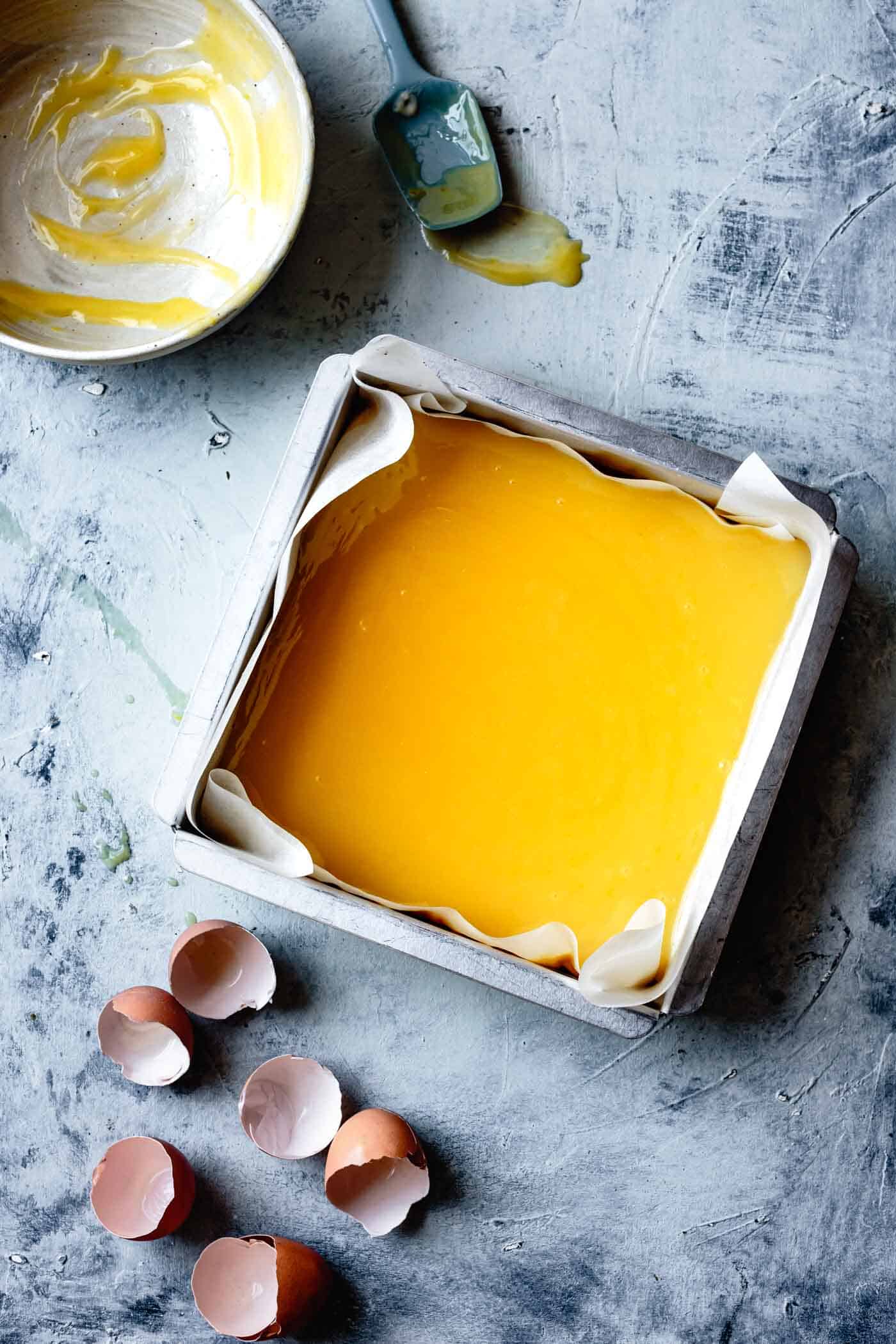 Gluten-Free Lemon Tart
Need to turn this gluten-free lemon bars recipe into a classy dinner party dessert? Just make the components in a tart pan and voilà: gluten-free lemon tart.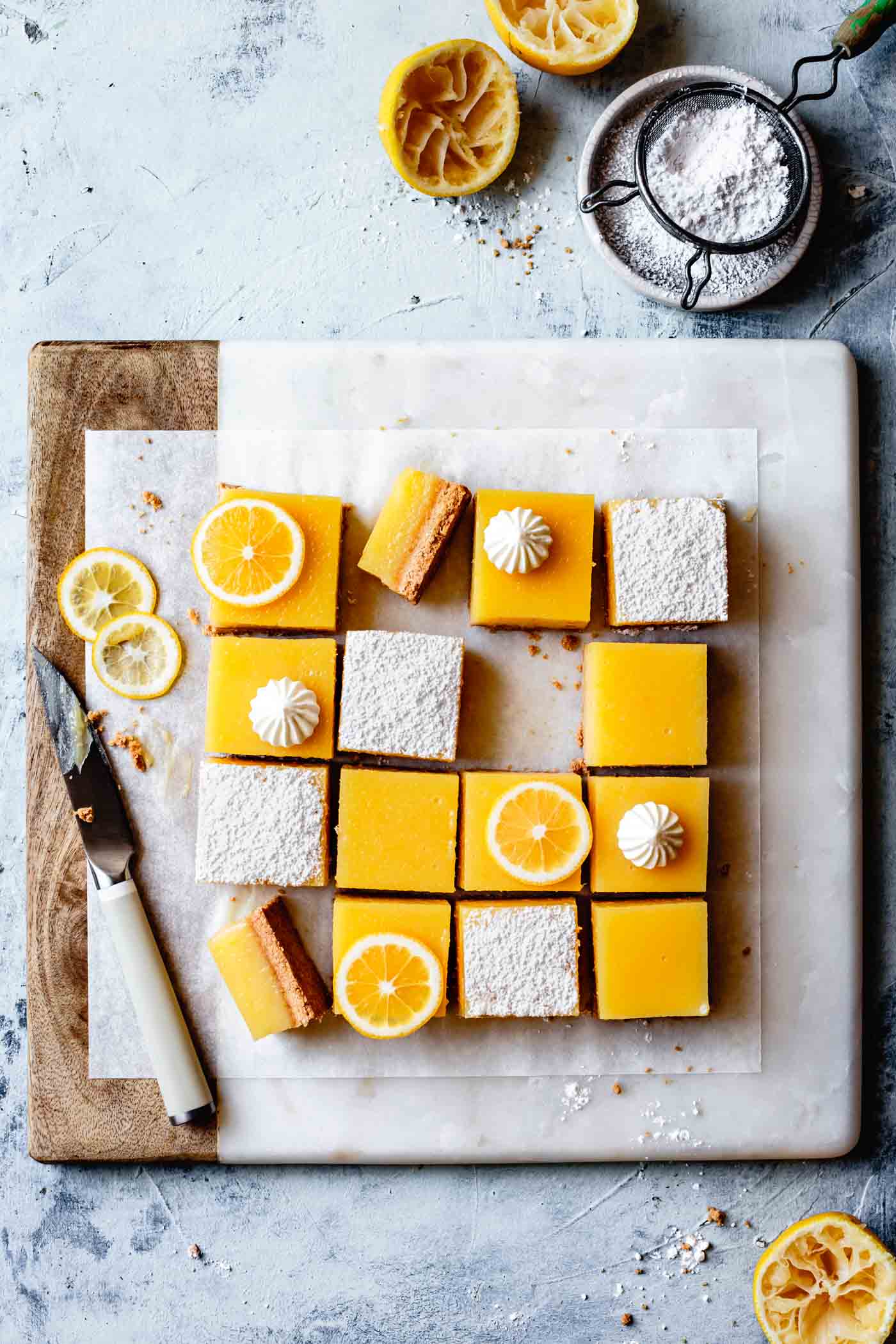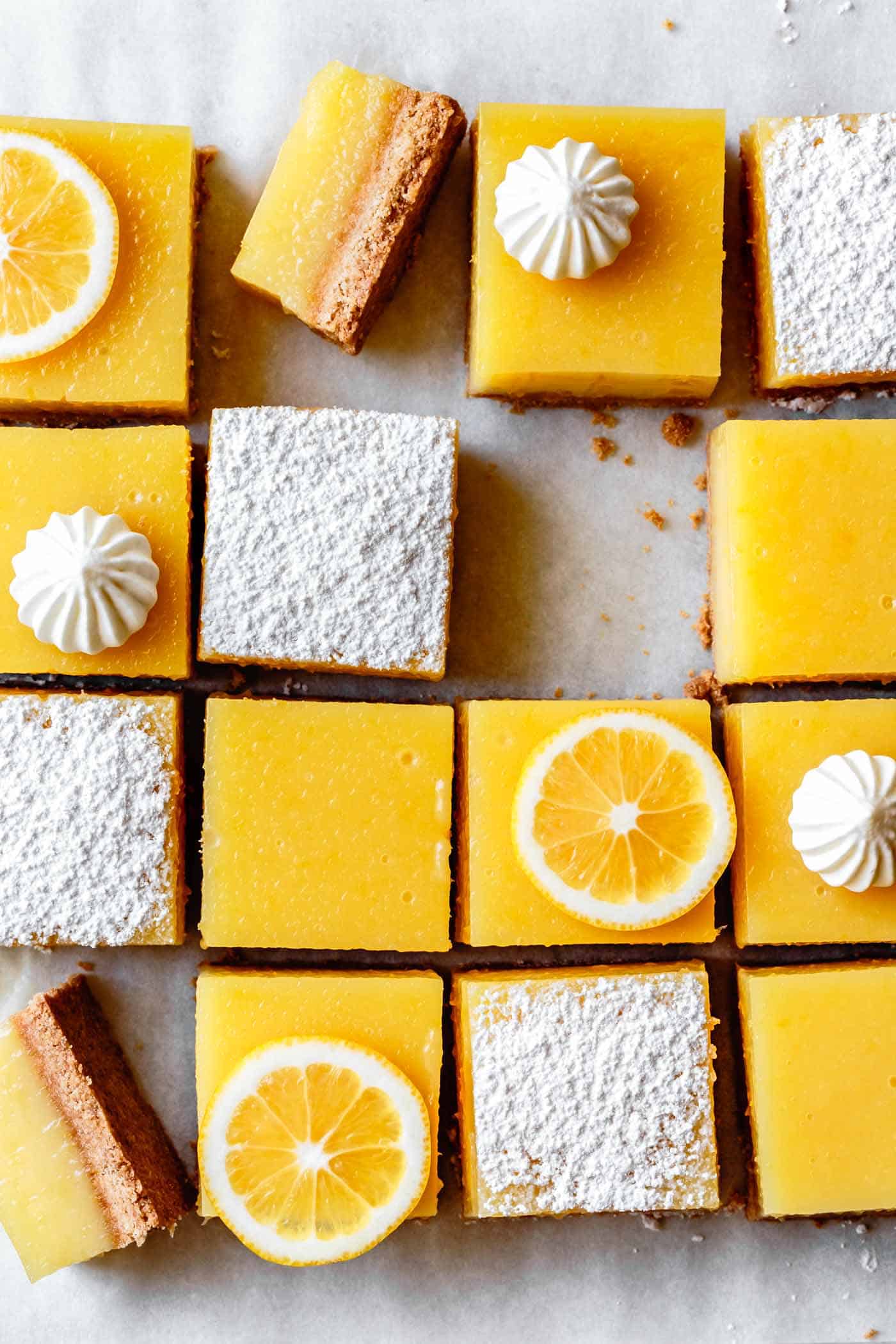 Gluten-Free Meyer Lemon Bar Recipe
Got Meyer lemons? Get the recipe for gluten-free Meyer lemon bars in my book Alternative Baker.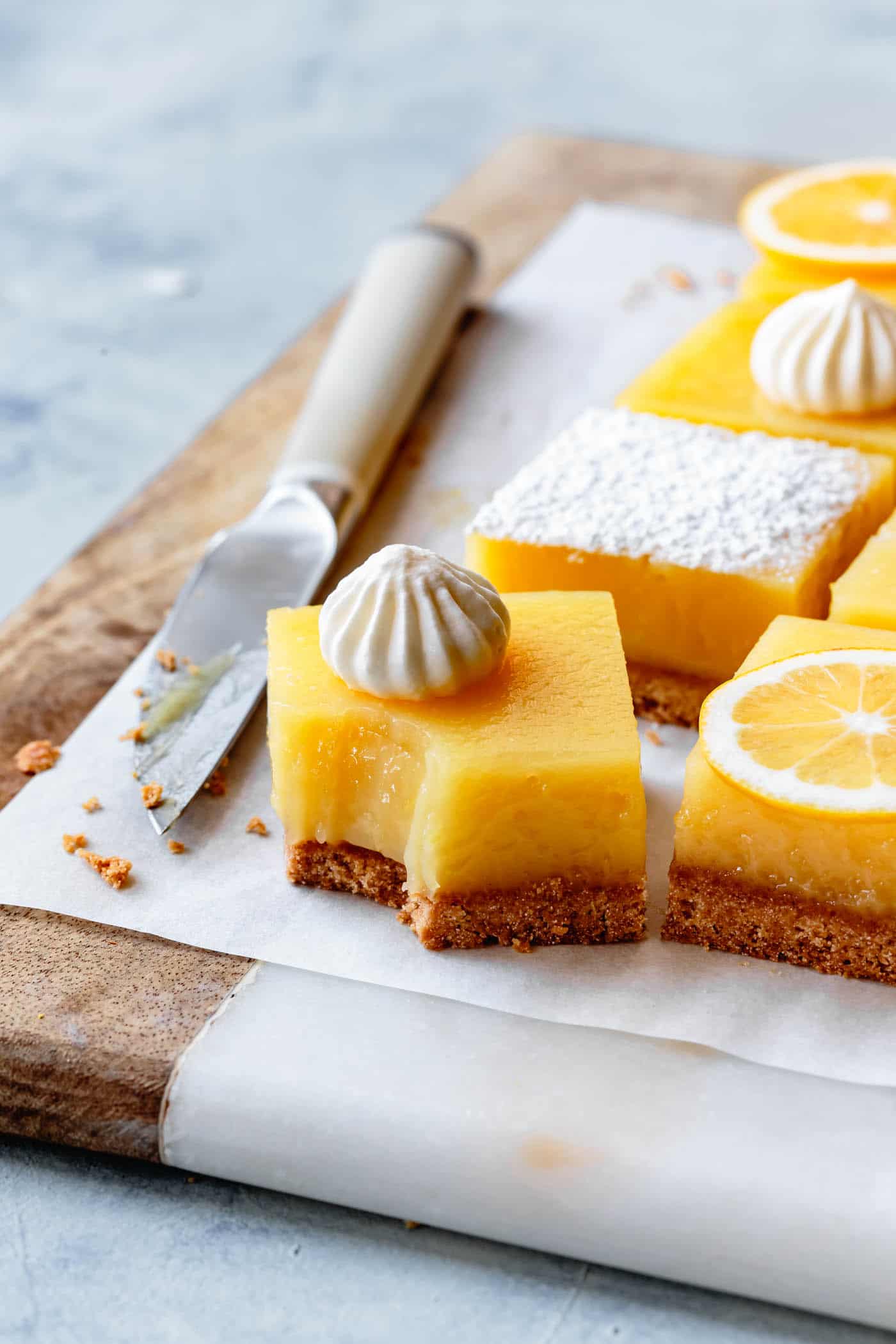 *Bojon appétit! For more Bojon Gourmet in your life, follow along on Instagram, Facebook, or Pinterest, purchase my gluten-free cookbook Alternative Baker, or subscribe to receive new posts via email. And if you make this gluten-free lemon bar recipe, I'd love to see. Tag your Instagram snaps @The_Bojon_Gourmet and #bojongourmet.*
Gluten-Free Lemon Bars with Almond Flour Crust
Print Recipe
Pin Recipe
Ingredients
Crust:
½

cup

(60 g) blanched almond flour (such as Bob's Red Mill)

½

cup

(78 g) sweet white rice flour (such as Bob's Red Mill, or GF all-purpose flour)

½

cup

(45 g) GF oat flour (such as Bob's Red Mill)

2

tablespoons

(13 g) tapioca flour

¼

cup

(50 g) organic granulated sugar

¼

teaspoon

plus 1⁄8 teaspoon fine sea salt

6

tablespoons

(85 g) Vermont Creamery unsalted cultured butter, cold and in 1⁄2-inch dice

1

teaspoon

vanilla extract
Filling:
10

tablespoons

(140 g) Vermont Creamery unsalted cultured butter, sliced

1

tablespoon

firmly packed finely grated lemon zest (from about 2 large lemons)

1 ½

cups

(340 g) organic granulated cane sugar (or 1 ¼ cups / 275 g for extra tangy bars)

⅛

teaspoon

fine sea salt

4

large eggs

2

large egg yolks

1

cup

(235 ml) strained lemon juice (from about 6 large lemons)

Optional garnishes: powdered sugar, lemon wheels, and/or heavy cream and crème fraiche whipped to firm peaks
Instructions
Crust:
Position a rack in the center of the oven and preheat to 350ºF. Line an 8-inch square pan with parchment paper on all sides.

In the bowl of a food processor (or stand mixer fitted with the paddle attachment) combine the almond, sweet rice, oat, and tapioca flours with the sugar and salt. Scatter the butter pieces over the top and drizzle with the vanilla extract. Process until the butter is incorporated and the dough forms large clumps, 15 - 30 seconds in a food processor or 3-5 minutes in a stand mixer on medium speed.

Dump the dough into the prepared baking pan and press evenly into the bottom.

Bake the crust until golden all over, 25-30 minutes. Remove the crust from the oven and, while it's still hot, press it down firmly all over with the back of a spoon. This will help it hold together when cool.
Filling:
Lower the oven temperature to 325ºF.

Place the butter and lemon zest in a heatproof bowl. Place a mesh strainer over the bowl and set aside.

In a medium, heavy-bottomed saucepan, whisk together the sugar, salt, eggs, and egg yolks to combine. Gradually whisk in the lemon juice.

Place the pot over medium-low heat and cook, stirring constantly with a heatproof silicone spatula, until the mixture thickens slightly and reaches 160-165ºF on an instant-read thermometer, 5–10 minutes. As you stir, be sure to scrape the entire bottom and corners of the pan, so that the mixture heats as evenly as possible. It will start out thick and cloudy from the undissolved sugar, then will turn thin and translucent, and finally begin to thicken and turn cloudy again as the eggs cook. Lower the heat to very low as it gets closer to being done. If the mixture starts to curdle or bubble, immediately remove it from the heat and proceed to the next step.

Immediately pour the curd through the strainer and into the bowl of butter to stop the cooking. Whisk to incorporate the butter and lemon zest, making sure there are no clumps of lemon zest.

Pour the cooked curd over the baked and pressed down crust.

Bake the bars at 325ºF (don't forget to lower the oven temp!) until the sides are barely puffed and the center wobbles like firm Jell-O when you give it a gentle shake, 15–20 minutes. It should not be wet or watery looking (underbaked), nor should it be puffed in the center or cracking (overbaked). Remove the bars from the oven and let cool to room temperature for 30 – 60 minutes, then chill until firm, 2–3 hours or overnight.

When the bars are cold, grasp the parchment and lift the bars from the pan and onto a cutting board. Gently peel away the sides of the parchment. Trim away the outer edges of the bars, then use a large, sharp chef's knife to cut the bar into 16 squares. For the cleanest cuts, dip the knife in very hot water and wipe the blade clean between cuts.

Just before serving, dust the lemon bars with a bit of powdered sugar or garnish with lemon wheels and/or whipped crème fraîche if you like.

The bars keep well, refrigerated, for up to 3 days, though the crust is the crispest within the first 1–2 days.
Video
Notes
Make-Ahead:
These lemon bars are best within two days of baking when the crust is crisp. They keep well in the fridge for up to 4 days. I don't recommend freezing the bars once baked since it might make the curd grainy or watery.
However, you can make the crust ahead and freeze it – baked or unbaked – until you're ready for bars. You can prepare the lemon zest and juice a day or two ahead and refrigerate them until you're ready to bake. You can also cook the curd ahead of time, chill it for up to 3 days, and soften it a bain marie before pouring it into the baked crust and proceeding with the recipe.
Nutrition
Calories:
267
kcal
Carbohydrates:
32
g
Protein:
3
g
Fat:
15
g
Saturated Fat:
8
g
Cholesterol:
95
mg
Sodium:
73
mg
Potassium:
49
mg
Fiber:
1
g
Sugar:
23
g
Vitamin A:
442
IU
Vitamin C:
6
mg
Calcium:
21
mg
Iron:
1
mg