Rhubarb haters: proceed with caution.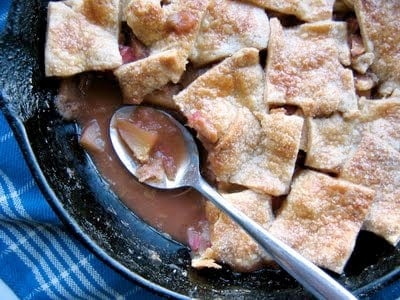 This time of year, I go a bit rhubarb crazy. Is it the rosy color and bright flavor that gets me, or merely the last 6 months of pomey deprivation scrambling my baker's brain? Perhaps a bit of both.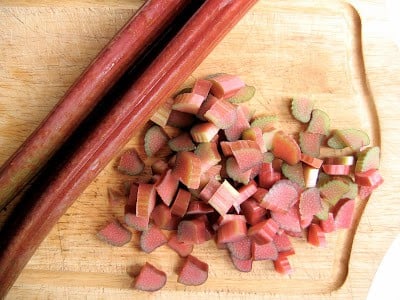 Winter is lasting longer than usual here in California; we don't usually see much rain past February, and yet I awoke just the other morning, late April, to a hearty drizzle on the other side of the window. While this time last year, I had already indulged my rhubarb obsession twice, I didn't see any in the markets until just a few days ago.

So when Jay and I headed down to Corralitos last week, the tiny town outside of Santa Cruz, for his birthday, I had one thought on my mind: rhubarb from his mom's garden. (Well, I may have been dreaming of smoked sausages and bacon, too. I'll never tell.) When we arrived, I bolted out of the car and around the back of the house, and rejoiced to see several fat, red stalks ready for picking.

When strawberries are still scarce and seem too precious to bake, I like to pair rhubarb with apples, which has the dual benefit of tempering rhubarb's tang with sweetness, and bolstering up its watery-when-cooked texture with a bit of heft and substance.

I turned to Deborah Madison's apple rhubarb pandowdy, which I'd made many years ago and vividly remembered as being The Best Dessert, Ever. I'd shared it with Jay and a friend of mine, and we had all moaned ecstatically as we ate it, then went back for seconds.
Pandowdies are apparently made by sticking a bunch of sweetened fruit in a large baking dish, placing a sheet of pie dough over the top, baking it, then cutting and scoring the crust and partially submerging it in the juices. Pre-scoring, the dessert looks downright pretty, but after the massacre, it takes on a 'dowdy' appearance.
Deborah Madison's Apple Rhubarb Pandowdy
So I made the pandowdy again, and I don't know whether it was just my crappy pate brisee (to which I added too much water, making it tough) or my changed (re: spoiled) taste buds from 5 years of working as a professional dessert-maker (which does nothing to explain my continued botching of pie doughs),but this time the pandowdy did not seem quite like The Best Dessert Ever. It was still tasty, and it certainly all got eaten, but the spices (cinnamon, clove, allspice and nutmeg) seemed to muddy the bright flavor of the rhubarb, and the crust seemed soggy rather than caramelized. I turned to Baking Illustrated to see what kind of flavorings they used in their apple desserts (just vanilla and lemon), but I also picked up some pandowdy advice. They suggested cutting the crust flush with the pan, rather than tucking the edges under (which results in 'boiled,' as they put it, crust) and rather than submerging the crust, they simply slice it up and serve when it's done baking.
Unsure of whether this would constitute a genuine pandowdy, I asked Martha, and she gave yet another method of cutting up the dough into squares and laying them over the top of the fruit. I wagered that the windows left between the tiles of dough would allow the steam of the fruit to escape, keeping the crust crisp and the fruit from being overly wet.

I mashed all three recipes together, and this time when I ate a bowlful of pandowdy, topped with honey yogurt ice cream, I did moan and think it The Best Dessert Ever*.

Unfortunately, you probably oughtn't trust a New Englander like Martha to define a classic, Southern dessert. Because when you do, look what happens:

It really isn't dowdy at all.

But faced with a crisp crust, gently sweetened fruit, and a puddle of tangy ice cream melting into vanilla-flecked juices, I'm not one to quibble over authenticity.

*The dessert in your mouth is The Best Dessert Ever. (Ancient Bojon proverb)
Rhubarb recipes:
Rhubarb Streusel Coffeecake
Brown Butter Rhubarb Squares
Apple Rhubarb Crisp
One year ago:
Panela-Rum Buttercrunch Toffee
Apple Rhubarb Pandowdy
Makes about 8 servings
This dessert takes inspiration from three sources: Martha Stewart'sapple cranberry pandowdy, Baking Illustrated's apple pandowdy, and Deborah Madison's apple rhubarb pandowdy.
I used Pink Ladies for the apples here, which have a good balance of sweet to tart, and hold their shape a bit. Any semi-firm baking apple with work, such as Fujis, Pink Pearls and Mutsus, just to name a few, or use two each Granny Smith and McIntosh.
A 10″ skillet gives the ideal crust-to-fruit ratio and makes for a handsome presentation, but you could probably get away with a 9″ skillet or a two-quart-capacity baking dish.
Serve this, as I did, with ice cream such as Honey Yogurt. Dreamy Vanillawould do, too.
Crust:
Adapted from Martha Stewart
1/2 cup all-purpose flour
1/4 cup spelt flour
1/4 teaspoon sugar
1/4 teaspoon salt
6 tablespoons (3 ounces / 3/4 stick) cold, unsalted butter, in 1/4″ dice
1 – 2 tablespoons ice water
For brushing the crust:
1 tablespoon cream or milk
1 tablespoon sugar (such as turbinado)
Filling:
4 large apples (see headnote) (1 1/2 pounds), peeled, cut off the core, and sliced 1/2″ thick
1 1/4 pounds rhubarb (about 5 medium-large stalks), halved lengthwise if fatter than 1″, sliced 1/2″ thick
1/2 cup packed light brown sugar
seeds of 1 vanilla bean (or 1 teaspoon vanilla extract)
2 tablespoons flour
1/2 teaspoon salt
1 tablespoon lemon juice
1 tablespoon butter, in 1/4″ dice
Prepare the crust:
In a large bowl, combine the flours, sugar and salt. Scatter the butter chunks over the top and work with your fingertips until the mixture looks like cornmeal, with some pea-sized butter bits remaining. Dribble 1 tablespoon of the ice water over the top, tossing the mixture with your fingers as you go, until the dough holds together when you squeeze it. Add more water if necessary, drop by drop, until this happens.
Turn this crumbly dough out onto the counter, and fraisage it: place about 1/4 of the dough under the heel of your hand and drag it across the counter away from you, smearing the dough across the counter. Scrape the dough up with a metal bench scraper and place it back in the bowl. Repeat with the remaining dough. (Fraisage-ing the dough helps to make it extra flaky by creating thin sheets of butter within the dough, almost like puff pastry, which make it rise into many layers when it bakes.)
Gather the fraisaged dough into a ball, flatten into a 1/2″ thick disc and wrap in plastic. Chill at least 1 hour, until firm, and up to 3 days.
Remove the dough from the fridge, and roll out on a lightly floured surface to an 11″ circle, a scant 1/8″ thick. (If it has been chilled for longer than 1 hour, let the dough soften at room temp until malleable and you can roll it without it cracking a whole lot.) Trim away the ragged edges if you like, and cut the dough into 2-3″ squares. Stack the squares on a plate, cover, and chill until firm, at least 20 minutes, while you prepare the filling.
Make the filling, and assemble and bake the pandowdy:
Position a rack in the center of the oven and preheat to 375ºF.
Combine the sliced apples and rhubarb in a very large bowl. Place the brown sugar on top of the fruit, then rub the vanilla seeds into the sugar to distribute and un-clump them a bit. Sprinkle the flour, salt and lemon juice over the top, and toss everything together to combine well.
Dump the fruit mixture into a 10″ oven-proof skillet (or other baking vessel – see headnote). Dot with the diced butter. Lay the dough squares over the top, covering as much of the surface as you can but leaving some small windows for steam to escape; it's fine if they overlap a bit. Brush the dough with the milk or cream, and sprinkle with the remaining tablespoon of sugar.
Bake the pandowdy until the crust is golden and the filling bubbles thickly. Let cool at least 15 minutes to thicken the juices a bit. Serve warm.
The pandowdy is best the day it is baked, but can be kept for up to 4 days in the fridge and reheated in a 350º oven for 15 minutes or so until warm to crisp up the crust.