Healthy tahini chocolate chip cookies can be yours in 30 minutes with 10 ingredients. This top-rated tahini cookie recipe takes moments to stir together and turns out cookies with crisp edges and soft, chewy middles, no chilling required. You won't believe they're paleo, gluten-free, and vegan.
Find more gluten-free cookie recipes here. Thanks to Raaka Chocolate for sponsoring this post!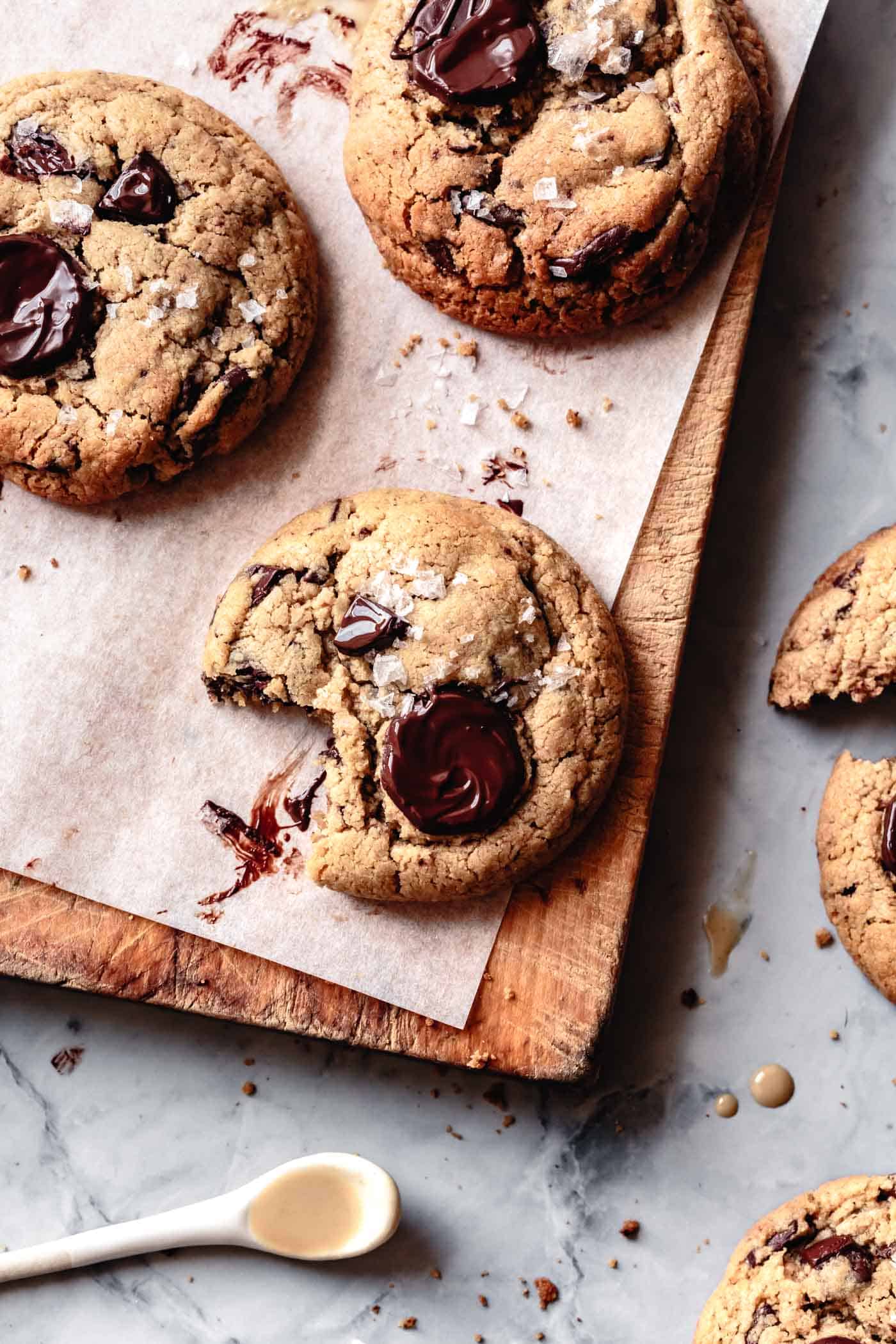 It is a well-known tenet of Bojon that "the freshly-baked chocolate chip cookie in your mouth is the best chocolate chip cookie ever." Crispy on the outside, chewy in the middle, with puddles of melted chocolate and notes of vanilla and butterscotch – even when chocolate chip cookies are bad, they're still pretty good.
BUT THESE. These may be my favorite chocolate chip cookies I've ever made, and that's saying a lot. Because I've made a lot of cookie recipes over the years, including some favorites in my cookbook.
In 2015 I developed some vegan gluten-free tahini oatmeal chocolate chip cookies for GFF magazine which I recently shared here on TBG. They became an instant reader-favorite!
But sadly, I couldn't partake in oatmeal cookies once I started a grain-free elimination diet. So this is my grain-free / paleo tahini cookie variation, and they are every bit as satisfying if not more so.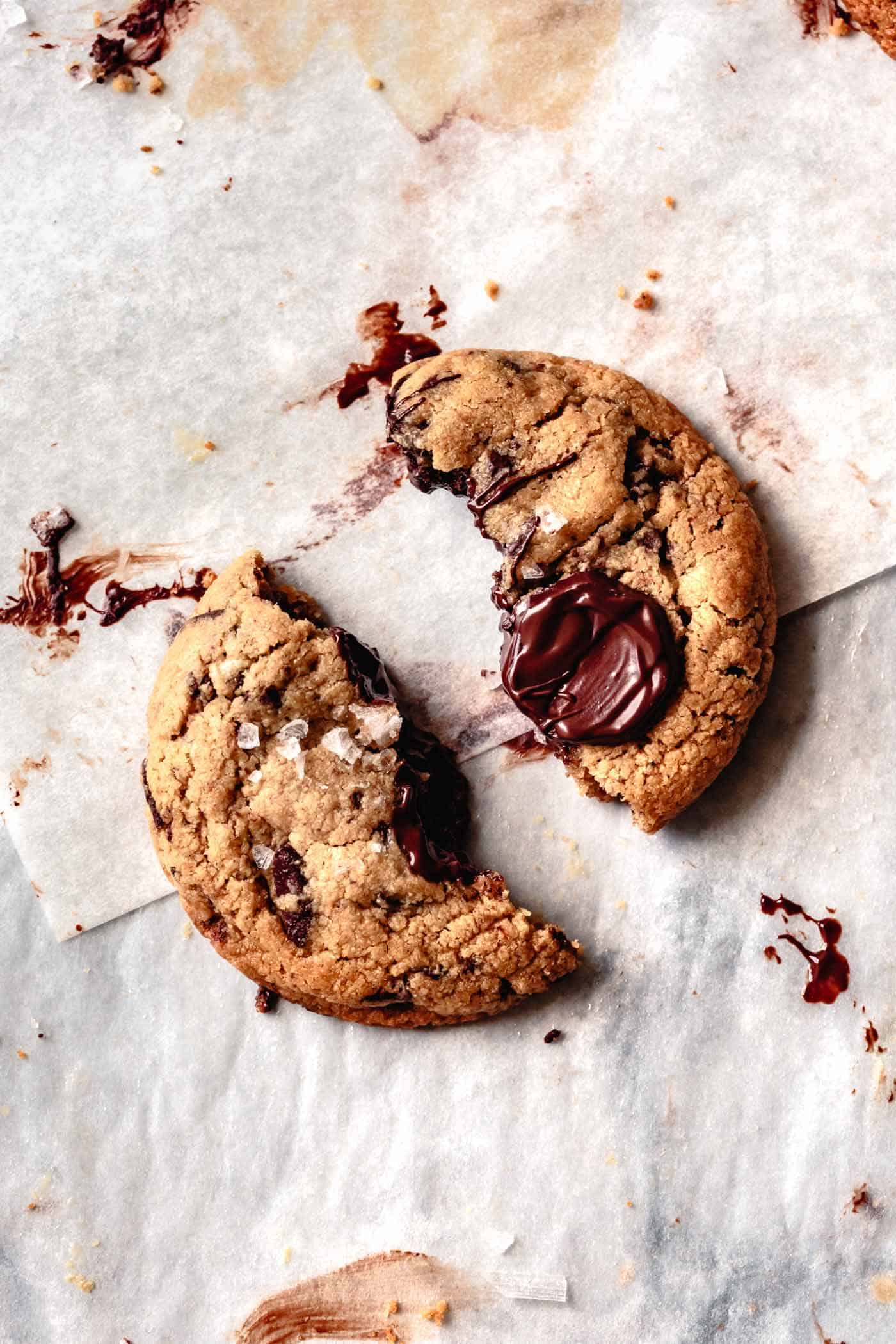 Magical Tahini Cookies
These paleo tahini chocolate chip cookies come together in minutes, spread just the right amount in the oven, and develop the most addictively crispy edges and plush middles. They burst with the flavors of sesame tahini, vanilla, and dark chocolate, all kissed with crunchy flakes of sea salt. The formula doesn't seem like it should work, but it does, beautifully, every time, as though by magic.
These tahini cookies also happen to be the most allergy friendly cookies to appear on this site. They're all the "frees": gluten-free, grain-free, egg-free, dairy-free, nut-free, and even refined sugar-free, thanks to maple-sweetened chocolate.
I based the recipe on my vegan paleo chocolate chip cookie recipe, which uses cashew butter as the base. The recipe just needed a few small tweaks, but I tested this variation 8 times to get it just right. Needless to say, we've eaten A LOT of cookies this past month.
Not complaining.
Ingredients & Substitution Suggestions
These paleo tahini chocolate chip cookies come together with 10 ingredients.
Paleo Flours
A trio of grain-free flours builds the perfect chewy texture. You can read more about them in my gluten-free & grain-free flour guide.
If you prefer, you can try omitting all three of these flours and swapping in a good gluten-free or paleo flour blend. Or try all-purpose wheat flour if gluten isn't an issue. Or make this version with oat flour and oats.
Cassava flour: tastes like all-purpose flour with a mild flavor and some sticky texture that helps the cookies hold together and bake up thick.

Sub by weight paleo all-purpose flour, or sweet rice flour / GF AP flour for non-paleo.

Almond flour (or tiger nut flour, shown here): adds some depth of flavor, helps the cookies brown, makes the edges crispy.

Sub by weight other nut or seed flours, or more cassava flour. Or try buckwheat or teff for a different flavor (and possibly non-paleo, depending who you ask)

Tapioca flour: makes the dough stretchy, adds extra chew.

Sub by weight arrowroot flour.
Other Ingredients
This recipe uses half a pound of chocolate, so you want to use the best. I made these with Raaka Maple Dark Baking Chocolate (more on this below!) but any dark chocolate that you like the taste of will work.
Tahini creates a rich sesame base. Choose one that is runny for the best results, and be sure to stir the jar very well before measuring. I use Soom organic tahini, which is silky-smooth, runny, and has minimal bitterness - highly recommended.
Maple syrup sweetens and moistens the dough. I like darker maple syrup here for added earthy flavor.
Coconut oil stands in for butter here. You can use extra-virgin, which is less processed with more coconut flavor, or refined for a neutral flavor. Dairy-eaters can use ghee instead for a non-vegan option.
Vanilla and salt add flavor.
Baking soda helps the cookies puff, spread, and brown.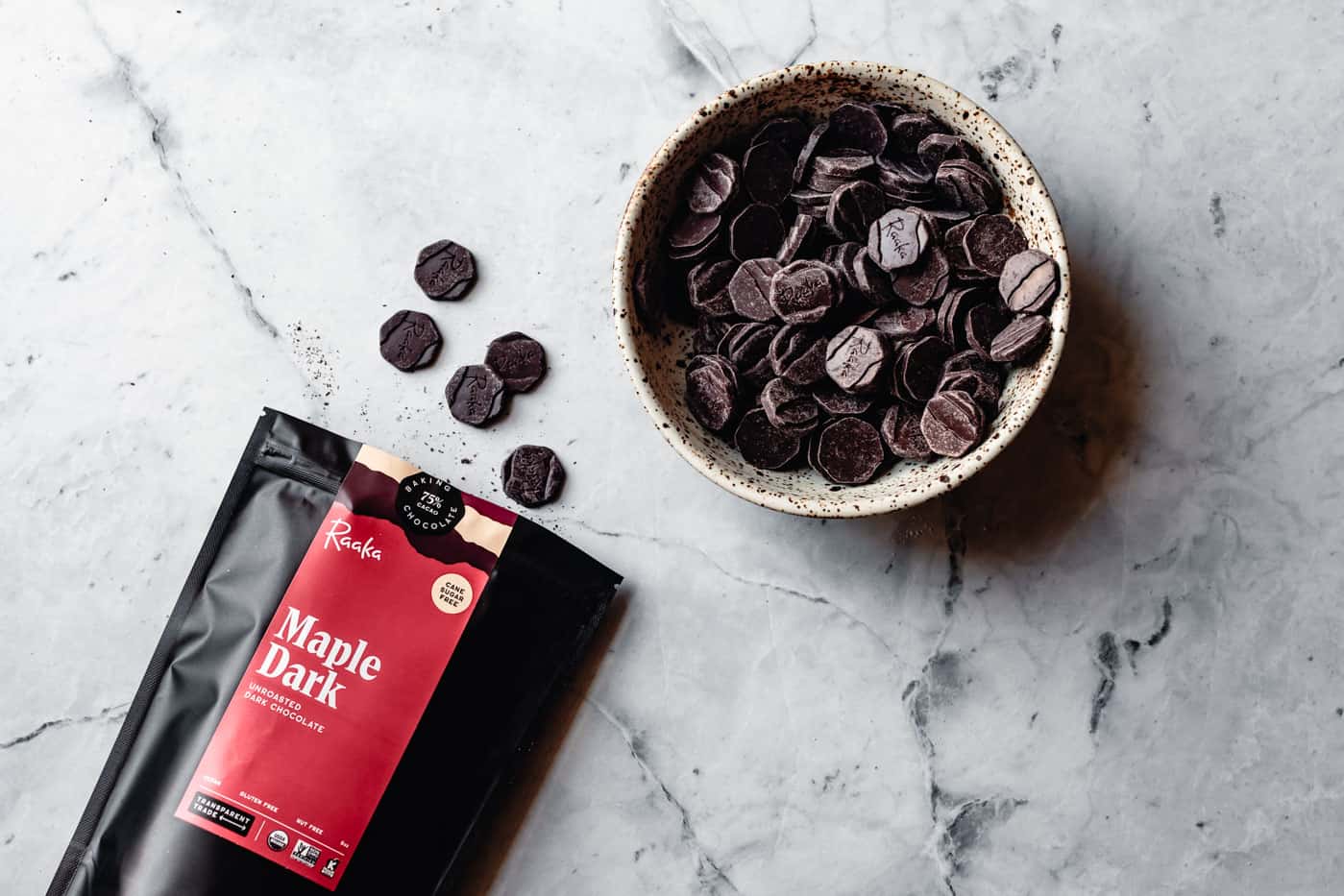 Maple-Sweetened Chocolate for Paleo Tahini Cookies
As a longtime fan of Raaka's unroasted chocolate bars, I was THRILLED when I learned about Raaka Maple Dark Baking Chocolate. These petite chocolate discs are packed with their same unique flavor, in baking form. This super-special chocolate is made from unroasted cacao sweetened with precious maple sugar for chocolate you'll want to save for special occasions.
Raaka chocolate is:
Bean to bar: made from scratch in small batches
Transparent trade: sourced from farmer-owned co-ops purchased for greater than fair-trade prices
Single origin: with complex flavor profiles from each region's individual growing conditions
Unroasted: to preserve the naturally fruity, bright, floral notes of the cacao bean (think high-end coffee made with fresh, lightly roasted beans)
Organic: and also vegan!
Other good paleo baking chocolates to try are:
Rad chocolate
Hu (gems or bar)
Guittard (some coconut sugar options)
How to Make Chocolate Tahini Cookies: step-by-step instructions
These cookies are SO simple to make with just one bowl and a whisk. They come together in 30 minutes, making about 18 cookies.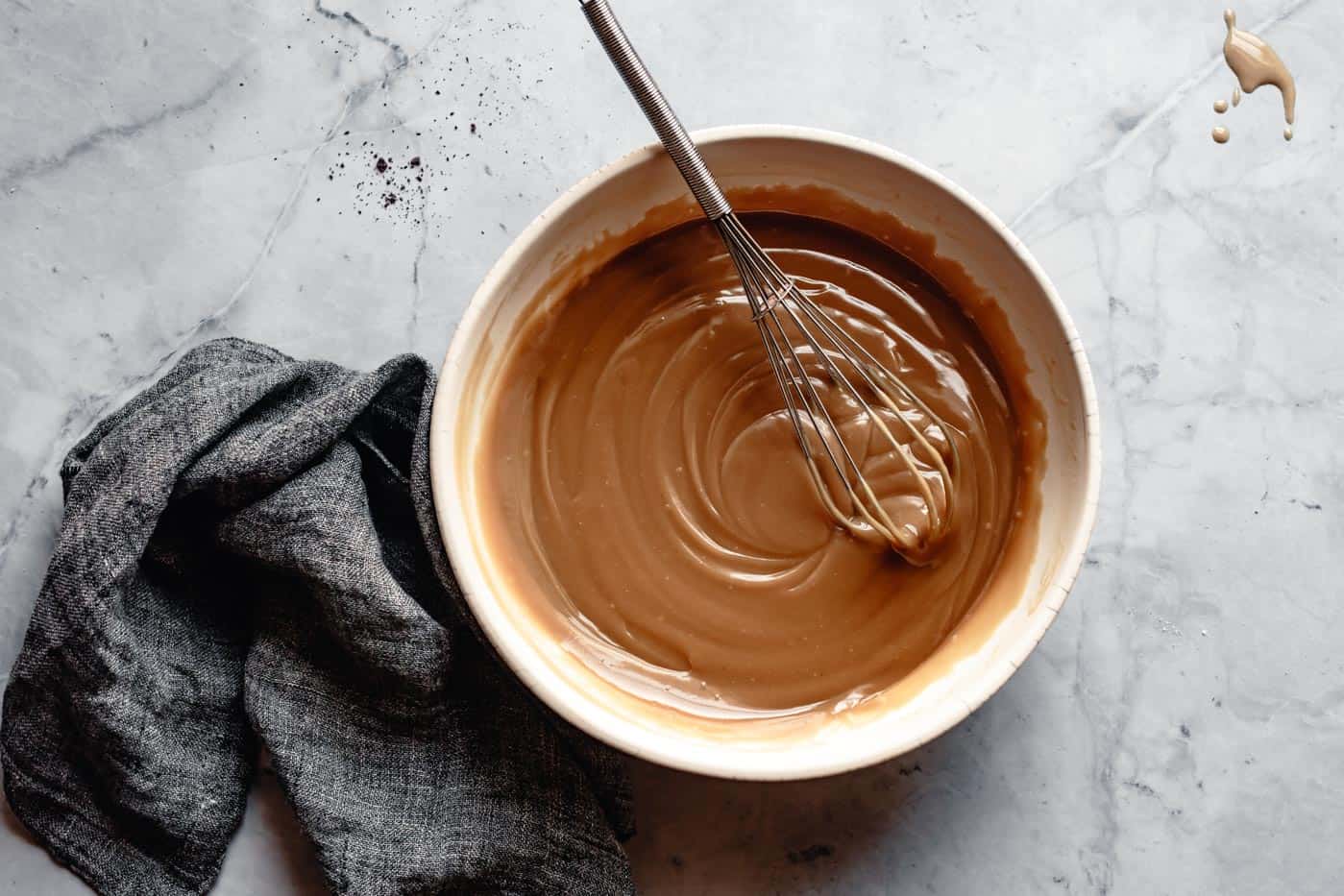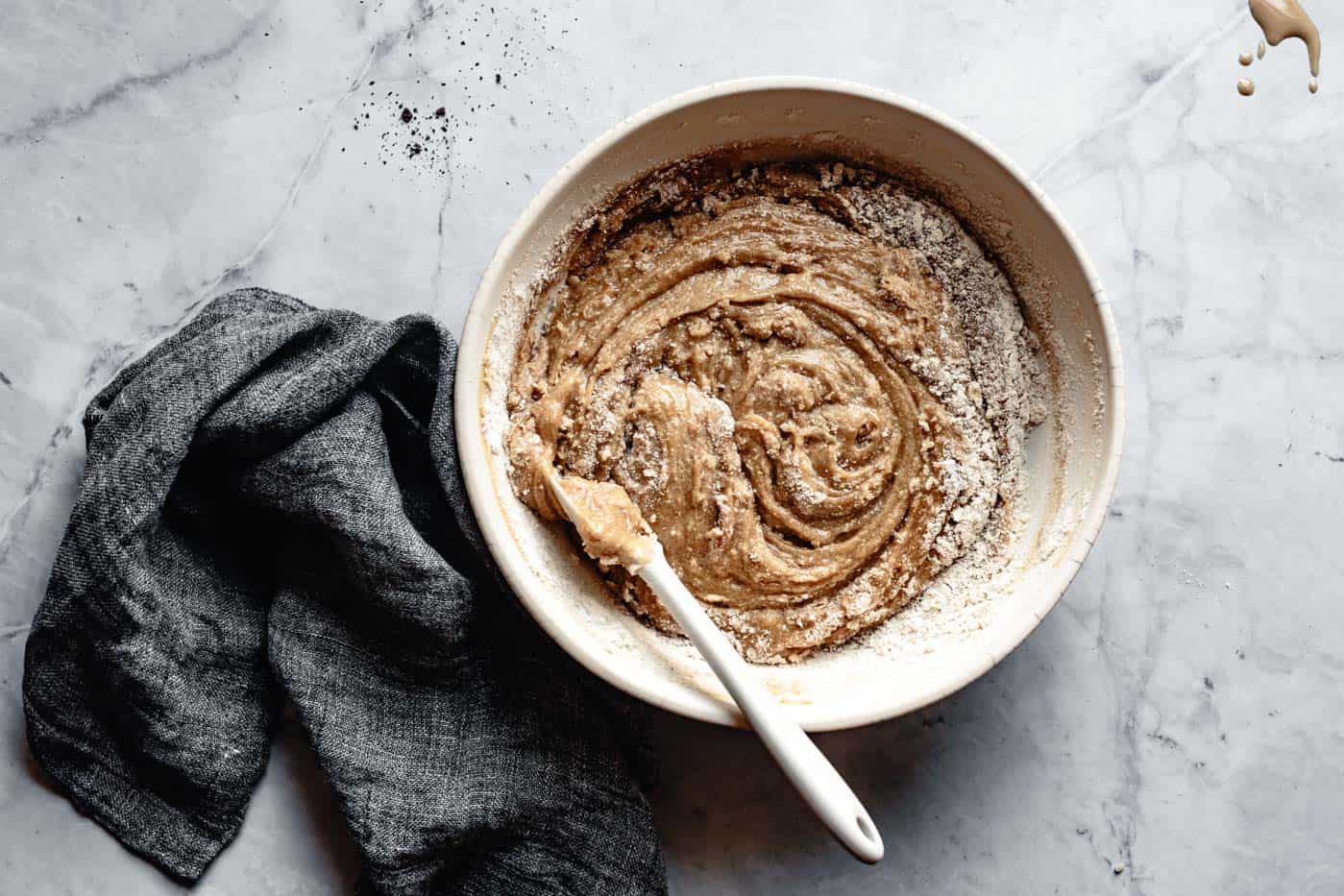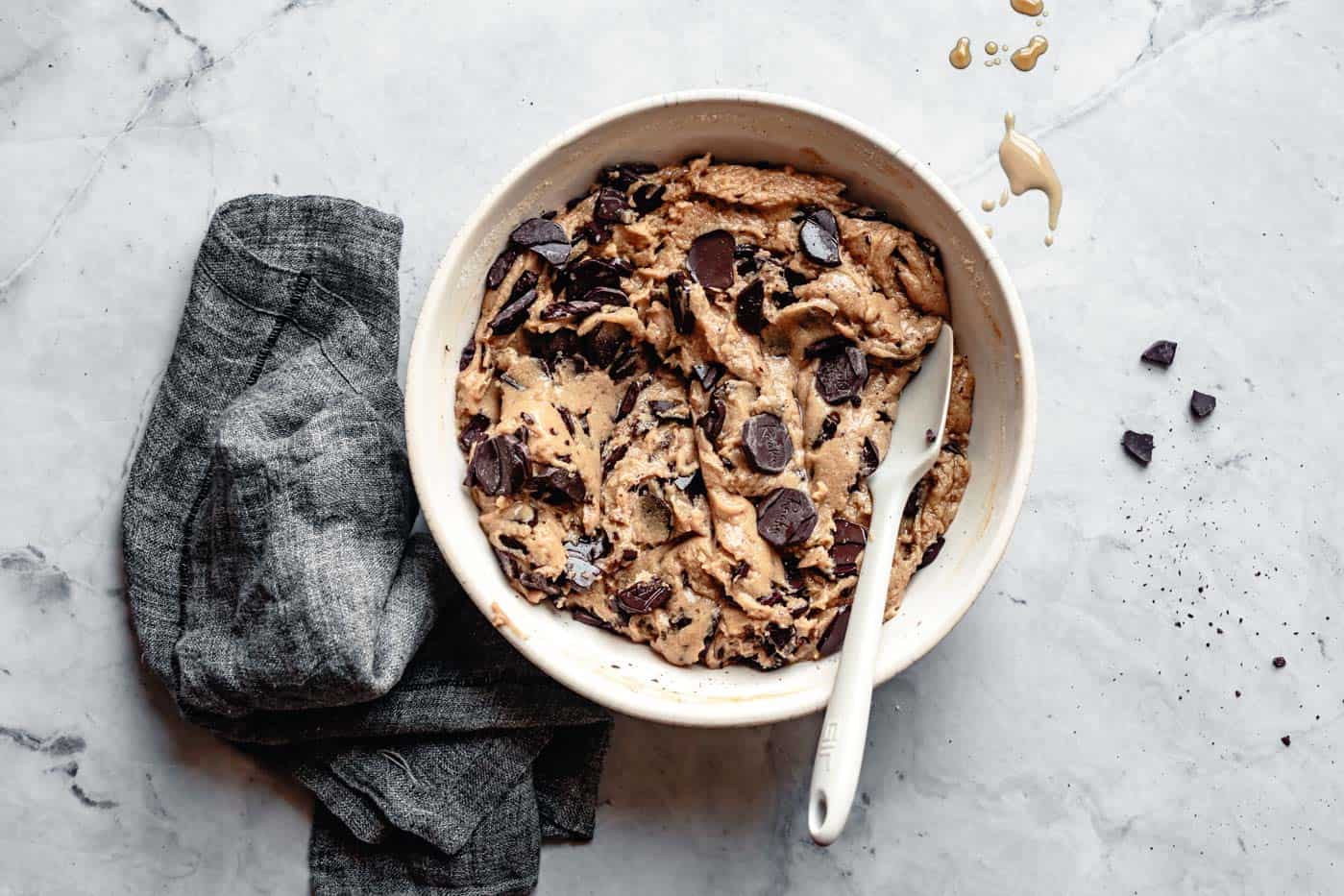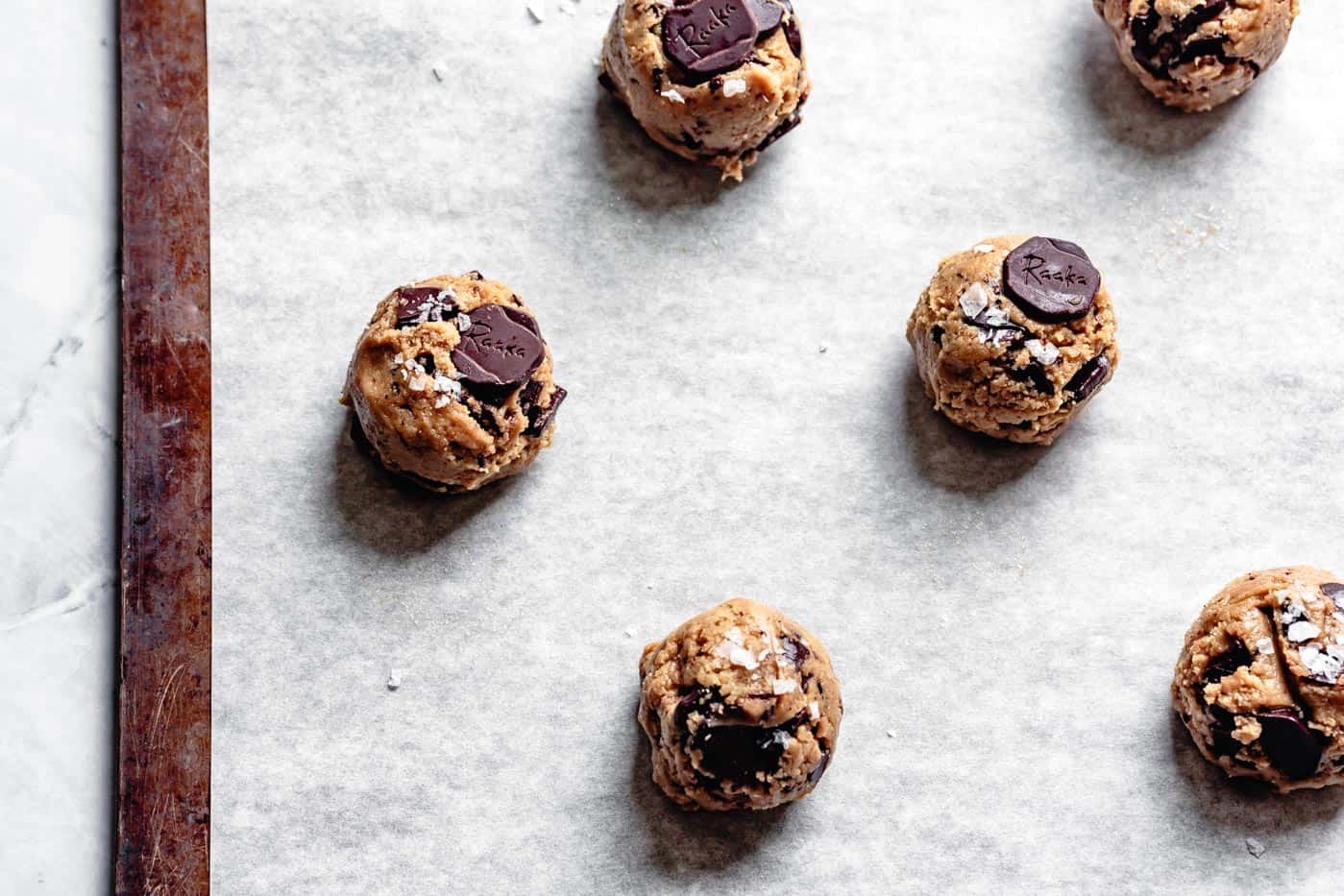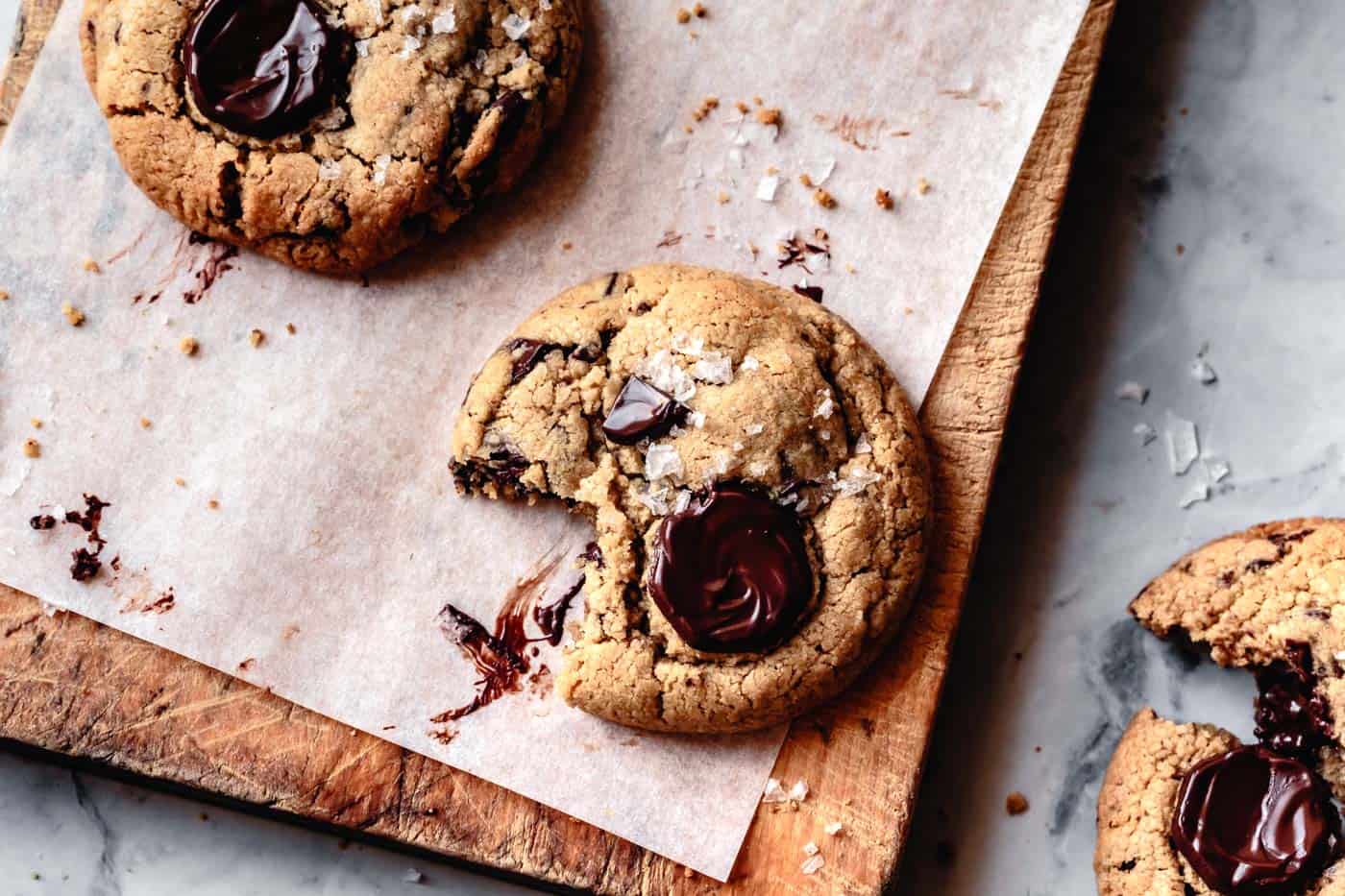 How to Store Tahini Chocolate Chip Cookies
These chocolate tahini cookies are at their peak within a few hours of being baked. Stored airtight at room temperature, their edges soften and the cookies stay moist and chewy for up to several days.
Can I freeze tahini chocolate chip cookies?
You can! Either freeze the dough balls as directed below, or freeze the baked cookies. I recommend warming frozen baked cookies in a toaster oven until heated through to refresh them. Refreshed cookies are great with a scoop of ice cream for an impromptu dessert.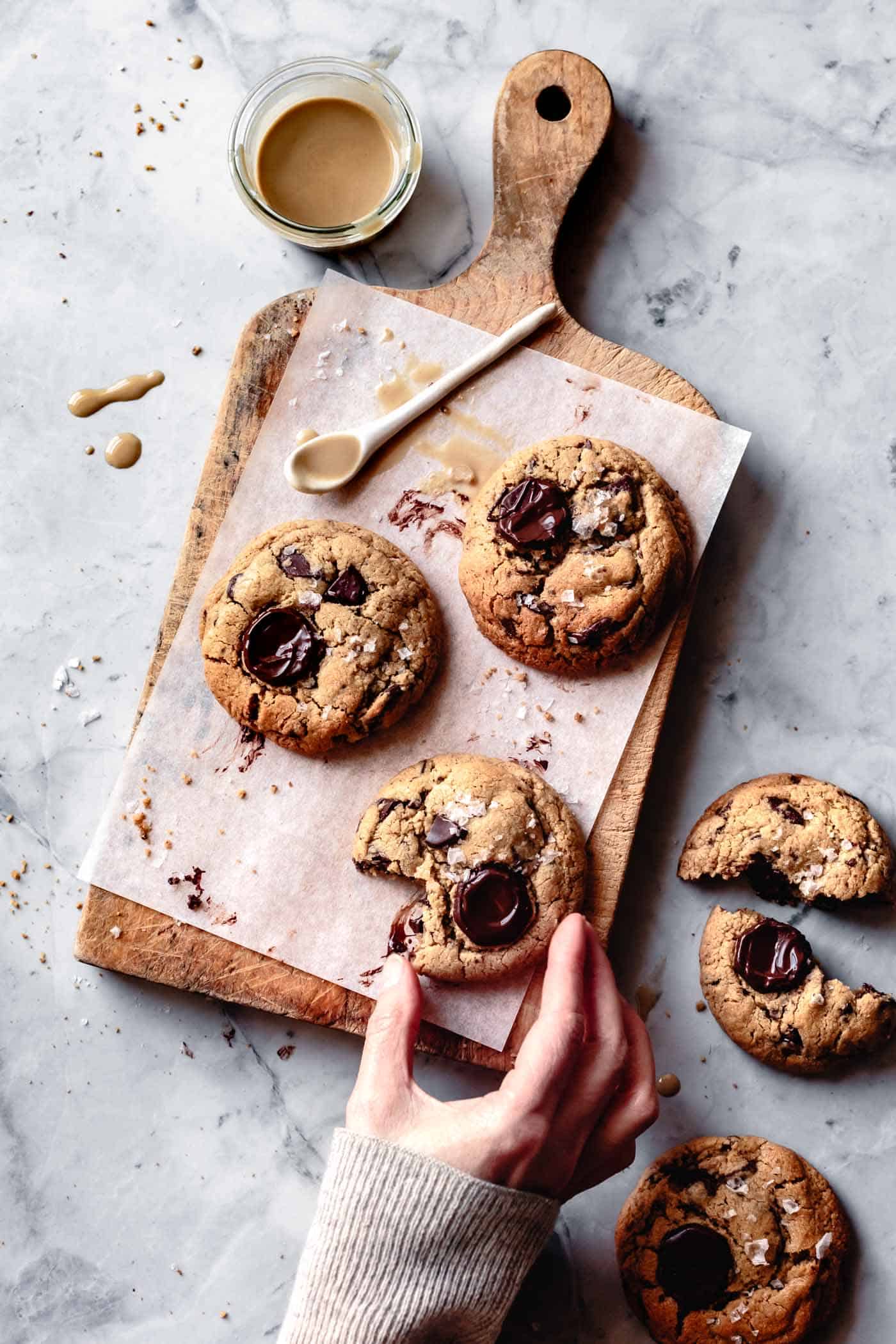 Make-Ahead Tahini Cookies
You can make these easy tahini cookies ahead of time for on-demand cookies:
Mix the dough as directed and chill the bowl until the dough has firmed up, 30 - 60 minutes.
Scoop the cookies into balls and place in a wide, flat storage container covered airtight.
Refrigerate until needed, up to 1 week, or freeze for up to a month or two.
When you're ready for cookies, bake as directed. You can bake the cookies cold, or let the dough balls warm up to room temperature first – it doesn't make much of a difference.
Baking with Tahini
If you love halva or sesame-flavored desserts, you'll be a huge fan of these sesame tahini cookies. Despite the generous amount of tahini in the dough, they taste surprisingly close to classic chocolate chip cookies, just wildly flavorful. Find all my tahini recipes here!
Do you have to refrigerate tahini?
You do not have to refrigerate tahini, but you can if you want to. If you live in a warm climate and don't go through it very fast, pop it in the fridge. Just be sure to warm it to room temperature before mixing up a batch of these tahini cookies.
Easy Tahini Cookies for Everyone
These allergy-friendly cookies will fool any cookie connoisseur, yet they'll please a variety of dietary restrictions. Bake up a few extras to share with neighbors or family members in need of gluten-free and/or dairy-free holiday treats.
Please let me know if you try this recipe by leaving a comment and star rating below!
*Bojon appétit! For more Bojon Gourmet in your life, follow along on Instagram, Facebook, or Pinterest, purchase my gluten-free cookbook Alternative Baker, or subscribe to receive new posts via email. And if you make this tahini chocolate chip cookie recipe, I'd love to see. Tag your Instagram snaps @The_Bojon_Gourmet and #bojongourmet.*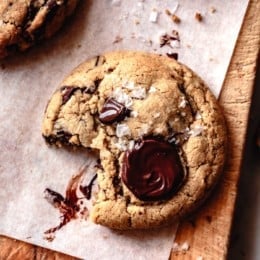 Magical Tahini Chocolate Chip Cookies
Print Recipe
Pin Recipe
With crisp edges and gooey middles, these vegan paleo tahini chocolate chip cookies are a snap to make. You won't believe they're plant-based and free of dairy, eggs, grains, gluten, nuts, and refined sugar.
Ingredients
1

cup

(245 g) room temperature, well-stirred tahini

(preferably a runny tahini such as Soom or Kevala)

¾

cup

+ 2 tablespoons (260 g) maple syrup

(preferably dark)

⅓

cup

(70 g) melted, cooled coconut oil

(or ghee if not vegan)

2

teaspoons

GF vanilla extract

½

cup

(75 g) cassava flour

(I use Bob's Red Mill; or try sweet rice or AP flour if not paleo)

½

cup

(60 g) tiger nut flour

(I use Anthony's; or try almond flour, more cassava flour, or oat, buckwheat, or teff flour if not paleo)

¼

cup

(28 g) tapioca flour

(I use Bob's Red Mill)

¾

teaspoon

baking soda

½

teaspoon

fine sea salt

8

ounces

(230 g) coarsely chopped vegan bittersweet chocolate such as Raaka Maple Dark Baking Chocolate, plus extra for the tops

flaky salt such as Maldon, for sprinkling
Instructions
Position a rack in the top of the oven and preheat to 350ºF. Line 2 rimless cookie sheets with parchment paper for easy cleanup.

In a medium bowl, whisk together the tahini, maple syrup, coconut oil, and vanilla until smooth and emulsified.

Place a strainer over the bowl and sift in the cassava, tiger nut, and tapioca flours with the baking soda and sea salt. Stir to combine, then stir in the chocolate chunks.

Scoop 1-inch diameter balls of dough (3-4 tablespoons or a rounded #24 spring-loaded ice cream scoop) onto the prepared cookie sheet, spaced 3 inches apart. Top each cookie with a chunk or two of chocolate and a pinch of flaky salt.

Bake the cookies one pan at a time in the top rack of the oven until golden and puffed, with the edges beginning to set and the centers soft, 12-16 minutes. Rotate the baking sheet at 10 minutes for even baking.

Remove the cookies from the oven and slide them, parchment and all, onto a cooling rack. Let them cool as long as you can stand it. Enjoy warm from the oven, at room temperature, or let cool completely and store, covered at room temperature, for up to 3 days.
Notes
I've given substitution suggestions, but I have not tested these myself. If you're trying a substitution, I would advise baking off a single test cookie, that way you can adjust the remaining dough if need be (i.e. add more flour if the cookies spread too much, or flatten the dough balls if they don't spread enough).
Tips for better cookies:
Since cookies are sensitive to slight changes in moisture and temperature, here are some ways to get foolproof cookies:
measure by weight, not volume
if measuring by volume, use the dip and sweep (aka scoop and swoop) method
make sure your oven is the correct temperature by using an external oven thermometer
bake off a single test cookie to make sure your cookies spread the right amount
if your cookies spread too much, add more flour or increase the oven temperature
if they don't spread enough, flatten the dough balls or decrease the oven temperature
Flours:
I first tested these cookies with all cassava and tapioca flour for ease, but I preferred the version that included tiger nut flour. Tiger nut (which is actually a tuber vegetable and not a nut at all) adds browning and tenderness to these cookies, making them look and taste more like classic CCCs. I order mine from Anthony's, but you can also find it in some health food stores with other alternative flours.
If you don't have tiger nut flour on hand, try one of the other suggestions in the recipe. You'll have to experiment a bit as flours absorb moisture differently and cookies are sensitive to these slight differences. If you're trying a substitution, I would advise baking off a single test cookie, that way you can adjust the remaining dough if need be (i.e. add more flour if the cookies spread too much, or flatten the dough balls if they don't spread enough).
You can also try omitting all of the flours and using 165 grams (about 1 cup + 2 -4 tablespoons) all-purpose flour (wheat, GF, or paleo).
Make-ahead:
Make the dough as directed, then let sit until firm enough to scoop (or chill for a few minutes). Scoop into balls, place the dough balls on a small baking sheet lined with parchment, and chill until firm, about 1 hour. Transfer the cold dough balls into a container and chill for up to a week or so. When you're ready to bake, just plop the dough balls on a cookie sheet as directed, top with flaky salt, and bake. You can also freeze dough balls for up to several months.
Nutrition facts are for 1 of 18 cookies.
Nutrition
Calories:
258
kcal
Carbohydrates:
27
g
Protein:
3
g
Fat:
16
g
Saturated Fat:
7
g
Cholesterol:
1
mg
Sodium:
118
mg
Potassium:
167
mg
Fiber:
2
g
Sugar:
14
g
Vitamin A:
15
IU
Vitamin C:
1
mg
Calcium:
53
mg
Iron:
2
mg