With a silky, tangy lime curd filling and billows of whipped cream all wrapped up in a delicate buttery gluten-free tart crust, this gluten free lime curd tart will make all your citrus dreams come true. Originally published in GFF: Gluten Free Forever Magazine.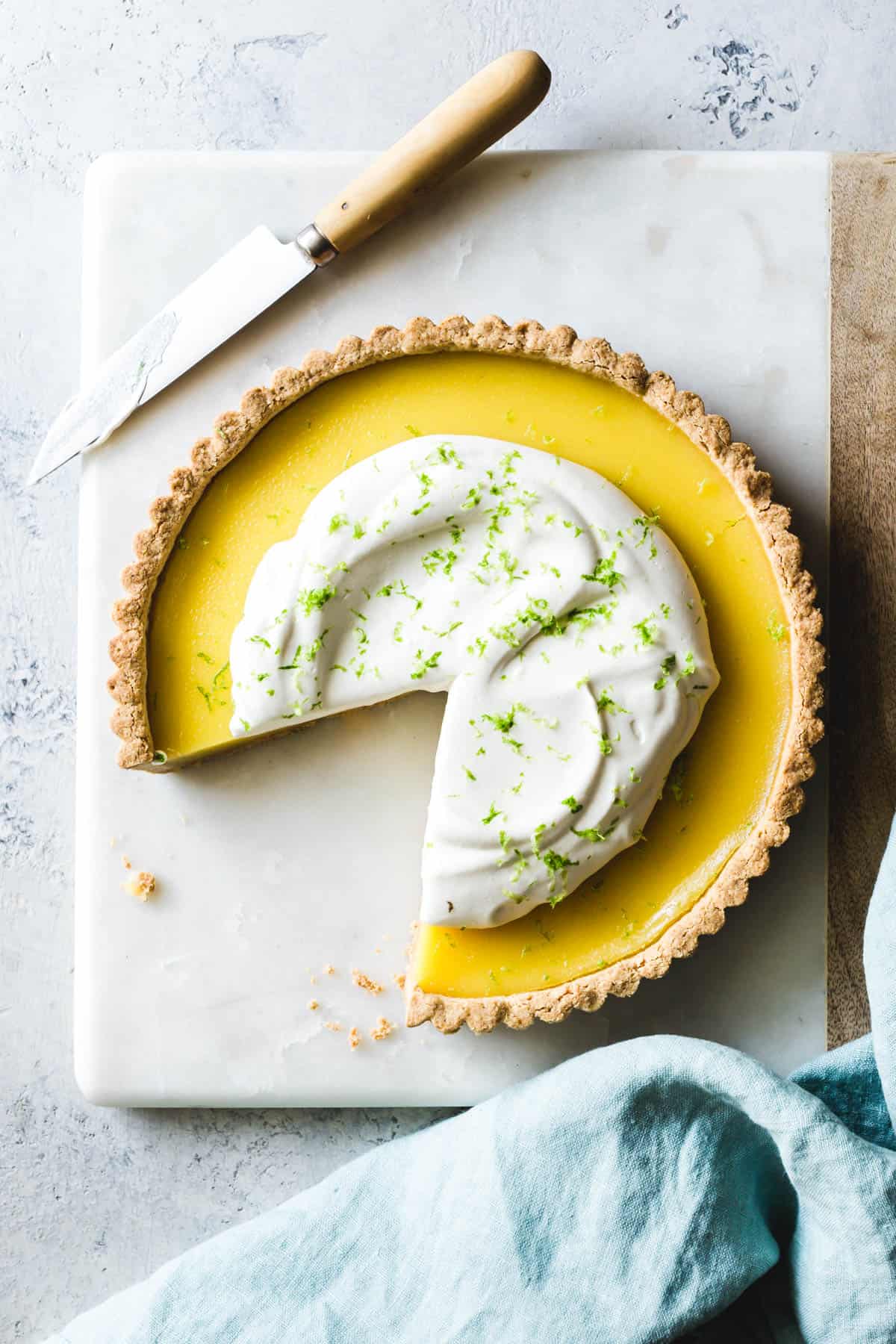 It's March 14th aka 3.14 aka Pi(e) Day! So naturally I'm sharing a tart because I'm a rebel. Just kidding. Pies and tarts are nearly the same thing except that tarts are better because they're French. Seriously though, you could just as soon assemble this goodness in a pie pan and call it a gluten free lime pie.
I originally created this tart for my Alternative Baking column in GFF Magazine last spring. I loved it so much, I wanted to share it here as well!
Lime Curd Tart Vs. Key Lime Pie
Traditionally, American-style key lime pies are made with store bought graham crackers ground and mixed with butter to form a crust. The filling is comprised of raw egg yolks, sweetened condensed milk, and juice from key limes. The acidic lime juice works with the egg and dairy proteins to gel the mixture into a sliceable filling.
If you're wondering about the difference between key limes and regular limes, key limes are smaller and sweeter than their larger yellow-green cousins more commonly found in stores. But the two can mostly be used interchangeably.
This tart on the other hand is made from whole ingredients. It's more similar to a French lemon tart or tarte aux citrons. Unlike American lime pie, there's no sweetened condensed milk or raw eggs here, just a shortbread-like crust filled with a cooked lime curd. It still has the satisfying creamy/tangy/sweet qualities of beloved key lime pie, but a bit more wholesome. And while it looks fancy, each element is simple to prepare.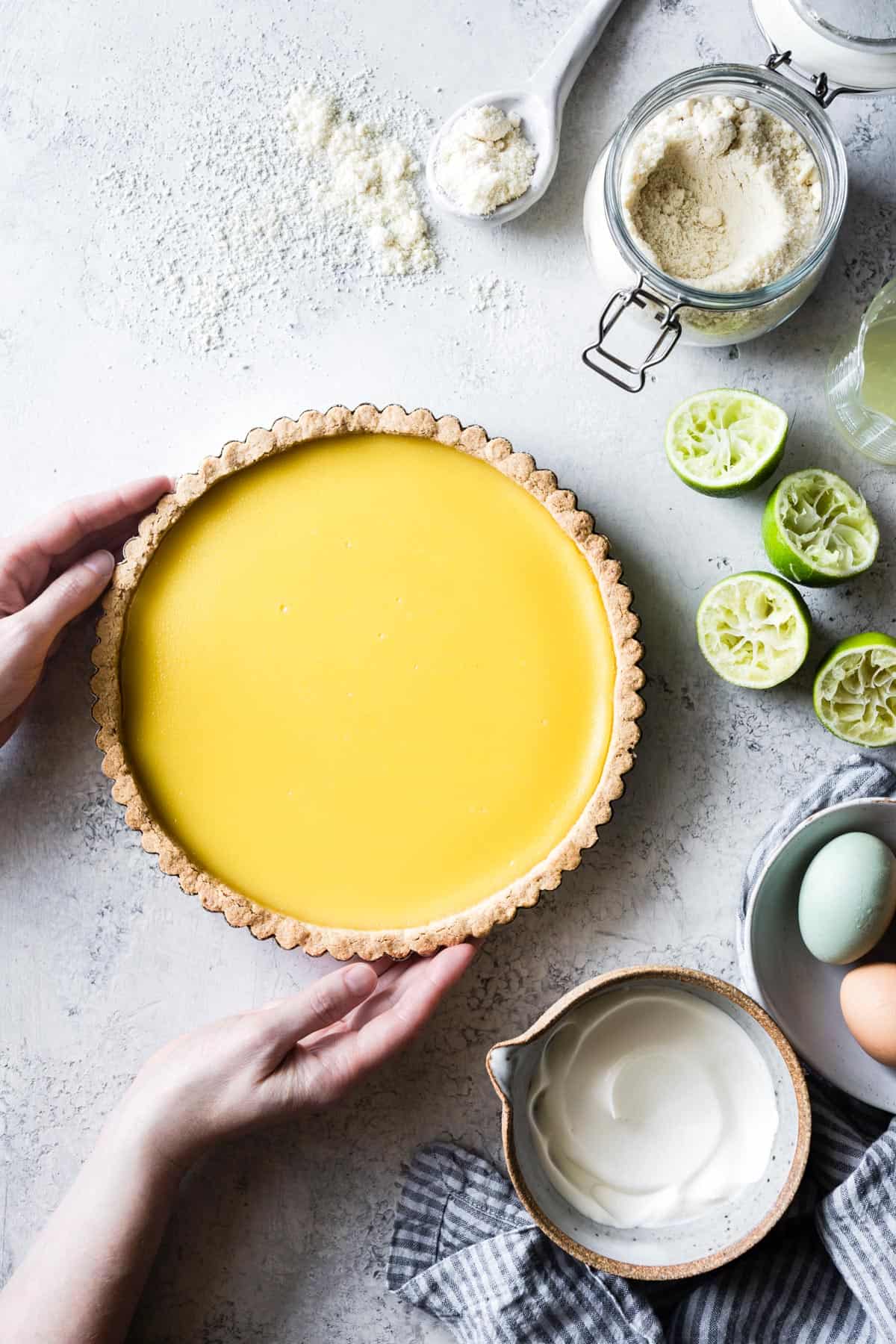 Gluten Free Almond Flour Tart Crust
I was tired of making traditional tart crusts that required softening butter, chilling and rolling out dough, and baking with pie weights. So I developed this easy, gluten free, press-in version.
Just rub cold butter into a mixture of almond, oat, sweet rice, and tapioca flours flavored with sugar, salt, and vanilla, and press the crumbles into your pan. After a quick freeze, the crust bakes easily, no pie weights needed. Press the warm, baked crust down with the back of spoon to make it sturdier to cut, and you're done!
I tested many versions of this crust before I landed on this mix of flours. The almond flour helps the crust hold together thanks to its high protein content, and its fiber and healthy fats give it a nutty flavor and delicate texture. Oat flour adds an earthy taste while sticky sweet rice and tapioca flours help hold the ingredients together, no gums required.
The crust tastes like delicate, nutty shortbread cookies, crumbling softly against softly set lime curd filling. A good hit of salt makes it completely addictive.
Lime Curd Filling
Are toe-curlingly tart desserts your jam? Then you'll love this silky soft lime curd filling loaded with lime zest and juice. I add just enough sugar to offset the sour, a modest number of eggs to help the curd set, and a whole stick of butter which gives the curd a soft set with lots of body.
Temperature is the name of the game when making any fruit curd. Be sure to follow the instructions and keep the temperature low enough to slowly and gently cook the eggs. Your patience will be rewarded with a smooth filling that bursts with the sweet, floral flavors of lime.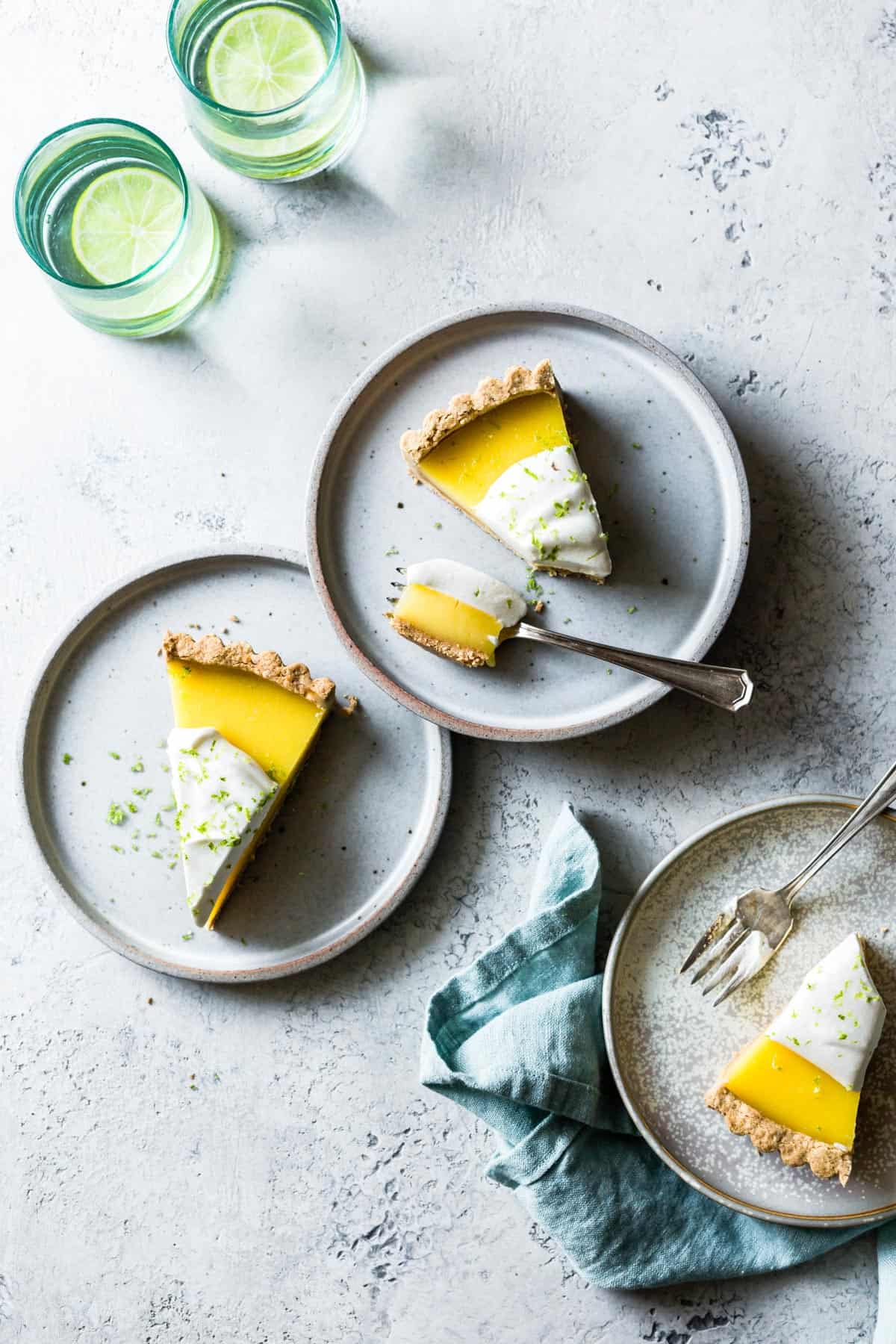 Whipped Cream Topping
A generous dollop of softly whipped cream finishes off this gluten free lime curd tart. The mild cream helps smooth out any rough edges, offsetting the tangy curd and nutty crust. Decorate with a dusting of lime zest for a fresh finish and enjoy!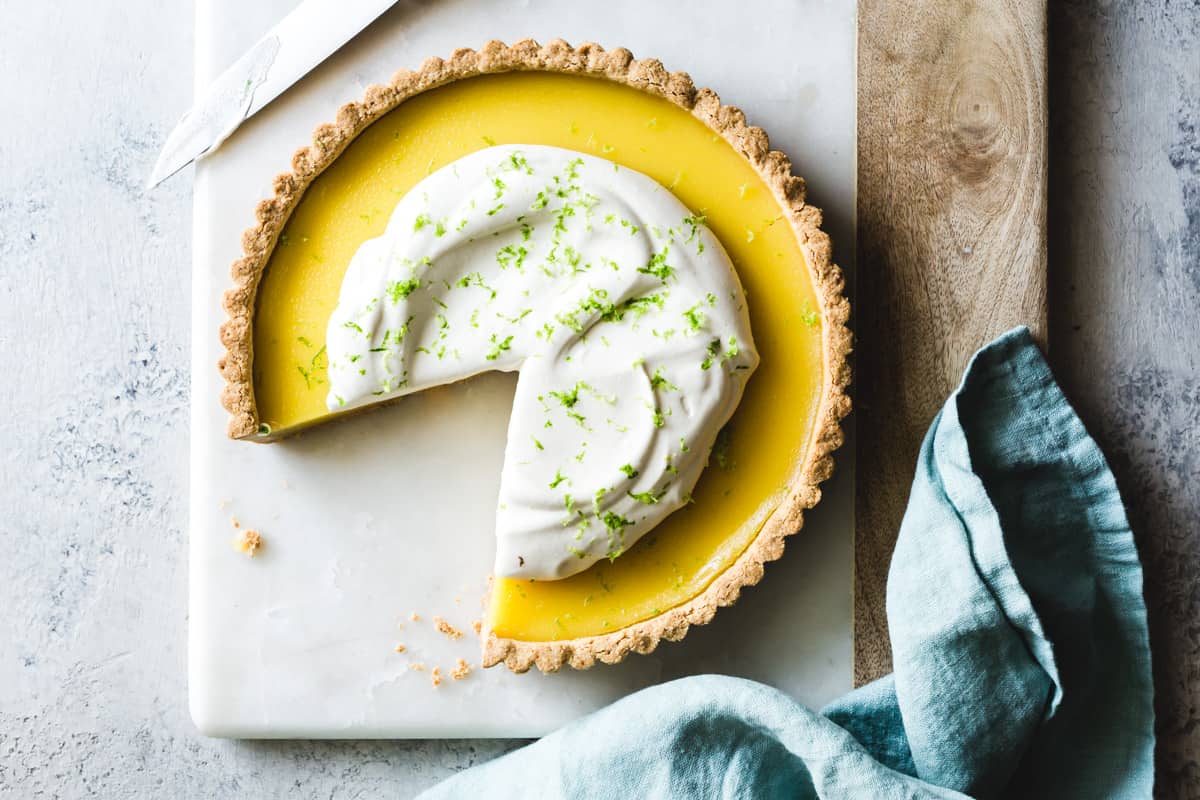 *Bojon appétit! For more Bojon Gourmet in your life, follow along on Instagram, Facebook, or Pinterest, purchase my gluten-free cookbook Alternative Baker, or subscribe to receive new posts via email. And if you make this gluten free lime curd tart, I'd love to see. Tag your Instagram snaps @The_Bojon_Gourmet and #bojongourmet.*
Gluten Free Lime Curd Tart
Print Recipe
Pin Recipe
With tangy lime curd and a nubby gluten-free almond flour crust, this tart is a dreamy twist on the classic French tarte aux citrons.
Ingredients
8

tablespoons

(113 g) cool, unsalted butter, in ½-inch dice

1

cup

(200 g) organic granulated sugar

pinch

salt

finely grated zest from 2 large limes, plus more for finishing

3

large eggs

2

large egg yolks

¾

cup

(175 ml) fresh, strained lime juice (from about 5 large, juicy limes)

lightly sweetened whipped cream, for serving

finely grated lime zest, for serving
Instructions
Prepare the gluten-free tart crust and bake it fully, then press with the back of a spoon as directed. The tart crust can be made ahead and kept at room temperature for 1 day, refrigerated for up to 4 days, and frozen for up to several months.

Position a rack in the lower third of the oven and preheat to 325ºF.

Place the butter in a heatproof bowl or large measuring cup, place a fine-mesh strainer over the top, and set aside.

In a medium, heavy-bottomed saucepan, whisk together the sugar, salt, lime zest, eggs, and egg yolks to combine. Whisk in the lime juice.

Place the pot over medium-low heat and cook, stirring constantly with a heatproof silicone spatula, until the mixture thickens enough to coat the back of a wooden spoon and reaches 170ºF on an instant-read thermometer, 5–10 minutes. As you stir, be sure to scrape the entire bottom and corners of the pan, so that the mixture heats as evenly as possible. It will start out thick and cloudy from the undissolved sugar, then will turn thin and translucent, and finally begin to thicken and turn cloudy again as the eggs cook. If the mixture starts to curdle or bubble, immediately remove from the heat and proceed to the next step.

Immediately pour the curd through the strainer and into the bowl of butter to stop the cooking. Whisk gently to incorporate the butter. Pour the cooked curd into the warm, baked crust.

Bake the tart at 325ºF until the sides are barely puffed and the center wobbles like firm Jell-O when you give it a gentle shake, 15-25 minutes. It should not be wet or watery looking (underbaked), nor should it be puffed in the center or cracking (overbaked), but a few small bubbles popping around the sides are perfect. Remove the tart from the oven and let cool for about 30 minutes, then chill until firm, 2–3 hours or overnight.

Remove the tart pan sides by placing the tart atop a large can or small, inverted bowl and gently easing the sides from the tart. Top with whipped cream and lime zest, cut into wedges, and serve.

The tart is best within the first 2 days of baking when the crust is firm, but keeps well, refrigerated airtight, for up to 3 days.
Notes
Unlike most lime pies, there's no sweetened condensed milk or raw eggs here, just a shortbread-like crust filled with buttery curd.
Do yourself a favor and choose limes that are yellow-green and thin skinned – these tend to be ripe and juicier than their forest green counterparts.
Be sure to make this well in advance of serving as it needs to chill for 3 hours.
Nutritional values are based on one of eight servings.
Nutrition
Calories:
455
kcal
Carbohydrates:
50
g
Protein:
6
g
Fat:
27
g
Saturated Fat:
14
g
Cholesterol:
163
mg
Sodium:
107
mg
Potassium:
90
mg
Fiber:
2
g
Sugar:
32
g
Vitamin A:
780
IU
Vitamin C:
7
mg
Calcium:
43
mg
Iron:
1
mg