My niece turned 16 this month. When I asked her (on Facebook) what sort of sweet treat she'd like at the surprise party she wasn't supposed to know was happening (she had found out on Facebook), she said, "Red velvet cake is my favorite."
I've always admired my niece's excellent taste, but this statement cast doubt in my mind. Granted, I had never actually tasted a red velvet cake. (Like buttermilk pie, it's a southern thing.) But it seemed to embody everything I dislike about cake: fluffy, bland, sweet, boring; and to boot, with a disgusting amount of red food coloring added in for no apparent reason.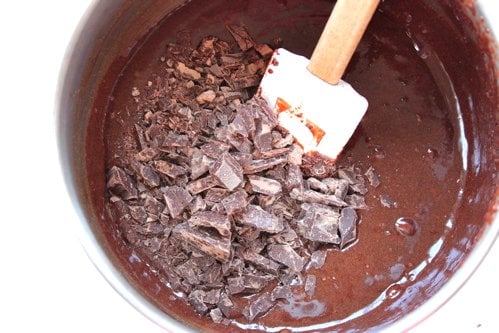 But in an attempt to win her love so that she'll care for her poor, childless aunt when I grow old (I'm only partially joking..), I found a dye-free recipe (and along with it, an exquisite recipe blog) made with pureed, cooked beets (the cupcakes, not the blog). I botched the recipe when I boiled the beets instead of roasting them, and the cupcakes turned into squat, pudding-like pucks. Despite my mistakes, they still tasted completely addictive, with a whisper of cocoa and lots of tang from lemon juice, buttermilk, and cream cheese frosting.
I whispered to my sister in the kitchen that the cupcakes were made from beets, and she proceeded to blurt out this fact to the teenagers sprawled about the living room as I proffered cakes. Shockingly, they still ate them. I guess shouldn't have been surprised – this was in Marin, after all.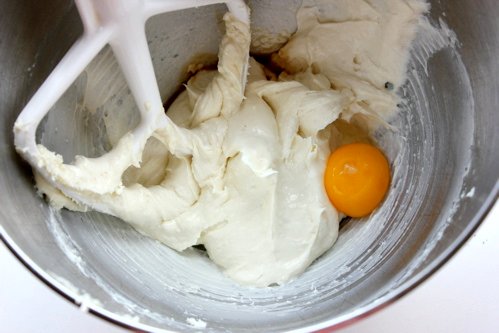 When the beet and teenage madness had ended, I had some cream cheese left over, so I whipped up David Lebovitz's cheesecake brownies from Ready for Dessert (and his blog). Unlike red velvet cake, these brownies contain much more than just a whisper of chocolate – more like a lion's roar – and they require neither food coloring nor tricky preparations of vegetables. Though I am looking forward to my niece's 17th birthday as an excuse to give the red velvet another try – assuming she still likes them in a year. (I hope I don't become one of those annoying yet well-meaning aunts who keeps giving you ruffled, pink night gowns well into your 30's, or who makes you pot roast every Sunday when you've been vegetarian for 10 years.)
I also hope cheesecake brownies never go out of style, because they are a marriage of two of the worlds most perfect foods. David's recipe gets the proportions just right, and includes chocolate chunks, which give the brownies a bit of pleasing texture (but not in an irritating, nutty way). As a bonus, the brownie batter is all mixed in one pot. I added a bit of espresso powder and traded the AP flour for sweet rice flour, though you'd never know they were gluten-free upon tasting them. They are fudgy, rich and almost black from dutch-processed cocoa powder and tons of melted chocolate. The tang of fluffy cheesecake offsets the bittersweet richness, and the salt makes you reach for another in spite of all resolutions not to.
This is a classic confection, but I'm thinking of a couple of twists one could make, like swapping the cream cheese for mascarpone (I just saw a recipe for this in The New American Cheese), or using half goat cheese. Or you could make reddish-velvet cheesecake brownies by using a beet brownie batter as the base. I'm also curious how the cheesecake would work swirled into these bittersweet whiskey brownies;I barely resisted adding bourbon to the batter in these.
If you do either of the latter, don't tell the teenagers.
On second thought, don't tell their parents.
Cheesecake/Brownies:
(Optionally Gluten-Free) Chocolate Bouchons Cakes with Black Pepper Ice Cream
(Gluten-Free) Über Chocolate Cookies
Huckleberry-Chèvre Cheesecake Squares
One year ago:
Two years ago:
Creamy Sesame Soba Noodles (I just made these again – so tasty!)
Rosemary Pine Nut Biscotti
(Gluten-Free) Espresso Cheesecake Brownies
Adapted from David Lebovitz, master of all things decadent
I used Scharffen Berger's 70% bittersweet chocolate for both the batter and the chopped chocolate, and this produces a very intense, bittersweet brownie. Use a sweeter chocolate to make them more kid-friendly if you like. To warm your cream cheese in a hurry, cut it into small cubes, place them ina metal bowl ina single layer, and place it on a dish towel on top of the oven while it preheats and while you make the brownie batter.
If gluten isn't an issue for you, you can use all-purpose flour in place of the rice flour. I used an 8×8″ pan here, but can also bake these in a 9×9″ pan.For the cleanest cuts, chill the baked and cooled brownies until firm, about 2 hours, then dip a large chef's knife in hot water and wipe it clean between each cut. Let the brownies come back to room temperature before indulging.
Makes 16 small but rich brownies
6 tablespoons (3 ounces/85g) unsalted butter, cut into pieces
4 ounces (115g) bittersweet or semisweet chocolate, chopped (1 scant cup) (see headnote)
2/3 cup (130g) sugar
1 tablespoon instant espresso powder
2 large eggs, at room temperature
1 teaspoon vanilla extract
1/2 cup (70g) sweet white rice flour
1 tablespoon unsweetened cocoa powder (dutch-processed or natural)
1/4 teaspoon salt
1/2 cup (2 3/4 ounces/80g) chopped chocolate or chocolate chips
8 ounces (200g) cream cheese, at room temperature
1 large egg yolk
5 tablespoons (75g) sugar
1/4 teaspoon vanilla extract
Make the brownie batter:
Position a rack in the center of the oven and preheat to 350ºF. Line an 8×8 or 9×9″ square baking pan on all sides with parchment paper or heavy-duty aluminum foil, leaving a 2″ overhang.
In a medium saucepan, melt the butter over medium heat. Reduce the heat to low, add the chocolate, and stir until just melted. Remove from the heat, and whisk in the sugar and espresso powder. Whisk in the eggs and vanilla, then the flour, cocoa and salt. Stir in the chocolate chunks.
Make the cheesecake swirl:
In the bowl of a stand mixer fitted with the paddle attachment (or in a medium bowl fitted with your arm and a wooden spoon), beat the cream cheese on medium-low until smooth, scraping down the sides of the bowl as necessary. Add the sugar and beat on medium speed until fluffy, a few minutes. Beat in the yolk and vanilla extract.
Scrape the brownie batter into the prepared pan, and dollop the cheesecake mixture over the top in 7 or 8 big blobs. Drag the tip of a paring knife through the batters back and forth a few times in both directions to swirl. (Don't over-swirl – big pockets of cheesecake are the point here.)
Bake the brownies until puffed all over, about 30 minutes, rotating the pan halfway through baking.
Let the brownies cool completely in the pan, then use the parchment handles to lift the mega brownie out. (Optionally, chill the brownies until cold for the cleanest cuts). Use a large chef's knife dipped in hot water and wiped clean between each cut to trim away the outer 1/4″ (if you like), then cut the brownies into 16 squares.
The brownies will keep for up to 2 days at cool room temperature, up to 5 in the fridge, or up to 1 month double-wrapped and in the freezer. (David says you can eat them frozen!) I like them best at room temperature, when they are soft and gooey.