When cherries are at their peak, this French dessert is easy to whip up. Somewhere between a dutch baby and a pudding cake, gluten-free cherry clafoutis combines fresh cherries steeped in brandy or whiskey with a vanilla scented almond flour batter. Easy peasy summer dessert bliss.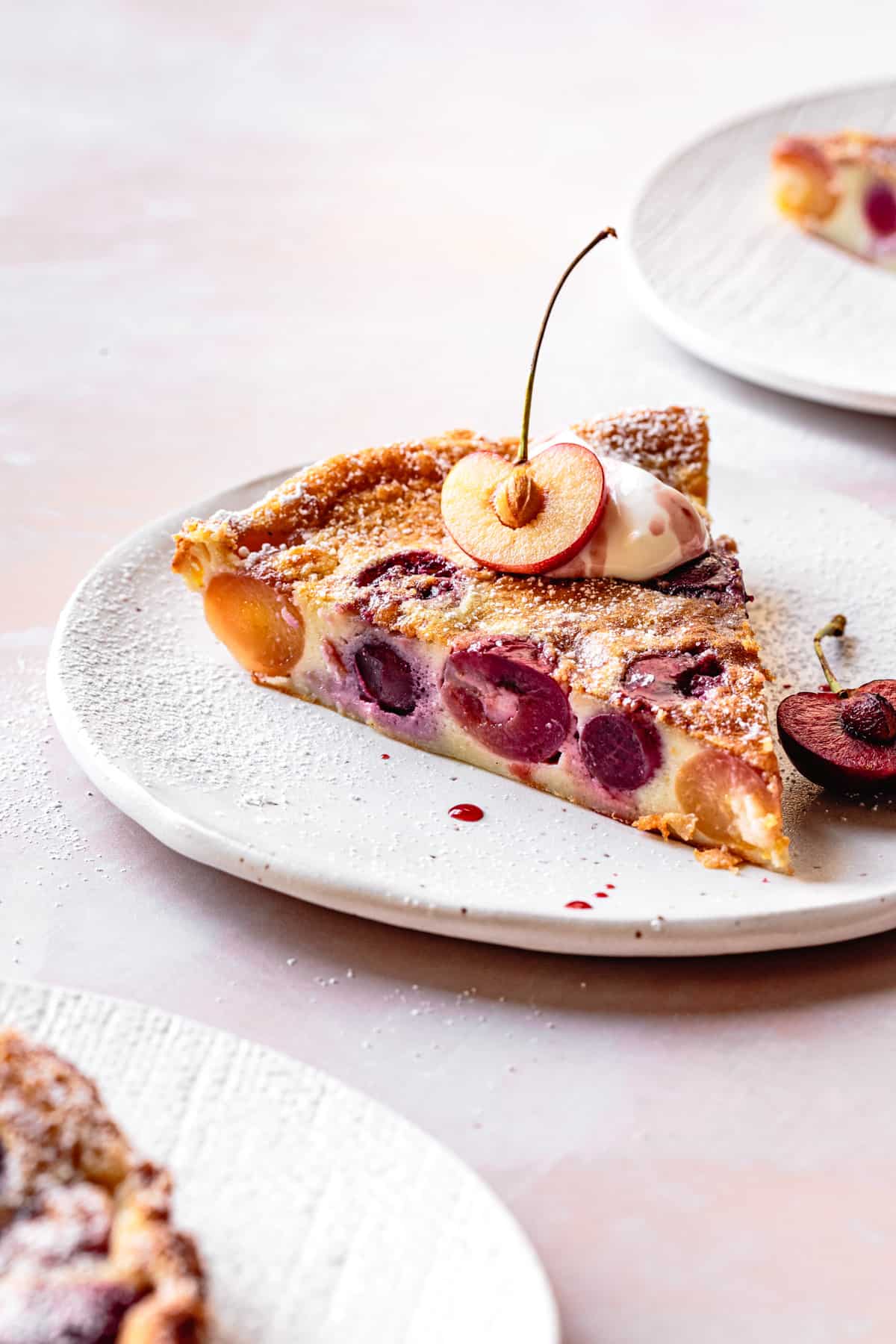 I've been guilty of cherry hoarding this summer. I just can't resist snapping up a bag or two when I see them, all plump and sweet, for a brief period in July. Golden and blush-hued Raniers are especially a treat. As such, we've ended up with entirely too many cherries in the fridge, more than we can possibly eat.
To ameliorate our cherry glut, I had grand plans of baking a gluten-free version of this cherry frangipane tart from the archives to share here. It's so good and so in need of fresh photos. I teased a few process shots in my Instagram stories. But I decided to get fancy when adding the cherries, halving them and scattering them over the top of the frangipane. What emerged from the oven was, though delicious, not at all picturesque. The beautiful crimson and blond interiors of the cherries turned dingy brown in the oven.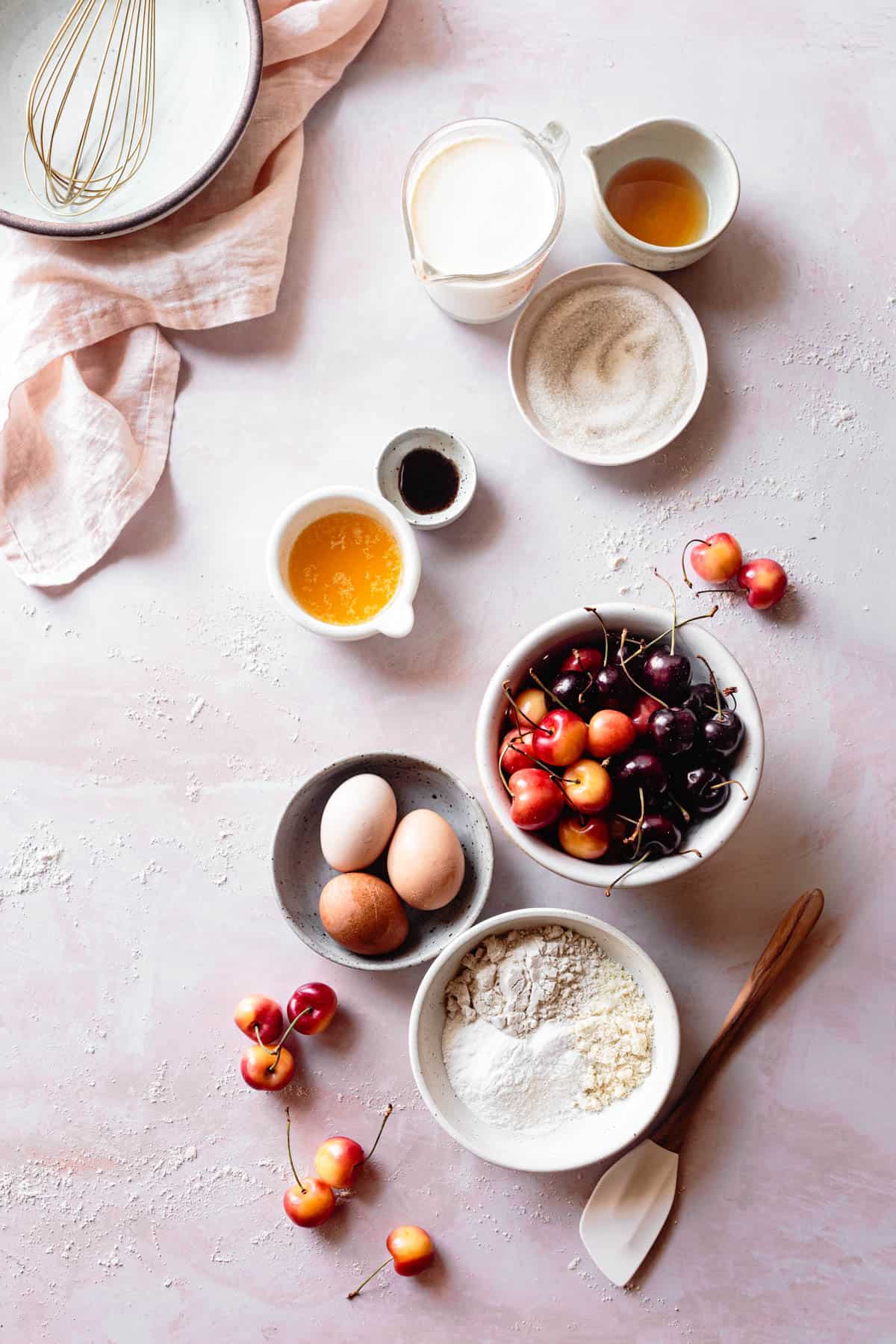 I haven't wanted to stay inside baking as much as I usually do, and despite my best intentions, the days kept getting away from me. Since San Francisco seems to be the only cool place in the Northern Hemisphere right now, I hopefully did everyone a favor by sharing this recipe for easy and quick-baking gluten-free cherry clafoutis instead.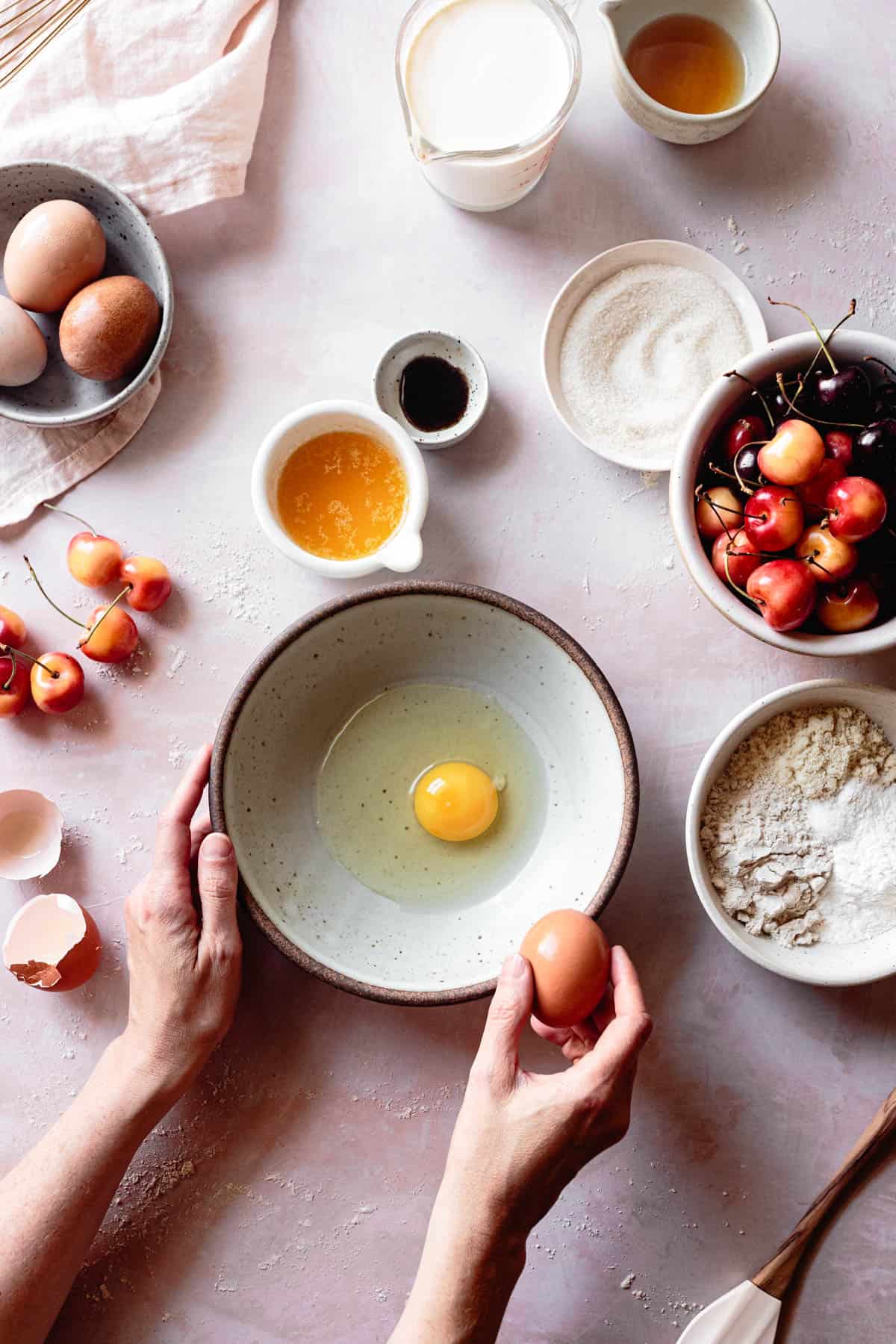 Clafoutis has been a favorite summer dessert in the Bojon kitchen since I introduced Jay to it and waxed poetic in 2010 with a recipe for gluten-full apricot cherry clafoutis. I then featured an apricot clafoutis with cardamom and honey in my book Alternative Baker, as well as a fall version with pears, pomegranate, and pistachios. I've toyed with cherry versions made with chestnut flour and chocolate chunks.
But this gluten-free cherry clafoutis is as close to classic as it gets, and it truly needs no embellishment.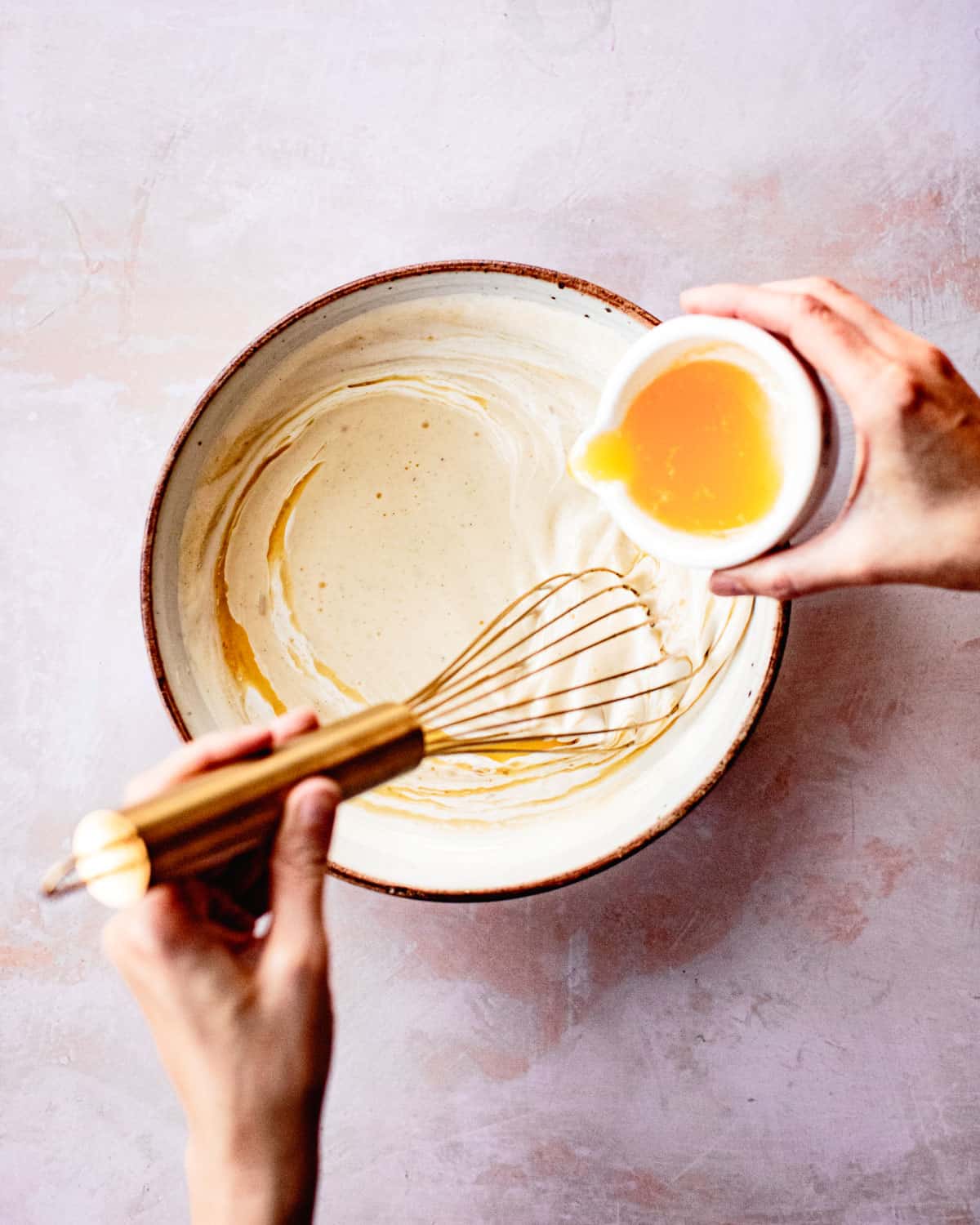 What is Cherry Clafoutis?
This is a question I once pondered myself when I first came across a recipe online many years ago. I have yet to find an entirely succinct answer because clafoutis is truly unlike any other dessert I've had.
Clafoutis hails from the Limousin region of France where black cherries abound. It most closely resembles a richer, sweeter Dutch baby-ish batter poured around brandy-infused cherries and baked. The pits are traditionally left in the cherries and their pits infuse the dish with the taste of bitter almond. I've never been brave enough to try leaving the pits in, but I'd like to give it a try someday.
Fresh from the oven, clafoutis batter tastes like a thick baked custard wrapped around luscious fruit. In every spoonful you get a bite of fresh cherry infused with your spirit of choice, plus creamy, buttery batter redolent with almond and vanilla. Like most French desserts, clafoutis isn't overly sweet. Despite tasting rich and decadent, it has some nutritional value too – lots of fresh fruit, protein-rich eggy batter, and minimal sugar (just a couple of teaspoons per serving).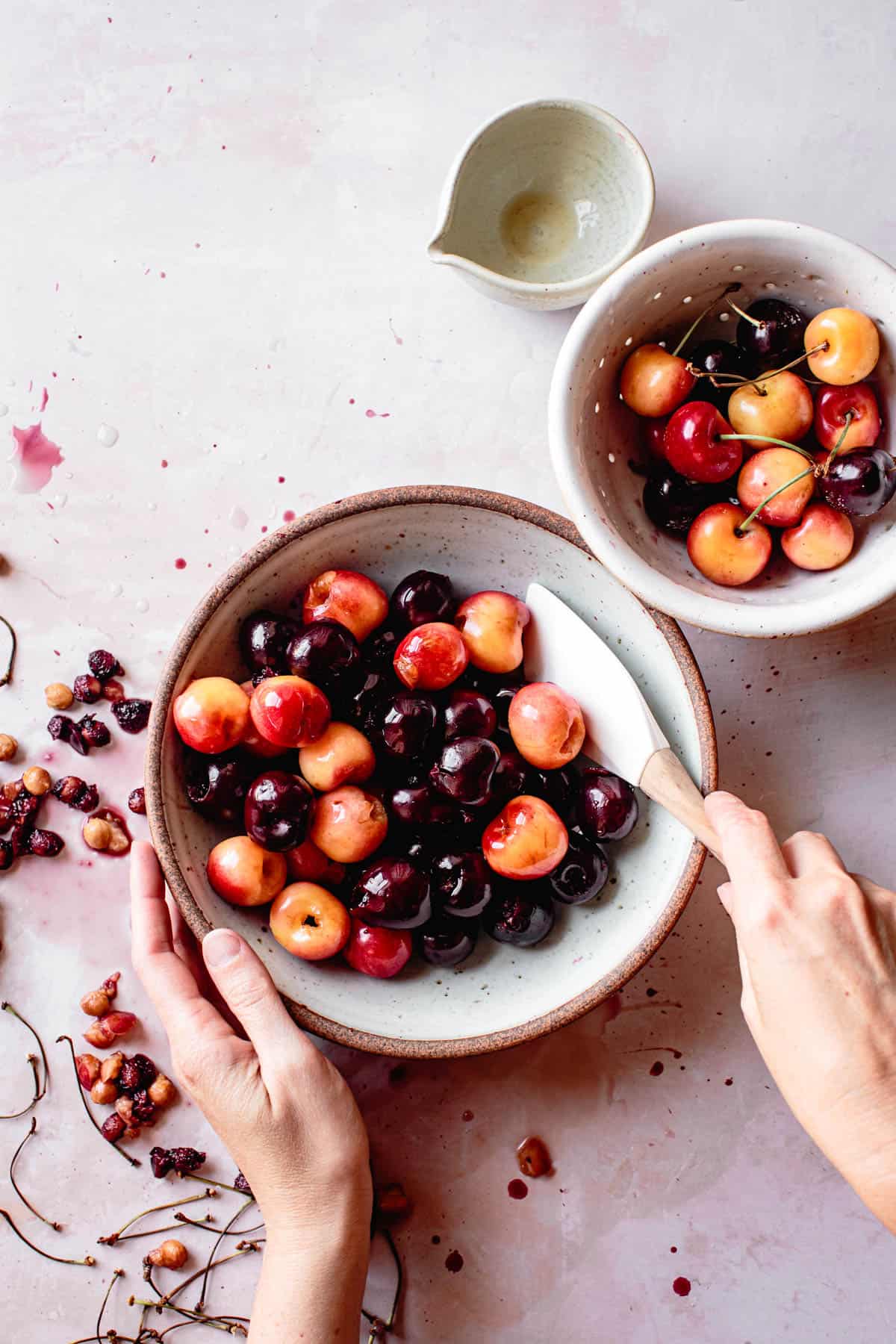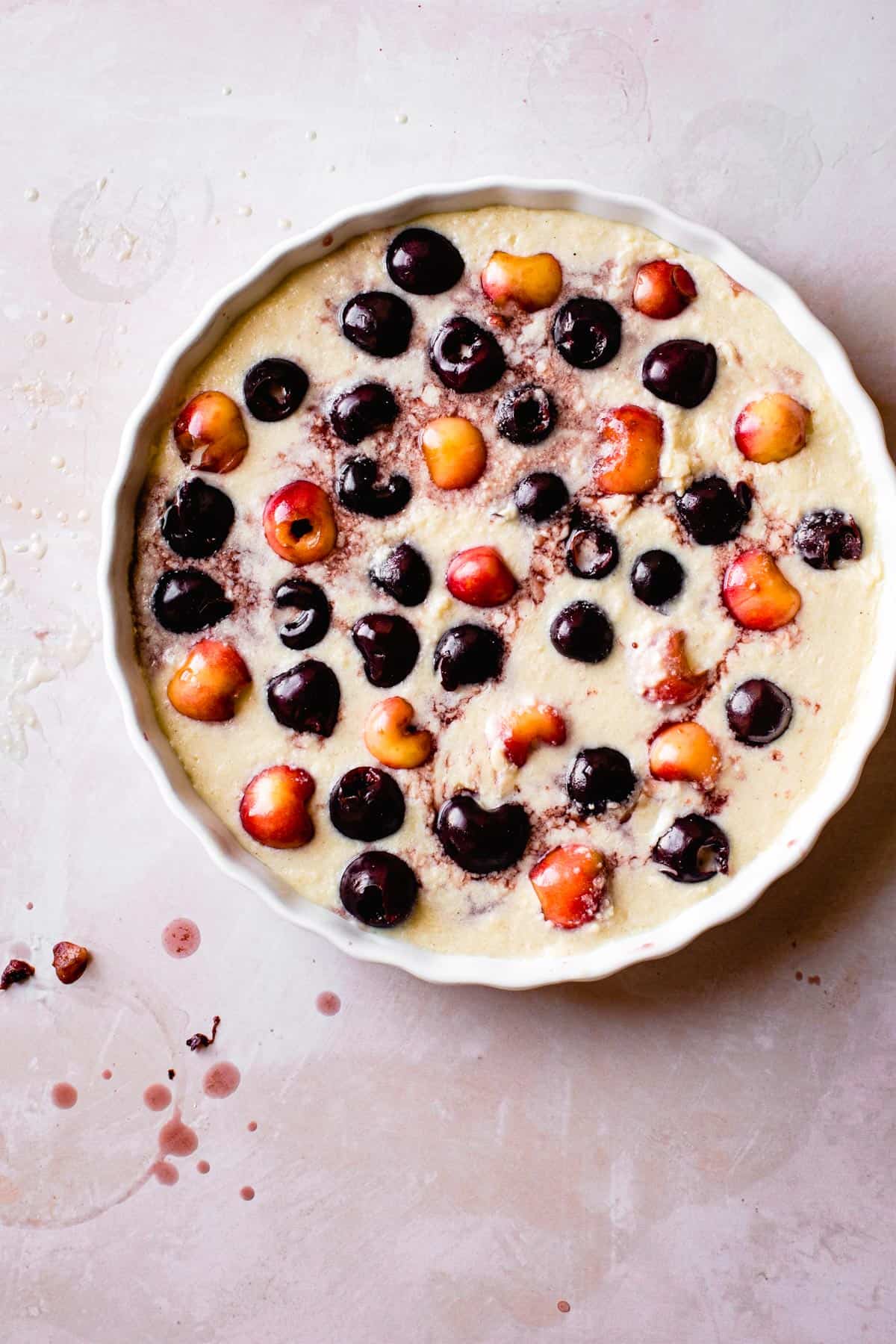 Clafoutis vs. Flaugnarde
Clafoutis technically must be made with cherries to be called such; when made with other fruits, it's considered Flaugnarde. However, clafoutis is the better-known term in the US and recipes by english speakers abound for clafoutis made with various fruits.
That said, you could pair any soft fruit you like with this batter. Plums, berries, peaches, and apricots all work beautifully as do ripe pears and roasted sweetened rhubarb.
How to Make Gluten-Free Cherry Clafoutis
Unless you're going traditional and leaving the pits in, having a cherry pitter is essential. I only use mine a few times a year but I consider it a good investment as it only takes 5 minutes or so to pit the generous pound of cherries used in this recipe. If you don't have a cherry pitter, there are DIY methods online, or you can start with frozen pitted cherries (I won't tell).
Once your cherries are stemmed and pitted, toss them with a bit of brandy or whiskey and let them sit while you make the batter.
Crack eggs into a bowl and whisk in the flours, sugar, and salt. Whisk in the melted butter and vanilla, then the milk and cream. Don't do what I did and fail to follow your own recipe, adding the butter at the end where it congeals into a lumpy batter that bakes up ugly (though tasty) AF.
Pour the batter into a buttered baking dish. I use a 10-inch round ceramic tart pan, but any baking dish with similar dimensions will work. Top with the boozy cherries and drizzle their juices over the top. Bake until puffed and golden.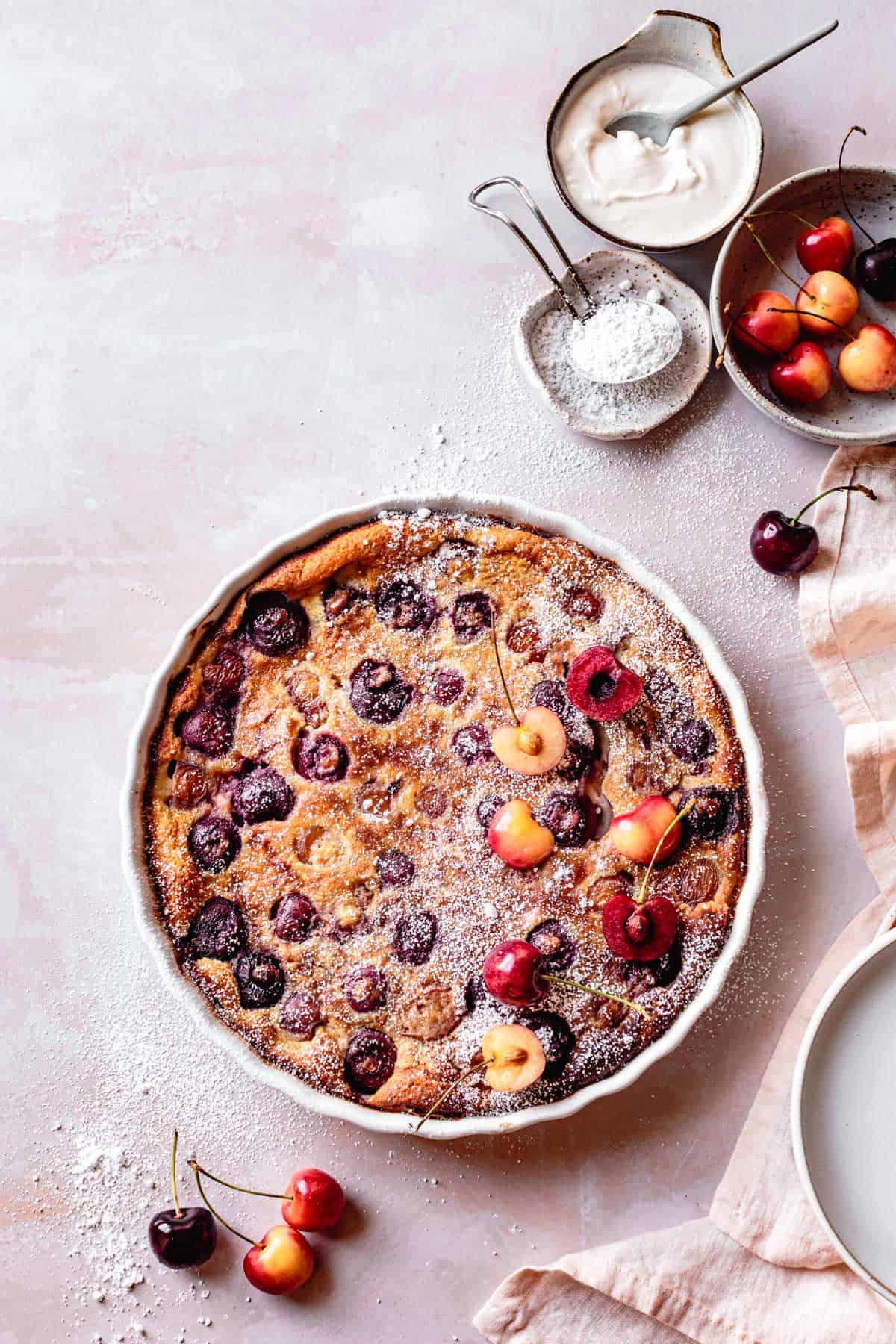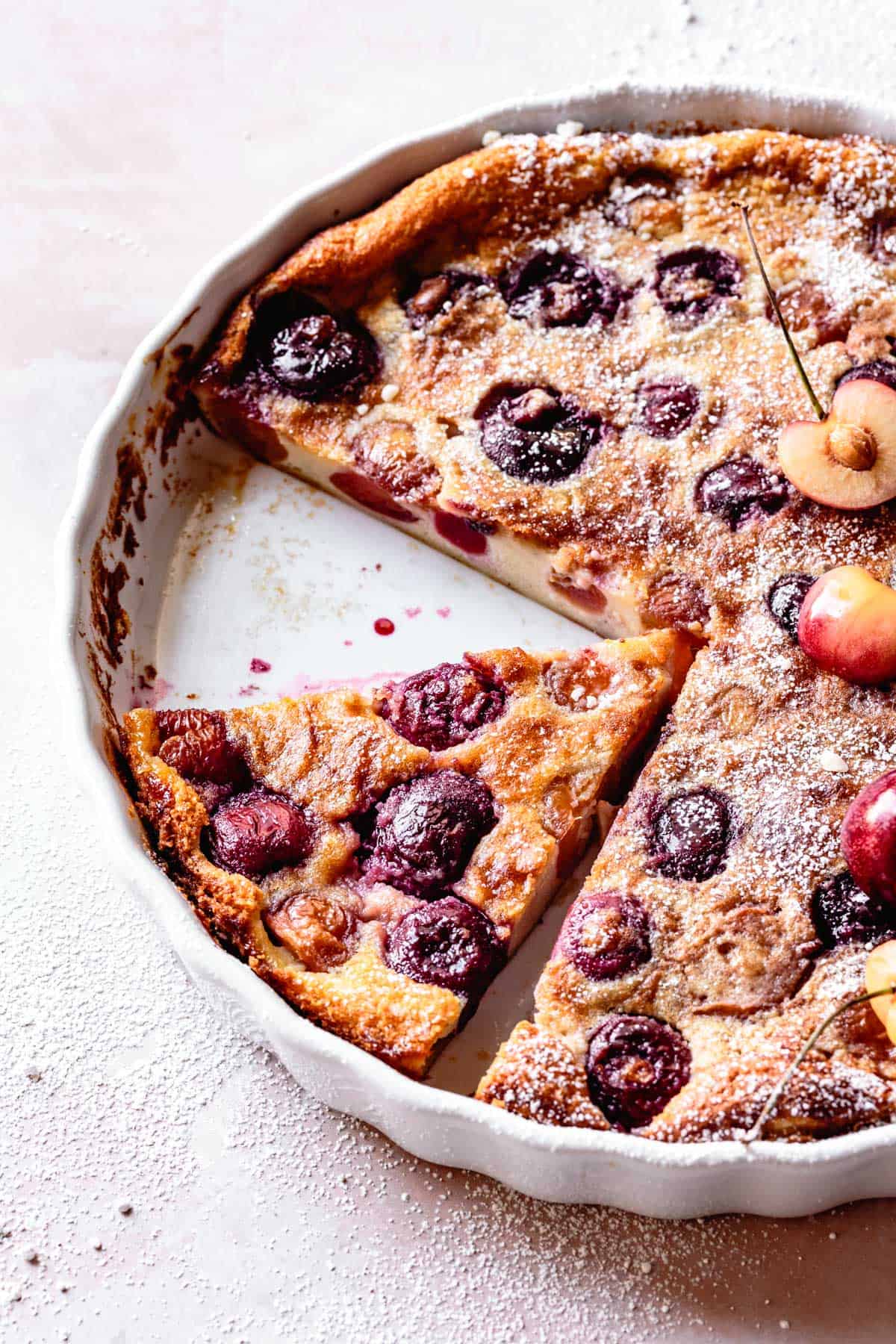 Alternative Flours for Gluten-Free Clafoutis
After testing various flour combinations for gluten-free clafoutis, I've found that equal parts blanched almond flour, sweet rice flour, and oat flour create the nicest consistency.
The almond flour adds that quintessential almond flavor and protein that helps the batter puffing softly in the oven. Sweet rice flour helps replace some of the sticky starchiness that wheat flour contains. And oat flour lends a soft, pillowy texture and a touch of earthy flavor.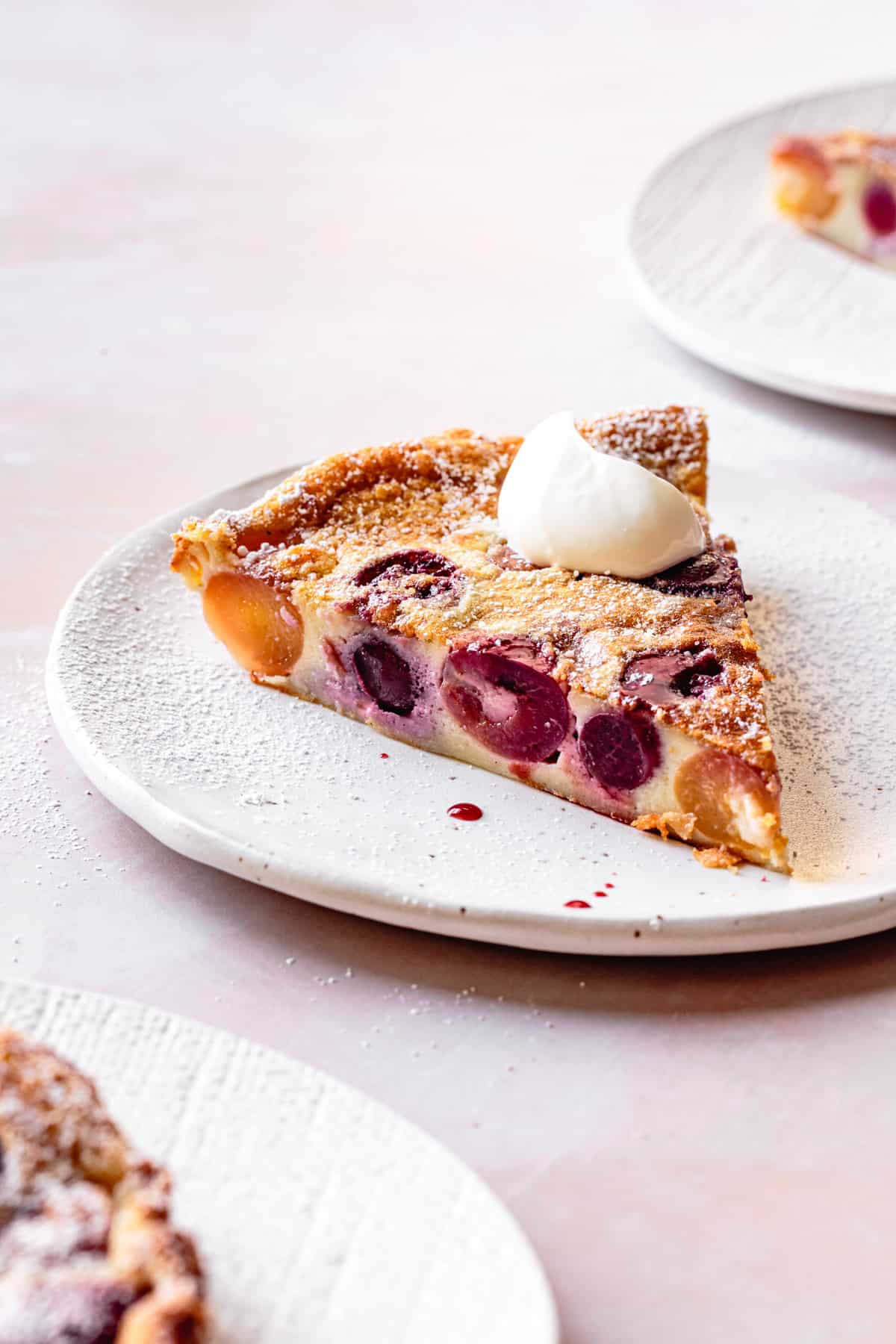 How to Serve Gluten-Free Clafoutis
This gluten-free cherry clafoutis is best served slightly warm, when the batter is soft enough to enjoy with a spoon and the cherries taste as though ripened in the sun. A dusting of powdered sugar over its softly rumpled face is optional, but it adds a nice texture and gentle hit of sweetness. I like a dab of crème fraîche or lightly sweetened whipped cream on top. Leftover clafoutis can be stored covered in the refrigerator. I'm not one to shy away from eating slices cold from the fridge, but it really is best to warm them up when sharing with company.
Are you a fan of clafoutis? Let me know in the comments below!
Looking for more cherry recipes? Try these:
*Bojon appétit! For more Bojon Gourmet in your life, follow along on Instagram, Facebook, or Pinterest, purchase my gluten-free cookbook Alternative Baker, or subscribe to receive new posts via email. And if you make this gluten-free cherry clafoutis, I'd love to see. Tag your Instagram snaps @The_Bojon_Gourmet and #bojongourmet.*
Gluten-Free Cherry Clafoutis
Print Recipe
Pin Recipe
This French baked custard studded with juicy cherries infused with brandy or whiskey sits somewhere between a dutch baby and a pudding cake. Fresh cherries meet vanilla scented almond flour batter in this easy peasy summer dessert. Bliss.

Ingredients
1

generous pound (500 g) cherries, stemmed and pitted (about 3 cups)

2

tablespoons

(30 ml) brandy or bourbon (use brandy if highly gluten-sensitive; whiskey may contain trace amounts of gluten)

3

tablespoons

(42 g) melted and cooled butter, plus 1 teaspoon softened butter for the pan

3

large eggs

¼

cup

(50 g) organic granulated cane sugar

¼

cup

(36 g) sweet rice flour

¼

cup

(27 g) blanched almond flour

¼

cup

(25 g) GF oat flour

½

teaspoon

fine sea salt

¾

teaspoon

vanilla paste or extract

¾

cup (180 ml) whole milk

¼

cup (60 ml) heavy cream

powdered sugar, for serving (optional)

crème fraîche or lightly sweetened whipped cream, for serving (optional)
Instructions
Position a rack in the center of the oven and preheat to 400ºF (200ºC). Rub a 10-inch ceramic tart or quiche pan (or a 9-inch pie or cake pan) with the 1 teaspoon butter and place on a rimmed baking sheet to catch any drips.

Combine the pitted and stemmed cherries with the brandy or whiskey in a medium bowl and set aside while you make the batter, tossing a few times.

In a large bowl, whisk the eggs until smooth. Push the almond, oat and rice flours and the sugar and salt through a strainer directly into the egg mixture, adding back any bits that get caught in the strainer. Whisk until very smooth, then whisk in the melted butter and vanilla until smooth. Gradually whisk in the milk and heavy cream. The consistency will be that of a thick crepe batter. The batter can be made a day ahead and chilled overnight. If it separates, whisk it to recombine.

Pour the batter into the pan and arrange the cherries over the batter. Drizzle any cherry/brandy juice over the top.

Bake the clafoutis until puffed and golden and a toothpick inserted near the center comes out clean, 30–35 minutes. Remove and let cool for at least 20 minutes. Sift a bit of powdered sugar over the top if you like just before serving.

Serve the clafoutis warm scooped into bowls, or at room temperature cut into wedges on plates. Top with crème fraîche or whipped cream if you like.

Leftovers can be refrigerated airtight for up to several days; reheat prior to serving if you like.
Notes
Dairy-Free Clafoutis: Use full-fat canned coconut milk in place of the milk and cream and vegan butter in place of the dairy butter. Refined sugar-free clafoutis: Use an unrefined sweetener in place of the sugar such as coconut sugar or maple sugar. Or use a liquid sweetener such as honey or maple syrup and add it along with the melted butter. Any fruit clafoutis: No cherries? No problem! Feel free to make this with whatever fruit you have on hand: berries of any kind, halved apricots or plums, sliced peaches, fresh figs, rehydrated prunes, roasted pears or rhubarb, poached quince, etc.
Nutrition
Calories:
185
kcal
Carbohydrates:
23
g
Protein:
4
g
Fat:
8
g
Saturated Fat:
3
g
Cholesterol:
73
mg
Sodium:
207
mg
Potassium:
163
mg
Fiber:
2
g
Sugar:
14
g
Vitamin A:
257
IU
Vitamin C:
4
mg
Calcium:
27
mg
Iron:
1
mg