This paleo pie crust recipe rivals a wheat crust! Almond flour, cassava flour, and tapioca flour build a smooth, pliant dough that you can roll, fold, flute, and weave. Gluten-free, grain-free, dairy-free, egg-free, with vegan and nut-free options.
Use this grain-free pie crust in any pie recipe: pumpkin, apple, pecan, sweet potato - the pie's the limit. Thanks to Bob's Red Mill for sponsoring this post!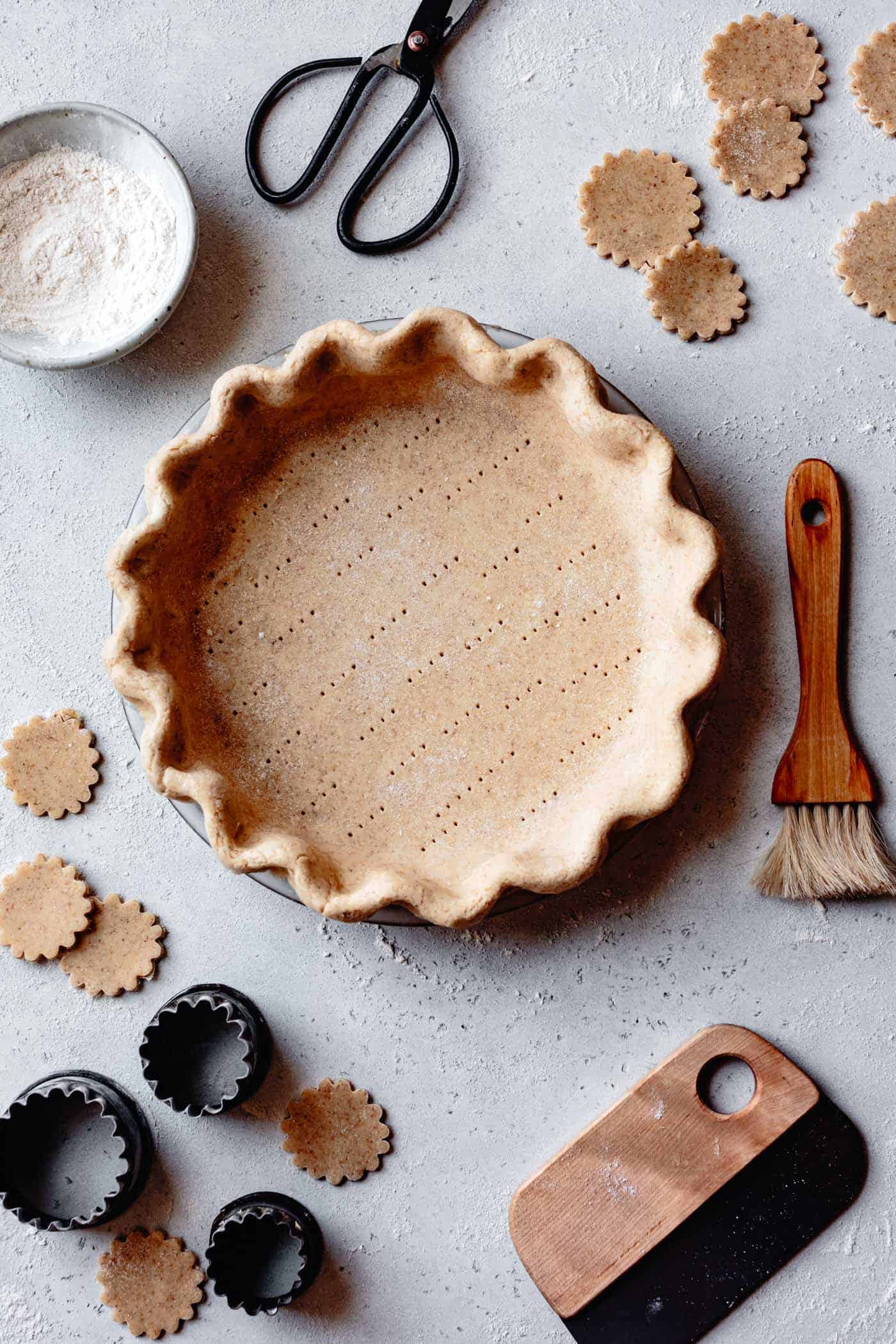 As a former pastry chef, I have strong opinions about pie crust: it needs to be buttery, flavorful, tender, and flaky or it isn't worth the effort.
Most paleo pie crust recipes use a single flour and they tend to turn out pale, crumbly crusts that don't feel or taste like the real deal. I set out to see whether I could make a paleo pie crust that rivaled my favorite gluten-free pie crust.
Using that recipe as a starting point, I tested three versions: one with all cassava flour, one with almond flour, and one with tiger nut flour. While all versions were good, the version made with cassava, almond, and tapioca flours was the clear winner. It tastes every bit as buttery and delicious as its wheaty counterpart.
Cassava & Almond Flour Pie Crust
This paleo pie crust recipe tastes and feels shockingly like a wheat flour dough. A few techniques borrowed from classical pastry create a smooth, pliable dough. The crust bakes up tender and flaky, just the thing to encase your favorite galette, quiche, pie, or tart.
PLUS! Sarah and I made a stop-motion video to show you exactly how to do it.
Grain-Free Pie Crust Ingredients and Substitution Suggestions
Flours
A blend of cassava flour, almond flour, and tapioca flour create a pie crust that feels and tastes surprisingly like a wheat crust. Bob's Red Mill flours are milled in certified gluten-free facilities. Their fine grinds join forces here: cassava flour's sticky quality replaces the need for gluten, tapioca flour makes the dough extensible (stretchy), and blanched almond flour adds richness, tenderness, and browning. These mild-flavored flours make a neutral dough that pairs well with any recipe, sweet or savory.
You can swap in almond meal, hazelnut flour, tiger nut flour, or more cassava flour in place of the almond flour. You could also try using Bob's Paleo Baking Flour in place of all of the flours; it has a similar blend of ingredients.
Other Ingredients
Ground chia seed or flaxseed adds more sticky goodness to the dough, helping to make it pliable and flaky. I use white chia seed or golden flax, which I grind in a coffee grinder, as the color blends in with the dough. But any chia seed will work. Alternatively, omit the seeds and use 1/2 teaspoon xanthan gum instead.
Butter adds richness and flaky layers. Some paleo-dieters include butter in their meals, preferring grass-fed butter, while others stick to ghee or plant-based butters. Butter seems to be ok for me in moderation, so I use it here. If ghee is your preference, follow the method in my ghee pie crust recipe to chill and incorporate the ghee. For a vegan almond flour pie crust, use vegan butter, coconut oil, or palm oil instead.
Salt sharpens the flavors.
Ice water brings the dough together while keeping the butter cold.
Lemon juice or apple cider vinegar help tenderize the dough.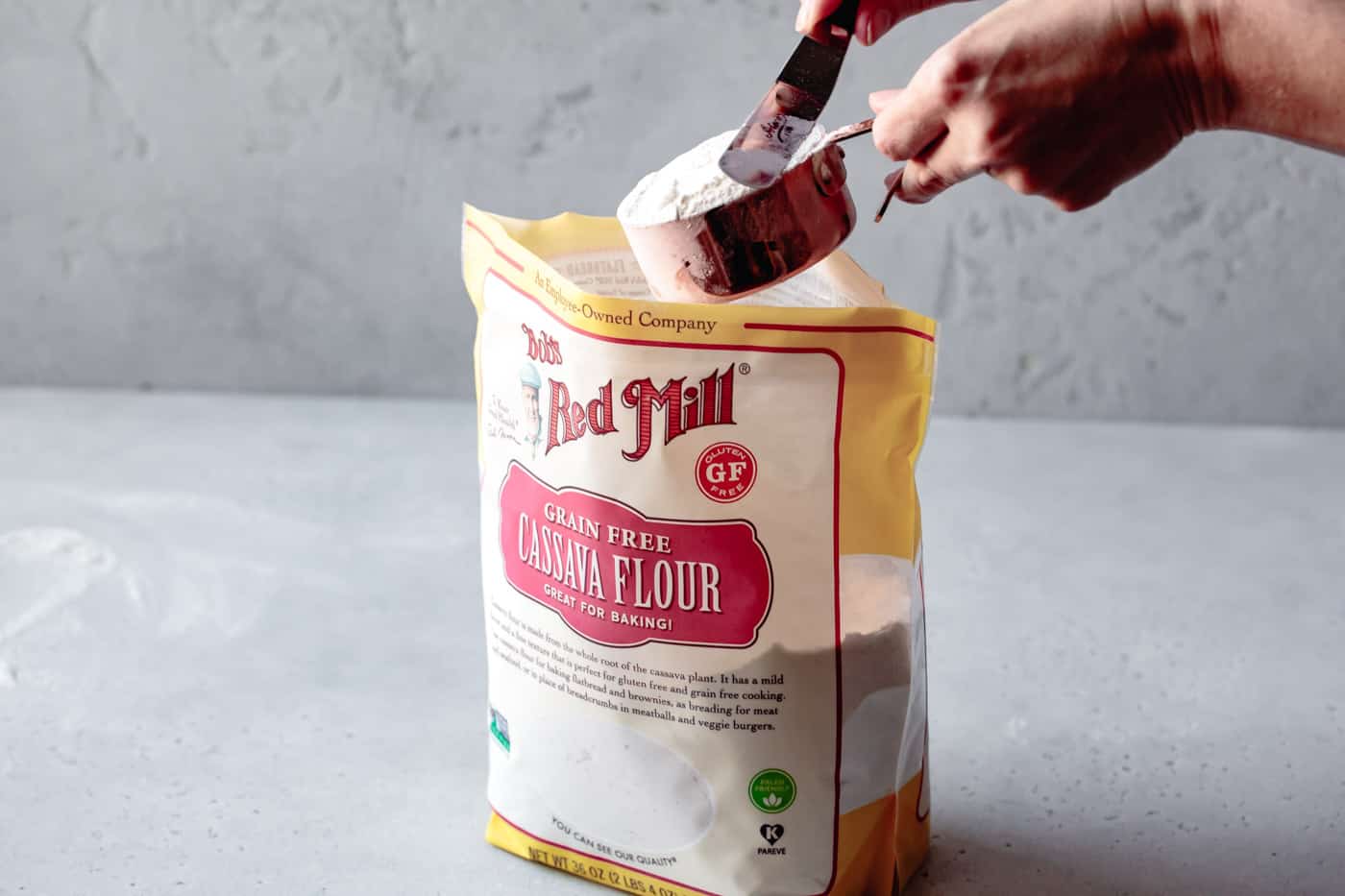 Method
The key to this gorgeous grain-free pie crust lies not only in the blend of ingredients, but also in the method.
Hydration
First, we make sure to hydrate the dough properly. Proper hydration helps activate the sticky qualities of the tapioca flour and chia seed to mimic gluten. This dough needs to feel slightly more moist than a wheat flour dough. When squeezed, it should easily come together, but it shouldn't feel wet or sticky.
Butter Size and Temperature
Next we start with cold butter and we leave lots of nice butter chunks in the dough. There should be some chunks that are the size of large peas or small hazelnuts, with some butter worked into the dough.
Turning the Dough
After the first chill, we give the dough a couple of "turns" meaning we roll it out and fold it up. This technique is traditionally used to make puff pastry and croissants. In fact, this paleo pie crust recipe is similar to a "rough puff pastry." As the dough is rolled out, the butter chunks elongate into sheets. When we fold up those sheets, we get many thin layers of butter and dough. When the cold dough hits the hot oven, the butter gives off steam which lifts the layer of dough above it.
If the butter gets worked into the dough more, the resulting crust will be more tender and soft, while more large chunks of butter make a crisper, flakier dough.
How to make paleo pie crust: step-by-step photos and instructions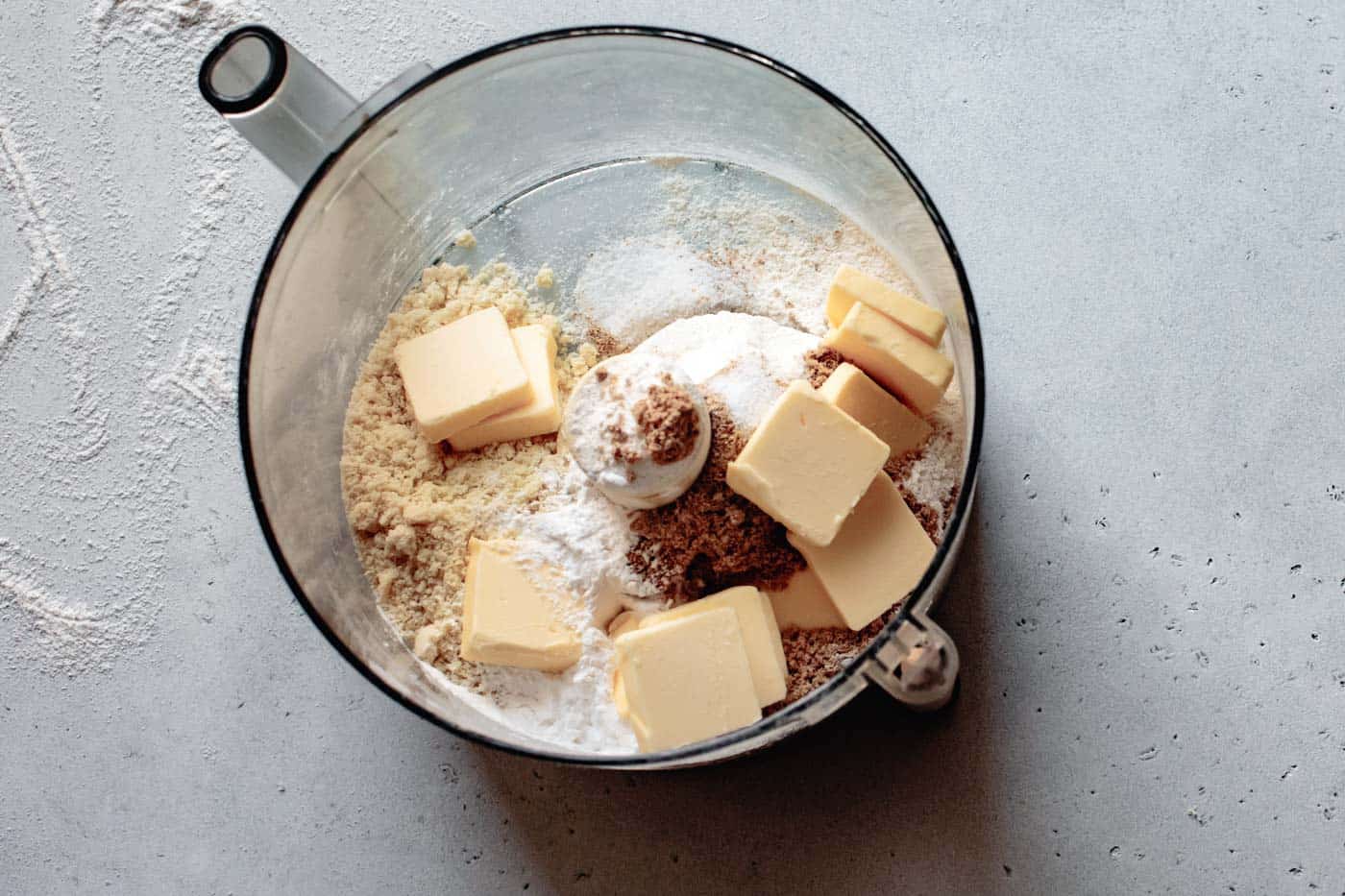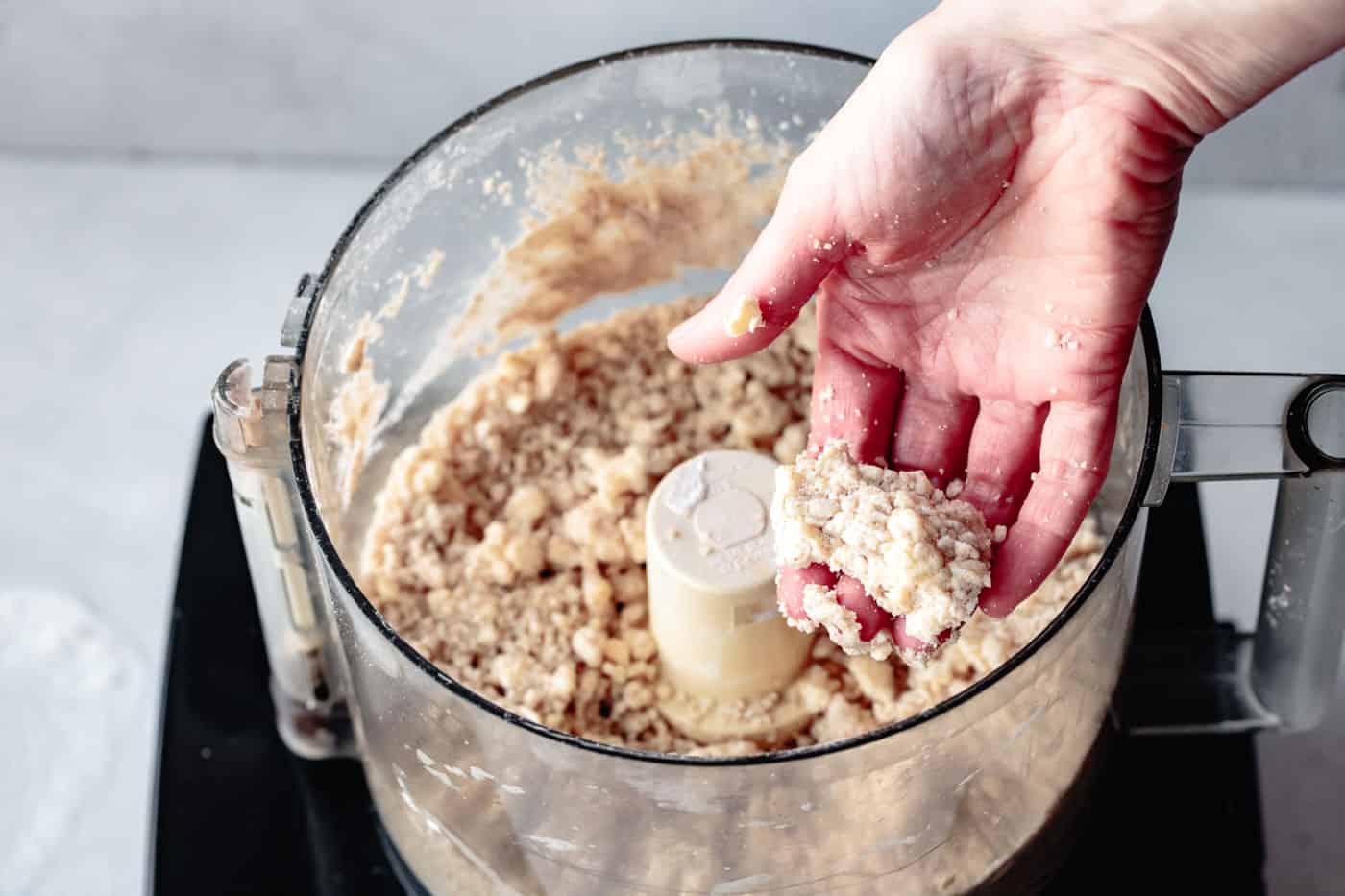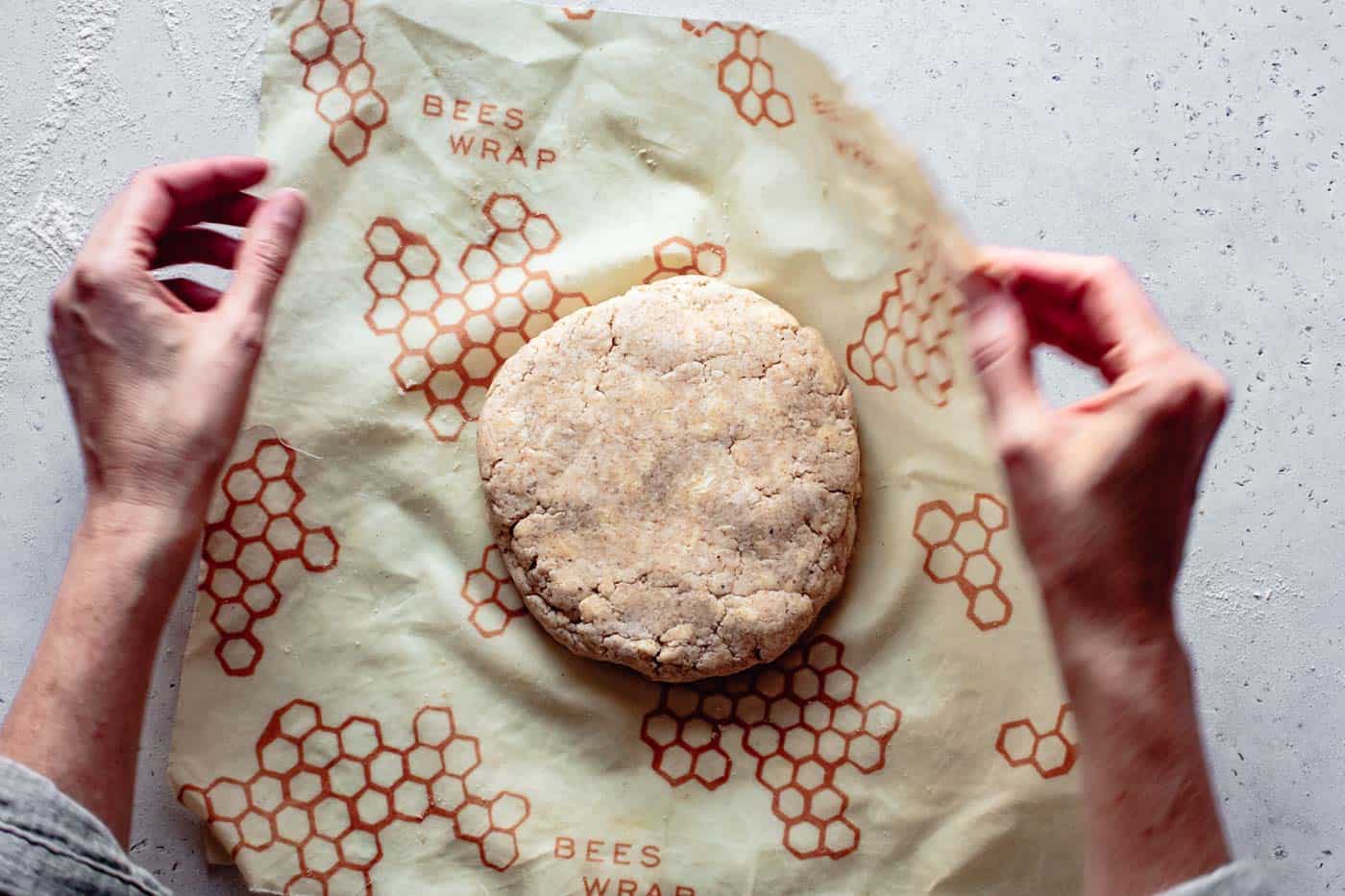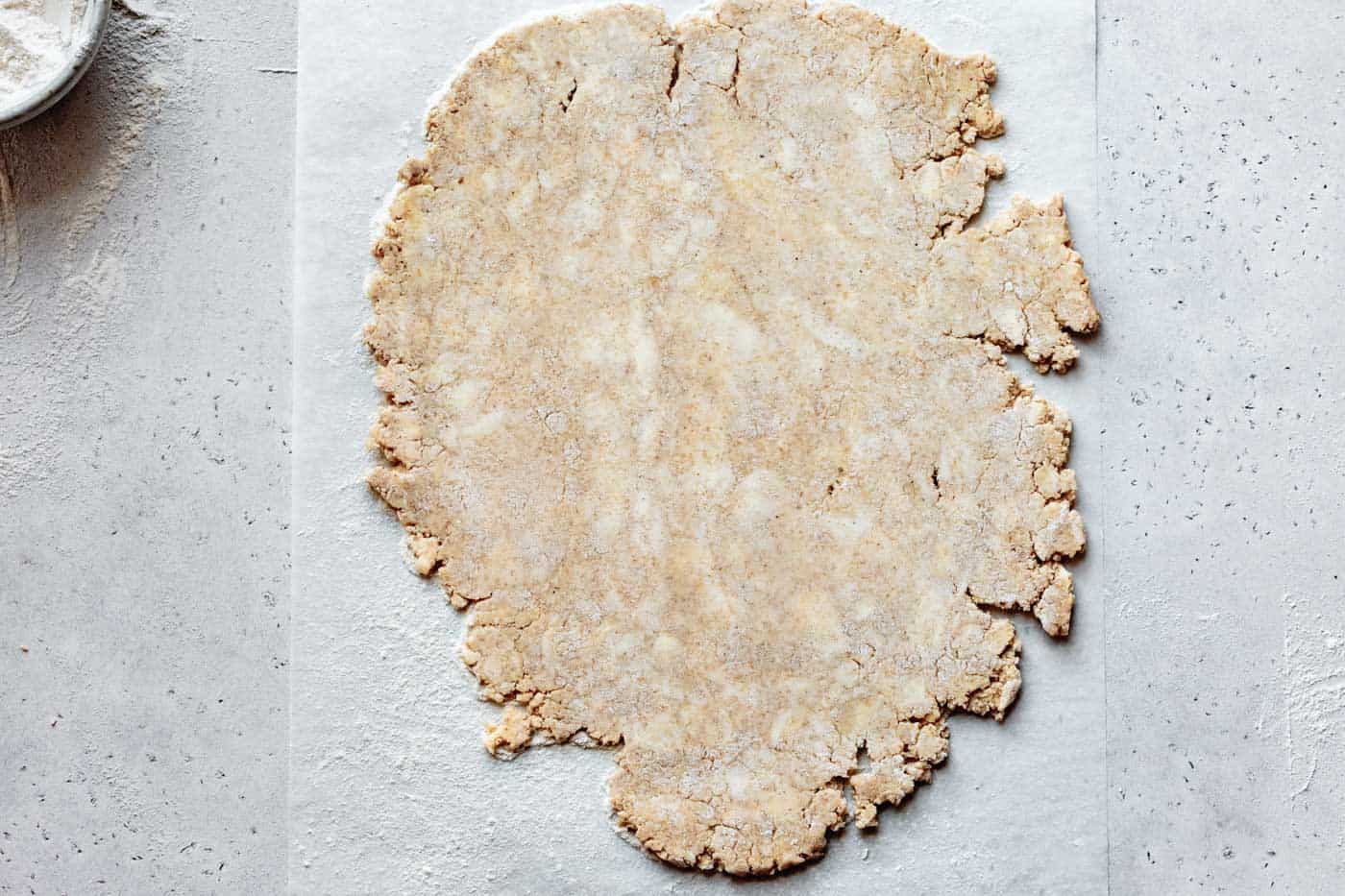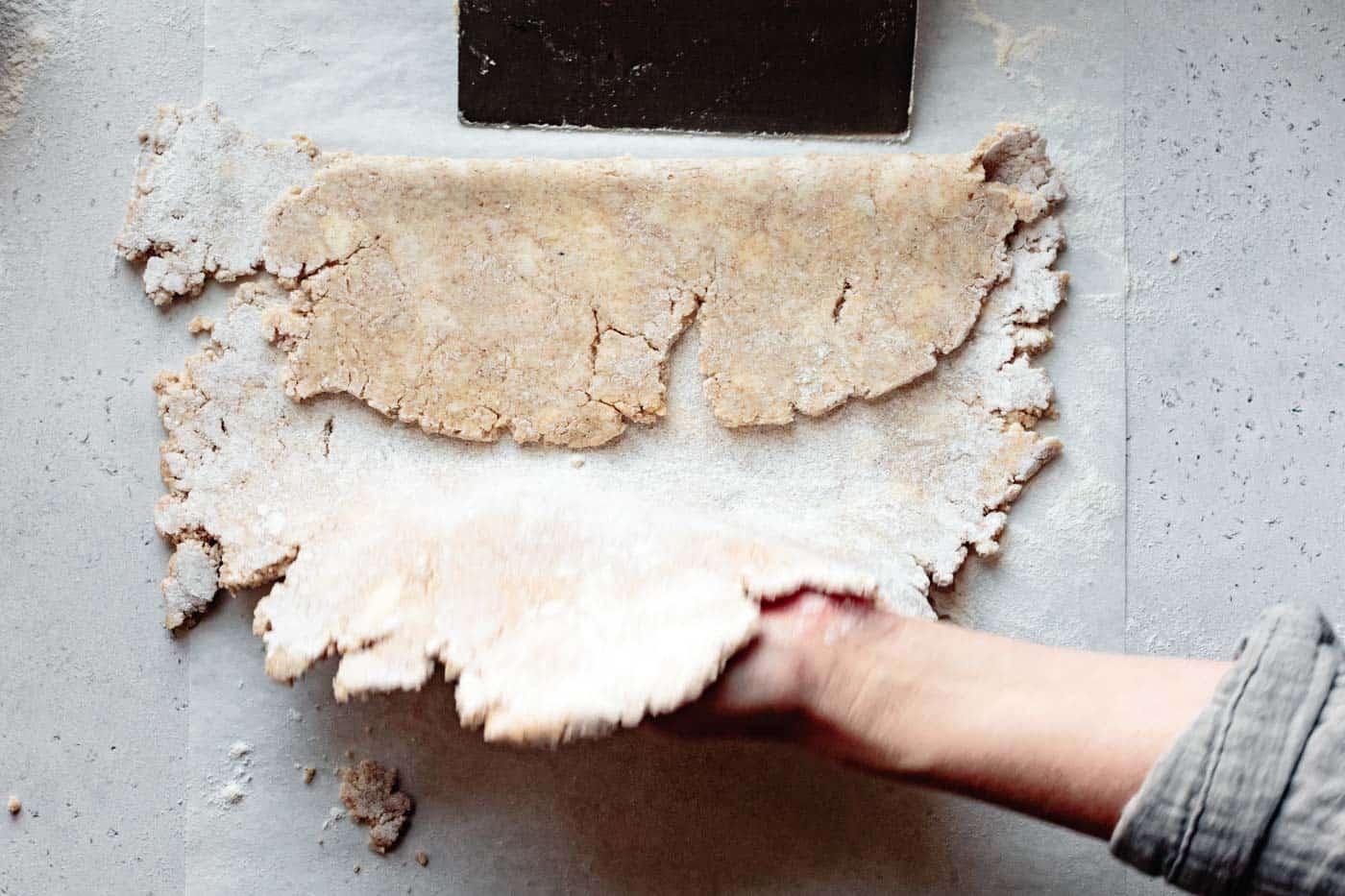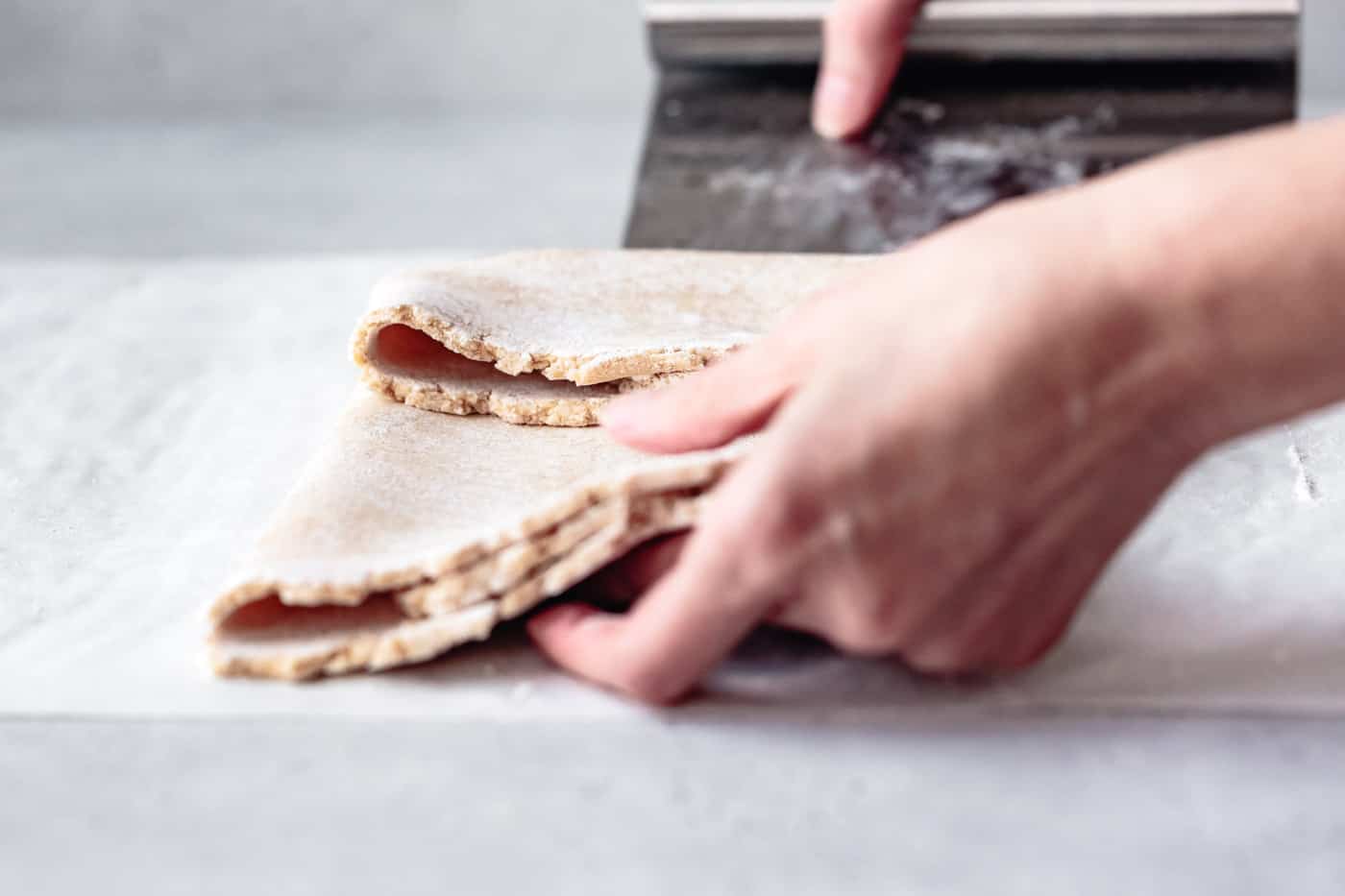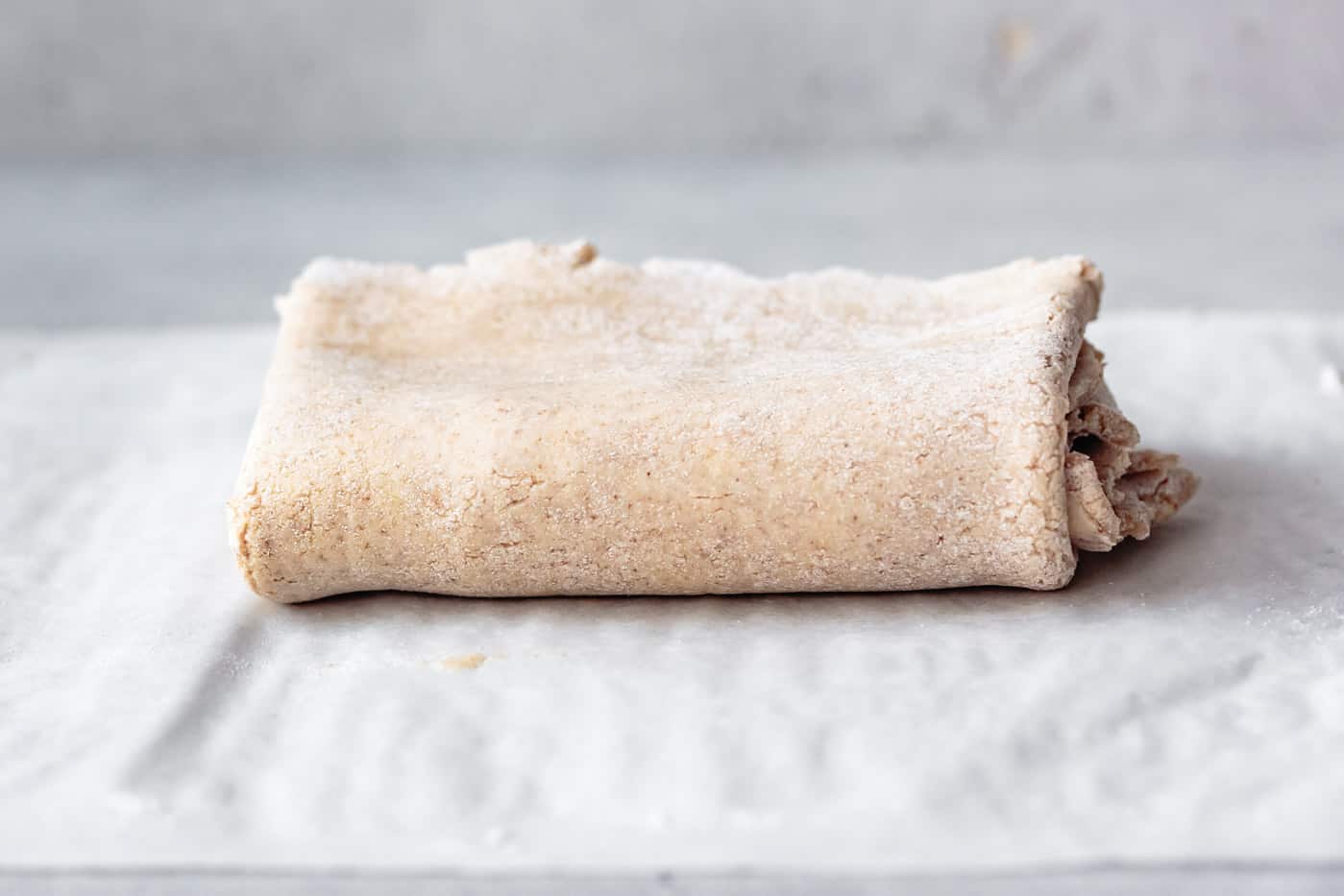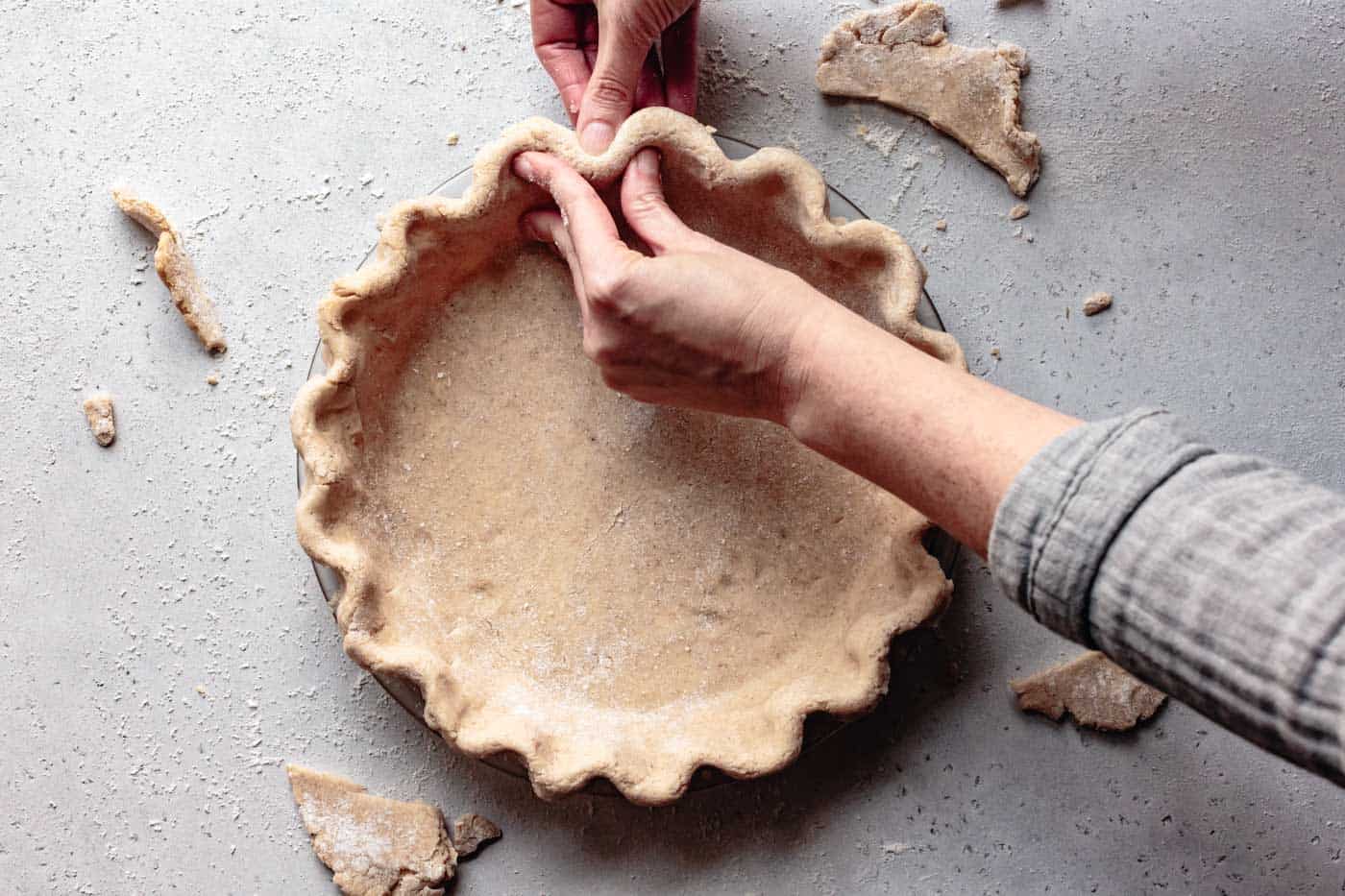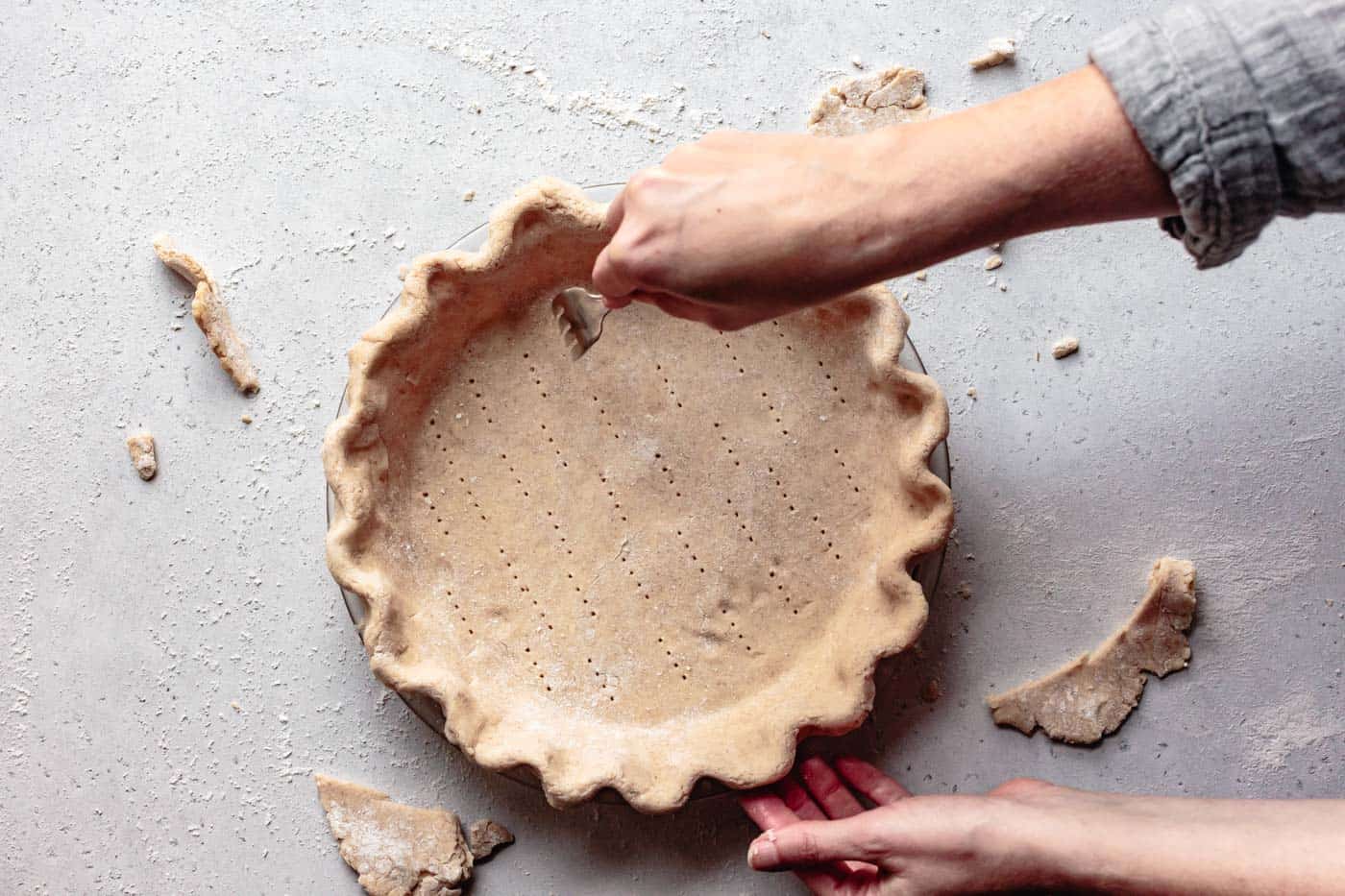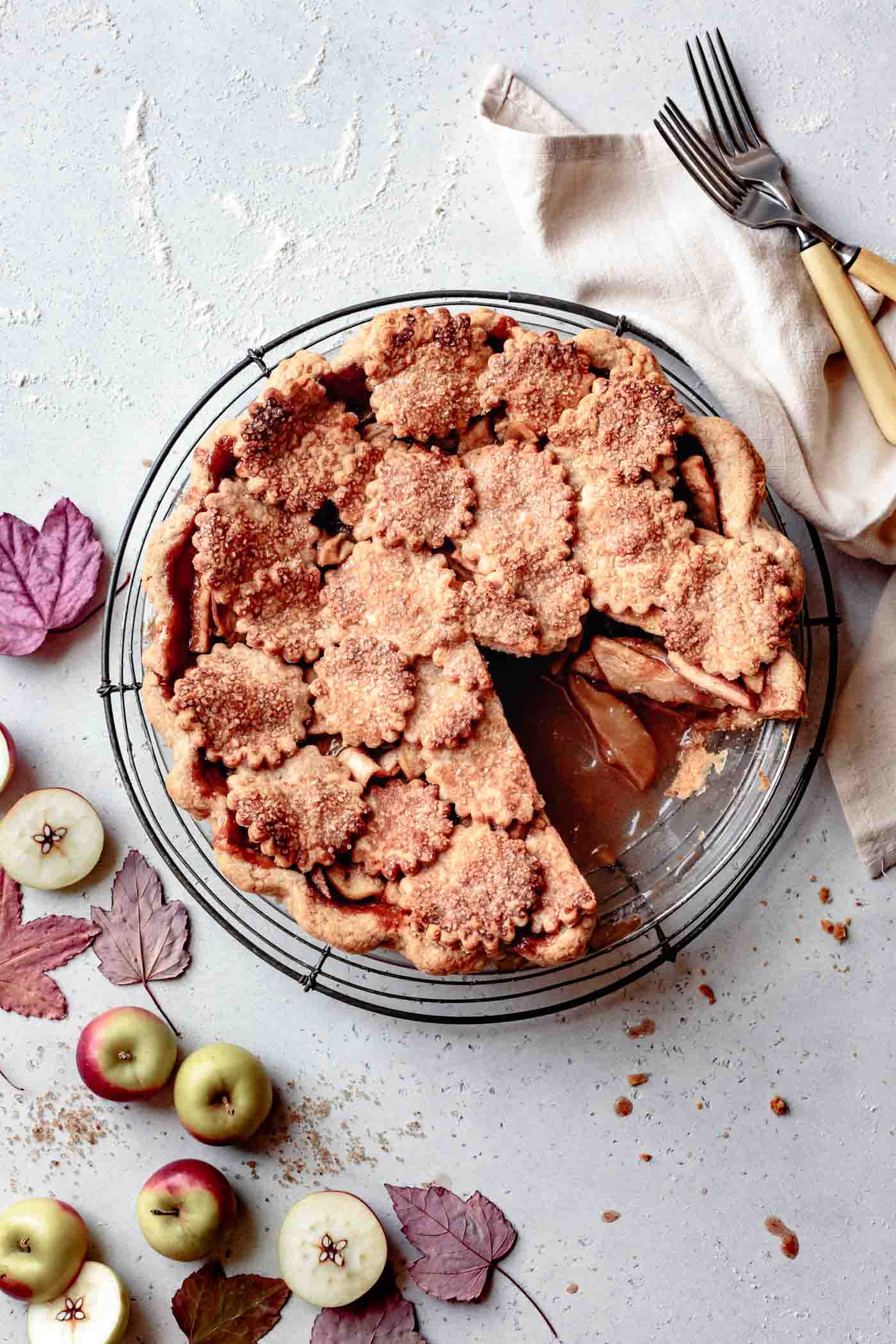 Paleo Pie Crust Variations
Grain-Free Nut-Free Pie Crust
Omit the almond flour and use either all cassava flour, or tiger nut flour (also made from a tuber and not a nut) in its place. Sub by weight if you can, and add 1-2 more tablespoons of ice water as needed to bring the dough together. This version doesn't brown as nicely as the version with almond flour, but it gets the job done!
Vegan Almond Flour Pie Crust
For a paleo vegan pie crust, swap in a good plant-based butter for the dairy butter. Miyoko's butter is the closest I've found to dairy butter in terms of flavor, firmness, and workability. Alternatively you can try this with chilled coconut oil or palm oil. These oils are more solid when chilled, so you'll want to let the dough soften up more before rolling it out. Omnivores can try this with lard. You can also use 50/50 butter and lard or shortening.
Almond Flour Double Pie Crust
You can use a double batch of this paleo pie crust dough to make a double pie crust, lattice crust, or cut-out crust, as shown here. The cut-out version, which I learned from Laura of Tutti Dolci, is my favorite and the method that graces the cover of my cookbook. This easy paleo pie crust method uses rounds of cut dough to form a pretty tiled top. You can cut the rounds into any shape you like: rounds, fluted rounds, stars, hearts, leaves, squares – the options are limitless. Overlap the shapes atop the filled crust, leaving some windows for steam to escape. Gently brush and dab the top with plant milk and sprinkle with a little coarse sugar or maple sugar.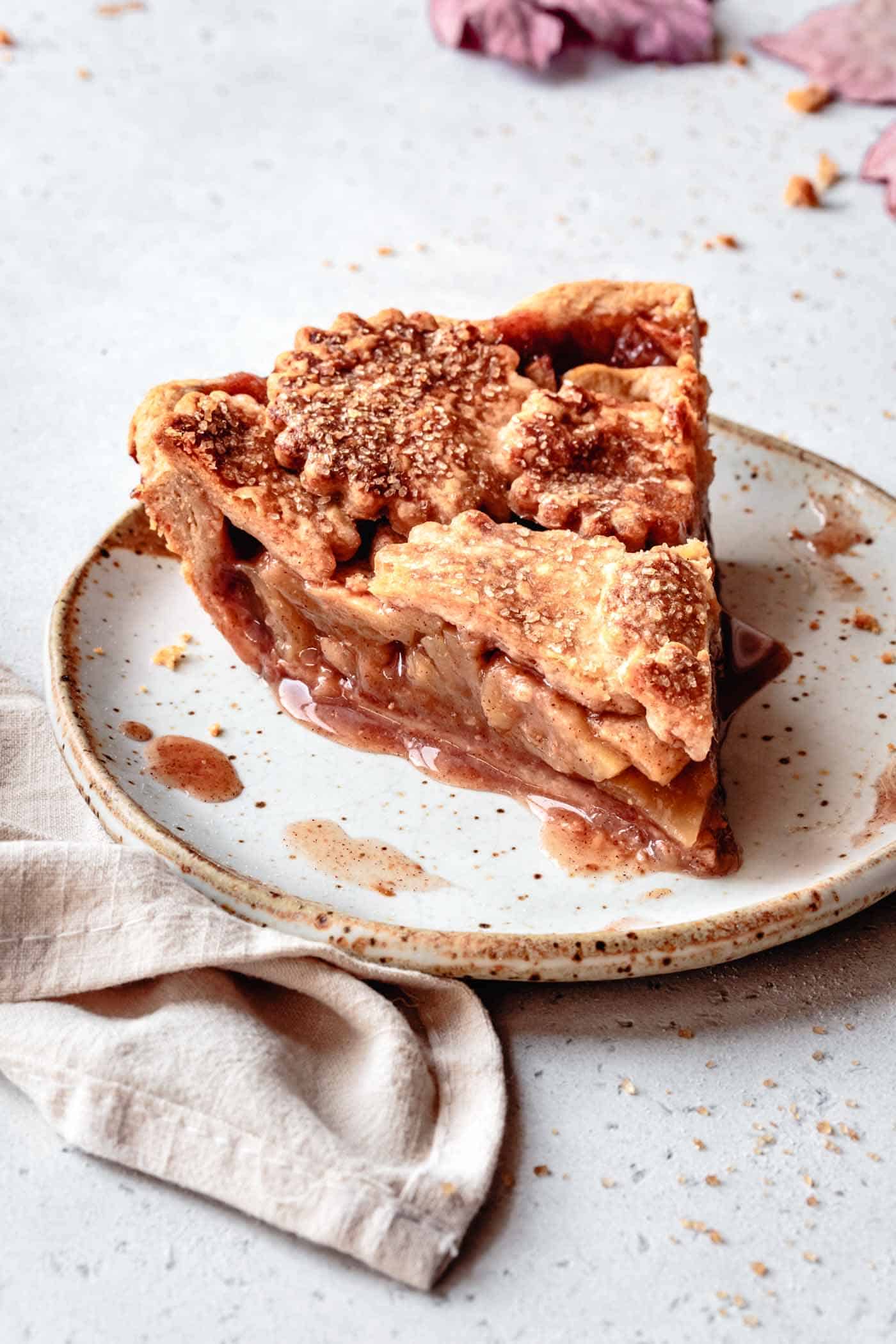 Paleo Apple Pie Crust / Paleo Pumpkin Pie Crust
Use this almond flour pie crust with any pie, galette, or quiche recipes you like. Try my recipe for paleo apple pie, sweetened with maple syrup and kissed with cinnamon and lemon. Or use my favorite pumpkin pie recipe with coconut milk swapped in for the dairy for a paleo pumpkin pie.
I hope this post was ins-PIE-ring! Please let me know what you make with it in the comments.
*Bojon appétit! For more Bojon Gourmet in your life, follow along on Instagram, Facebook, or Pinterest, purchase my gluten-free cookbook Alternative Baker, or subscribe to receive new posts via email. And if you make this paleo pie crust recipe, I'd love to know. Leave a comment and rating below, and tag your Instagram snaps @The_Bojon_Gourmet and #bojongourmet.*
More favorite pie recipes: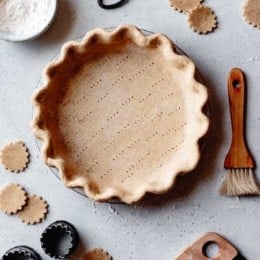 Flaky Paleo Pie Crust with Cassava Flour
Print Recipe
Pin Recipe
A paleo pie crust recipe that actually rivals a wheat crust! Almond, cassava, and tapioca flours build a smooth, pliant dough that you can roll, fold, flute, and weave. Gluten-free, grain-free, dairy-free, egg-free, plus vegan and nut-free options.
Servings:
8
-10 servings (one single 9-inch pie crust)
Ingredients
5-6

tablespoons

(80 ml) ice water

(from 1 cup ice cubes filled with cool water)

2

teaspoons

strained fresh lemon juice

(or 1 teaspoon apple cider vinegar)

½

cup

(75 g) cassava flour

½

cup

(60) blanched almond flour

(or more cassava flour or tiger nut flour for nut-free)

¼

cup

(28 g) tapioca flour

(or try arrowroot flour)

2 ½

tablespoons

(15 g) finely ground chia seed or flax seed

(I grind mine in a coffee grinder)

1/2

teaspoon

fine sea salt

(decrease if your butter is salted)

8

tablespoons

(115 g) cold, unsalted butter or plant butter sliced ¼-inch thick

(or chilled ghee, lard, or palm oil)
Instructions
Make the dough:
In a 1-cup measuring pitcher, stir together 5 tablespoons of the ice water and the lemon juice.

In the bowl of a food processor, combine the cassava, almond, and tapioca flours with the ground chia seed and salt.

Scatter the butter pieces over the top but don't run the mixer just yet! Open the feed tube and gradually pour in the ice water/lemon mixture as you pulse the mixer until all the liquid is incorporated. Open the lid and give the dough a squeeze; it should hold together easily, with lots of butter chunks the size of large peas. If the dough is dry, replace the lid and drizzle in more ice water by the teaspoon while pulsing the mixture until the dough is evenly moist but not sticky. Take care not to overmix the dough. Note that this dough prefers more moisture than a wheat flour pie dough.

(If making by hand, combine the dry ingredients in a lage bowl and use a pastry blender or your fingers to work the butter into the size of peas. Drizzle in the water by the tablespoon as you toss the mixture with a silicone spatula to bring the dough together as described above.)

Remove the food processor blade and gather the dough into a ball, flatten into a disc, and wrap in plastic wrap, a plastic bag, or (my favorite!) beeswax wrap. Chill until firm, 30 minutes or up to several days.
Turn the dough:
This technique, traditionally used when making puff pastry and croissants, makes the dough more pliable and flaky. You can skip it if this intimidates you, but the dough will be more brittle.

Roll the dough on a piece of floured parchment into a large 1/4-inch thick rectangle. The dough will crack and tear at first and that's ok! Periodically dust the dough with cassava flour, sweeping excess flour away with a dry pastry brush. To flip the dough over, place a second piece of parchment on top of the dough, grasp everything with your hands, and bravely flip the whole thing over. Flour will fly everywhere so have your work surface clear!

Fold the dough in thirds like folding a letter, then fold in thirds the other way. Flatten the folded dough slightly, re-wrap, and chill until firm, 30 minutes.

Repeat the rolling and folding process one more time. The dough will become more smooth and pliable the second time around.
Shape the crust:
Remove the dough from the fridge, unwrap, and place on a lightly floured piece of parchment. Roll out the dough into a 12" circle, dusting the dough lightly with cassava flour as needed, rotating and flipping it to prevent it from sticking.

Ease the dough into a 9" glass pie plate, fit it into the corners, and trim it to a 1" overhang. (Save the scraps to patch any tears in the dough post-parbaking.) Fold the overhang of the crust under, and flute the crust by pressing it between the thumb of one hand and the index finger and thumb of the other hand. Prick the bottom of the crust all over with the tines of a fork.

Chill the crust until firm, at least 30 minutes. Once the crust it cold, you can wrap it and refrigerate it for up to a day, or freeze it for up to a month or two. (If using a glass pie plate, let the frozen crust stand at room temperature for 30 minutes before placing in a hot oven, otherwise the glass can shatter.)
Bake the crust:
Position a rack in the lower third of the oven and preheat to 400º. If you have a baking stone, put it on the rack as this will help the bottom of the crust stay crisp. Place the cold crust on a rimmed baking sheet. Fill and bake as directed in your pie recipe, or...

To blind bake the crust, line it with a piece of parchment paper, and fill to the top with pie weights, dry beans, raw rice, or clean pennies, pressing the weights into the sides and corners of the crust. Bake the crust for 15-30 minutes (shorter for a metal pan, longer for a glass pan), until the dough will hold its shape when you lift off the parchment. Carefully remove the weights and parchment and bake until the bottom is dry and lightly golden, about 5-8 minutes longer (for a parbaked crust) or until deeply golden, 8-12 minutes (for a fully baked crust). Use the saved scraps of dough to patch any holes, cracks, or tears in the dough, baking for a few more minutes post-patching. A par-baked crust can be made a day ahead, wrapped tightly, and stored at room temperature for up to a day or two, refrigerated for up to 1 week, or frozen for up to a few months.
Notes
Turning the dough:
If turning the dough (rolling it out and folding if up) intimidates you, you can skip this step. The dough will be more fragile to work with and more brittle when baked, but it will still be tastier than many of the paleo pie crusts out there! You can also do just one turn if you're pressed for time. Or if you work really fast and keep your dough cold, you can do both turns in one go.
Timing this recipe:
Give yourself three or four hours to complete a parbaked crust; most of this time is inactive. The ideal timeframe for making this crust is as follows:
10 minutes to mix the dough
30 minutes to chill
10 minutes to roll and turn the dough

30 minutes to chill

10 minutes to roll and turn the dough a second time
30 minutes to chill
10 minutes to roll out the dough, get it in the pan, shape it, and dock it
30 minutes to chill
30-40 minutes to par-bake the crust
Tip: If you have the space, it's fine to leave your counter floury between the three times you need to roll out the dough.
Do-ahead:
Well-wrapped dough will keep refrigerated for up to 3 days and frozen for up to 2 months.
A well-wrapped unbaked crust will keep refrigerated for up to 2 days and frozen for up to 2 months.
A well-wrapped parbaked crust will keep at room temperature for up to 1 day, refrigerated for up to 3 days and frozen for up to 2 months.
Once you've gotten a feel for making this dough, I recommend making a double batch at a time. Keep the extra dough in the freezer for the next time you're ready to bake.
Nutritional values are based on one of nine servings.
Nutrition
Calories:
169
kcal
Carbohydrates:
10
g
Protein:
2
g
Fat:
14
g
Saturated Fat:
7
g
Cholesterol:
27
mg
Sodium:
219
mg
Potassium:
16
mg
Fiber:
1
g
Sugar:
1
g
Vitamin A:
311
IU
Vitamin C:
1
mg
Calcium:
31
mg
Iron:
1
mg