This sweet-tart low-sugar strawberry rhubarb jam is set with chia seed instead of loads of sugar or pectin, for a light, fresh taste that you'll love! Serve this refined sugar-free jam on toast, in PBJs, over pancakes, stirred into yogurt, or in chia pudding.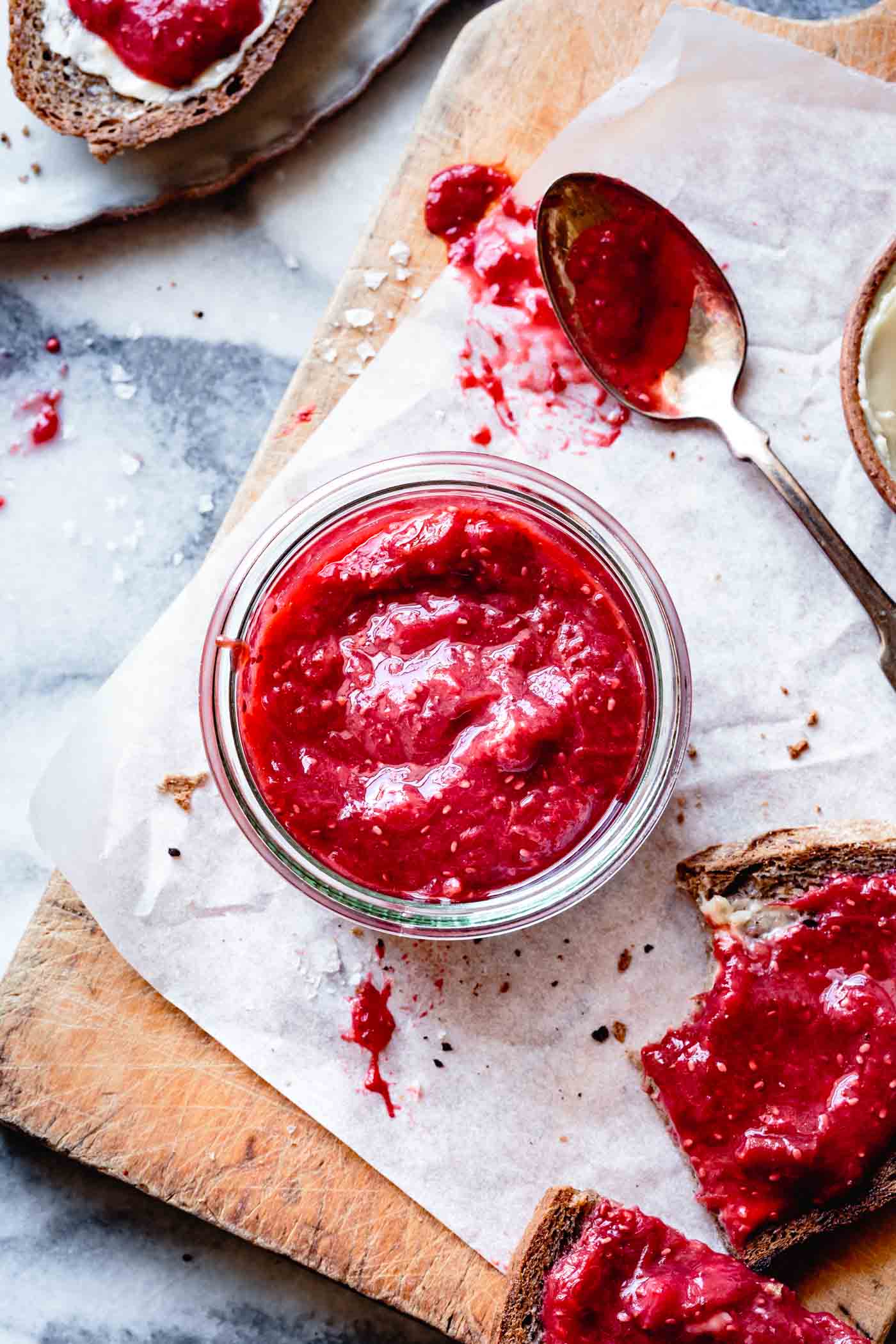 I can never get enough of strawberries and rhubarb together. Whether it's in the form of crisp, crumble, pie, cobbler, or galettes, the sweet-tart combo ends up greater than the sum of its parts. The uniquely floral taste of tangy rhubarb melds perfectly with ripe red berries, turning a luscious shade of crimson.
I've been capturing these alluring flavors in a quick, small-batch jam gently set with chia seeds to minimize cooking and subtly sweetened with maple syrup. It keeps in the refrigerator for up to a couple of weeks, or in the freezer for up to several months. Sometimes I throw in raspberries if I have some hanging around. I hope you love it!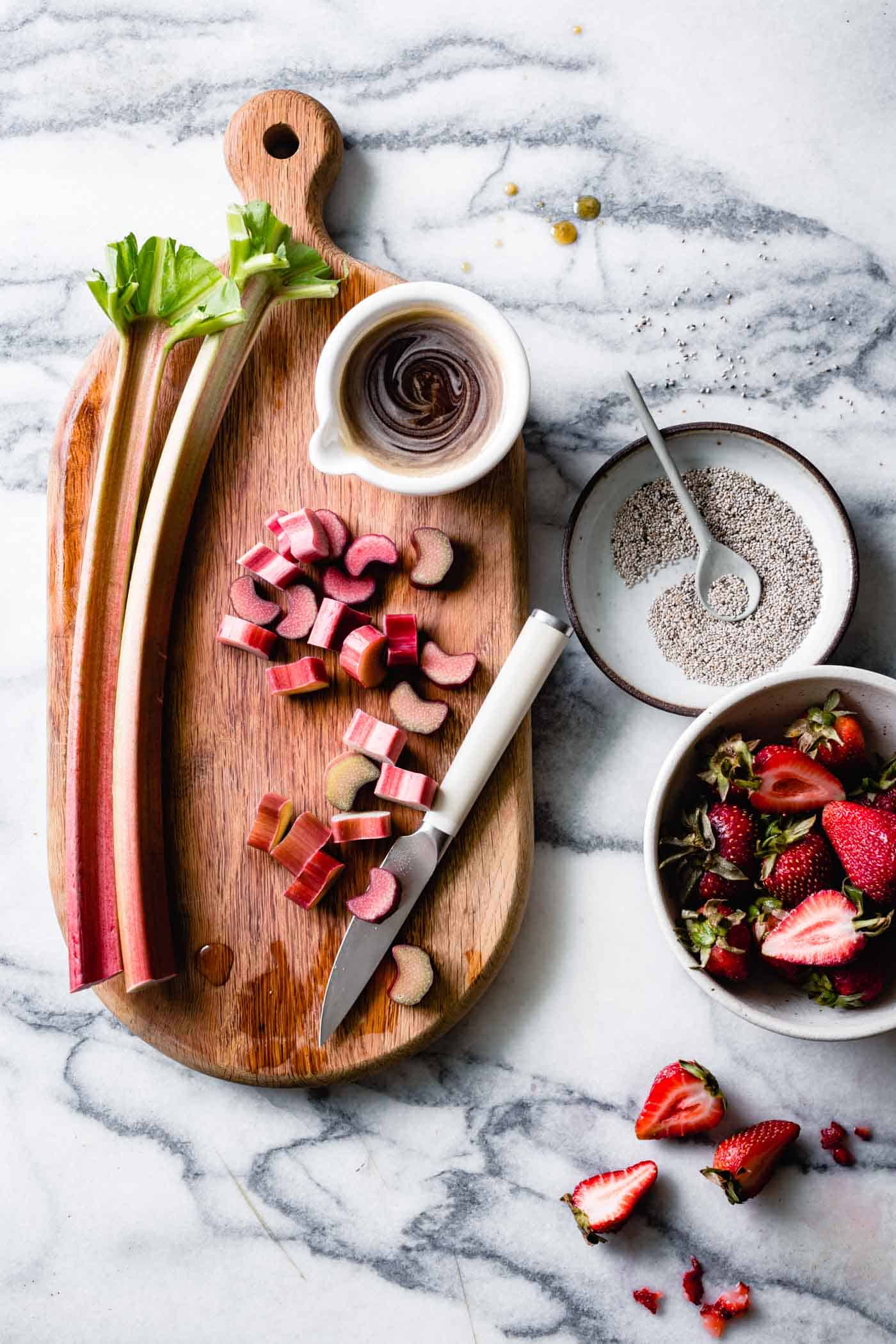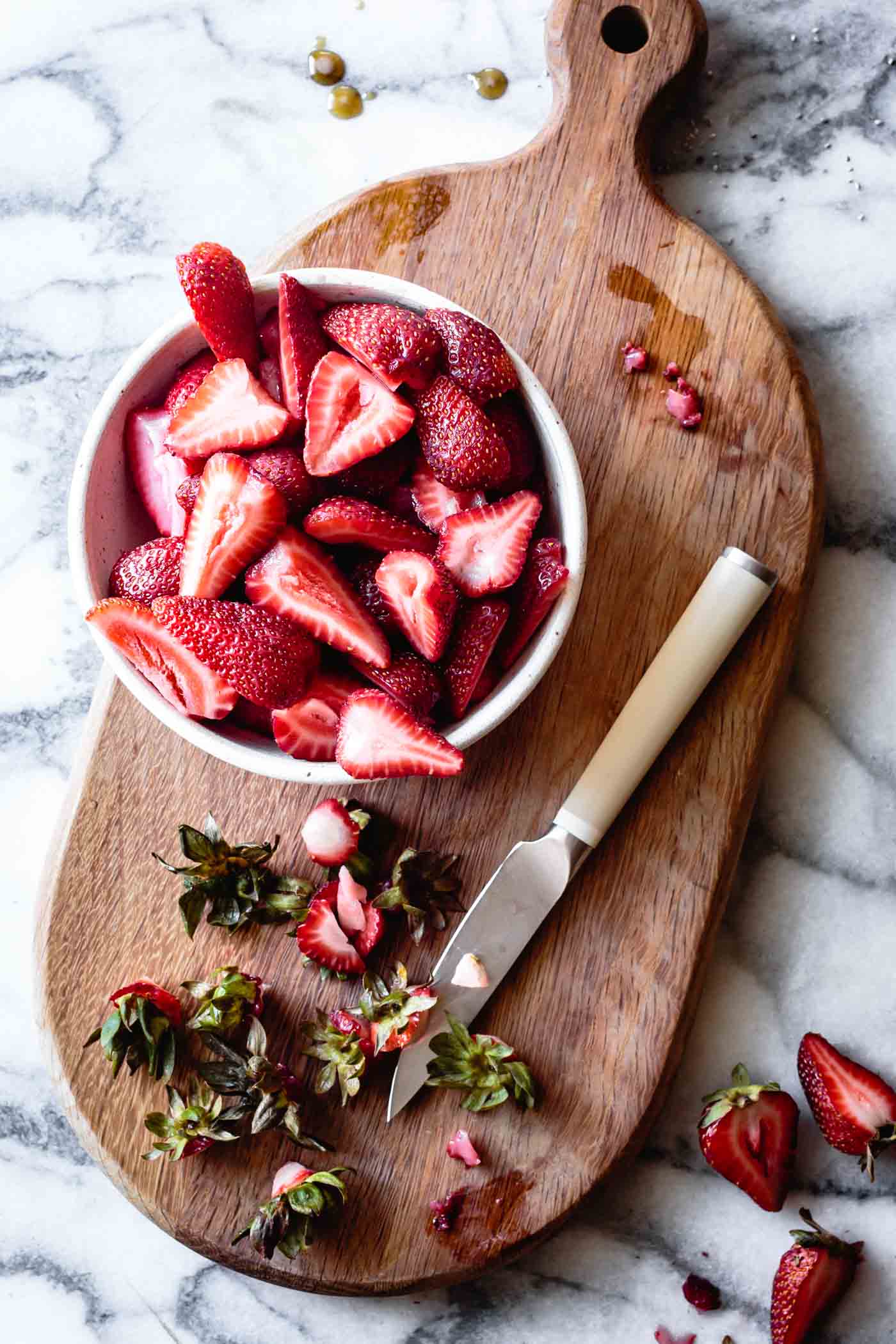 Ingredients
This low-sugar strawberry rhubarb jam recipe uses just 4 ingredients, and each plays a vital roll.
Strawberries and rhubarb are the stars of this show. You can absolutely use frozen fruit if that's what you've got. Feel free to swap some or all of the strawberries for another berry such as raspberries.
Chia seed gives the jam a soft set.
Maple syrup adds gentle sweetness and extra flavor.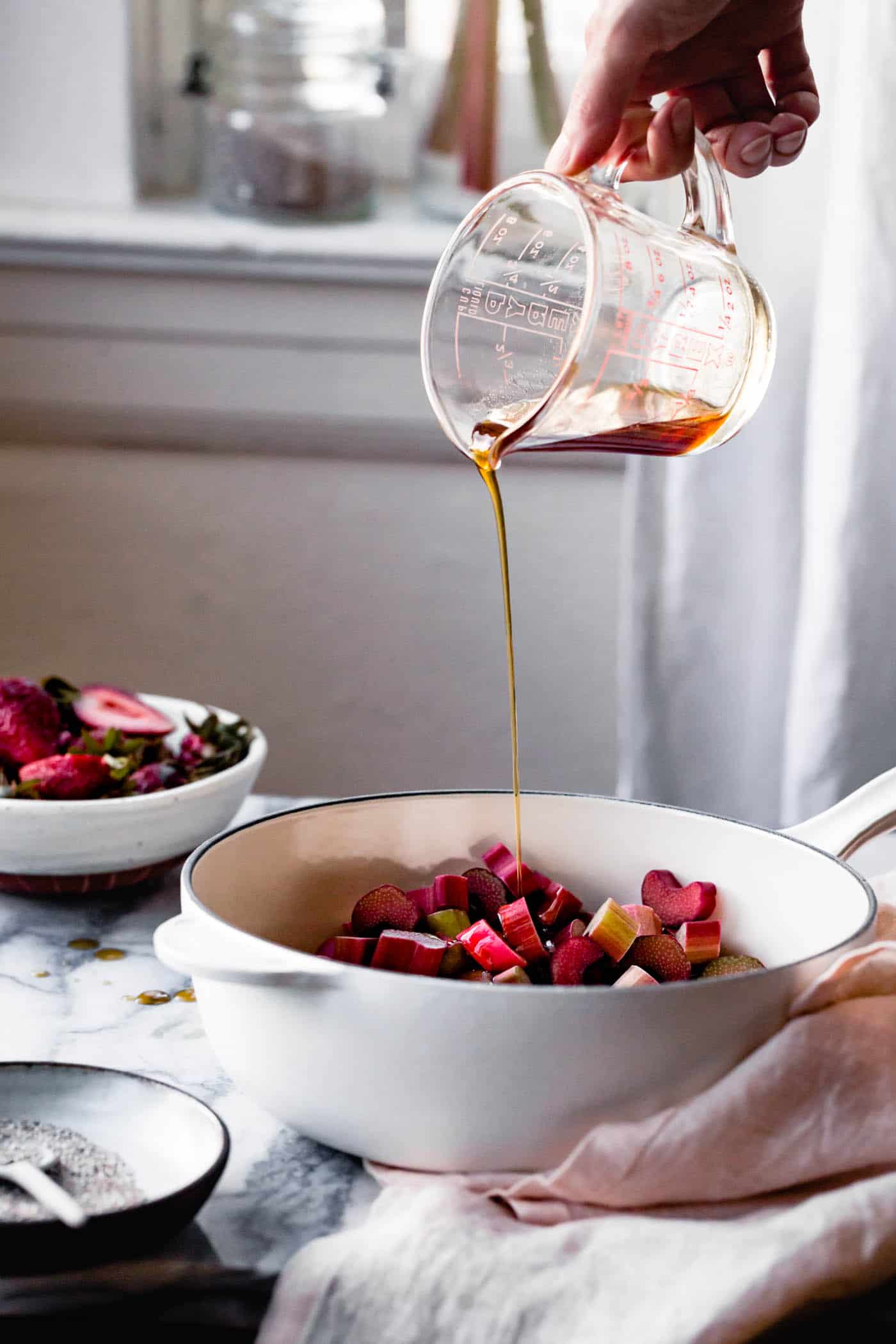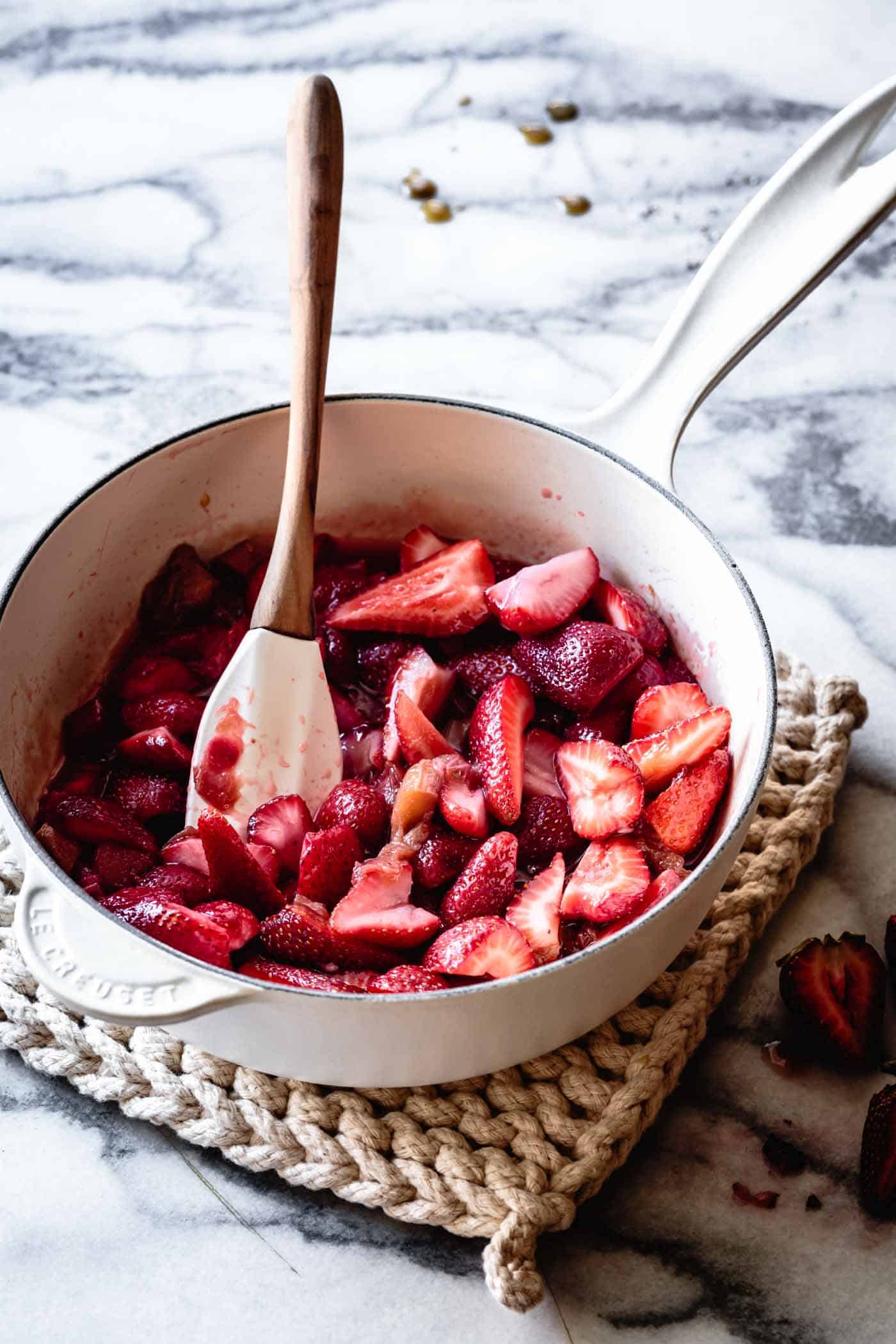 How to Make Strawberry Rhubarb Jam
This jam is quite simple to make. You could probably just throw all the ingredients in a pot, but I like to add them in stages for the best results.
Since rhubarb takes longer to cook than strawberries, start by simmering the rhubarb and maple syrup together until the rhubarb just starts to break down.
Stir in the berries and simmer until the liquid in the pot is reduced by about a third.
Stir in the chia seeds and simmer for 1 minute.
Spoon into jars and chill until set.
Refrigerate for up to 2 weeks, or freeze and enjoy low-sugar strawberry rhubarb jam through the winter months when you're craving something bright.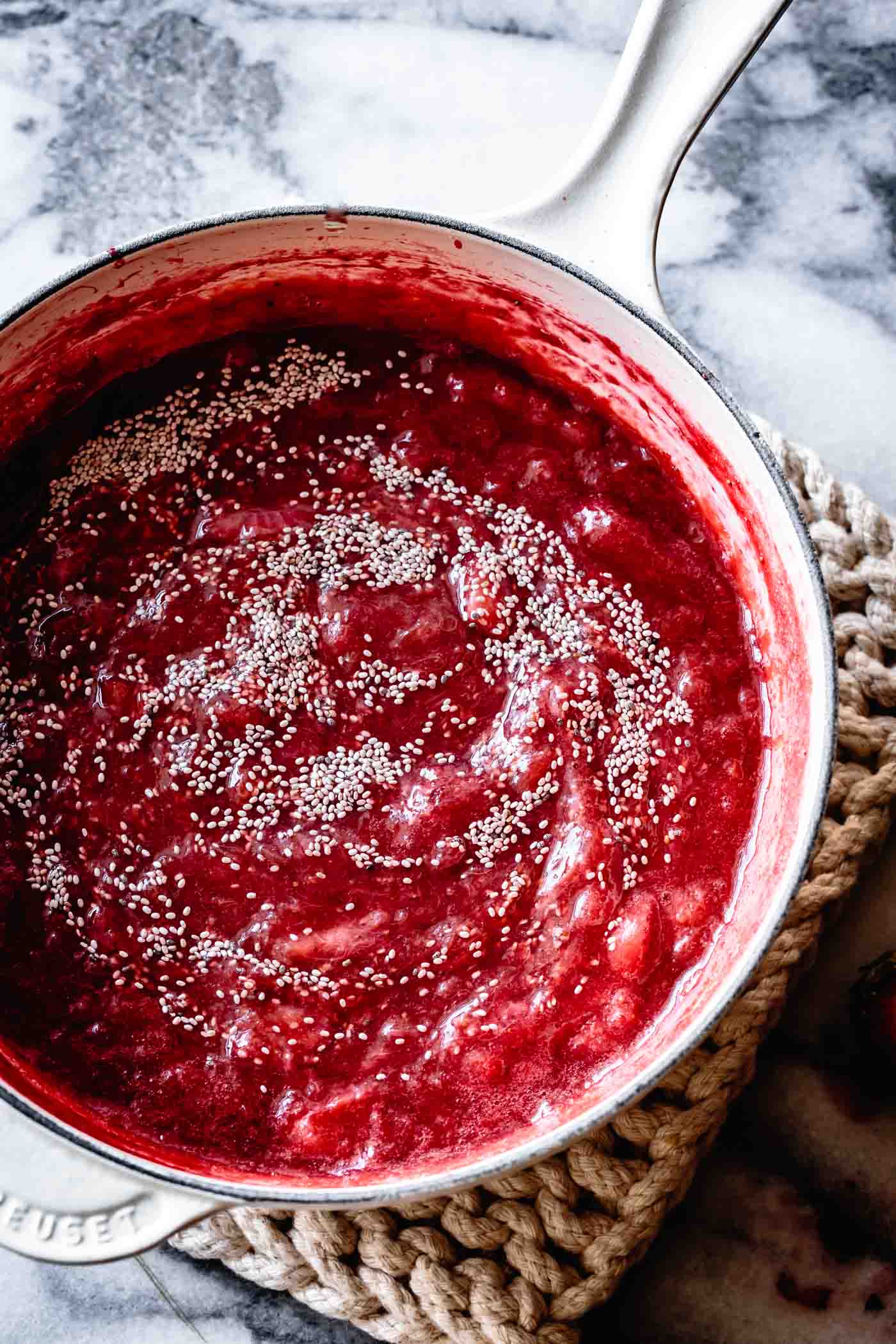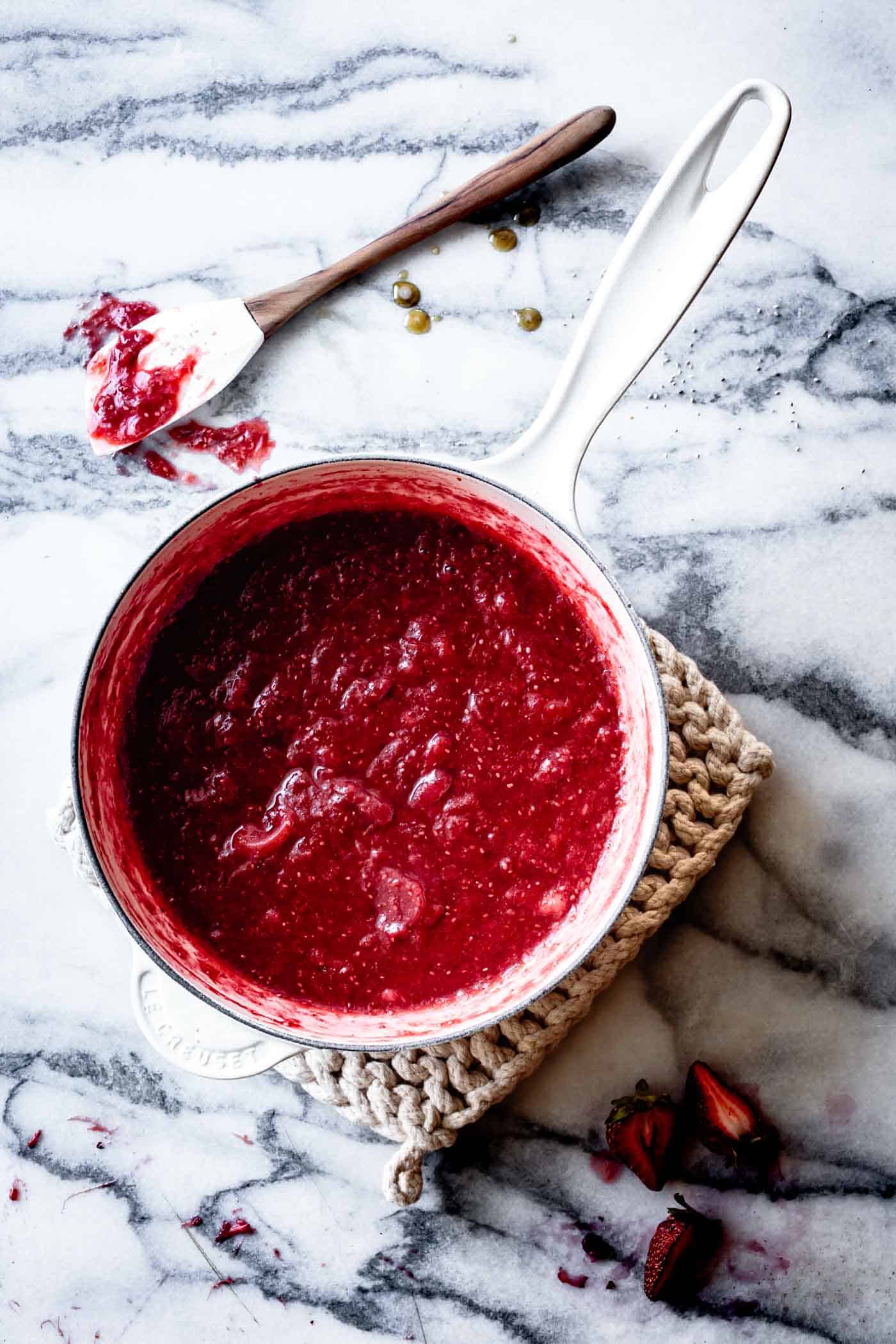 Maple-Sweetened: Low-Sugar Strawberry Rhubarb Jam
Most jam recipes are sugary AF, which is part of the reason I avoid making and eating them. Sugar helps set jam; you can also add pectin to help it set with less sugar.
This recipe skips the sugar entirely in favor of maple syrup. This refined sugar-free strawberry rhubarb jam recipe is on the tangy side, so feel free to add more sweetener if you like. Rhubarb's tartness means that it does want some sweetener to make it palatable.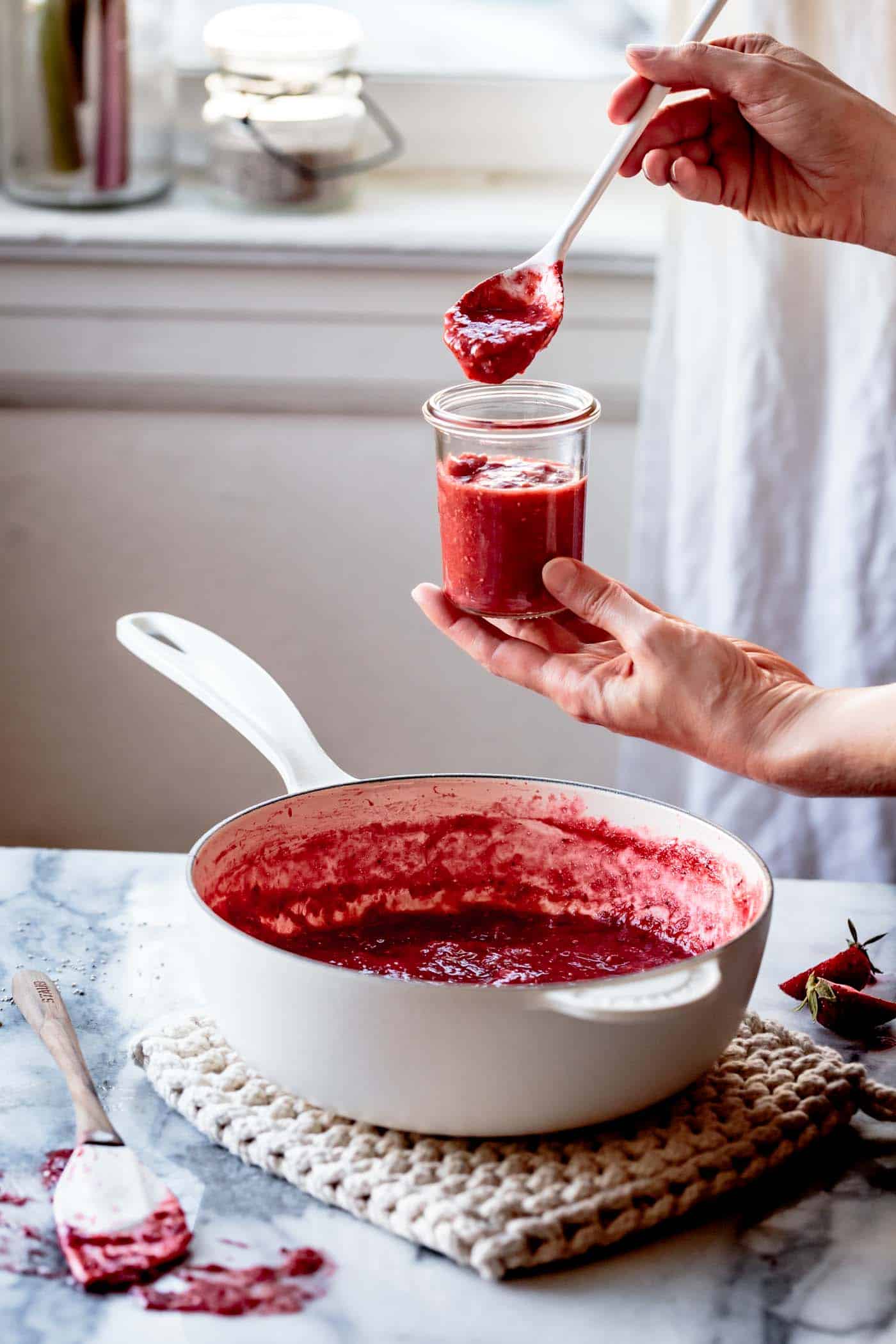 Chia Seed Jam = Strawberry Rhubarb Jam with no Pectin
Chia seeds have an outer coating with the ability to absorb ten times its weight in water. This quality causes them to form a gel-like consistency when combined with liquid.
Here chia seed replaces pectin as a gelling agent, helping the jam thicken as it sets in the fridge. This further reduces the need for sugar, which, as I said before, is what sets more traditional jams.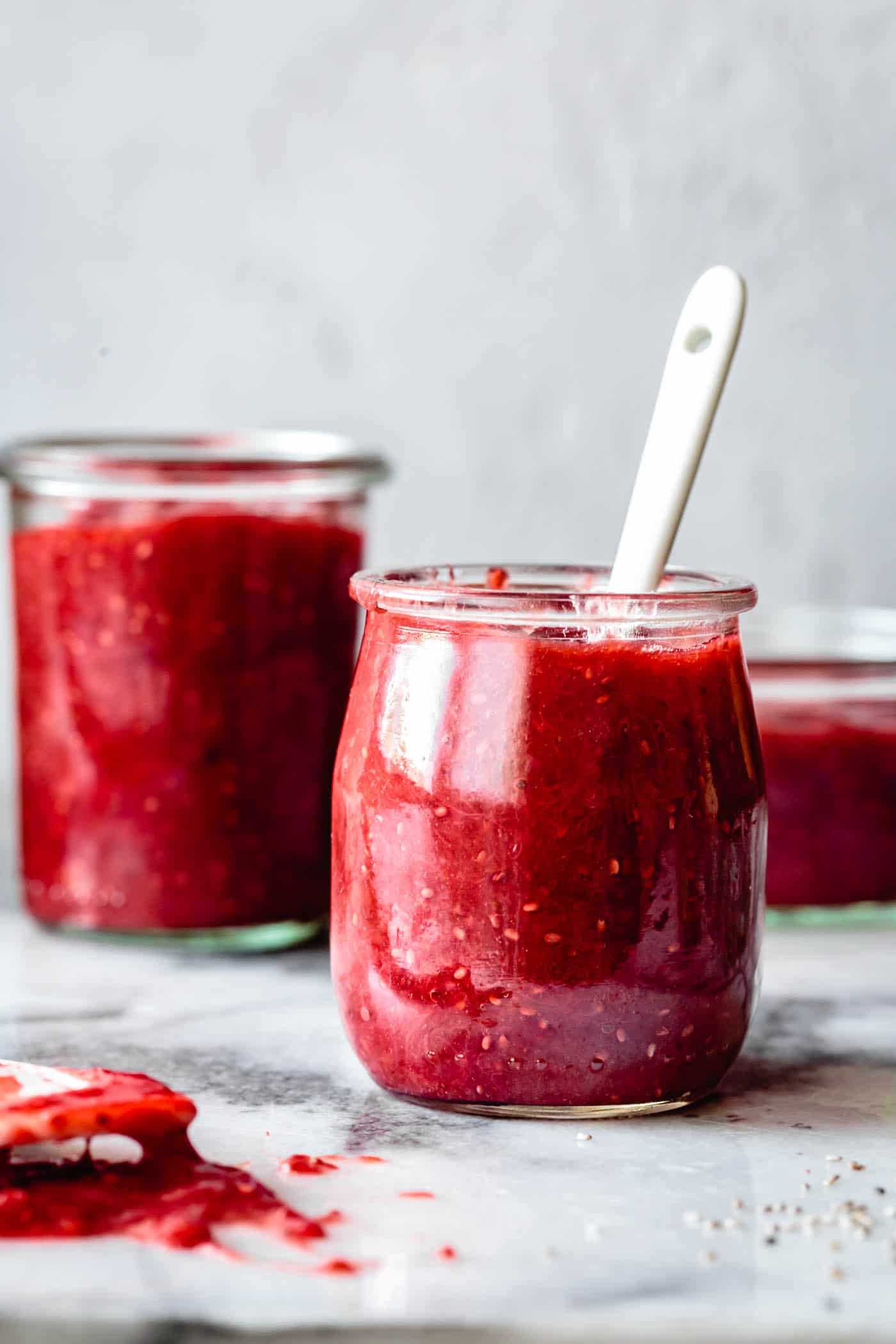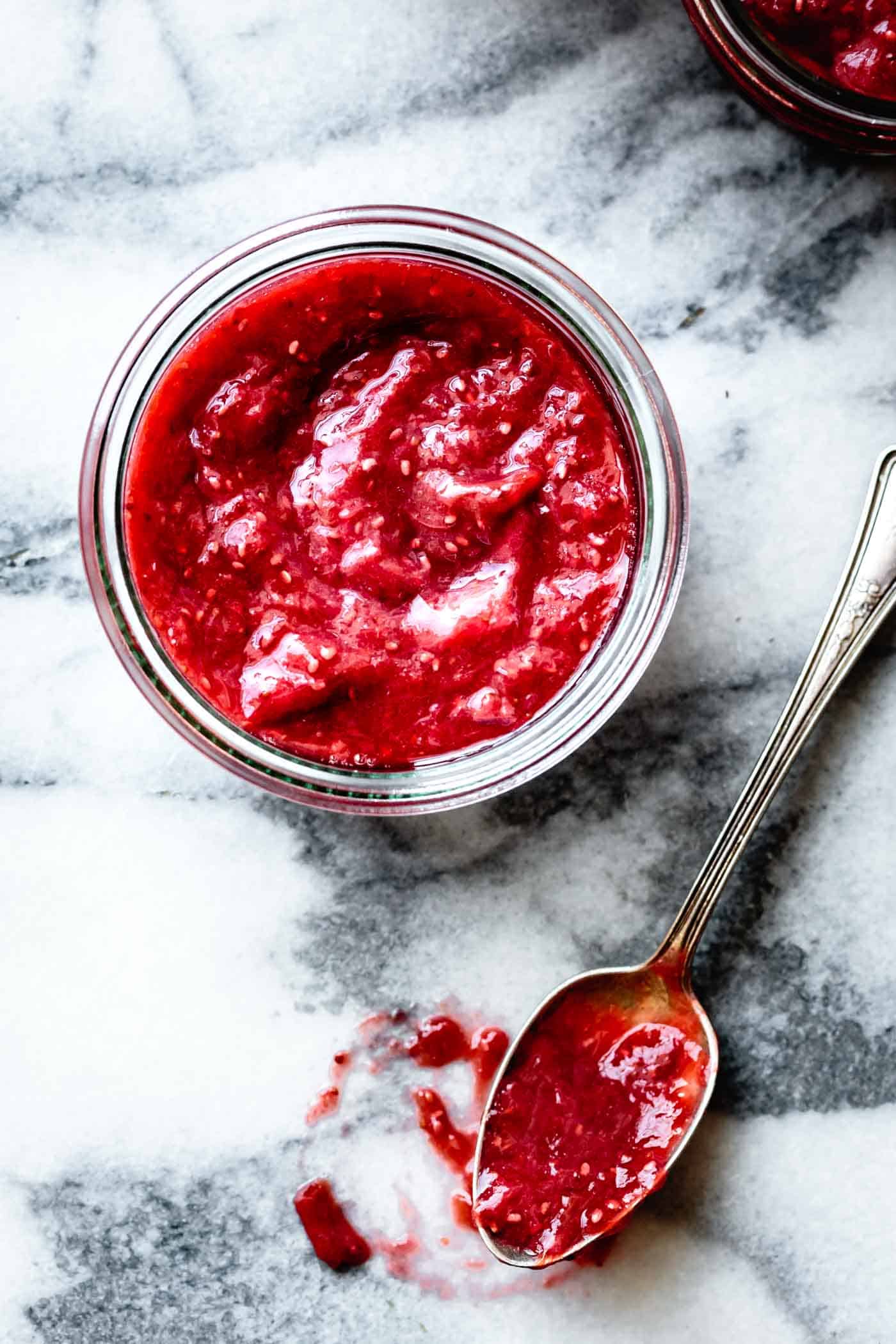 How to Enjoy Strawberry Rhubarb Jam
This low-sugar strawberry rhubarb jam recipe is balanced enough to devour straight from the jar with a spoon. But here are some other ways to dress it up: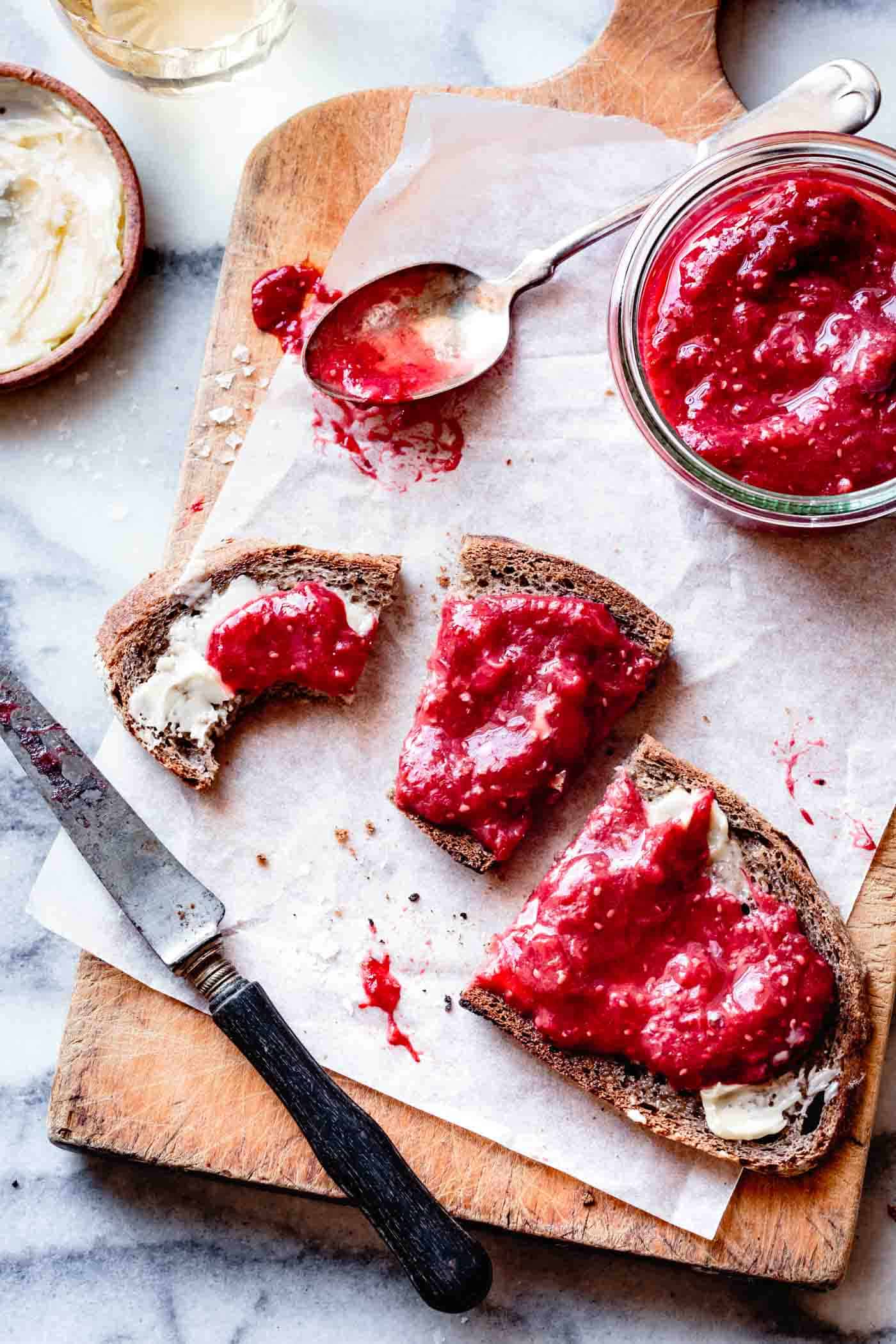 And you can layer this tangy strawberry rhubarb compote with tahini chia pudding for "pbj" chia pudding vibes. Get the recipe here!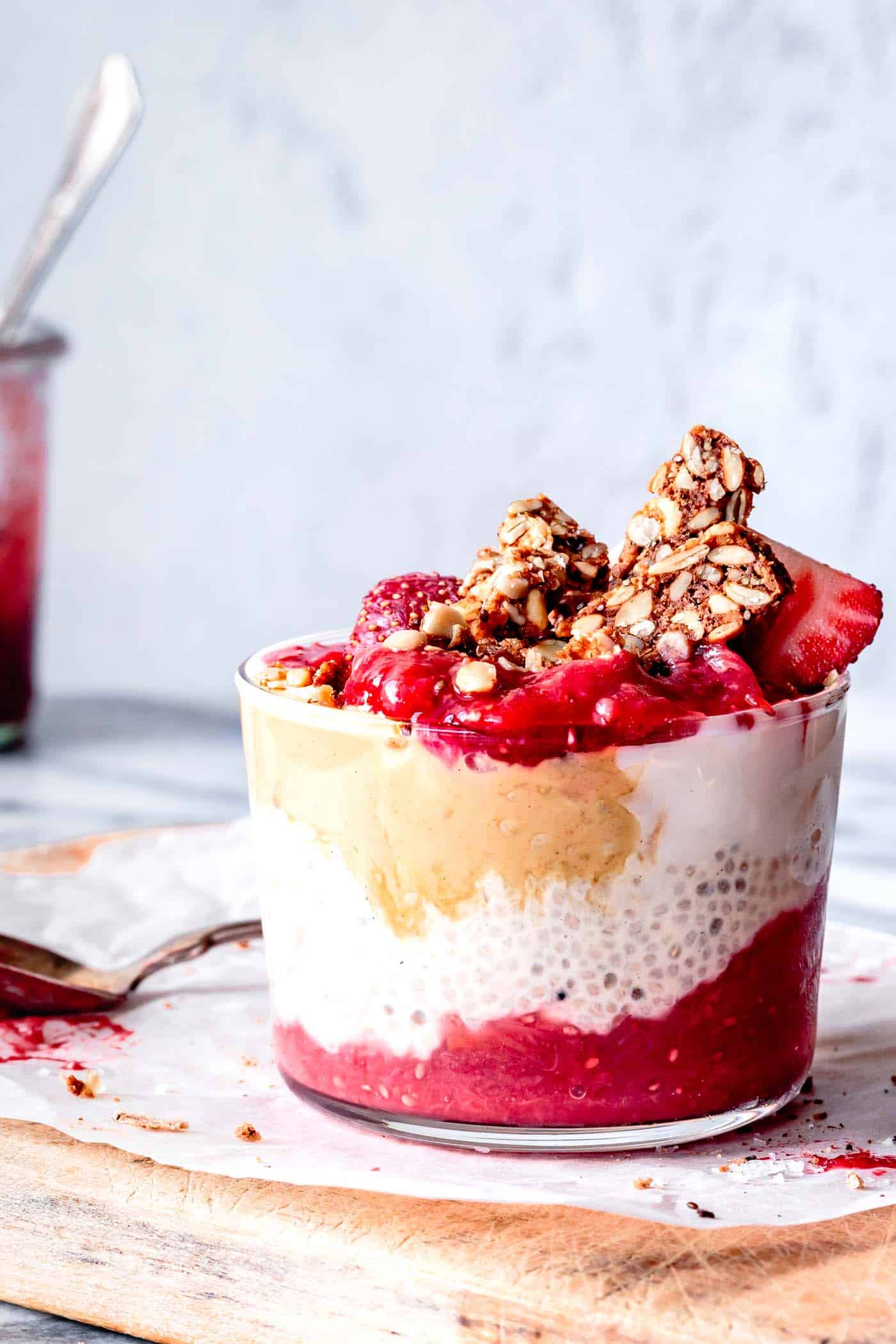 How do you like to use jam? Let me know in the comments below!
*Bojon appétit! For more Bojon Gourmet in your life, follow along on Instagram, Facebook, or Pinterest, purchase my gluten-free cookbook Alternative Baker, or subscribe to receive new posts via email. And if you make this low-sugar strawberry rhubarb jam recipe, I'd love to see. Tag your Instagram snaps @The_Bojon_Gourmet and #bojongourmet.*
Maple-Sweetened Strawberry Rhubarb Chia Jam
Print Recipe
Pin Recipe
This tangy low-sugar strawberry rhubarb jam is softly set with chia seed for a light, fresh flavor. Perfect with toast, PBJ, yogurt, oatmeal, & more.
Ingredients
2

cups

(230 g / 8 ounces) rhubarb

in ½-inch lengths

⅓

cup

(90 ml) maple syrup

more to taste

3

cups

(13 ounces / 370 g) stemmed, quartered strawberries

or halved if small

1

tablespoon

chia seed

more if you want a firmer set
Instructions
Combine the rhubarb and maple syrup in a medium saucepan. Place over medium heat and bring to a simmer. Reduce the heat to low and simmer gently until the rhubarb is tender and just starting to break down, about 5 minutes, stirring occasionally.

Stir in the strawberries and simmer until the jam is reduced by about a third, 10 - 15 minutes. The berries should be very soft and falling apart but not completely disintegrated; I like them to hold a bit of a shape in the finished jam.

Stir in the chia seeds and cook 1 minute more. Remove from the heat. Transfer the jam into jars and chill until set, at least a few hours and up to 2 weeks, or freeze for longer storage.
Notes
You can make this with frozen fruit if you like. Just increase the cooking time if needed.
Feel free to trade some or all of the strawberries for other berries – raspberries, tayberries, blackberries, blueberries, or any others.
See the post above for serving suggestions!
Variation: Strawberry (or blueberry) Chia Jam
Omit the rhubarb. Combine 3 cups hulled and quartered strawberries, 1/4 cup maple syrup, and juice from 1/2 a medium lemon in a large saucepan. Bring to a simmer over medium high heat, then lower the heat to maintain a simmer. Cook until the juices bubble thickly and are reduced by about half, 10-15 minutes. Stir in 2 tablespoons chia seeds and cook for 1 more minute, then remove from the heat and mash the berries until mostly broken down.
Nutrition facts are for 1 of 2.5 servings.
Nutrition
Calories:
269
kcal
Carbohydrates:
61
g
Protein:
4
g
Fat:
3
g
Saturated Fat:
1
g
Sodium:
13
mg
Potassium:
827
mg
Fiber:
9
g
Sugar:
44
g
Vitamin A:
150
IU
Vitamin C:
137
mg
Calcium:
236
mg
Iron:
2
mg