Gluten-free chocolate desserts for every occasion! From easy gluten-free treats to elegant chocolate desserts, I'm sharing my best gluten-free recipes from 10+ years of TBG. With dairy-free, vegan, and paleo-friendly options, these gluten-free chocolate recipes are sure to cure your fiercest chocolate cravings.
Read on for the recipes!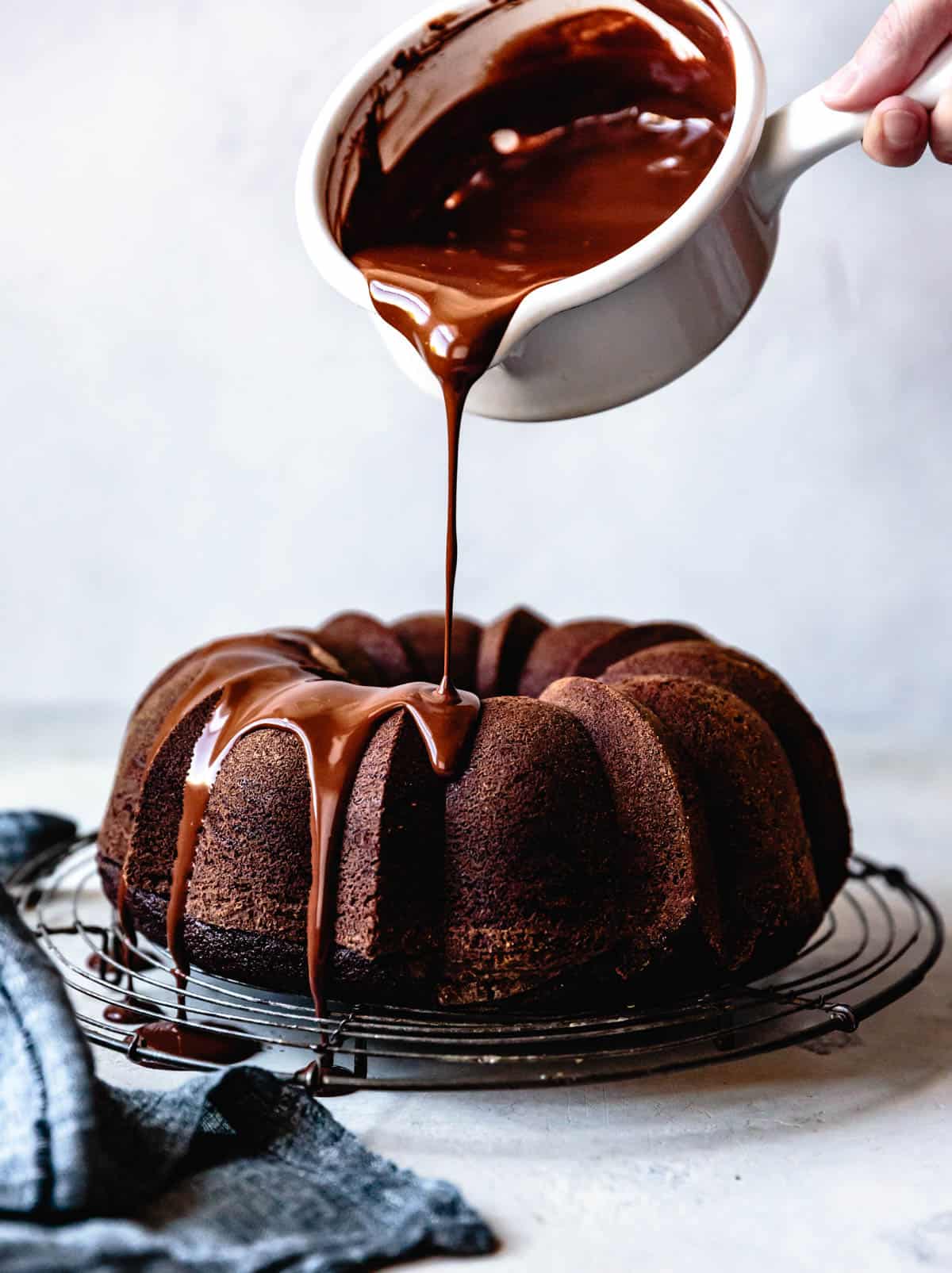 Gluten-Free Chocolate Cakes
These gluten-free cake recipes all have one thing in common: CHOCOLATE.
This beauty has all the panache of a flourless chocolate torte, but it's richly flavored with olive oil and ground almonds. Serve with a dollop of cream and fresh berries for a yummy easy chocolate dessert.
Adapted from Sarah of Snixy Kitchen's gluten-free chocolate cake, this GF chocolate bundt cake recipe combines earthy teff flour with brown sugar, crème fraîche, and butter for a wallop of flavor. Topped with boozy ganache, it makes more than enough to share with a galentine or valentine.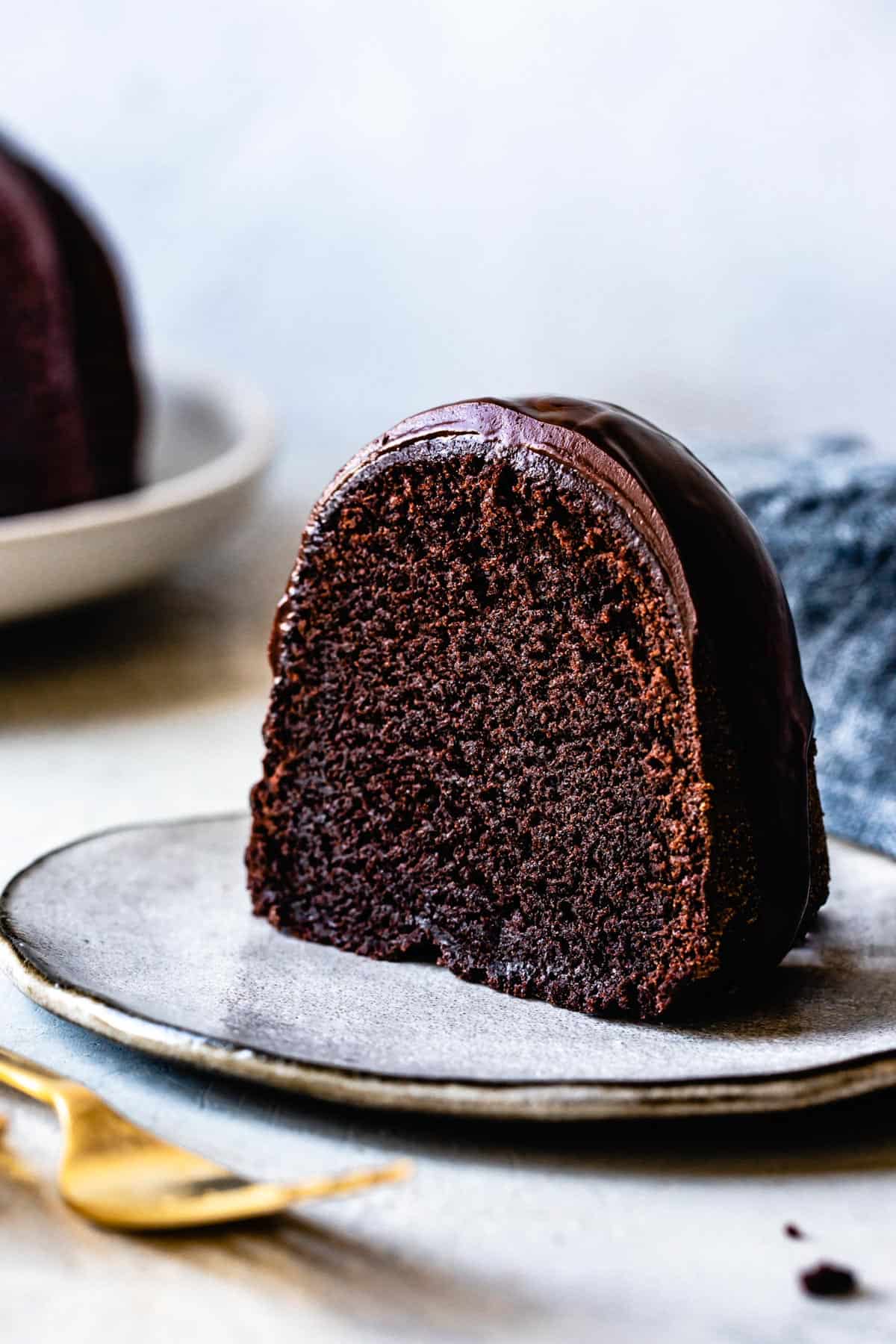 Made in one bowl, this gluten-free dessert shines with the flavors of peanut oil in the cake, and salty-sweet peanut butter frosting.
This healthy "nutella" tiramisù combines gluten-free chocolate sponge cake, boozy coffee, whipped mascarpone, and a layer of chocolate hazelnut spread for a luscious gluten-free chocolate dessert.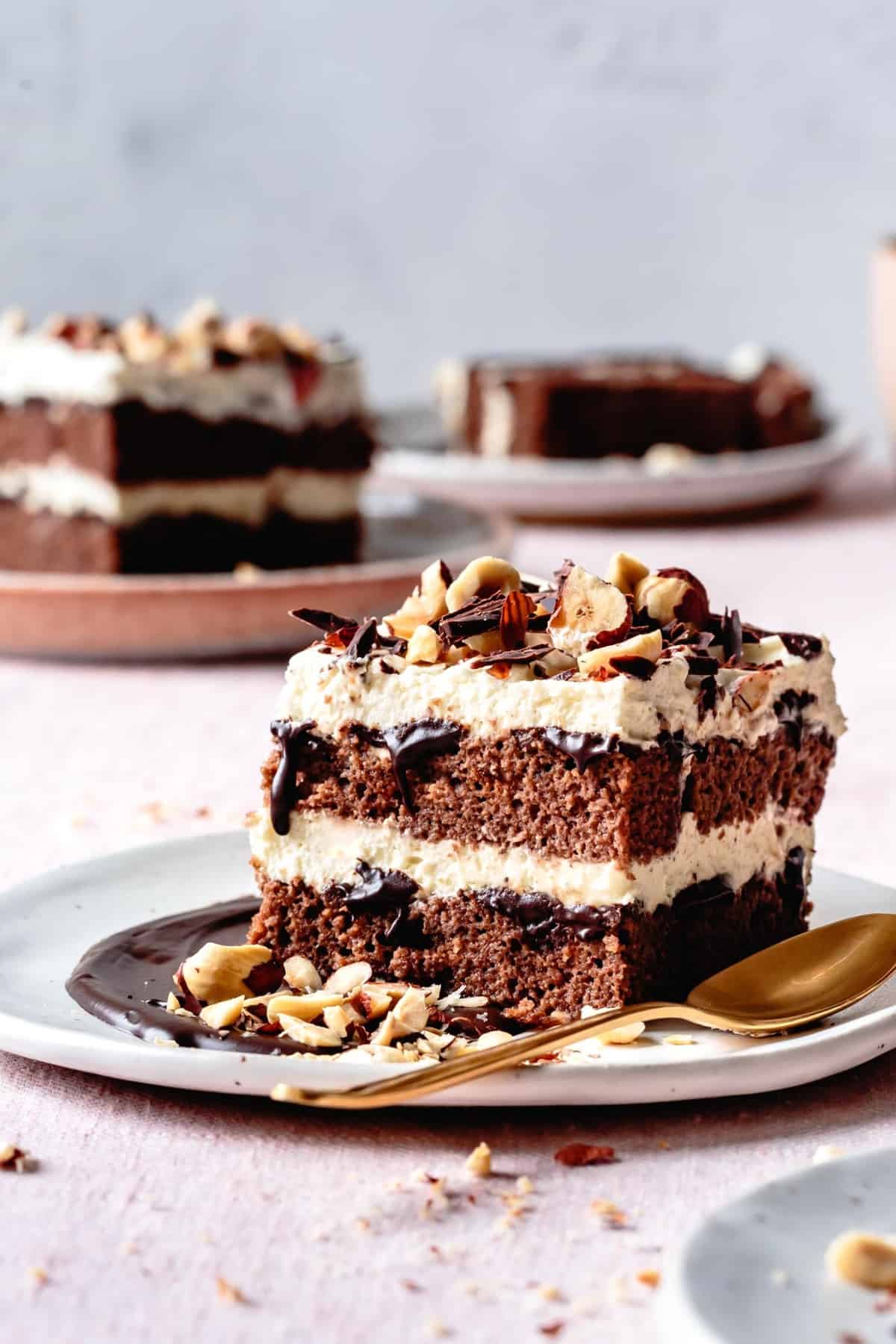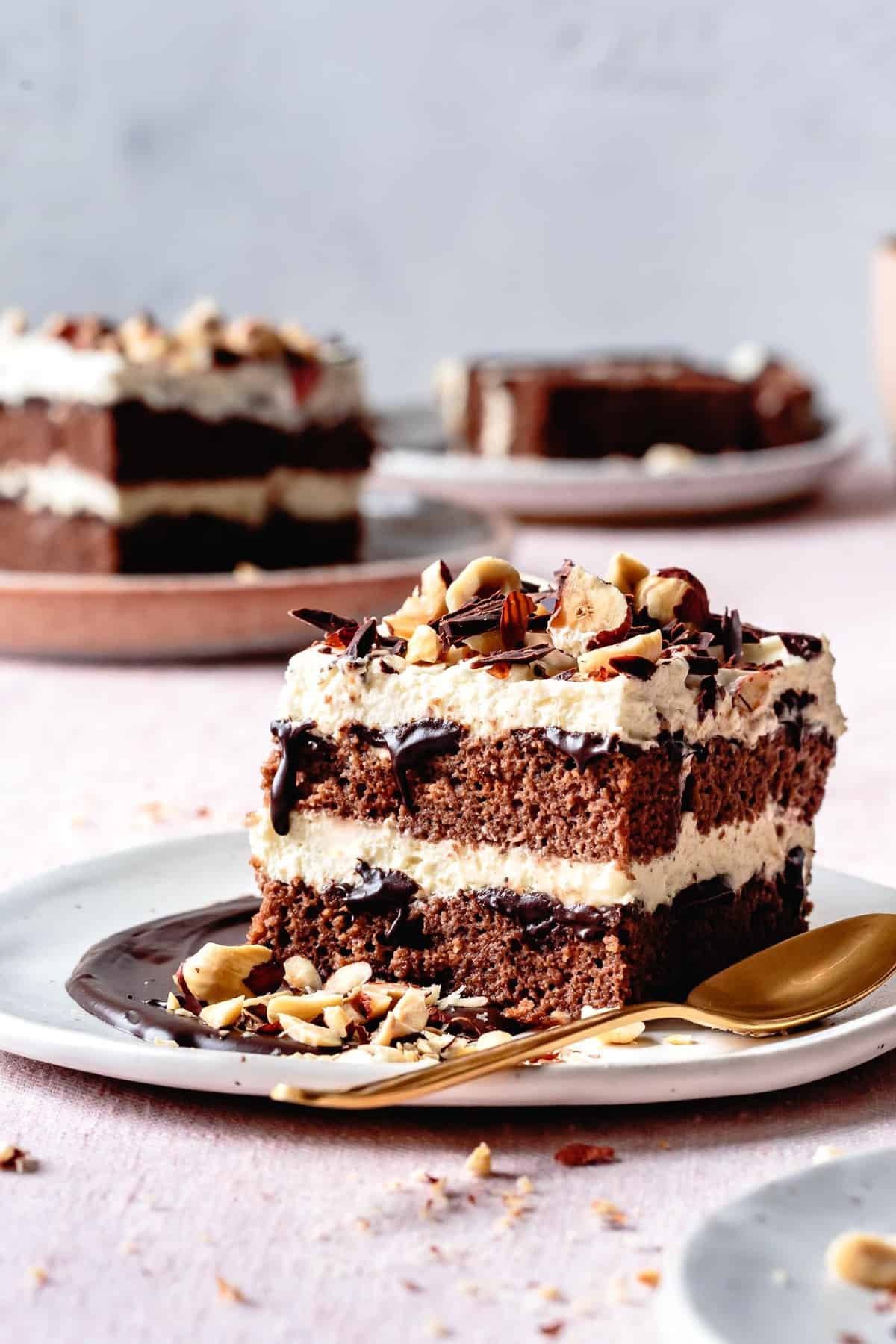 This gluten-free chocolate dessert gets its pretty burgundy hue from pureed beets! Full of the tangy-sweet flavors we all love in a classic red velvet cake but with none of the gluten, gums, or dyes.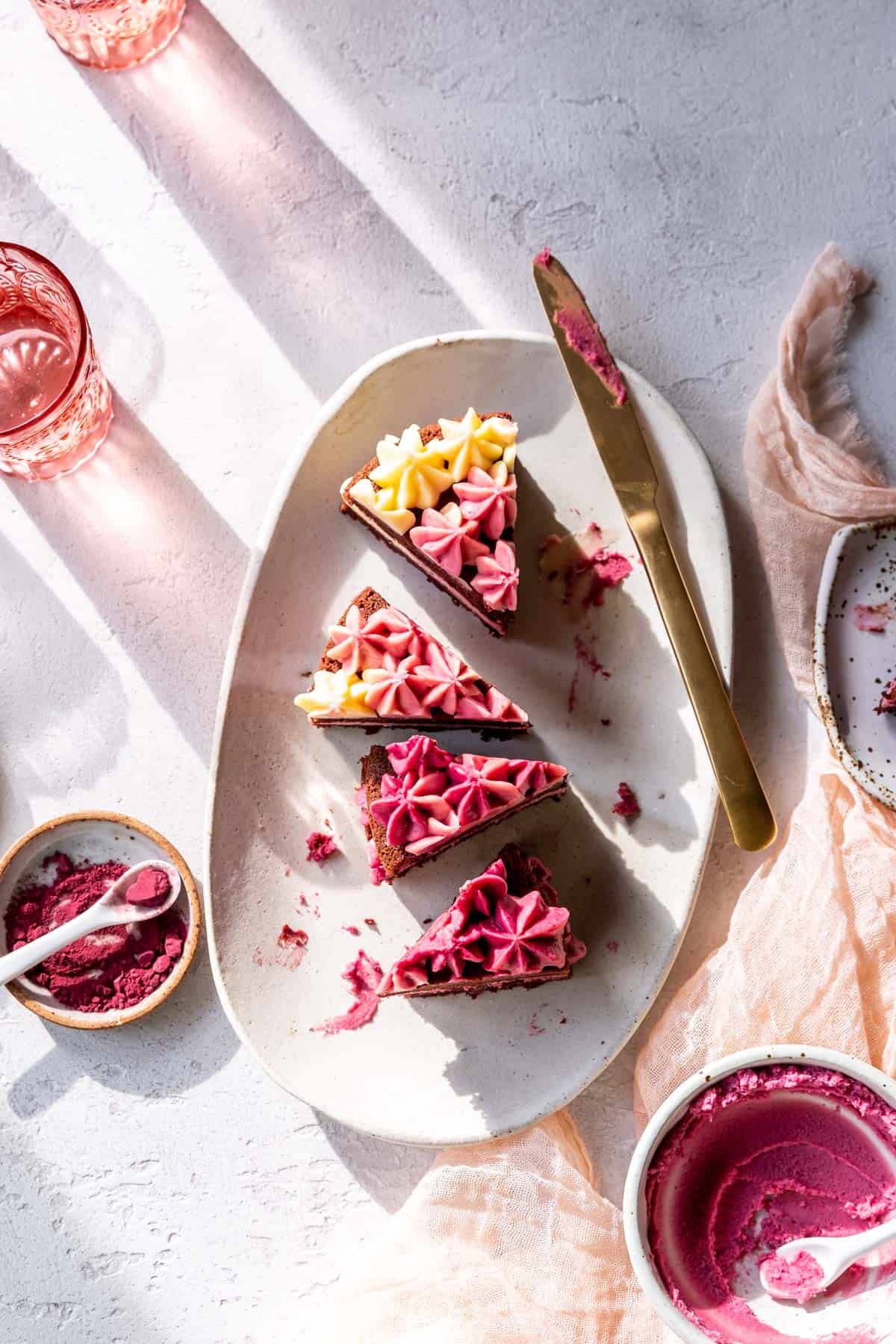 No dairy? No problem! This gluten-free vegan chocolate dessert is pure chocolate-on-chocolate action.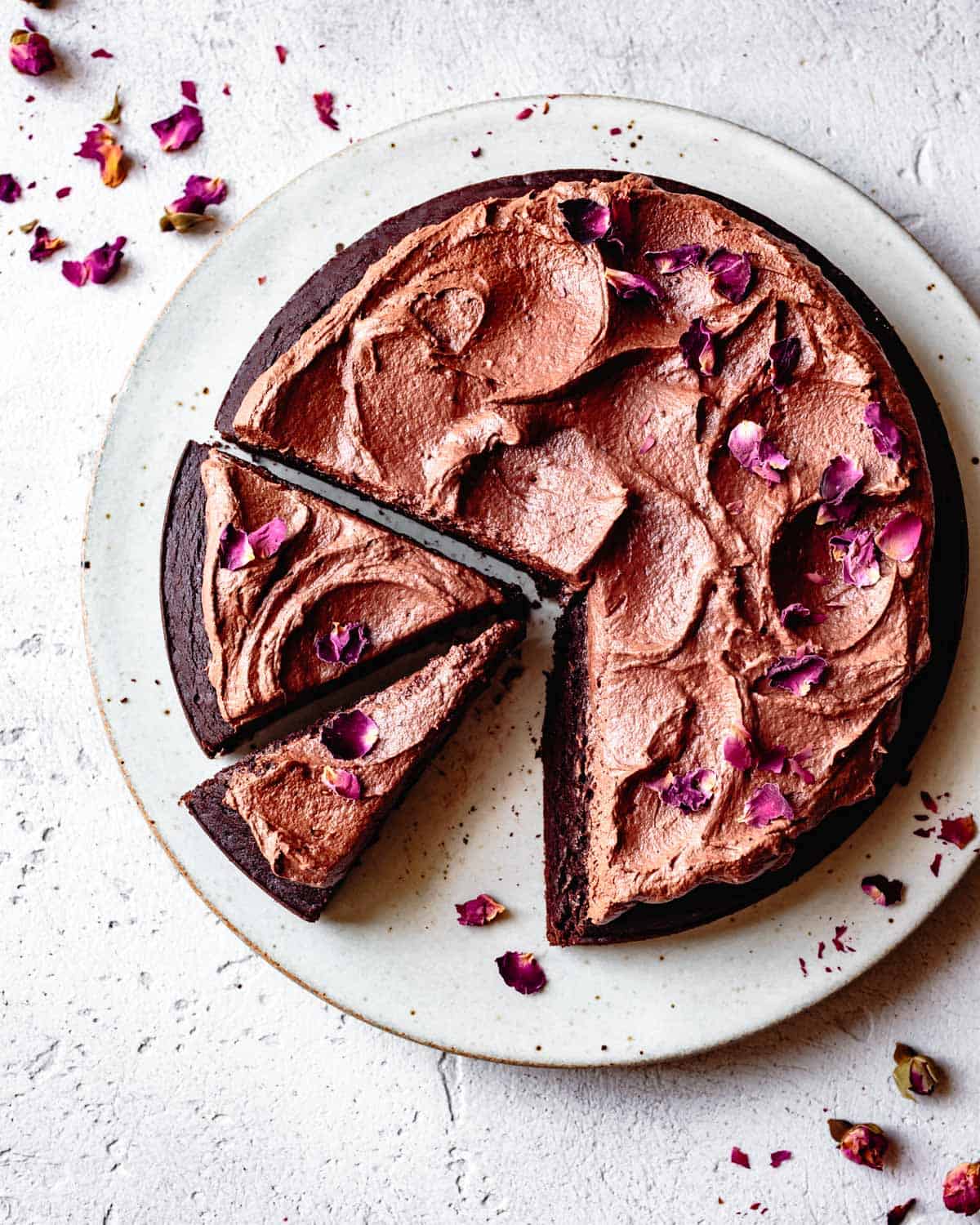 Coconut flour gives this gluten-free banana cake its lofty crumb, all topped with an addictive rum-kissed chocolate ganache.
This chocolate lover's dessert gets a tiramisù vibe from airy chocolate cake, boozy coffee syrup, and chestnut whipped cream.
This is the gluten-free chocolate birthday cake I make for all the chocophiles in my family!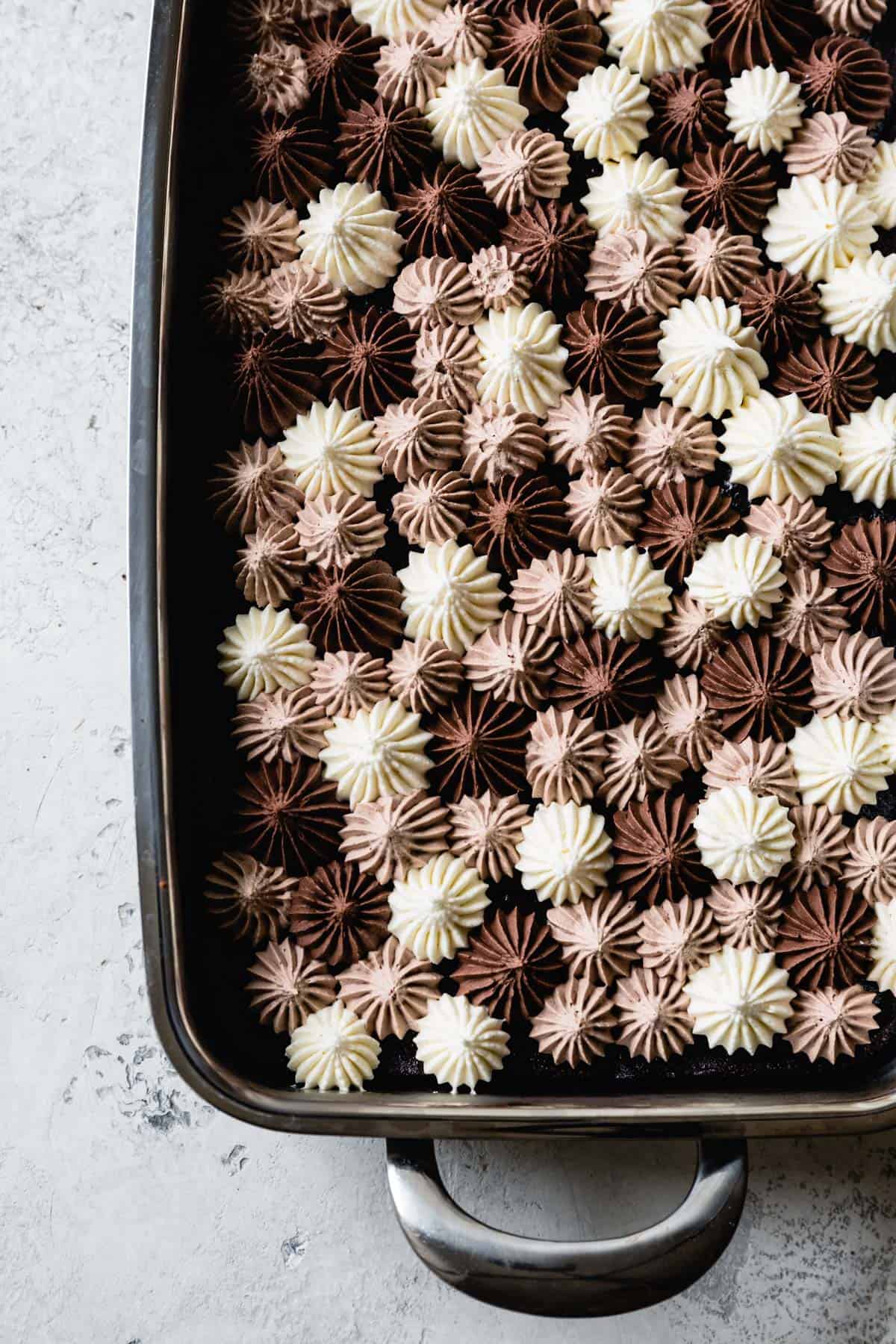 These dainty cakes get big flavor from mesquite powder. Get the recipe in my cookbook, Alternative Baker!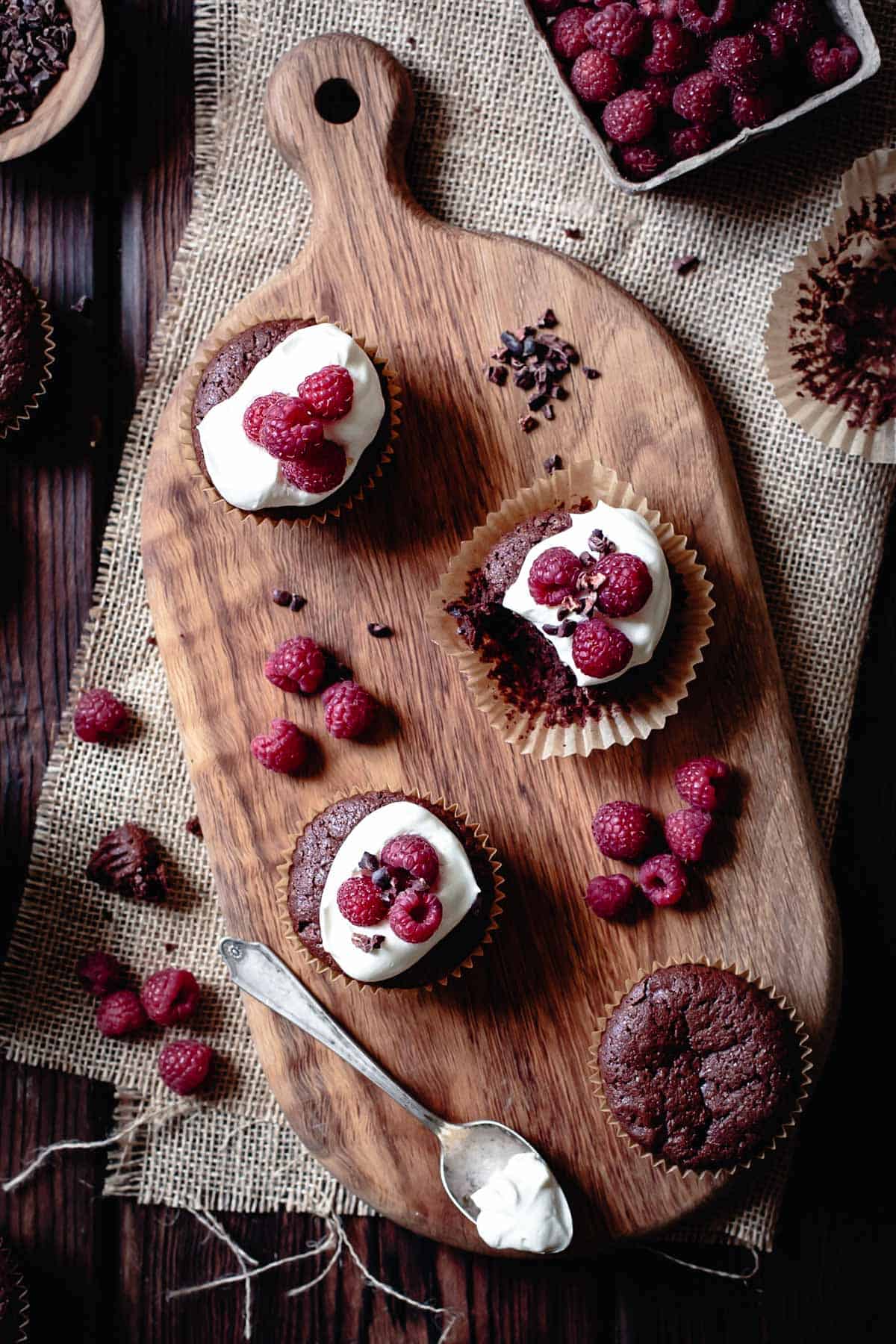 Grassy matcha cream cheese frosting tops layers of moist gluten-free chocolate zucchini cake. Or try my chocolate-flecked paleo vegan zucchini bread.
Gluten-Free Pies & Tarts
No need to be intimidated by these wheat-free chocolate recipes – they all use the same press-in cocoa gluten-free tart crust. With a hit of salt and lots of butter (or plant butter), this crust is one of my favorite chocolate recipes ever.
Easy chocolate pudding made in a blender combines with a classic crust all topped with cashew cream for a decadent yet nourishing chocolate dessert.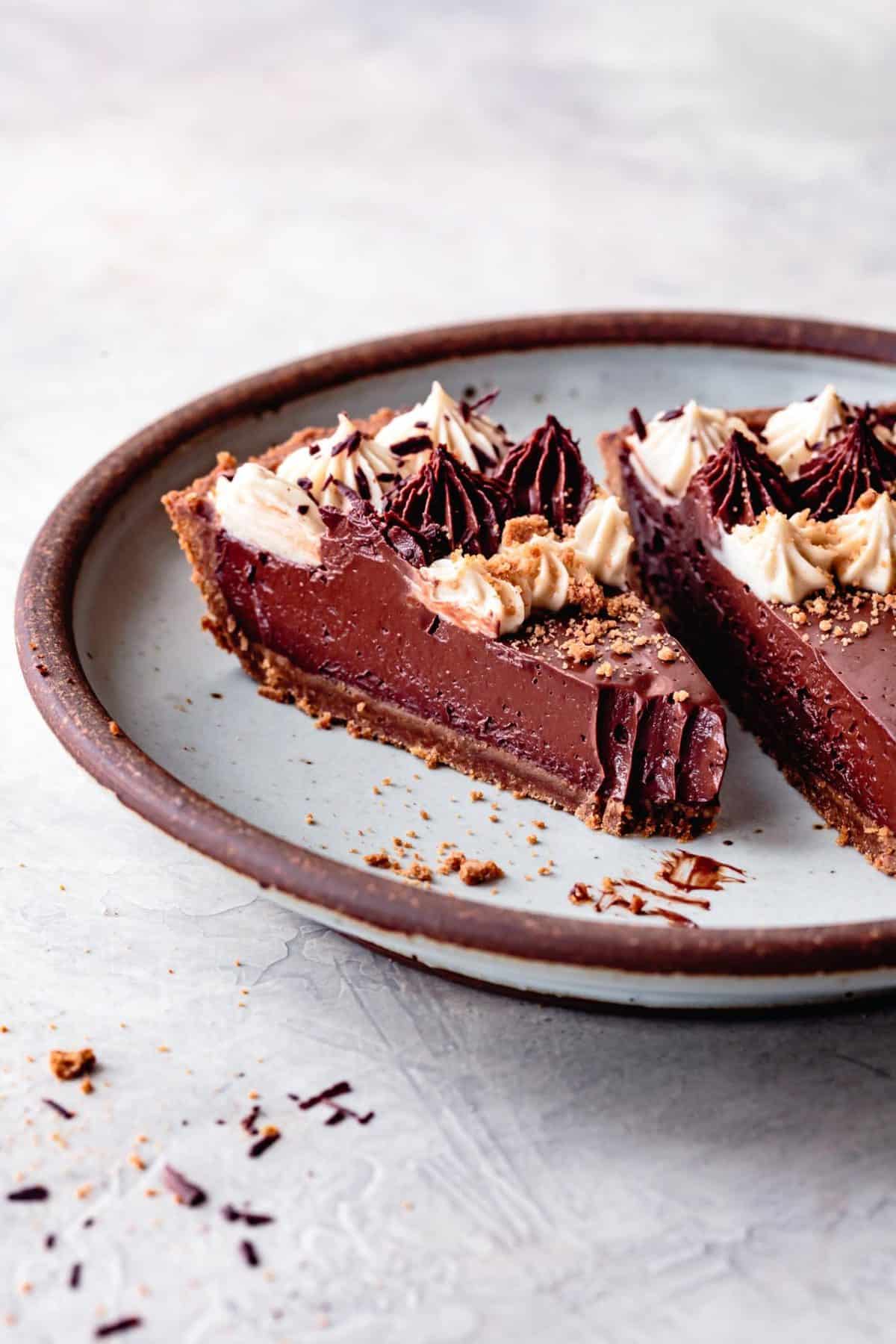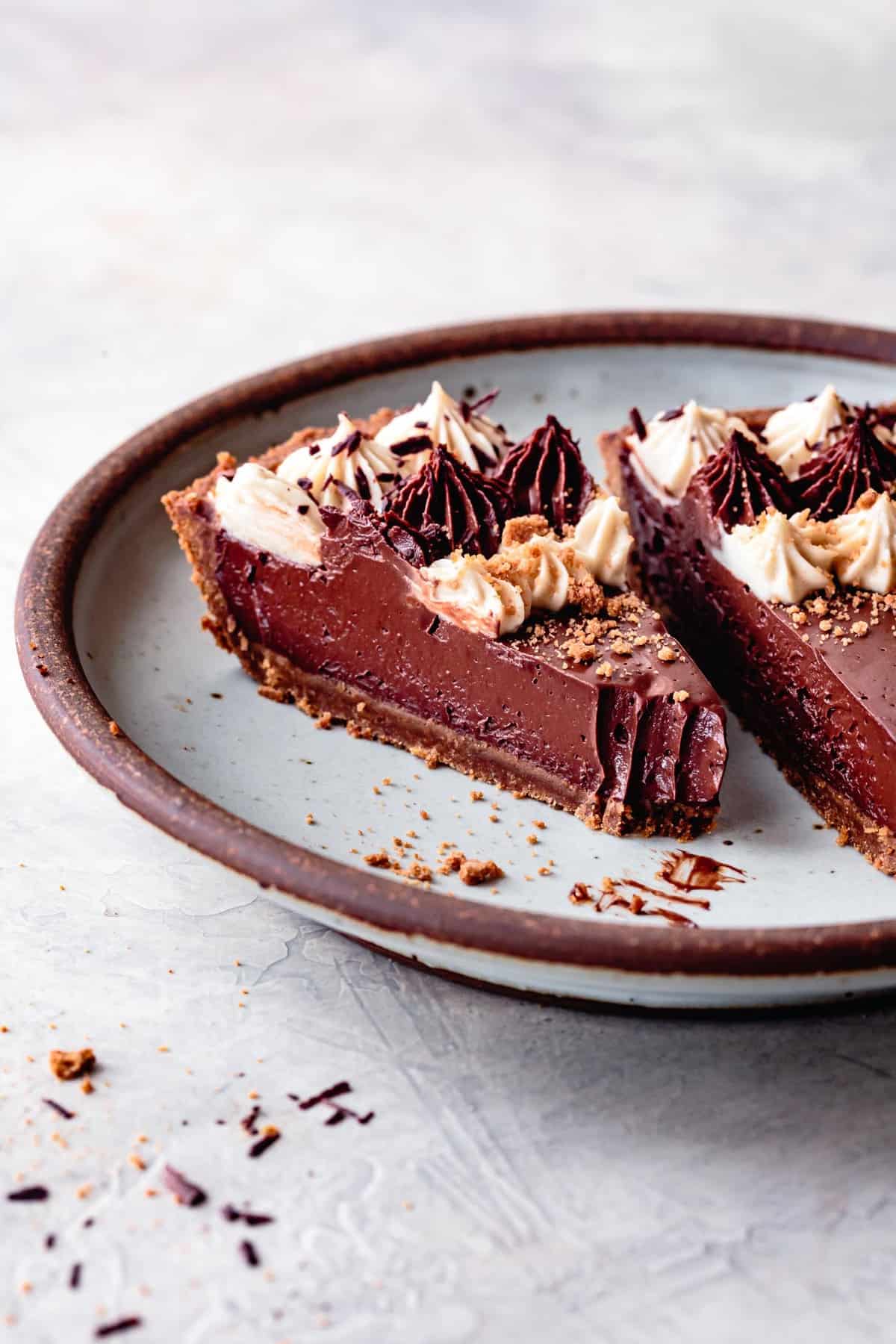 If you haven't tried tahini and chocolate together yet, this decadent tahini chocolate tart is the perfect place to start.
This homemade chocolate dessert recipe pairs a tender chocolate crust with creamy chocolate filling and whipped coconut cream.
Easy chocolate crust. Creamy butterscotch pudding. Sliced bananas. Whipped mascarpone. What more could you want in a gluten-free banana cream pie?
Poached pears and creamy custard filling nestle in a buttery chocolate crust for a festive gluten-free treat.
Layers of fresh figs dress up this chocolate dessert recipe that's stupid-easy to make but looks like you got it from a fancy gluten-free bakery. Vegan & paleo-friendly options.
I adapted this über-chocolatey recipe from my friend Irvin's cookbook Marbled, Swirled, and Layered. With three layers of chocolate custard (dark, milk, and white chocolate) plus a chocolate-swirled whip topping, this pie lives up to its name.
With a deep chocolate cocoa crust and creamy filling, this gluten-free cheesecake makes an easy elegant chocolate dessert for any occasion.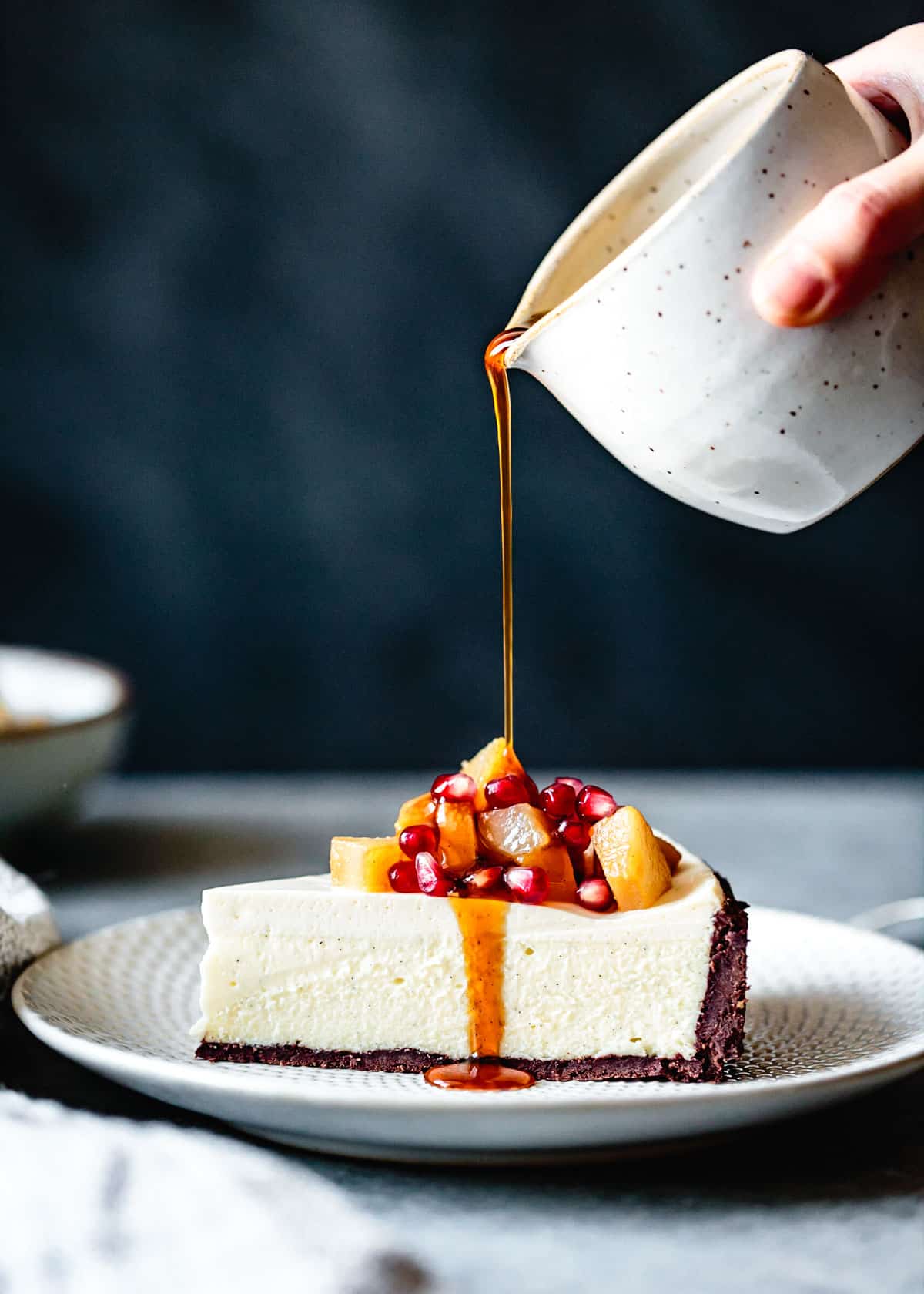 Small Gluten-Free Treats: Cookies, Bars, and More
When you need a gluten-free treat in a hurry, try one of these chocolicious cookies, brownies, or confections.
Brownies in cookie form! These gluten-free treats are loaded with chocolate, chocolate, and more chocolate.
An essential recipe for any gluten-free baker. These thicc cookies get loads of butterscotch flavor from brown sugar and vanilla brown butter, all loaded with gooey chocolate chunks.
Need paleo-friendly cookies? Try my chonky vegan grain-free chocolate chip cookies instead.
Oatmeal craving? Try these gluten-free oatmeal chocolate chip cookies.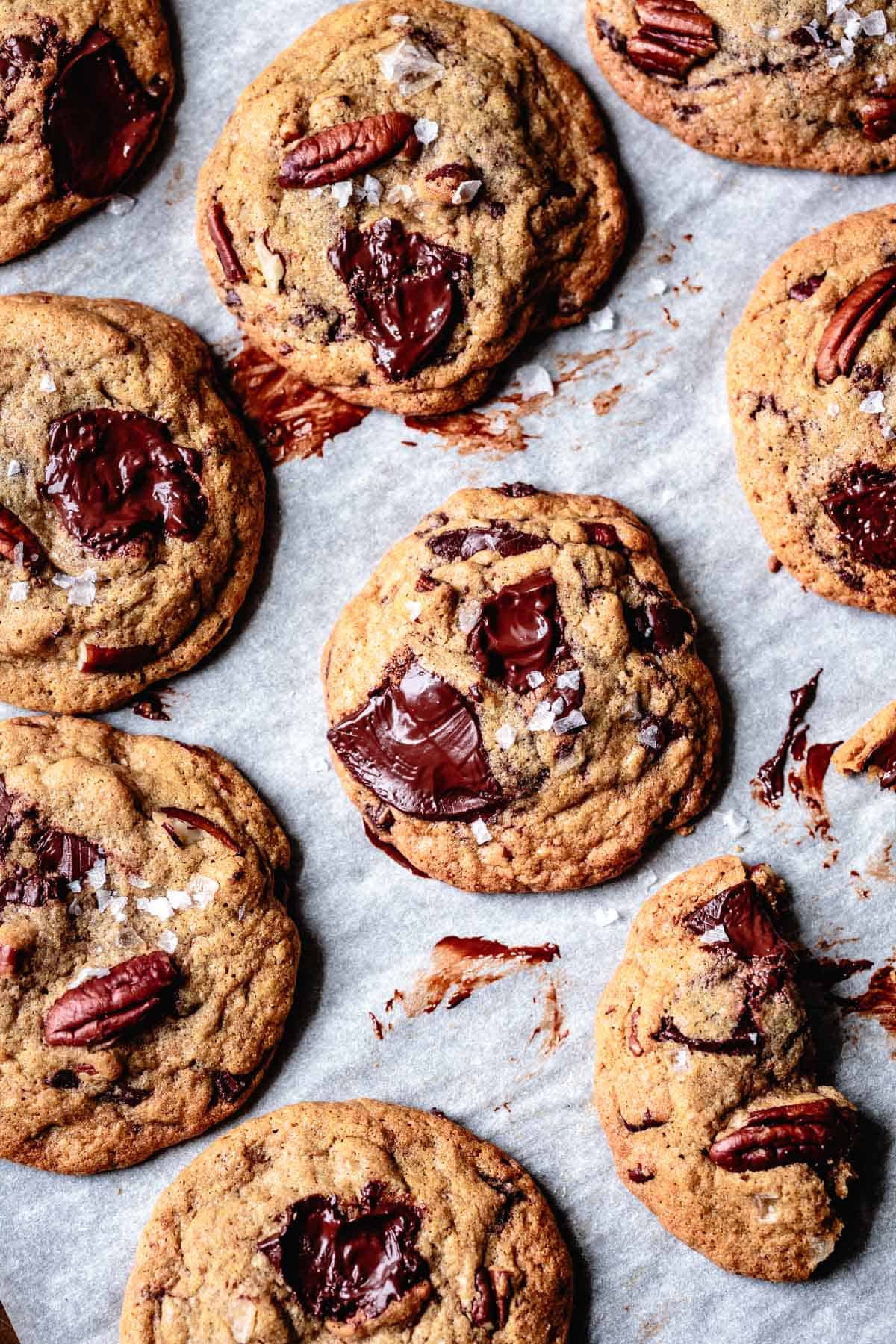 One of my favorite gluten-free chocolate desserts ever. These magical cookies are free of gluten, grains, dairy, eggs, refined sugar, and nuts. Yet they taste shockingly similar to classic CCCs.
Or try this reader favorite: oatmeal tahini chocolate chip cookies.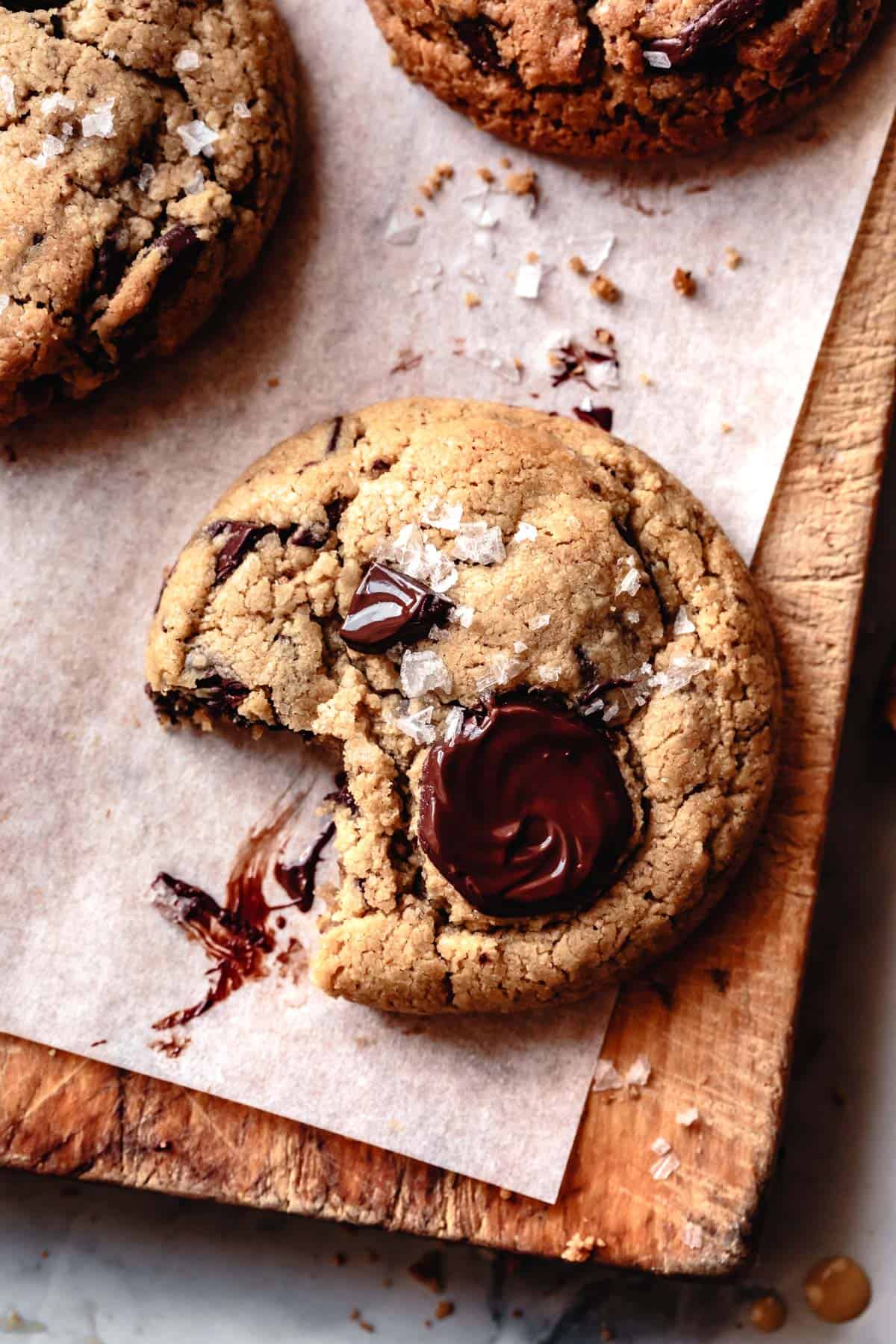 These easy gf brownies work with just about any flour you like. Shown here with chestnut flour from my book Alternative Baker, my original version packs a boozy punch. Keep them classic by leaving off the booze and using sweet rice flour or GF AP flour.
Looking for an almond flour brownie recipe? Try these almond flour brownies from Aysegul at Foolproof Living.
Got nut pulp leftover from making nut milk? You'll love these baked almond pulp brownies.
Teff flour brownies with tahini frosting are another gluten-free favorite.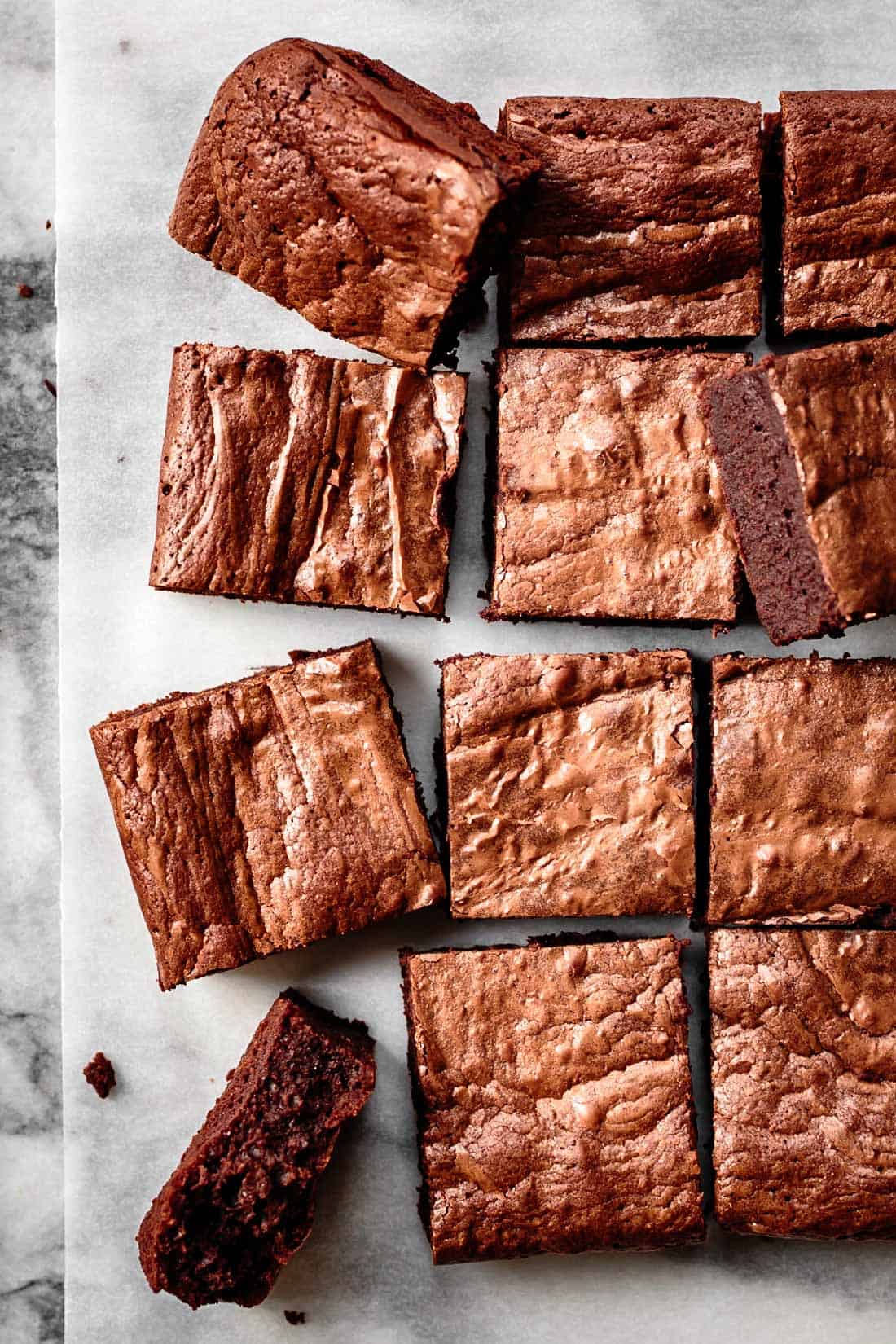 These easy bar cookies can be in and out of the oven in under and hour and will satisfy your CCC cravings without the scooping or spreading.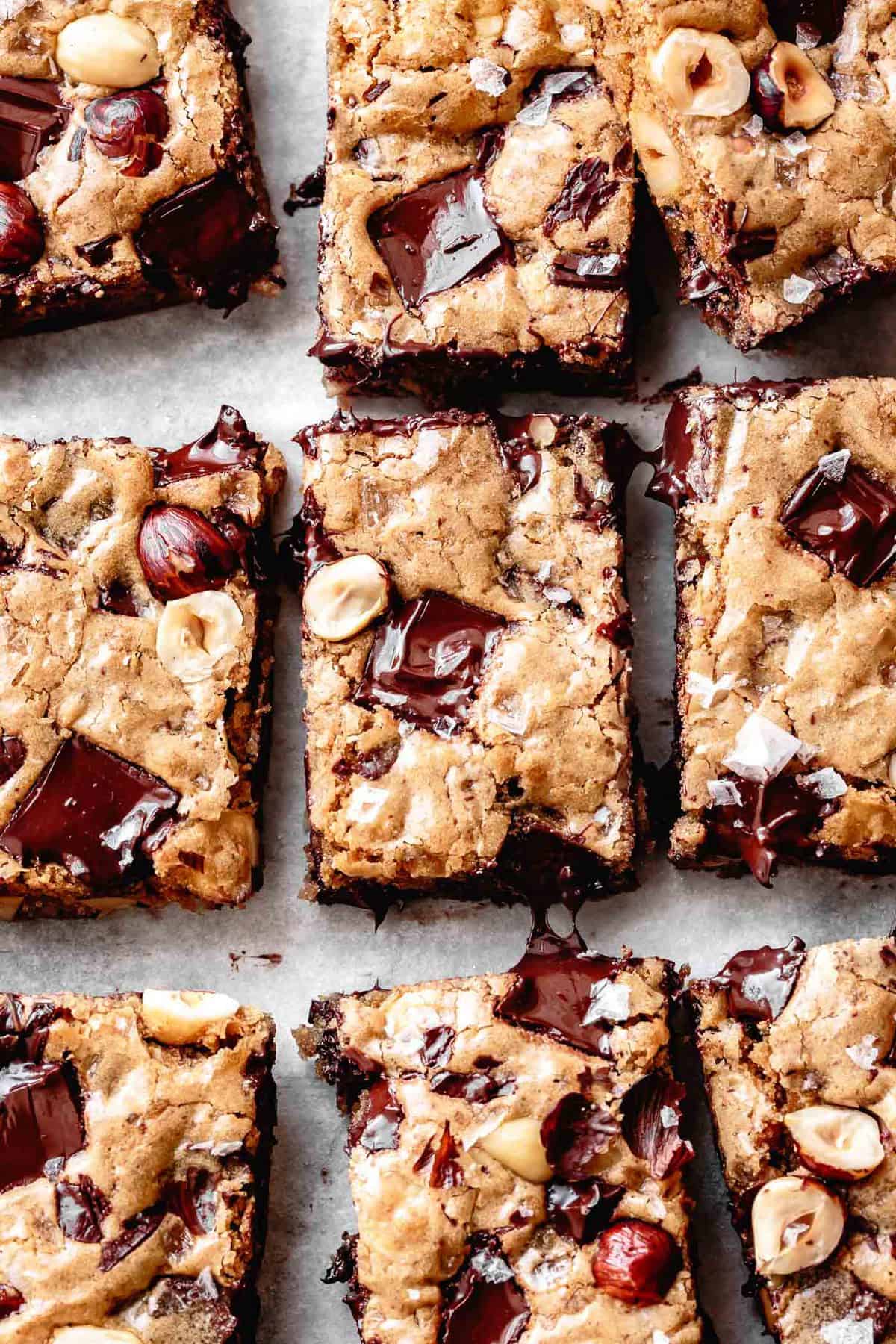 A healthy rice krispies treat everyone loves! This recipe has been featured on Food52 where it became a community favorite.
Cheeseboard turns sweet with this chocolate board loaded with all the chocolate, cheese, fruit, nuts, crackers, and cookies.
No-Bake Chocolate Desserts, Puddings & Custards
No oven? No problem! These healthy chocolate recipes are all made on the stovetop, and some are even raw vegan.
Paleo-friendly, vegan, and maple-sweetened, this creamy chocolate dessert packs a decadent chocolate punch.
For chocolate hazelnut lovers only! This gf chocolate treat combines a press-in cocoa crust, mousse-like filling, and ganache topping for layers of chocolate hazelnut love.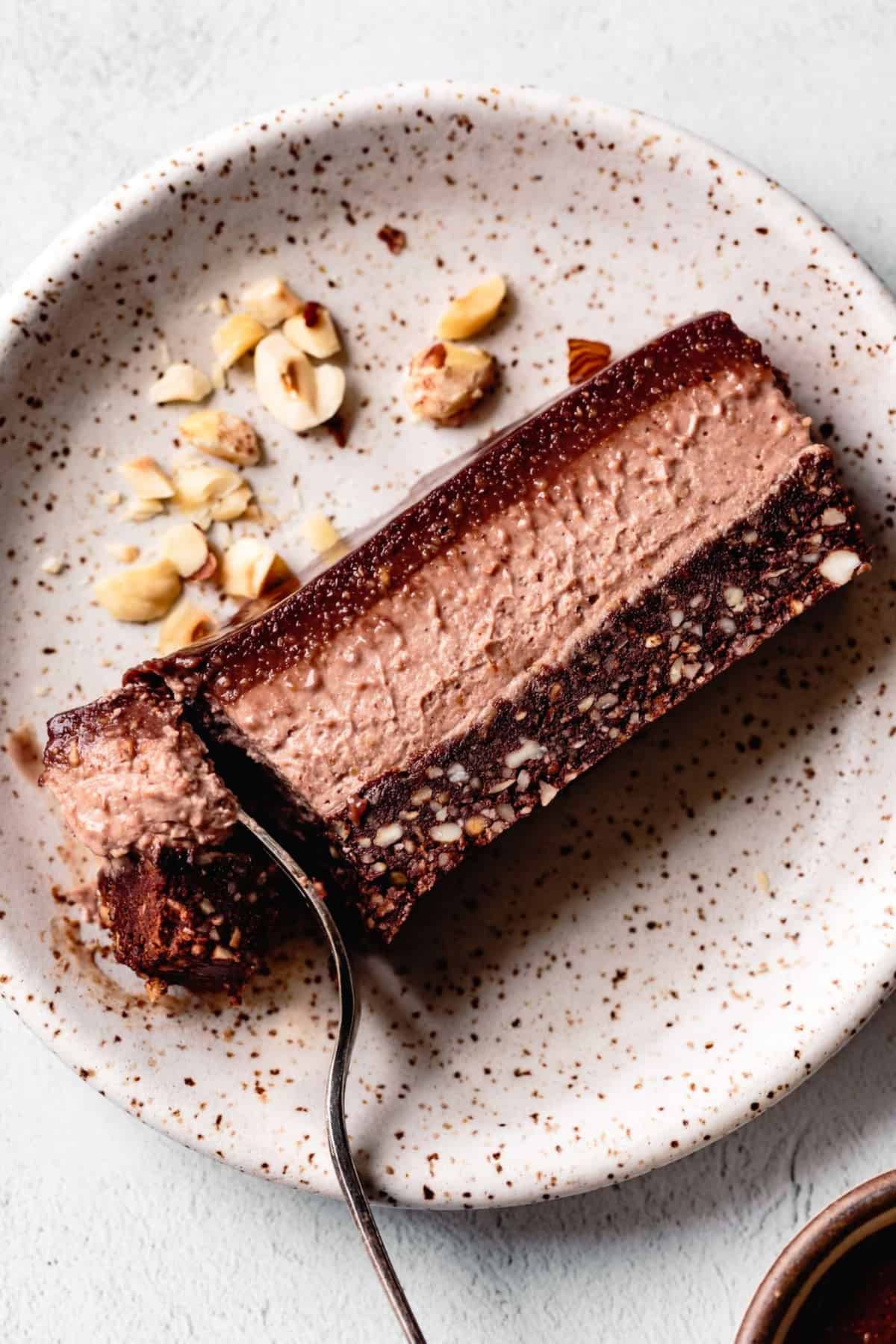 With hazelnuts and ganache, these no-bake brownies get an addictive Nutella vibe.
With healthy homemade chocolate and nut butter, these petite treats satisfy in a big way.
It doesn't get any easier (or more delicious) than this luscious pudding. Simply blend the ingredients together and chill. Made with just 4 main pantry ingredients and 5 minutes of active time. Maple-sweetened and naturally free of gluten, dairy, eggs, sugar, and nuts.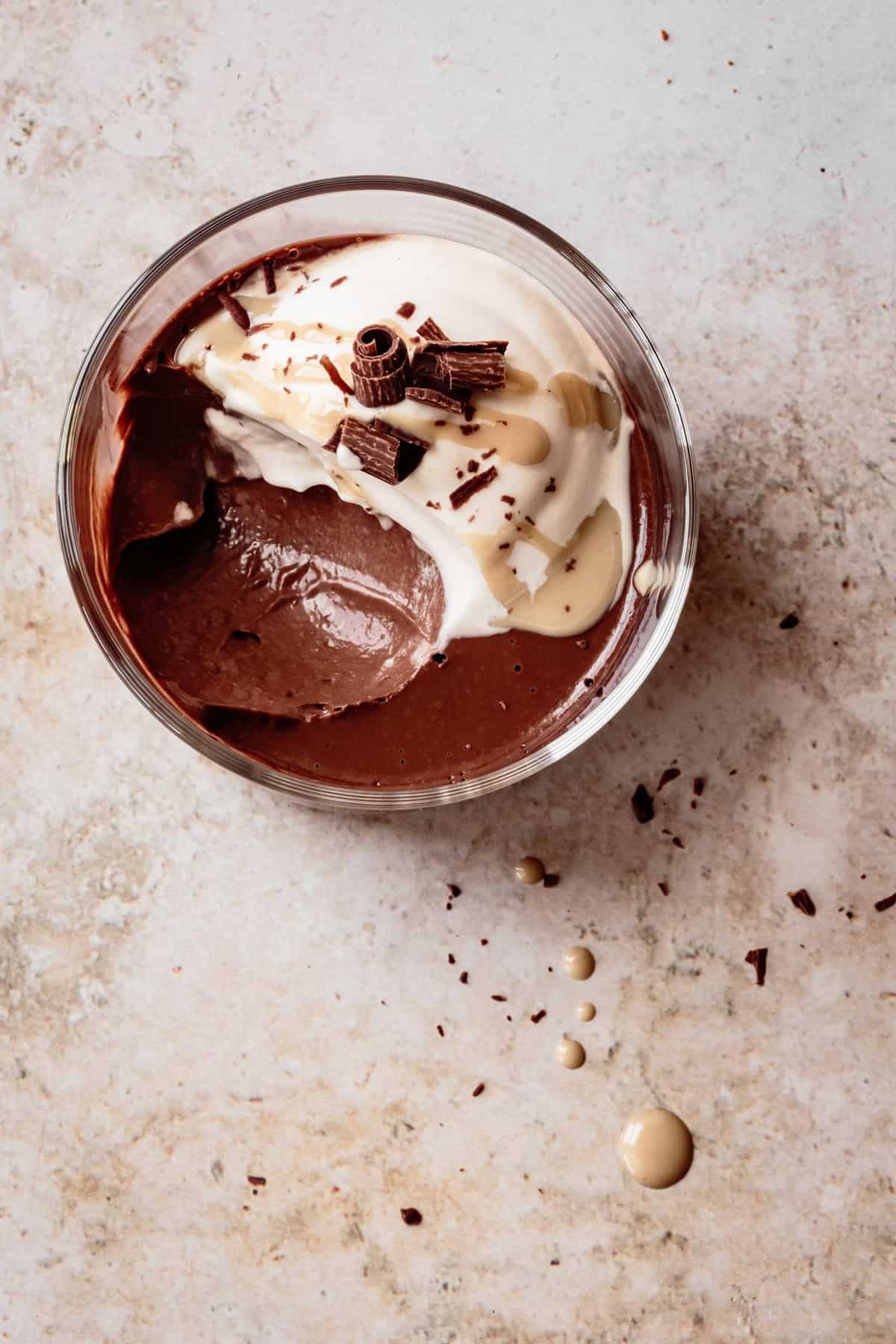 This is the best chocolate pudding you will ever have. I can say that because it's my friend Janet's recipe, from her beautiful book Extra Helping. Make a double batch to bring to a friend in need.
Or try my favorite vegan chocolate tapioca pudding.
These easy custards are made on the stovetop, no oven required! Top with a dollop of whip, a drizzle of super-good olive oil, and a sprinkle of flaky salt.
Or try this dairy-free pot de creme with coconut & rum.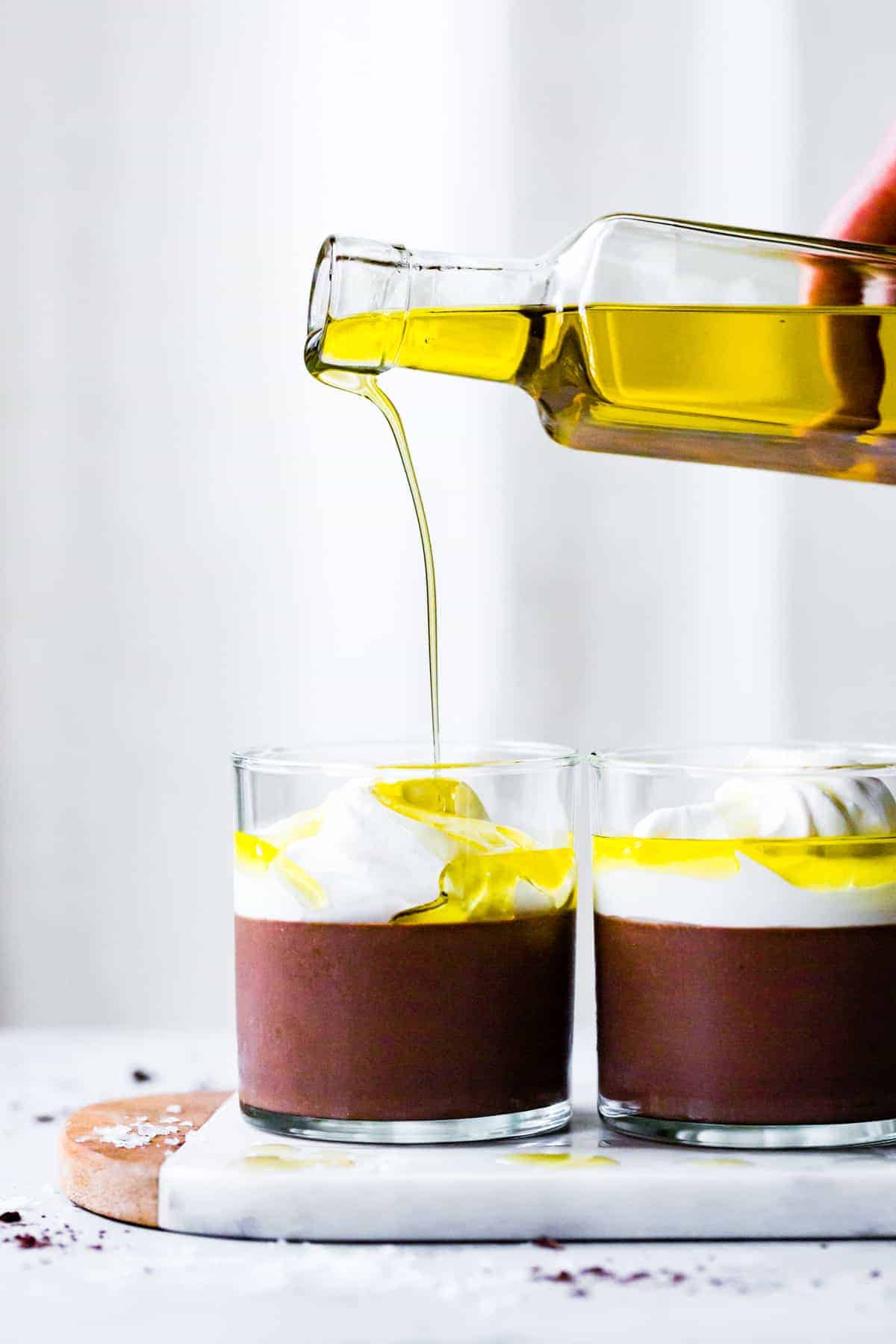 More Recipe Collections: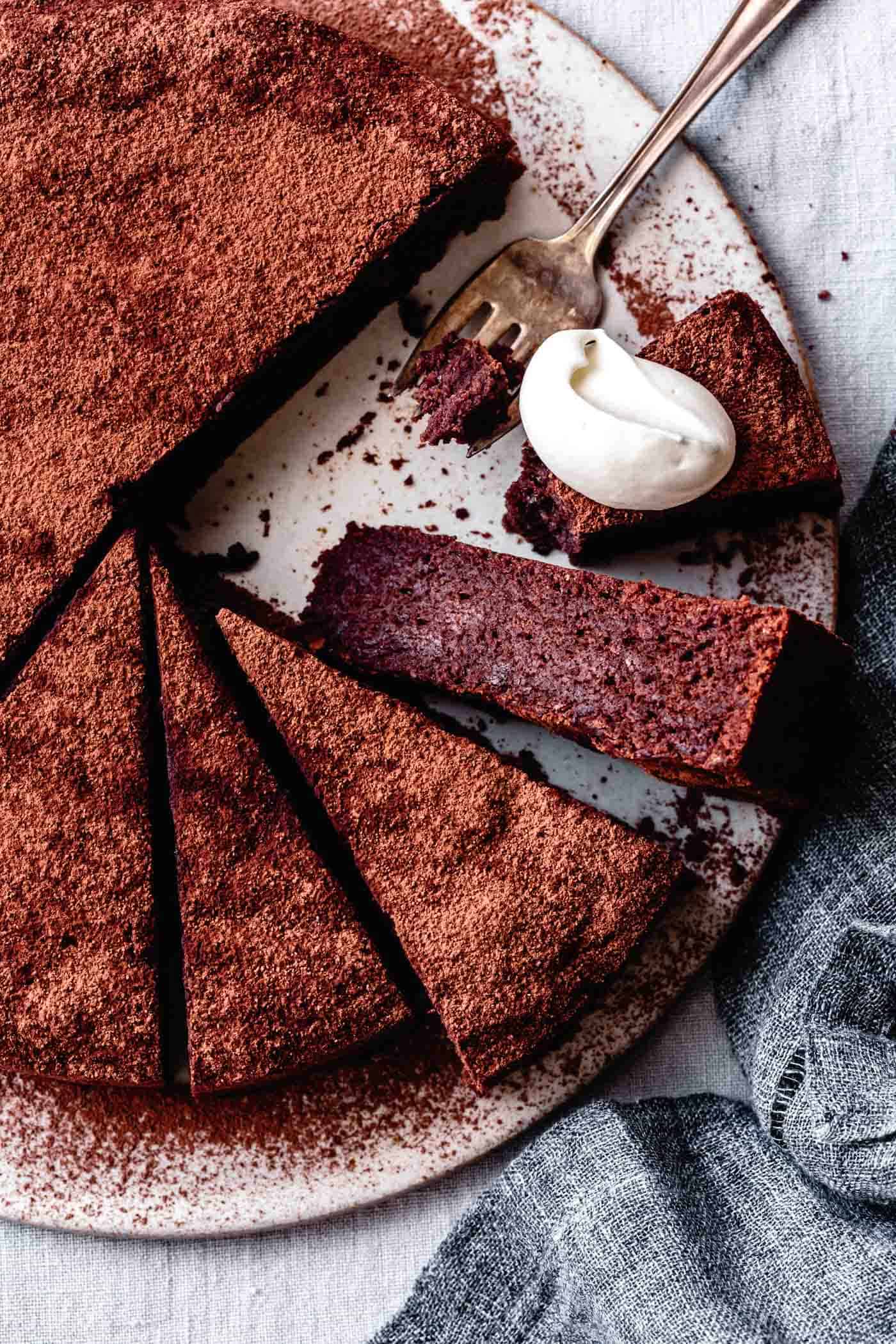 *Bojon appétit! For more Bojon Gourmet in your life, follow along on Instagram, Facebook, or Pinterest, purchase my gluten-free cookbook Alternative Baker, or subscribe to receive new posts via email. And if you make any of these gluten-free chocolate desserts, I'd love to know. Leave a comment and rating below, and tag your Instagram snaps @The_Bojon_Gourmet and #bojongourmet.*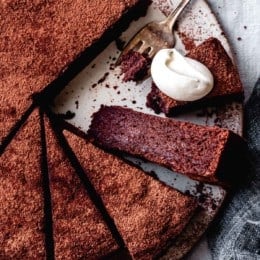 Gluten-Free Chocolate Dessert Idea: GF Chocolate Almond Olive Oil Cake
Print Recipe
Pin Recipe
Dense, tender, and sophisticated, this gluten-free chocolate almond flour cake gets a sophisticated flavor kick from fruity olive oil. Deck slices out with whipped cream and seasonal fruit, or enjoy it plain with a cup of coffee. Naturally dairy-free, with gluten-free and paleo options.
Servings:
12
small but rich servings (makes one 8- or 9-inch cake)
Ingredients
1/2

cup

(60 g) almond flour or meal (or whole almonds ground with the rice flour until powder-fine)

2

tablespoons

(20 g) sweet rice flour or GF AP flour (use cassava flour for a paleo option)

6

ounces

(170 g) bittersweet chocolate with 65-72% cacao mass, roughly chopped

1/2

cup

(120 ml) flavorful olive oil, plus extra for serving

1/4

teaspoon

salt

4

large eggs, separated, at room temperature

3/4

cup

(150 g) sugar, divided use (use coconut or maple sugar for paleo version)

1/4

teaspoon

cream of tartar

For serving (optional): cocoa powder, unsweetened whipped cream / coconut cream / yogurt, seasonal fruit, olive oil
Instructions
Position a rack in the center of the oven and preheat to 350ºF. Rub an 8- or 9-inch round springform pan with a bit of olive oil.

Place the chocolate, oil and salt in a large, metal bowl. Place the bowl in a skillet filled with 2 inches of barely simmering water, and stir frequently until the chocolate is melted.

Remove the bowl from the skillet and whisk in 1/2 cup of the sugar, the almond flour, and the sweet rice flour. Whisk in the egg yolks. If the mixture gets cold, it may start to "seize" or look grainy. In this case, place the bowl back into the warm water and stir until it loosens up again.

Place the egg whites and cream of tartar in the bowl of a stand mixer fitted with the whisk attachment. Whip on medium-high speed until foamy, then gradually pour in the remaining 1/4 cup of sugar, whipping the whites until they hold soft peaks (i.e., when you pull the whisk out and hold it upside down, the peaks of white flop over).

Without delay, use a rubber spatula to stir 1/3 of the whipped whites into the chocolate mixture, then gently fold in the remaining whites until the batter is just combined and no streaks remain.

Immediately scrape the batter into the prepared pan, and smooth the top. Bake the cake until a toothpick inserted in the center comes out with moist crumbs, 30-40 minutes. Let the cake cool completely, then remove the sides of the pan. Dust with cocoa powder just before serving if you wish, then use a large chef's knife wiped clean after each cut to slice the cake.

If you like, serve the cake with a dollop of cream, a drizzle of olive oil, a few flecks of flakey salt, and/or seasonal fruit or berries. The cake will keep, covered and at room temperature, for up to three days, or refrigerate or freeze for longer storage.
Notes
Adapted from Alice Medrich's Sinfully Easy Delicious Desserts.
This cake makes a great do-ahead dessert as it is even better on the second or third day, when the flavors have had a chance to develop.
To keep the batter happy, warm your eggs to room temperature before making the cake; this will keep the batter fluid and easy to fold. You can do this quickly by placing the whole eggs in a bowl of warm tap water and letting them sit for 5-10 minutes.
If gluten isn't an issue, feel free to use all-purpose wheat flour in place of the rice; or you could probably use a gluten-free all-purpose blend.
Do use good chocolate and olive oil that you like the taste of. I don't recommend making this with chocolate chips.
Nutritional values are based on one of twelve servings.
Nutrition
Calories:
270
kcal
Carbohydrates:
22
g
Protein:
4
g
Fat:
19
g
Saturated Fat:
5
g
Cholesterol:
55
mg
Sodium:
49
mg
Potassium:
153
mg
Fiber:
2
g
Sugar:
18
g
Vitamin A:
85
IU
Calcium:
33
mg
Iron:
1.4
mg