The first job I had in San Francisco was at a gluten-free wholesale bakery where work days consisted of mixing, baking, and packaging hundreds of really good fudgy brownies. My favorite task was cutting up "brownie favors," irregular pieces that got weighed into bakery bags. It was way too easy to continually stuff my face full of brownies pop a scrap in my mouth every so often, which I could rationalize because the brownies contained brown rice flour, palm oil, ground flax and organic eggs. (And besides, as we say in the baking biz, "Broken cookies have no calories.")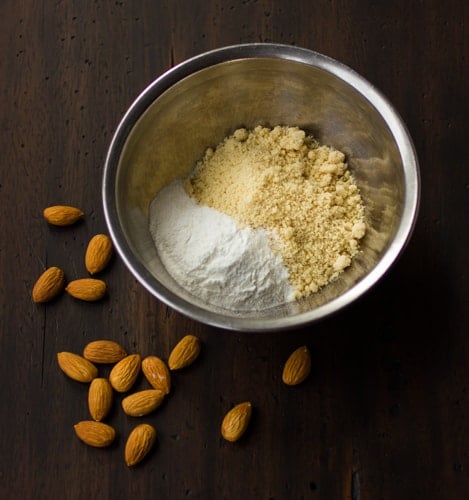 One day we got an angry letter from a vegan claiming to have been bamboozled into eating eggs by our misleading label, which proclaimed the bars "gluten- and dairy-free."
Since dairy is defined as "food made from or containing milk," eggs are not technically dairy. (I checked)
This did not endear me to vegans.
So lest there be any confusion, this cake contains no dairy, but it does get its luscious texture from whipped egg whites. The recipe hails from Alice Medrich's latest collection of amazingness Sinfully Easy Delicious Desserts. Ms. Medrich has a well-deserved reputation for being an awesome baker with solid recipes who isn't afraid to try new techniques. She is a culinary pioneer from whom I find continual inspiration.
Olive oil replaces the butter in this cake, giving it rich undertones of something mysterious. Since olive oil is liquid at room temperature, the cake stays tender when cool, with a crispy, rippled top. The flavors develop more fully after a day or two, and they really pop when dotted with more olive oil and a few crunchy flakes of sea salt. I like a dollop of plain whipped cream, too.
I made one small change in the recipe, trading wheat flour for sticky rice flour to make the cake gluten-free, and two small tweaks to the method. I lowered the oven temperature from 375º to 325º, as the first cake I made turned out overdone on the outside, but under-baked in the middle. The lower temperature bakes the cake more evenly, and prevents the sensitive chocolate and oil from over-heating. I also whisk the almond-flour mixture right into the melted chocolate mixture rather than folding it in with the whipped egg whites, as this seems easier.
This cake turns out moist, tender and rich, but not so densely truffle-like as some cakes of its ilk. The ground almonds add body, and its judicious sweetness is balanced by deep chocolate and fragrant olive oil. It appreciates a tot of good whiskey or a cup of coffee.
Since I have several lactose-intolerant friends, I'm quite happy to have this cake in my arsenal for continually stuffing my face the occasional dinner party. (Thanks, Alice Medrich!) Serve it up to guests, or make if for your sweetie for the upcoming holiday. You won't get complaints from any non-vegans.
Olive oil love:
Tangerine Olive Oil Pound Cake
Gluten-Free Breakfast Bars with Apricots, Prunes and Almonds
Chocolate Rosemary Pots de Crème with olive oil and sea salt
Tarragon Olive Oil Ice Cream
One year ago:
(Gluten-Free) Über Chocolate Cookies
Two years ago:
White Bean, Kale and Farro Soup with Parsley Pesto
Three years ago:
Breakfast Bars with Tart Cherries, Chocolate and Pecans
Banana Brown Sugar Pecan Scones
(Gluten-Free) Chocolate Almond Olive Oil Cake
Adapted from Alice Medrich's Sinfully Easy Delicious Desserts
This cake makes a great do-ahead dessert as it is even better on the second or third day, when the flavors have had a chance to develop. To keep the batter happy, warm your eggs to room temperature before making the cake; this will keep the batter fluid and easy to fold. You can do this quickly by placing the whole eggs in a bowl of warm tap water and letting them sit for 5-10 minutes. If gluten isn't an issue, feel free to use all-purpose wheat flour in place of the rice; or you could probably use a gluten-free all-purpose blend. Do use good chocolate and olive oil that you like the taste of – I used Scharffen Berger's bittersweet chocolate and a locally produced, extra-virgin olive oil. I only had a 9″ springform pan, so that is what I used here; an 8″ pan will make a taller cake.
Makes one 8 or 9″ cake, 12 small but rich servings
scant 1/2 cup (2 ounces) natural or blanched whole almonds, or 1/2 cup (2 ounces) almond meal
2 tablespoons (3/4 ounce) sweet rice flour (such as Mochiko)
6 ounces bittersweet chocolate with 70-72% cacao mass, roughly chopped (1 1/4 cups)
1/2 cup (3 1/4 ounces) flavorful olive oil, plus extra for serving
1/8 teaspoon salt
4 large eggs, separated, at room temperature
3/4 cup (6 ounces) sugar, divided use
1/4 teaspoon cream of tartar
flaky salt for serving
unsweetened whipped cream, for serving
Position a rack in the center of the oven and preheat to 325º. Grease an 8 or 9″ round springform pan with a bit of olive oil.
If using whole almonds, grind them with the flour in a food processor or clean coffee grinder until powdery. Sift out any chunks and set aside.
Place the chocolate, oil and salt in a large, metal bowl. Place the bowl in a skillet filled with 2″ of barely simmering water, and stir frequently until the chocolate is melted. Remove the bowl from the skillet and whisk in 1/2 cup of the sugar, and the almond mixture (or the almond meal and flour) until combined. Whisk in the egg yolks. If the mixture gets cold, it may start to "seize" or look grainy. In this case, place the bowl back into the warm water and stir until it loosens up again.
Place the egg whites and cream of tartar in the bowl of a stand mixer fitted with the whisk attachment. Whip on medium-high speed until foamy, then gradually pour in the remaining 1/4 cup of sugar, whipping the whites until they hold soft peaks (i.e., when you pull the whisk out and hold it upside down, the peaks of white flop over).
Without delay, use a rubber spatula to stir 1/3 of the whipped whites into the chocolate mixture, then gently fold in the remaining whites until the batter is just combined and no streaks remain.
Immediately scrape the batter into the prepared pan, and smooth the top. Bake the cake until a toothpick inserted in the center comes out with moist crumbs, 40-45 minutes. Let the cake cool completely, then remove the sides of the pan and sprinkle with a bit of flaky salt. Use a large chef's knife wiped clean after each cut to slice the cake into thin wedges.
Serve each slice with a dollop of cream and drizzle of super good olive oil. The cake will keep, covered and at room temperature, for up to three days.