For chocophiles only! This gluten-free vegan chocolate pie is loaded with luscious cocoa flavor. Made with just a handful of pantry-friendly ingredients with 5 minutes of active time, no baking or cooking needed. With refined sugar-free and paleo options.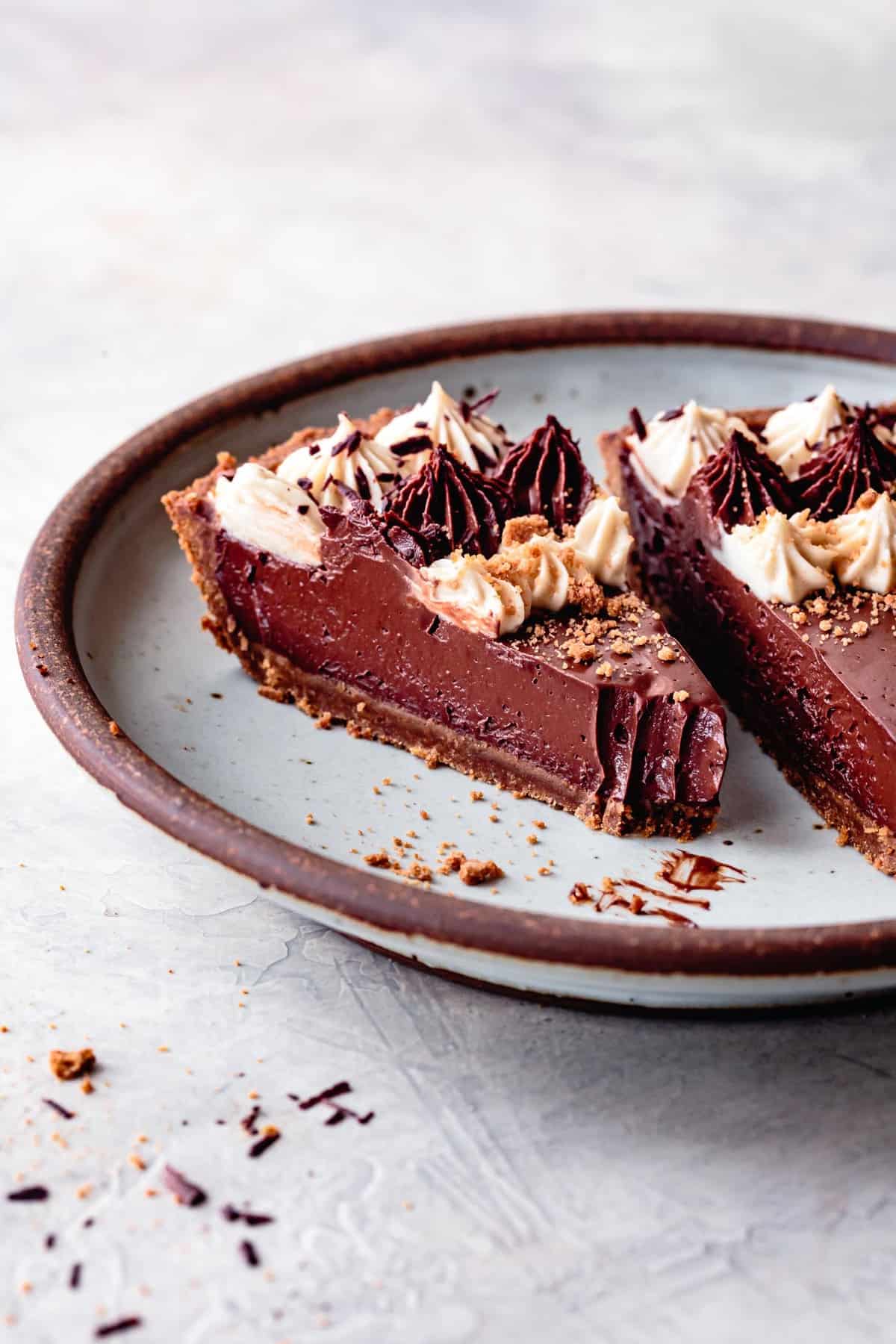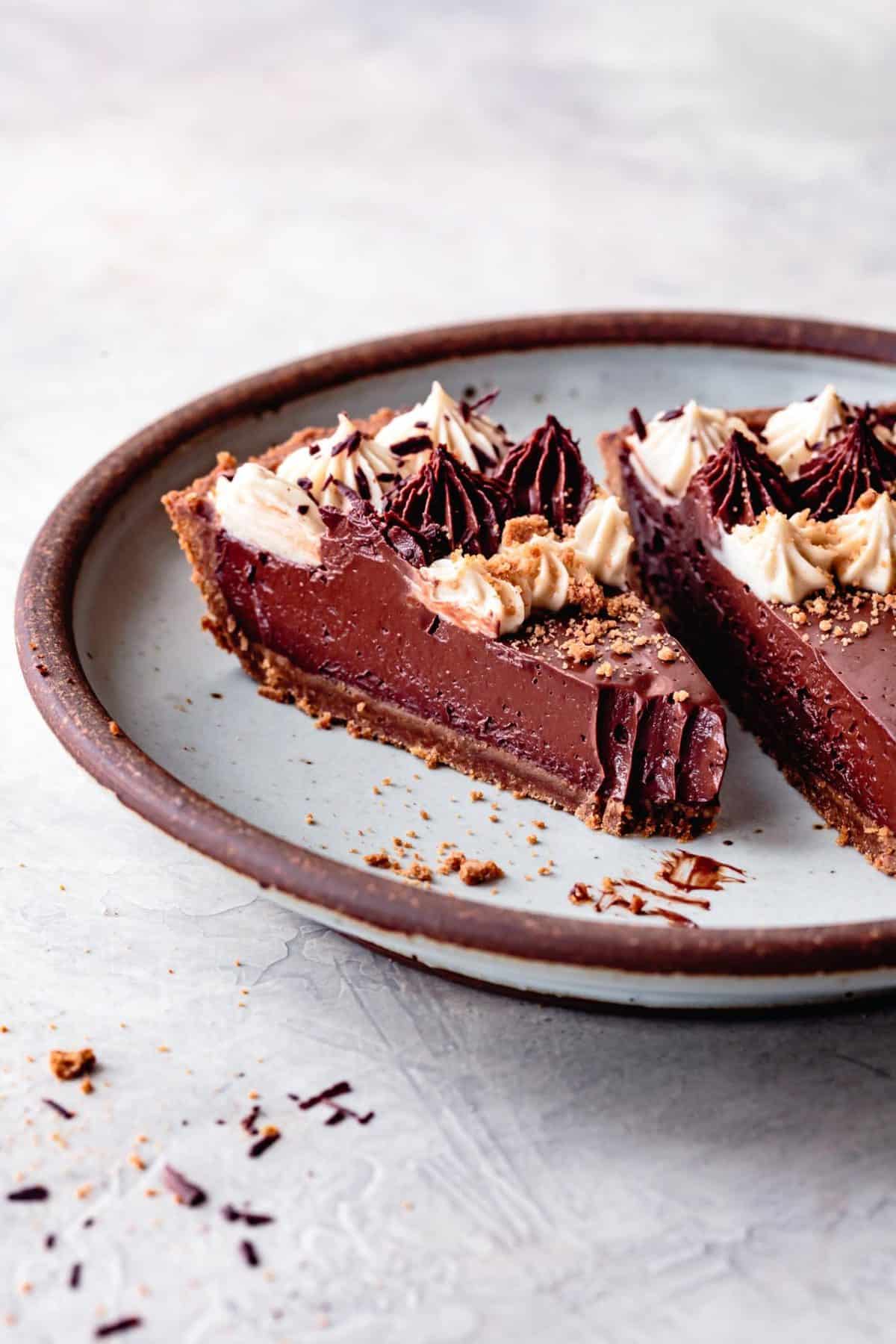 Sometimes the internet drives me crazy with misinformation. The other day, I was trying to find out why chocolate is a no-go on the specific carbohydrate diet. This diet has been used as a treatment for SIBO, which I have. But I wasn't about to follow any protocol where chocolate is "illegal" without good reason to do so.
When I typed my query into my search engine, the top hit claimed that chocolate comes from the same plant as cocaine – the coca plant.
To be clear, chocolate *does not* come from the coca plant, but rather from the theobromine cacao tree. And while chocolate may make you feel blissfully alert, or keep you up all night if you overindulge after dinner, I don't recommend snorting chocolate or cocoa up your nose.
Trust me, chocolate is much more palatable ingested via your mouth. Preferably in the form of this luscious vegan chocolate pie.
I never did find the answer to my question. So if you're an expert on the SCD, please let me know the answer!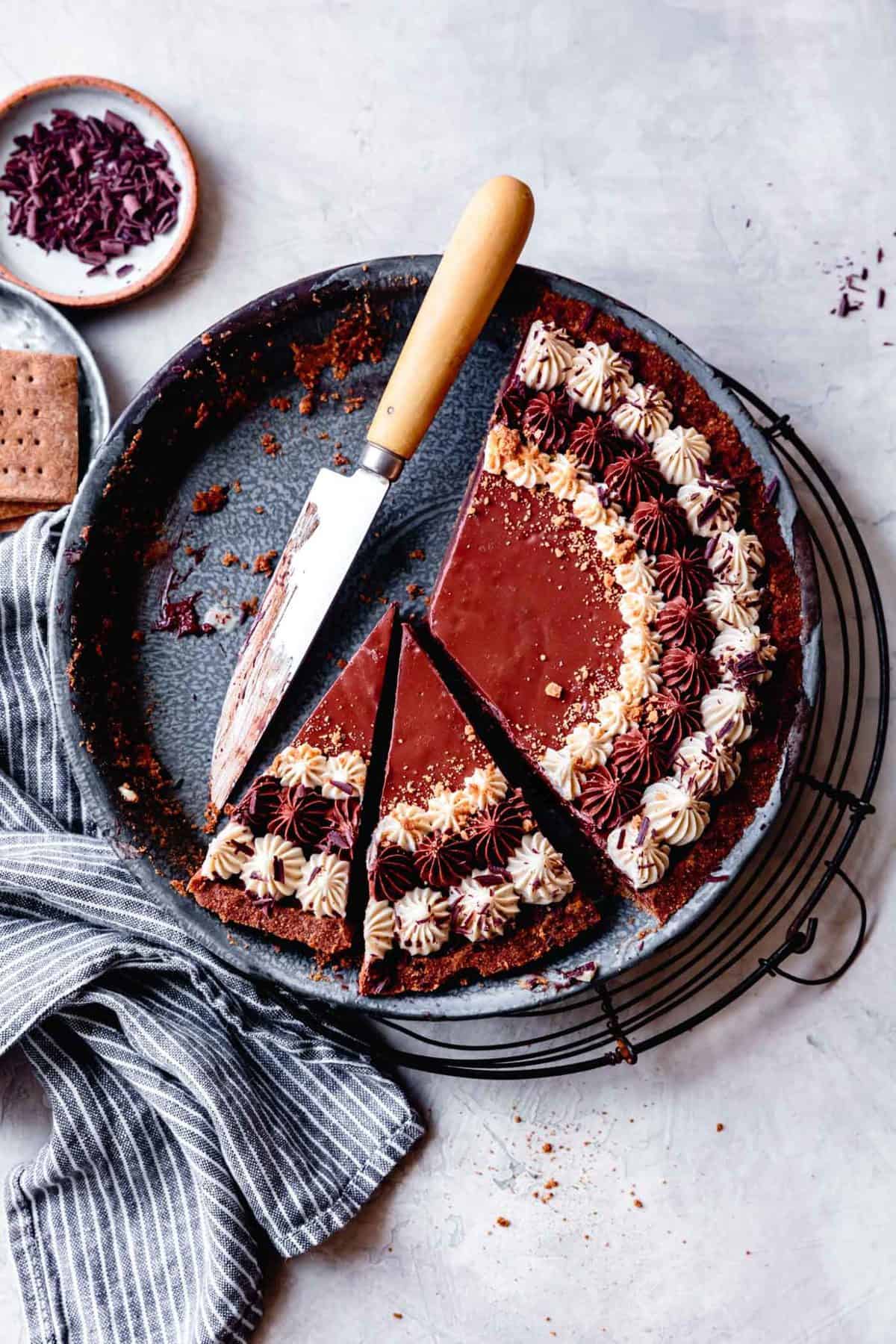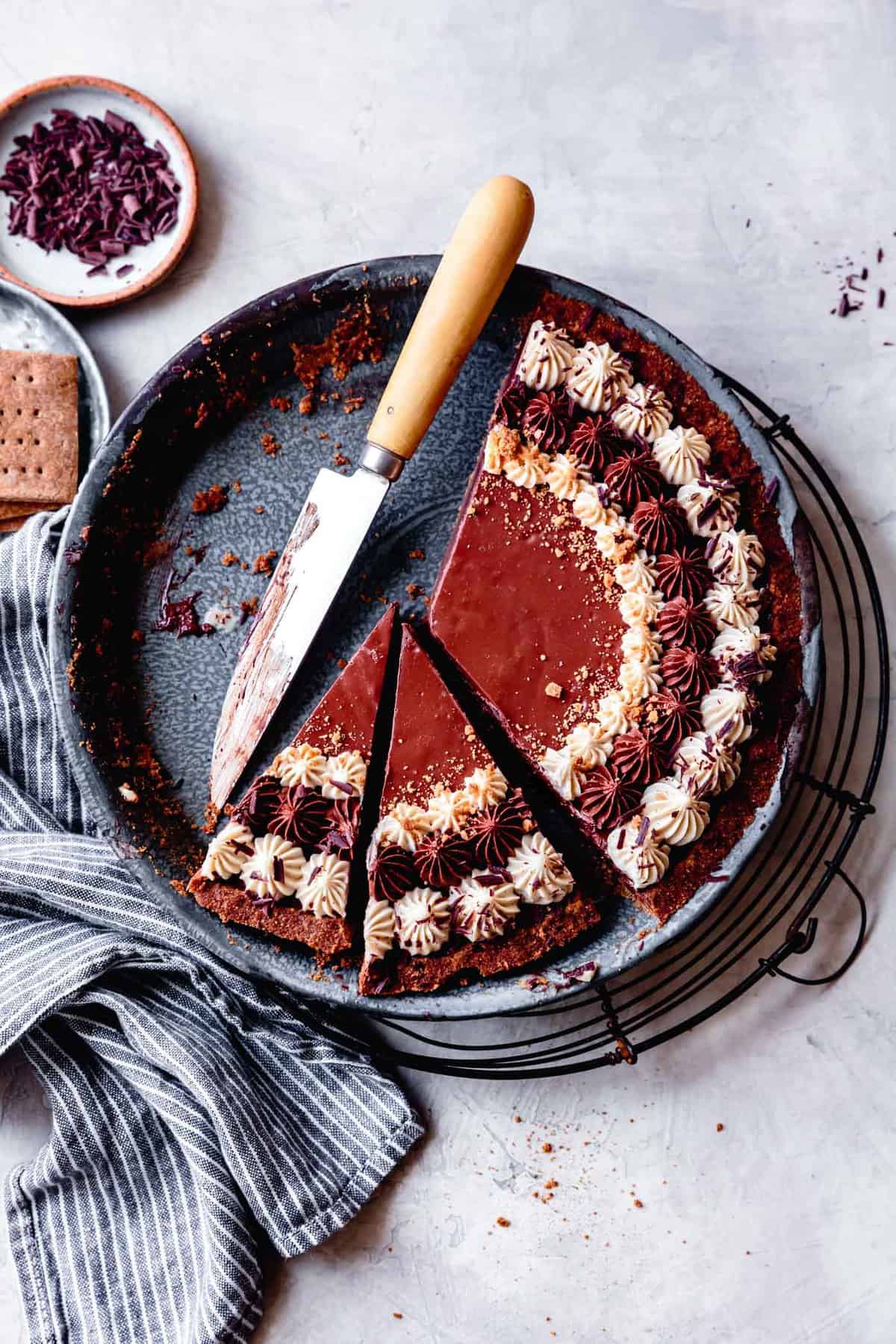 Relatively Healthy Chocolate Pie
This pie is free of many common allergens including gluten, dairy, eggs, refined sugar, and optionally nuts, coconut, and grains. It's friendly to many dietary protocols including vegan, gluten-free, dairy-free, and optionally paleo. It can even be made low-FODMAP-ish if you use whipped coconut cream on top in lieu of the cashew-based topping.
I've shared many gluten-free chocolate desserts here over the years: gluten-free chocolate tahini tart, chocolate fig tart, raw vegan chocolate tart, and chocolate cream tart. But this gluten-free chocolate pie may be the easiest yet. Just blend the filling ingredients together, pour into a baked GF graham cracker crust, and set in the fridge until firm.
This beauty is a ménage à troi of three favorite recipes: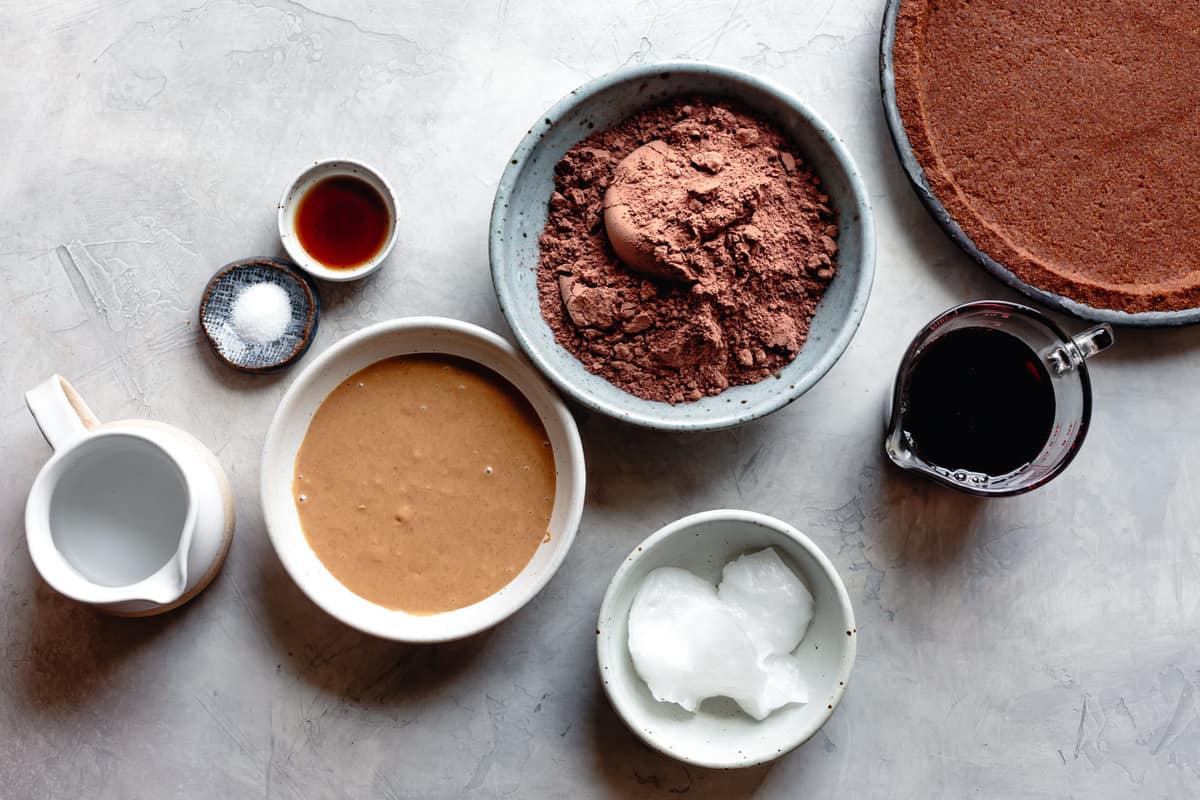 Ingredients and Substitution Suggestions
Gluten-Free Crust
A gluten-free graham cracker crust forms the base of this chocolate pie. I like to make my own graham crackers which takes a little extra time but can be done ahead. Store-bought grahams work just as well.
Alternatively you could use any of the following crusts:
Vegan Chocolate Pie Filling
Nut or seed butter forms the base of this luscious filling. I used peanut butter for its silky-smooth texture and because it's a classic with chocolate. But any creamy nut or seed butter will work. Cashew butter would make a neutral base, while almond or hazelnut butter would add delicious complimentary flavors. Or go with tahini or sunbutter for a nut-free version. If your nut butter is runnier than peanut butter, add another tablespoon or two of coconut oil to make sure it sets up firmly enough to slice.
Cacao or cocoa powder add body and rich chocolate flavor. I like using raw cacao powder, but natural cocoa powder works too. I haven't tested this with dutch-process cocoa powder, which is treated with alkali to make it less acidic, so I'm not sure how it would work here.
Water blends with the nut butter and cocoa powder to form a thick base.
Maple syrup sweetens the pudding naturally. I used a dark amber syrup, but any grade will work, so use what you've got. Other liquid sweeteners will work here as well, just add them to your taste since they can vary in sweetness.
Vanilla and salt add flavor.
Coconut oil sets the pudding into a sliceable texture that melts in your mouth. Extra-virgin coconut oil is full of good things and I don't find it to have a coconut flavor here at all. But you can use refined coconut oil if you want an even more neutral flavor. If you need a coconut substitute, try palm oil, melted ghee (for non-vegan), or cacao butter, which are all solid when cold.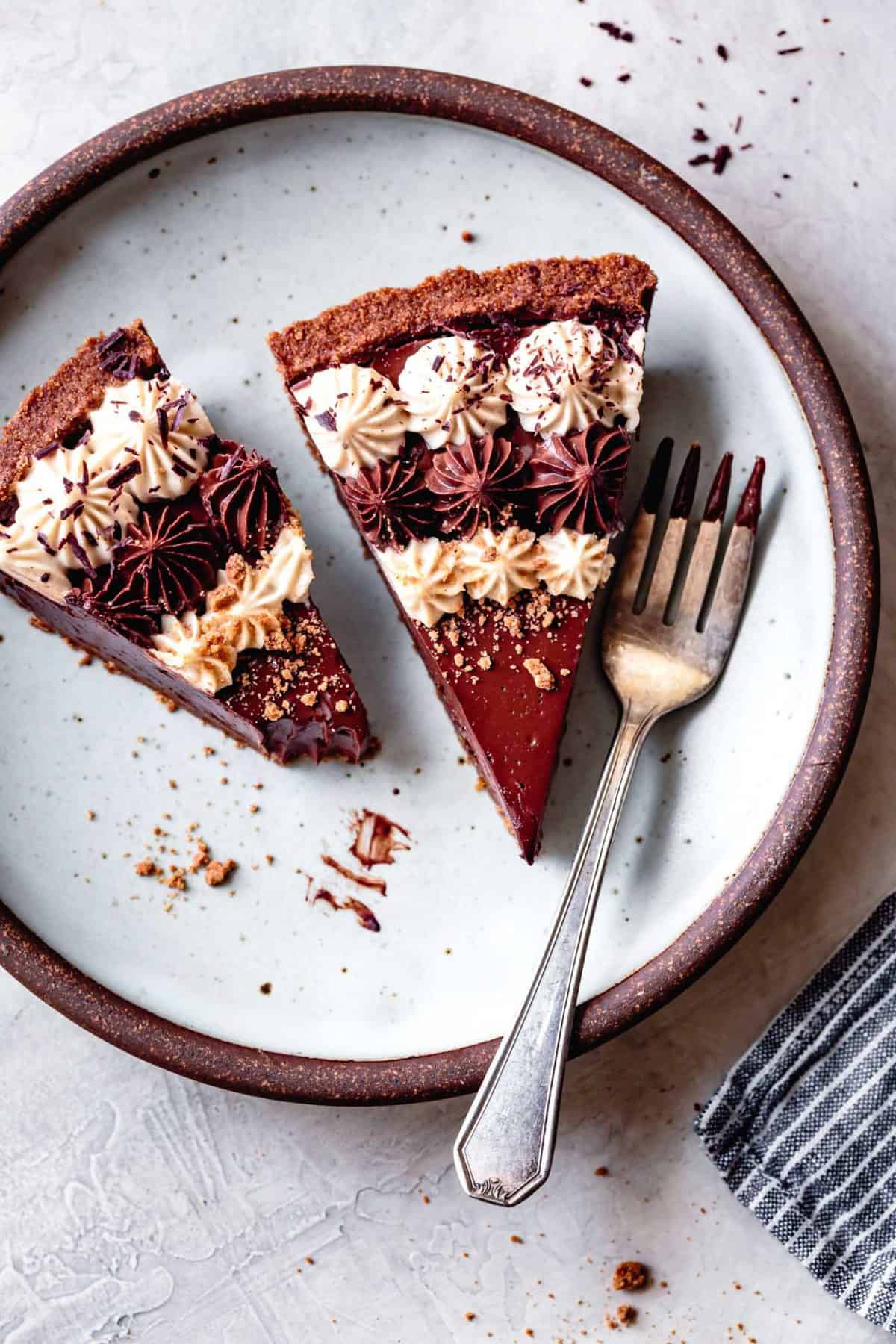 How to Make Gluten-Free Dairy-Free Chocolate Cream Pie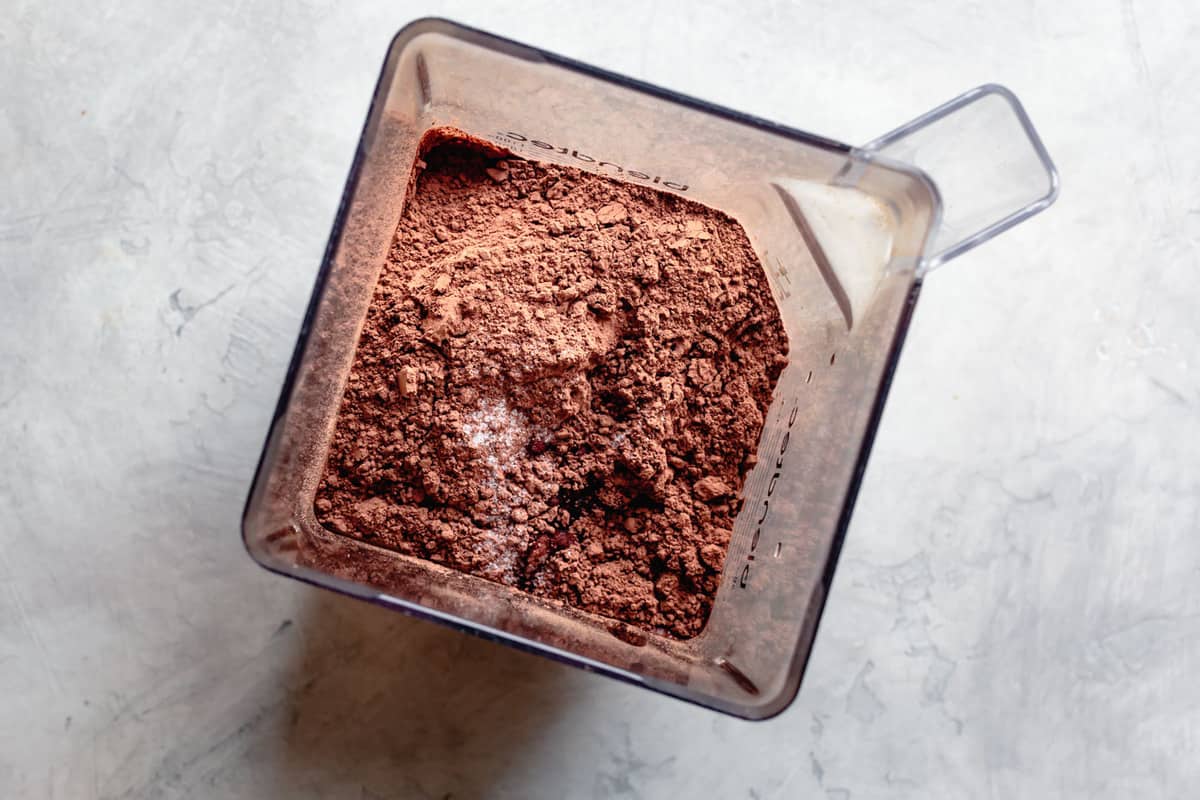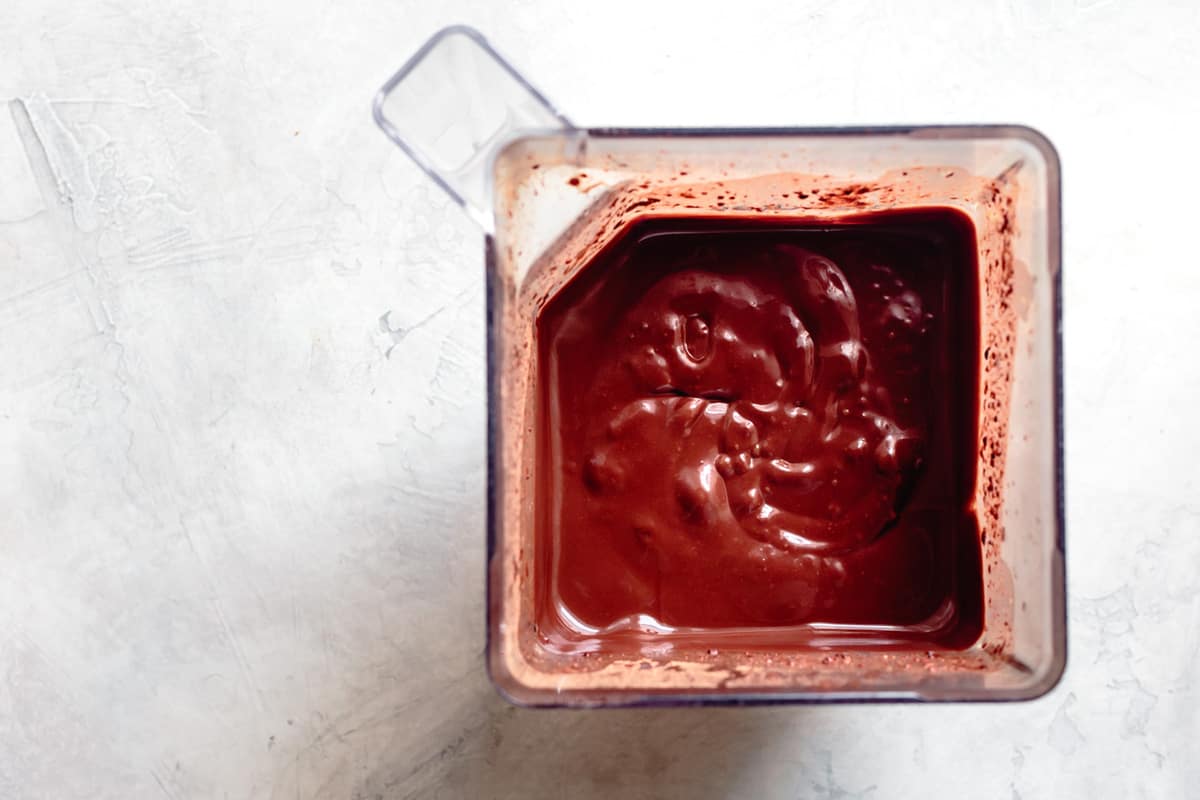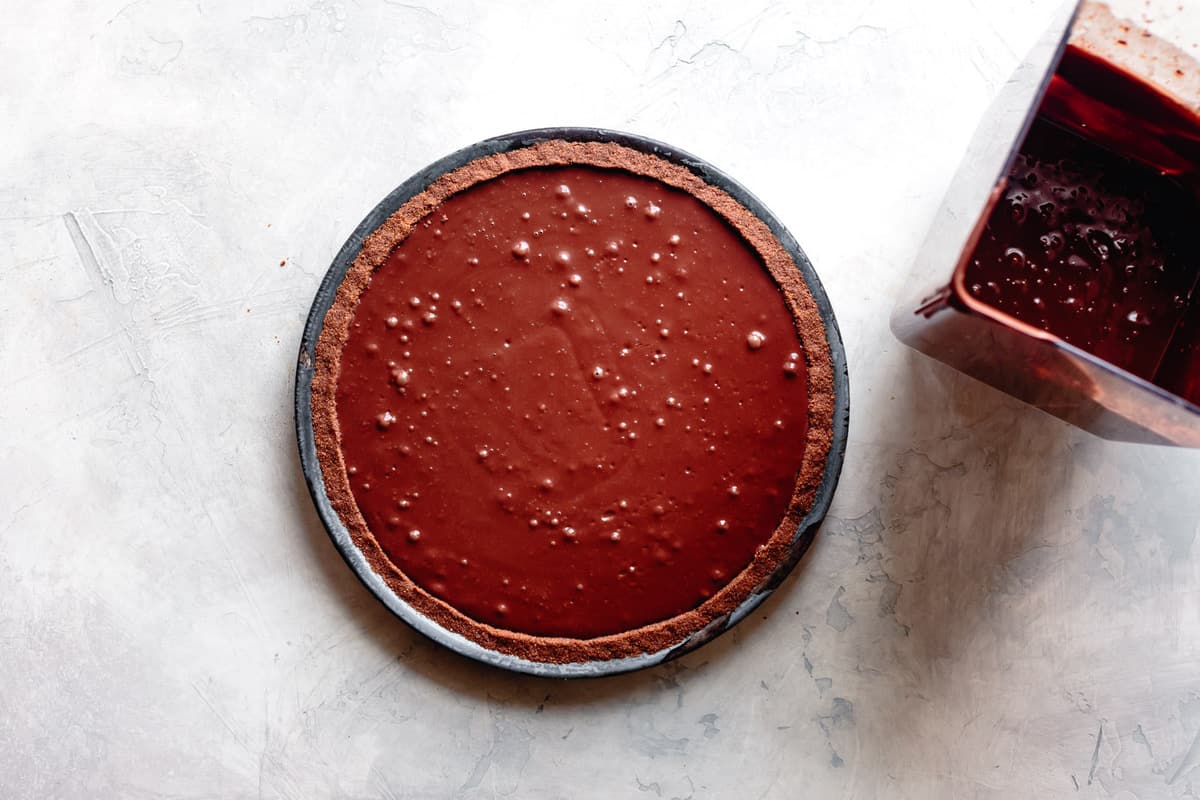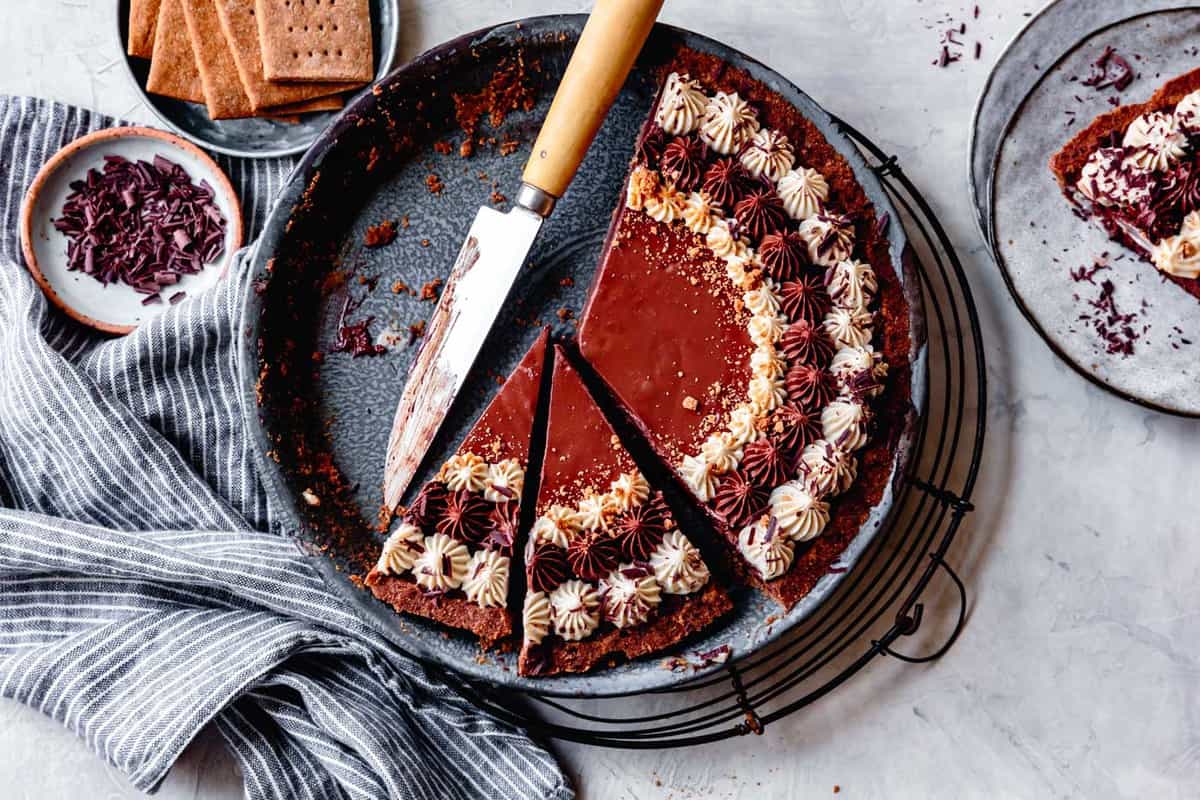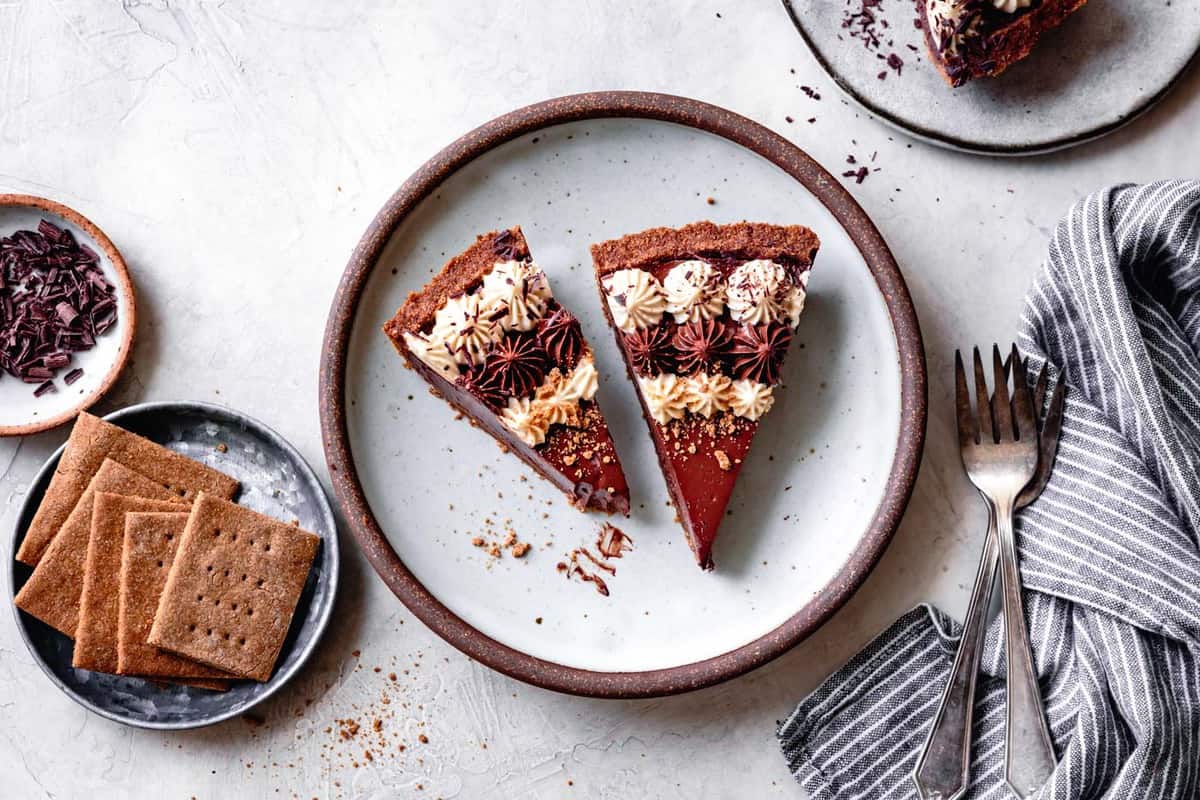 Variations
This vegan chocolate pie takes well to variations. Try any of the following!
Paleo Chocolate Pie
Skip the grahams and make this paleo cocoa crust.
No-Bake Vegan Chocolate Pie
Make the no-bake version of the graham cracker crust, or use this raw vegan nut crust instead.
Go Nuts: Vegan Chocolate Peanut Butter Pie or Chocolate Hazelnut Pie
Use your favorite nut butter for a different flavor profile. Hazelnut would lend a Nutella vibe!
Nut-Free Chocolate Cream Pie
Swap the nut butter for tahini or sunbutter for a nut-free version.
S'mores Pie
Top this pie with toasted marshmallow meringue for a GF s'mores pie.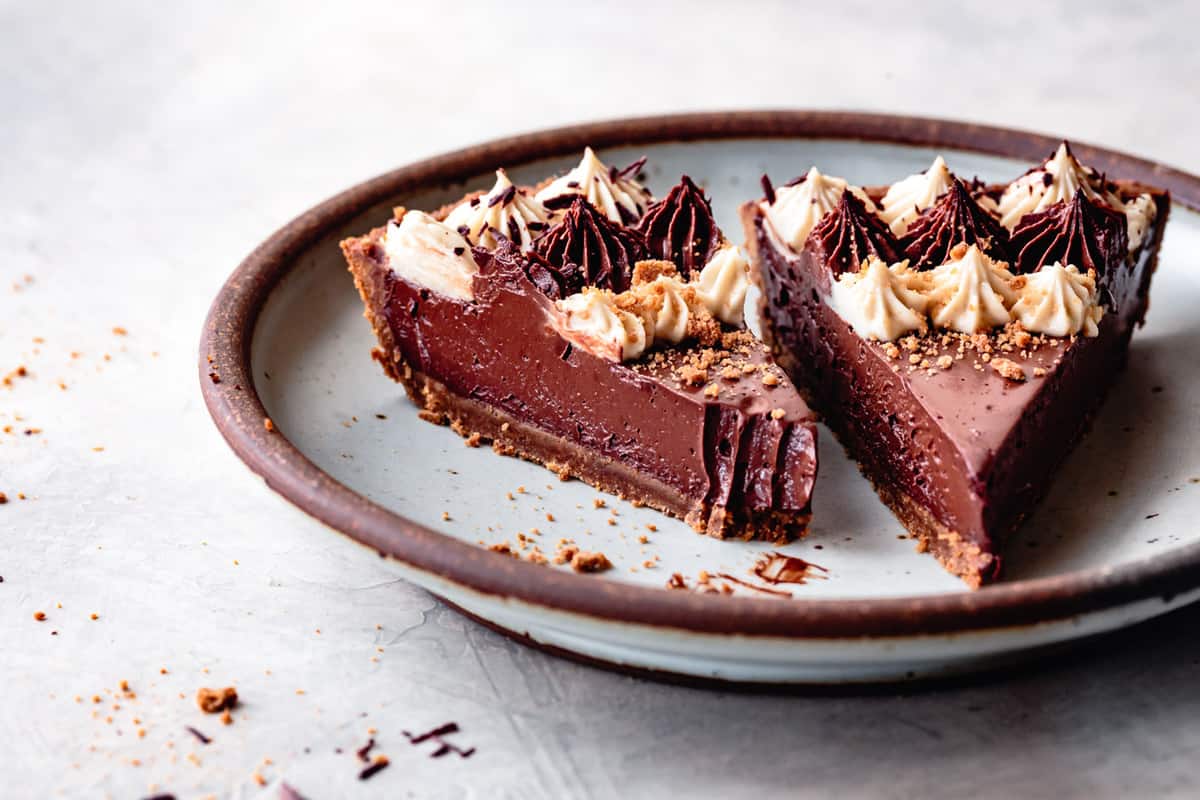 Vegan Chocolate Cream Pie for Everyone
With a decadent chocolate pudding filling, spiced graham cracker crust, and creamy topping, this gluten-free chocolate pie is a true crowd-pleaser. I hope you find it as habit-forming as we do. Though it may taste too good to be legal, it mostly likely won't get you arrested.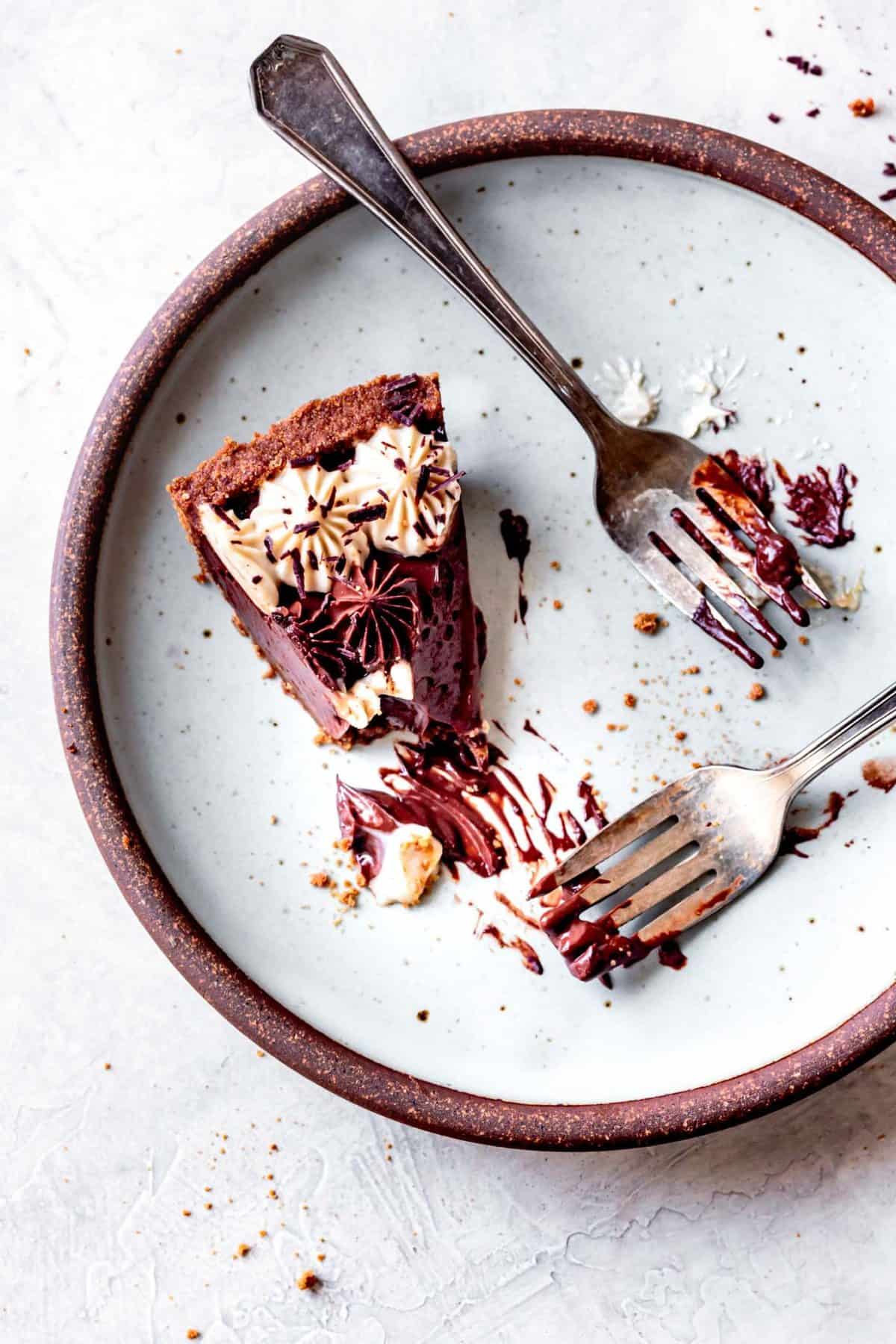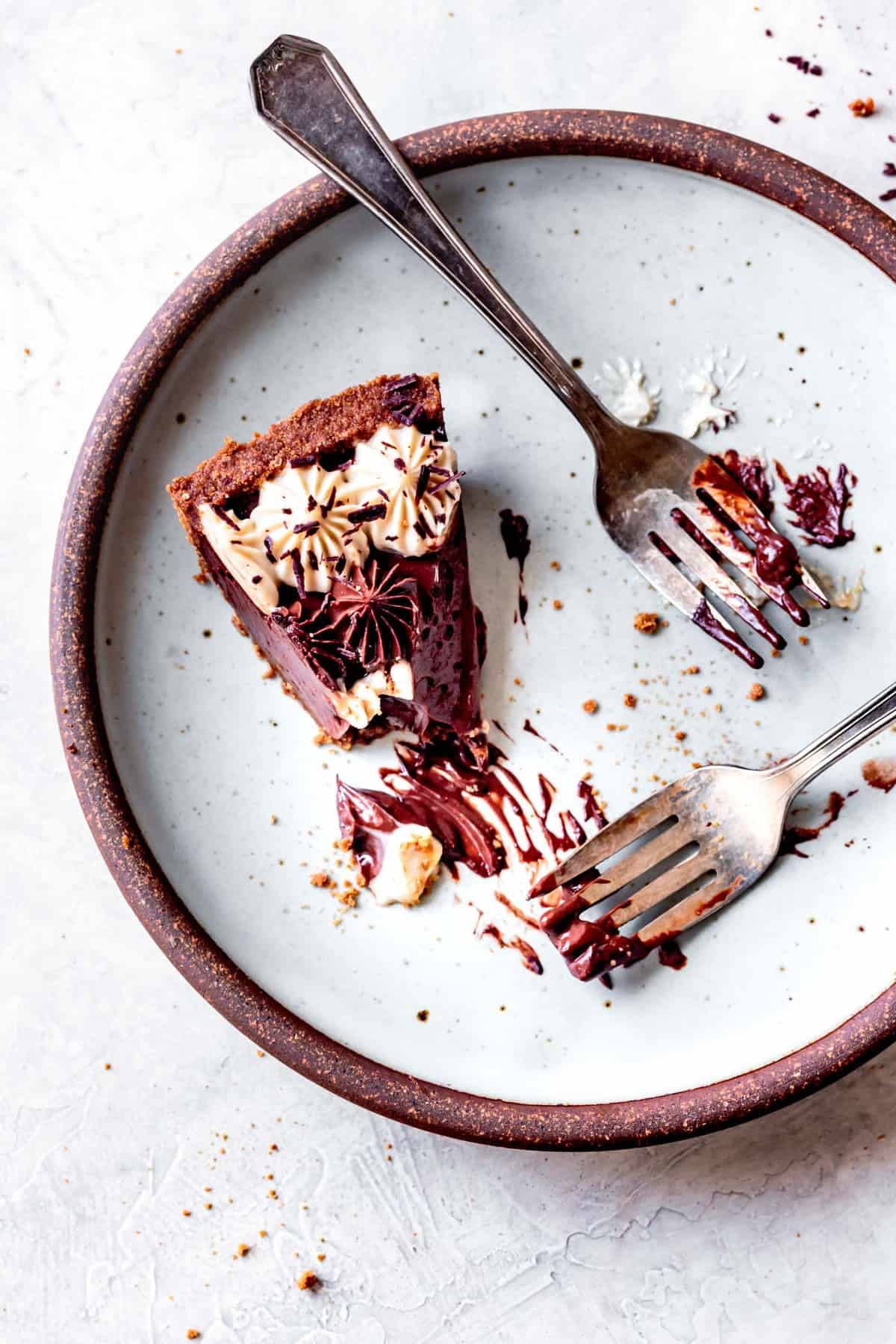 More Gluten-Free Chocolate Desserts:
More Gluten-Free Pies:
*Bojon appétit! For more Bojon Gourmet in your life, follow along on Instagram, Facebook, or Pinterest, purchase my gluten-free cookbook Alternative Baker, or subscribe to receive new posts via email. And if you make this vegan gluten-free chocolate pie, I'd love to know. Leave a comment and rating below, and tag your Instagram snaps @The_Bojon_Gourmet and #bojongourmet.*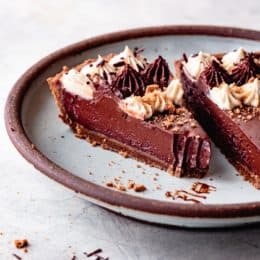 Vegan Chocolate Pie with Gluten-Free Graham Cracker Crust
Print Recipe
Pin Recipe
Luscious chocolate filling, tender crust, and billows of cashew cream. This decadent chocolate pie doesn't taste gluten-free, vegan, or naturally sweetened, but it happily is. Depending on how deep your pie plate is, you should have about a cup of chocolate filling left over which you can chill and pipe over the top as I did here, or eat it like a pudding once set. See the post above for more substitution suggestions. Note that this pie should be kept chilled until served as it softens up at room temperature.
Servings:
12
small but rich servings
Ingredients
½

batch paleo cream cheese frosting or whipped coconut cream**

1 ¾

cups

(415 ml) filtered water

1 ½

cups

(130 g) raw cacao powder or natural cocoa powder

¾

cup

(180 g) well-stirred creamy peanut butter (or other creamy nut or seed butter, such as tahini or cashew butter)***

½

cup

+ 2 tablespoons (195 g) maple syrup

1 ½

teaspoons

GF vanilla extract

½

teaspoon

fine sea or kosher salt

¼

cup

+ 2 tablespoons (80 g) melted extra-virgin coconut oil****

chocolate shavings and/or graham cracker crumbles, for decorating
Instructions
Make the crust and let it cool. Make and chill the paleo frosting or whipped coconut cream, if using.

In a blender, combine the water, cacao/cocoa powder, nut butter, maple syrup, vanilla, and salt. Blend on medium until combined, scraping down the sides of the blender once or twice.

Add the melted coconut oil and blend until combined. Increase the speed to medium high and blend for 20 seconds to incorporate a little air. You will have about 36 ounces of filling.

Pour as much filling as will fit into the baked and cooled crust. Pour the remaining filling into a jar. Carefully transfer both to the fridge and chill until set, 3-4 hours or overnight. Or freeze for 1 hour to speed this up.

When the pie is set, decorate the top with the paleo cream cheese frosting, whipped coconut cream, and/or extra chocolate filling if using. I used three piping bags fitted with different sized star tips. Dust with chocolate shavings and graham cracker crumbles, if using.

Serve right away or chill again to firm up the toppings. To cut clean slices, use a sharp knife dipped in hot water and wiped clean between cuts. Keep the pie chilled until you're ready to cut and serve; it will get soft and gooey at room temperature.

The pie is best within a day or two of being made when the crust is crisp, but extras will keep well, refrigerated, for up to 4 days. This pie also freezes well.
Notes
*If you prefer, make this pie with any of the gluten-free crust options listed in the post above.
**If using paleo cream cheese frosting, make half of this recipe, omitting the lemon juice. If using whipped coconut cream, make this recipe (you'll need to chill the cream overnight before you whip it). Or use a thick coconut yogurt instead, such as Coyo, Cocojune, or Culina, flavored with vanilla if you like.
***If your nut or seed butter is more thin or runny than peanut butter, add 2 more tablespoons of coconut oil to help the filling set to a sliceably firm consistency.
****This pie doesn't taste like coconut, but you can use refined coconut oil if you prefer. For coconut allergies, sub palm oil or try using melted cacao butter, which may have a firmer set.
Nutrition values are for 1 of 12 servings of filling and topping only (excluding crust).
Nutrition
Calories:
229
kcal
Carbohydrates:
21
g
Protein:
6
g
Fat:
17
g
Saturated Fat:
8
g
Polyunsaturated Fat:
2
g
Monounsaturated Fat:
5
g
Cholesterol:
4
mg
Sodium:
175
mg
Potassium:
313
mg
Fiber:
5
g
Sugar:
12
g
Vitamin A:
34
IU
Calcium:
43
mg
Iron:
2
mg