Silky smooth and not-too-sweet, this easy butterscotch pudding recipe is the effortless dessert you didn't know you needed in your life. It hits all the salty sweet brown sugar notes of your favorite childhood treat and only takes a few minutes of active time to make. Originally published in 2011 and updated in 2021 with dairy-free, vegan, and paleo options.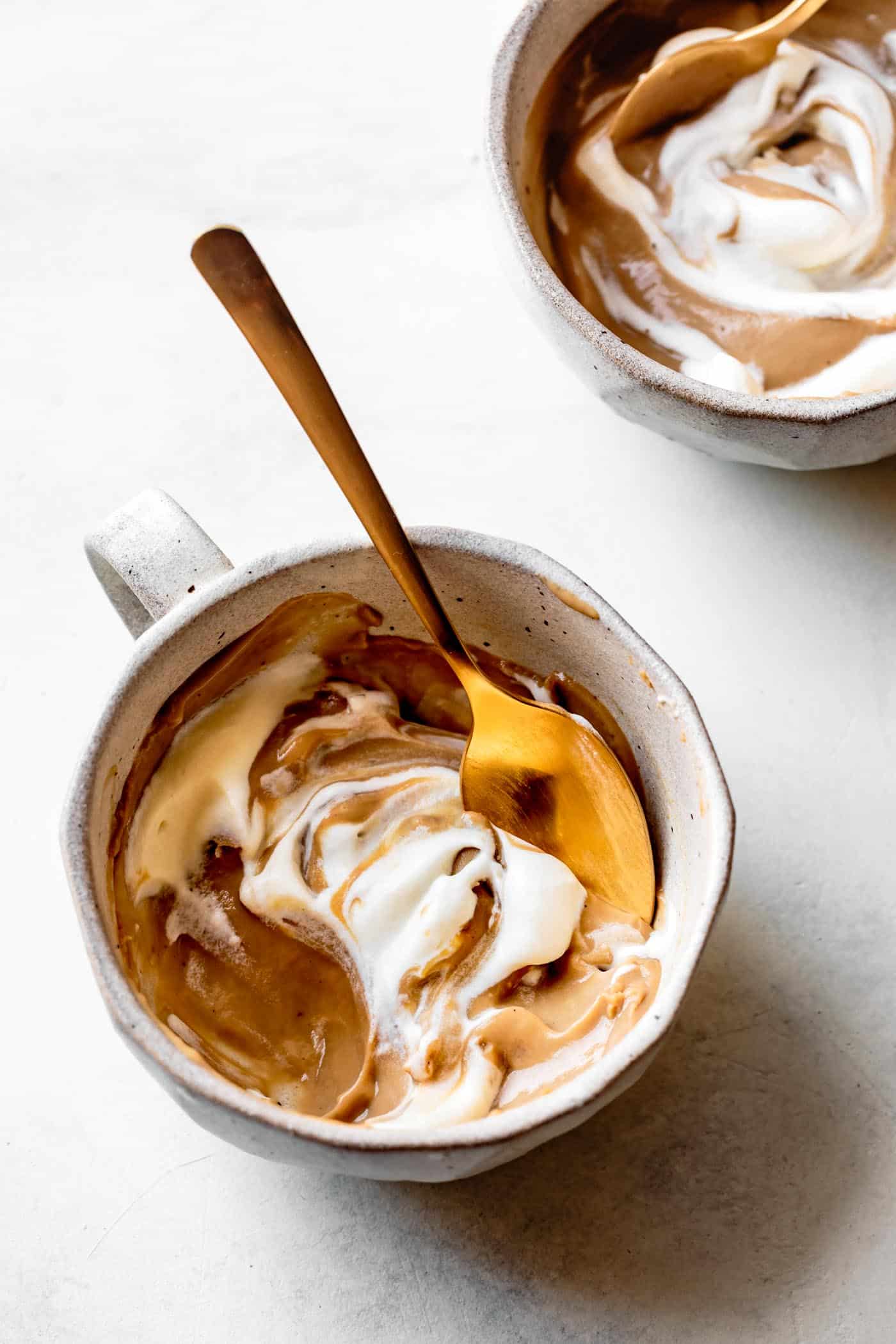 I don't know about you, but I'm in dire need of some comfort right about now. And few things are more comforting to me than pudding. Chocolate pudding, tapioca pudding, rice pudding, pumpkin pudding, flan, chomeur, haupia, creme brulee; if it's sweet, creamy, and you can eat it with a spoon right out of the fridge, I'm in.
Just making pudding is soothing: standing at the stove, stirring round and round the pot as the aromas of vanilla and butter waft through the air. Don't forget to lick the spatula – fresh, warm, homemade butterscotch pudding is especially addictive.
I originally shared this recipe in 2011 and I've made it dozens of times since then. It uses a handful of ingredients I almost always have on hand, it's fast and easy to make, and it's a great way to use up extra milk.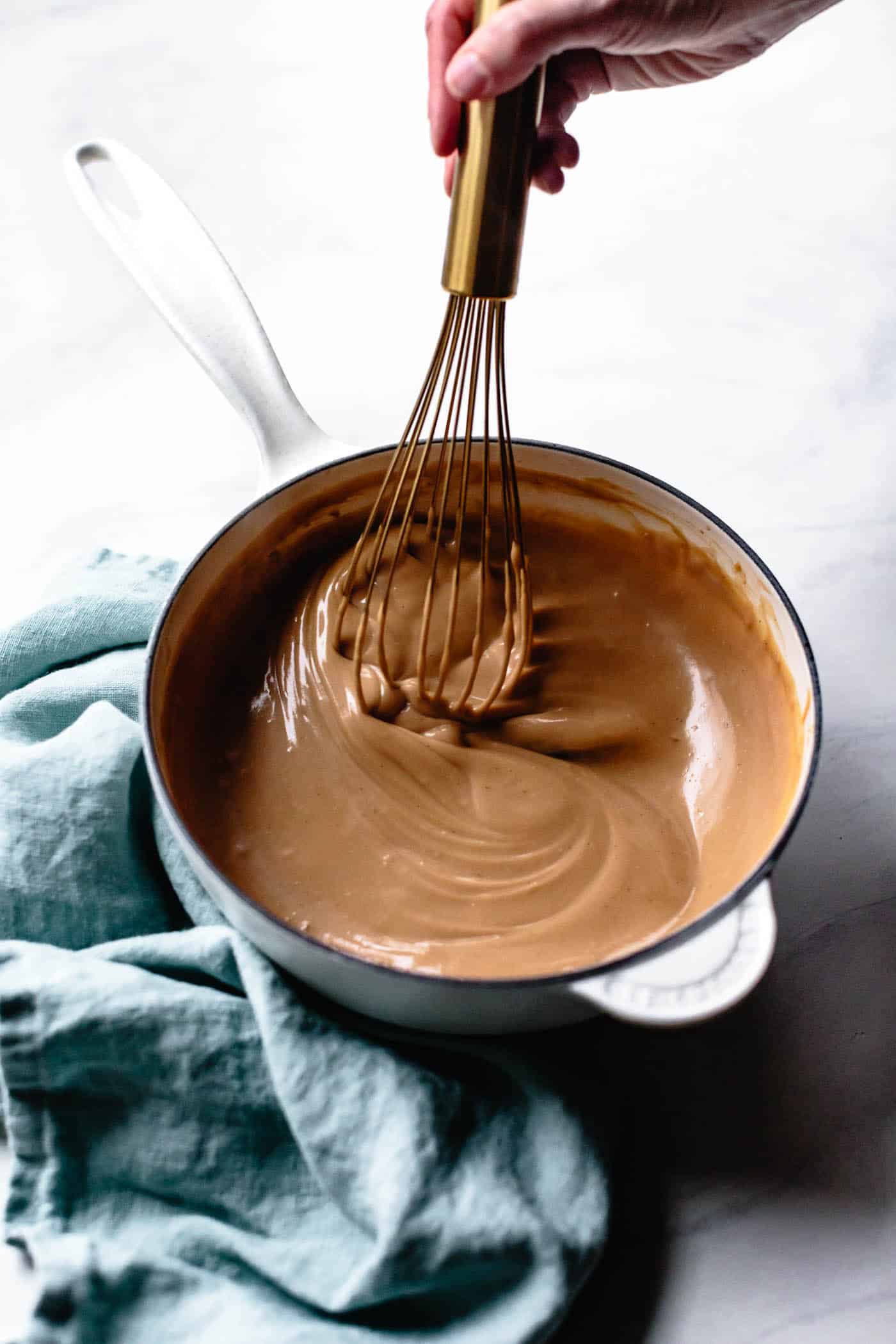 Paleo Vegan Butterscotch Pudding (Options)
I've been avoiding dairy and refined sugar for the past year, so I tested a paleo vegan butterscotch pudding version of my favorite recipe and it worked like a charm. All versions happen to be gluten-free and egg-free too. So now you can indulge in this rich, creamy dessert no matter your dietary preferences.
My quest for the best butterscotch pudding recipe
My obsession began back in 2011 when I tried a recipe from a favorite author. The recipe contained eggs, and when I brought it to a simmer as directed, the eggs sort of scrambled and the pudding turned grainy. The trouble is that you have to simmer pudding for a minute or two to cook the starch, but that cooking time overheats the eggs, which curdle into little eggy bits and mar your perfectly smooth pudding.
After reading through dozens of different recipes, I experimented with several combinations of ingredients and ratios. Some used eggs (whole or just the yolks) while others didn't. Others added the butter at the beginning, while some whisked it in at the end. Some added vanilla bean or booze for extra flavor.
Butterscotch Pudding Without Eggs
The recipe I ended up preferring came from Gourmet and was eggless. Just milk, cream, brown sugar, cornstarch, butter, vanilla, and salt. It turned out a softly-set pudding with no worry of overcooked eggs. The flavors came through clear as a bell without being muted by eggs. This recipe got mixed reviews; some felt it was bland while others thought it tasted starchy or overcooked.
I boosted the flavors by adding vanilla bean and upping the salt, and increased the cooking time to thoroughly cook the cornstarch and deepen the brown sugar flavor. And it was the tastiest version yet; still a favorite in the Bojon kitchen 10 years later.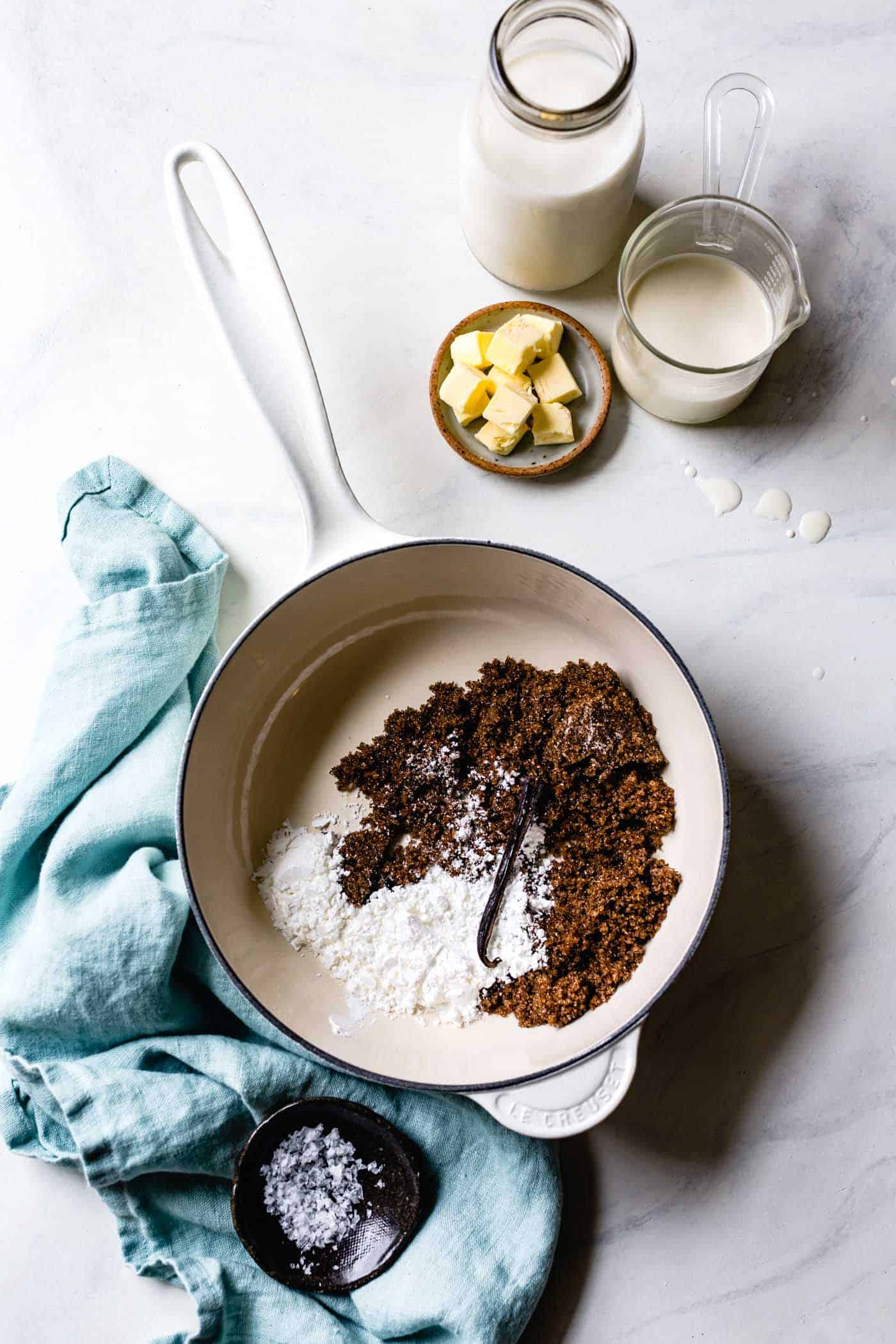 Ingredients & Substitution Suggestions
Just a handful ingredients you probably already have on hand make luscious butterscotch pudding.
Dark brown sugar lends deep caramel notes. I prefer organic dark brown sugar, which is rich in molasses. Recently I've been using coconut sugar for a refined sugar-free option. Other sugars you could try are date sugar, muscovado sugar, and panela.
Cornstarch thickens the pudding without the use of eggs, which makes the texture silky smooth. If you're avoiding corn, try subbing tapioca or arrowroot starch equally by weight or volume.
Salt sharpens the flavor and is very necessary! I use fine sea salt in the pudding, and sometimes top the finished bowls with a pinch of flaky salt such as Maldon.
Vanilla adds lovely flavor. I like to add half of a vanilla bean, split lengthwise and scraped, to the pudding while it cooks. Alternatively, whisk in 1/2 teaspoon vanilla paste or extract along with the butter.
Milk and cream give the pudding body and richness. You can also use half-and-half (light cream) in place of both, but the pudding will be quite thick. For a vegan option, use equal parts plant milk (such as almond or cashew milk) and canned full-fat coconut milk. You can make your own nut milk by blending 2 tablespoons nut butter with 1 cup of water until smooth.
Butter finishes the pudding, adding richness and giving it a soft set. Plant butter works beautifully in the vegan option (I prefer Miyoko's). You can reduce the salt a bit if your butter is salty, as plant butters often are.
How to make butterscotch pudding: step-by-step instructions and images
This pudding recipe is stupid easy to make on the stove in just a few steps.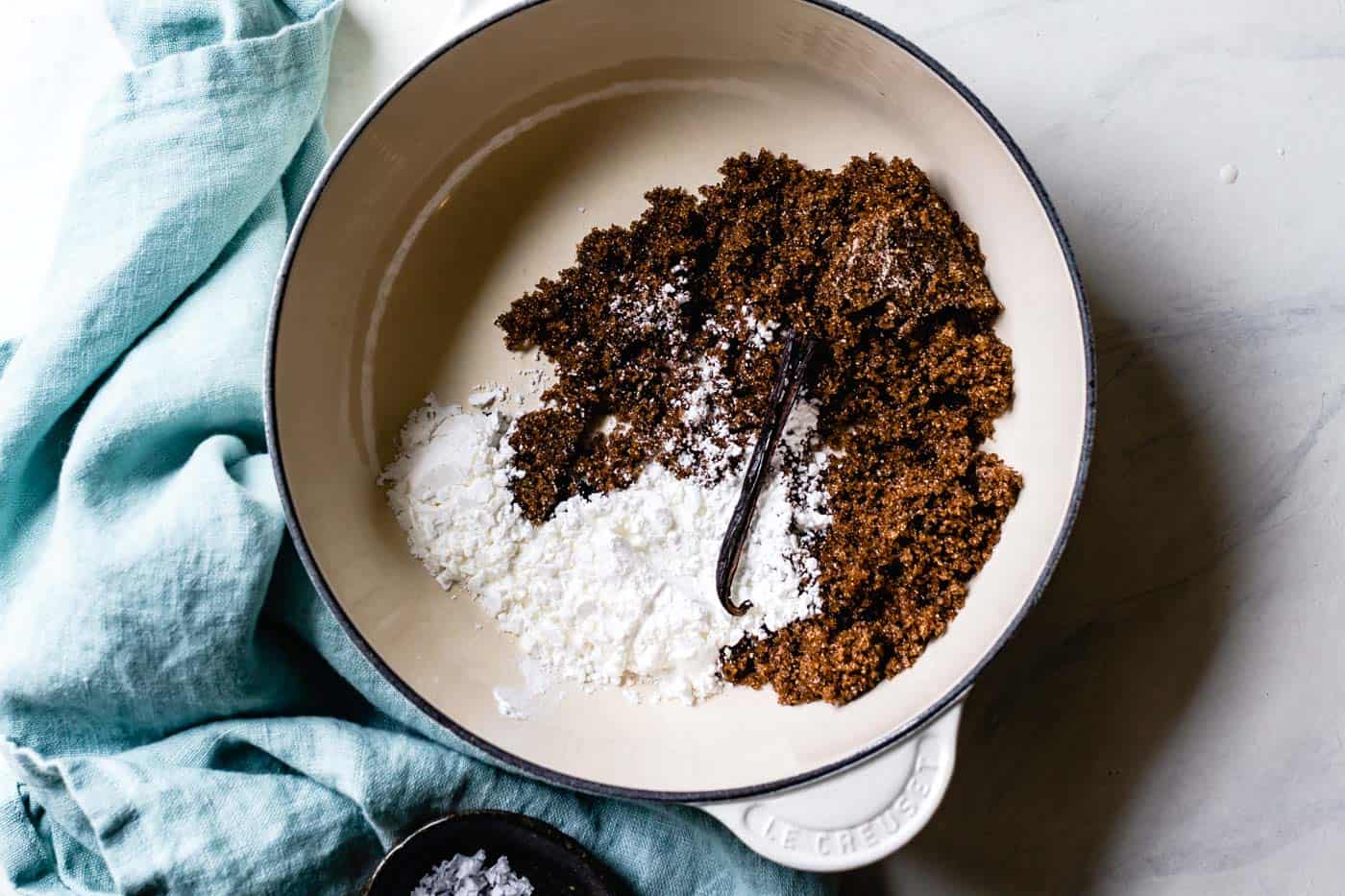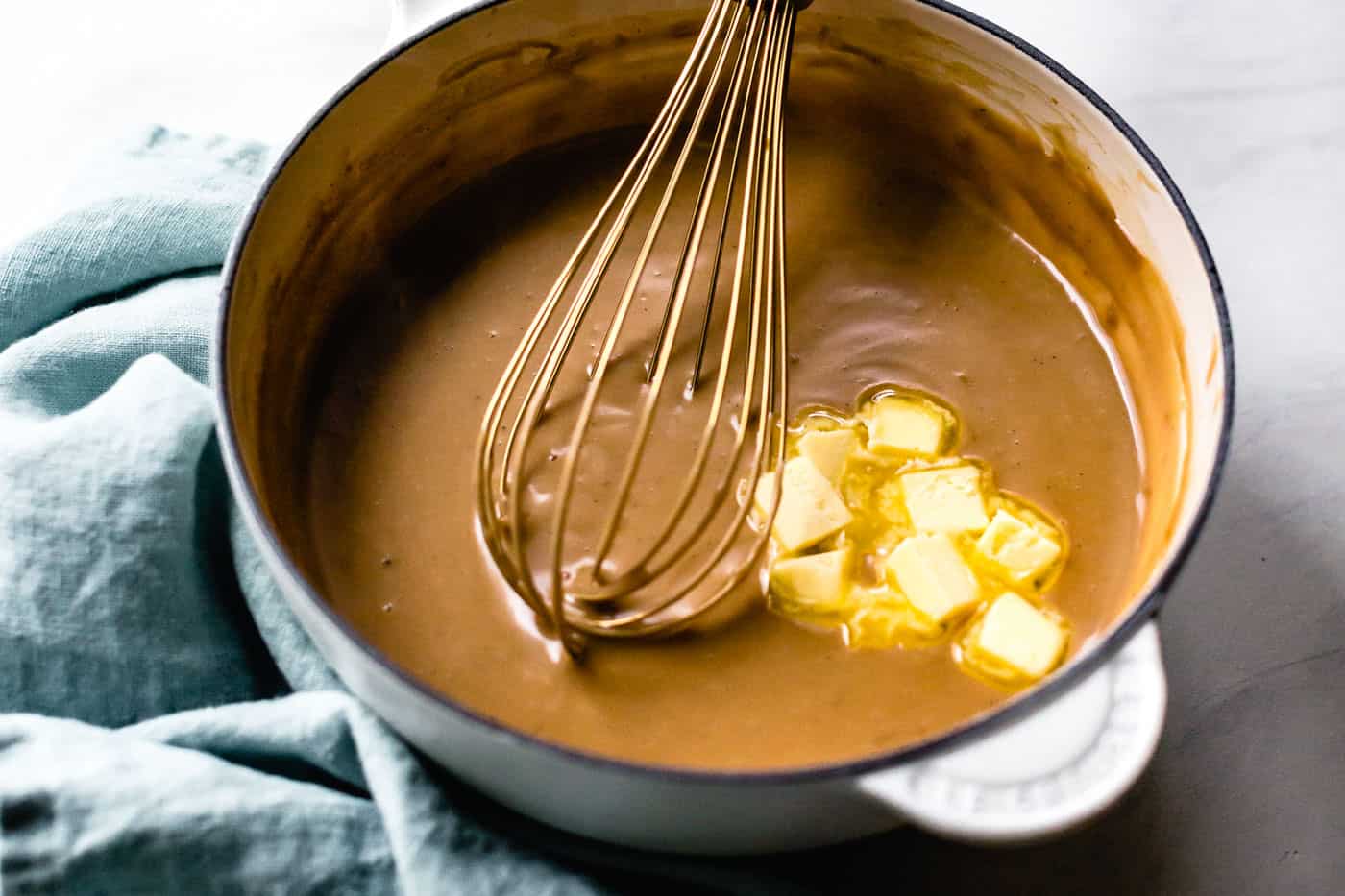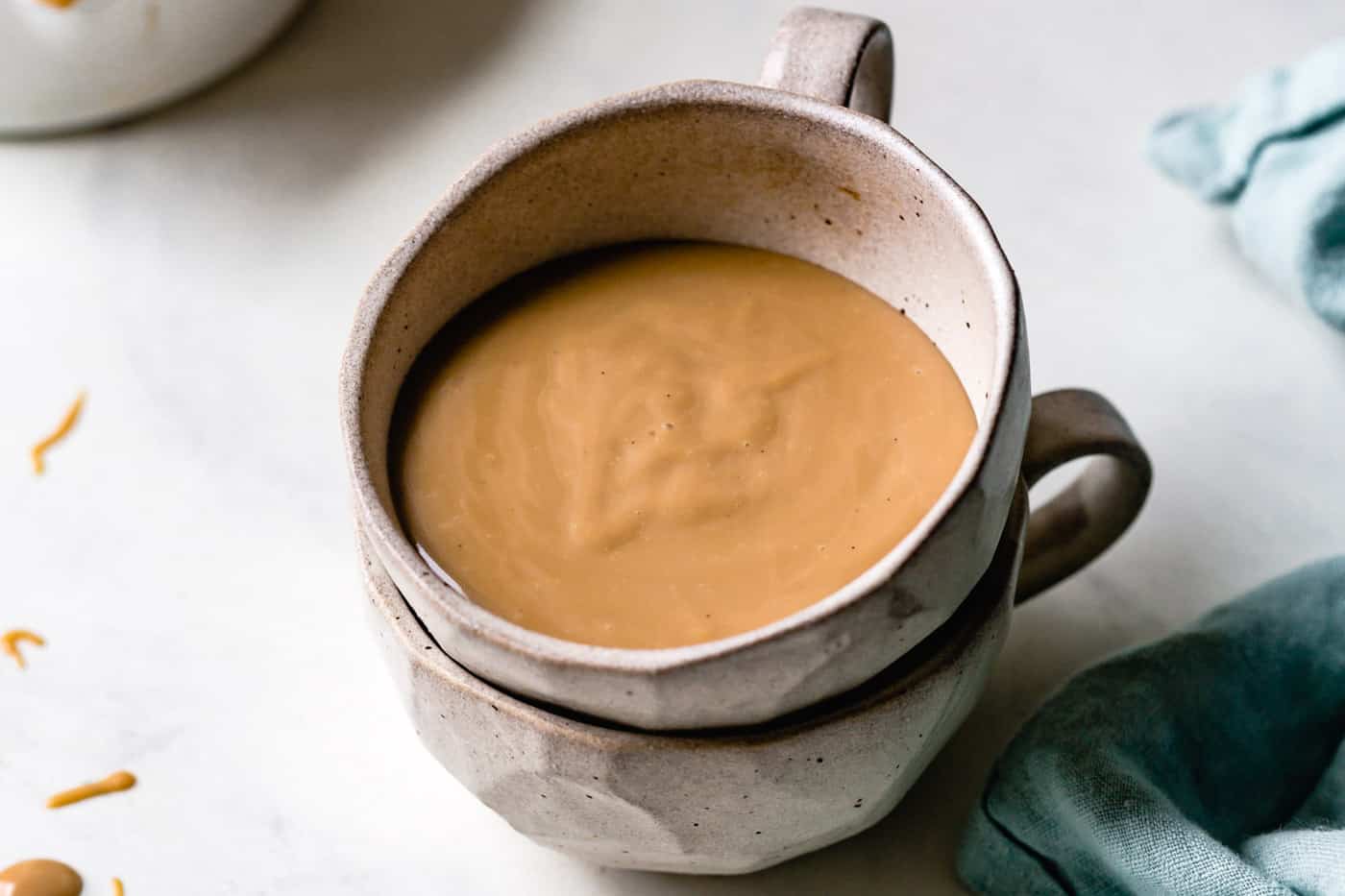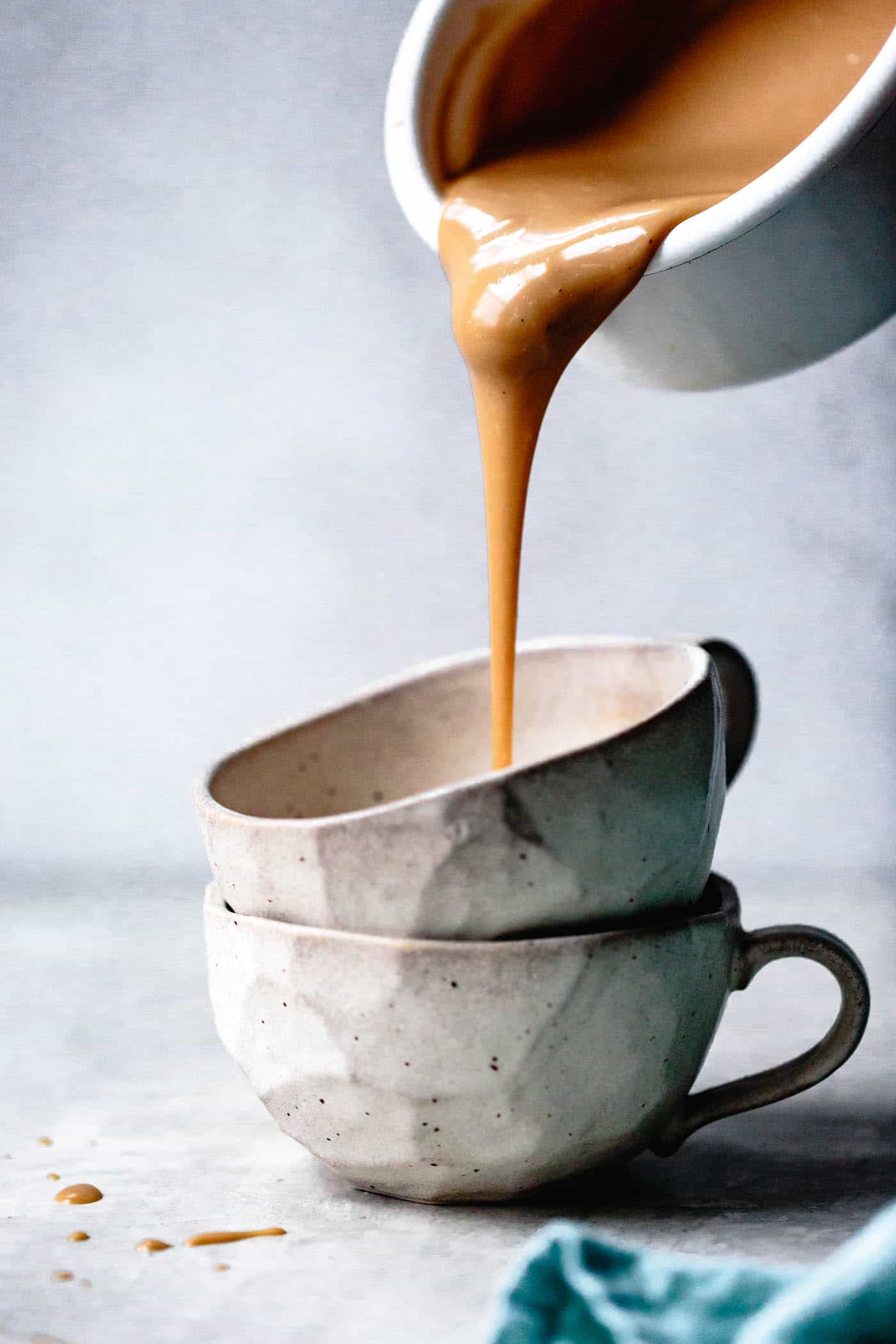 FAQ:
What is butterscotch?
Butterscotch comes in many forms: candies, sauce, pudding, and other variations.
Butterscotch candy is made from sugar cooked to the soft crack stage and mixed with butter and flavorings. It's similar to toffee, but for toffee the sugar is cooked to the hard crack stage.
Butterscotch sauce is made with brown sugar, butter, and cream. It tastes similar to caramel sauce, but with molasses notes from the brown sugar.
Butterscotch pudding is made from brown sugar, milk and/or cream, butter, and thickened with cornstarch.
It's a bit of mystery where the term "butterscotch" comes from. The verb "scotch" is another word for cutting or scoring, and here "scotch" might refer to the butter, which is cut before being added. Or it might be another word for "scorch" as in caramelizing sugar or cooking butter. It might also infer that the candy hails from or is associated Scotland, though the earliest references come from Yorkshire in the 1840's. So the origins of the word remain a mystery.
What does butterscotch taste like?
This dessert is sweet, but not overly so, and creamy with notes of molasses softened by the richness of butter. A little vanilla adds floral tones while salt sharpens the flavors.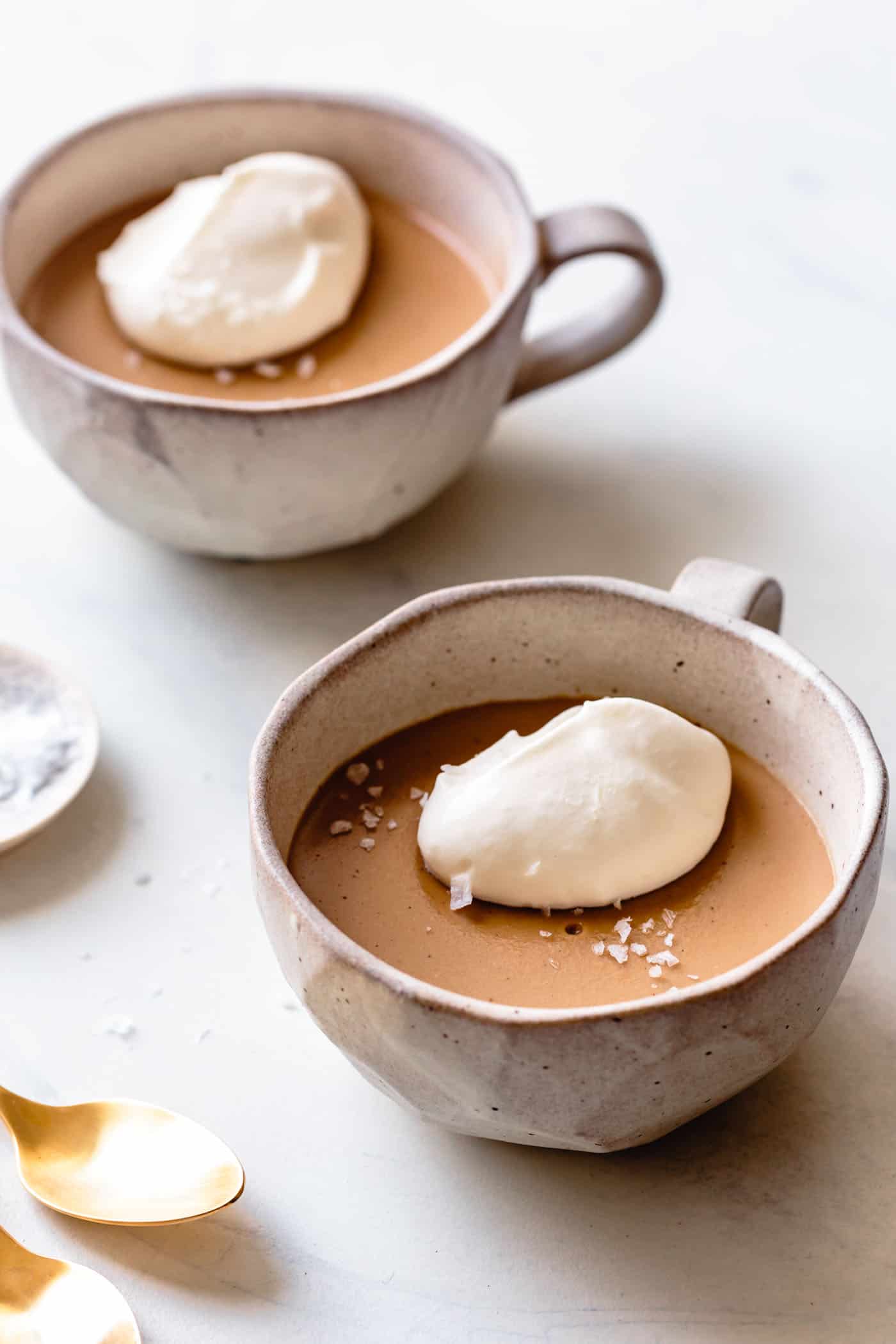 Is butterscotch dairy-free/vegan/paleo/gluten-free?
Butterscotch candy and sauce are usually gluten-free, though commercial versions might contain glucose. Since glucose can contain trace amounts of gluten, celiacs do best to avoid this ingredient. As the name suggests, it usually contains dairy in the form of butter, making it neither vegan nor dairy-free. And it's usually made with refined brown sugar so it isn't paleo.
Butterscotch pudding is usually thickened with cornstarch, making it gluten-free, but some recipes might use flour. Most recipes contain dairy and refined sugar.
But this recipe is free of all of those things – gluten-free and with vegan, dairy-free, and paleo options. See the notes in the recipe for those variations.
What's the difference between custard and pudding?
Custard contains eggs while pudding usually does not. In the UK, pudding can refer to any dessert. But in the US, pudding refers to a dessert made from dairy and sugar and thickened with starch.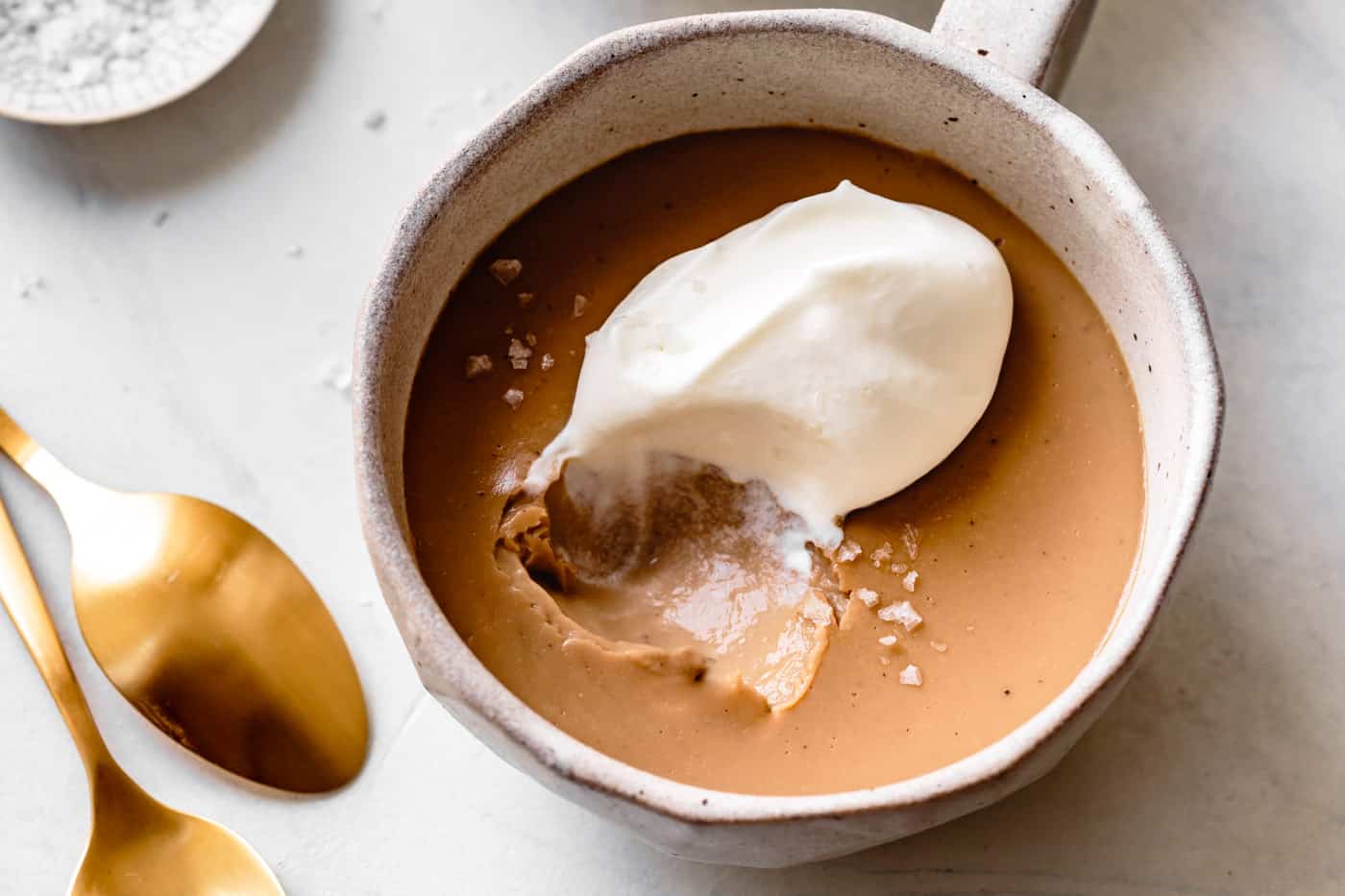 How to prevent pudding skin?
Pudding can form a "skin" on top from the proteins in the dairy solidifying, which some folks find unappealing. To prevent this, many recipes suggest covering the hot pudding with plastic wrap pressed directly to the surface of the pudding. But this is gross to me and makes me worry about microplastics in my lovely dessert.
What I do is simply cover the puddings loosely while they're still warm, either with jar lids if you're setting it in jars, or with a piece of beeswax wrap or a small plate if setting it in mugs. As the pudding cools, condensation prevents any pesky skin from forming.
What goes with butterscotch pudding?
I love this pudding plain, straight from the fridge. But if you want to gussy it up, here are some other topping suggestions:
whipped cream or coconut cream, or a dollop of thick yogurt or crème fraiche
flaky salt
chocolate curls or chocolate shavings
toasted chopped nuts, such as pecans
a drizzle of butterscotch sauce
serve with coffee or a nice bourbon
What is budino and how is it different from pudding?
Budino is simply the Italian word for pudding. Butterscotch budino made its appearance in the US in the mid-2000's when it graced the menu at Nancy Silverton's restaurant Mozza. Her version contains eggs and is topped with salted caramel and whipped crème fraiche. Here's a recipe for it.
Butterscotch Pudding from Scratch = Comfort Food Heaven
Dip your spoon into a cup of softly set homemade pudding laced with the flavors of molassesy brown sugar, vanilla bean, and a good hit of salt. A plume of whipped cream or thick coconut yogurt rounds out the flavors beautifully. Add a pinch of flaky salt or a drizzle of butterscotch sauce if you like and revel in cozy dessert goodness.
More Pudding Recipes:
More Butterscotch Recipes:
*Bojon appétit! For more Bojon Gourmet in your life, follow along on Instagram, Facebook, or Pinterest, purchase my gluten-free cookbook Alternative Baker, or subscribe to receive new posts via email. And if you make this homemade butterscotch pudding recipe, I'd love to know. Leave a comment and rating below, and tag your Instagram snaps @The_Bojon_Gourmet and #bojongourmet.*
Butterscotch Pudding (dairy-free, vegan & paleo options)
Print Recipe
Pin Recipe
The comforting, effortless dessert you didn't know you needed. Now with dairy-free, vegan, and paleo options.
Ingredients
2

tablespoons

plus 2 teaspoons (21 g) cornstarch

(or try arrowroot or tapioca for paleo)

½

teaspoon

fine or kosher sea salt

½

cup

(100 g) packed dark brown sugar

(or 70 g coconut sugar for paleo)

1 ½

cups

(350 ml) whole milk

(see note for vegan option)

½

cup

(120 ml) heavy cream

(see note for vegan option)

½

vanilla bean, split and scraped

(or 1/2 teaspoon vanilla paste or extract, added with the butter)

2

tablespoons

(28 g) unsalted butter

(or plant butter)

unsweetened whipped cream, whipped coconut cream, or thick coconut yogurt

flaky salt, such as Maldon
Instructions
In a medium saucepan, whisk together the cornstarch, salt, and sugar.

Add the milk, cream and vanilla bean and scrapings (if using) and bring to a boil over medium heat, whisking frequently (you will have to stop whisking to verify that it is boiling; there will be fat bubbles that pop gloopily). While you whisk, make sure to scrape the entire bottom of the pot, including the corners. When you see the gloopy bubbles, reduce the heat to medium-low to maintain a simmer and continue cooking for 1 1/2 minutes (set a timer). The pudding should be the texture of a loose yogurt, or warm caramel sauce.

Turn off the heat and whisk in the butter (and vanilla paste/extract, if using).

Fish out the vanilla pod (or strain the pudding into a measuring pitcher if at all lumpy) and divide the pudding between 4 heat. (You can rinse the vanilla pod, let it dry, and stick it in a bottle of booze or a jar of sugar, if you like.)

Pudding skin is an area of some disagreement, with supporters of either side, pro-skin and anti-skin, debating their points heatedly. As for me, I just cover the cups loosely with beeswax wrap or plastic wrap (not pressed onto the surface of the pudding) and mine don't form a skin.

Chill the puddings until cold and set, at least 1 1/2 hours or up to 4 days. Serve with a dollop of whipped cream and a few flecks of flaky salt.
Notes
Adapted slightly from Gourmet.
Dairy-Free Vegan Butterscotch Pudding:
Omit the milk and cream and use 1 cup plant milk (such as almond or cashew milk) and 1 cup full-fat canned coconut milk (well-shaken before opening). Use plant butter instead of dairy butter. Note that the vegan version sometimes separates slightly after a day or two, but it still tastes delicious.
Paleo Butterscotch Pudding:
Make the dairy-free version above, use tapioca or arrowroot starch in place of cornstarch, and coconut sugar in place of brown sugar. Note that tapioca starch gives the pudding a more viscous texture; corn starch is preferred if you can tolerate it!
Boozy Butterscotch Pudding:
Add 1 1/2 tablespoons of scotch or other whiskey (or dark or gold rum) after adding the butter. 
Nutritional values are based on one of four servings.
Nutrition
Calories:
342
kcal
Carbohydrates:
36
g
Protein:
3
g
Fat:
20
g
Saturated Fat:
12
g
Cholesterol:
68
mg
Sodium:
641
mg
Potassium:
179
mg
Sugar:
31
g
Vitamin A:
795
IU
Calcium:
151
mg
Iron:
0.2
mg