Teff flour makes this gluten-free chocolate bundt cake extra rich, moist and tender. Easy to make in 1 bowl and smothered in chocolate ganache, this extra-chocolatey cake is sure to be a crowd-pleaser!
This recipe is part of my gluten-free chocolate recipes collection where chocophiles can find 30+ more recipes to satisfy their bittersweet tooth. Thanks to Vermont Creamery for sponsoring this post!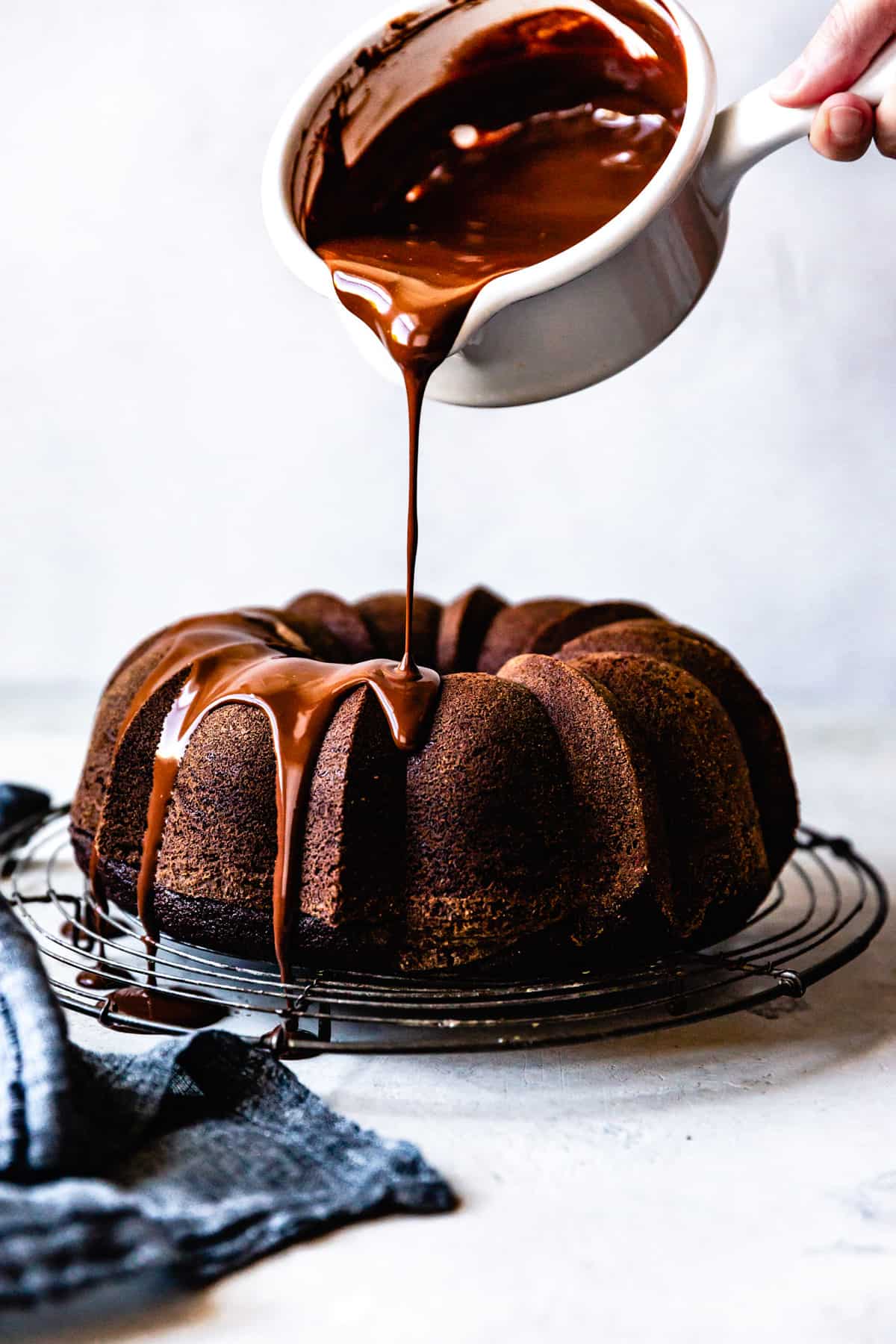 I've always felt a bit intimidated by bundt cakes. They're just so BIG, and they bring with them so many opportunities for things to go wrong. They can come out dry, burn on the outside while staying raw inside, or stick, cement-like, to the interior of the pan.
I've baked and styled my fair share of bundt cakes for NYT over the years (in fact the very first recipe that Sarah and I styled for them was this tunnel-of-fudge cake baked in a bundt pan!)
Over the years, I've shared lots of gluten-free chocolate cake recipes including:
But nine years into TBG, I thought it was finally time to embrace the bundt.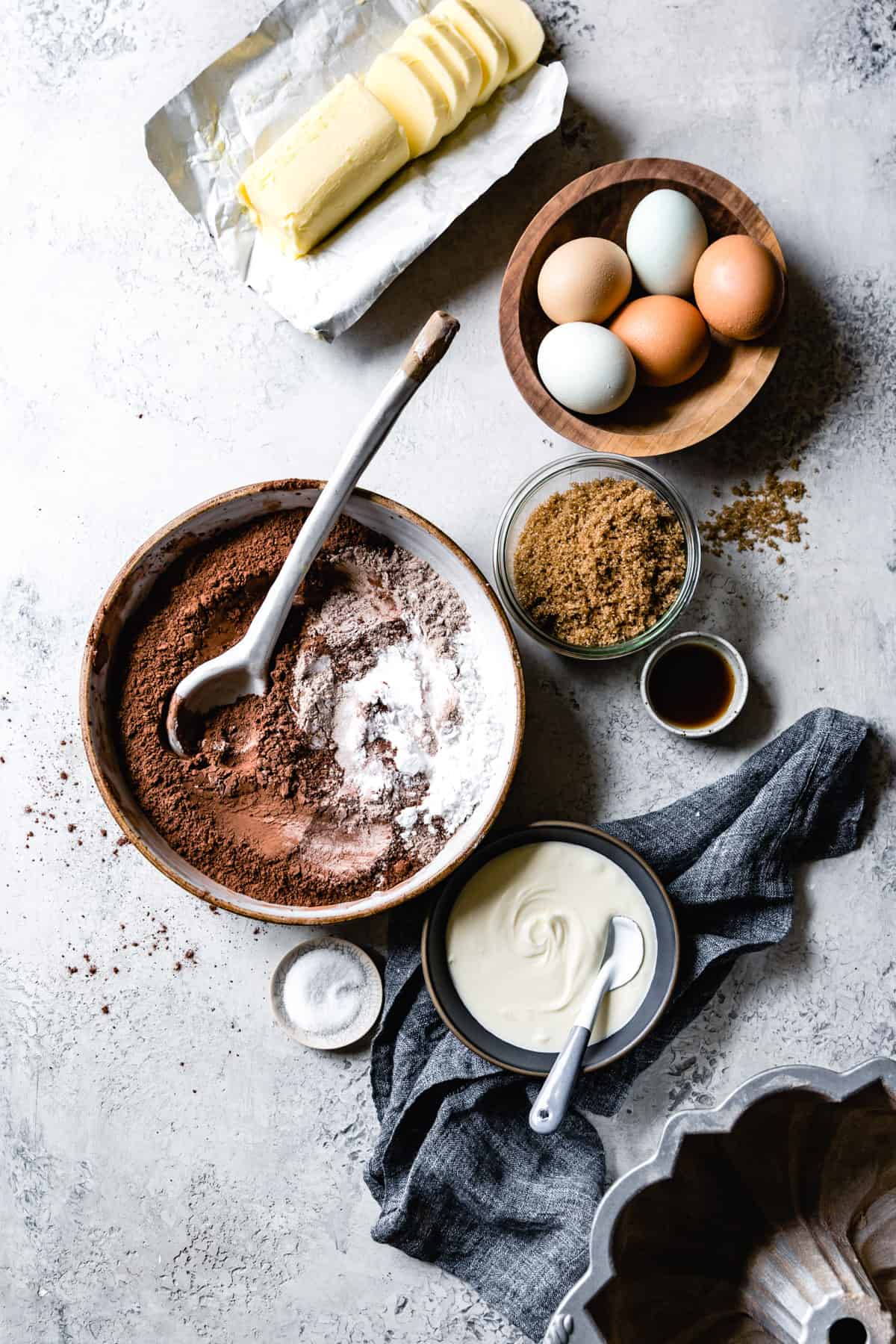 And what better recipe to start with than a super moist, fudgy, ganache-laden gluten-free chocolate bundt cake? This beauty is infused with the flavors of molasses-rich brown sugar, tangy crème fraîche, European-style butter, and earthy teff flour.
Loads of dutch-process cocoa powder give the cake a deep, dark chocolate taste. The cake is crowned with a layer of silky dark chocolate ganache made extra luscious from a dose of whiskey and more crème fraîche.
The Dairy
Chocolate sour cream bundt cakes are a classic, but this version trades in ultra-decadent crème fraîche from Vermont Creamery. Crème fraîche has a higher fat content than sour cream (30% vs. 20% respectively) and it doesn't contain any thickeners like sour cream sometimes does. It originated in France so, like all things French, it's extra delicious and fancy with a slightly tart, nutty flavor.
Vermont Creamery's award-winning crème fraîche is especially thick and rich, with a texture that's firm enough to stand a spoon up in. I can never resist licking it straight off the spoon when I'm mixing up a recipe. It does triple duty in this gluten free chocolate bundt cake recipe:
adds tangy flavor and richness to the batter
makes the ganache extra thick and luscious
whips into a billowy cream topping for slices of cake
This gluten free chocolate bundt cake also gets an added dose of richness from Vermont Creamery's cultured European-style butter, which clocks in at 86% butterfat. It has a super creamy texture with a hint of tang from the culturing process. I've written about my love for Vermont Creamery and their delicious products before, and I'm thrilled to get to feature them again here.
The Flours
A trio of flours – teff, sweet rice, and tapioca – create a fine, well-structured crumb.
Teff is a naturally gluten-free grain that hails from Ethiopia and I'm completely in love with its malty flavor. Its high protein content bakes into sturdy cookies and cakes, and it's good for you too!
Sweet rice flour is more finely ground and sticky than regular rice flour. It gives this cake a soft chew and prevents it from being crumbly.
Tapioca starch or flour (same thing!) is ultra sticky and helps cakes bake up light and fluffy because it makes the batter extensible or stretchy, allowing it to capture steam in the form of tiny air pockets that lighten the crumb.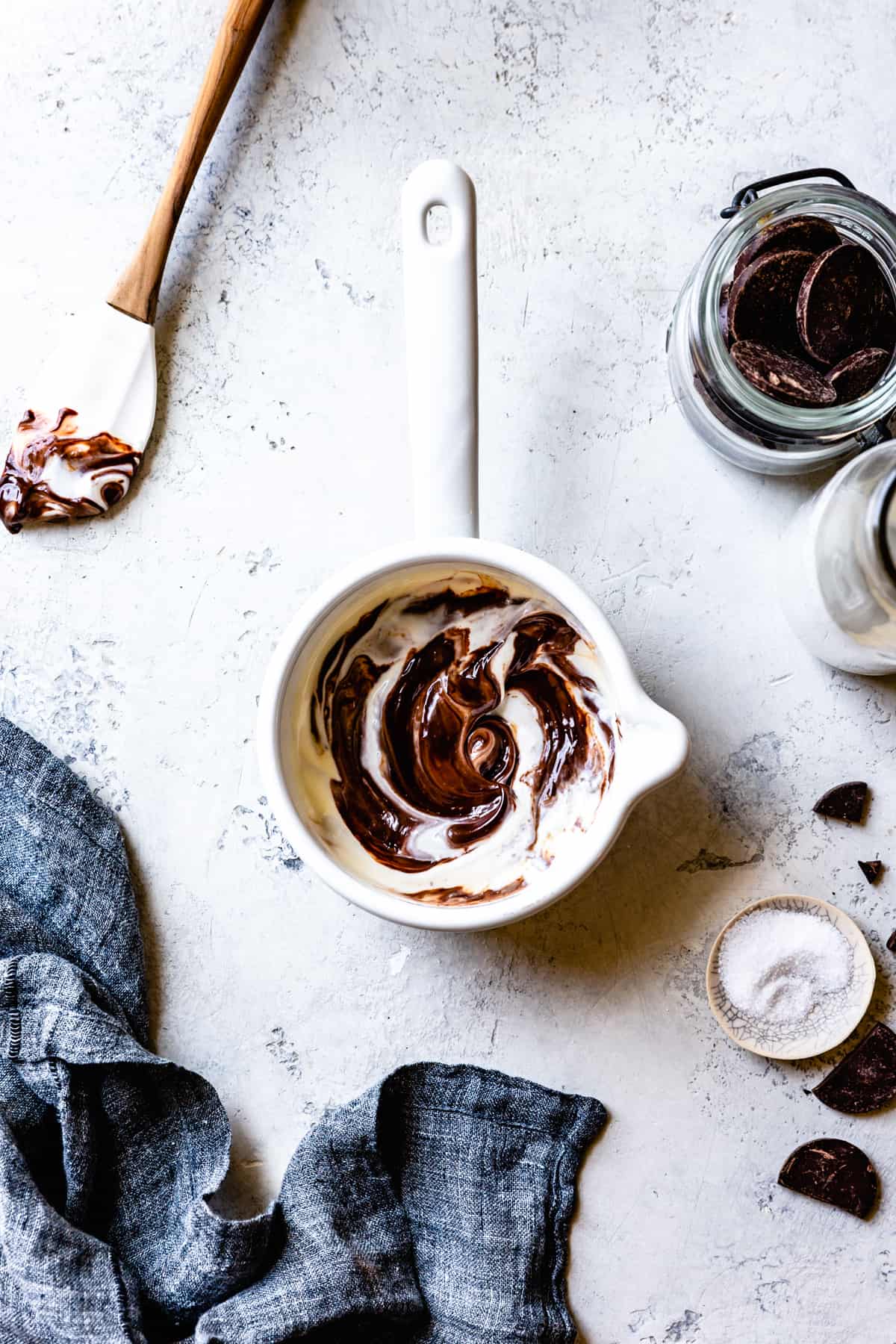 The Easiest One-Bowl Chocolate Cake Batter
This gluten free chocolate cake batter takes about 10 minutes to whisk together in one bowl. The ratios are adapted from Sarah's favorite gluten-free chocolate cake that I've riffed on with teff flour, brown sugar, and cultured dairy.
I shared a chocolate peanut butter version earlier this year made with roasted peanut oil and buttermilk. To turn it into a sturdier bundt cake recipe, I trade in melted butter for the oil and crème fraîche for the buttermilk. The result is an extra dense and fudgy cake with a fine crumb, somewhere between a chewy brownie and a fluffy classic chocolate cake.
Because we're not using gluten, we can mix the dickens out of this batter and it won't turn tough. Just throw the flours in a bowl with cocoa powder and leavening, add the butter, eggs, crème fraîche, and hot water, and whisk. But if gluten isn't an issue for you, try this festive version from Foolproof Living.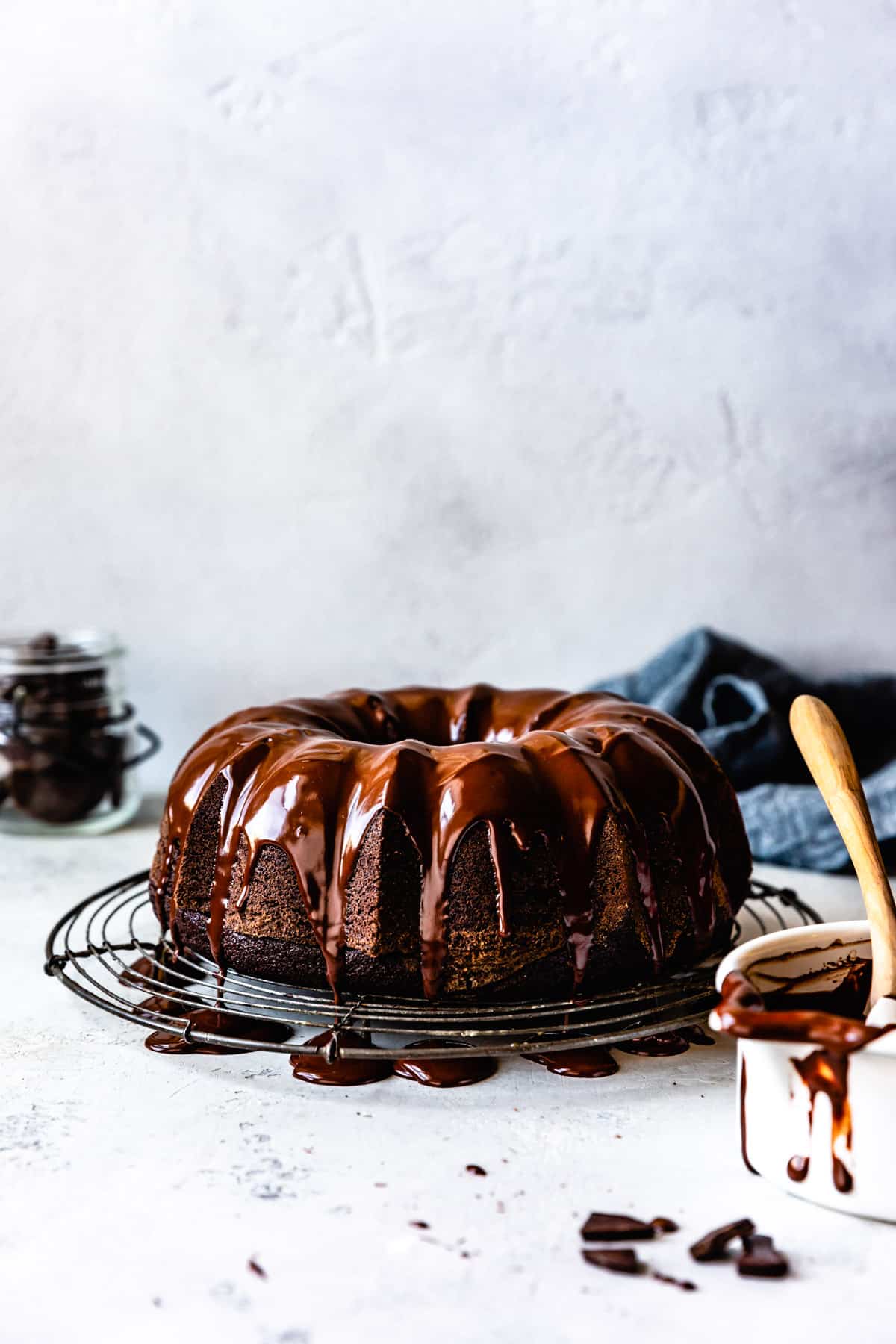 Chocolate Ganache with a Twist
I top this cake with a pour of creamy dark chocolate ganache, which not only adds another hit of chocolate, it also locks in moisture in the cake itself. The dark chocolate ganache topping gets a flavor boost from crème fraîche, a splash of whisky, vanilla, and a pinch of salt.
Be sure to use a chocolate you love the taste of here, and for best results, use a bittersweet chocolate with a cacao mass of 65-70% so that it sets properly. Opt for a baking chocolate or a bar of chocolate rather than chips, which contain ingredients to prevent them from melting, which is not what we want here.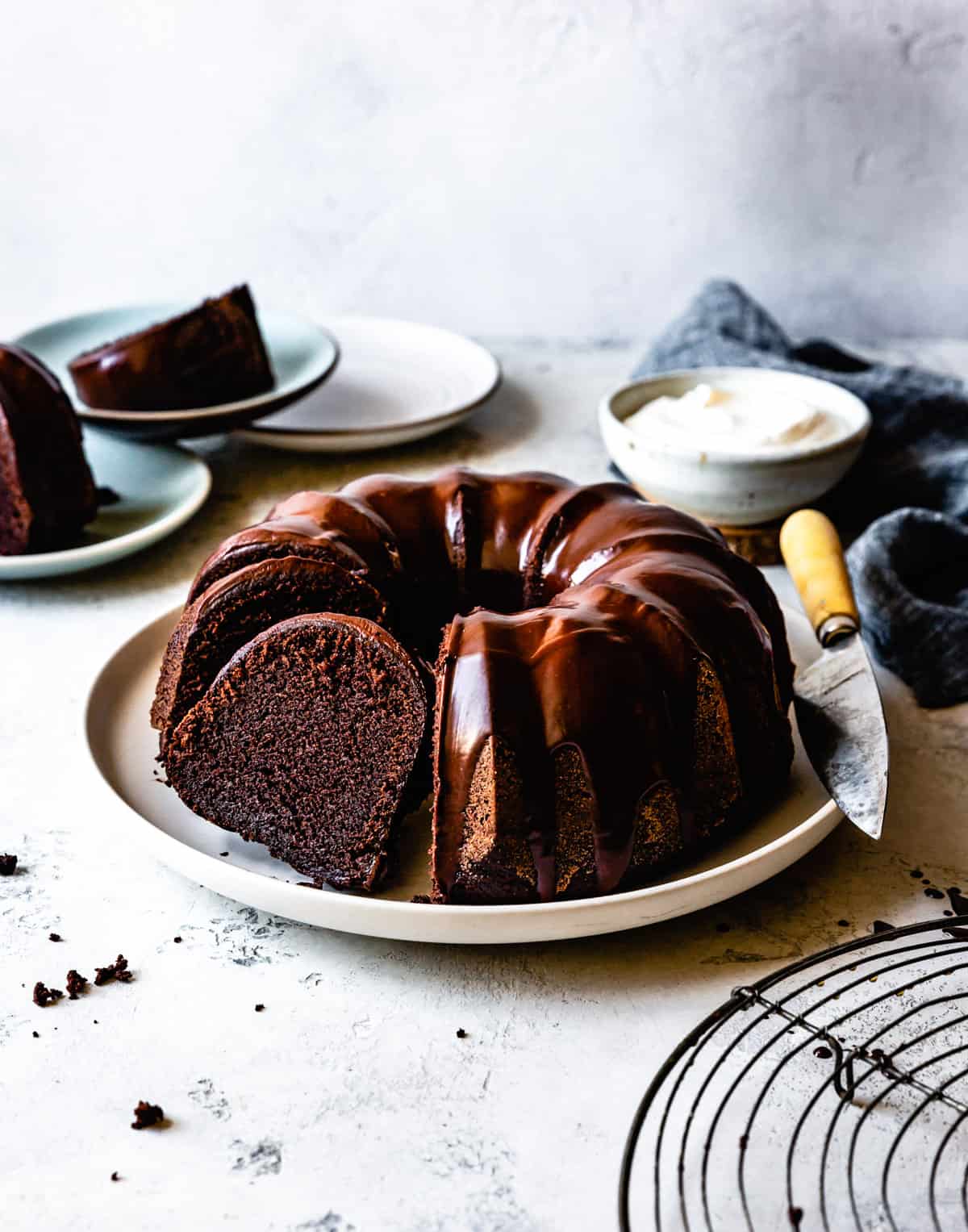 Gluten-Free Chocolate Bundt Cake for Everyone
The biggest perk about being blessed with a big bundt? There's more to share! This gluten free chocolate bundt cake makes an impressive addition to holiday festivities, and there's more than enough to go around.
The cake is rich so small slices are in order. They're equally lovely nibbled with a cup of tea or coffee in the afternoon as they are plated for an after dinner treat. I'm one of those people who likes a bite of something sweet after every meal, and it's a bonus if that sweet something is of the chocolate variety. I'm in heaven when there's double chocolate bundt cake in the house! It keeps beautifully for up to several days.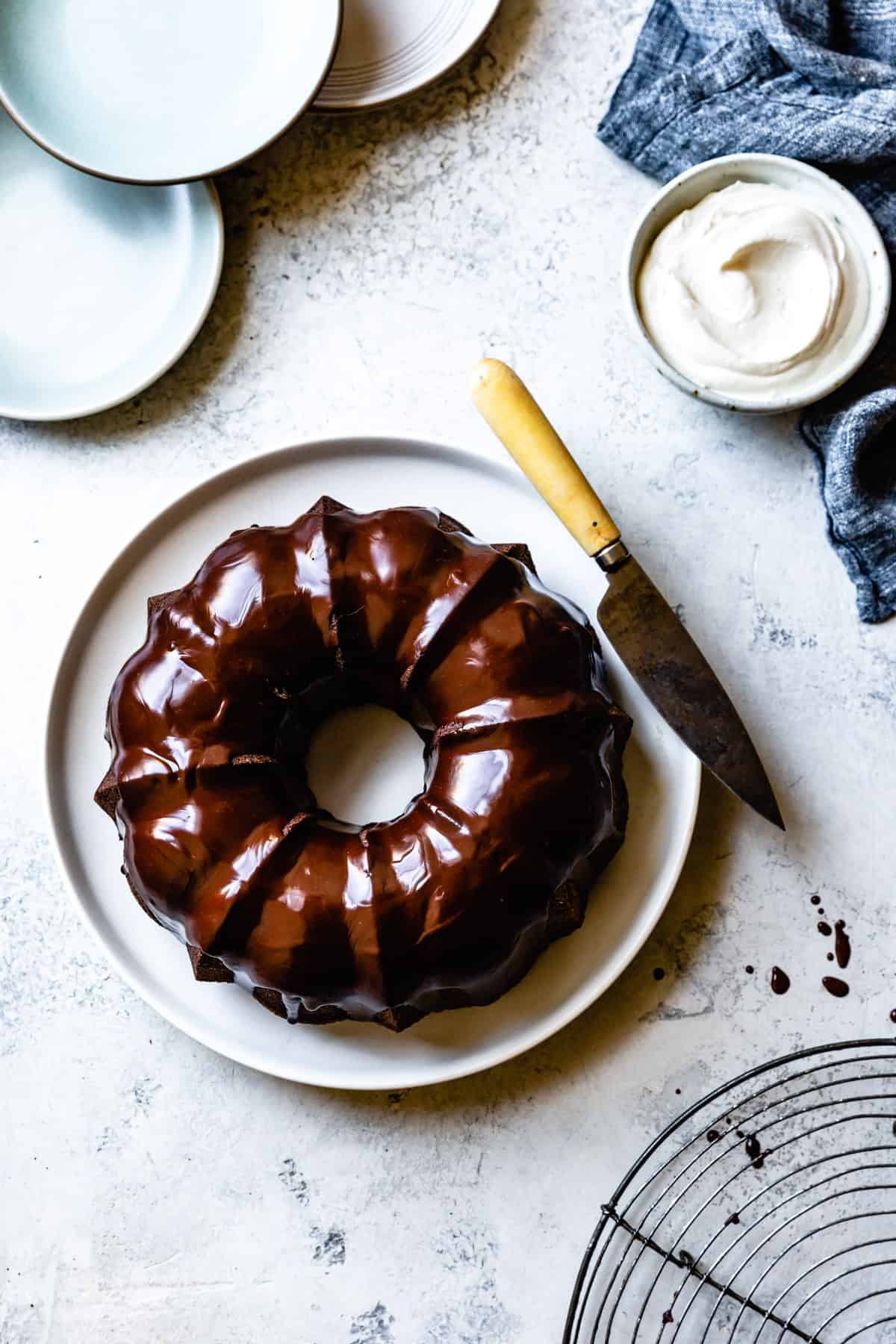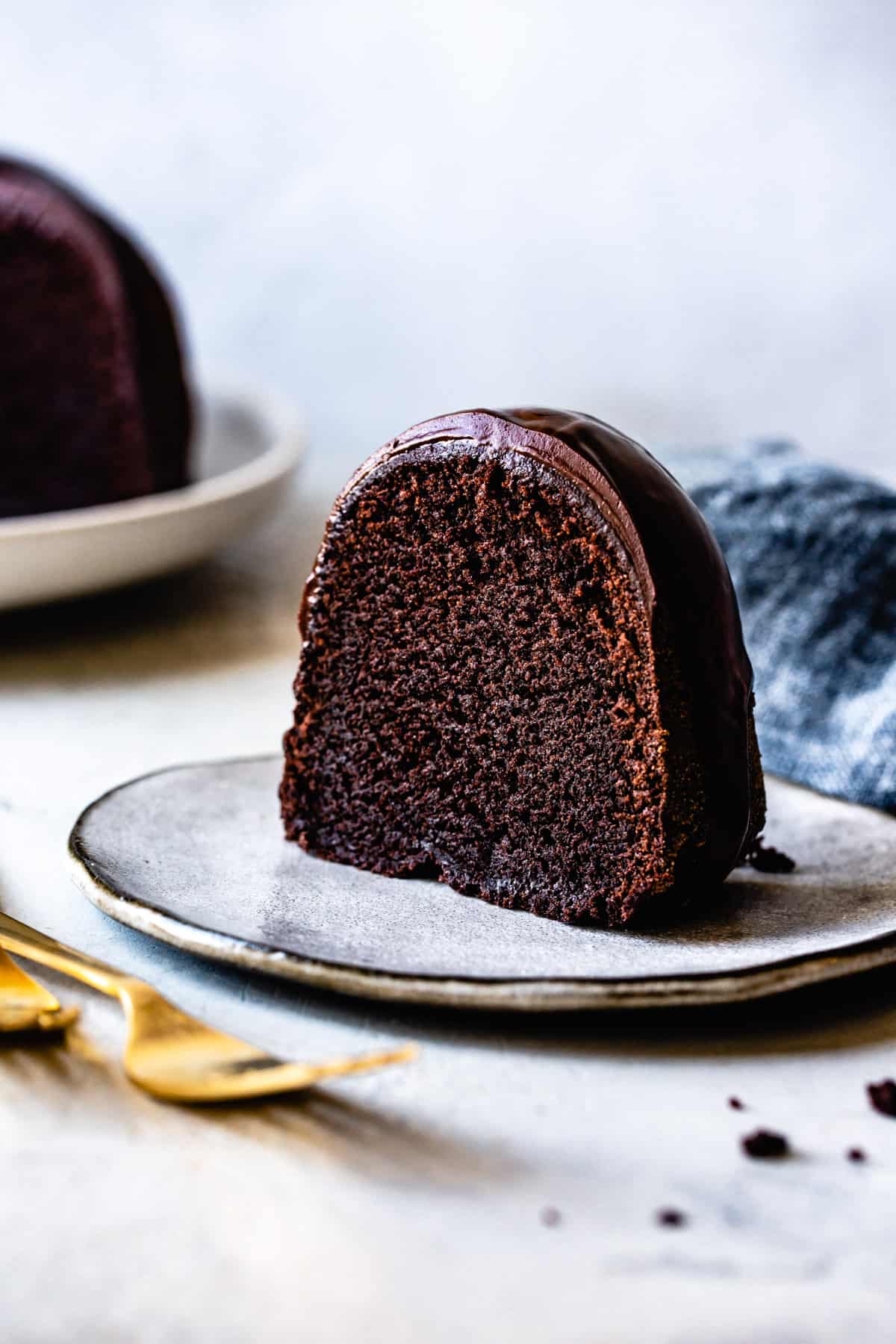 How to Prevent Bundt Cake from Sticking to the Pan
Many of us have suffered that sinking feeling that happens when you go to remove a cake from a pan, only to find that the bottom has stuck. I learned this trick for foolproof cake pan preparing from a bakery I once worked at:
Use a pastry brush dipped in room temperature butter softened to the consistency of mayonnaise to brush the pan with a thorough coating of butter. The soft butter will cling to the interior of the pan (unlike melted butter, which will run down the sides of so-called nonstick pans and won't do any good).
Once your pan is thoroughly coated in soft butter down to the last nook and cranny, dust the pan all over with flour, upending the pan over the sink and gently tapping it to oust excess flour.
If you take the few extra minutes to prepare your bundt pan correctly, your cake will release cleanly and easily from the pan every time, and you'll never suffer a sticky bundt cake again.
Looking for more ways to use teff flour? Try these:
*Bojon appétit! For more Bojon Gourmet in your life, follow along on Instagram, Facebook, or Pinterest, purchase my gluten-free cookbook Alternative Baker, or subscribe to receive new posts via email. And if you make this gluten free chocolate bundt cake, I'd love to see. Tag your Instagram snaps @The_Bojon_Gourmet and #bojongourmet. Thanks to Vermont Creamery for sponsoring this post! All opinions are my own.*
Gluten-Free Chocolate Bundt Cake with Teff Flour
Print Recipe
Pin Recipe
The fudgiest gluten-free chocolate bundt cake made in one bowl and coated in glossy chocolate ganache.
Servings:
16
small but rich servings, makes one 10-inch bundt cake
Ingredients
Cake:
2

teaspoons

softened butter, for the pan

1 ½

cup

(233 g) GF teff flour, plus more for dusting the pan*

½

cup

(80 g) sweet white rice flour**

¼

cup

(30 g) tapioca flour***

1

cup

+ 2 tablespoons (100 g) dutch-processed cocoa powder

2

teaspoons

baking powder

1

teaspoon

baking soda

1 ½

teaspoons

fine sea salt

2 ¼

cup

(530 g) packed organic light brown sugar

¾

cup

(177 ml) Vermont Creamery Crème Fraîche

8

tablespoons

(113 g) Vermont Creamery Cultured Unsalted Butter, melted

2

teaspoons

vanilla extract

1 ¼

cups

(300 ml) hot water

3

large eggs
Ganache:
4

ounces

(113 g) bittersweet chocolate (70% cacao mass), finely chopped (about 1 cup)

¼

cup

+ 2 tablespoons (90 ml) heavy cream

¼

cup

(60 ml) Vermont Creamery Crème Fraîche

1

tablespoon

GF whiskey or bourbon (or brandy, dark rum, or extra cream)

1/8

teaspoon

fine sea salt

½

teaspoon

vanilla extract
Instructions
Make the cake:
Position a rack in the center of the oven and preheat to 350ºF. Use a pastry brush to very thoroughly butter the inside of a 9 or 10-inch (10 or 12-cup) bundt pan, being sure to get into all the little nooks and crannies. The butter should be at room temperature and the consistency of mayonnaise so that it clings to the pan, not melted which will run down the sides of non-stick pans and not do any good. When the pan is thoroughly coated, dust the pan with a few tablespoons of teff flour, tapping it around the the interior to cover every surface. Turn the pan over in the sink and gently tap the pan to remove any excess flour.

In a large mixing bowl, sift together the teff, sweet rice, and tapioca flours with the cocoa powder, baking powder, baking soda, and salt. Add the brown sugar, crème fraiche, melted butter, vanilla, and hot water to the batter. Add the eggs and quickly whisk the batter until smooth and no lumps remain.

Pour the batter into the prepared pan and bake until the top springs back to the touch and a toothpick comes out with moist crumbs, 45-55 minutes. Remove from the oven and let cool at least 10 minutes. Invert a wire rack over the bundt pan, grasp both with oven mitted hands, and flip the whole thing over. Remove the bundt pan and let the cake cool completely on the wire rack, about 1 hour.
Make the ganache:
In a small saucepan, bring the cream to a bare simmer over medium heat. Remove the pan from the heat and add the chocolate. Let sit until melted, about a minute, then gently whisk until smooth. Whisk in the crème fraîche, whiskey, vanilla and salt. The ganache should be thick but pourable; if it's too thin, let sit at room temperature to thicken up a bit. If it's too thick, warm over a low flame for a few seconds, stirring constantly.

Pour the ganache over the cake. Let set at room temperature until firm enough to slice, 20 minutes or so.
Whip the crème fraîche:
In the bowl of a stand mixer fitted with the whip attachment (or in a large bowl with a balloon whisk or electric beater), combine the cream, crème fraiche, sugar, and vanilla. Whip on high speed until soft peaks form. Serve slices of cake with big dollops of whipped crème fraiche.

Store leftover cake at room temperature for up to 1 day or refrigerate airtight for up to 4 days. Bring to room temperature before enjoying.
Notes
*Sub by weight GF oat flour or chestnut flour
**Sub by weight cassava flour or GF AP flour such as Bob's Red Mill 1 to 1
***Sub by weight more sweet rice flour
Nutritional values are based on one of sixteen servings.
Nutrition
Calories:
403
kcal
Carbohydrates:
53
g
Protein:
5
g
Fat:
21
g
Saturated Fat:
12
g
Cholesterol:
79
mg
Sodium:
358
mg
Potassium:
270
mg
Fiber:
4
g
Sugar:
34
g
Vitamin A:
590
IU
Vitamin C:
0.2
mg
Calcium:
116
mg
Iron:
2.5
mg