Malty teff flour adds big flavor to these chunky chocolate chip teff cookies. Made with one bowl in just 30 minutes! Gluten-free and can easily be made dairy-free. These cookies are thick, chewy, and will satisfy all your cookie cravings.
Find all my favorite gluten-free cookie recipes here.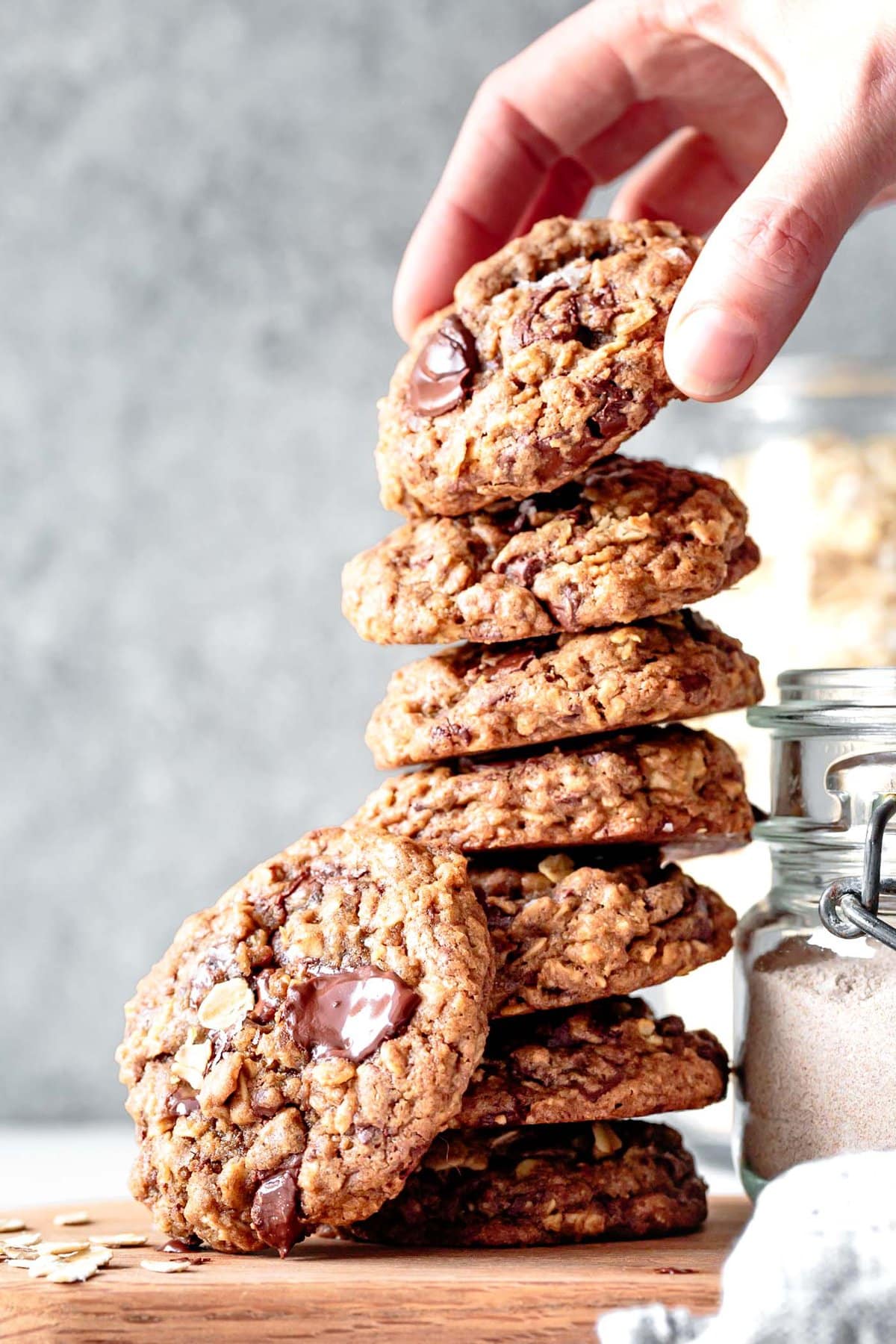 Here's a recipe that just barely made it into my cookbook Alternative Baker – the variation listed under the Teff Oatmeal Cookies with Whiskey Currants.
Jay's favorite ever cookies are oatmeal chocolate chip with walnuts, and I couldn't not include a recipe for them (especially given the 1 million dishes he did during the making of the book). But time was running out. (Er, technically, it had run out long ago, to the chagrin of my editor who kept getting emails from me begging to add more recipes into an already-too-long-manuscript.)
Luckily, the cookies won!
These teff flour cookies have a rich, butterscotchy flavor thanks to earthy teff flour, plenty of butter, and vanilla. They're also:
chewy
gooey
loaded with oats, nuts, and bittersweet chocolate
so much more flavorful than regular oatmeal CCCs
not too sweet
full of nutrient-rich whole grains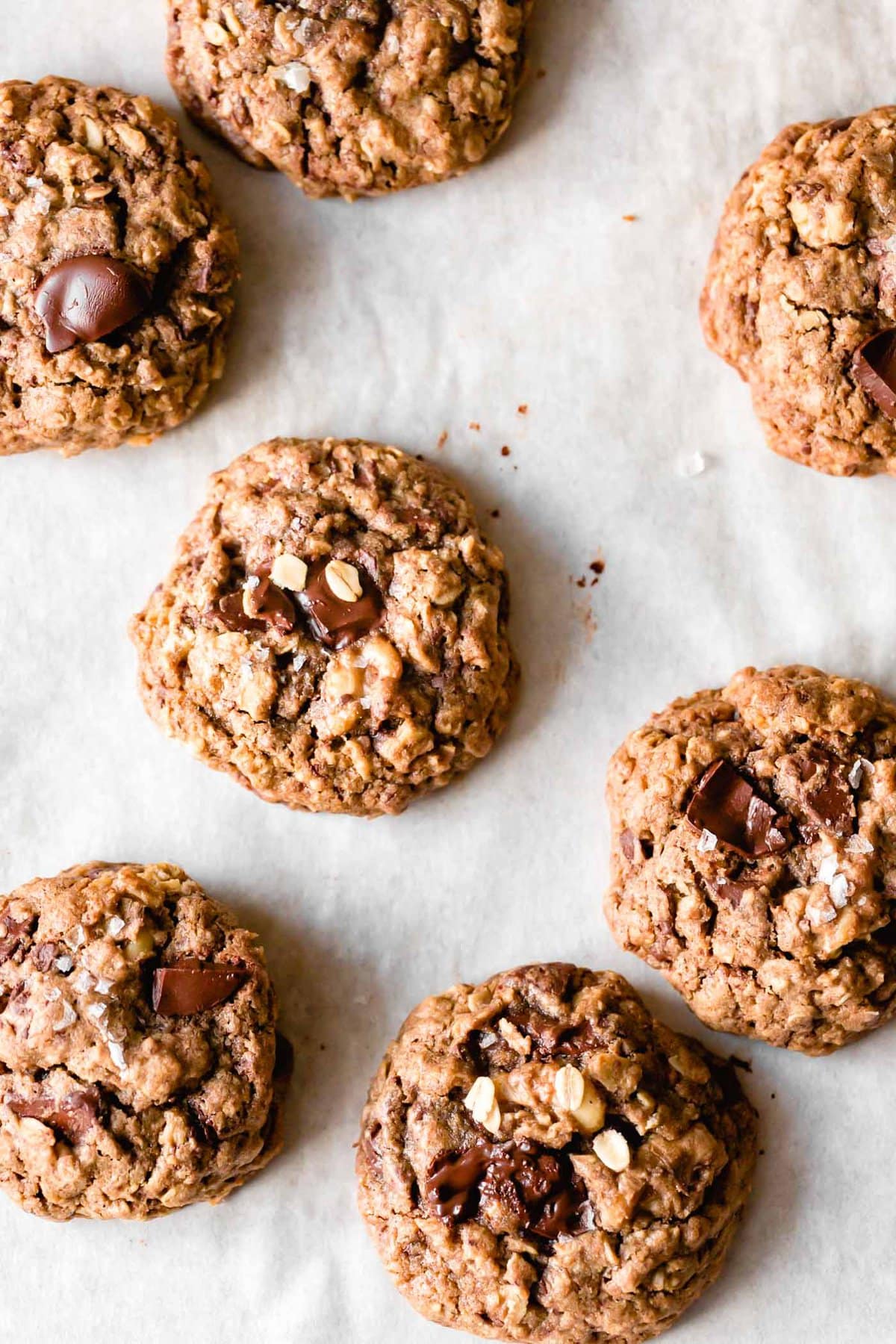 How I Developed this Teff Cookie Recipe
Drop cookies can be persnickety beasts, objecting to slight changes in temperature/moisture/Mercury in retrograde/bad vibes, either spreading into flat pancakes or staying in tight little lumps upon hitting the heat of the oven. This humble teff flour recipe was the one that took the most tries to get right for my cookbook.
I tested batch after batch of teff cookies, making tiny adjustments, until I was finally satisfied. The original teff oatmeal cookies in the book are laced with a whiff of fresh nutmeg and studded with plump, boozy currants, all bound up in an earthy base of teff flour, oats, brown sugar, and lots and lots of butter. With each failed batch, I'd console myself with a warmly spiced (albeit overly flat/thick/sweet/salty) cookie and start over again.
When the manuscript was handed in (and I caught up on enough sleep for my synapses to start firing again), I suddenly realized my glaring omission: Jay's favorite cookie in the whole world. It was too late to develop and shoot an entirely new recipe, so, on a whim, I swapped out the nutmeg and currants for a mess of chopped bittersweet chocolate, in the hopes that I could sneak in just one more variation, but sure that the slight change of ingredients would wreck havoc on this most finicky of recipes.
To my surprise and delight, the recipe was far sturdier than expected.
The cookies baked up beautifully, spreading into thick, chewy, chunky cookies laced with the earthy tastes of teff, oat, molasses, dark chocolate, and toasted nuts.
These teff cookies have made the rounds online. Tessa made them with coconut sugar, and Traci shared the originals with step-by-step photos. This is probably the recipe from the book I make most often when I'm craving something quick and sweet late at night or on a rainy day.
Clearly Jay isn't the only cookie monster in the house!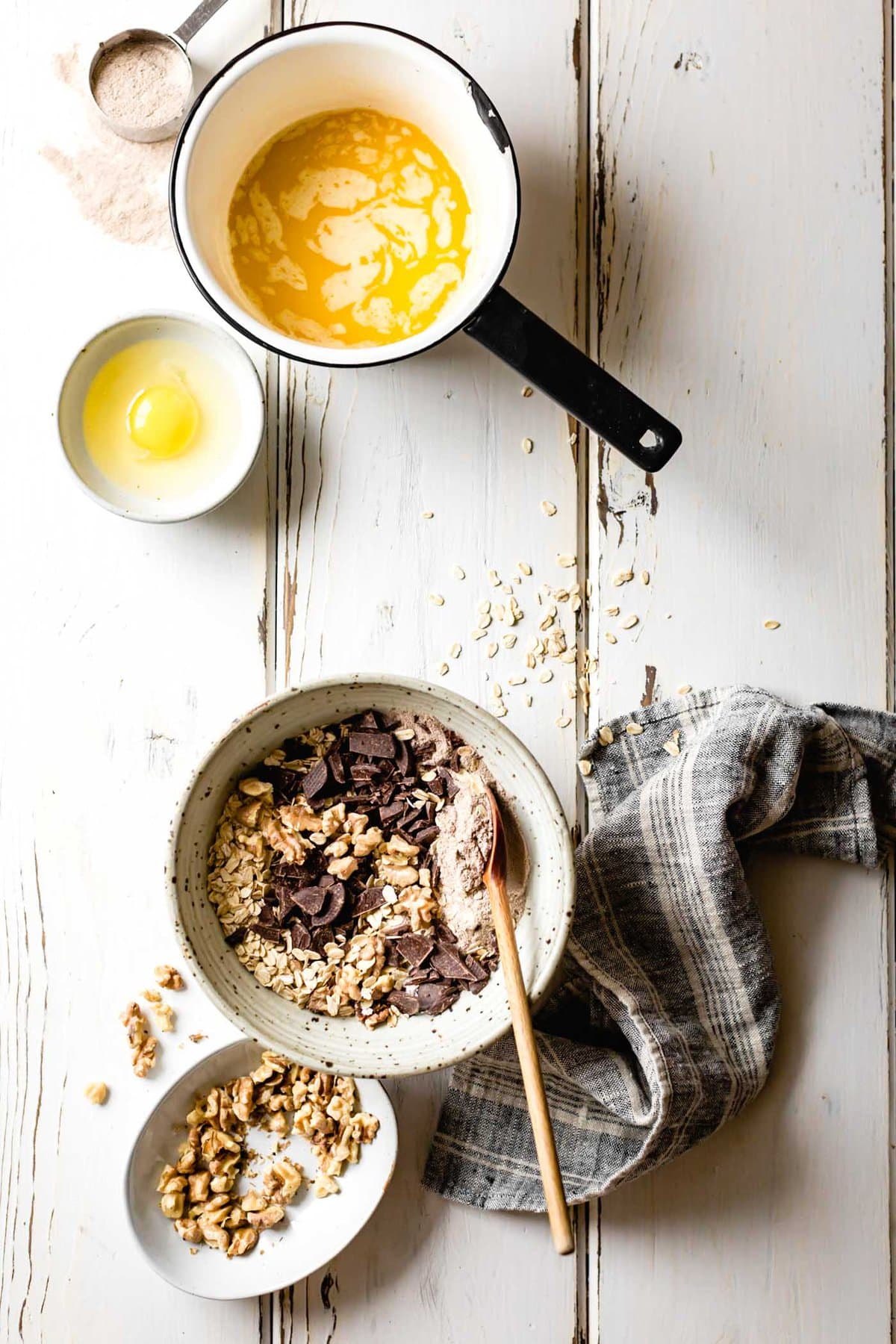 Ingredients & Substitution Suggestions
These teff chocolate chip cookies come together with just a handful of pantry-friendly ingredients.
Teff flour adds substance and rich, earthy flavor. I tested this recipe with Bob's Red Mill brown teff flour, but ivory teff flour will work too.
Tapioca flour helps the cookies hold together, making them soft and chewy. Sub by weight arrowroot flour.
Salt and vanilla sharpen the flavors. Flaky salt adds a bit of crunch on top, but feel free to omit if you don't have any on hand.
Baking soda makes the cookies spread and brown.
A combination of brown sugar and granulated sugar sweeten the cookies just enough, adding rich molasses notes. You can sub by weight coconut sugar for both sugars if you prefer.
Oats add texture and heft. Be sure to use gluten-free oats if need be.
Chopped bittersweet chocolate complements the earthy flavors of teff flour, oats, and vanilla, melting into gooey pockets. Feel free to use chocolate chips if you prefer.
Walnuts make them extra chunky. Feel free to sub pecans or leave the nuts off entirely.
Butter moistens the dough. Feel free to sub DF butter such as Miyoko's, decreasing the salt if necessary.
An egg gives the cookies just the right amount of spread, adding protein to hold the dough together.
How to Make Teff Flour Cookies
This recipe comes together with 10 minutes of active time, plus 10 minutes of baking time. You can also scoop the dough into balls and chill them until you're ready to bake, which will make the cookies more thick and chewy as shown here.
This small-ish batch recipe makes 15 cookies. Feel free to double the recipe if you need moar cookies!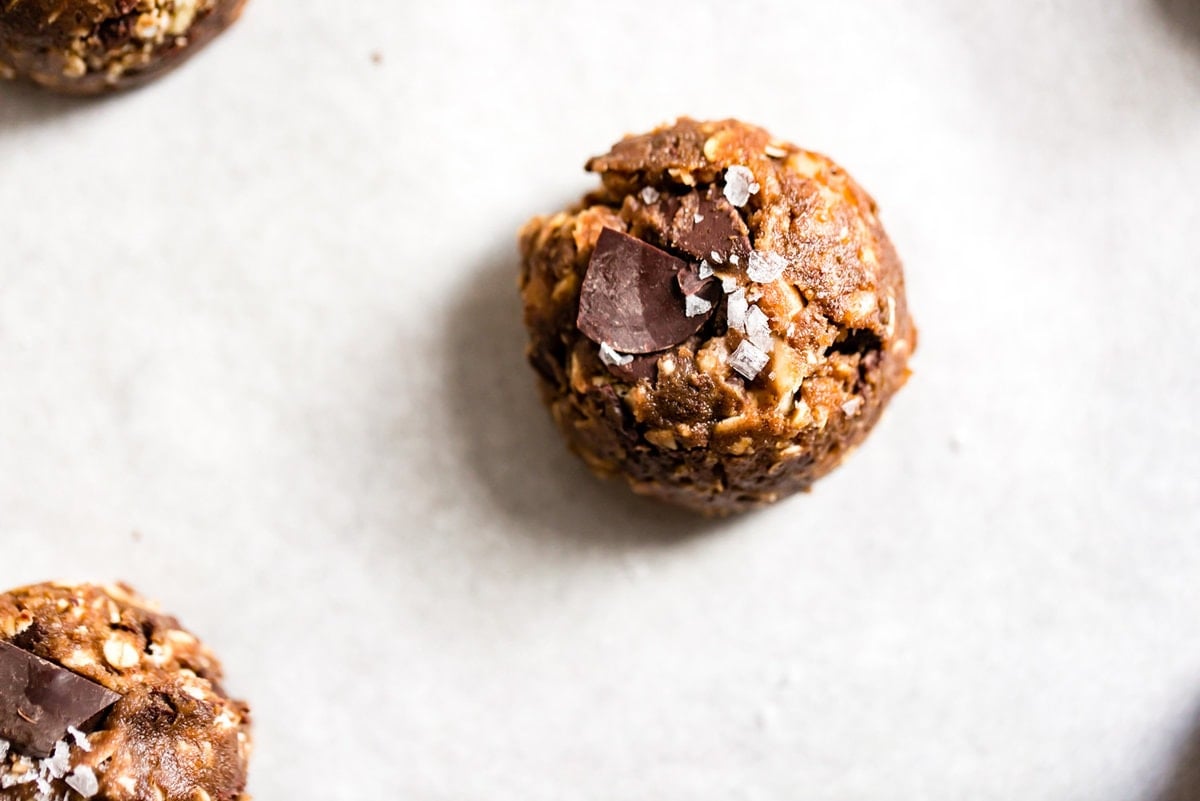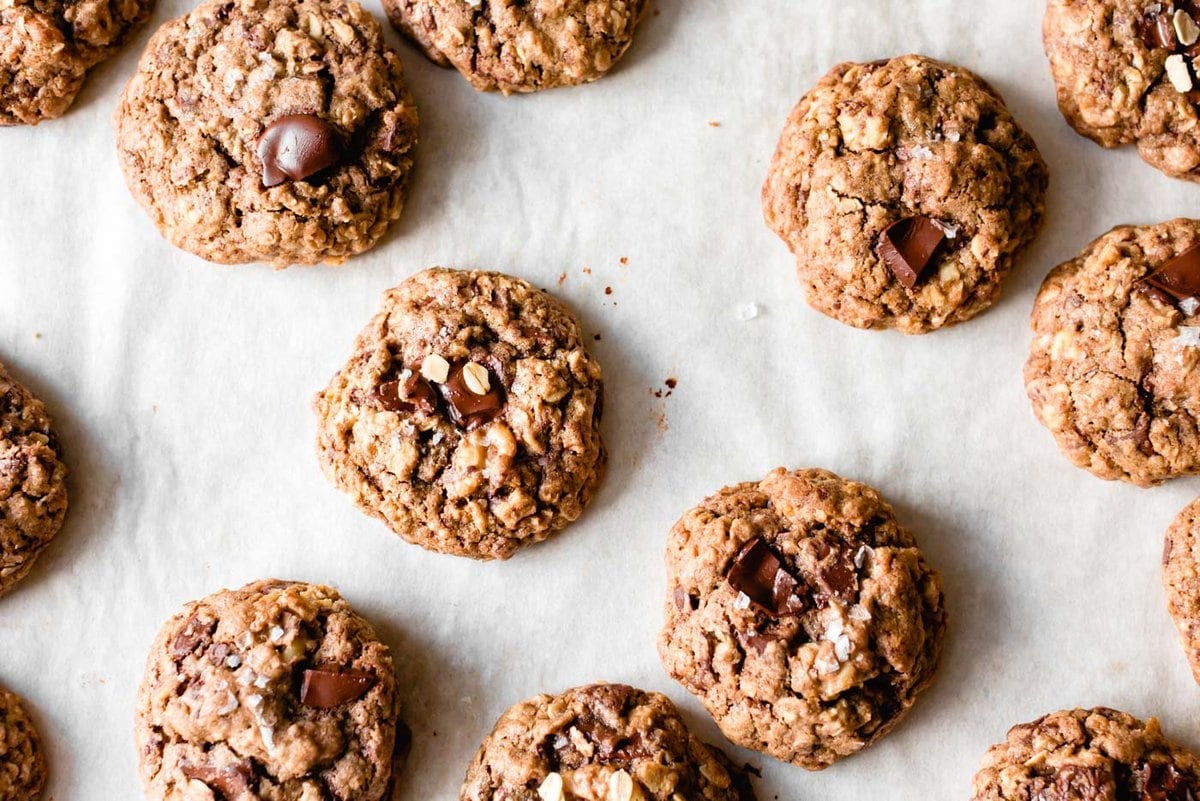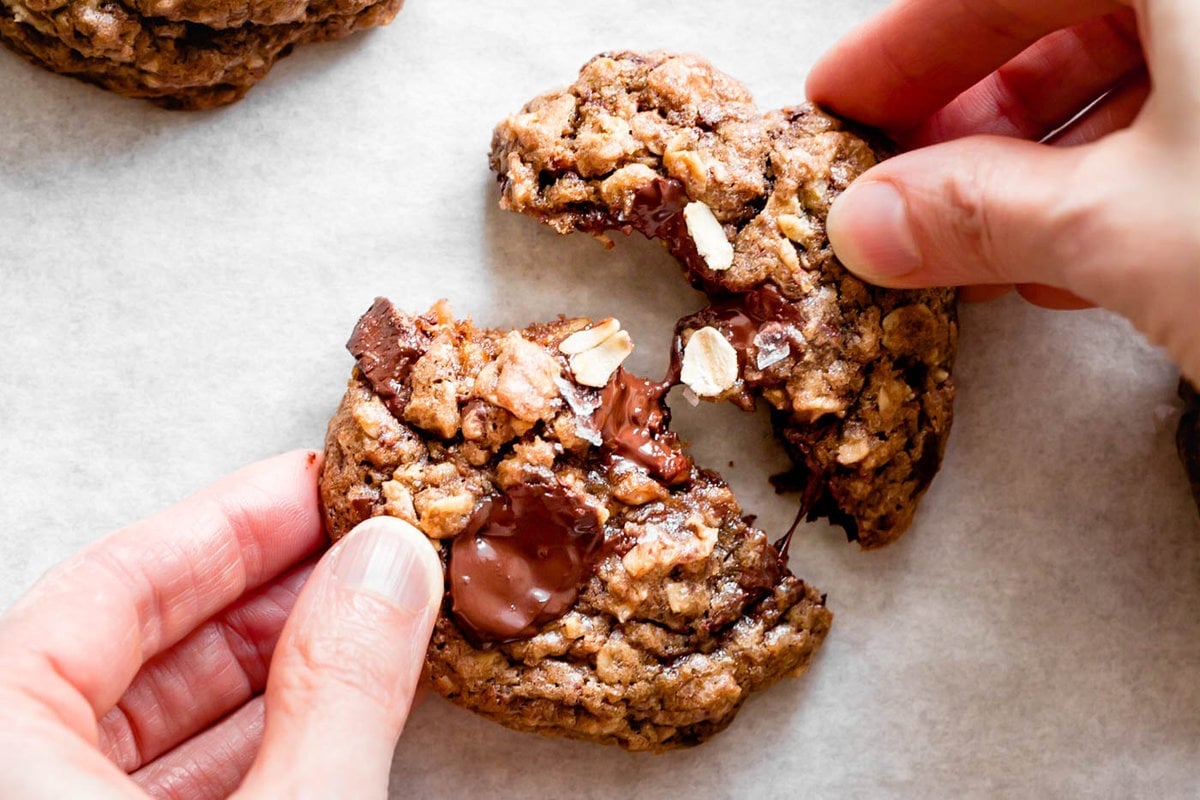 Is Teff Flour Gluten-Free?
Yes, teff flour is naturally gluten-free!
If you're new to teff flour, this teff cookie recipe is a perfect introduction. The tiny grain is most commonly used in Ethiopian injera, but the flour has a nutty flavor that reminds me of malted chocolate milk, and it pairs beautifully with other similar flavors. Teff is also high in protein, which helps these cookies hold together.
I love using teff flour in desserts (particularly chocolate desserts!). You can find all of my favorite teff flour recipes here, and more in my cookbook.
Teff Cookies for Everyone
Here, brown sugar, chocolate and oats all work together to show off teff's exceptional flavor. Whip up a batch of these oatmeal teff chocolate chip cookies to share or hoard all to yourself. Hope you enjoy!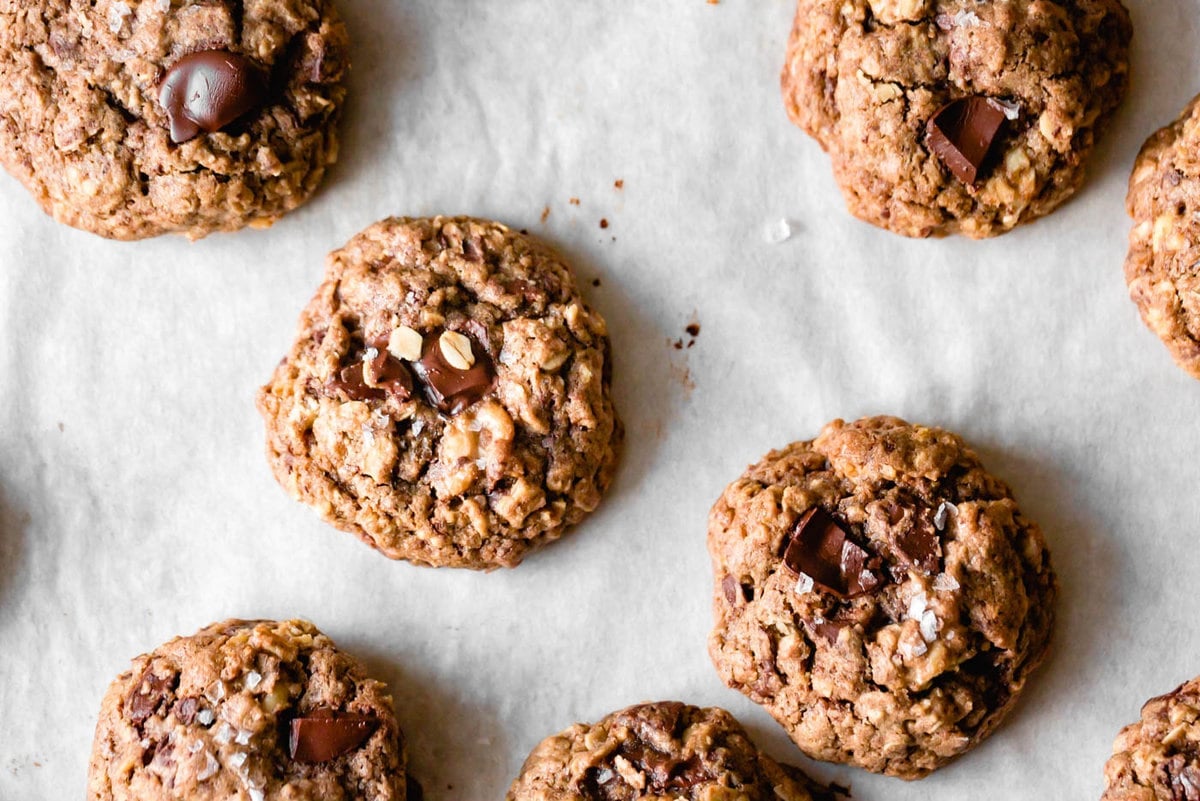 *Thanks for reading! For more Bojon Gourmet in your life, follow along on Instagram, Facebook, or Pinterest, or subscribe to receive new posts via email. And if you make this teff flour cookie recipe, I'd love to see! Tag your Instagram snaps @The_Bojon_Gourmet and #bojongourmet.*
Oatmeal Teff Chocolate Chip Cookies (GF)
Print Recipe
Pin Recipe
Malty teff flour adds big flavor to these chunky chocolate chip teff cookies. Made with one bowl in just 30 minutes! Gluten-free and can easily be made dairy-free.
Servings:
15
(2.5-inch) cookies
Ingredients
Wet Ingredients
8

tbsp

(113 g) unsalted butter, melted

¼

cup

plus 2 tablespoons (80 g) packed light brown sugar*

¼

cup

(50 g) organic granulated cane sugar*

1

large egg (2 ounces out of the shell)

1

teaspoon

vanilla extract
Dry Ingredients
¾

cup

(100 g) teff flour (preferably Bob's Red Mill brand)

¼

cup

(27 g) tapioca flour

¼

teaspoon

baking soda

¾

teaspoon

fine sea salt

1

cup

(100 g) GF old-fashioned rolled oats

6

ounces

(170 g) coarsely chopped bittersweet chocolate or chocolate chips (60-70%)

¾

cup

(90 g) walnuts, toasted, cooled, and coarsely chopped or broken

flaky salt for sprinkling (optional)
Instructions
Position a rack in the upper third of the oven and preheat to 350ºF. Line two rimless cookie sheets with parchment paper.
Make the Cookie Dough
Place the white and brown sugars in a large bowl. Stir in the melted butter and let cool to warm.

Whisk in the egg and vanilla.

Place a mesh strainer over the bowl and sift in the teff and tapioca flours, baking soda, and salt.

Stir the dough vigorously to combine.

Stir in the oats, chocolate, and nuts until combined. (You don't have to worry about over-mixing the dough because there are no glutens to turn tough!)

Let the dough sit for a few minutes until thick enough to scoop, or chill briefly.
Bake the Cookies
Form the dough into balls that are about 3 tablespoons large (a #24 cookie scoop works well).

Place the dough balls on the prepared cookie sheets, spacing them 2-3 inches apart.

Top each dough ball with a pinch of flaky salt, if using.

Bake the cookies until the edges are set and starting to color but the centers are puffed and look underbaked, 10-12 minutes.

Remove the cookies from the oven and pull them, parchment and all, onto wire racks to cool. They will be delicate at first, but will continue to firm up as they cool.

Store the teff cookies at room temperature for up to 3 days.
Notes
*In place of both of the sugars you can substitute coconut sugar by weight (130 g / ~3/4 cup + 2 tablespoons coconut sugar)
Adapted from Alternative Baker.
Make-Ahead:
Cover the dough and let stand 1-2 hours at room temperature before baking.
Or scoop the dough into balls and chill airtight until ready to bake, up to 1 week. This will make thicker, chunkier, chewier cookies as shown here.
TBG Tip:
For extra dense, chewy cookies, give the pan a few firm raps on the counter when you pull them from the oven. And be sure to have a glass of milk or unsweetened almond milk on hand.
Nutritional values are based on one of fifteen cookies.
Nutrition
Calories:
239
kcal
Carbohydrates:
23
g
Protein:
4
g
Fat:
15
g
Saturated Fat:
7
g
Cholesterol:
28
mg
Sodium:
143
mg
Potassium:
119
mg
Fiber:
3
g
Sugar:
11
g
Vitamin A:
210
IU
Vitamin C:
0.1
mg
Calcium:
32
mg
Iron:
1.7
mg