With crisp edges and chewy, gooey middles, these vegan & paleo chocolate chip cookies (aka pegan cookies) are so easy to whip up with just a bowl and spoon. You can have them mixed and baked in 30 minutes with 10 ingredients, no chilling time required.
Cashew butter and cassava flour are the secret ingredients that make these cookies undetectably paleo & vegan; they taste just as rich and delicious as classic chocolate chip cookies!
I developed these paleo vegan chocolate chip cookies while experimenting with a gut-healing paleo diet. As a former pastry chef and cookbook author, I wasn't about to let a restrictive elimination diet get in the way of dessert.
This paleo chocolate chip cookie recipe proved to me that paleo dessert recipes could be every bit as satisfying as their gluten/dairy/sugar-infused counterparts. Try it and you'll feel the same way!
I adapted this paleo cookie formula from two favorite gluten-free vegan cookie recipes: almond butter chocolate chip cookies with buckwheat and oats, and tahini oatmeal chocolate chip cookies. Missing these favorites, I decided to adapt a grain-free version. After testing the recipe 6 times, I finally got these gooey pillows of grain-free chocolate chip cookie love.
I love them so much, I also made 2 more paleo vegan cookie recipes: tahini chocolate chip cookies and matcha chocolate chip cookies.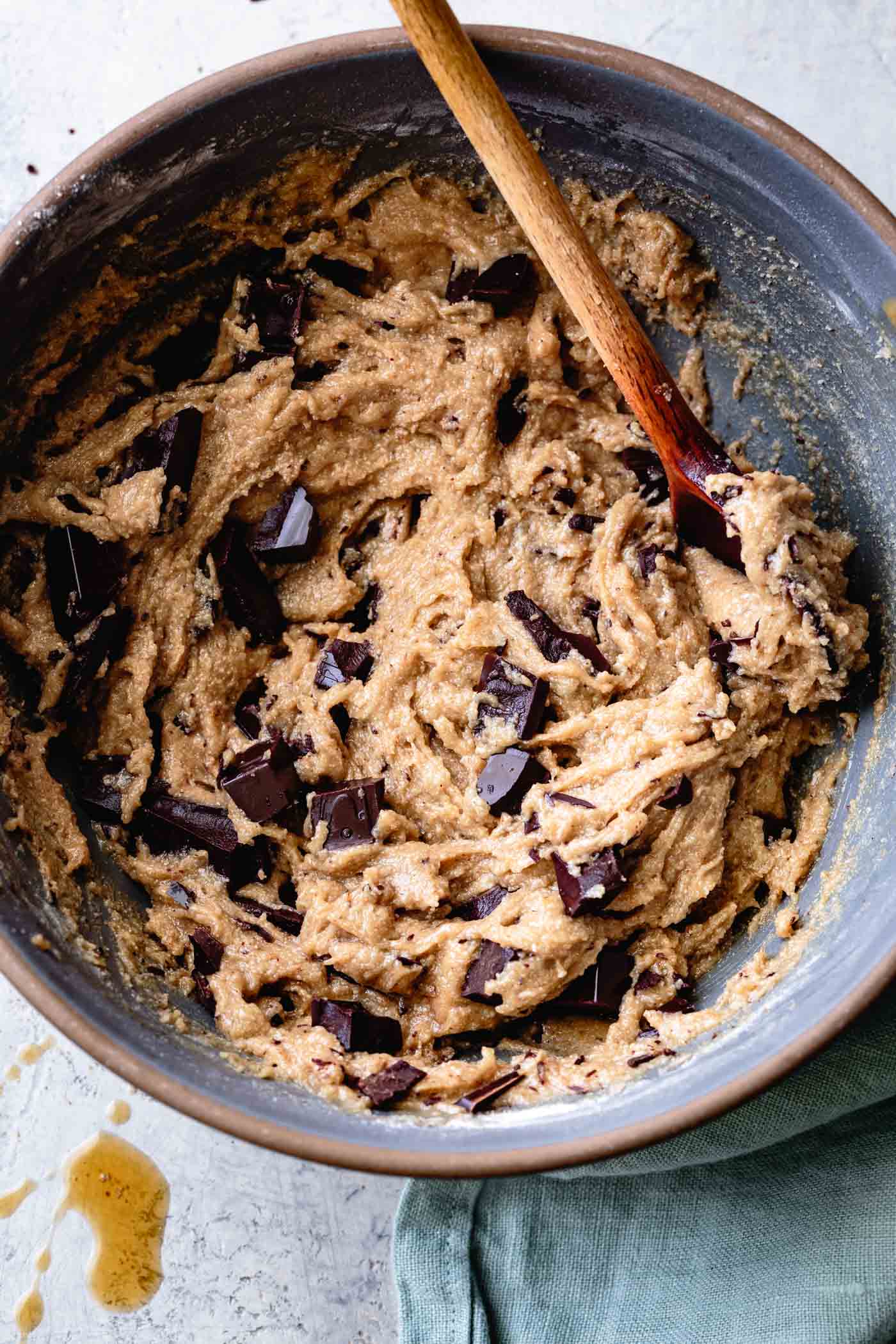 What I love about this paleo chocolate chip cookie recipe:
One-bowl – just a whisk, spatula, and bowl are needed to make this easy cookie recipe
Magical – the recipe seems like it shouldn't work, but it does, beautifully!
Fast – this recipe satisfies cookie cravings in 30 minutes.
Eggless cookie dough – meaning you can eat the dough straight from the bowl, no holds barred. I'm not even a raw cookie dough person, and I find it super addictive.
Friendly for many diets – grain-free, gluten-free, dairy-free, egg-free, paleo, vegan, refined sugar-free, and with nut-free and coconut-free suggestions.
Flavor – cashew butter, dark maple syrup, and coconut sugar give these cookies rich, butterscotch notes in the dough, which wraps around loads of dark chocolate chunks, all kissed with flecks of flaky salt. What more could you want in a cookie?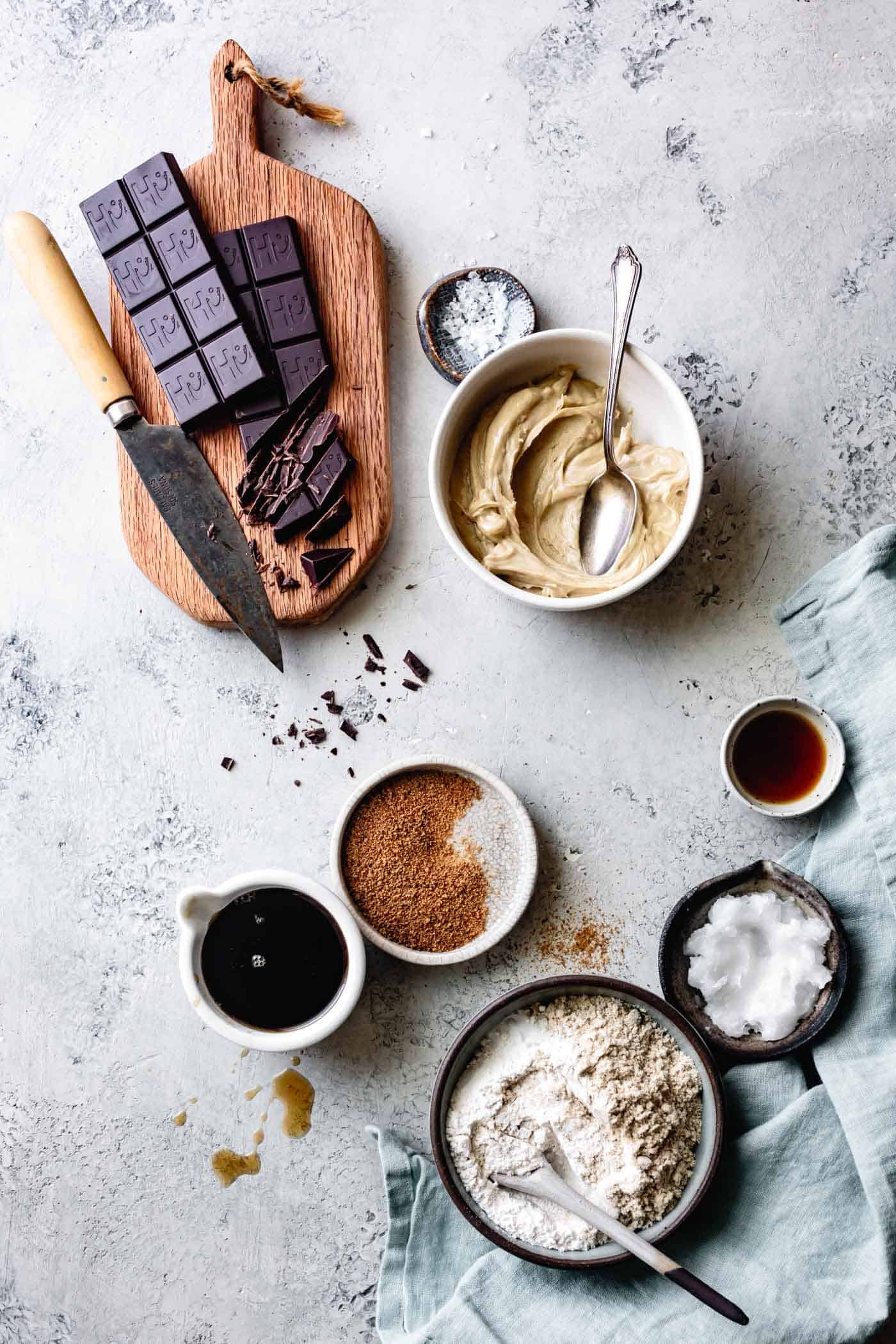 Ingredients & Substitution Suggestions
Flour Power
These cookies use just 2 grain-free flours to build thick and chewy cookies with a classic, soft texture. Most paleo cookie recipes that you find online use almond flour, but I love the soft, chewy, pillowy texture that cassava and tiger nut flour add here.
Cassava flour creates a sticky base that makes these cookies thick and chewy.

If you're not paleo, you can try subbing (by weight) sweet rice flour or all-purpose flour (gluten-free or not, depending on your dietary needs).

Tiger nut flour adds tenderness, earthy flavor, and promotes browning. I tested these with all cassava flour and they weren't nearly as good as the tiger nut version; they were pale, pasty, and bland.

If you don't have any tiger nut flour on hand, several readers have used almond flour in its place and reported that it worked well.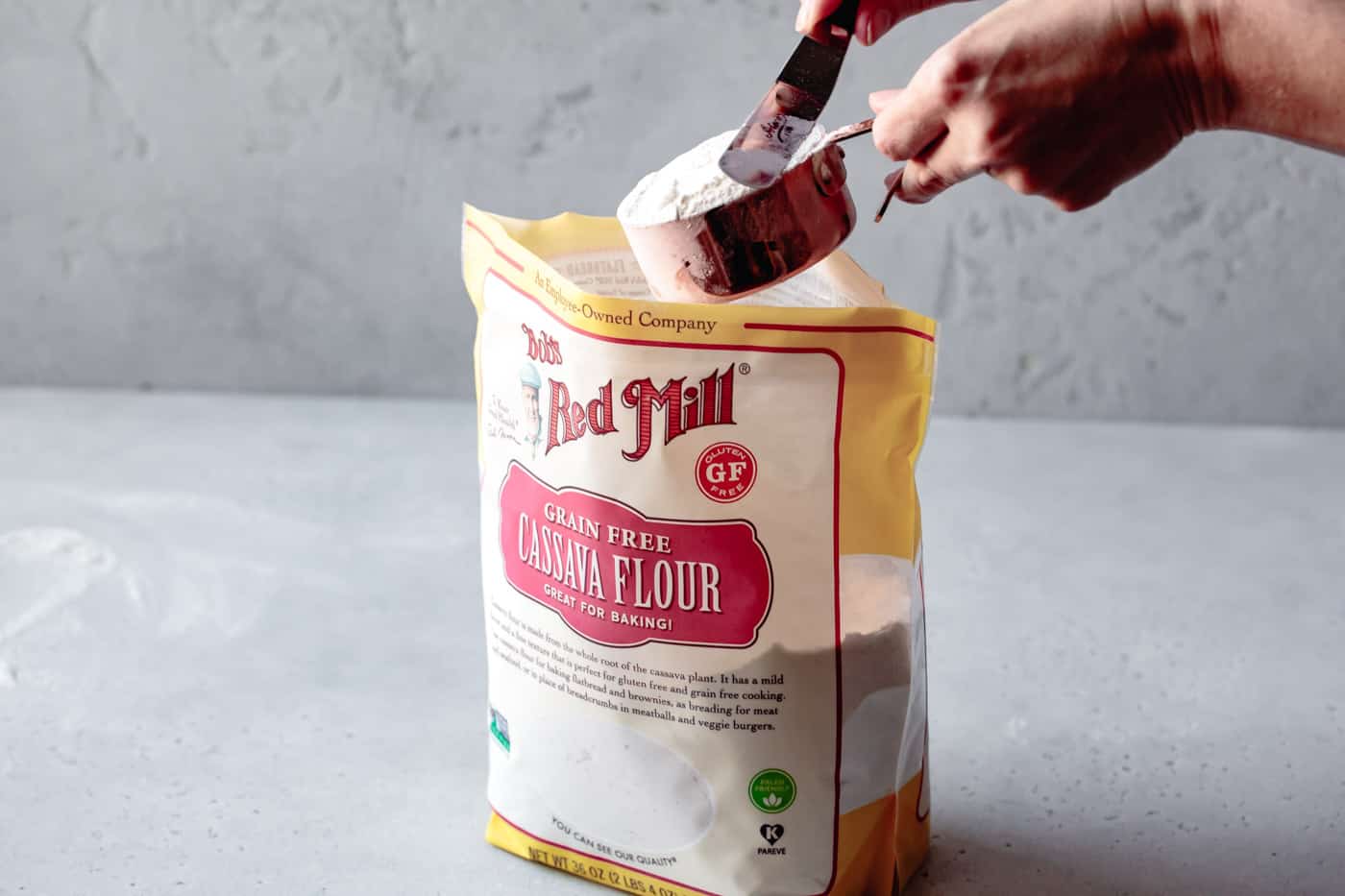 Other Ingredients
A handful of pantry-friendly ingredients complete the dough.
Cashew butter forms the base of these cookies. I use Artisana raw cashew butter, which you can find at many healthy foodie stores or order from Thrive. Or make your own.

Try subbing almond butter for an earthier flavor, or peanut butter (and they won't technically be paleo). For a nut-free version, make this tahini chocolate chip cookie recipe.

Maple syrup provides sweetness and moisture. I prefer a dark maple syrup, the darkest you can find. It adds caramel notes that makes these taste more like classic chocolate chippers.
Just 1 tablespoon of coconut sugar adds brown sugar notes and gives the cookies a golden hue.

Substitute an additional tablespoon of maple syrup if you don't have any on hand, or try organic dark brown sugar if you don't mind a touch of the refined stuff.

Coconut oil adds richness.

Substitute ghee if you like for a non-vegan version.

Vanilla adds sweet floral notes.
Baking soda promotes spread and browning.
Fine sea salt sharpens the flavors, and flaky salt on top adds addictive crunch.
Dark chocolate is the most important ingredient, of course! I've been using Hu Kitchen chocolate, which is sweetened with coconut sugar and has a cacao mass of 70%.

Feel free to use any chocolate you like the taste of instead.
How to Make Vegan Paleo Chocolate Chip Cookies
This recipe comes together with a bowl, a whisk, and a spoon or spatula in a matter of minutes. There's no chilling required, meaning that you can have a batch of warm, gooey cassava chocolate chip cookies ready for your face in about half an hour.
This recipe makes a small batch of paleo chocolate chip cookies – just 9 chonkers. Double or triple the recipe if you need moar cookies!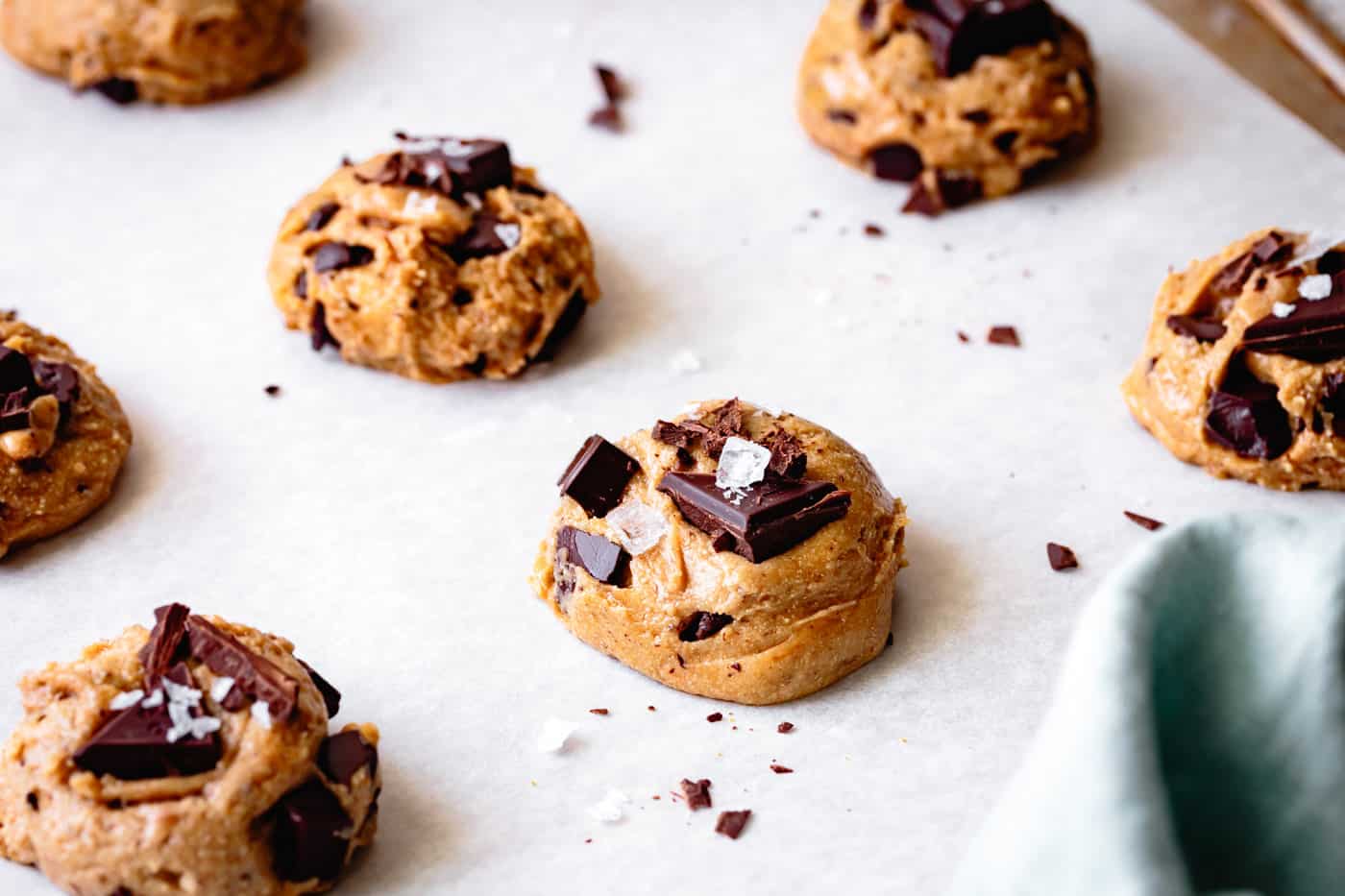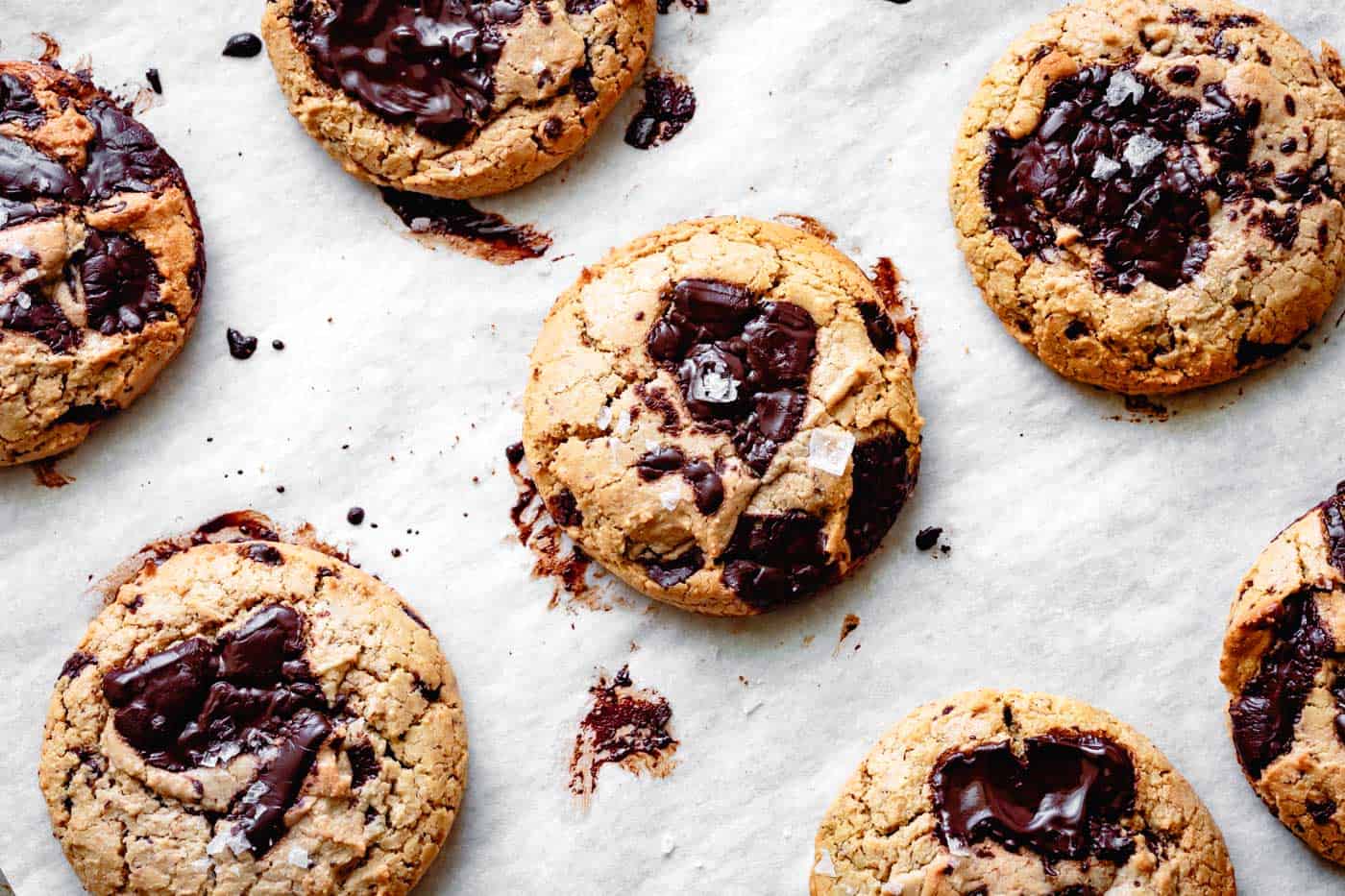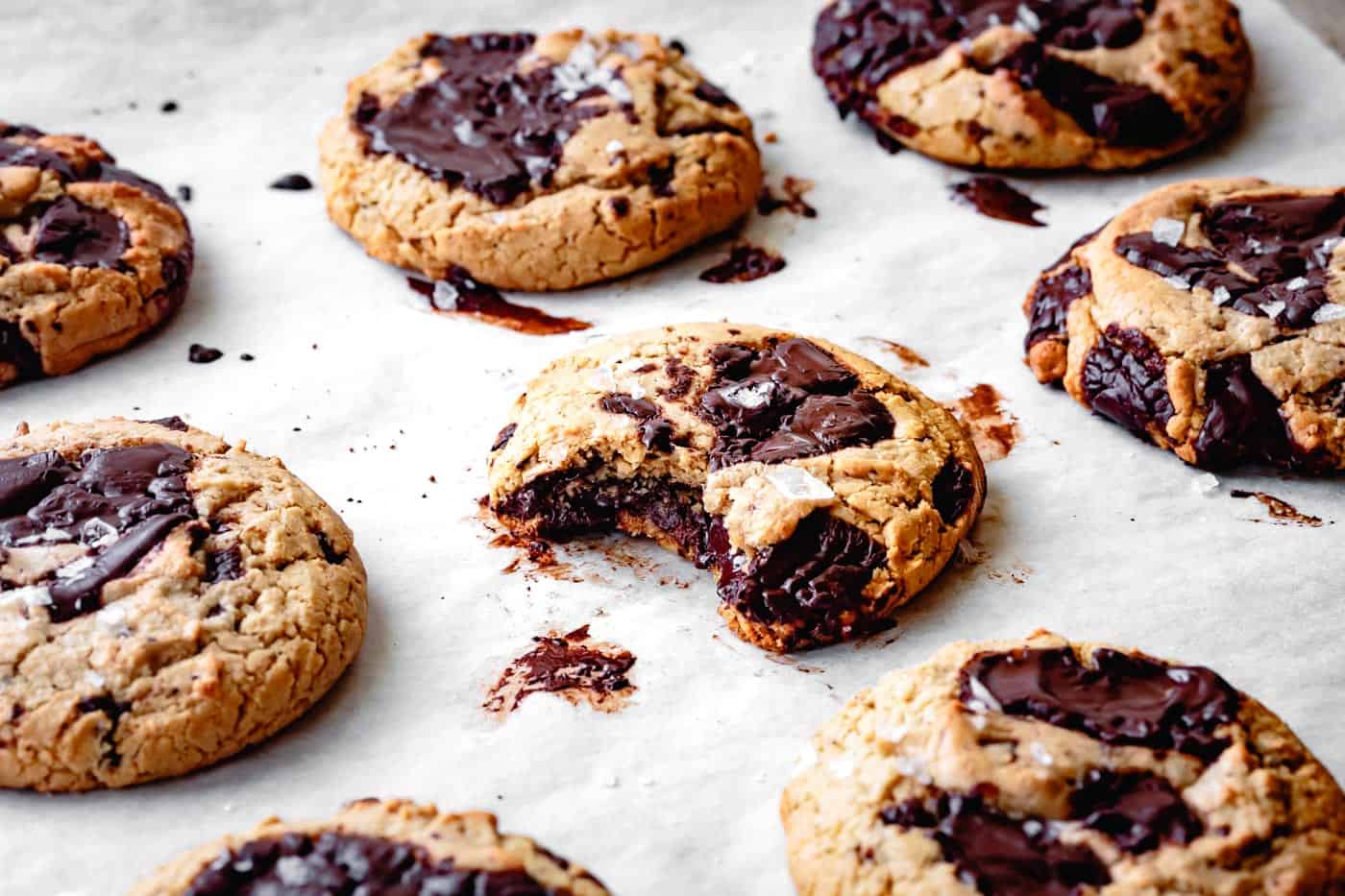 Magic cookies: Why this vegan / gluten-free / grain-free cookie recipe works
Nut butter and maple syrup magically combine to do what eggs and sugar normally would in a traditional cookie dough: sweeten and lift the dough. The proteins in the nut butter combine with the liquid in the maple syrup to trap air pockets, working with the leavening to aerate the dough in the oven.
The result is an effortlessly vegan and paleo with no weird ingredients (I'm looking at you, egg replacer). The texture is chewy and tender, just like cookies ought to be.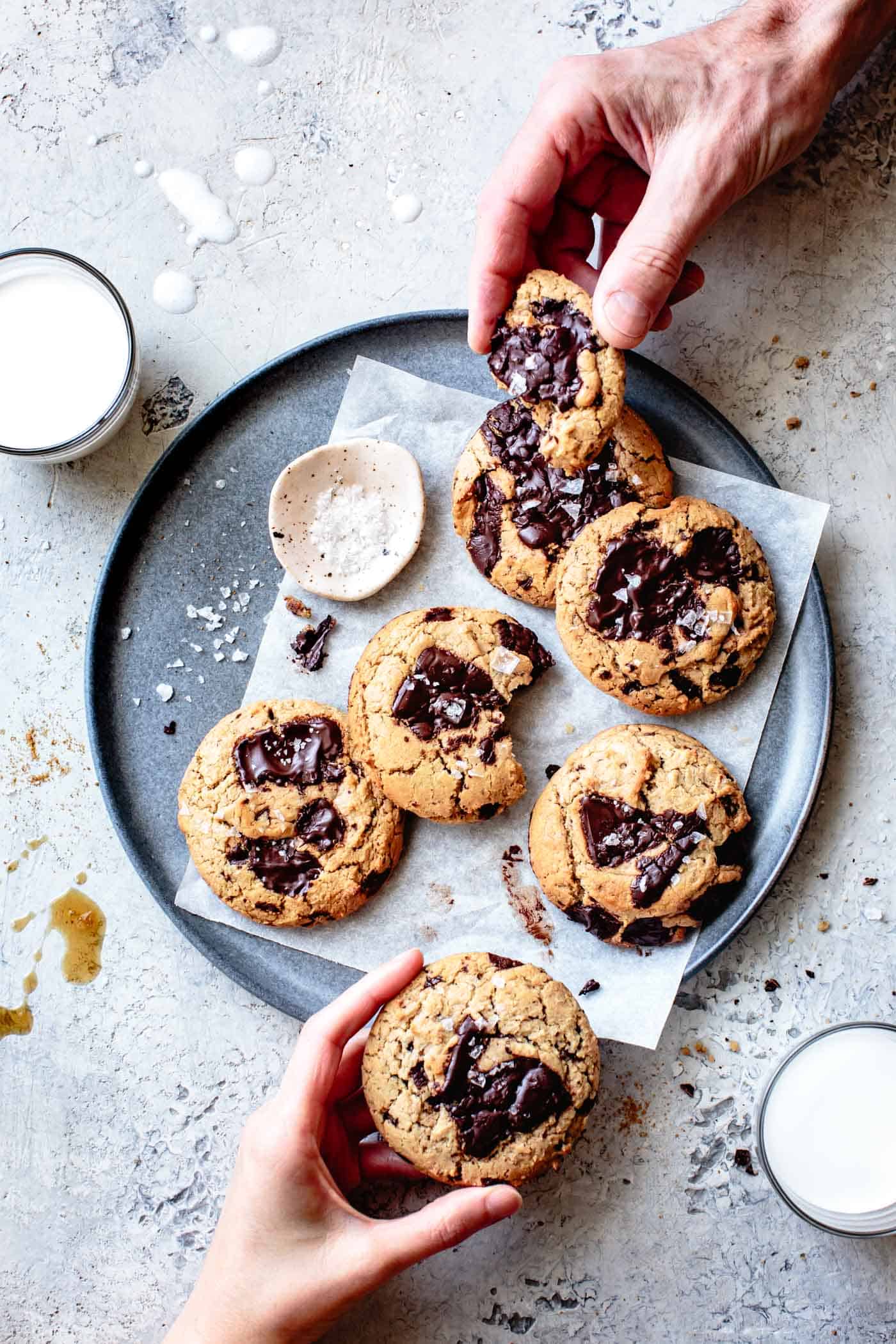 Paleo Chocolate Chip Cookies, now and later
Mix up a batch of these healthier, easy paleo cookies, pour a glass of cold plant milk to wash them down, and share them, warm from the oven, with a buddy. Or to delay gratification, scoop the dough into balls and chill them for later. Then you can have warm cookies in just a matter of minutes whenever the mood strikes.
Happy baking!
*Bojon appétit! For more Bojon Gourmet in your life, follow along on Instagram, Facebook, or Pinterest, purchase my gluten-free cookbook Alternative Baker, or subscribe to receive new posts via email. And if you make this vegan paleo chocolate chip cookie recipe, I'd love to see. Tag your Instagram snaps @The_Bojon_Gourmet and #bojongourmet.*
Thick & Chewy Vegan Paleo Chocolate Chip Cookies
Print Recipe
Pin Recipe
Vegan & paleo chocolate chip cookies with crispy edges and chewy middles! So easy to make in 30 minutes with 10 ingredients & 1 bowl.
Ingredients
Wet Ingredients
½

cup

(130 g) room temperature, well-stirred cashew butter*

(Artisana brand)

¼

cup

+ 2 tablespoons (110 g) maple syrup

(preferably dark)

1

tablespoon

(8 g) coconut sugar

3

tablespoons

(35 g) melted, cooled coconut oil

1

teaspoon

gluten-free vanilla extract
Instructions
Position a rack in the upper third of the oven and preheat to 375ºF. Line a rimless cookie sheet with parchment paper for easy cleanup.

In a medium bowl, whisk together the cashew butter, maple syrup, coconut sugar, coconut oil, and vanilla until smooth and emulsified.

Place a strainer over the bowl and sift in the cassava and tiger nut flours with the baking soda and sea salt. Stir to combine, then stir in the chocolate chunks.

Scoop 2-inch diameter balls of dough (3 tablespoons or a #24 spring-loaded ice cream scoop) onto the prepared cookie sheet, spaced 2-3 inches apart. Top each cookie with a chunk or two of chocolate and a pinch of flaky salt.

Bake the cookies in the top rack of the oven until golden and puffed, with the edges beginning to set and the centers soft, 8-12 minutes. Rotate the baking sheet at 8 minutes for even baking.

Remove the cookies from the oven and slide them, parchment and all, onto a cooling rack. Let them cool as long as you can stand it. Enjoy warm from the oven, at room temperature, or let cool completely and store, covered at room temperature, for up to 3 days.
Notes
*Substitutions:

If you're trying a substitution, I would advise baking off a single test cookie, that way you can adjust the remaining dough if need be (i.e. add more flour if the cookies spread too much, or flatten the dough balls if they don't spread enough).
You can also try omitting all of the flours and using 165 grams (about 1 cup + 2 -4 tablespoons) all-purpose flour (wheat, GF, or paleo).
In place of cashew butter, sub by weight almond butter or peanut butter
In place of cassava flour, sub by weight paleo AP flour, or sweet rice flour for non-paleo
Tips for better cookies:
Since cookies are sensitive to slight changes in moisture and temperature, here are some ways to get foolproof cookies:
measure by weight, not volume
if measuring by volume, use the dip and sweep (aka scoop and swoop) method
make sure your oven is the correct temperature by using an external oven thermometer
bake off a single test cookie to make sure your cookies spread the right amount
if your cookies spread too much, add more flour or increase the oven temperature
if they don't spread enough, flatten the dough balls or decrease the oven temperature
Make-ahead:
Make the dough as directed, then let sit until firm enough to scoop (or chill for a few minutes).
Scoop into balls, place the dough balls on a small baking sheet lined with parchment, and chill until firm, about 1 hour.
Transfer the cold dough balls into a container and chill for up to a week or so.
When you're ready to bake, just plop the dough balls on a cookie sheet as directed, top with flaky salt, and bake.
You can also freeze dough balls for up to several months.
Nutrition facts are for 1 of 9 cookies.
Nutrition
Calories:
277
kcal
Carbohydrates:
30
g
Protein:
4
g
Fat:
17
g
Saturated Fat:
8
g
Cholesterol:
1
mg
Sodium:
133
mg
Potassium:
185
mg
Fiber:
1
g
Sugar:
16
g
Vitamin A:
6
IU
Vitamin C:
1
mg
Calcium:
45
mg
Iron:
2
mg