Creamy, tangy, and not too sweet, this is my personal best cream cheese frosting recipe for cupcakes, layer cakes, and sheet cakes. Plus a few flavor variations: matcha, whiskey, vanilla bean, citrus, chocolate, and beet ombré.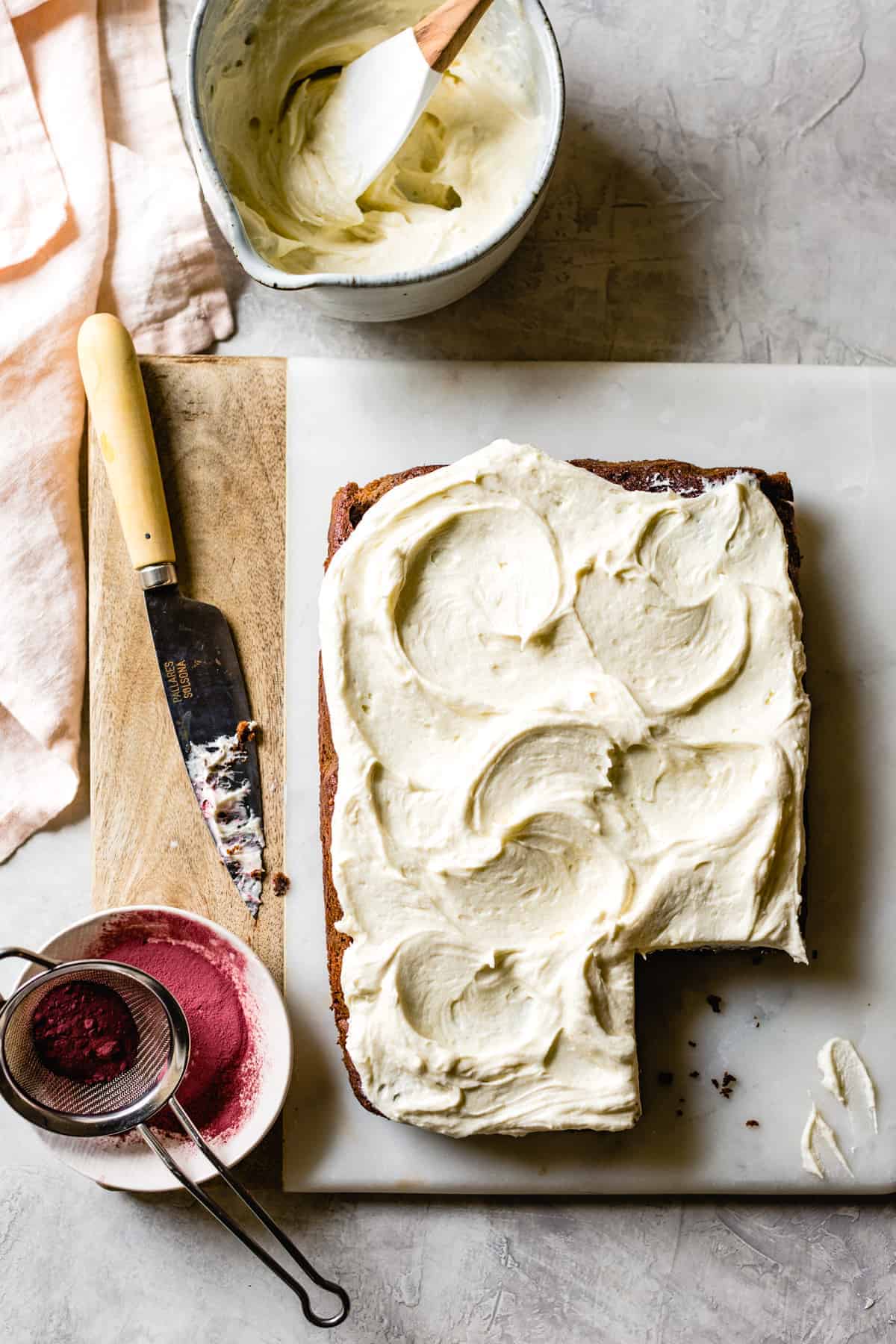 Cream cheese frosting: great frosting or greatest frosting?
Today I'm sharing everything you ever wanted to know about cream cheese frosting: how to make it, how to use it, and how to store it, plus some flavor variations. If you have more questions, please ask in the comments below!
I also have recipes for vegan cream cheese frosting and maple-sweetened paleo cream cheese frosting!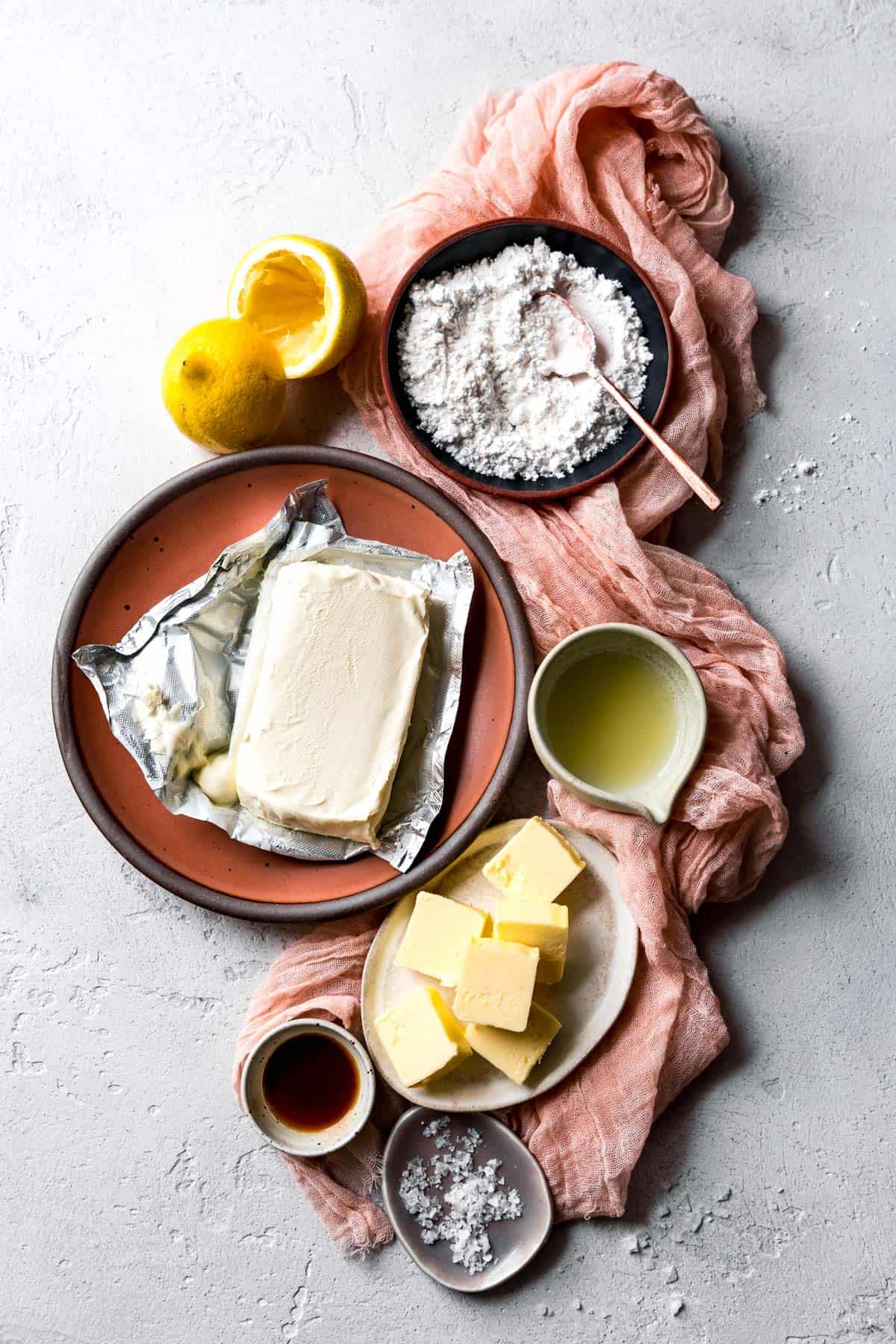 Ingredients
Classic cream cheese frosting is made with few ingredients:
cream cheese
butter
powdered sugar
flavorings of your choice – vanilla, salt, and/or lemon juice
This makes a simple canvas for various other flavors such as citrus zest, a spoonful of matcha, maple syrup, whiskey, or chocolate. See the recipe notes for these variations!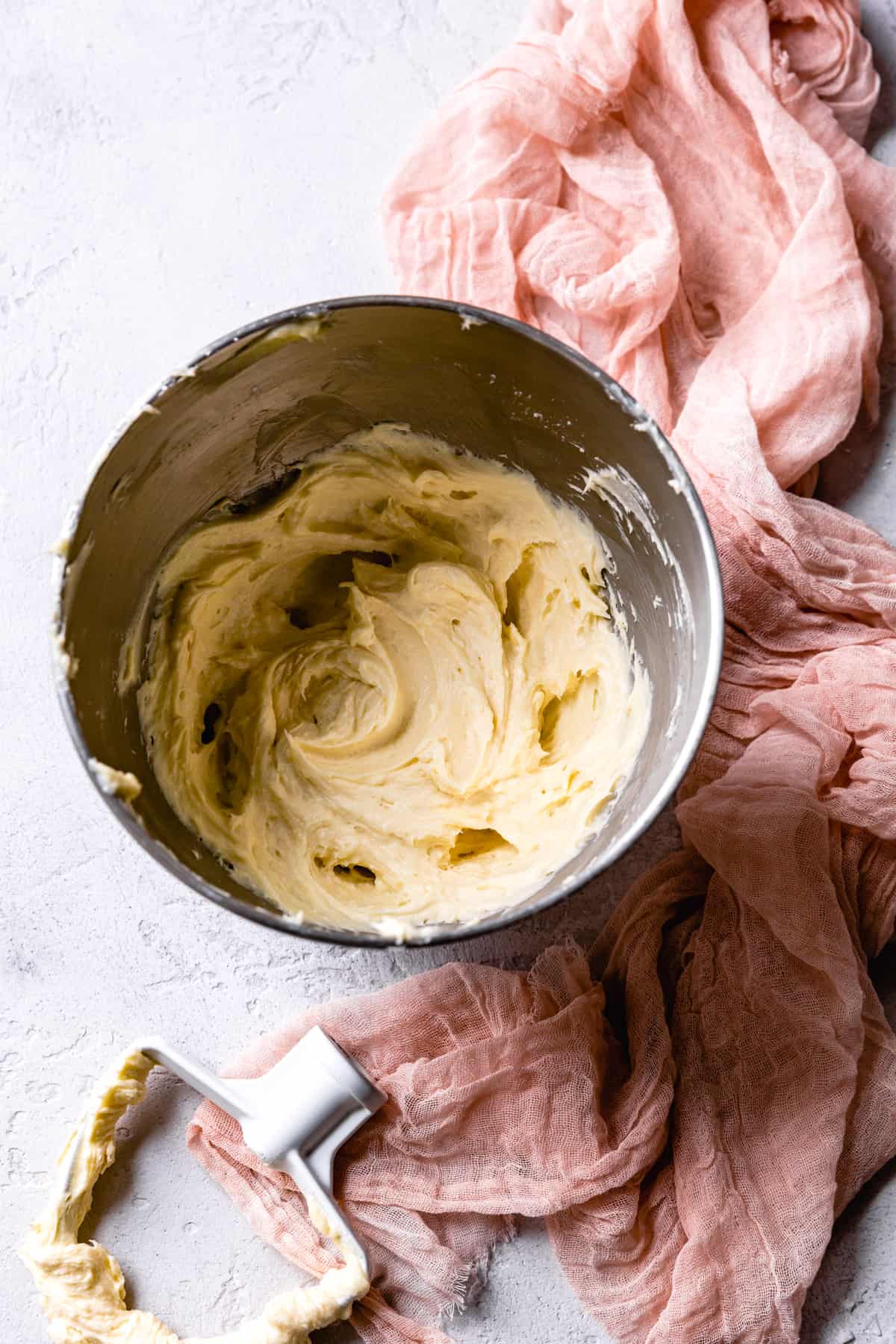 For silky smooth frosting, it's important to choose a cream cheese that contains some gums or stabilizers rather than an artisanal cream cheese with a crumbly consistency. My preferred brand is Organic Valley.
For butter, anything will work, though I prefer a richer, European-style butter such as Straus, Vermont Creamery, or Organic Valley European-Style Cultured Butter.
I prefer the richer taste of organic powdered sugar (aka confectioner's sugar) such as Wholesome Sweeteners brand. Do be sure to sift organic powdered sugar as it tends to be clumpier than its conventional counterpart.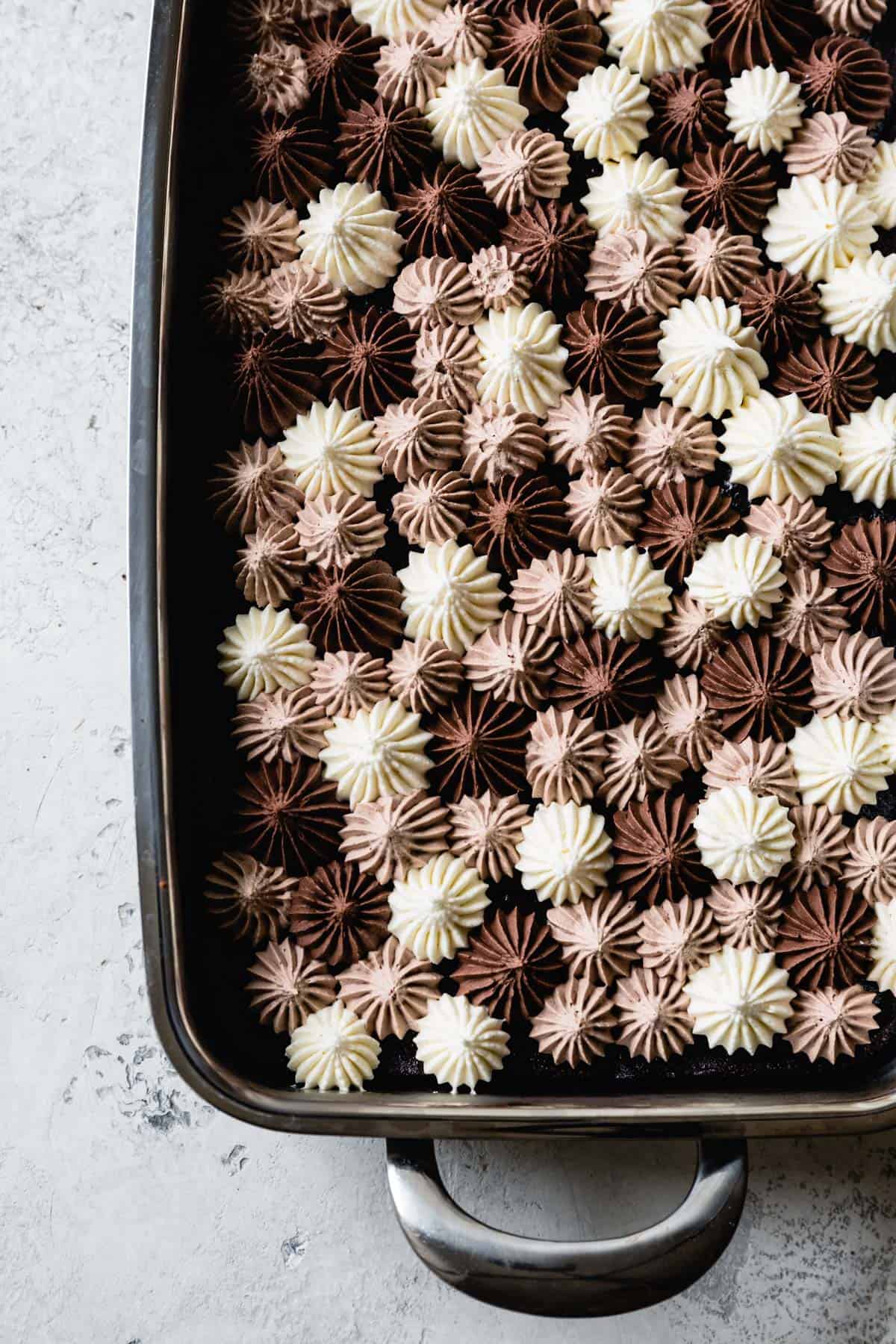 Ingredient Ratios for Not Too Sweet Cream Cheese Frosting
Over the years I've tried many different ratios of these ingredients to make low sugar cream cheese frosting. The ratio I settled on is one part butter, two parts cream cheese, and two parts powdered sugar by volume (i.e. 1/2 cup butter, 1 cup cream cheese, 1 cup powdered sugar) plus a touch of salt and vanilla, and sometimes a squeeze of lemon.
Most cream cheese frosting recipes call for 2, 3, or even 4 cups of sugar for these amounts, but I prefer a less-sweet frosting in order to really taste the rich butter and tangy cream cheese. That said, you can absolutely add more sugar if you like a sweeter frosting. The powdered sugar, which is very finely ground sugar mixed with a little cornstarch, helps the frosting emulsify and fluff up in addition to providing sweetness.
What's the key to silky smooth frosting?
First of all, make sure your butter and cream cheese have warmed to room temperature. Too cold and you'll get lumpy chunks in your frosting, or the frosting might appear broken or curdled due to the ingredients not being in emulsion (think oil and vinegar). Too warm and your frosting will be too soft and weepy. To quickly soften cream cheese and butter, cut them into 1-inch chunks and place them on a large plate or quarter sheet pan (lined with parchment paper for easy clean-up if you like) and let them sit at room temperature for 30-60 minutes.
I prefer to make my frosting in a stand mixer, but an electric beater will work as well. Or make it the old-fashioned way using a bowl, wooden spoon, and your mighty arm strength. First beat the butter and cream cheese on medium-low speed until smooth and incorporated, then add the butter and flavorings, beating until smooth. Finally, increase the mixer speed to medium-high for a minute or two to aerate the frosting.
If your frosting looks slightly broken or curdled when you're finished, this could be due to too-cold ingredients that haven't come into emulsion. Feel the mixing bowl and if it's cold to the touch, let the ingredients warm up a bit more and try beating it again to see if it comes together. If your frosting is still broken, add more sifted powdered sugar by the tablespoon; this sometimes brings it back together. (You can add a squeeze of lemon if it starts to taste too sweet.) If neither of these tactics bring your frosting back together again, slather it all over that cake and rest assured that everyone will still go crazy for it.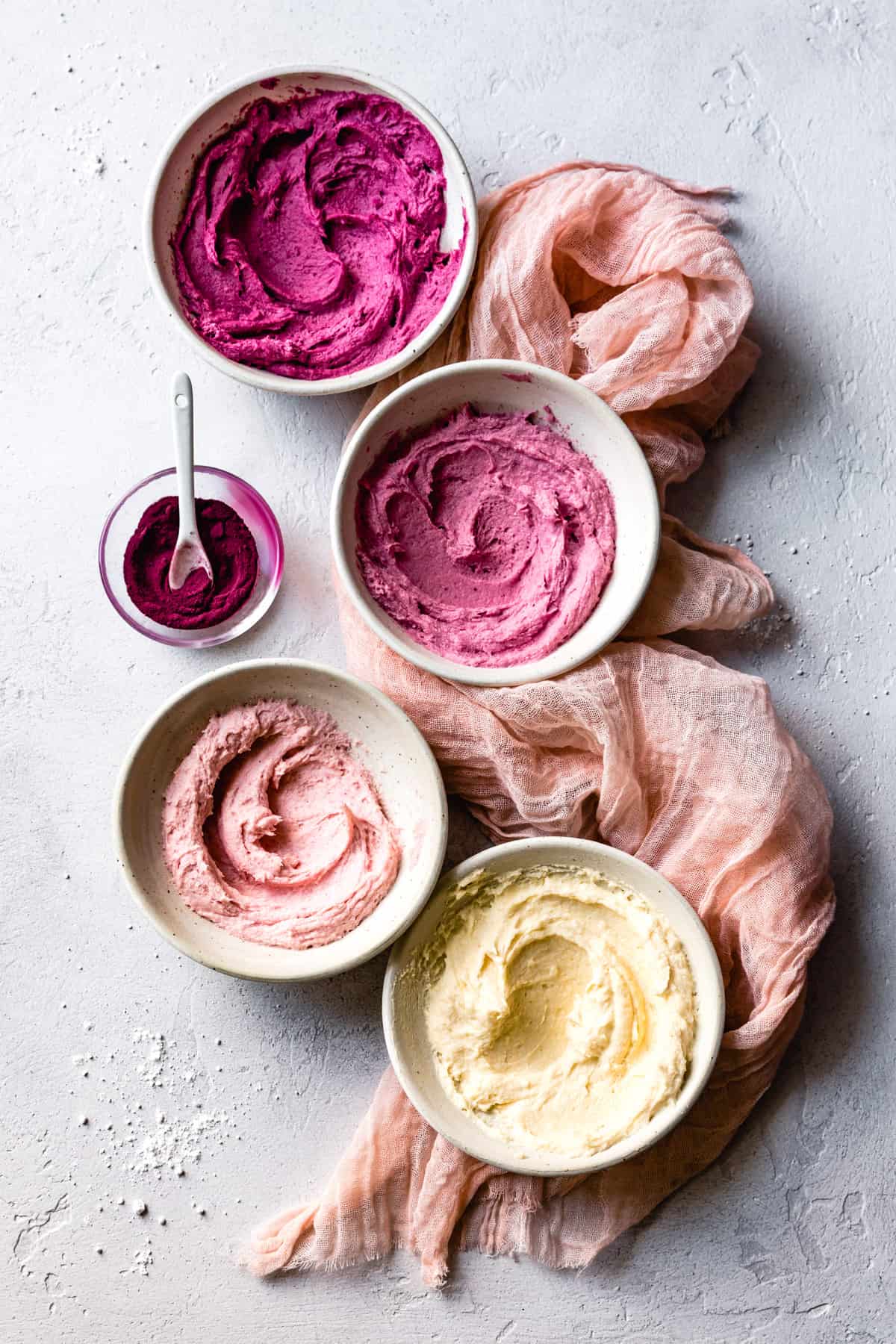 Cream cheese frosting vs. cream cheese icing: which is it?
Cream cheese frosting is often called, synonymously, cream cheese icing. The terms icing and frosting are used interchangeably in the US, with frosting being the more common name for the fluffy cake topping shown here. Buttercream is another name for the same thing.
But in European countries, icing is usually thinner and glossier, with a higher ratio of sugar. Whether you call this cream cheese icing or frosting, you'll definitely call it delicious.
What to do with your perfect cream cheese frosting?
Besides licking it off the spoon, here are some of my favorite uses for this easy cream cheese frosting recipe and its variations: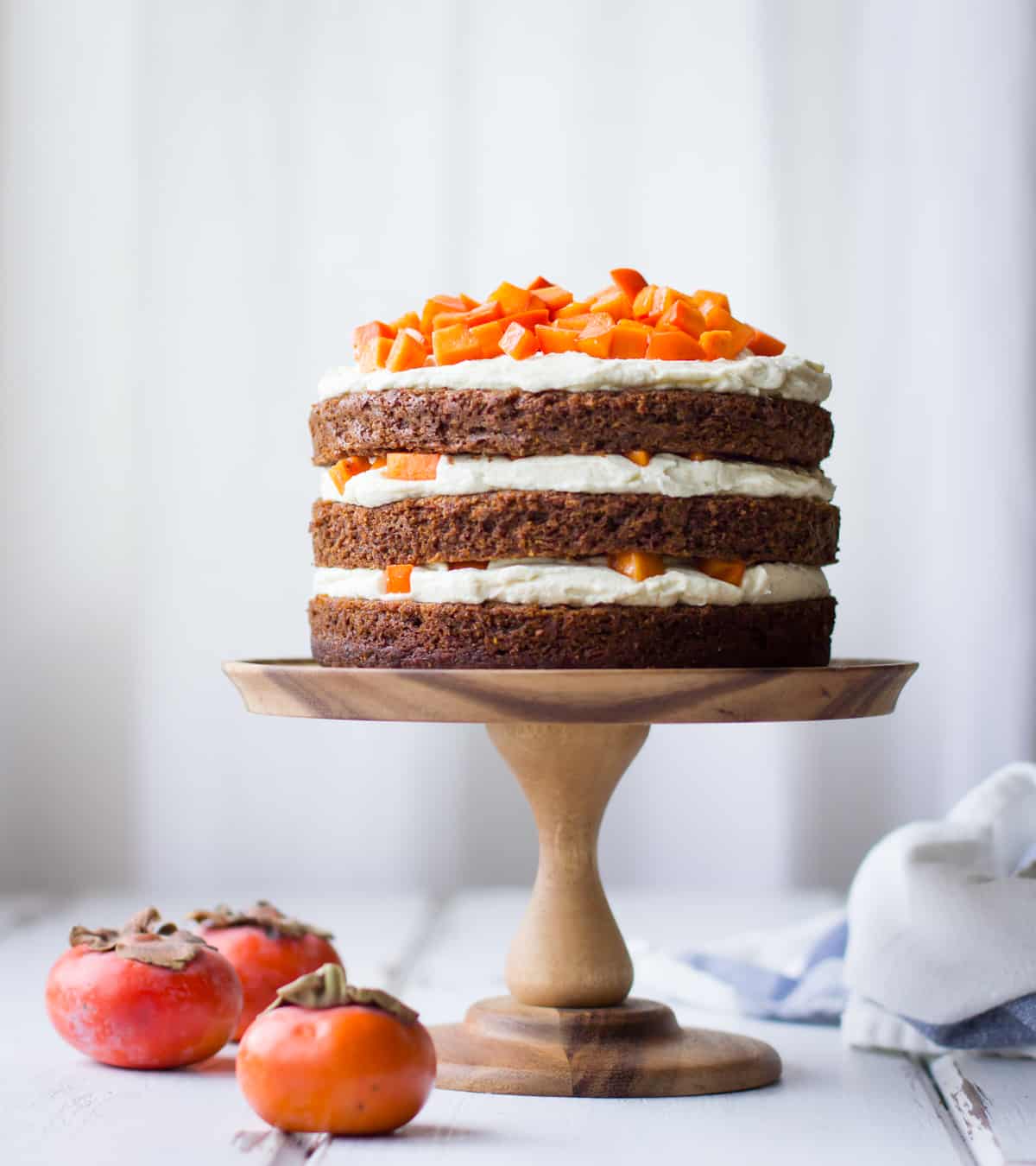 How to Store
Food safety regulations specify that dairy products can only sit out at room temperature (i.e. the danger zone where bacteria happily flourish) for 2 hours. Realistically, it's unlikely that harmful bacteria will grow in this frosting if left out for several hours since it's full of bacteria-inhibiting sugar and fat.
But if you want to be extra safe, make sure the total time that your dairy is out (including warming it to room temperature, making the frosting, and decorating and serving your cake) is under 2 hours. This frosting will taste and feel best in your face when eaten at room temperature, so if storing your befrosted goods in the fridge, be sure to let them sit out for 30 minutes before nomming to soften the frosting.
What are your favorite uses for cream cheese frosting?
Tell me in the comments below!
*Bojon appétit! For more Bojon Gourmet in your life, follow along on Instagram, Facebook, or Pinterest, purchase my gluten-free cookbook Alternative Baker, or subscribe to receive new posts via email. And if you make this less-sweet frosting recipe, I'd love to see. Tag your Instagram snaps @The_Bojon_Gourmet and #bojongourmet.*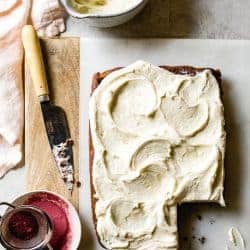 Cream Cheese Frosting
Print Recipe
Pin Recipe
Classic cream cheese frosting made with just a handful of ingredients and whipped until smooth and fluffy.
Ingredients
8

ounces

(225 g) cream cheese, at room temperature

8

tablespoons

(113 g) lightly salted or unsalted butter, at room temperature

1

cup

(100 g) powdered sugar

½

teaspoon

vanilla extract

1/8

teaspoon

salt if using unsalted butter

squeeze of lemon juice, optional
Instructions
In the bowl of a stand mixer fitted with the paddle attachment (or in a large bowl with an electric beater or wooden spoon) combine the cream cheese and butter. Beat on medium-low speed until smooth and combined, 1-2 minutes, scraping the sides of the bowl and paddle as needed.

Sift the powdered sugar into the cream cheese mixture and add the vanilla and salt. Beat the frosting on low speed to combine, then increase the speed to medium-high and beat until light and fluffy, 1-2 minutes, scraping down the sides of the bowl once or twice.

Taste the frosting, adding a squeeze of lemon if you want to sharpen the flavors. Use right away, or store refrigerated airtight for up to 1 week. If chilled, let soften to room temperature before using.
Notes
VARIATIONS:
Honey Cream Cheese Frosting: Add 3-4 tablespoons runny honey in place of the powdered sugar to your taste. Omit the vanilla.
Matcha Cream Cheese Frosting: Omit the vanilla and add 1 tablespoon matcha with the powdered sugar.
Vanilla Bean Cream Cheese Frosting: Use the seeds from 1/2 vanilla bean, or 1/2 teaspoon of vanilla paste, instead of the vanilla extract.
Whiskey Cream Cheese Frosting: Add 1-2 tablespoons bourbon or other whiskey to the frosting along with the vanilla
Citrus Cream Cheese Frosting: Omit the vanilla and add a good grating of lemon, orange, tangerine, or lime zest to taste.
Chocolate Ombré Cream Cheese Frosting: Make the basic recipe without the lemon and remove one third from the bowl, scraping it into a pastry bag fitted with a french star tip. To the bowl, sift in 1 tablespoon cocoa powder and mix to combine. Remove half of this frosting to another pastry bag fitted with a different sized star tip. To the remaining frosting, sift in 2 tablespoons cocoa powder and mix to combine. Place this in a third pastry bag fitted with a different sized star tip. Pipe the frostings on top of your cake in a random pattern.
Beet Ombré Cream Cheese Frosting: Make the cream cheese frosting as directed. Divide into 4 bowls. Leave one bowl white. To the second bowl, add a big pinch of beet powder. To the third bowl add ¼ teaspoon beet powder. And to the fourth bowl add 1 teaspoon beet powder. Stir each bowl well, adding more color if you like (the color continues to intensify as the frosting sits). Layer the frosting into a large piping bag fitted with a large star tip, starting with the white frosting and ending with the most vibrant frosting. Pipe the frosting over the top of your cake in rows for a natural ombré.
Since this frosting contains less powdered sugar than most, it can look slightly curdled when finished. See the post above for troubleshooting any frosting woes.
This recipe makes about 2 cups of frosting, enough for a 9x9-inch sheet cake, a 6-inch layer cake, or 1 dozen cupcakes.
Double the recipe to frost an 8- or 9-inch layer cake or a 9x12-inch sheet cake. Don't miss the variations above, or try my vegan & dairy-free cream cheese frosting recipe.
Nutritional values are based on one of two cups.
Nutrition
Calories:
1028
kcal
Carbohydrates:
65
g
Protein:
7
g
Fat:
85
g
Saturated Fat:
51
g
Cholesterol:
246
mg
Sodium:
372
mg
Potassium:
156
mg
Sugar:
63
g
Vitamin A:
2925
IU
Vitamin C:
1
mg
Calcium:
125
mg
Iron:
0.4
mg