With a cocoa almond crust, vanilla crème fraîche custard, and mulled wine poached pears, this gluten-free pear custard tart makes a showstopping holiday dessert. Thanks to Bi-Rite Market for sponsoring this post!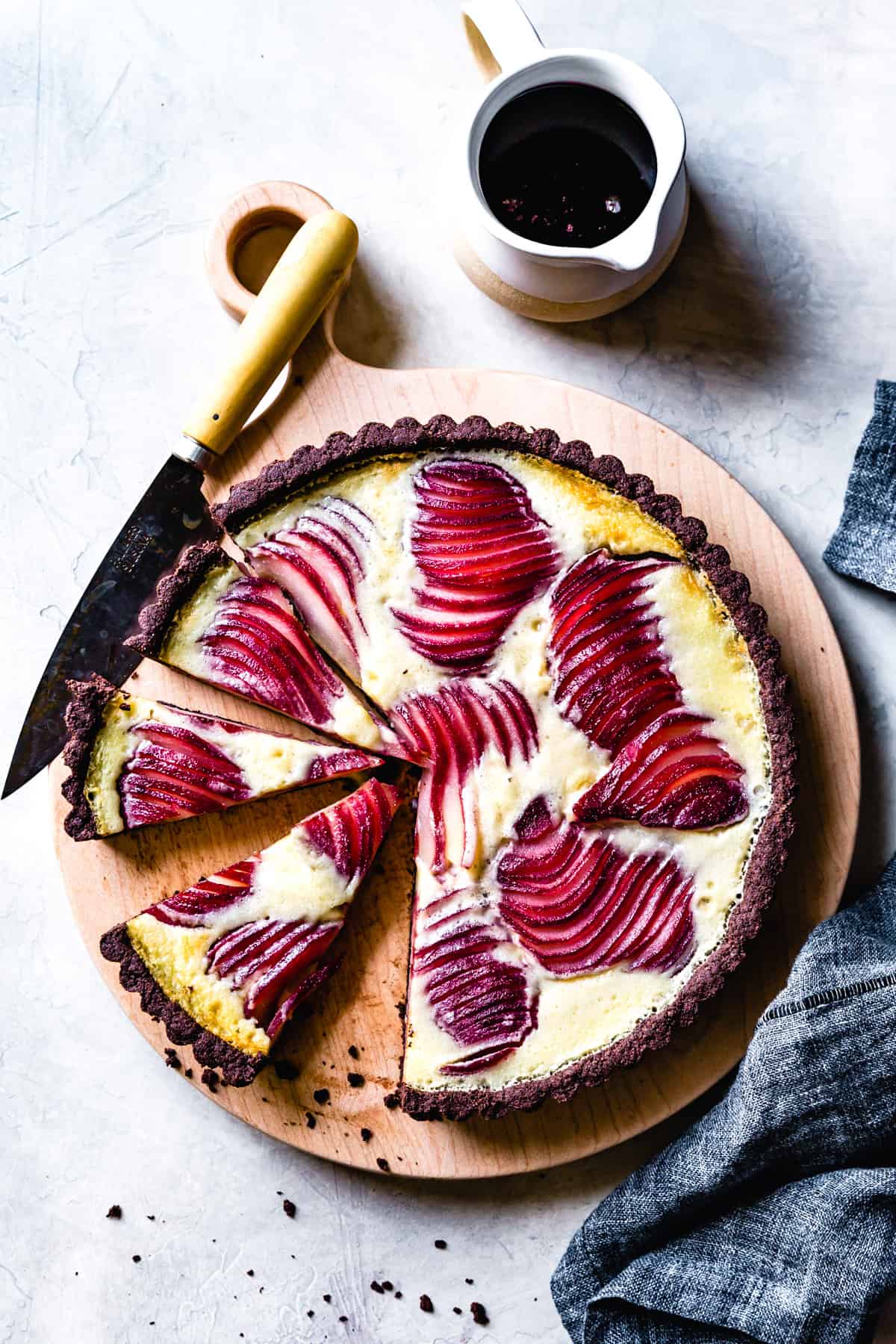 I'm a total sucker for specialty grocery stores, and I've been a fan of San Francisco's legendary Bi-Rite market since I moved here in 2004. At the original location on 18th street, Bi-Rite packs an enormous selection of goodies into their tiny 2,000-square-foot space: uncommon seasonal produce, local cheeses, exquisite chocolates, and sweet treats from their creamery across the street. I always find new-to-me local, artisanal, organic treats to try, making it well worth the effort of navigating narrow aisles and joining my fellow SF foodies in line.
While Bi-Rite is a destination spot, it's also a true neighborhood establishment where you can pick up essentials for a dinner party or your next baking project. In fact, much of the obscure produce featured in Alternative Baker came from Bi-Rite – quince, bergamots, rhubarb, figs, heirloom apples, tiny ripe strawberries, and the sweetest pomegranates. There you get the variety and quality of a farmer's market and the convenience of an old-school grocer. There's an excellent selection of flours, sweeteners, spices, dairy, as well as fun products like chestnut puree for making this cake or the addictive chocolate bark that inspired this recipe.
Gluten Free Cocoa Almond Crust
This gluten free pear custard tart starts with Bi-Rite almonds ground powder-fine and mixed with gluten free flour, cocoa powder, butter, and sugar to form a press-in crust that tastes like your favorite childhood sandwich cookies. A food processor makes quick work of grinding the almonds, then incorporating the butter until the dough clumps together like damp soil. Just press the crumbs into a lightly oiled pan, freeze, then bake – no rolling or pie weights needed.
The base recipe for this almond cocoa crust comes from my book Alternative Baker. It's a versatile recipe that I've used for cheesecakes and pudding pies as well as the chocolate pecan cranberry tart from Alternative Baker – a reader favorite around the holidays! Here I trade blanched almonds for the almond flour I usually use and subbed in Bob's Red Mill 1 to 1 gluten free AP flour in place of sweet rice flour. You can of course grab all of these ingredients at Bi-Rite!
Mulled Wine Poached Pears
The par-baked cocoa almond crust gets filled with a simple custard flavored with crème fraîche and vanilla. Into the crust go pears poached in Bi-Rite's Côtes du Rhône flavored with mulling spices and orange peel.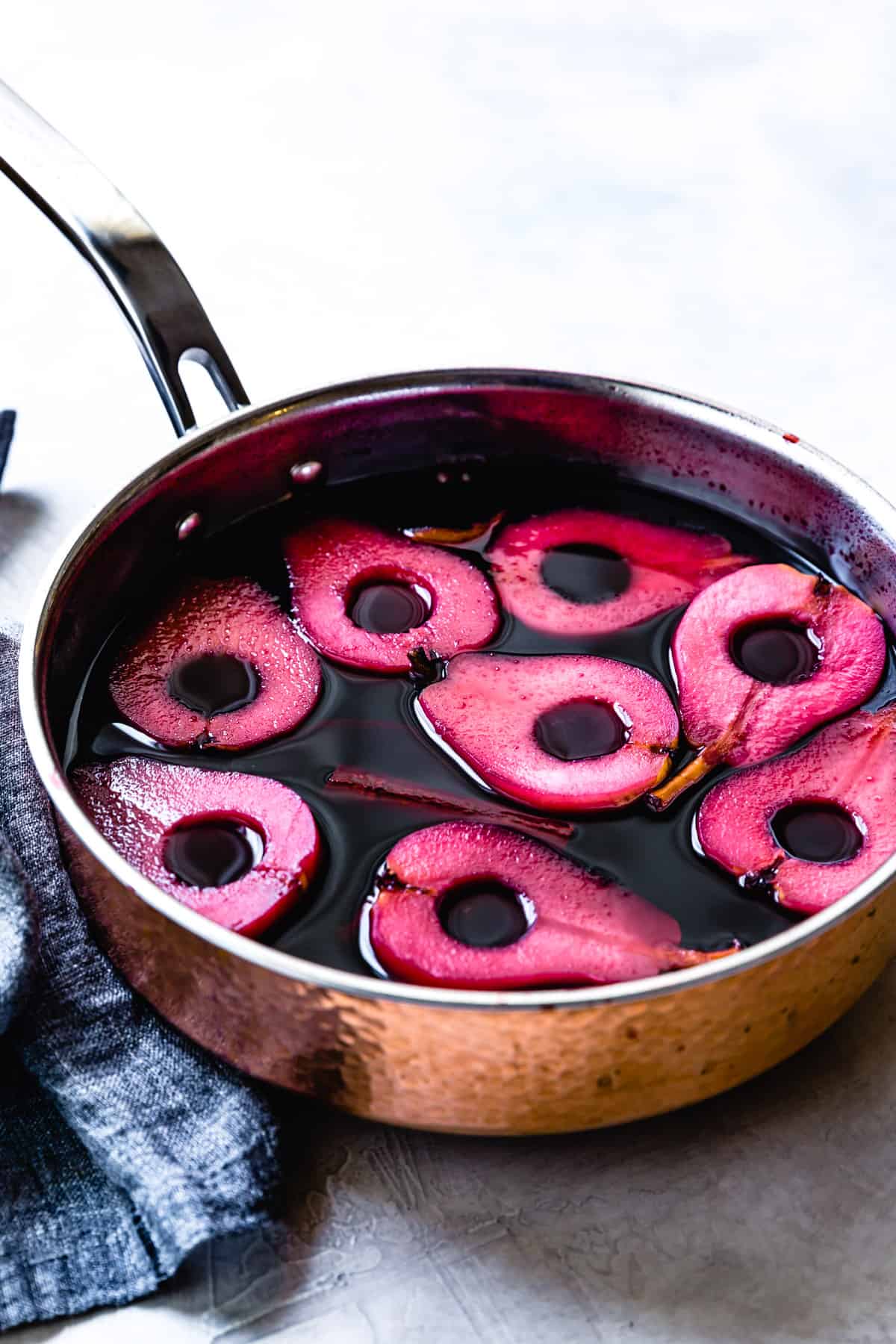 I had my pick of 6 (!) different pear varieties including Bosc, Bartlett, Seckle, and some beautiful red pears, all from local farms. Poaching the pears in red wine turns them a brilliant burgundy and infuses them with holiday cheer. Thinly sliced and nestled in creme fraiche custard and a cocoa almond crust, they bake into succulent slivers of spiced pear love.
Gluten Free Pear Custard Tart For Everyone
A bite of crumbly, deeply chocolate crust gives way to cool custard and warmly spiced fruit. Sweetness is offset by bitter cocoa, earthy wine, and bright spices. This tart is a boon for dinner parties and potlucks since it can be made earlier in the day, and each component can be made a day or two in advance to ease day-of prep.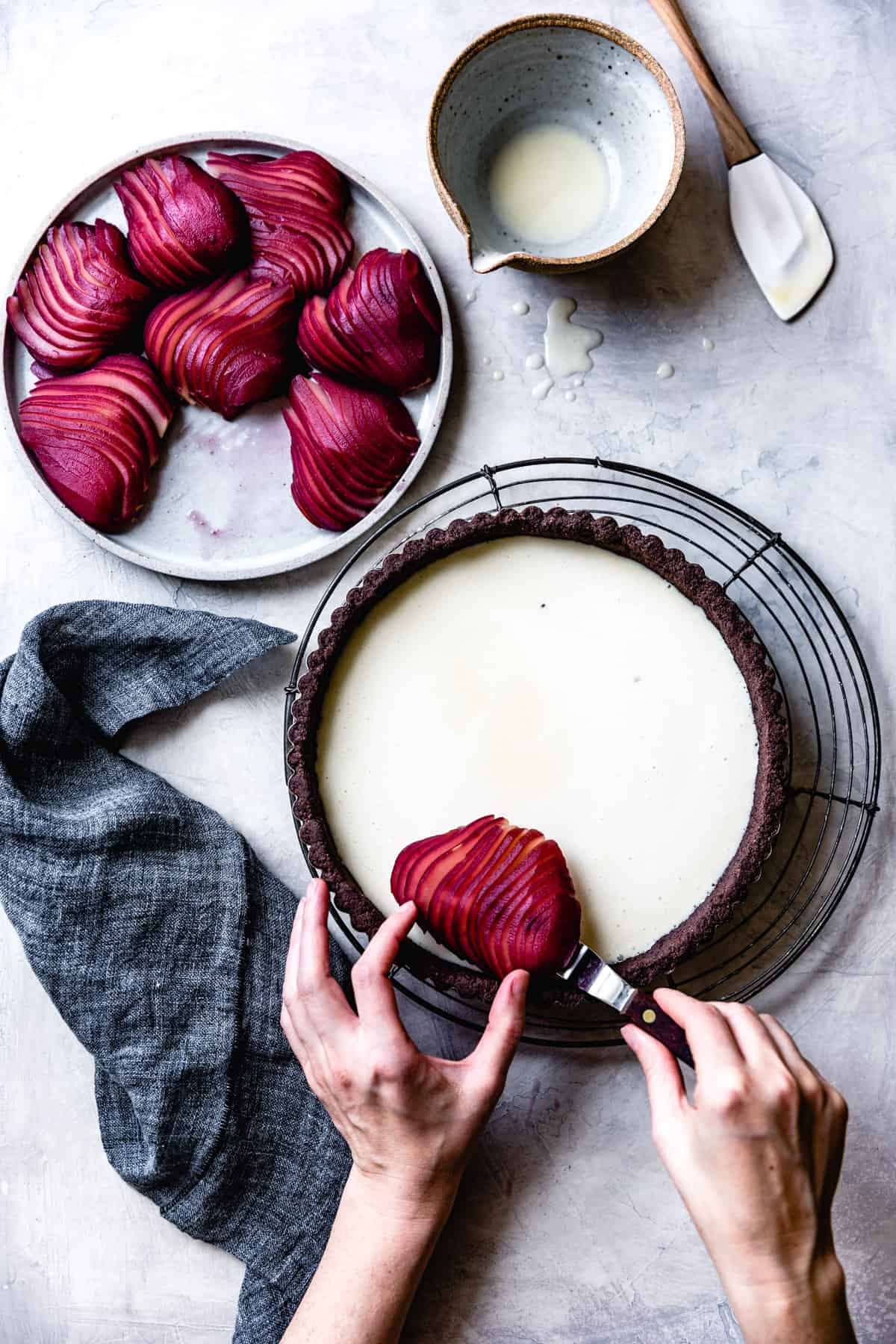 Simmer the pear poaching liquid down to a thickened sauce and it's just the thing for drizzling over slices of tart, pouring over ice cream, or shaking into a bourbon cocktail (see the bonus recipe, below!)
If you're in SF, I highly recommend heading to Bi-Rite for all your holiday baking needs. From exceptional farm-direct produce to locally produced chocolate, the best ingredients make the most delicious baked goods.
Looking for more tarts? Check out
*Bojon appétit! For more Bojon Gourmet in your life, follow along on Instagram, Facebook, or Pinterest, purchase my gluten-free cookbook Alternative Baker, or subscribe to receive new posts via email. And if you make this Gluten-Free Pear Custard Tart + Mulled Wine Poached Pears, I'd love to see. Tag your Instagram snaps @The_Bojon_Gourmet and #bojongourmet.*