This deliciously moist and fudgy chocolate cake gets its rich flavor and springy crumb from gluten-free teff flour. It's easy to make in 30 minutes with just a bowl and a whisk.
Top this chocolate teff flour cake with swirls of peanut butter frosting for a single-layer cake worthy of special occasions that's quick enough to make on a weeknight. With dairy-free and vegan options.
Teff flour is one of my favorite gluten-free flours to use for baking, especially when paired with the flavors of chocolate, brown sugar, and peanut butter. I've shared lots of teff flour recipes on TBG as well as in my cookbook, and you can read more about this beloved grain in my guide to baking with gluten-free flours.
Teff flour has a uniquely mild, earthy flavor that reminds me of malted chocolate milk. It has a high protein content compared with other gluten-free grains, which makes gluten-free cakes bake up with a light and springy texture.
I adapted this teff flour cake recipe from my good friend Sarah's chocolate cake. A blend of teff, sweet rice, and tapioca flours gives it a dreamy texture. Brown sugar adds just the right amount of sweetness. And buttermilk and oil make it supermoist.
Whisk the batter together in minutes and bake, and you'll have a rich and fudgy chocolate cake in about 30 minutes. Slather it with creamy & fluffy peanut butter frosting for a cake you'll want to simultaneously share with everyone you know and hoard all for yourself!
With a few tweaks, this cake becomes a gluten-free chocolate bundt cake with boozy ganache!
Ingredients and Substitution Suggestions
Gluten-Free Flours
A trio of gluten-free flours makes this cake bake up with a springy, moist, and tender crumb. You can learn more about these flours in my gluten-free flours guide.
But if you prefer, you can omit all of the flours and substitute a gluten-free all-purpose flour blend, such as Bob's Red Mill 1 to 1, for a classic gluten-free chocolate cake. It's always most accurate to substitute by weight. This is the scale I use (affiliate link).
Teff flour adds earthy flavor, and its high protein content makes the cake sturdy and tender. Sub by weight oat flour, sorghum flour, chestnut flour, or (for a different flavor) buckwheat flour.
Sweet rice flour gives the cake a springy crumb. Sub by weight cassava flour or a gluten-free all-purpose flour blend.
Tapioca flour makes the cake extra fluffy. Sub by weight more sweet rice flour.
Other Ingredients
Cocoa powder adds rich chocolate notes. I tested this with dutch-process cocoa, which has a mellow, classic flavor and dark hue.

Regular cocoa powder would probably work in a pinch!

Buttermilk moistens the cake.

Sub whole-milk plain yogurt (dairy-free or not) thinned with milk or plant milk to the consistency of heavy cream.

Oil adds richness and keeps the cake tender even when chilled.

Use a neutral oil, such as sunflower or grape seed, or try a more flavorful oil such as olive oil, roasted peanut oil, or hazelnut oil.

Brown sugar sweetens the cake.

Sub by weight coconut sugar for refined sugar-free.

Egg fluffs up the cake.

Sub 1/4 cup aquafaba or just egg for egg-free.

Baking powder and baking soda add lift.
Salt and vanilla sharpen the flavors.
Hot water thins the batter, giving it instant lift.

Coffee lovers can sub hot coffee for extra rich flavor.
How to Make Teff Flour Chocolate Cake
This recipe is quick, easy, and foolproof to make! It makes one petite 8-inch round cake with a single layer, serving 8. It doubles or triples beautifully for a 2-3 layer cake. For a large sheet cake to feed a crowd, double or triple the recipe and bake it in a 9x13-inch cake pan that's at least 2 inches deep.
Teff Flour = Chocolate Cake Bliss
I love when an alternative flour bests its wheaty counterpart, as is the case in this moist and fudgy chocolate cake made with gluten-free teff flour.
Teff flour has an earthy flavor similar to malted chocolate milk (it smells exactly the way I remember Ovaltine tasting), thus it pairs beautifully with chocolate. It's also very high in protein for a grain, and this protein gives pastry doughs and batters enough sturdiness to trap air pockets, enabling them to bake up light and fluffy.
This cake batter only needs two flours – teff and sweet rice, with some optional tapioca flour – to achieve a springy, slightly fudgy crumb with a touch of textural interest.
Whip one up and you'll be as hooked on teff flour as I am.
Dairy-Free / Egg-Free / Vegan Teff Flour Cake
This cake can easily be made dairy-free, egg-free, and/or vegan! Here's what to use:
1/4 cup aquafaba (the liquid from a can of chickpeas) or Just Egg in place of the egg
Plant yogurt thinned with plant milk in place of the buttermilk
Plant butter in the frosting (or top it with vegan chocolate ganache instead)
The cake that tastes like a chocolate peanut butter cup
When topped with peanut butter frosting, this cake is like a big gooey chocolate peanut butter cup that you can wash down with a cold glass of milk (or my favorite – almond milk). Peanut lovers can use roasted peanut oil in the cake for extra peanutty goodness.
I've made this cake many times, and I still can't keep my paws off of it. It's always a huge hit at birthdays and gatherings!
Slices of this cake are also good conversion therapy for people who think they don't like cake. I brought some to a friend's birthday brunch and another friend at the table, food writer Laura Fraser, wrinkled her nose. "I don't like peanuts," she said, "and I'm not too fond of cake either."
She had seconds.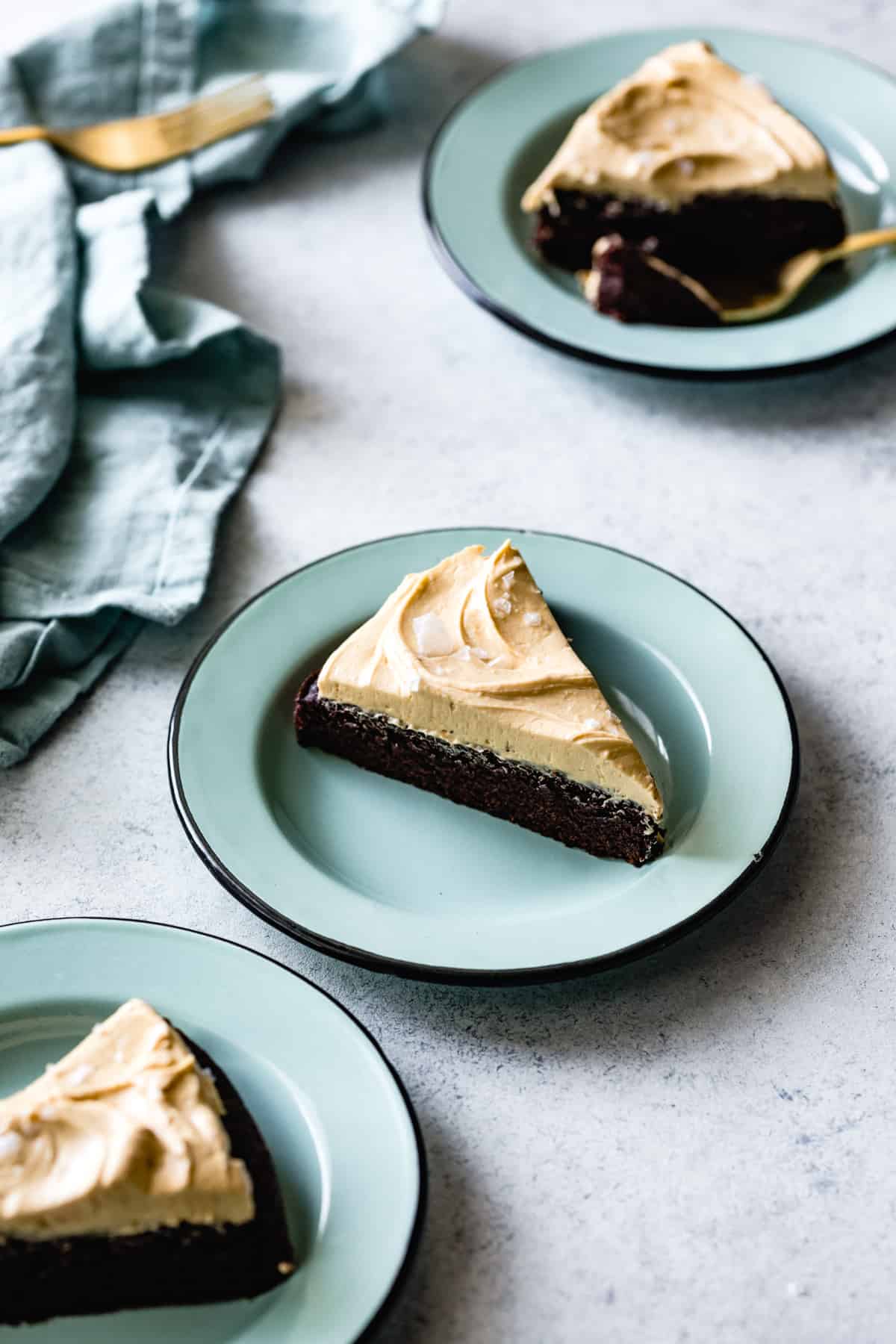 Thanks for reading! For more Bojon Gourmet in your life, follow along on Instagram, Facebook, or Pinterest, or subscribe to receive new posts via email. And if you make this teff flour chocolate cake, I'd love to see! Tag your Instagram snaps @The_Bojon_Gourmet and #bojongourmet.