Turn any occasion festive with this cheese and chocolate board loaded with fruit, cheese, nuts, crackers, cookies, and of course ALL THE CHOCOLATE. Perfect for a girl's night, date night, or really any night.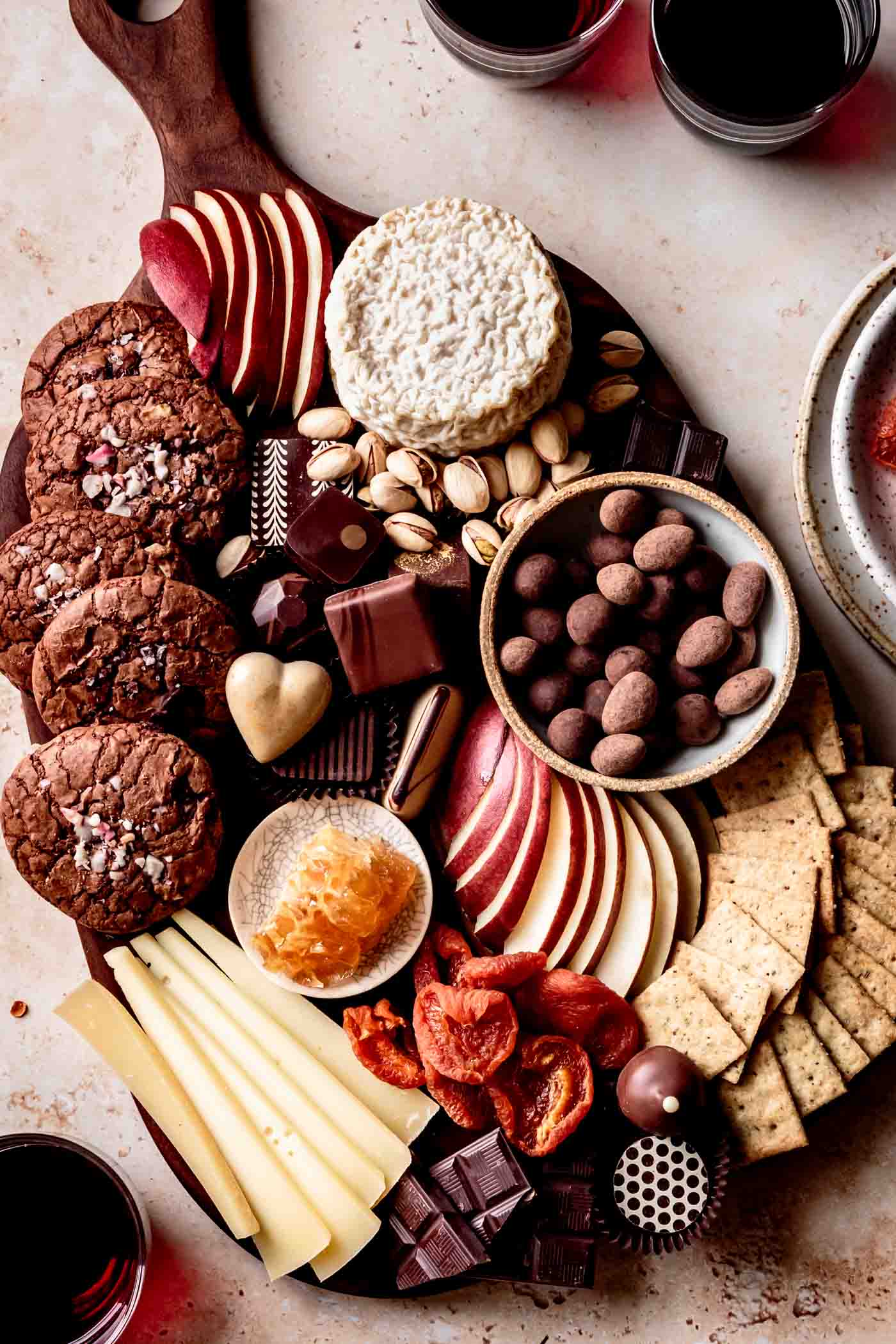 I recently shot this pretty little chocolate dessert board (aka dessert charcuterie board) for a post on Instagram. Jay and I couldn't wait until the shoot was over and we could dismantle copious amounts of chocolate, aged cheeses, salted nuts, and slices of fruit... into our mouths.
This chocolate charcuterie board was not only pretty to shoot and to look at, it also packed a variety of sweet and savory flavors that paired beautifully together. The combination was so lovely that I wanted to pop the formula on here in case you'd like to make one too.
I don't know about you, but I could house five of these by myself after the year we've had!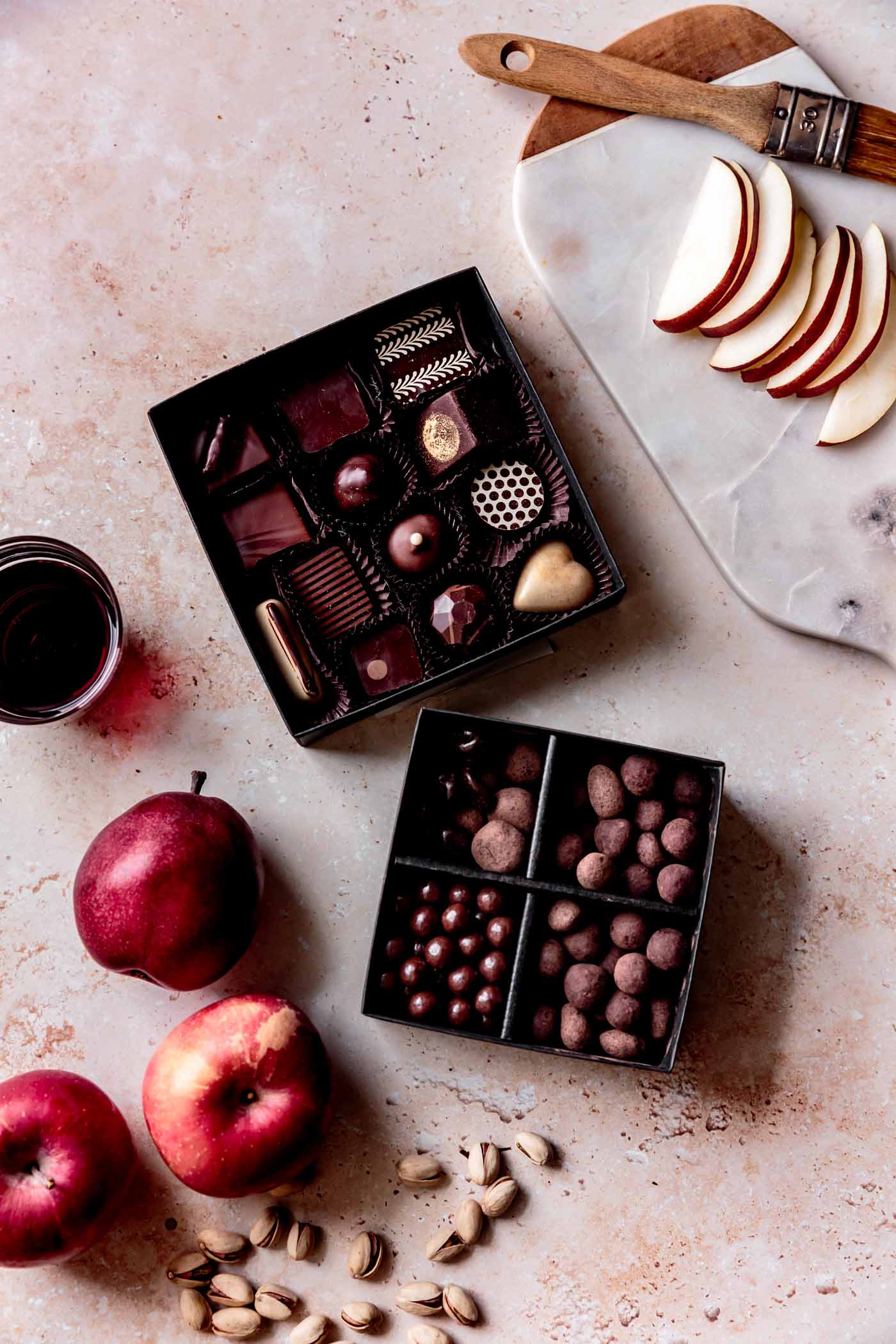 Sweet Charcuterie Board = Instant Dessert
I love complicated desserts as much as the next recovering pastry chef. But it's nice to know you can throw together a variety of store-bought treats and still have an impressive dessert charcuterie board to share with guests. Something homemade can add a nice touch but it certainly isn't necessary.
You don't need a recipe to build a delicious chocolate board, but I've provided loose measurements below in case it helps with the shopping and inspiration.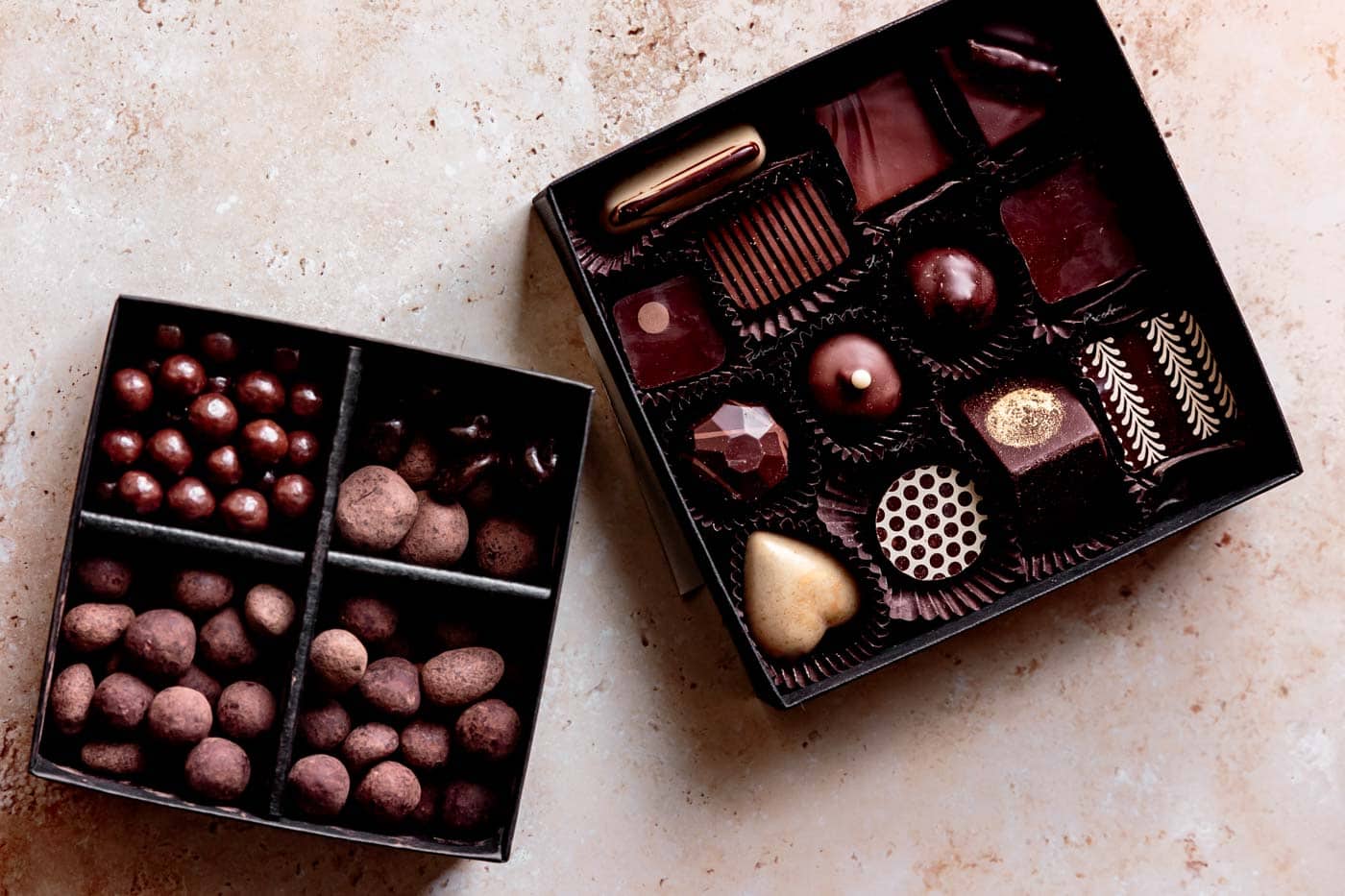 Dessert Board Ideas
Here are some recommended goodies to include for a mix of savory and sweet flavors on your dessert cheese board. I've linked to store-bought favorites as well as some chocolate board-appropriate recipes.
Chocolate
Try a mix of colors (white, milk, dark) and flavors.
Cheese
Go for something mild yet interesting. I recommend one soft and one semi-firm (or you know, all of the below!)
Soft cheeses:

brie
camembert or triple cream (local favorite: Mt. Tam)

Semi-firm cheeses:
Crackers and/or cookies
Store-bought gluten-free favorites:
Homemade:
Nuts
Something salty and crunchy to offset all that sweet, creamy chocolate.
marcona almonds
roasted salted pistachios
candied pecans or walnuts
salted mixed nuts
Fruit
Work with what's in season.
Dried:
Fresh:

sliced apples, pears, or asian pears
persimmons
pomegranate
figs
grapes
strawberries
oranges or tangerines
Other optional goodies:
How to make a dessert charcuterie board
Gather and prep your ingredients. Slice fruit (brush apple/pear slices with a little lemon juice to keep from oxidizing). Slice cheese. Break up chocolate bars.
Arrange ingredients on a board or platter. Start with the largest components (small bowls, large cheeses). Fan out fruit and cheese slices, crackers, and cookies for visual appeal and easy grabbing. Fill in the gaps with smaller components: chocolates, nuts, dried fruit.
Add accoutrements. Small knives or spoons for serving, small plates and napkins for you and your dessert buddies. Glasses for drinks.
Pour beverages (some options below!)
Enjoy devouring your delicious dessert cheese board!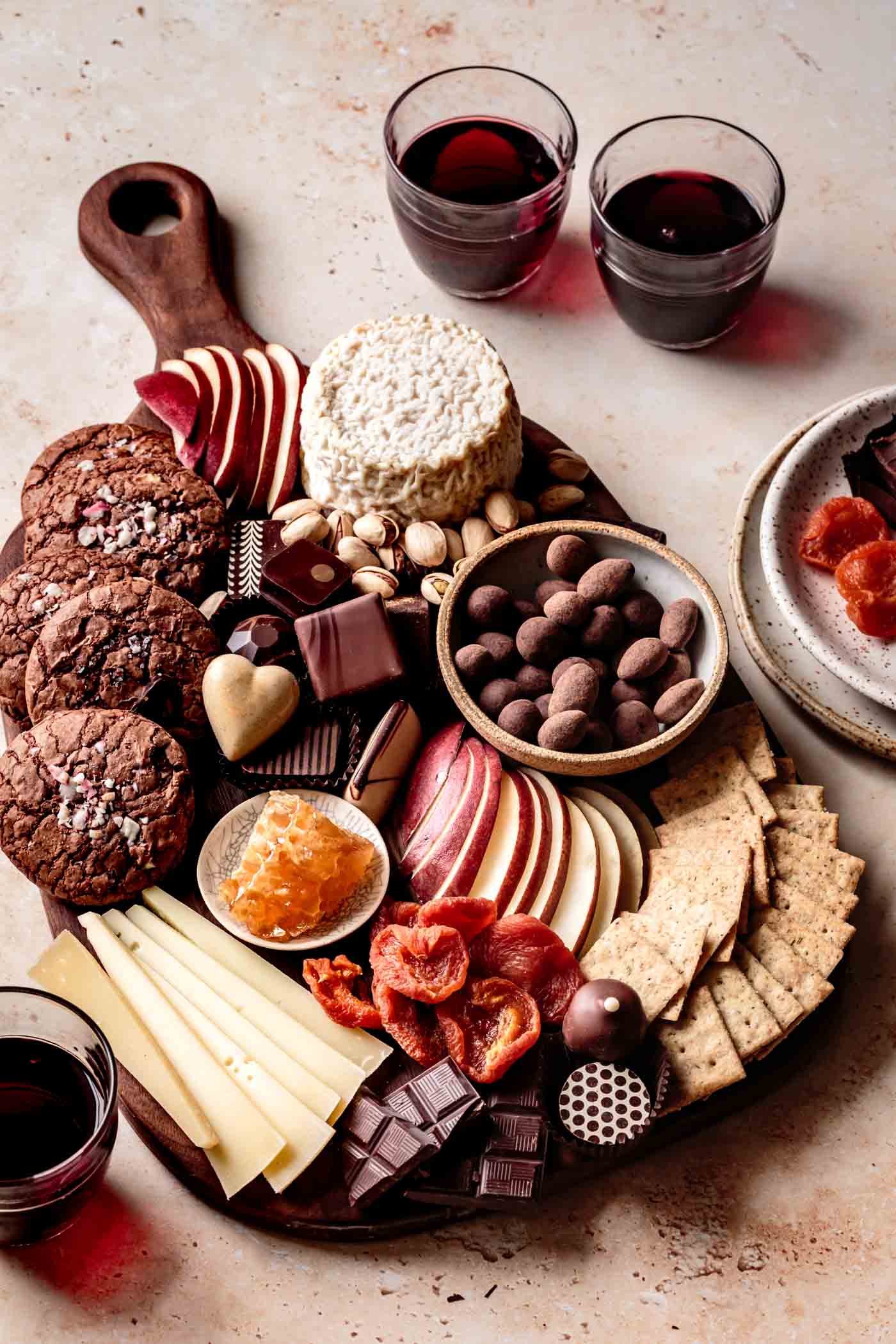 Chocolate and Wine Pairing + other libations
I just love dark chocolate with red wine. Jay and I enjoyed glasses of Imagery Cabernet Sauvignon with this chocolate board. It was perfectly pitched against bittersweet chocolate, aged cheeses, crispy crackers, and roasted pistachios.
Other drinks you might serve:
champagne or sparkling wine
rosé or sparkling rosé
good whiskey or bourbon
coffee or tea
Holiday / Valentines Cheese Board
This cheese and chocolate board makes a sweet ending for any occasion, holiday, or just a weeknight treat. Serve one up on Chanukah or Christmas. Savor one as you usher in a new year. Make one for your valentine or galentine come February. Or treat yourself any time you see fit.
However and whenever you dress up this decadent chocolate cheese board, I hope it sweetens your day.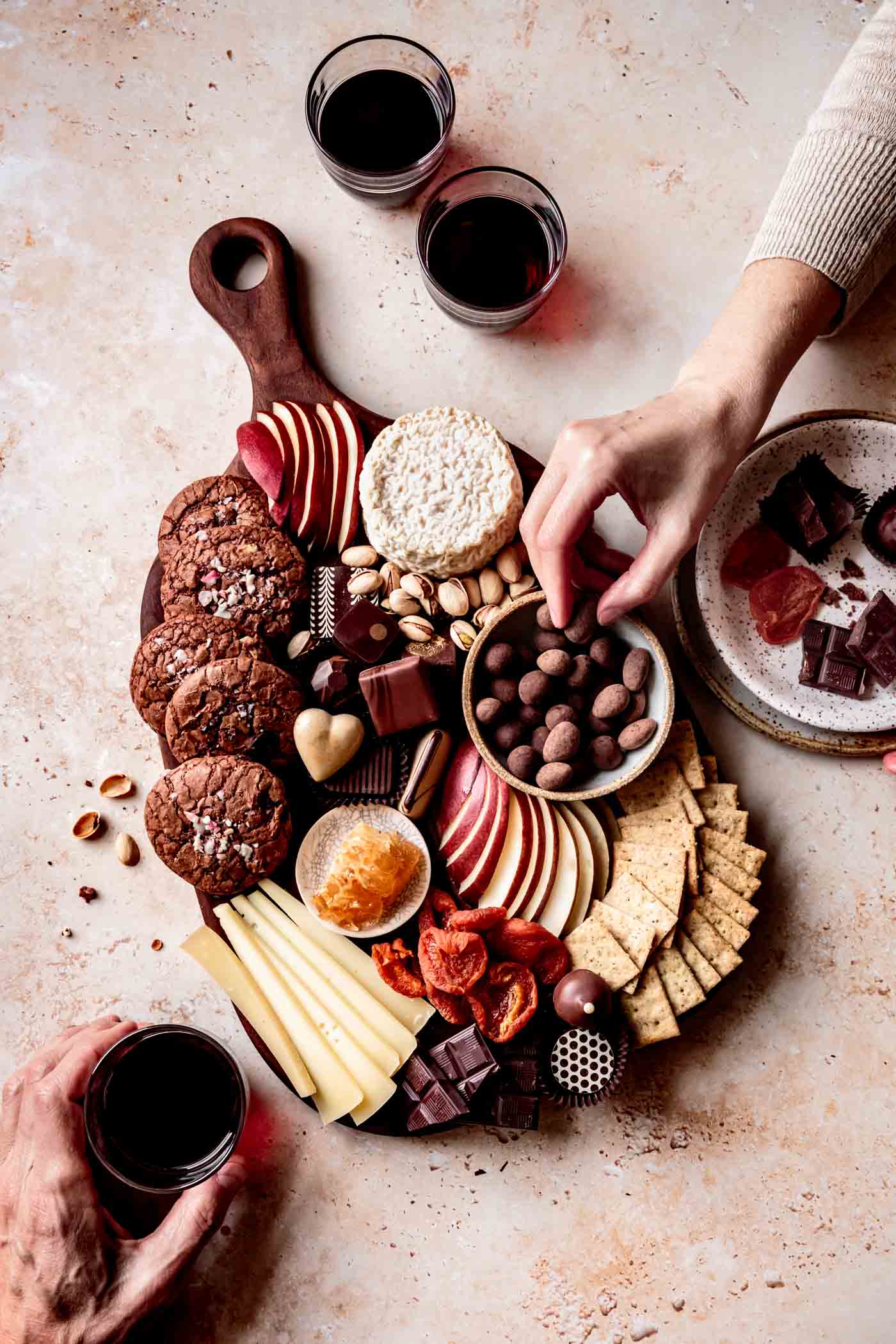 Bojon appétit! For more Bojon Gourmet in your life, follow along on Instagram, Facebook, or Pinterest, purchase my gluten-free cookbook Alternative Baker, or subscribe to receive new posts via email. And if you make a cheese and chocolate board like this one, I'd love to know, Leave a comment and rating below, and tag your Instagram snaps @The_Bojon_Gourmet and #bojongourmet.
More Party-Ready Platters and Boards
More Chocolate Cheese Pairings
Chocolate Dessert Board
Print Recipe
Pin Recipe
You hardly need a recipe to make a beautiful chocolate board, but I've shared quantities here in case it helps! Feel free to use any fruit, nuts, cheese, chocolate, and crackers you like here.
Ingredients
12

chocolate truffles

(storebought or homemade)

4

ounces

dragées

(chocolate covered candied nuts)

1

chocolate bar, broken up

chocolate brownie cookies

(or other cookies of your choice)

2

ounces

honeycomb or honey

4

ounces

soft cheese

(goat cheese, aged chevre, brie, camembert, etc.)

4

ounces

sliced semi-firm cheese

(gruyere, aged cheddar, gouda, etc.)

1

large apple or pear

(sliced and brushed with a bit of lemon juice)

handful

dried fruit

(such as apricots or figs)

4

ounces

crackers

(such as gluten-free almond crackers)

4

ounces

salted roasted nuts

(pistachios, marcona almonds, etc.)
Instructions
Arrange ingredients on a large serving board or platter. Start with the largest components (small bowls, large cheeses). Fan out fruit and cheese slices, crackers, and cookies for visual appeal and easy grabbing. Fill in the gaps with smaller components: chocolates, nuts, dried fruit.

Add knives and spoons if needed. Serve with small plates and napkins. Pour the drink(s) of your choice, and devour!
Notes
Storebought items work wonderfully here. But if you want to give your chocolate board a homemade touch, here are a few recipes you can add:
Feel free to add any seasonal fruit you like here, including:
persimmons
figs
grapes
strawberries
oranges or tangerines
cherries
Other additions you may like:
jam, preserves, chutney
chocolate spread
nut butter or granola / cookie butter
See the post above for even more suggestions!