This healthy "nutella" tiramisù combines gluten-free chocolate sponge cake, boozy coffee, whipped mascarpone, and a layer of chocolate hazelnut spread for a luscious gluten-free chocolate dessert.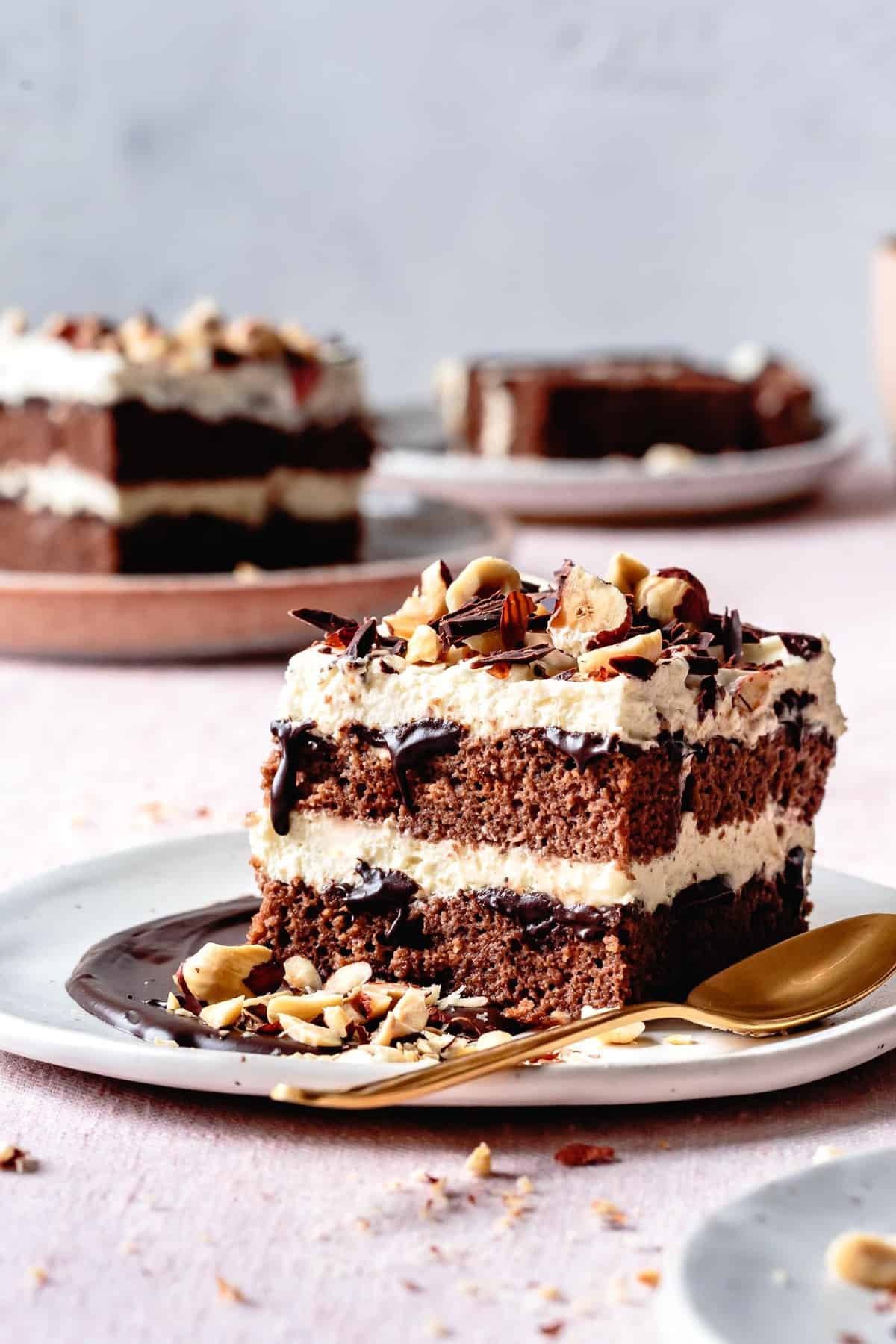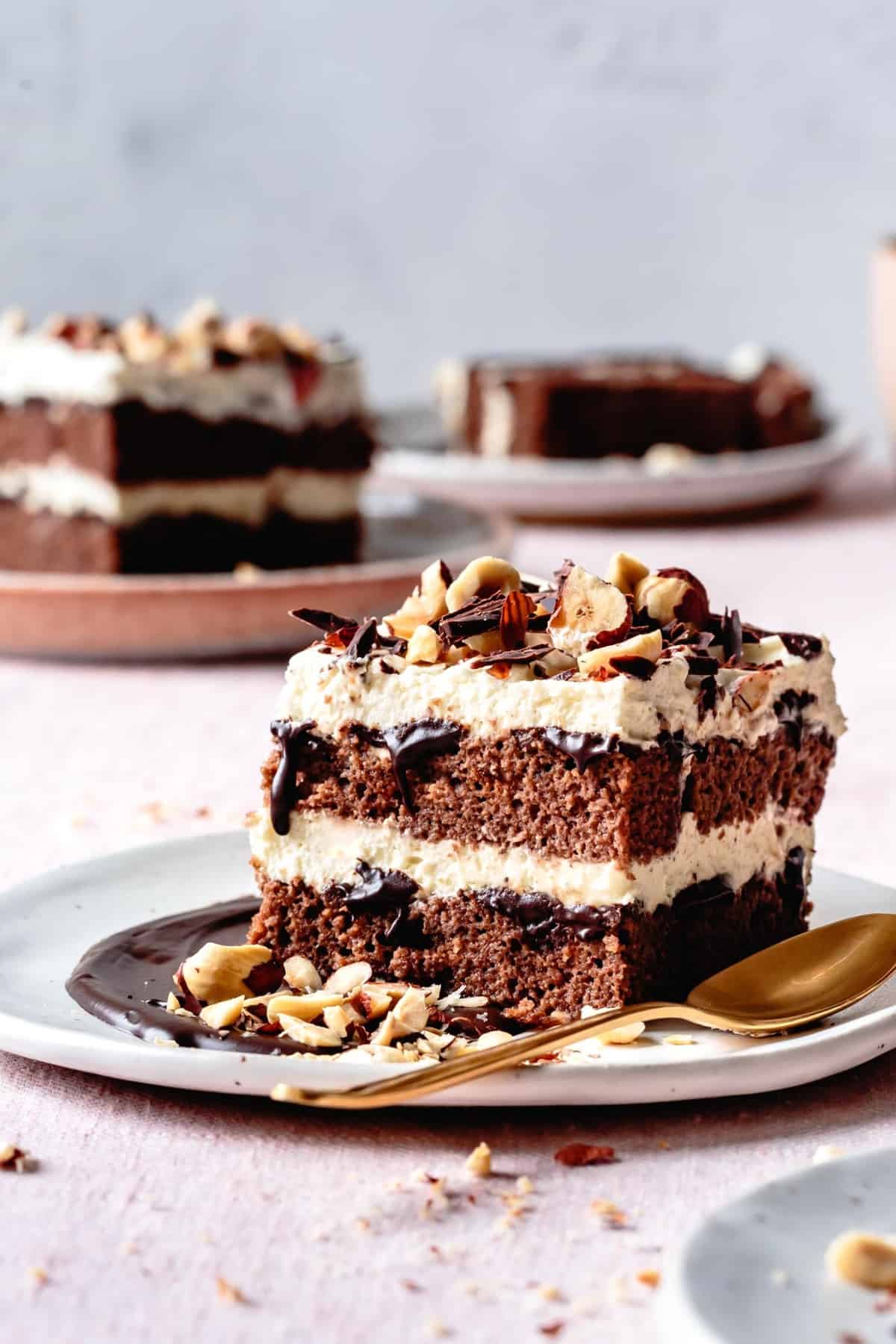 You all have been loving my gluten-free tiramisù recipe, so I'm excited to share this chocolate hazelnut version! This creamy dessert combines a bunch of my favorite ingredients: chocolate, coffee, booze, and cheese. I originally shared this beauty on social media back in 2019, but wanted to give it a permanent home here on TBG!
As a bonus, this "nutella" tiramisu can be made with my Chocolate Hazelnut Nut Butter, a collaboration with Ground Up and Raaka Chocolate that's available for a limited time only. You can order a jar (or 5) here and use the code TBG10 for 10% off your order.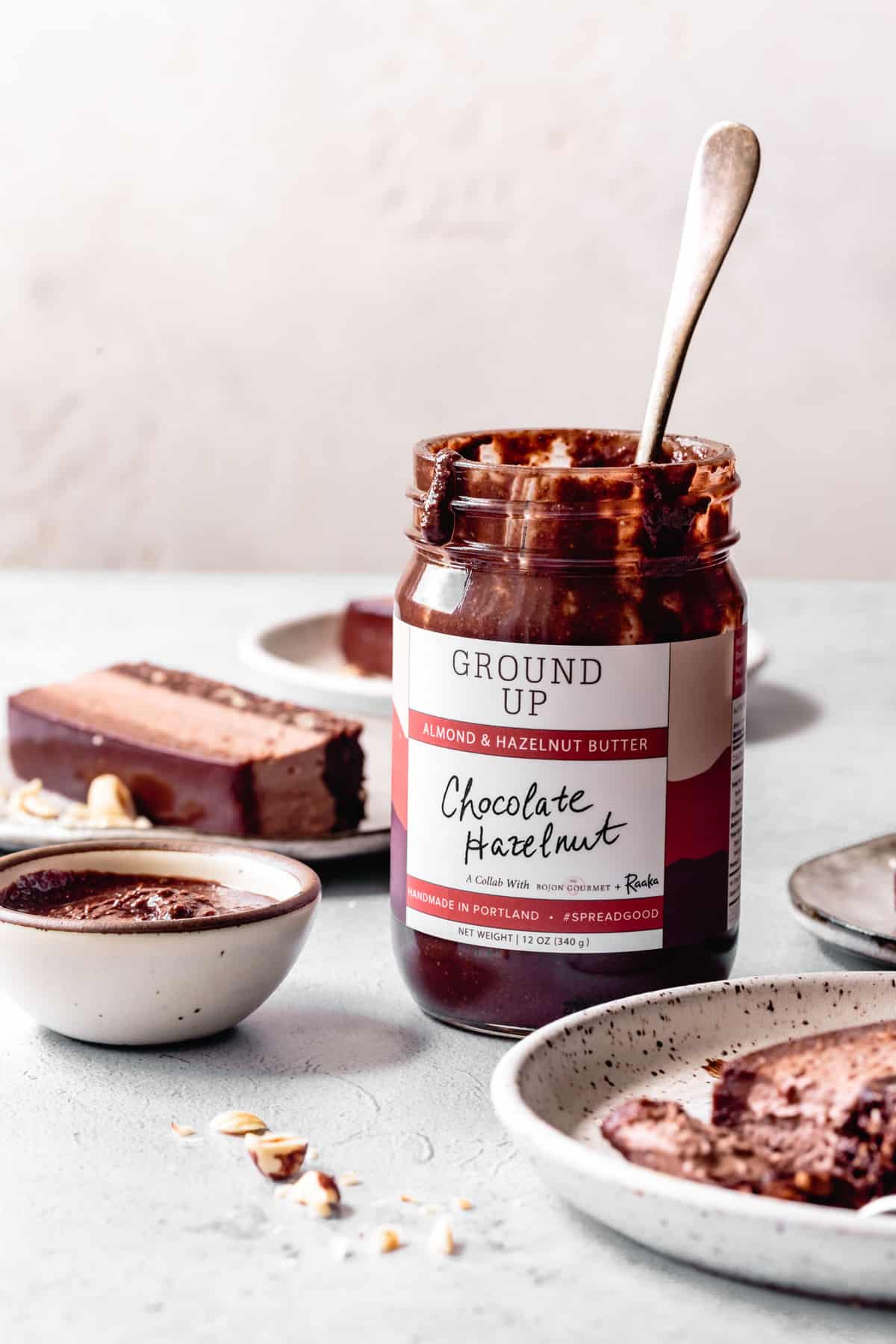 Gluten-Free Chocolate Sponge Cake = Easy Tiramisu
This recipe starts with a gluten-free chocolate sponge cake, a cocoa-infused version of my favorite gluten-free vanilla sponge cake. These are both made using the chiffon cake method. This foolproof oil-based cake uses leavening for extra lift. Whipped egg whites get folded into the batter, building an extra floofy cake that loves to soak up sauces and syrups and creams. You'd never guess it's gluten- and dairy-free!
When baked in a round pan, the base recipe can also be made into a GF chocolate layer cake, topped with seasonal fruit and whipped cream or anything else you like, as per the original sponge cake recipe. Or make a chocolate tiramisu cake like this GF chestnut mascarpone cake!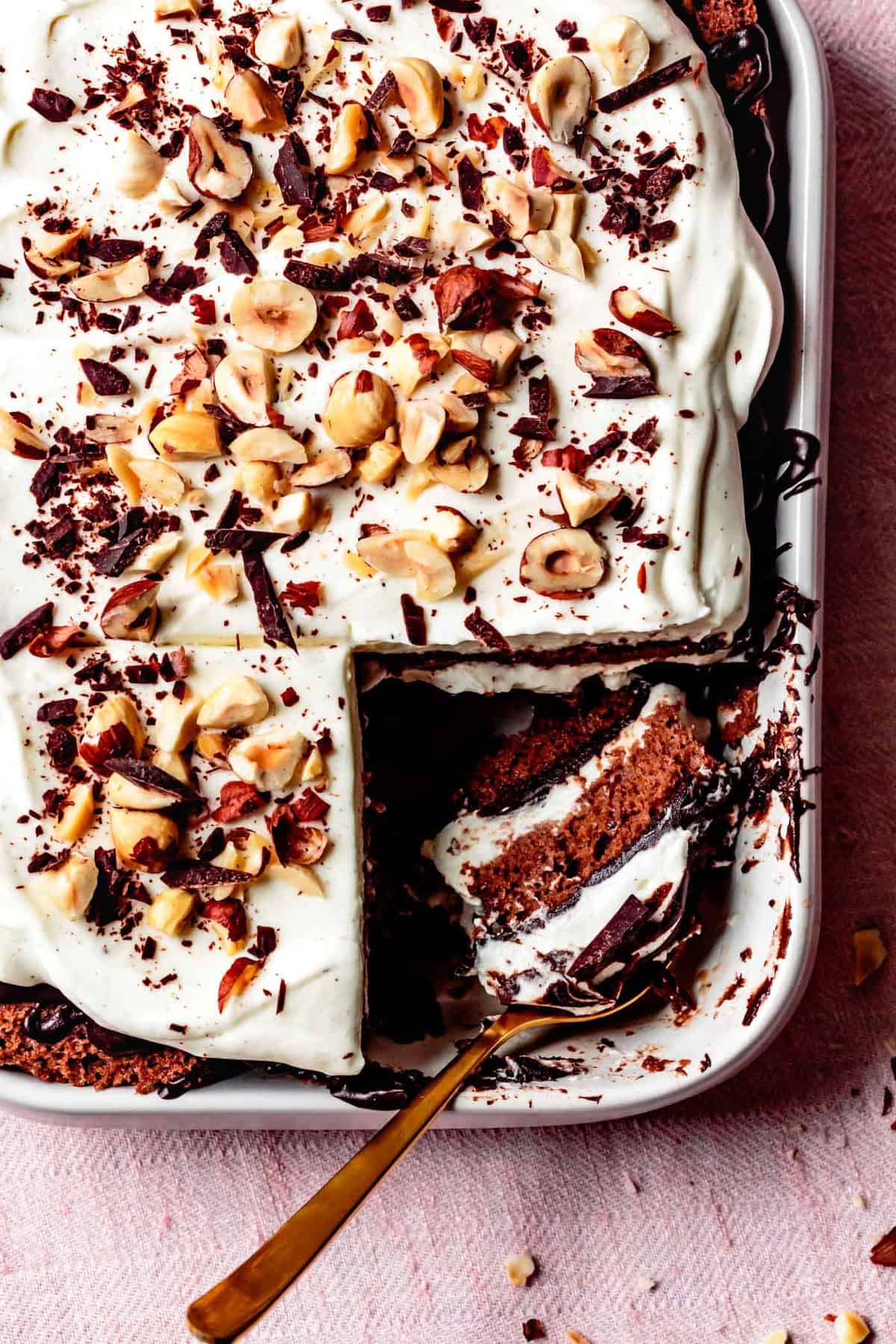 Since I'm asking you to make your own cake rather than starting with pre-made ladyfingers, I keep the rest simple. I skip the laborious yet traditional zabaglione in favor of boozy coffee, whipped mascarpone, and a hefty drizzle of Nutella (either the original or a health food store version).
The moist chocolate cake soaks up the boozy coffee, the Nutella melds with the whipped mascarpone, and the whole thing gets topped with crunchy toasted hazelnuts and chopped chocolate. A Nutella-lovers delight!
Ingredients and Substitution Suggestions
Gluten-Free Chocolate Sponge Cake
This gluten-free chocolate chiffon cake has an airy, open crumb, perfect for soaking up boozy coffee!
Cocoa powder adds rich chocolate notes.
Sweet rice flour and oat flour add structure, making a pillowy cake.
Water and egg yolks add moisture and tenderness.
Oil adds richness. I used roasted hazelnut oil for extra hazelnut notes, but any neutral oil, such as sunflower or grape seed, will do the trick.
Baking powder adds lift, along with egg whites whipped with cream of tartar to stabilize them.
Salt and vanilla sharpen the flavors.
Filling
Coffee fortified with the spirit of your choice (rum, brandy, bourbon, or hazelnut liqueur) soaks strips of chocolate sponge cake. Use decaf coffee if you like, or omit the booze and use more coffee if you prefer.
Mascarpone whipped with heavy cream and vanilla creates that quintessential tiramisu texture. For a dairy-free version, make a batch of paleo vegan cream cheese frosting instead.
How to Make GF Chocolate Hazelnut Tiramisu
Make the GF chocolate sponge cake as directed, let it cool, and cut it into strips.
Layer half of the cake strips in a pan in a single layer and soak with the boozy coffee. Drizzle generously with Nutella or the chocolate hazelnut spread of your choice.
Top with whipped mascarpone. Repeat the layering process once more.
Top the whole thing with toasted hazelnuts and chopped chocolate, and chill until ready to serve, then cut into wedges.
Chocolate Hazelnut Tiramisu Bliss
This twist on the classic Italian dessert is easy to make and keeps like a dream. All components can be made in advance. It's not overly sweet, and it's full of the earthy flavors of coffee, chocolate, vanilla, and hazelnuts.
Form it in a baking pan, or bake it into a round cake, or make mini nutella tiramisu-lets by cutting out rounds and assembling them in individual cups or jars.
However you serve it, I hope you love this chocolate hazelnut tiramisu as much as we do!
*Bojon appétit! For more Bojon Gourmet in your life, follow along on Instagram, Facebook, or Pinterest, purchase my gluten-free cookbook Alternative Baker, or subscribe to receive new posts via email. And if you make this gluten-free chocolate hazelnut tiramisu recipe, I'd love to know. Leave a comment and rating below, and tag your Instagram snaps @The_Bojon_Gourmet and #bojongourmet.*
More Chocolate Hazelnut Love:
More Gluten-Free Chocolate Cakes:
Gluten-Free Chocolate Hazelnut Tiramisu
Print Recipe
Pin Recipe
This healthy "nutella" tiramisù combines gluten-free chocolate sponge cake, boozy coffee syrup, whipped mascarpone, and a layer of chocolate hazelnut spread for a luscious gluten-free chocolate dessert.
Ingredients
GF Chocolate Sponge Cake
¼

cup

water

3

large egg yolks

1

teaspoon

vanilla extract

½

cup

plus 2 tablespoons organic granulated sugar (divided use)

½

cup

(80 g) sweet rice flour

½

cup

(50 g) GF oat flour

¼

cup

(25 g) dutch-process cocoa powder

1 ¼

teaspoons

baking powder

½

teaspoon

fine sea salt

6

large egg whites

¼

teaspoon

cream of tartar
Tiramisu
1 ½

cups

strong-brewed coffee

⅓

cup

spirit of your choice (gold rum, brandy, GF whiskey, or hazelnut liqueur for a sweeter option)

8

ounces

cold mascarpone

1 ¼

cups

cold heavy cream

1

tablespoon

organic granulated sugar

½

teaspoon

vanilla extract or paste

⅛

teaspoon

fine sea salt

1

cup

Nutella or other chocolate hazelnut spread, warmed slightly

¼

cup

chopped toasted hazelnuts

2

tablespoons

chopped bittersweet chocolate
Instructions
Make the Cake
Position a rack in the center of the oven and preheat to 325ºF. Line the bottom of an 8-inch square cake pan with parchment paper and leave the sides ungreased. The cake batter will grip the sides of the pan as it bakes, helping it to rise high.

In a large bowl, whisk together the oil, water, egg yolks, vanilla, and ½ cup of the sugar until combined.

Place a strainer over the bowl and sift the sweet rice and oat flours with the cocoa powder, baking powder, and salt directly into the yolk mixture, adding back any bits left behind in the strainer. Whisk until very smooth.

In the clean, dry bowl of a stand mixer fitted with the whip attachment, whip the egg whites with the cream of tartar on medium-high speed until soft peaks form. Slowly add the remaining 2 tablespoons sugar and whip until the whites are glossy and just hold a firm peak when lifted from the bowl and turned upside down, 1–3 more minutes.

Use a flexible silicone spatula to fold one-third of the whites into the batter, then gently fold in the remaining whites until just combined and no streaks remain. Immediately pour the batter into the prepared pan and quickly but gently use an offset spatula to spread the batter into an even layer.

Transfer the pan to the oven and bake until the cake springs back to the touch, and a toothpick inserted near the center comes out clean, 25-40 minutes. Remove to a rack and let cool completely in the pan.

Use a small offset spatula to loosen the edges of the cake. Turn out onto a cutting board and peel away the parchment paper. Turn right side up. Cut the cake in half, then cut crosswise into 1⁄2-inch thick slices.
Assemble the Tiramisu
Stir together the coffee and booze.

In the bowl of a stand mixer fitted with the whisk attachment, whip together the mascarpone, cream, sugar, vanilla, and salt until the mixture just holds firm peaks. Cover and chill until needed.

Place 1 layer of cake slices cut side up in an 8- or 9-inch square pan or the equivalent. Drizzle with half of the coffee syrup, then drizzle with half of the chocolate hazelnut spread. Spread half of the whipped mascarpone over the cake.

Repeat the layering process once more. Top the tiramisu with the chopped chocolate and hazelnuts.

Serve right away with a spoon, or chill for 1–2 hours or up to 1 day and cut into slices to serve.
Notes
Tiramisù keeps well, refrigerated airtight, for up to 3 days.
Dairy-Free Nutella Tiramisù:
Omit the whipped mascarpone and use a double batch of Paleo Cream Cheese Frosting in its place.
Nutrition facts are for 1 of 10 servings. Values are approximate.
Nutrition
Calories:
470
kcal
Carbohydrates:
38
g
Protein:
6
g
Fat:
31
g
Saturated Fat:
16
g
Trans Fat:
1
g
Cholesterol:
127
mg
Sodium:
215
mg
Potassium:
102
mg
Fiber:
1
g
Sugar:
25
g
Vitamin A:
804
IU
Vitamin C:
1
mg
Calcium:
76
mg
Iron:
1
mg