Homemade honeyed pistachio butter fills raw chocolate made from cacao butter, cacao powder, and maple syrup for a healthier take on peanut butter cups. Flaky salt and cacao nibs add addictive crunch.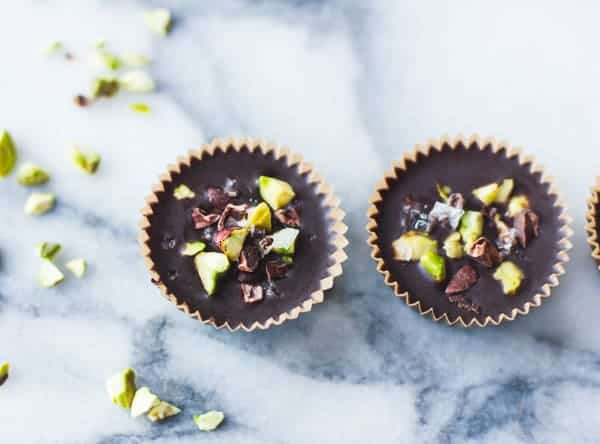 As a kid, I pretty much lived for Halloween candy. My best friend and I had an aprés trick-or-treating ritual wherein we would come home, dump our loot onto the floor, and spend hours trading Mars Bars, M&Ms, and Milky Ways.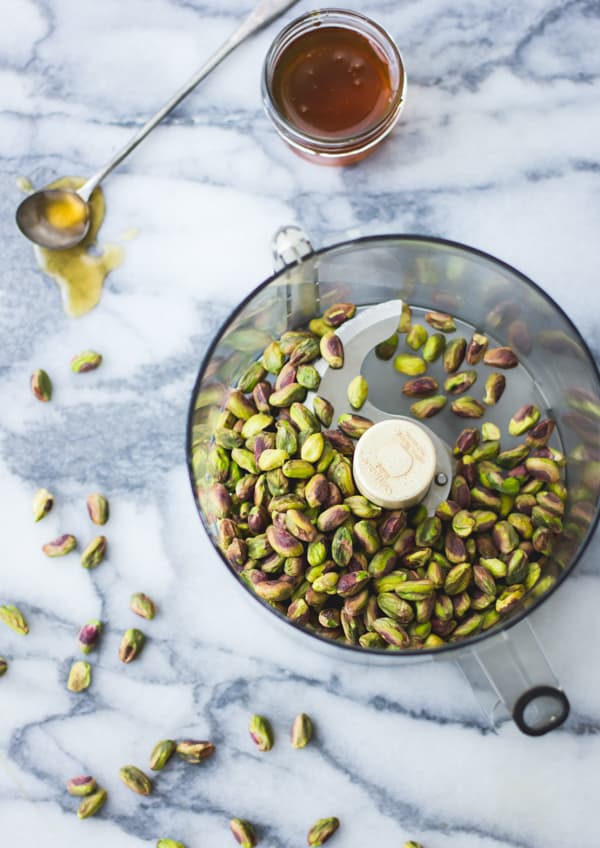 The last to be traded were always those crunchy peanut candies, which we
would halfheartedly pass back and forth, our excitement and sugar highs dwindling.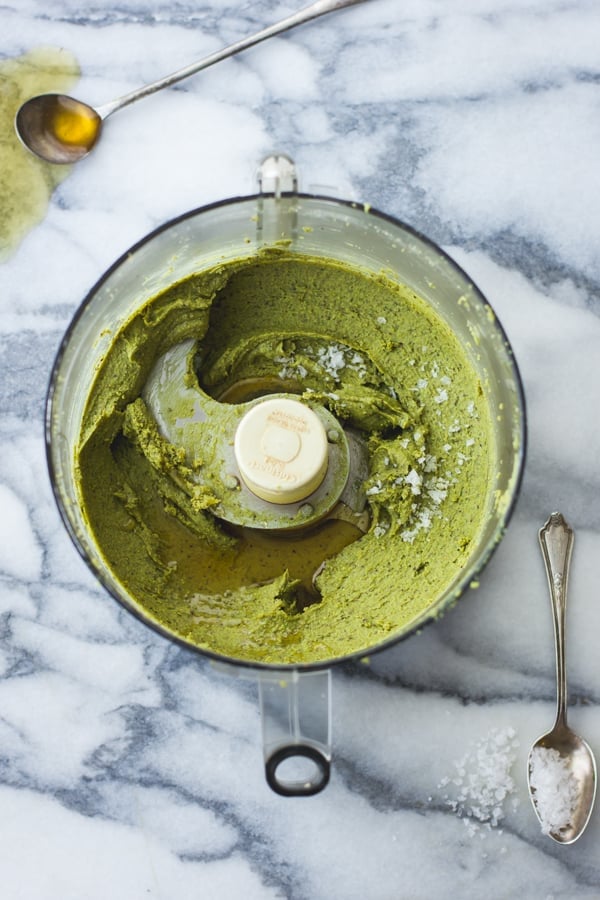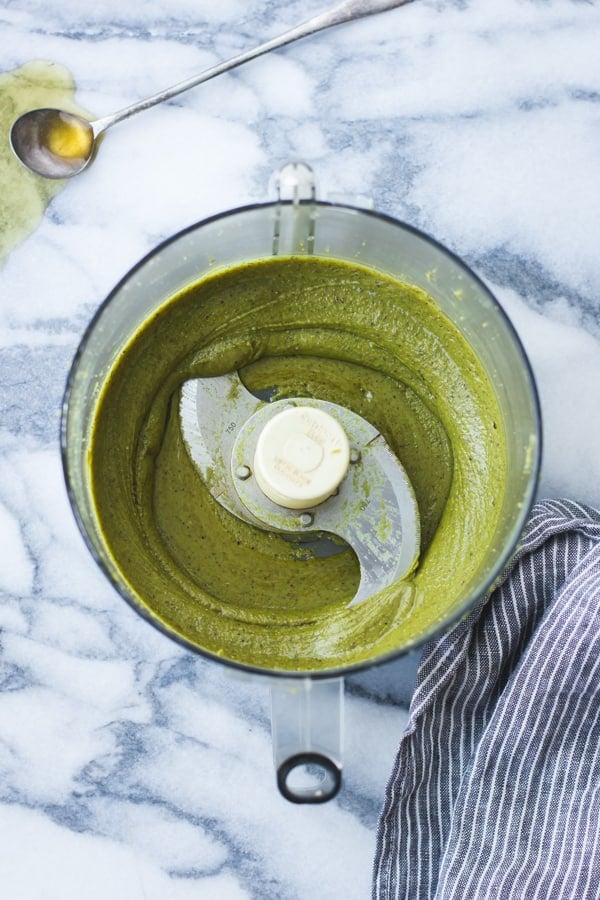 The neighborhood grown-ups were good to us, save for my mom, who regularly inflicted apples or sesame-honey chews on the neighborhood youth. These went straight from our pumpkin-shaped buckets into the trash, accompanied by retching noises and eye rolls.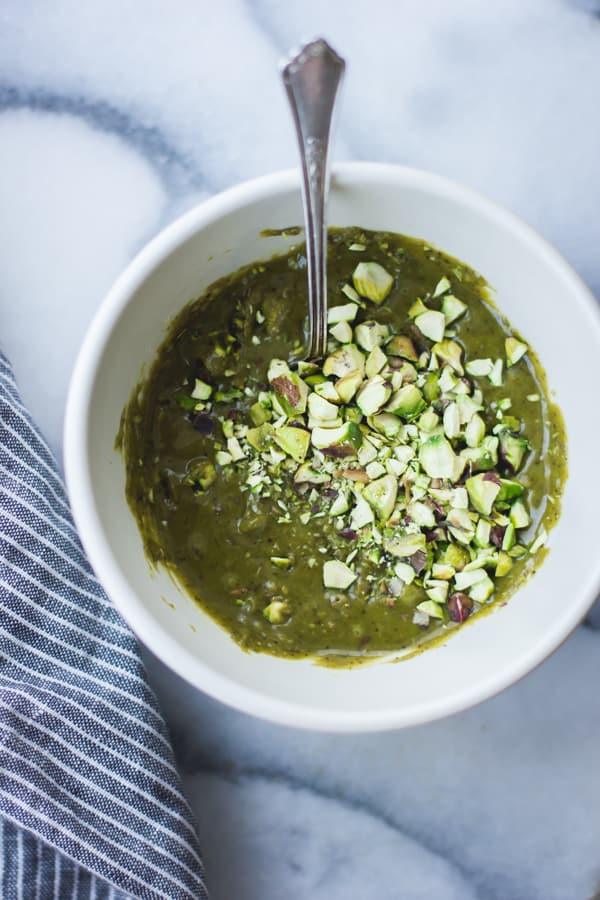 Now, of course, I'd take an apple and sesame honey chew over additive-laden bars of cheap chocolate-coated goo any day. With the appeal of free high-fructose corn syrup gone, I don't really get Halloween. I'll pass on the dyed red and black cocktails designed to look like bodily fluids and stick with a glass of bubbly, thank you very much. I find most real-life politicians spookier than ghosts and goblins, and I'd be more inclined to give a black cat in my path cuddles than to run the other way. I'd much rather settle in with a good rom-com than watch someone get hacked to bits by a motiveless psychopath weilding a chainsaw or other sharp object.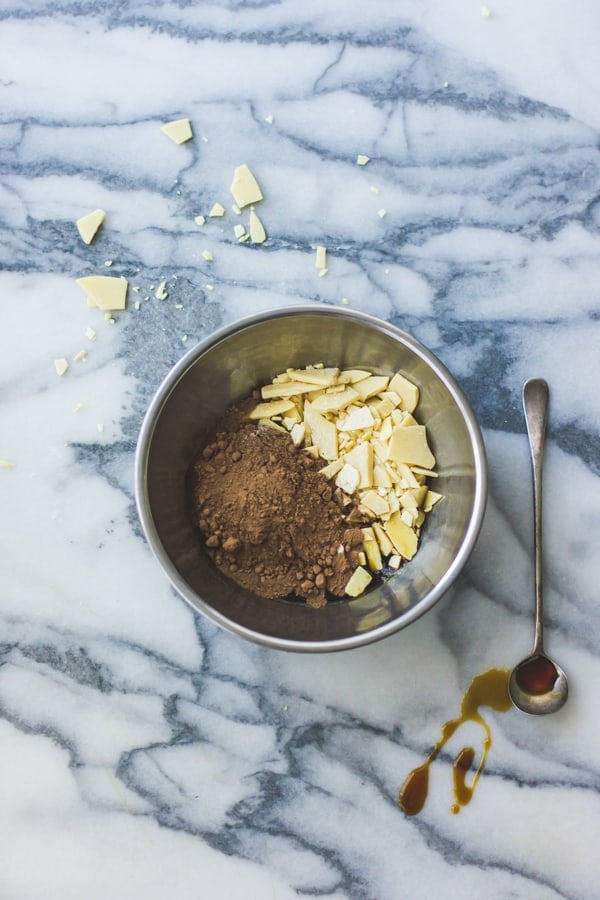 At the co-op yesterday, I spied something odd while perusing the cheese case. The object in question turned out to be cheese decorated to look like severed fingers.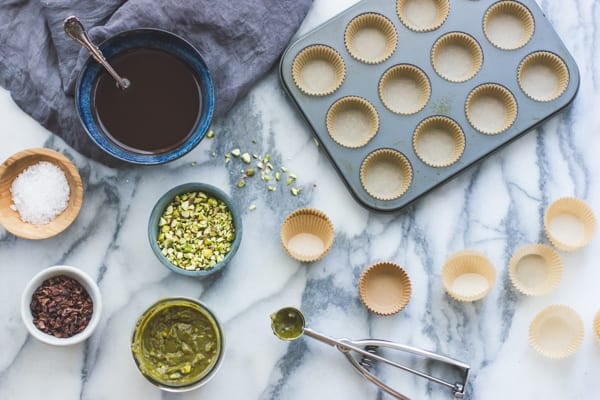 I just don't get it.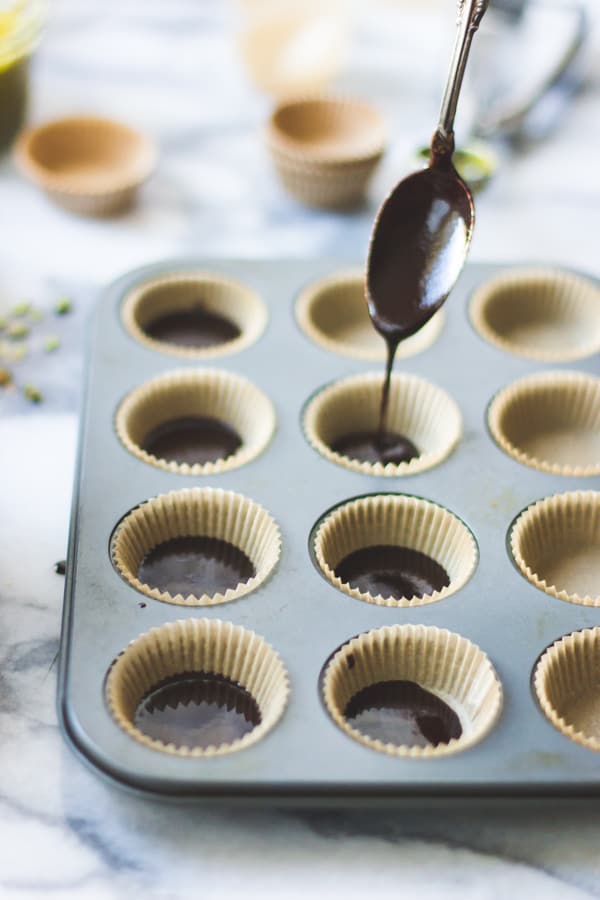 Rather than bare my legs as a sexy nurse or piece of pizza, I'll probably spend Halloween on the couch in leggings watching Arrested Development and eating curry. That's my idea of a happy Halloween.
Fortunately, I'm not alone. Our red-headed feline stepchild is similarly indifferent to the holiday, disliking dressing up in anything other than stripey orange fuzz and lacking sweet receptors on his tongue. Thus the whole family can stay in, grinch-like, during October 31st, enjoying each other's grumpy company (grumpany?).
Since our apartment is far from the main drag, we don't usually have to deal with many trick-or-treaters. Rather than wasting time and money on healthier treats certain to end up in the compost, Jay and I use a different tactic when a stray be-costumed child wanders into our neighborhood and rings the doorbell.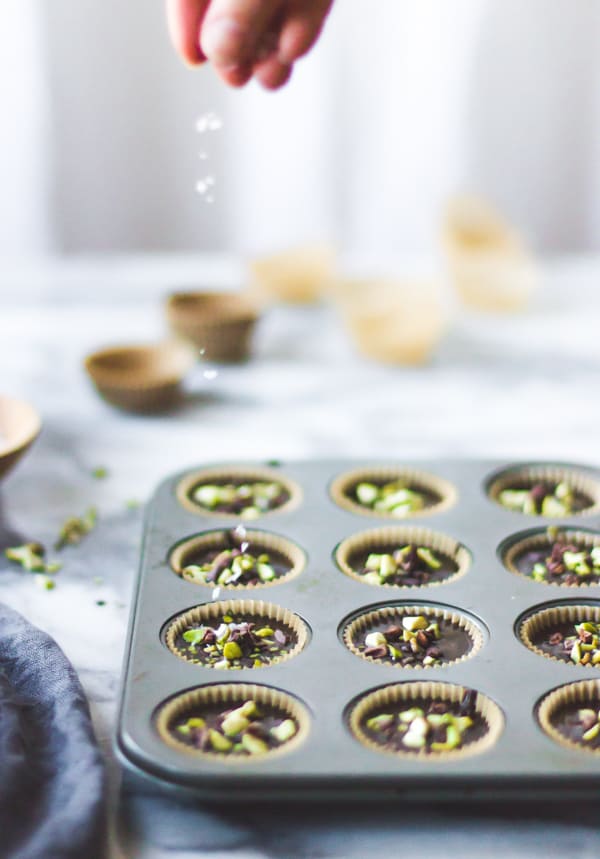 We hide.
These little chocolates are the antithesis of typical Halloween treats. They're made from homemade pistachio butter sweetened with a touch of honey and flecked with flaky salt. This gets enrobed in homemade raw chocolate kissed with vanilla and maple syrup. The recipe came about when I found myself with leftover raw chocolate after making ice cream sandwiches earlier this year. I melted it down and formed it into little cups filled with nut butter and topped with cacao nibs and flaky salt. Maybe it was our latent candy-loving selves, but Jay and I couldn't get enough of them.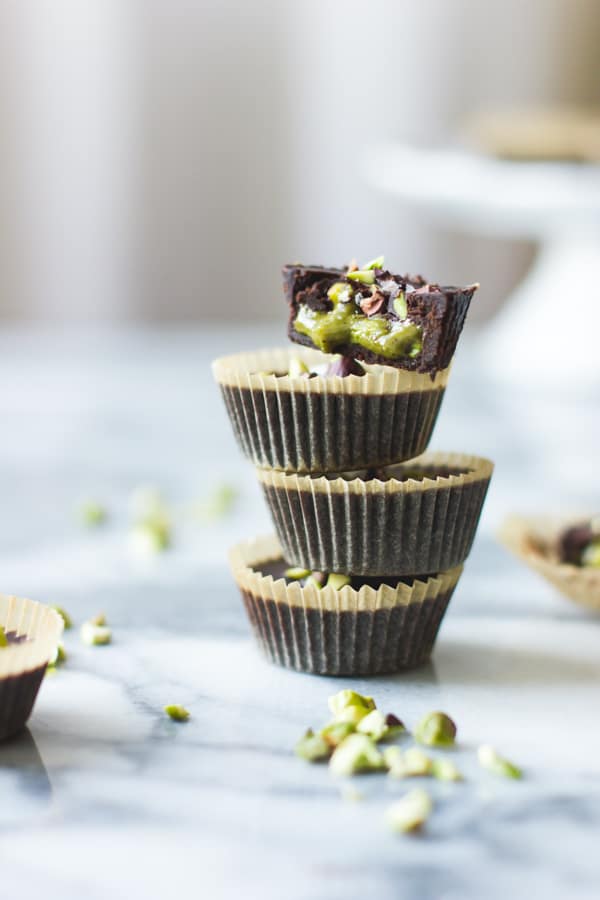 Raw chocolate comes together quickly and easily by melting together cacao butter, cacao powder, maple syrup, and a splash of vanilla. The resulting chocolate is softer than the store bought stuff, and it needs to hang out in the fridge to firm up. Its texture is somewhere between chocolate and ganache, melting instantly on the tongue, tasting earthy and not too sweet.
I've had mixed results making my own nut butter, but I followed this technique from Erica of Coffee & Quinoa and, with the addition of a bit of olive oil, the mixture came together into a silky smooth, army green paste that tasted far more fresh and bright than the super expensive jar I purchased as a back up. (With that, I plan to give this pistachio gelato a whirl.)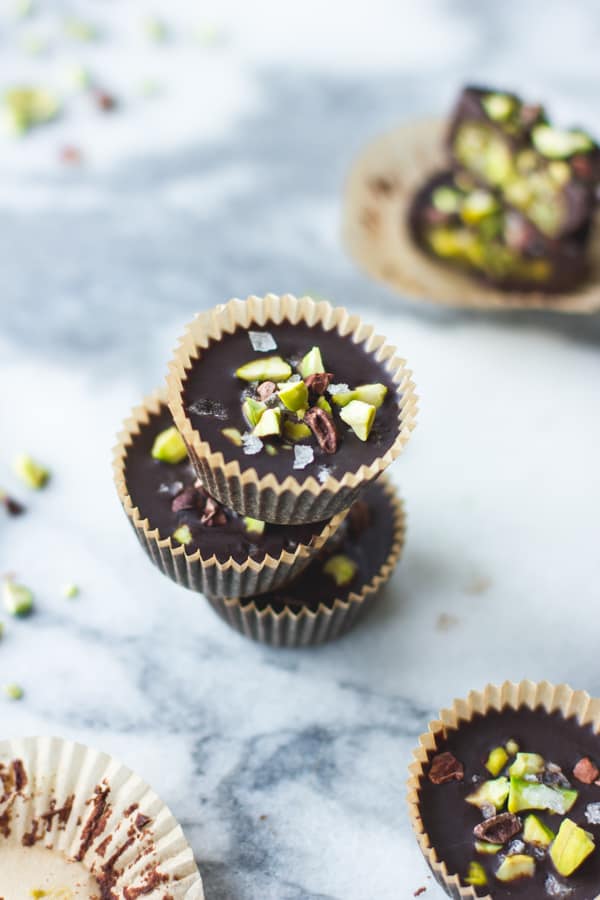 These little cups are super addicting, and they're so cute, I just want to give them away to everyone I know…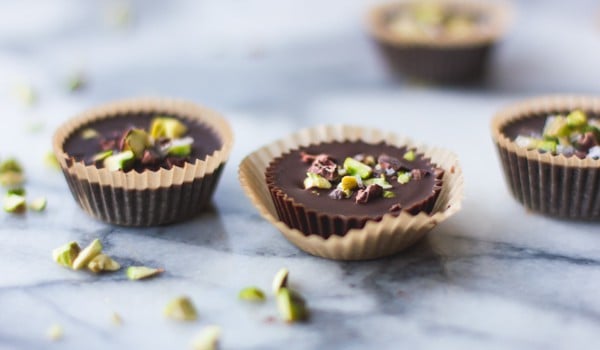 …but certainly not to any ungrateful kids.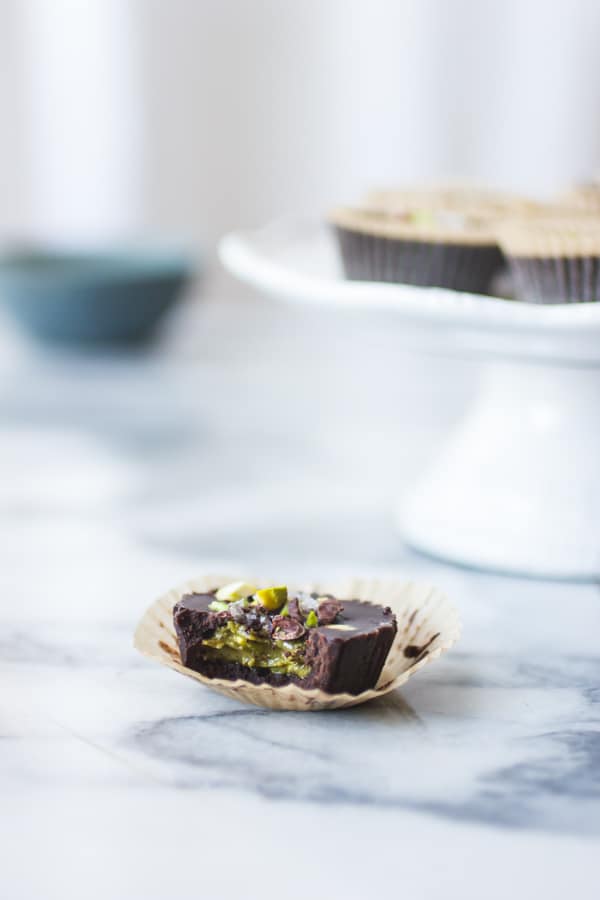 Thanks for reading! For more Bojon Gourmet in your life, follow me on Facebook, Instagram, Pinterest, Bloglovin', or Twitter, subscribe to receive new posts via email, make a donation, or become a sponsor.
Raw Desserts:
Raspberry Brownie Ice Cream Sandwiches
Raw Vegan Chocolate Cheesecakes
Kinda Raw Marbled Pumpkin Tart
One year ago:
Bourbon Apple Crisp Ice Cream
Two years ago:
Gluten-Free Bourbon Pumpkin Cheesecake Brownies
Three years ago:
Indian Summer Blues Cocktail (with Cardamom, Rose and Gin)
Four years ago:
Avocado Tomatillo Salsa
Five years ago:
Pumpkin Cheesecake Muffins
Raw Chocolate + Pistachio Butter Cups
This recipe makes twice as much nut butter as you'll need for the cups, but
you'll need this amount to make your food processor go if it's a
standard size. Feel free to double the chocolate and toppings to make 36 nut butter cups. I used honey in the nut butter, but you could use maple sugar, coconut nectar, or brown
rice syrup for a vegan option. (I think maple syrup would be overly
liquid and would make the filling difficult to work with.) You can also use 1/2 cup of store bought pistachio butter if you prefer, skipping the food processor instructions. Full disclaimer: my nut butter was more brown than green (until I futzed with the colors in Lightroom). I think that blanching and peeling the brown skin off of the nuts would yield a greener butter, but this was the easy method. If you're an avid raw-foodist, you'll want to let the nut butter cool as you puree it lest it become too hot, and melt the raw chocolate very gently to keep it at a low temperature.
Feel free to trade the pistachio butter for 1/2 cup of any nut butter you like, such as almond, hazelnut, or peanut. I found raw cacao butter, powder, and nibs at my local natural foods co-op, but they can also be ordered here. Or you could use 8 ounces melted and tempered bittersweet chocolate in its place.
Makes about 18 small cups
For the pistachio butter:
2 cups shelled, raw pistachios
2 tablespoons honey (raw if you like; or maple sugar if vegan)
1/2 teaspoon flaky salt, such as Maldon (or 1/4 teaspoon fine sea or kosher salt)
1 tablespoon pistachio oil, olive oil, or a neutral oil such as sunflower or grapeseed
1/4 cup shelled, raw pistachios, coarsely chopped
For the raw chocolate:
1 scant cup (3.5 ounces / 100 grams) chopped cacao butter
1/2 cup (1.5 ounces / 45 grams) raw cacao powder (or regular cocoa powder)
1/4 cup (2.75 ounces / 80 grams) maple syrup (I prefer grade A)
1 teaspoon vanilla extract
For topping the cups:
~2 tablespoons chopped pistachios
~1 tablespoon cacao nibs
~1 teaspoon flaky salt (such as Maldon)
Make the pistachio butter:
In a food processor, grind the pistachios to a smooth paste, 10 minutes. The mixture will become very warm. Add the honey, salt, and oil, and process until smooth again (the mixture will be clumpy at first), 5-10 more minutes, letting the mixture cool if it becomes too warm and scraping down the sides of the bowl as necessary. Measure out 1/2 cup (5 ounces / 140 grams) of the pistachio butter into a bowl; reserve the rest for another use. Stir in the chopped pistachios, then cover and chill in the refrigerator or freezer until cold and firm enough to hold its shape, 1-2 hours or up to a week or two.
Make the raw chocolate:
Place the cacao butter, cacao powder, maple syrup, and vanilla in a metal, heat-proof bowl set over a pot of hot, steaming (but not simmering) water. Chocolate is delicate stuff, so heat it gently, stirring occasionally, until it is melted and smooth. Remove from the pot and let the chocolate cool slightly, whisking occasionally until smooth and slightly thickened. (If the mixture looks slightly separated or broken, don't worry; proceed with the recipe and it should work out fine.)
Make the cups:
Drizzle a very thin layer of chocolate in the bottom of each cup and tilt to coat. Freeze until firm, 5 minutes. Drizzle another thin layer of chocolate in a cup, and quickly place a small scoop of pistachio butter, about a teaspoon, right in the center of the molten chocolate. The chocolate will rise up around the sides, enclosing the nut butter, and the whole thing should come to 3/4 of the way up the paper cup. Drizzle more chocolate over the top of the cup, and sprinkle with a pinch each of chopped pistachio, cacao nibs, and flaky salt.
Repeat with the remaining cups. When all are filled and topped, freeze until firm. The cups must be stored in the refrigerator as the raw chocolate softens at room temperature. They will keep, airtight, for up to several weeks.