Chewy gooey matcha chocolate chip cookies made with almond flour and pantry-friendly ingredients. These healthy matcha cookies are vegan, gluten-free, grain-free, and paleo-friendly.
Mix them up in one bowl and have them in and out of the oven in under an hour.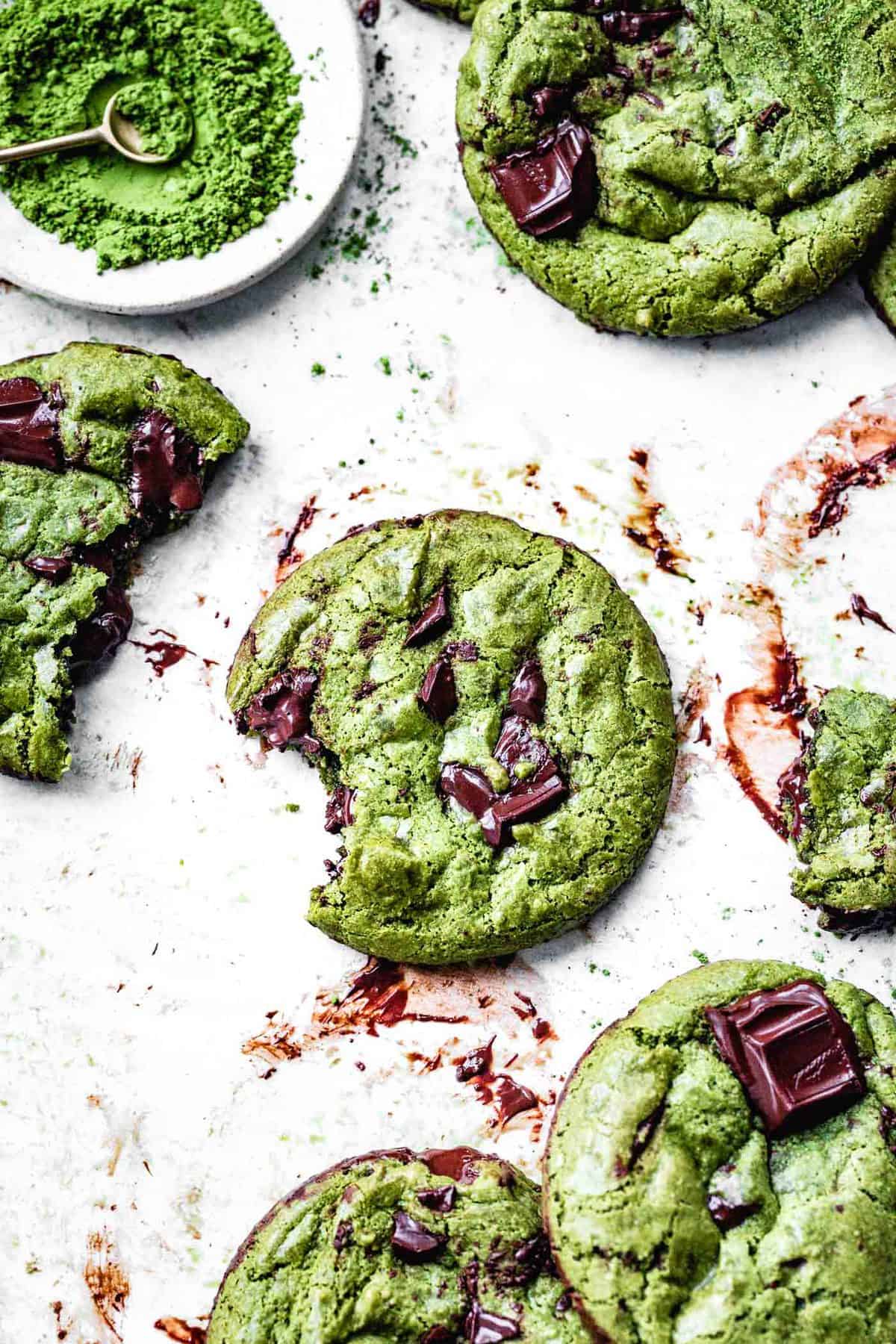 These matcha cookies were the brainchild of my friend Jenny of Ceremonial Grade. In addition to being a talented photographer, designer, and fellow cat lady, Jenny is a matcha connoisseur. She had the brilliant idea to add a hefty dose of matcha to my tahini oatmeal chocolate chip cookie recipe earlier this year. She turned out the most dazzling green matcha cookies I'd ever seen.
When Encha asked me to make a recipe with their delicious culinary-grade matcha, matcha cookies were the first thing to pop into my head. I used my paleo chocolate chip cookie recipe as a base. These use cashew butter to create a chewy texture that puffs and spreads just like classic chocolate chip cookies. The cookies are light in color, so I knew they would show off the vibrant green matcha beautifully.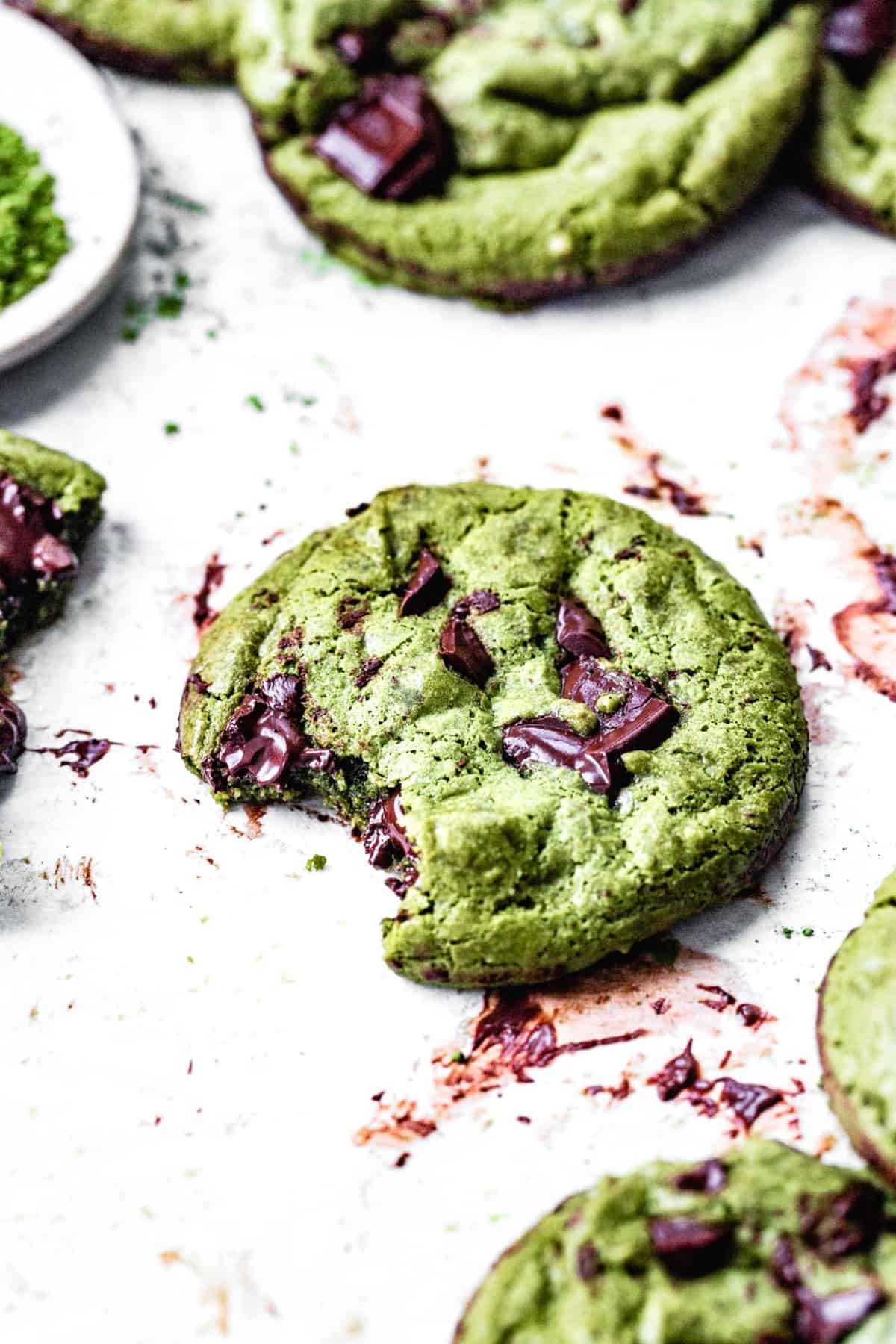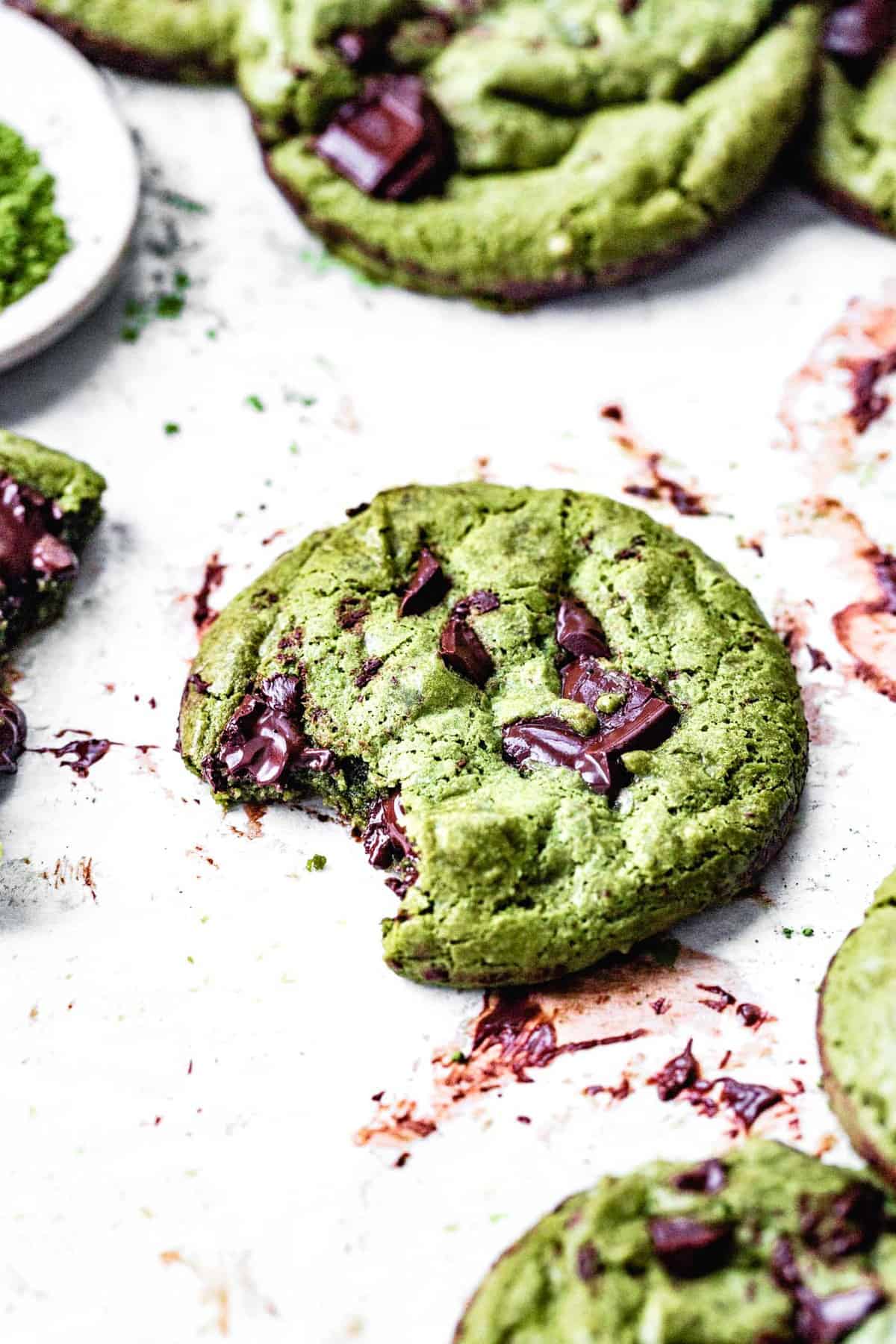 I made a few little tweaks to the recipe to keep the color bright, including using some baking powder in place of baking soda to keep the cookies vibrant. I baked a few test batches and brought them to my dance class, where they were happily devoured after an hour of sweaty Latin dance.
I'm thrilled to share these vibrant green tea cookies with you today! They're free of gluten, grains, dairy, eggs, and refined sugar, but you'd never know it. They have a soft, chewy texture that stays fresh for a week after baking.
Grassy matcha melds with butterscotch notes from cashew butter, maple syrup, and vanilla while grain-free flours build a soft and chewy cookie. Bittersweet chocolate chunks add earthy notes. They're easy to mix up with just a bowl and a spoon, and they take under an hour to make from start to finish.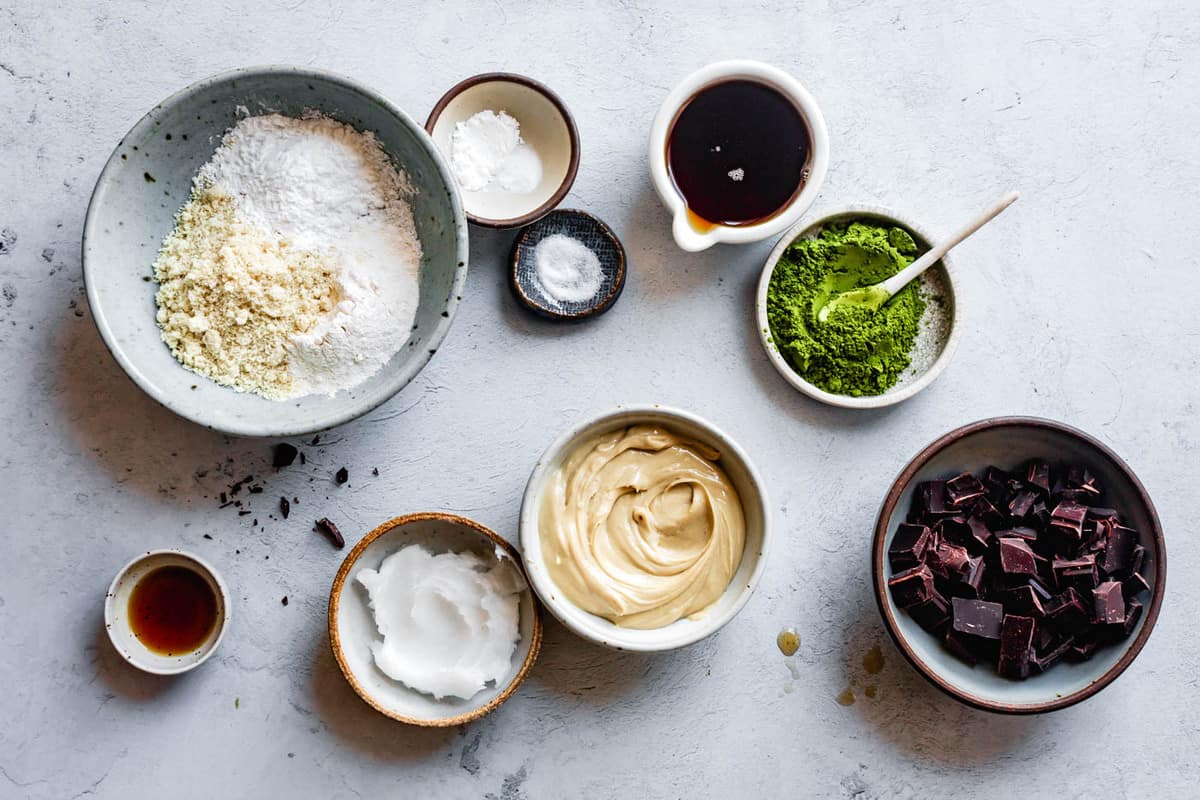 Matcha Cookie Ingredients & Substitutions
Matcha green tea powder is the star of this show. Use matcha that's bright green and fresh such as Encha culinary-grade matcha. More matcha tips below!
Cashew butter forms the base of these cookies. I use Artisana raw cashew butter, which you can find at many healthy foodie stores or order from Thrive. Or make your own. For a nut-free version, use tahini in its place.
Maple syrup sweetens and moistens the dough. I prefer a lighter maple syrup to let the matcha color and flavor shine. Agave should work as a substitute if you prefer, though it may taste a bit sweeter.
Coconut oil adds richness. You can use extra-virgin, which is less processed with more coconut flavor, or use refined coconut oil for a more neutral flavor. Dairy-eaters can use ghee instead for a non-vegan option.
Vanilla and salt sharpen the flavors.
Baking powder helps the cookies puff while keeping the batter more acidic to preserve the bright green hue. A little baking soda helps the cookies spread and brown around the edges.
Bittersweet chocolate chunks melt into gooey puddles. I prefer chopping up a chocolate bar for a mix of large and small bits. Use a paleo baking chocolate to keep these refined sugar-free, such as Raaka or Hu. Or use good-quality white chocolate such as Green & Black's for white chocolate matcha cookies.
Flours for Gluten-Free Matcha Cookies
A trio of grain-free flours creates a thick and chewy cookie that you'd never guess was gluten-free. I use Bob's Red Mill flours, which can all be ordered online or sourced from most health foods stores. If gluten isn't an issue, you can likely substitute all-purpose wheat flour in place of all three flours. Or you could try a gluten-free or paleo all-purpose blend.
Almond flour adds mild flavor, protein, and a little nubby texture. I prefer blanched almond flour here, but unblanched almond meal will also work. For a nut-free option, sub by weight tiger nut flour. You could try using oat flour for a non-paleo option.
Cassava flour makes the cookies super chewy and thick. You can substitute a GF or paleo AP flour blend, or use sweet rice flour for non-paleo.
Tapioca flour makes the dough more extensible or stretchy, helping them develop crackly, craggy tops. You could try using another starch such as cornstarch or potato starch, but tapioca is your best bet.
How to Make Matcha Cookies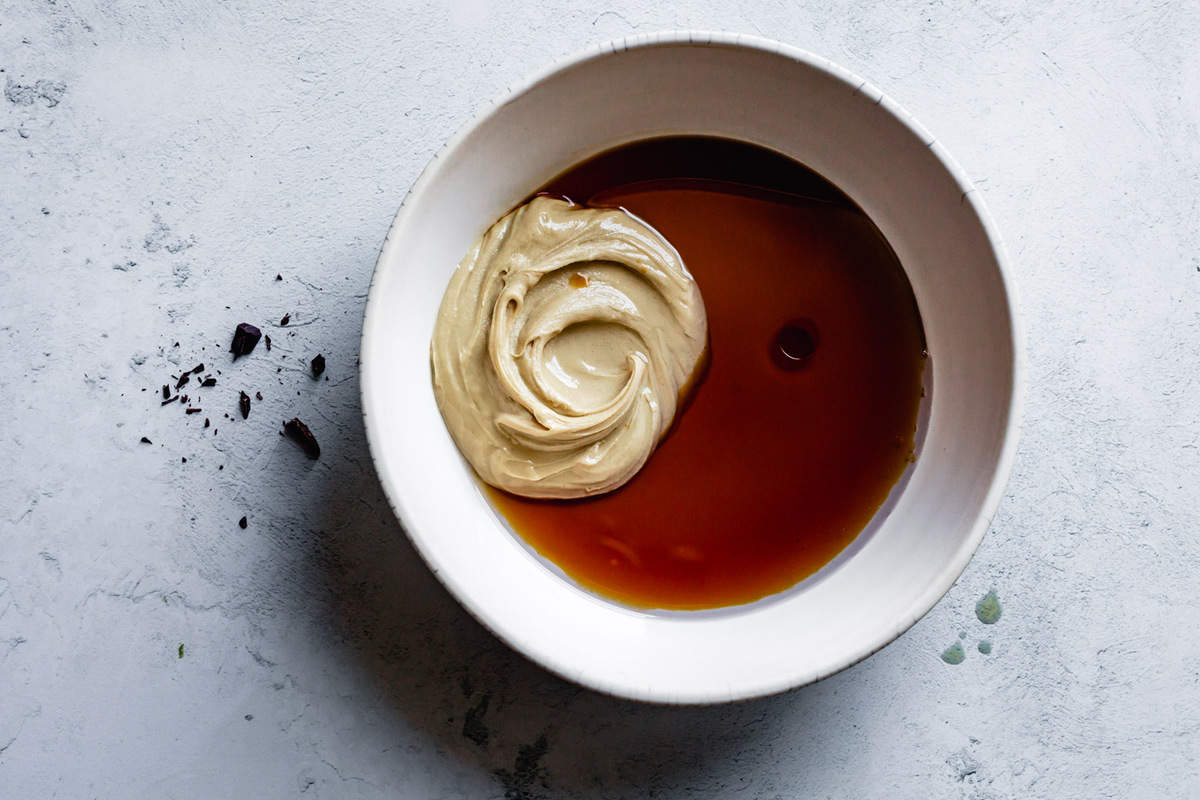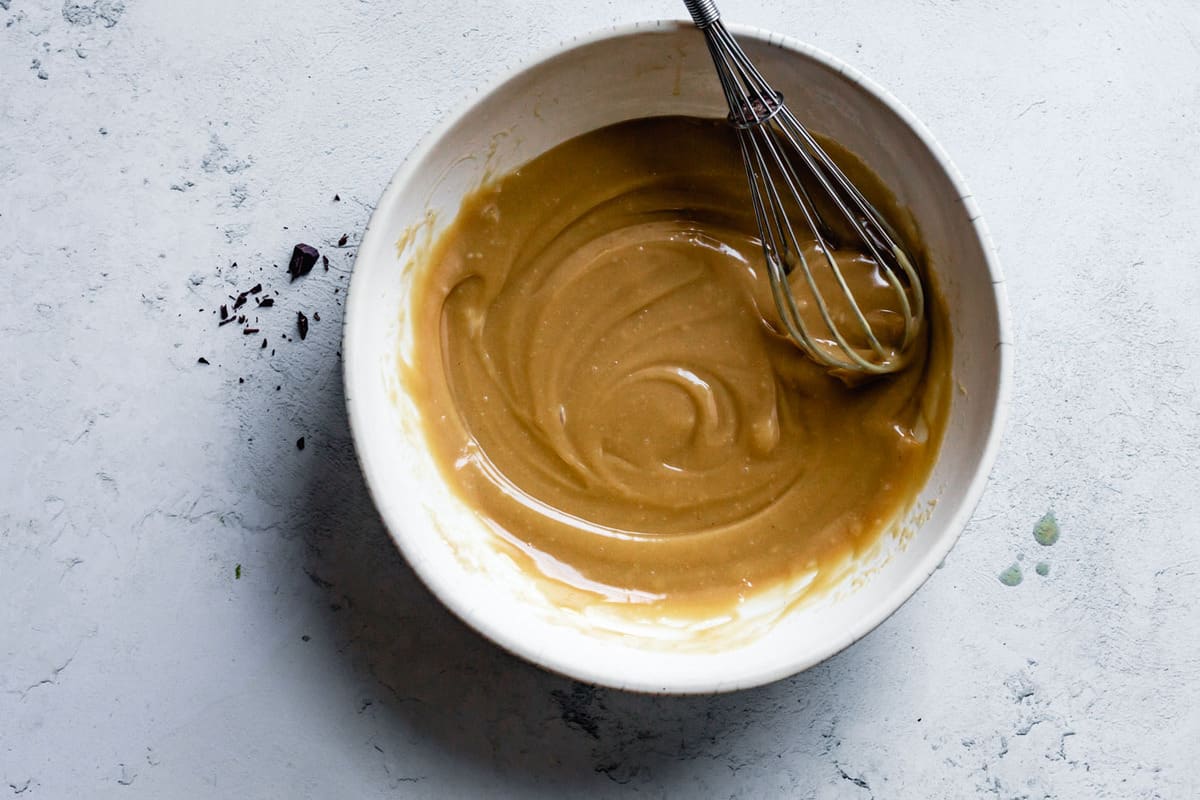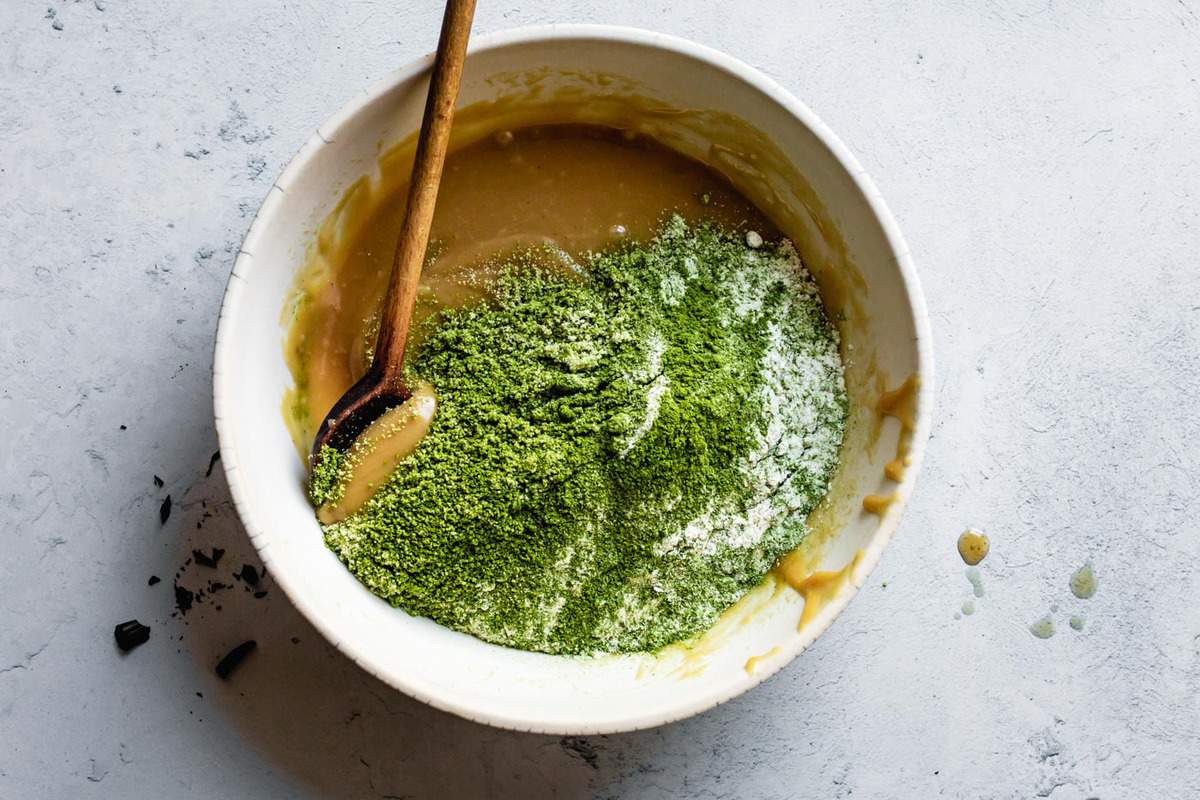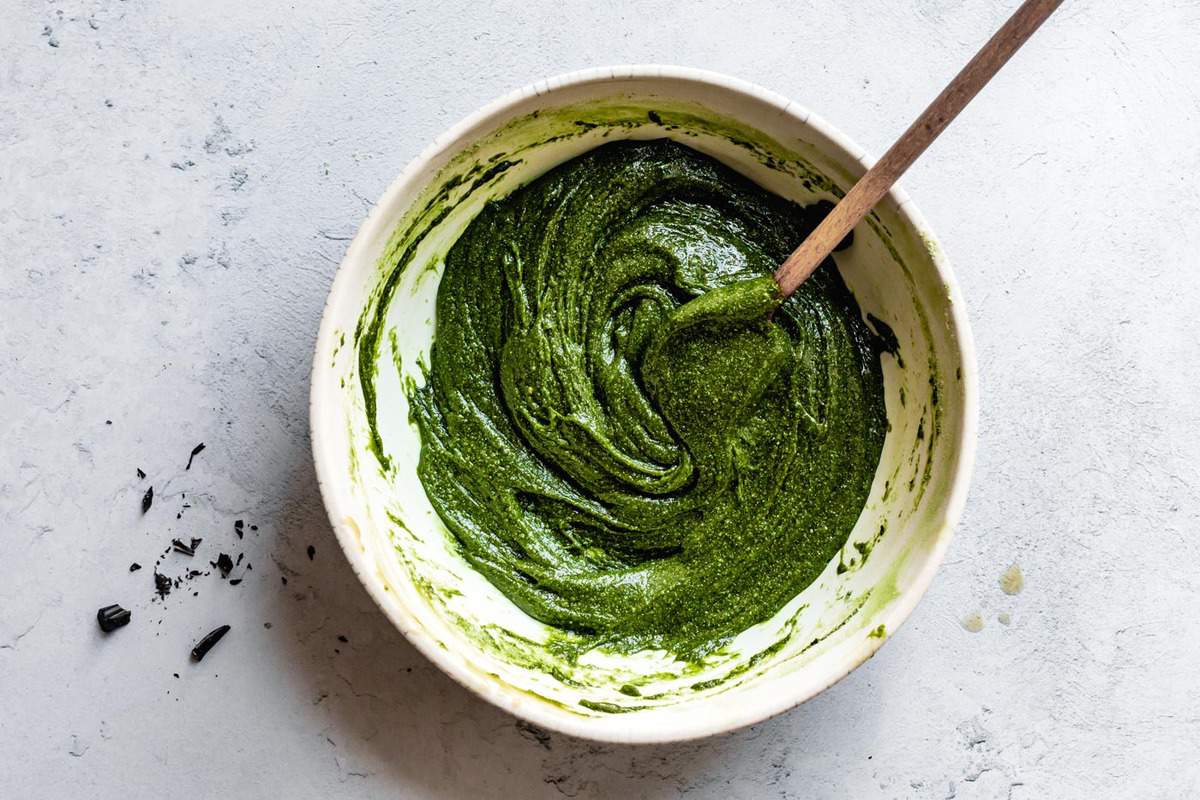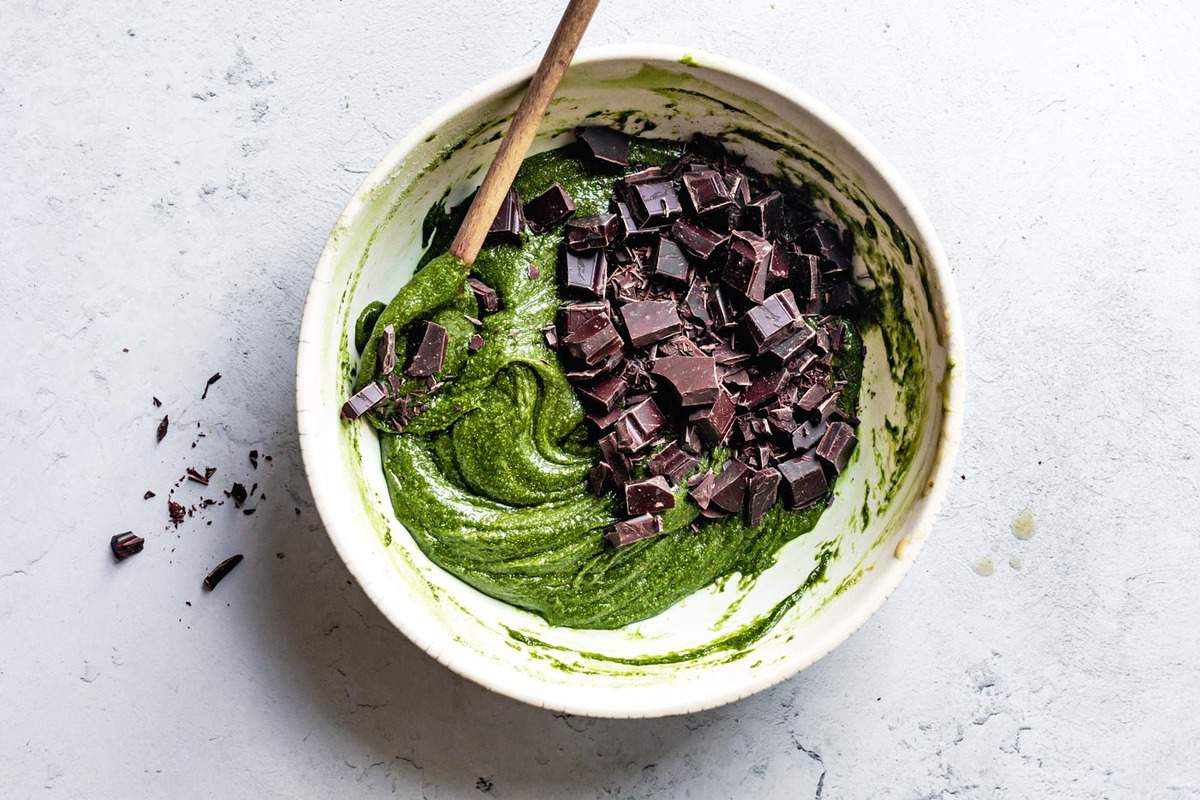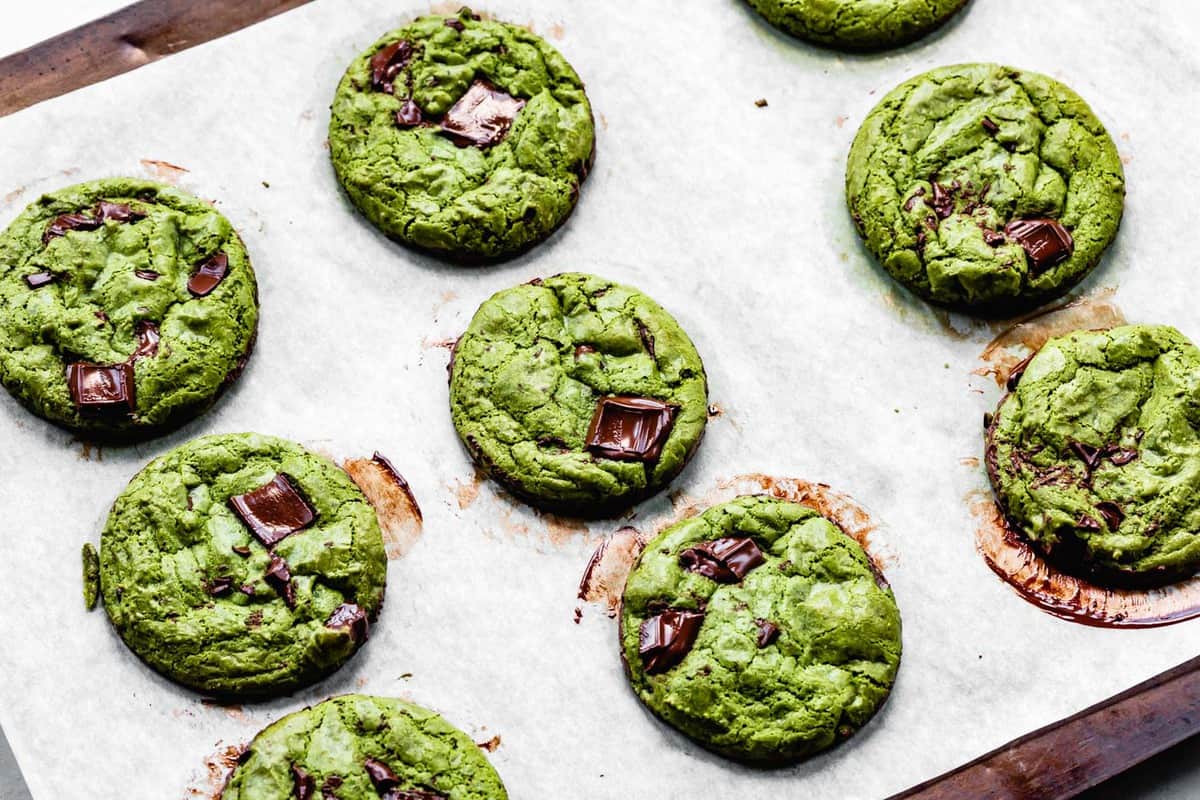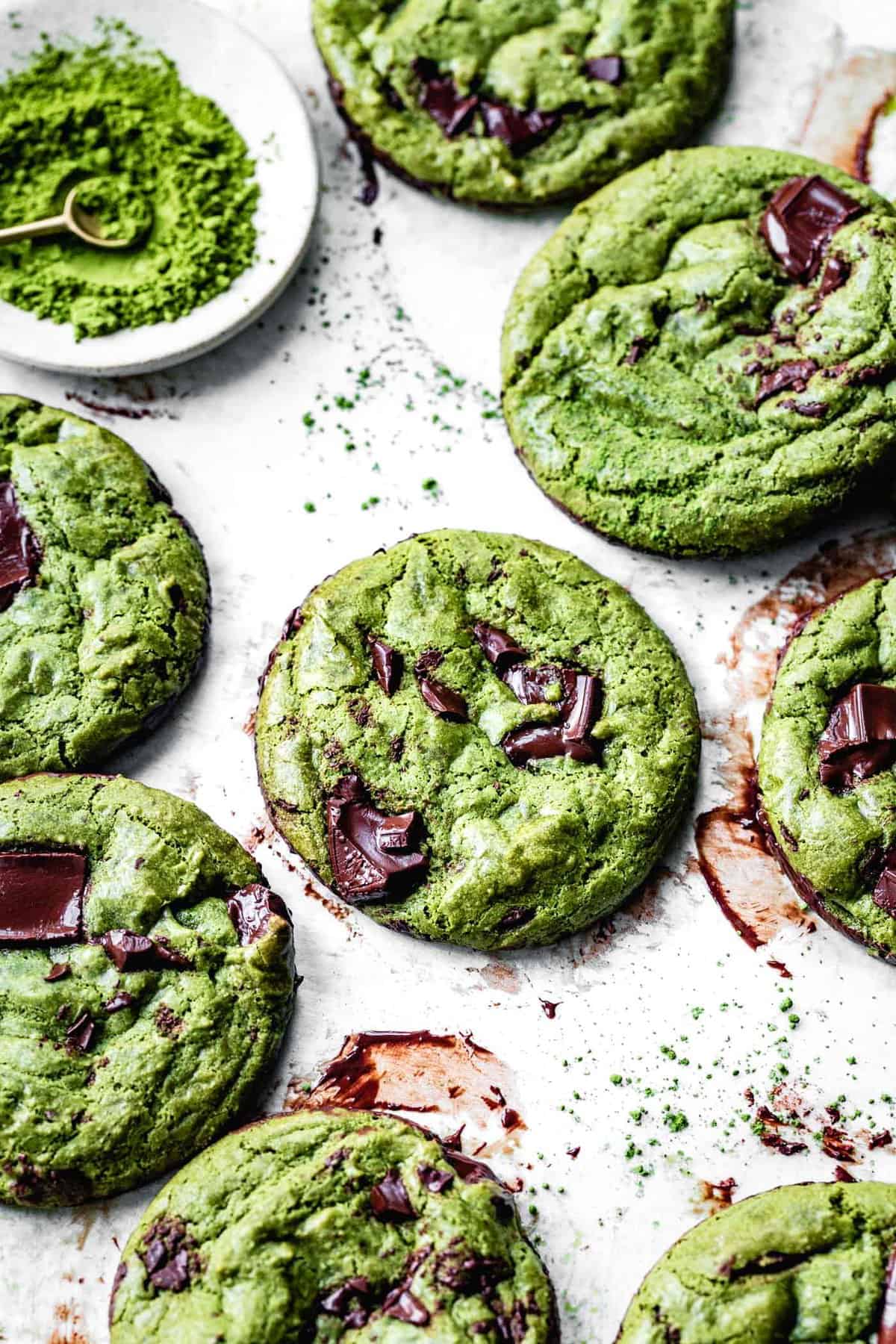 All About Matcha
What is Matcha?
Matcha is a green tea powder ground from specially processed green tea leaves. Matcha is traditionally grown and consumed in East Asia. Tea plants are shaded from the sun for three to four weeks prior to harvest. This causes the plants to produce more chlorophyl and theanine. The chlorophyl is responsible for the bright green hue of matcha, while theanine has a calming effect on the nervous system.
Does matcha have caffeine? How much caffeine does matcha have?
Matcha contains less caffeine per cup than coffee, but it's fairly high in caffeine compared with other types of tea. One teaspoon of matcha powder, which is typically considered to be one serving, contains about 70 milligrams of caffeine. For comparison, one cup of coffee contains about 95 milligrams. A cup of black tea contains about 50 milligrams, and a cup of regular green tea contains about 30 milligrams.
But what sets matcha apart is the presence of theanine, which has a calming effect on the nervous system. Matcha is said to make one feel calm and alert at the same time, without the peak and crash of coffee and black tea. My friends over at Encha call this "Zenergy," which I love!
The bottom line is that if you're sensitive to caffeine like I am, use matcha in moderation and consume it (and matcha chocolate chip cookies) earlier in the day.
What does matcha taste like?
Matcha has a complex flavor profile. It tastes:
grassy
nutty
earthy
fresh
a hint of bitterness and astringency in the finish
This complexity makes matcha pair well with sweets, where it tempers the sweetness of baked goods such as these matcha chocolate chip cookies.
The higher quality the matcha, the more bright and fresh it tastes. Lower quality matcha will be less bright in color, and it will taste more muddy, bitter, and astringent.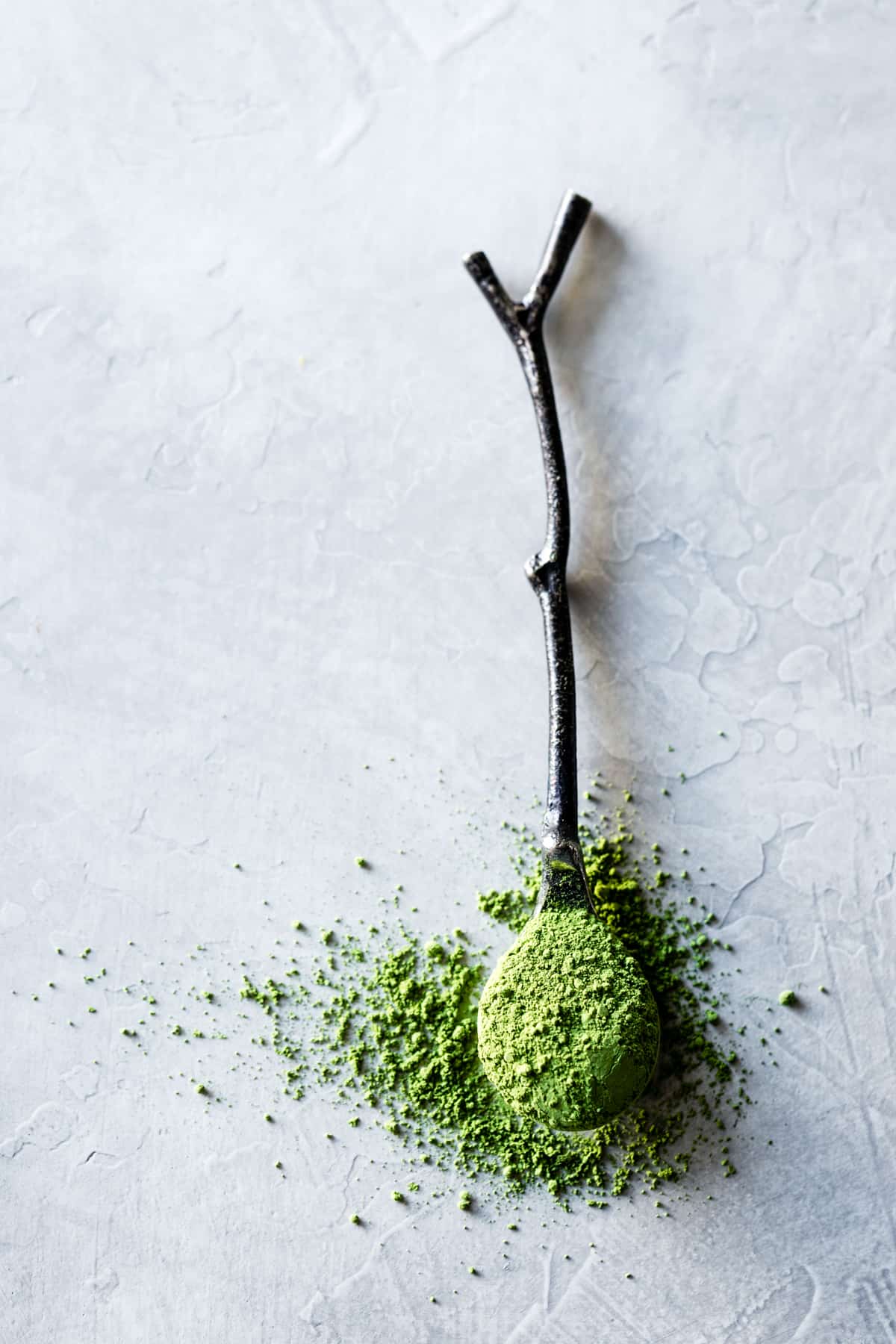 What does matcha pair well with?
I love pairing matcha with:
chocolate
mint
lime
anything creamy (ice cream, milk, puddings, etc.)
black sesame
honey, sugar, and light maple syrup
coconut
cashew and almond
spirits such as bourbon and gin
See below for some of my favorite matcha recipes that use these flavors!
Is matcha good for you?
Matcha is full of catechins which are a powerful class of antioxidant. These have anti-inflammatory compounds said to improve skin health, counteract the effects of aging, and even prevent cancer. Read more about the benefits of matcha here!
Where to buy matcha powder
Matcha is a specialty product and is best ordered online from a favorite source to ensure the freshest quality and proper handling. I love Encha matcha, which comes in three grades: ceremonial (highest grade, for enjoying just with water), latte grade (great for drinks as well as baking) and culinary grade (the most affordable option for baking).
How to store matcha
Matcha is sensitive to light and temperature, so it's best to store it in an opaque airtight container in the refrigerator to keep it fresh and vibrant. It will stay fresh for 6-12 months.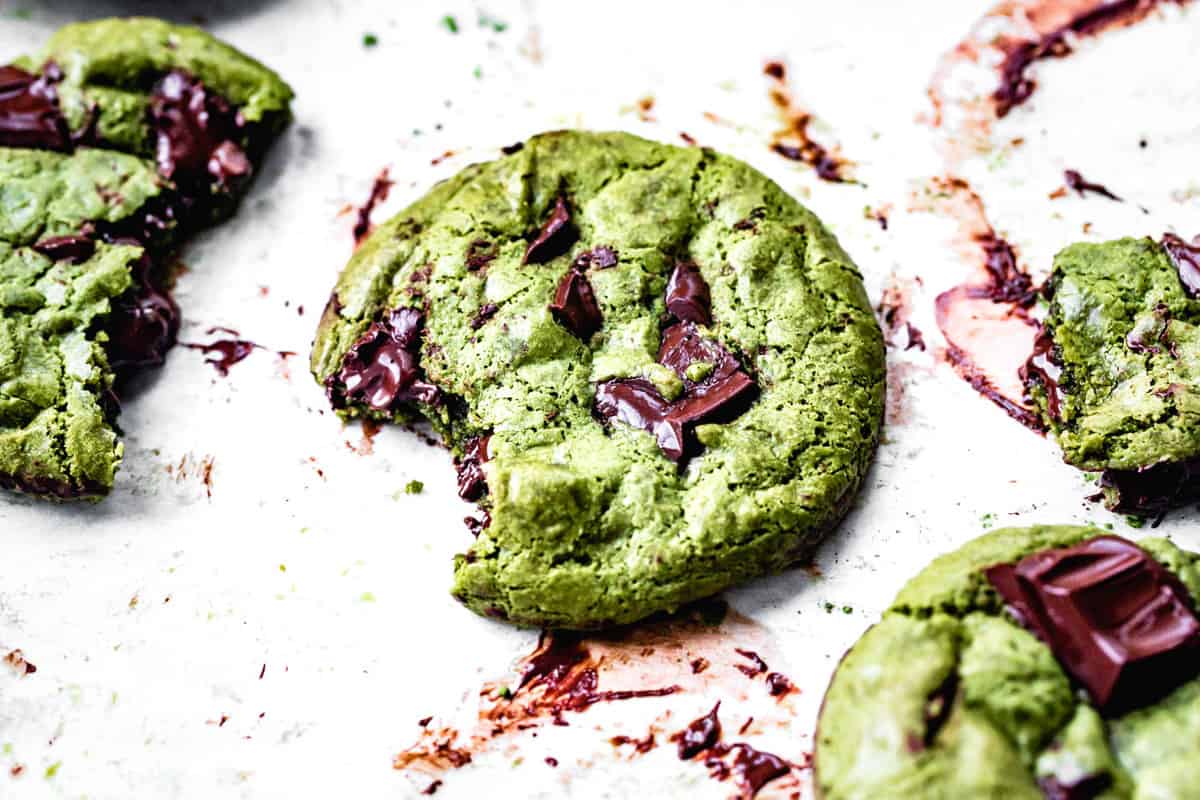 Matcha Cookies for Everyone
Matcha really shines when baked into delicious matcha chocolate chip cookies.
These cookies are:
soft and chewy
grassy-tasting
vibrant in color
not too sweet
very chocolatey
full-flavored
easy to make
kinda healthy (GF, vegan, paleo)
I hope you love them as much as we do!
More Matcha Recipes:
More Healthy Cookie Recipes:
Bojon appétit! For more Bojon Gourmet in your life, follow along on Instagram, Facebook, or Pinterest, purchase my gluten-free cookbook Alternative Baker, or subscribe to receive new posts via email. And if you make these matcha chocolate chip cookies, I'd love to know. Leave a comment and rating below, and tag your Instagram snaps @The_Bojon_Gourmet and #bojongourmet.
Matcha Chocolate Chip Cookies (vegan, GF, paleo)
Print Recipe
Pin Recipe
Chewy gooey matcha chocolate chip cookies made with almond flour and pantry-friendly ingredients. These healthy matcha cookies are vegan, gluten-free, and paleo-friendly. Mix them up in one bowl and have them in and out of the oven in under an hour.
Servings:
9
large or 12 smaller cookies
Ingredients
½

cup

(130 g) room temperature, well-stirred raw cashew butter*

¼

cup

+ 3 tablespoons (130 g) maple syrup (preferably light)

3

tablespoons

(35 g) melted, cooled coconut oil (or ghee if not vegan)

½

teaspoon

vanilla extract

¼

cup

(33 g) cassava flour**

¼

cup

+ 2 tablespoons (40 g) blanched almond flour***

2

tablespoons

(15 g) tapioca flour

1

tablespoon

+ 2 teaspoons (10 g) culinary-grade matcha****

½

teaspoon

baking powder

1/8

teaspoon

baking soda

¼

teaspoon

fine sea salt

4

ounces

(115 g) coarsely chopped bittersweet chocolate, plus extra for the tops (70-75% cacao mass)
Instructions
Position a rack in the upper third of the oven and preheat to 350ºF. Line a rimless cookie sheet with parchment paper for easy cleanup.

In a medium bowl, whisk together the cashew butter, maple syrup, coconut oil, and vanilla until smooth and emulsified.

Place a strainer over the bowl and sift in the cassava and almond flours with the tapioca, matcha, baking powder, baking soda, and sea salt. Stir to combine, then stir vigorously for 10 seconds. This makes the cookies extra soft and chewy. Stir in the chocolate chunks until evenly dispersed.

Scoop 2-inch diameter balls of dough (3 tablespoons or a #24 spring-loaded ice cream scoop) onto the prepared cookie sheet, spaced 2-3 inches apart. Top each cookie with a chunk or two of chocolate.

Bake the cookies on the top rack of the oven until golden and puffed, with the edges beginning to set and the centers soft, 10-14 minutes. Rotate the baking sheet at 8 minutes for even baking.

Remove the cookies from the oven and slide them, parchment and all, onto a cooling rack. Let them cool slightly; they will firm up as they cool.

Enjoy warm from the oven, at room temperature, or let cool completely and store, covered at room temperature, for up to 3 days.
Notes
*I like Artisana raw cashew butter. Sub tahini for nut-free.
**I use Bob's Red Mill. Sub by weight sweet rice flour or all-purpose flour (wheat, GF, or paleo)
***I use Bob's Red Mill. Sub by weight tiger nut flour for nut-free, or try oat flour.
****Such as Encha Culinary-Grade Matcha
White Chocolate Matcha Cookies: Use a good-quality white chocolate in place of the dark chocolate.
Nutrition values are for 1 of 9 cookies.
Nutrition
Calories:
281
kcal
Carbohydrates:
26
g
Protein:
5
g
Fat:
18
g
Saturated Fat:
8
g
Polyunsaturated Fat:
1
g
Monounsaturated Fat:
6
g
Trans Fat:
1
g
Cholesterol:
1
mg
Sodium:
85
mg
Potassium:
209
mg
Fiber:
2
g
Sugar:
15
g
Vitamin A:
90
IU
Vitamin C:
1
mg
Calcium:
53
mg
Iron:
2
mg