With a nutty cocoa crust, creamy chocolate filling, and zippy fresh figs, this chocolate fig tart makes a stunning early fall dessert. Gluten-free, grain-free, vegan, paleo, and refined sugar-free options.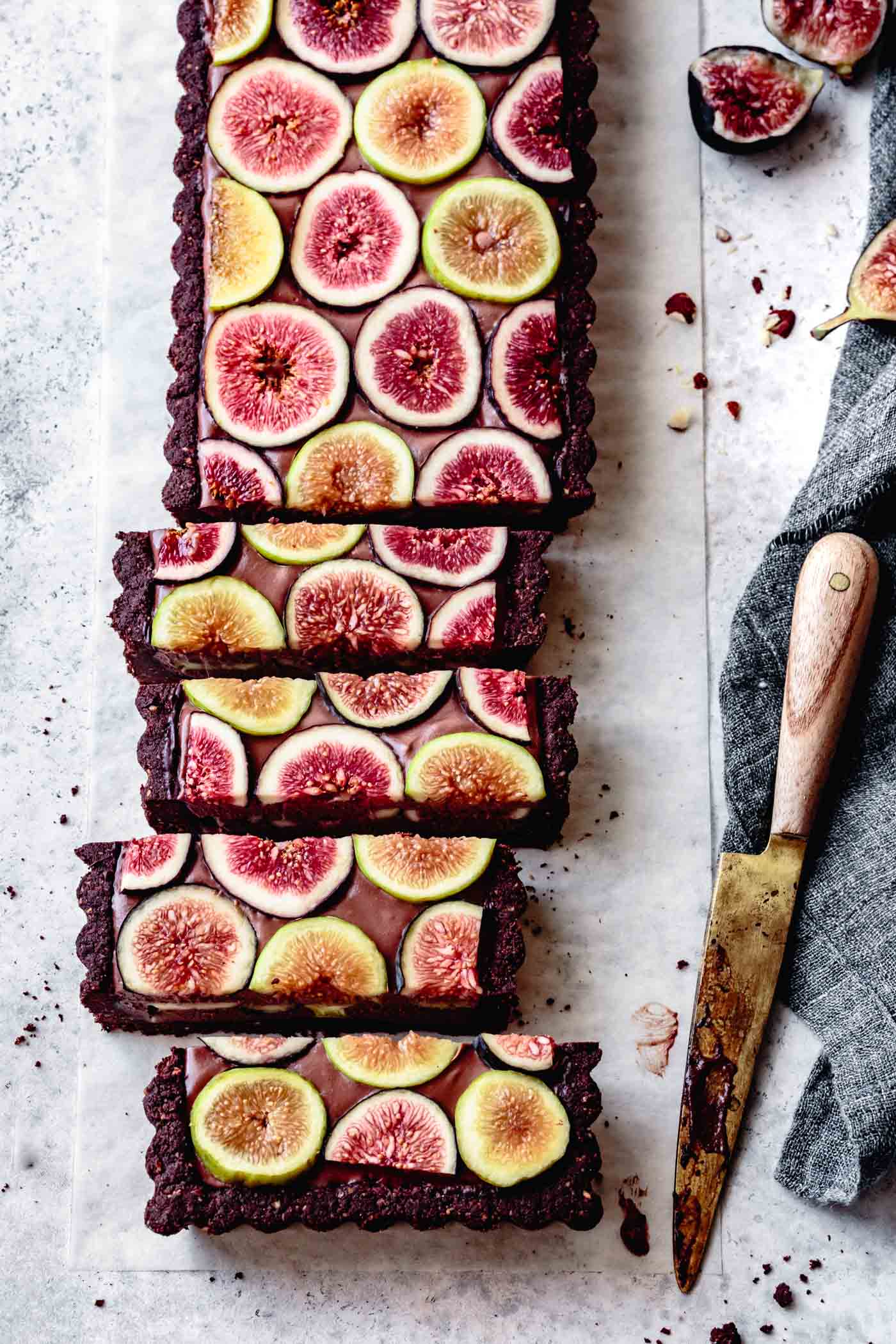 TBG celebrated 11 years of existing on the internet this month! Three years ago, we partied with a vegan fig tart kissed with fresh ginger in a chestnut flour crust. I've been dreaming of a chocolate version ever since. This week my chocolate fig dreams came true and were worth the wait. I'm pleased to share this version with you. So grab up the last of the season's figs and give this grain-free vegan tart a whirl. And if fig season is over where you are, find a bunch of other chocolatey tart recipes linked below and here.
Also I just searched "fig tart" on my site and realized I have three other fig tart recipes already, plus another in my cookbook with whipped yogurt and caramelized figs. I guess I really love figs! I hope you do too.
Chocolate + Figs
These two flavors were made for each other, with the jammy taste of figs playing off bittersweet earthy notes of dark chocolate. This chocolate fig tart starts with an easy press-in crust made with hazelnut (or almond) flour. Next it gets two layers of creamy vegan cashew cocoa cream, all layered with fresh figs. The combination of earthy chocolate, tart-sweet figs, and salty nut crust is downright addictive.
Ingredients:
This tart is all about fresh figs, so use the best you can find. Figs are in season in California in June when trees give their first mini-harvest, and then for a second, longer harvest September-October. Look for figs that are firm-ripe, feel heavy for their size, and burst with sweetness. Figs don't continue to ripen after they're picked, so you want them to be sweet from the get-go. I used a combination of green figs, brown turkey, and black mission figs here, but any variety or combination will work. If figs aren't around, try this with sliced rounds of strawberries, or top with fresh raspberries, blackberries, or pomegranate. Alternatively, omit the fruit altogether and you'll still have a killer paleo vegan chocolate tart.
Soaked raw cashews form the base of the chocolate cream. If you don't have cashews, I think this would work with an equal amount of nut or seed butter substituted by weight and not by volume.
Coconut oil sets the cream into a softly sliceable consistency. Extra-virgin coconut oil also lends tropical floral topnotes to the filling. If you dislike coconut flavor, use refined coconut oil which has no flavor. You could also try palm oil, but you need an oil that's solid at room temperature or the filling won't set properly.
Cacao or cocoa powder add chocolatey richness. I used a raw cacao powder here, but any cocoa powder will work.
Maple syrup adds sweetness and rich flavor, and water adds moisture and helps the filling emulsify.
Ground chia or flax seed adds body to the filling, helping it thicken and set.
Vanilla and salt sharpen the flavors.
A gluten-free (optionally grain-free vegan) cocoa hazelnut crust forms the base. The crust is made from cocoa powder, hazelnut or almond flour, sweet rice / cassava / AP GF flour, maple or granulated sugar, vegan butter, salt, and vanilla. If you prefer this dessert to be completely raw, you can use this no-bake chocolate crust recipe instead. Read more about my favorite gluten-free tart crust, from which this one is adapted, here.
Process & Step-by-Step Photos:
1. Combine the crust ingredients in a food processor or stand mixer. Mix until the butter is incorporated and the dough begins to clump together.
2. Press the crust into a lightly oiled tart pan. Bake the crust, press it down with the back of a spoon, and sprinkle with chocolate. Spread the melted chocolate over the baked crust; this will form a barrier between filling and crust that will keep the crust crisp.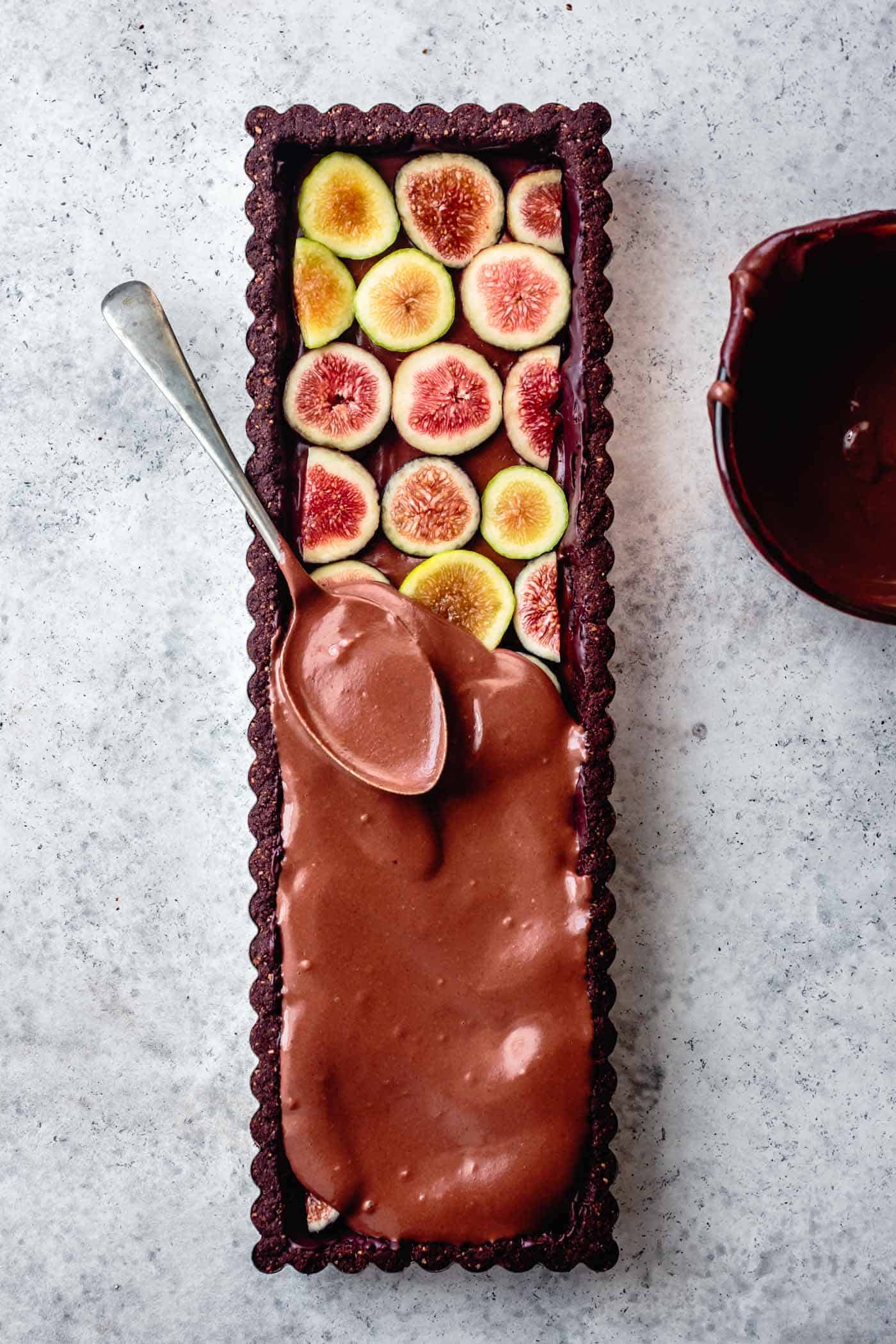 3. Make the chocolate cream filling by blending everything together until very smooth. Layer the crust with some of the chocolate filling, chill until firm, and top with sliced figs. Repeat so that you have 2 layers of both chocolate cream and figs.
4. Chill the tart until firm enough to slice, 2-3 hours. Cut into slices and enjoy!
Chocolate Fig Tart for Everyone:
Stick a fork in this tart and you'll cut through layers of gooey fresh figs, silky chocolate cream, a layer of chocolate, and a crumbly cocoa crust. You'd never guess this rich, decadent tart that looks like it came from a fancy patisserie is actually kind of healthy, and deceptively easy to make.
Serve slices with a dollop of whipped cream or coconut cream if you like, or wash down with sips of plant milk, coffee, or glasses of red wine such as Imagery Pinot Noir.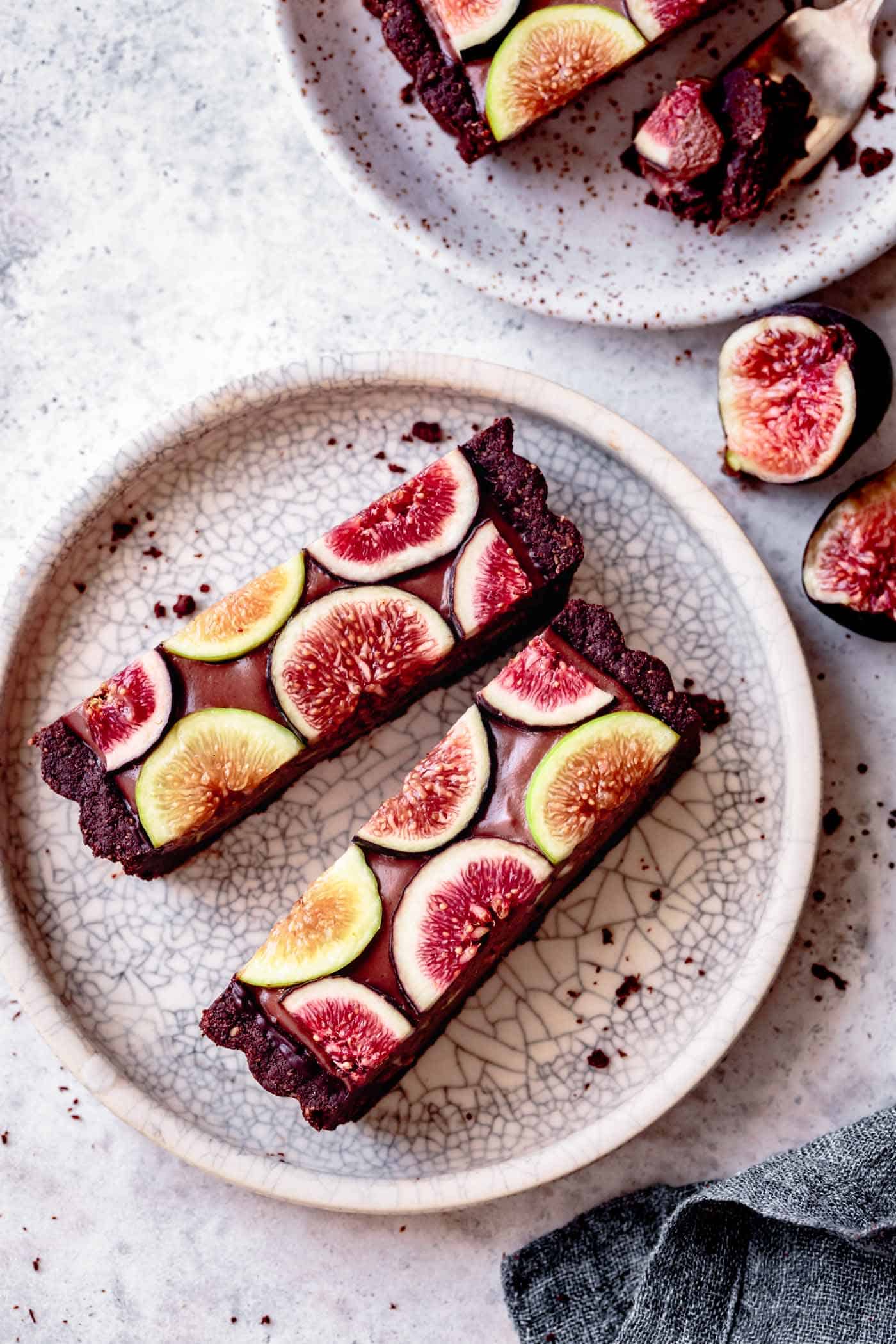 Gettin' Figgy with it:
More Gluten-Free Tart Recipes:
More Paleo Vegan Desserts:
*Bojon appétit! For more Bojon Gourmet in your life, follow along on Instagram, Facebook, or Pinterest, purchase my gluten-free cookbook Alternative Baker, or subscribe to receive new posts via email. And if you make this chocolate fig tart recipe, I'd love to see. Tag your Instagram snaps @The_Bojon_Gourmet and #bojongourmet.*
Vegan Chocolate Fig Tart (grain-free, refined sugar-free, paleo-friendly)
Print Recipe
Pin Recipe
With a nutty cocoa crust, creamy chocolate filling, and zippy fresh figs, this chocolate fig tart makes a stunning early fall dessert. Gluten-free, grain-free, vegan, paleo, and refined sugar-free options.
Ingredients
Crust:
cooking spray, for the pan

1/2

cup

(75 g) cassava, sweet rice, or GF AP flour (such as Bob's Red Mill)

1/2

cup

(60 g) almond or hazelnut flour (such as Bob's Red Mill)

1/2

cup

(45 g) cocoa powder (preferably dutch-process)

2

tablespoons

(12 g) tapioca flour

1/4

cup

(45 g) maple sugar or coconut sugar

1/4

teaspoon

fine sea salt

6

tablespoons

(85 g) cold vegan butter (such as Miyoko's), diced into 1⁄2" cubes

1

teaspoon

vanilla extract

1 ½

ounces

bittersweet chocolate, finely chopped
Filling:
1

cup

(125 g) raw cashews, soaked 2-8 hours in cool water

¾

cup

(175 ml) water

½

cup

(45 g) raw cacao or cocoa powder

½

cup

(120 ml) maple syrup

2

tablespoons

(12 g) finely ground chia or flax seed (I grind whole seeds in a coffee grinder)

1

teaspoon

vanilla extract

1/4

teaspoon

fine sea salt

½

cup

(120 ml) melted coconut oil (extra-virgin)

~ 1 pound figs (2 dozen medium), trimmed and sliced scant ¼-inch thick
Instructions
Crust:
Position a rack in the center of the oven and preheat to 350ºF. Spray a loose-bottom 13x5 rectangular (or 9-inch round) tart pan lightly with cooking spray and set aside.

In the bowl of a food processor (or stand mixer fitted with the paddle attachment), combine the cassava and hazelnut or almond flour with the cocoa powder, tapioca starch, sugar, and salt. Scatter the butter pieces over the top and drizzle with the vanilla extract. Process (or run the mixer to medium-low) until the dough comes together in clumps and the butter is worked through, about 1 minute (or 3–5 minutes if using the stand mixer). It will seem as though the dough won't come together, but don't worry – it will!

Dump about half of the crumbs into the prepared pan and press evenly into the sides of the pan. Add the remaining crumbs and press evenly into the bottom keeping the edges square. It usually takes me about 10 minutes to make it look pretty.

Place the pan on a rimmed baking sheet to catch any drips and bake until slightly puffed and firm to the touch, 20-25 minutes. Remove the crust from the oven and, while it's still hot, press the sides and bottom with the back of a spoon. This will help it hold together when cool. While the crust is still hot, scatter the chocolate in the bottom and let sit a few moments to melt. Use the back of a spoon or an offset spatula to spread the chocolate over the bottom and sides of the crust. Let cool completely.
Filling:
In the bowl of a blender (preferably high-speed) or food processor, combine the soaked and drained cashews, water, cocoa powder, maple syrup, ground chia seed, vanilla, and salt.

Blend until very smooth, starting on low and gradually increasing to high, about 2 or 3 minutes in a high-speed blender and longer if needed.

Add the melted coconut oil and blend briefly until smooth.

Spread a little less than half of the chocolate cream into the bottom of the cooled tart shell. Chill the tart to firm the cream enough to support the figs, about 20 minutes. Top with a layer of fig slices, halving some to fit snugly (see photos in post).

Spread as much of the remaining cashew cream as will fit over the figs (you may have up to 1 cup left over to chill and eat like pudding!). Chill the tart again to firm the cream enough to support the figs, 20 minutes or so. Top with a final layer of figs. Chill the tart until firm enough to slice, at least 2 and up to 8 hours.

If the figs look dry, brush with a little maple syrup or honey diluted with boiling water. Use a large, sharp chef's knife dipped in hot water and wiped clean between each cut to slice the tart. The tart is best the day of baking when the crust is crisp, but extras will keep for up to 3 days refrigerated airtight.
Notes
No figs? No problem. Make this tart with sliced strawberries instead, or top with fresh raspberries, blackberries, or pomegranate arils. Or leave the fruit off and top the tart with whipped coconut cream.
Make-ahead: The crust can be made in advance and stored at room temperature for a day, refrigerated for up to a few days, or frozen for up to 1 month. You can also wrap and chill or freeze the unbaked tart crust if you prefer. The filling is best made right before assembling, otherwise it will solidify if chilled.
See the post above for more substitution suggestions!
Nutrition facts are for 1 of 10 servings.
Nutrition
Calories:
395
kcal
Carbohydrates:
36
g
Protein:
6
g
Fat:
28
g
Saturated Fat:
14
g
Cholesterol:
1
mg
Sodium:
178
mg
Potassium:
303
mg
Fiber:
5
g
Sugar:
18
g
Vitamin A:
321
IU
Vitamin C:
1
mg
Calcium:
77
mg
Iron:
3
mg