With a buttery shortbread crust, creamy pumpkin pudding, and billows of whipped cream, this gluten free pumpkin cream pie is sure to be a win at any holiday gathering.
Updated to include a vegan gluten free pumpkin pie option!
Fall has always been my favorite season and I look forward to chilly temperatures and (hopefully) rain in this dry state of California in the coming months. I'm getting my fall vibes from this gluten free pumpkin cream pie, which is cold enough to eat on a warm day, but filled with the cozy flavors of roasted squash, fresh ginger, cinnamon, nutmeg, and brown sugar.
This gluten free pumpkin cream pie is adapted from one of my own recipes, a favorite tart from a few years back. I wanted to see if it would work in a pie pan rather than a tart pan, so I planned to give it some fresh photos. I ended up making a few other tweaks along the way, testing the recipe 5 times to get it just right.
Press-in gluten-free cookie crust
My original crust used just oats, nuts, brown sugar, salt, and a little cornstarch and butter to hold the crust together. This worked well in a tart pan, but the crumbly mixture proved more finicky to remove from a pie tin. This crust was a precursor to my now favorite gluten free tart crust, which gets sweet rice flour and tapioca starch to help it hold together. I added in those sticky ingredients and changed up the ratios, all of which made for a sturdier crust that holds together better.
The crust comes together in minutes with the help of a food processor, and there's no chilling or rolling. Just press the streusel-like crumbs into a buttered pan, freeze and bake. The hot, baked crust needs to be pressed down with the back of a spoon to help it hold together when cut. It tastes like delicate pecan shortbread cookies, with the flavors of butter, oats, and brown sugar adding earthy flavor.
If you prefer, you could absolutely use a GF graham cracker crust or gingersnap crust here made with store bought cookies. Or try my homemade gluten free graham crackers or the mesquite flour gingersnaps from Alternative Baker!
Pumpkin Pudding Filling
The baked cookie-like crust of this gluten free pumpkin cream pie gets filled with a stovetop pumpkin pudding, a riff on my favorite pumpkin pudding recipe. You just need a single saucepan and a whisk to make it.
Whisk together the ingredients, cook it until it boils for 2 minutes, then strain and pour it into the baked crust. The filling is foolproof, and you don't have to worry about overbaking the filling or having it crack or bubble in the oven. It's also egg-free – the cornstarch does all the thickening work – so the flavors come through in a bright, clean way.
I use fresh ginger for brightness, plus some ground cinnamon, nutmeg, and allspice. You can omit all the spices and use my golden pumpkin spice mix instead if you like.
After a few hours of chilling, the pudding will be softly sliceable, more smooth and creamy than a traditional baked pumpkin pie.
Vegan Pumpkin Pie Option
I recently tested a vegan version of this gluten-free pumpkin pie and it worked beautifully. Just swap in vegan butter, whipped coconut cream, and plant milk + coconut milk for the pudding filling. See the note below the recipe for the vegan version!
Pumpkin puree: canned vs. homemade
I tested this pumpkin cream pie with both organic canned pumpkin puree and homemade butternut squash puree and vastly preferred the butternut version, shown here. Butternut puree is thicker, brighter, and it has a more clean, pure taste that really makes a difference. So if you have the time, make some squash puree ahead of time – up to a week in advance if you store it in the fridge, or up to several months if you freeze it.
But if canned pumpkin is what you've got, don't worry – the pie will still be divine.
The finishing touch
Top your pumpkin cream pie with billows of whipped cream and decorate it with chopped nuts, grated nutmeg, and a drizzle of maple syrup if you like. The crust stays crisp for about 2 days in the fridge, so you can feel free to make this the day before you plan to serve it. I've given more do-ahead options in the recipe notes below.
Stick a fork in a piece of this pie and you're met with delicate buttery crust against creamy pudding bursting with spice, whipped cream rounding out the flavors. If there are any pumpkin pie haters in your life, shove a piece of this pie into their mouths and dare them to say they don't like it.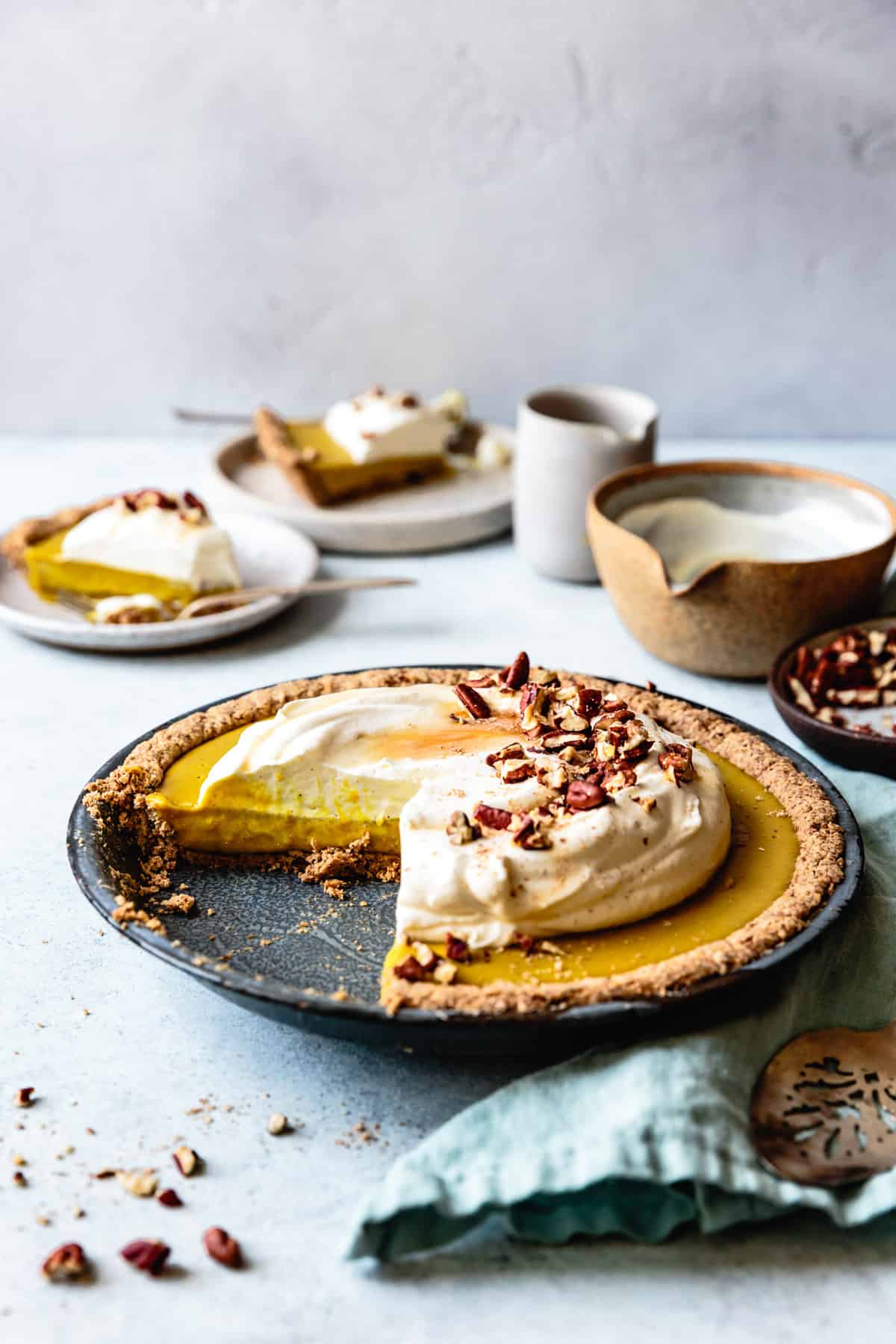 *Bojon appétit! For more Bojon Gourmet in your life, follow along on Instagram, Facebook, or Pinterest, purchase my gluten-free cookbook Alternative Baker, or subscribe to receive new posts via email. And if you make this gluten-free pumpkin cream pie, I'd love to see. Tag your Instagram snaps @The_Bojon_Gourmet and #bojongourmet.*
Gluten Free Pumpkin Cream Pie (vegan option)
Print Recipe
Pin Recipe
With a buttery shortbread crust, creamy pumpkin pudding, and billows of whipped cream, this gluten free pumpkin cream pie is sure to be a win at any holiday gathering. See note below for a vegan option! You can omit all of the spices and use 1 3/4 teaspoons of my DIY pumpkin pie spice instead.
Servings:
10
servings, makes 9-inch pie
Ingredients
Crust:
4

tablespoons

(60 g) cold, unsalted butter, in 1⁄2-inch cubes, plus a little for buttering the pan

½

cup

(60 g) raw pecan halves

½

cup

(50 g) GF old fashioned rolled oats (such as Bob's Red Mill) (or use ½ cup / 45 g GF oat flour)

1/2

cup

(80 g) sweet white rice flour (such as Koda Farms Mochiko)

2

tablespoons

(13 g) tapioca flour

1/4

cup

(50 g) light brown sugar

1/4

teaspoon

plus 1⁄8 teaspoon fine sea salt

1

teaspoon

vanilla extract
Whipped Cream:
1

cup

cold heavy whipping cream (ultra-pasteurized works best, such as Organic Valley)

1-2

teaspoons

granulated sugar or maple syrup (to taste)

1/2

teaspoon

vanilla paste or extract

freshly grated nutmeg, toasted pecans, and maple syrup, for garnish
Instructions
Make the crust:
Position a rack in the center of the oven and preheat to 350ºF. Butter a 9-inch pie pan (preferably metal) or use a 9-inch loose-bottom tart pan.

In the bowl of a food processor, combine the pecans, oats, and sweet rice flour with the tapioca starch, brown sugar and salt. Process until the pecans are finely ground, 30-60 seconds; the mixture will begin to clump together slightly. Scatter the butter pieces over the top and drizzle with the vanilla extract. Process until the mixture comes together in large, streusel-like clumps and the butter is incorporated, 20-30 seconds or so, pulsing near the end so that the mixture doesn't get overworked. If the mixture fails to come together, add a teaspoon or two more butter until it does.

Dump about half of the crumbs into the buttered pie pan and press the dough evenly into the sides of the pan. Add the remaining crumbs and press them evenly into the bottom of the pan, keeping the edges square. (It usually takes me about 5 minutes to make it look pretty.) Freeze the crust until firm, 15–30 minutes (or refrigerate if using a glass pie pan).

Place the pie crust on a rimmed baking sheet and bake until puffed and golden, 18-25 minutes. Remove the crust from the oven and, while it's still hot, press the sides and bottom firmly with the back of a spoon; this will help it hold together when cool. Set aside while you make the filling.
Make the filling:
In a large saucepan, whisk together the brown sugar, cornstarch, cinnamon, nutmeg, turmeric, allspice, and salt until combined. Whisk in the milk, cream, pumpkin puree, vanilla, and ginger.

Place the pot over medium heat and gradually bring to a boil, whisking constantly and making sure to scrape the bottom and corners of the pans with the whisk. Occasionally switch to a flexible heatproof silicone spatula and scrape the corners of the pan well. If the mixture starts to look curdled, don't worry – it's just the acidic ingredients (brown sugar and ginger) going to work on the proteins in the dairy. Whisk like mad and the pudding will come back together, no problem.

Once the mixture comes to a boil, continue cooking and whisking for 2 minutes (set a timer). You'll have to stop whisking for a few seconds to verify that the pudding is boiling, which you'll know by the big, slow bubbles that pop gloopily. Remove from the heat and whisk in the butter. The pudding should be the consistency of creamy yogurt.

Strain the hot pudding through a mesh strainer and into a large bowl or measuring pitcher, working the pudding through with the spatula. Pour the pudding into the baked crust and refrigerate the pie until very firm, at least 3 hours and up to 1 day. You can cover the pudding with a piece of plastic wrap pressed directly onto the pudding if you like; personally this grosses me out, so I just chill it uncovered.
Whip the cream:
Combine the cream, sugar or maple, and vanilla in the bowl of stand mixer fitted with the whip attachment (or use a large bowl and an electric beater or balloon whisk). Whip the cream on high speed until it just holds firm peaks. If you accidentally overwhip the cream and it starts to curdle, you can fold a big splash of cream into it until it smooths out again. We want the cream firm enough to hold its shape over the pie. Spread the whipped cream over the chilled pie. Optionally chill for 30 minutes to firm the cream or up to several hours.

Just before serving, decorate the pie with pecans and a drizzle of maple syrup if you like. Slice into wedges and serve. A small offset spatula is a great tool for getting slices of pie out of the pan. The pie is best within the first 2 days of baking but extra pie will keep, covered and refrigerated, for up to 4 days.
Notes
Dairy: Ultra-pasteurized milk and cream will make the smoothest custard and cream that doesn't weep; I prefer Organic Valley brand.
How to make squash puree: I vastly prefer the taste of homemade winter squash puree here rather than canned pumpkin puree. To make your own, halve a medium-sized butternut squash and leave the seeds in for now (they're easier to remove after baking). Place the squash cut-side down on a lightly oiled, rimmed baking sheet and roast at 400ºF until very tender, 30-45 minutes. Let cool, remove and discard the seeds and skin, and puree smooth in a food processor. You'll have enough for 2 or 3 pies. The puree can be frozen for up to 6 months.
Make ahead: The crust can be wrapped well and frozen, baked or unbaked, for up to several weeks. The pie can be assembled and refrigerated 1 day ahead. The whipped cream can be made up to 1 day ahead; store it separately in a container and rewhip if needed before garnishing the pie. Just before serving, sprinkle with the pecans, nutmeg, and maple, if using.
Vegan option: Use vegan butter in the crust and filling (I like Miyoko's); decrease the salt by half if using salted butter. For the filling, omit the milk and cream, using 1 cup plant milk (such as fresh almond milk) and 1 cup well-shaken full-fat coconut milk. Top the pie with whipped coconut cream or your favorite non-dairy whipped topping.
Nutritional values are based on one of ten servings.
Nutrition
Calories:
373
kcal
Carbohydrates:
35
g
Protein:
4
g
Fat:
25
g
Saturated Fat:
14
g
Cholesterol:
71
mg
Sodium:
153
mg
Potassium:
176
mg
Fiber:
2
g
Sugar:
19
g
Vitamin A:
3655
IU
Vitamin C:
0.9
mg
Calcium:
91
mg
Iron:
0.7
mg