Take your roasted delicata squash to the next level with brown butter, crunchy pomegranate arils, toasted pistachios, and zippy pomegranate molasses. Make this festive gluten-free & vegetarian side dish for holiday feasts or any day of the week.
This dish is part of my gluten-free vegetarian holiday menu this year. Get all the recipes here!
Delicata Squash = The Best Winter Squash
As much as I love eating winter squash of all stripes – butternut, kabocha, kuri, acorn, and spaghetti – I hate peeling squash. It always makes my hands feel weird. At first I thought it was just me, but apparently it's a thing. Does this happen to you?
For this reason, delicata has become my favorite winter squash variety because you don't need to peel them. Their skins cook until tender enough to enjoy. These little babes just need to be cut in half, seeded, and sliced, then roasted until soft.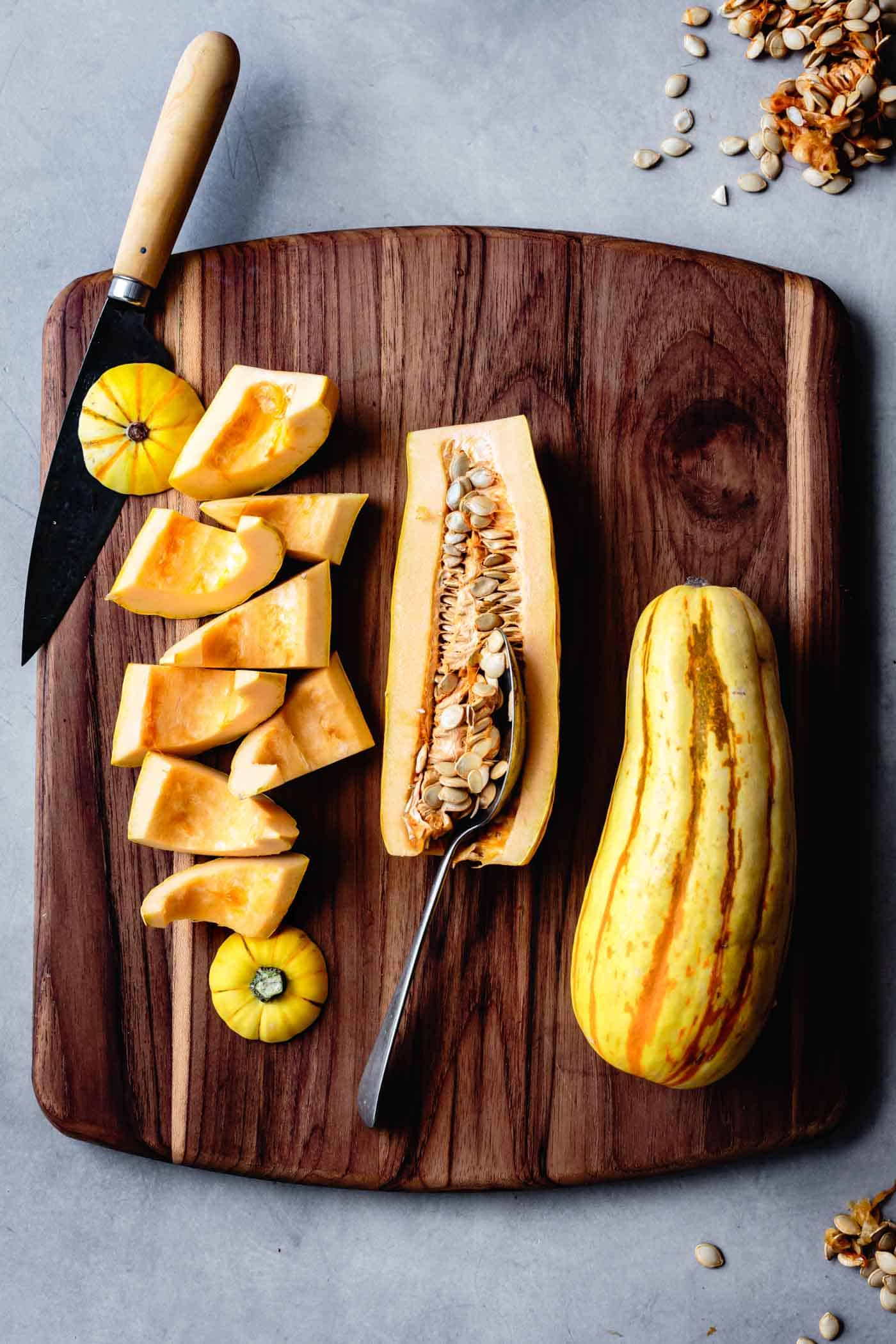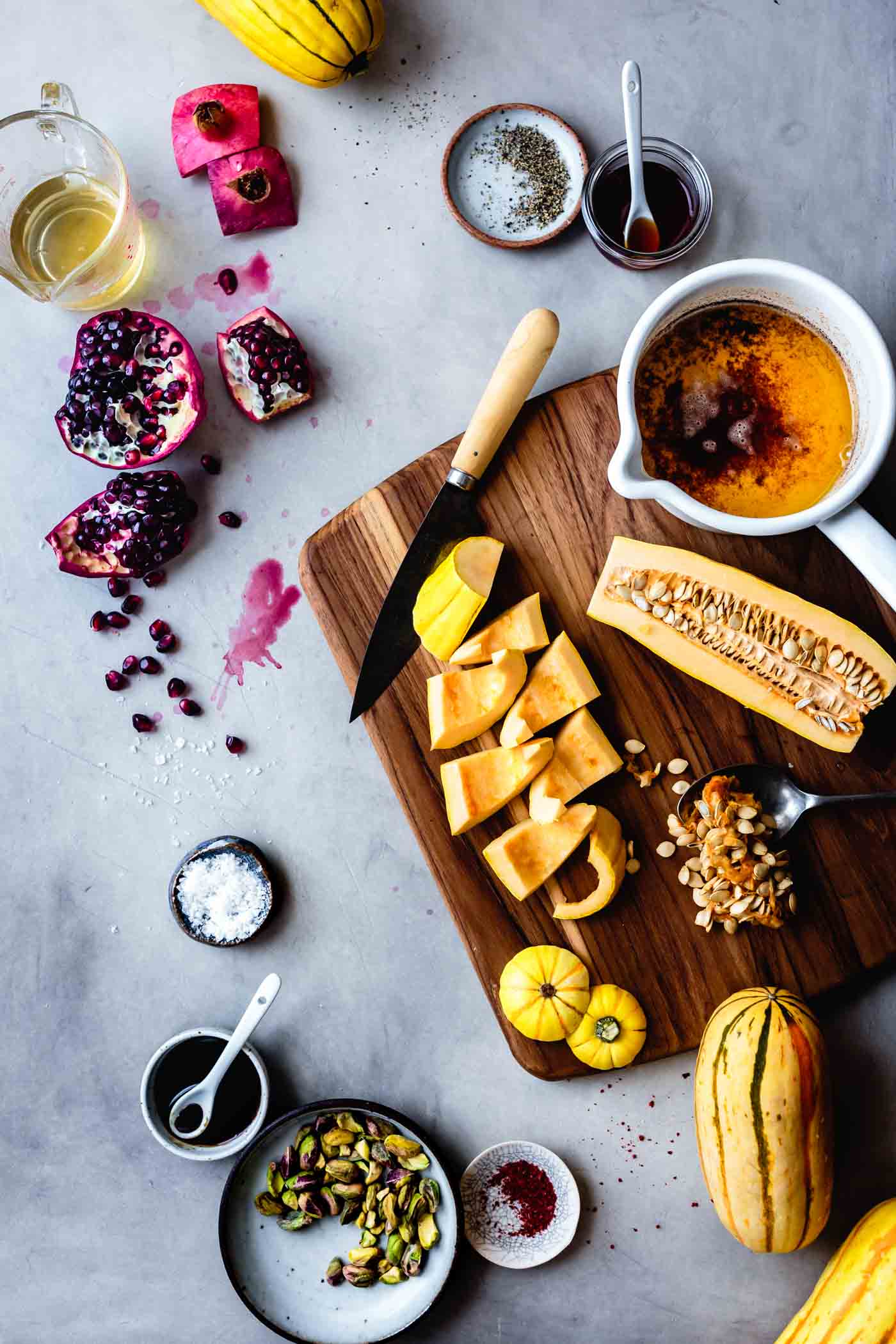 Roasted Delicata Squash + Brown Butter
I tasted the most divine contorno (aka side dish) of roasted delicata squash at Delfina in San Francisco. I immediately asked a friend who used to be a chef there if he knew the recipe. He rattled it off, as chefs do: toss it in brown butter, add salt, pepper, a pinch of pepper flakes, and roast it.
I shared a version of this brown butter roasted delicata squash last winter, served atop creamy risotto with wilted radicchio and fried sage leaves. It's one of my favorite dishes I've ever made.
For my vegetarian gluten-free holiday feast this year, I decided to add a festive twist to the same base. Pomegranate arils and pistachios add pops of color, a drizzle of sweet-tart pomegranate molasses adds zip, and a sprinkle of aleppo pepper adds a roasty flavor with soft spice.
Ingredients for Roasted Delicata Squash & Substitutions
Look for delicata squash that feel heavy for their size. You can also make this dish with other winter squash such as butternut, red kuri, kabocha, or honey nut.
Cooking butter until golden and caramelized brings out notes of butterscotch and hazelnut that make this dish completely addictive. Be sure to use a high quality butter with high fat content. I used Vermont Creamery cultured butter. Read about how to brown butter here. For a vegan version, use a dairy-free butter such as Miyoko's and cook it just until melted.
A touch of maple syrup brings out the natural sweetness in the roasted delicata squash.
Aleppo pepper is commonly used in Middle Eastern and Mediterranean cuisines. It has a mellow heat and warm, toasty flavor. But you can use any chili you prefer, a pinch of cayenne or red pepper flakes, or leave off the heat entirely.
Pomegranate molasses is made by reducing pomegranate juice with sugar until thick, sweet, and super tangy. You can find it with other Middle Eastern ingredients at well-stocked grocery stores, or make your own! Or try Just Pom syrup, made locally in San Francisco and free of refined sugar. If you don't have any on hand, top the dish with balsamic reduction of a splash of balsamic vinegar instead.
Toasted pistachios add crunch and a pop of color. You could also use toasted pumpkin seeds or hazelnuts, or any nut you prefer.
How to Roast Delicata Squash
First, prepare the delicata squash by cutting them in half lengthwise and scooping out the strings and seeds. You can either discard the seeds, or save them and make toasted delicata squash seeds – I'm eyeing this recipe. Next cut your squash into half moons or wedges and place in a baking dish.
Brown some butter (see detailed instructions here) and pour it over the squash. Add vegetable broth, maple syrup, salt, Aleppo pepper and black pepper and toss to coat.
Cover the pan. I just put a baking sheet on top of the pan, but foil also works. Bake the squash for 30 minutes. This steams the squash and makes it super tender. Now remove the cover and continue roasting until the squash is lightly caramelized.
Festive Garnishes for Roasted Delicata Squash
Top the roasted squash with a handful of pomegranate arils, pistachios, and a drizzle of pomegranate molasses for a pretty and delicious holiday side dish. I think this would also be lovely served with labneh or Greek yogurt.
Alternatively, take this dish in a more traditional direction. Top it with chopped dried cranberries, toasted pecans, and a little balsamic reduction. Add fried sage leaves if you're feeling fancy.
However you finish this roasted delicata squash recipe, you can revel in the joy of eating super tender squash with skins that you didn't have to peel.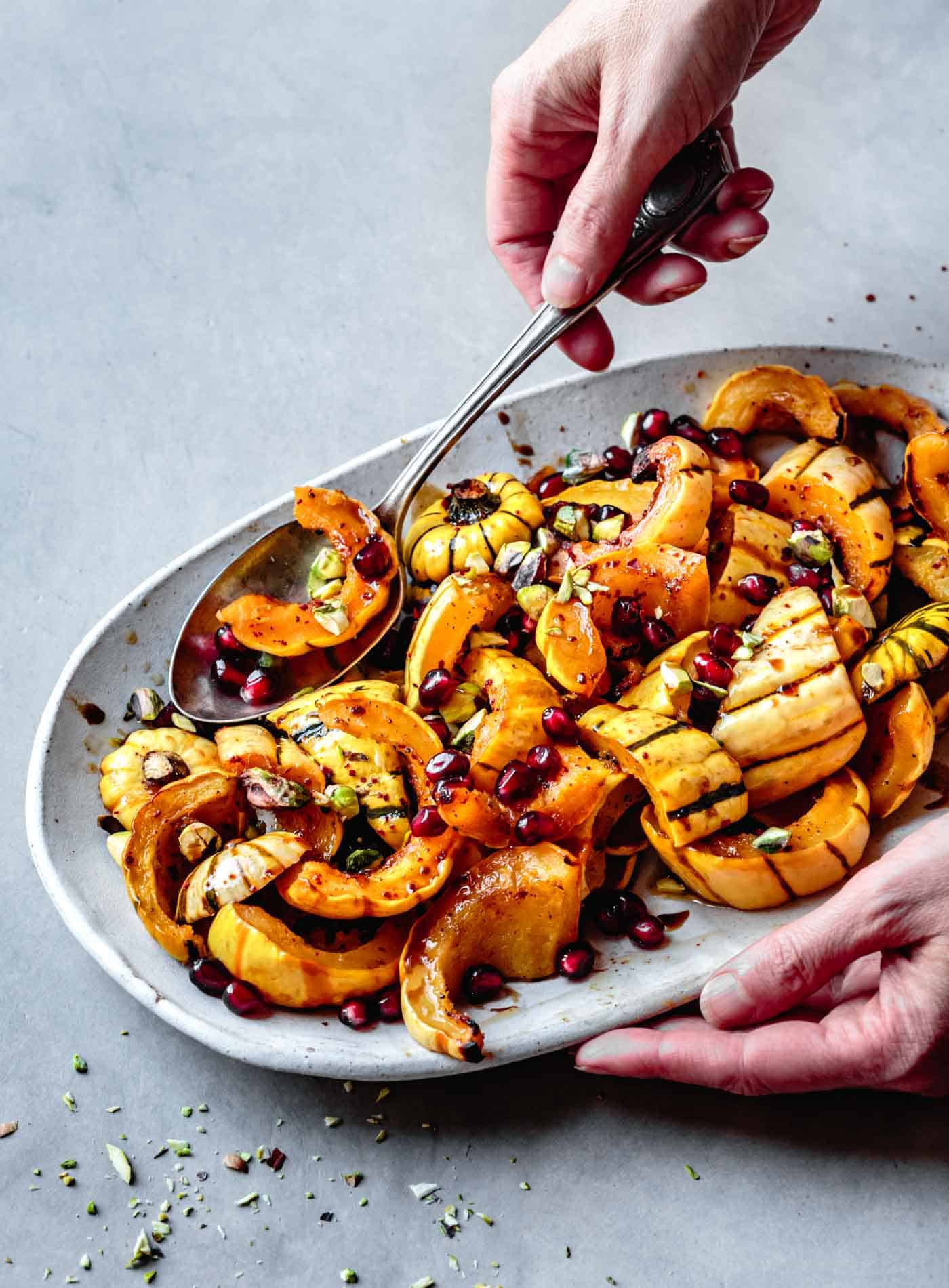 Make it a gluten-free vegetarian feast:
*Bojon appétit! For more Bojon Gourmet in your life, follow along on Instagram, Facebook, or Pinterest, purchase my gluten-free cookbook Alternative Baker, or subscribe to receive new posts via email. And if you make this roasted delicata squash recipe, I'd love to see. Tag your Instagram snaps @The_Bojon_Gourmet and #bojongourmet.*
Roasted Delicata Squash with Brown Butter, Pomegranate, and Pistachios
Print Recipe
Pin Recipe
Infusing delicata squash with brown butter gives it a deep, caramelized flavor reminiscent of dessert. I took this recipe to the exotic side by topping it with tangy-sweet pomegranate molasses, pomegranate arils, and pistachios. But this recipe can go in lots of different directions. For a more traditional flavor profile, use cranberries and pecans and top with fried crumbled sage leaves and balsamic reduction. Or add minced rosemary to the squash before roasting.

Servings:
6
side servings
Ingredients
6

tablespoons

(85 g) unsalted butter

4

medium delicata squash (2 ½ - 3 pounds), cut in half, seeds removed, then cut into wedges or half moons

2

tablespoons

(30 ml) maple syrup

¼

cup

(60 ml) vegetable stock or water

¼

teaspoon

Aleppo pepper or a big pinch cayenne

¾

teaspoon

fine sea salt

freshly ground black pepper

¼

cup

pistachios (30 g), or pumpkin seeds, pecans, or hazelnuts, toasted and coarsely chopped

½

cup

pomegranate arils (from half a large pomegranate) or a handful of chopped dried cranberries

about 1 tablespoon (15 ml) pomegranate molasses or balsamic reduction, for drizzling
Instructions
Position a rack in the center of the oven and preheat to 425ºF.

Simmer the butter in a medium saucepan over medium heat until golden and fragrant, 3-5 minutes. Remove from the heat.

Place prepared delicata squash in a 9x13-inch baking dish, toss with brown butter, maple syrup, vegetable stock, Aleppo pepper, salt, and black pepper.

Cover and roast for 30 minutes (I just place a baking sheet over the baking dish to cover it loosely, but foil also works). After 30 minutes, uncover the pan and cook until the squash is golden and tender, 30-45 more minutes. Taste, adding more salt if you feel the dish needs it.

When ready to serve, transfer the squash to a serving platter. Top with the pistachios, pomegranate, any remaining brown butter, a few pinches of Aleppo pepper if using, and a good drizzle of pomegranate molasses.
Nutrition
Calories:
257
kcal
Carbohydrates:
36
g
Protein:
4
g
Fat:
13
g
Saturated Fat:
8
g
Cholesterol:
30
mg
Sodium:
346
mg
Potassium:
1126
mg
Fiber:
5
g
Sugar:
14
g
Vitamin A:
4534
IU
Vitamin C:
39
mg
Calcium:
95
mg
Iron:
2
mg