Though I generally don't get excited about holidays, Thanksgiving is one exception…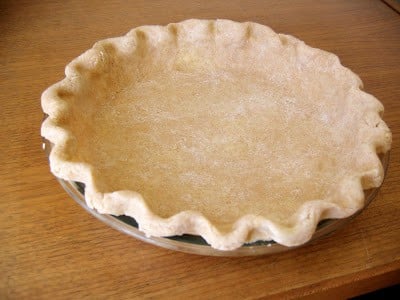 …because I get to bake PIES. LOTS OF PIES. Thanksgiving is the only day of the year that I am not considered a total freak show when I bake FIVE PIES in one day. That's something to give thanks for.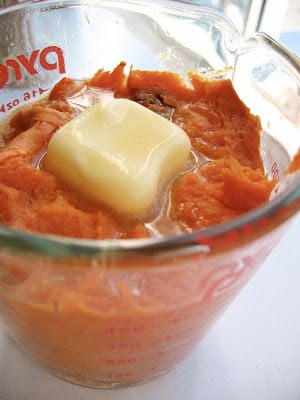 I won't lie to you: baking five pies is no piece of, um, cake to begin with, but things get even more complicated with my family. There's my raw-foodist mother. My gluten-intolerant sister. My niece with the dairy allergy (when she feels like it). And my half-sister's mom's partner can't have sugar.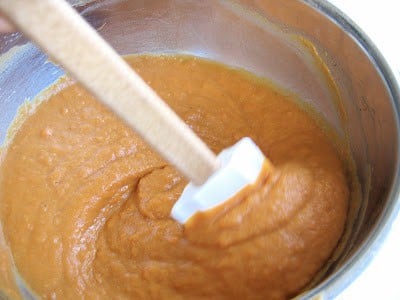 So one year, trying to please everyone, I made an (almost) raw pumpkin pie à la Cafe Gratitude (I drew the line at raw pumpkin, though),with a date-pecan crust and nut-milk based filling sweetened with agave. But my cousin complained because she's allergic to… dates.
Despite the abundance of gastronomical particularities, however, I know that each and every picky family member will 'cheat' and at least 'taste' a bit of everything.
For all of you 'dead-food'-eating, butter-loving, sugar-crazed bakers out there who indulge in just about everything (or are willing to cheat) here is a no-holds-barred pie that is now one of my faves.
And, if you're not a raw-foodist or allergic to dairy, sugar or gluten, it's actually not too unhealthy. The filling is comprised of sweet potato, eggs and milk, sweetened judiciously with white and brown sugars. (Pay no attention to the whisky behind the curtain.) I use whole spelt flour in the crust because I am a dirty hippy. Just kidding! I use it because not only is it full of healthy things, it is low in gluten and thereby creates and tender and lovely crust. Also, I used an all-butter, sourdough pate brisee for the crust, but Martha's pate brisee (from whence I adapted it) is a perfect substitute, lacking sourdough starter. (If you want some, though, and you're willing to come and get it, I'm happy share.)
Perhaps because I have never been to the South, the only sweet potato pie I've ever had that I didn't make was at a jazz festival in LA many years ago. Now I make Cook's recipe at least once a year, and it has become one of mine and Jay's very favorite desserts.
Or sometimes breakfasts. Hey, I said it was healthy-ish.
Anyway, this time I wanted to mix things up. In the article preceding the recipe, Cook's mentions testing a hybrid pecan-sweet potato pie, which they describe as being well-loved but 'unwieldy.' Inspired by a pumpkin-pecan-praline pie in an issue of Cook's Country, I decided to combine the two. The pecan topping complimented the smooth custard so perfectly that I can't imagine ever going back.
What I appreciate so much about Cook's sweet potato pie is that it really tastes like sweet potato. Unlike traditional molasses- and spice-heavy pies (or so I've heard… from Cook's), here judicious amounts of nutmeg, bourbon, vanilla, and butter enhance, rather than mask, its natural flavor (though the larger amount of bourbon does give it a lovely boozy taste). I did make a few tweaks to the original recipe in that I deleted the additional egg yolks (only because I already have too many pesky whites), and decreased the sweetener, adding brown sugar to the mix for its molasses flavor. I don't know whether it was just my imagination, but the filling looked and tasted brighter than ever before. The crunchy-gooey topping takes this pie over the top, and a dollop of maple-sweetened whipped cream makes an ideal foil.
Another direction to go would be to use coconut milk and dark rum in the pie, and grated panela, palm sugar or muscovado in place of the brown sugar in the topping.In fact, it would be quite reminiscent of the rum-laced mashed sweet potatoes my mom tops with pecans every year for Thanksgiving.
Despite being a raw foodist.
Cheater.
Sweet as:
Apple-Huckleberry Pie
Creamy Pumpkin Pie
Maple Bourbon Pecan Pie
One year ago:
Mac and Cheese with Winter Squash, Bacon and Sage
Pecan-Topped Sweet Potato Pie
Use orange-fleshed sweet potatoes for this pie, such as garnet or jewel.If you lack sourdough starter, use theFlakiest, All-Butter Pie Doughinstead.
The most efficient order in which to make this pie is as follows:
1) Make the pie dough. Chill. (The dough, that is.)
2) Roast the sweet taters.
3) Roll out the dough, fit it into the pan, chill for 1/2 hour, freeze 20 minutes.
4) Par-bake crust.
5) While crust bakes, make the pie filling. Pour into the hot crust and
6) Bake the pie.
7) While the pie bakes, make the pecan topping.
8) Sprinkle topping on pie, bake.
9) Cool 2 hours.
Sourdough Pate Brisee:
1/2 cup all-purpose flour
1/2 cup whole wheat or whole spelt flour (or use all AP)
1/2 teaspoon salt
1 1/2 teaspoons sugar
4 ounces (1 stick, 1/2 cup) very cold unsalted butter, in 1/2″ dice
about 4 ounces (about 1/2 cup) liquid sourdough starter
Sweet Potato Filling:
Adapted from Baking Illustrated
2 pounds sweet potatoes (3-4 medium) (or 2 cups cooked and mashed sweet potatoes)
3 tablespoons unsalted butter
3 eggs
1/2 cup brown sugar (light or dark)
1/4 cup granulated sugar
1/2 teaspoon freshly grated nutmeg
1/4 teaspoon salt
2 – 3 tablespoons bourbon (optional)
1 teaspoon vanilla extract
2/3 cup whole milk
Maple Pecan Topping:
Adapted fromCook's Country
1 cup pecans
1/4 cup brown sugar (light or dark)
2 tablespoons maple syrup
1/8 teaspoon sea salt
a few pinches flaky salt, such as Maldon
Maple Whipped Cream (for serving, optional):
1 cup heavy cream
1 – 2 tablespoons maple syrup
1/2 teaspoon vanilla extract
For the crust:
In a large bowl, combine the flours, salt and sugar. Add the butter and rub with your fingertips until the mixture looks like gravel, with some butter worked in and some 1/4″ chunks remaining. Gradually add the starter, folding the mixture with a spoon or your hands until it just starts to come together into large clumps, with no floury bits remaining. Gather the dough into a ball, flatten into an 8″ disc, wrap in plastic and chill at least 30 minutes. (The dough will keep, refrigerated, for several days, or tuck into a ziploc bag and freeze for up to a couple of months.)
On a lightly floured surface, roll out the dough into a 12″ round, flouring the top of the dough and the rolling pin as needed. Fit the dough into a 9″ pie pan, trim the edge to a 1″ overhang, and tuck it under. Flute the crust. Chill in the fridge for 30 minutes, then freeze for 20 minutes.
Meanwhile, position a rack in the bottom third of the oven and preheat to 400º. If you have a baking stone, set it on the rack.
Place the frozen crust on a rimmed baking sheet, place a round of parchment paper inside the crust, and line with pie weights (or dried beans or cleaned pennies – I keep mine in a cheesecloth bag for easy handling.)
Bake the crust until the bottom looks dry and light in color underneath the parchment, 20 – 30 minutes. Carefully remove the weights and continue baking the crust until light golden brown on the bottom, 5 more minutes.
For the filling:
Prick the potatoes several times with a fork. Place on a small sheet pan lined with parchment paper and roast in the oven at 400º until collapsing and oozing juices, 40 minutes to 1 hour. (They should be quite tender when squeezed with a pair of tongs.) Let cool until handleable, then peel and scoop out two cups of flesh. Add the butter to the warm flesh and mash smooth with a fork (some fibers and lumps are ok.) Set aside.
Reduce the oven temperature to 350º.
In a medium bowl, whisk together the eggs, sugars, nutmeg and salt until smooth. Whisk in the bourbon, vanilla and milk, then whisk the egg mixture into the sweet potato mixture until combined.
Pour the filling into the warm, par-baked crust (this will reduce the baking time and ensure a crisp bottom crust). Place on a baking sheet to catch any drips, and place the baking sheet in the oven, on the baking stone if using. Bake until the filling is puffed and beginning to crack around the edges and the pie wobbles like jello when shaken (but not in a wet, jiggly way), about 45 minutes.
Pecan Topping:
Spread the pecans on a small baking sheet and toast in the oven until fragrant and crisp, 12 minutes. Let cool until handleable, then use your fingers to break them into small pieces (this results in more regular pieces and less 'dust' than chopping). Combine the pecans in a medium bowl with the sugar, maple syrup and sea salt.
When the pie has finished baking, remove it from the oven and sprinkle the pecan mixture evenly over the top. Sprinkle with the pinches of flaky salt. Return to the oven and bake for 10 or 15 more minutes.
Let the pie cool at least 2 hours, then slice and serve. (For cleaner slices, chill the pie before cutting.)The pie keeps well in the fridge for up to several days, though the crust will be crispest on the day it is baked.
Maple Whipped Cream:
Whip the cream either in a bowl with a whisk or in a stand mixer fitted with the whip, until it holds soft peaks. Add the maple syrup to taste and the vanilla extract.