The secret to the best homemade pumpkin puree? Butternut squash! It's more sweet and dense than sugar pumpkins and tastes more bright and fresh than canned.
It takes just a few minutes of active time to make and you can use it in your favorite pumpkin recipes, from gluten-free pumpkin pie to creamy pumpkin pudding to super moist gluten-free pumpkin bread!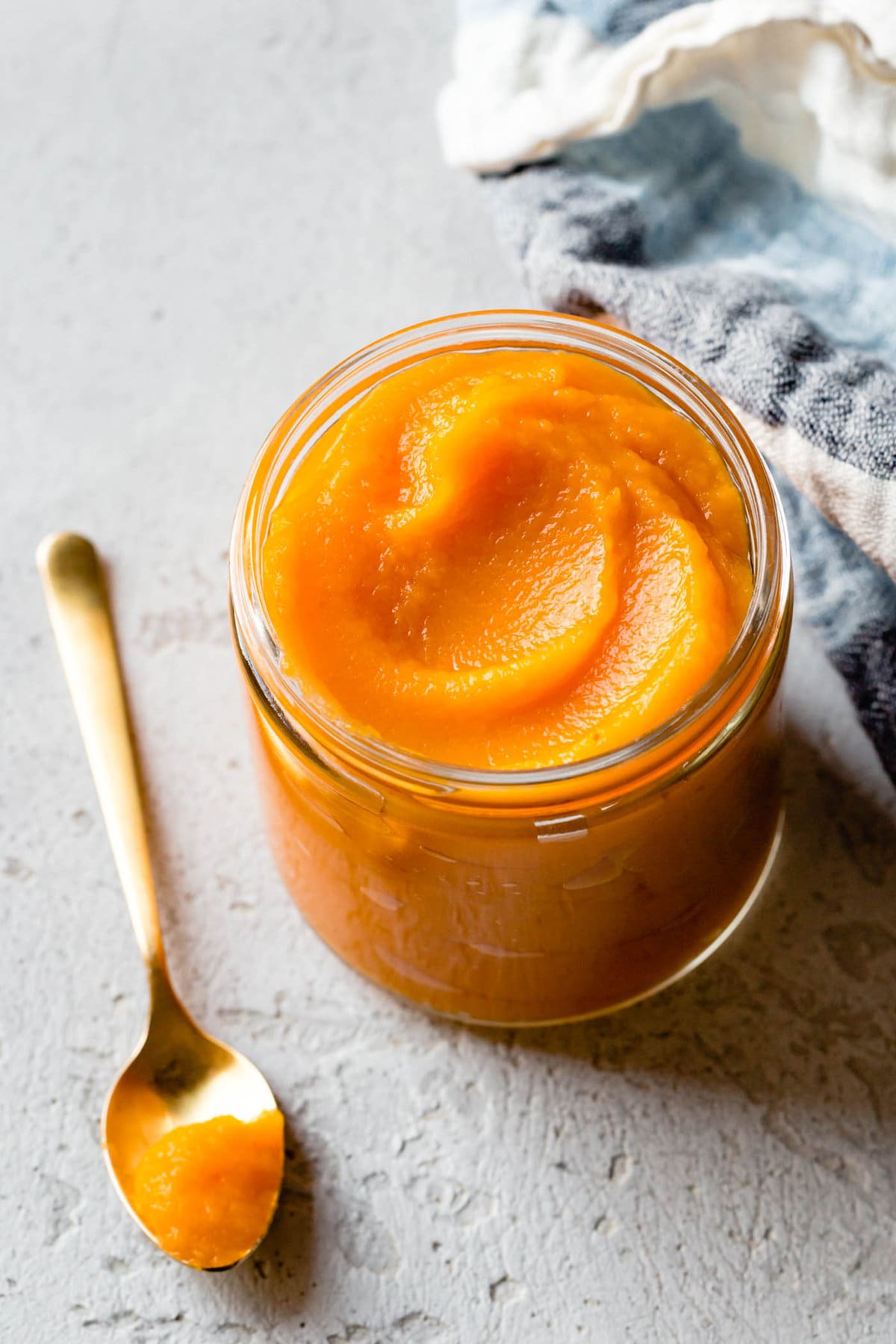 I have a theory: I don't think pumpkin dessert haters hate pumpkin desserts. What's not to love about velvety squash paired with warm spices, rich dairy, and a kiss of sweetness?
I think what pumpkin dessert haters *actually* dislike is the flavor of canned pumpkin. And I have the perfect antidote: homemade roasted squash puree.
Homemade squash puree tastes much more fresh and bright than something that's been hanging around on the shelf for a year plus. The canned stuff is fine baked into pumpkin muffins, pumpkin bread, or pumpkin granola where there are enough other ingredients to soften the flavor.
But when it comes to something like pumpkin pudding or a custardy pumpkin pie, homemade squash puree wins, hands down.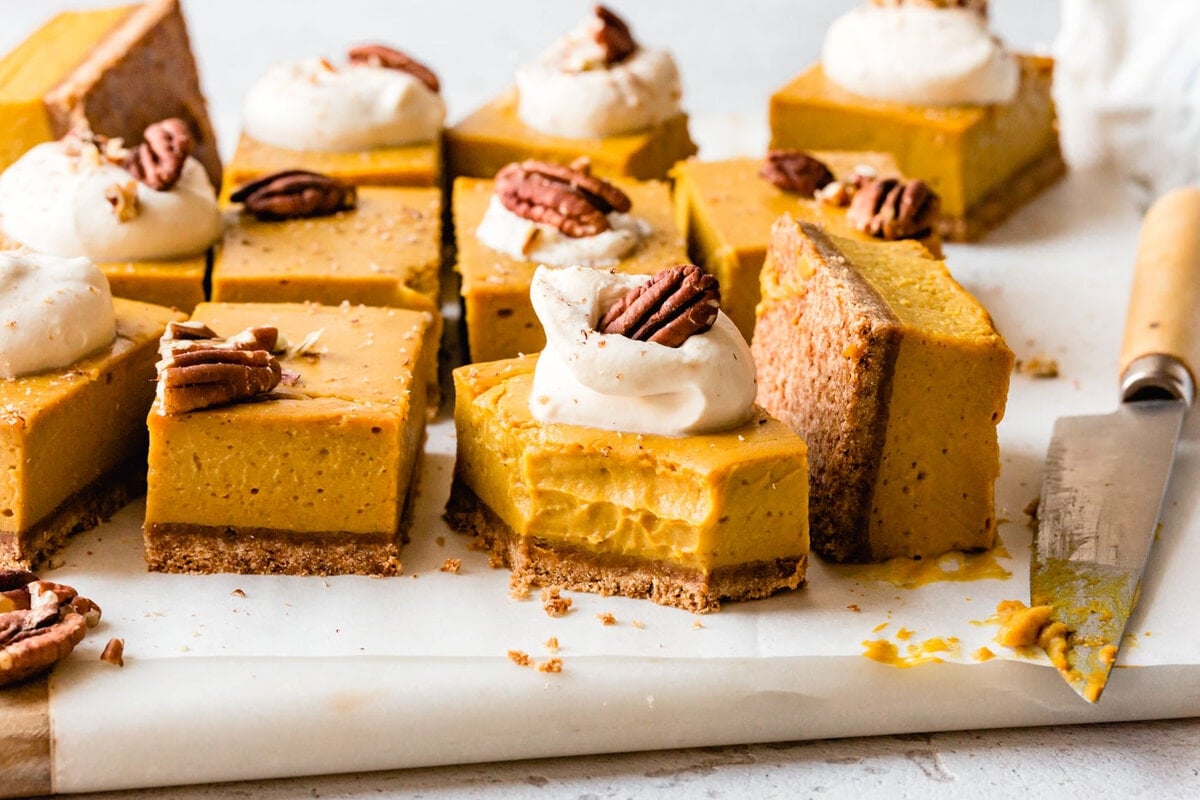 I recently tested these vegan pumpkin pie bars with both canned pumpkin puree and fresh butternut squash puree. I found that the canned stuff brought out the bitterness of the tofu, obscuring the sweet spices. The version made with fresh squash puree doesn't have even a hint of tofu flavor. It just tastes like rich and creamy pumpkin pie filling laced with sweetness and spice.
The Best Homemade Pumpkin Puree is Actually Not Pumpkin
My go-to squash for homemade "pumpkin" puree is actually butternut squash. Before you call me a lying cheater (or a cheating liar) hear me out. Canned pumpkin puree is apparently actually made from a squash similar to butternut! I've tried using sugar pumpkins but I've gotten results that were watery and bland too many times. Butternut squash on the other hand is always silky smooth and sweet, and it matches the consistency of canned pumpkin puree well enough to be a reliable one-to-one substitute.
You can see how much more bright and fresh the butternut squash puree (right) looks compared with canned pumpkin puree (left).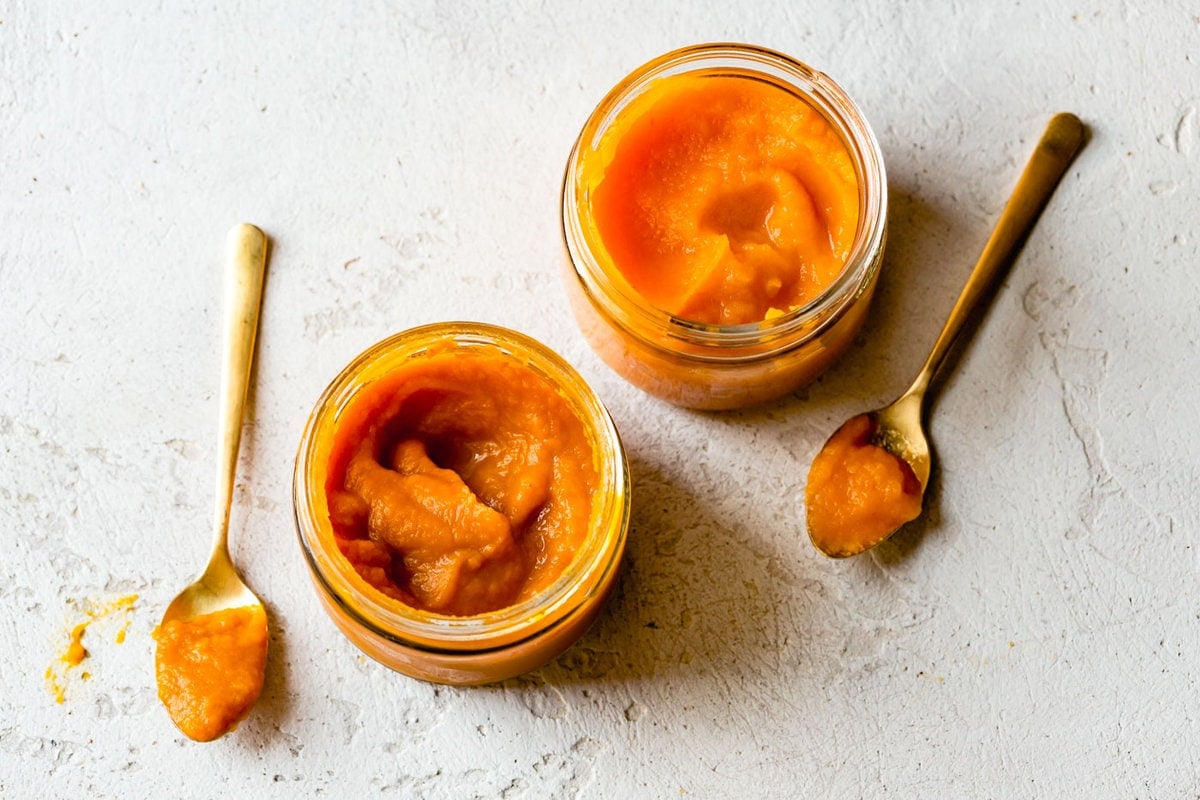 Though butternut squash is my go-to, it can be fun to play with different squash and experience their varied textures and flavors. Here are some other options:
Butternut Squash – old reliable
Sweet, brightly colored, creamy, and smooth. Butternut is the most similar to canned pumpkin puree and easy to find.
Honeynut Squash – butternut plus
Similar to butternut, but with a richer hue and sweeter flavor.
Kuri Squash or Buttercup Squash – in between
Both have a flavor and texture somewhere between butternut and kabocha.
Kabocha Squash – rich and dense
Less fibrous and with a lower water content, kabocha squash puree is more dense, firm, and has a deeper, more earthy flavor. Try it in this kabocha squash pie recipe or this dreamy gluten-free kabocha tart. Orange/red kabocha tends to have a brighter color while green kabocha's color is more muted.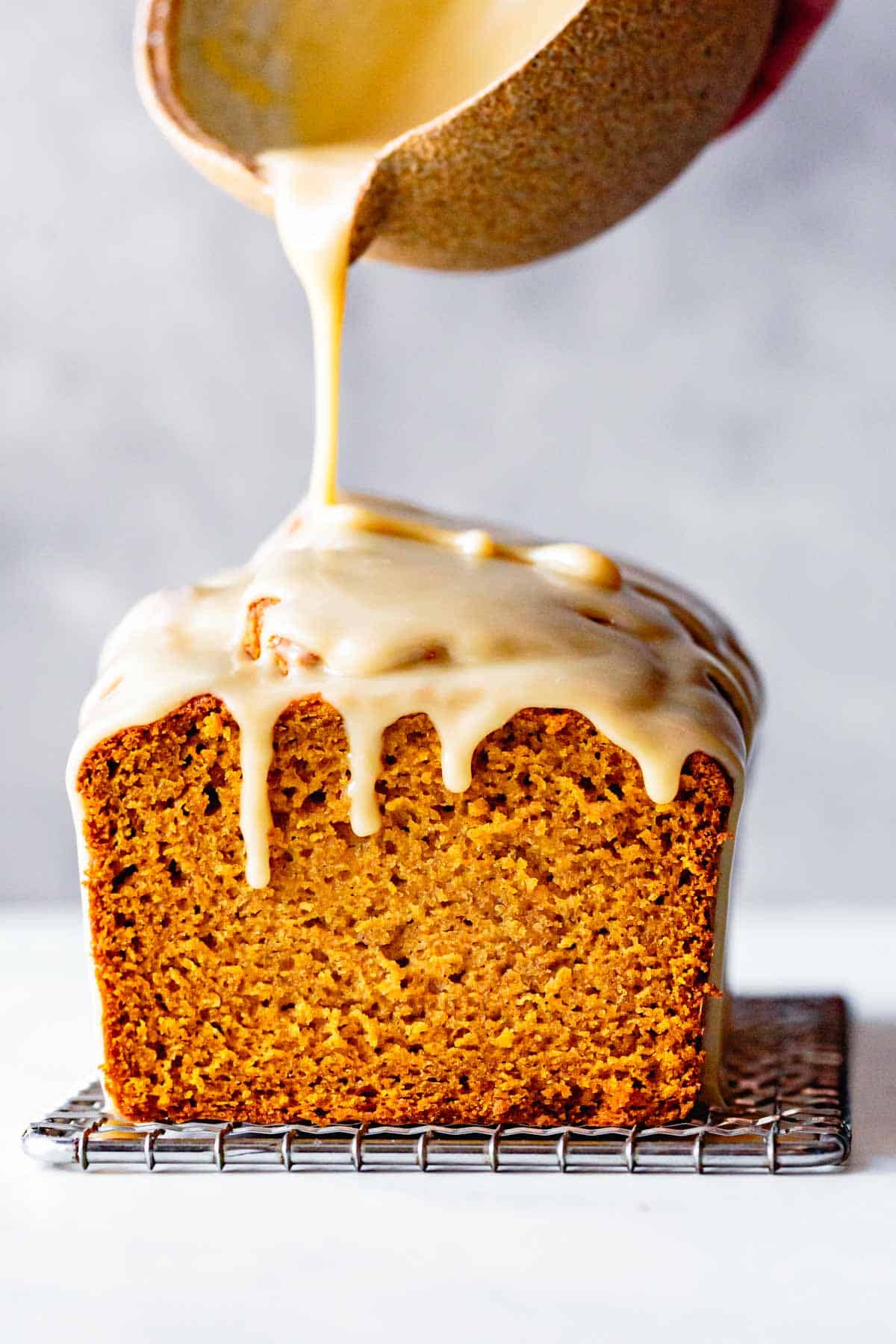 Don't Use:
Delicata: too small to bother with (but lovely roasted!)
Spaghetti squash: way too stringy to blend smooth (but try it in these spaghetti squash cakes!)
How Much Squash?
Generally speaking, 1 pound of squash will equal 1 cup of squash puree. Look for squash that feels heavy for its size and is free of any nicks or soft spots.
How to Make Roasted "Pumpkin" Puree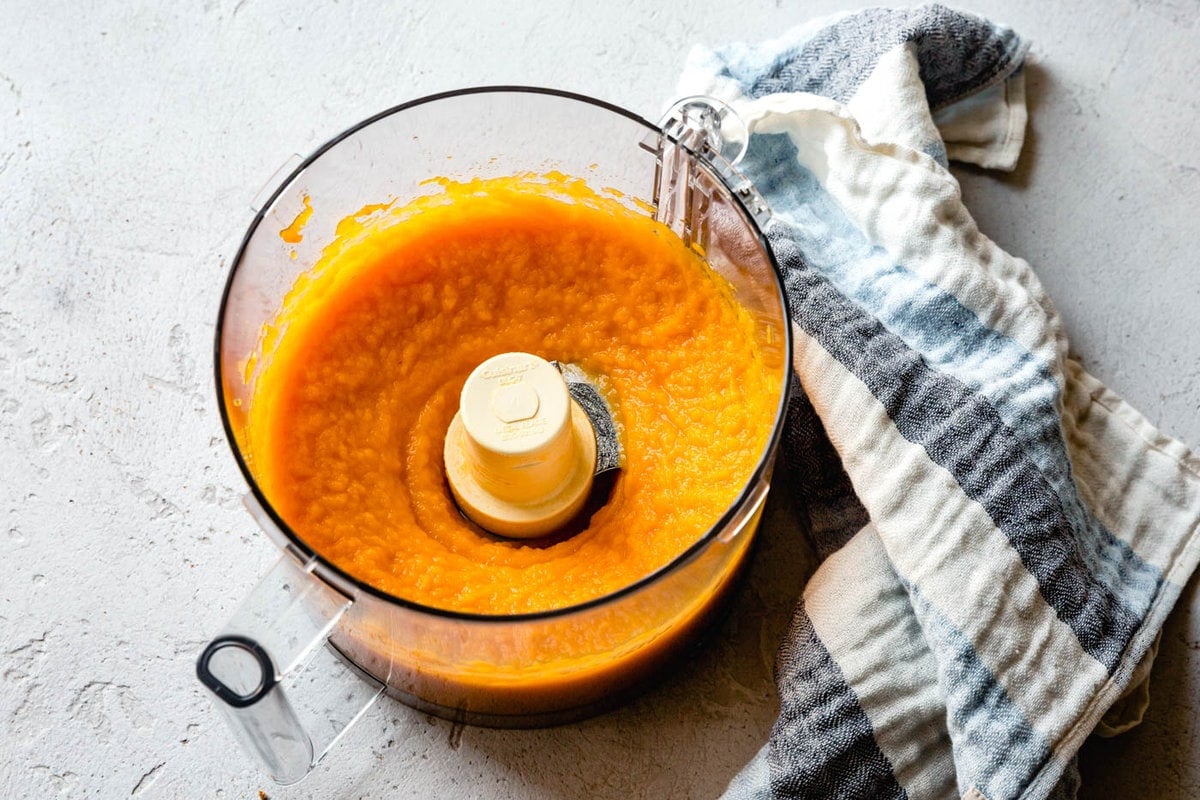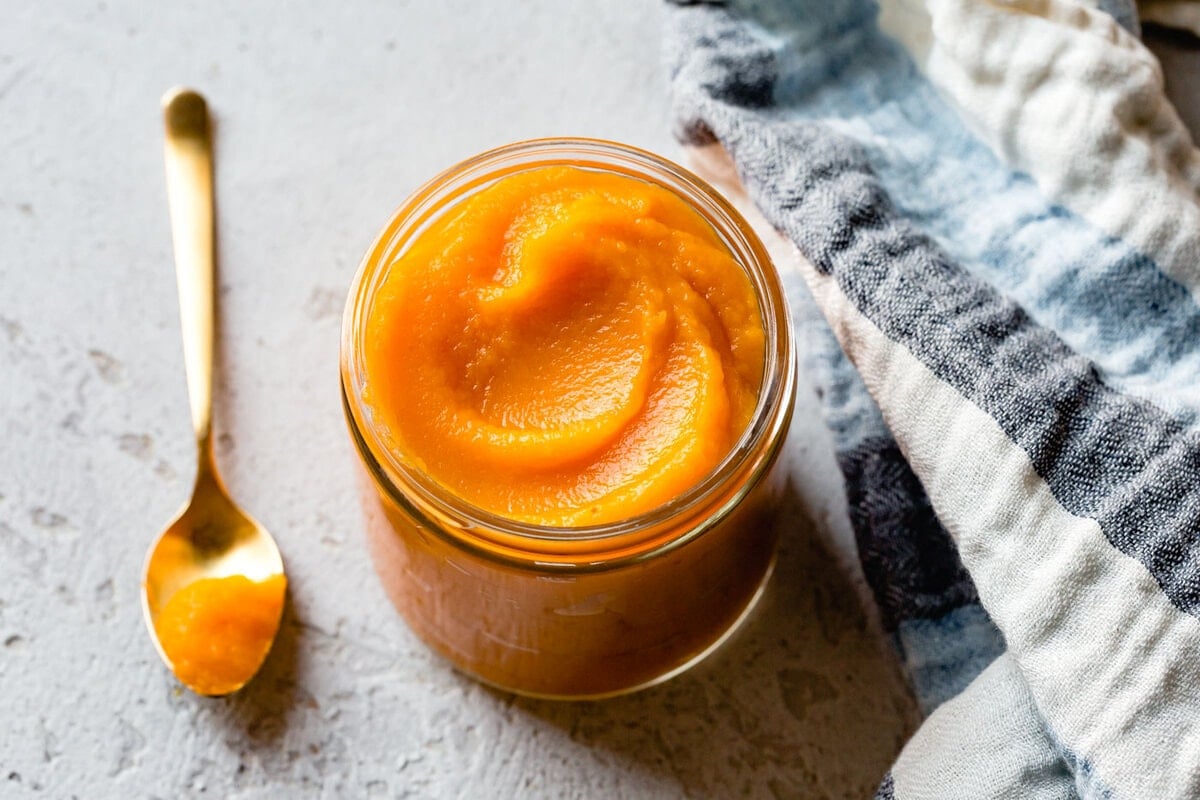 Storage
For ease, measure or weigh out 15 ounce portions of "pumpkin" puree into pint-sized storage containers and you'll have the equivalent of a can of pumpkin to handily defrost and use in recipes. Like this one:
What to make with homemade "pumpkin" puree
Now that you have your golden, velvety squash puree, here are a few of my favorite ways to use it:
Bojon appétit! For more Bojon Gourmet in your life, follow along on Instagram, Facebook, or Pinterest, purchase my gluten-free cookbook Alternative Baker, or subscribe to receive new posts via email. And if you make this homemade pumpkin puree recipe, I'd love to know. Leave a comment and rating below, and tag your Instagram snaps @The_Bojon_Gourmet and #bojongourmet.
Homemade "Pumpkin" Puree
Print Recipe
Pin Recipe
The secret to awesome homemade pumpkin puree? Butternut squash instead of pumpkin! It only takes a few minutes of active time to make and it tastes SO much brighter and fresher than the canned stuff. Use this in any favorite pumpkin recipe!
Ingredients
1

medium-sized butternut squash (2 pounds will yield about 2 cups of puree, or the equivalent of 1 can)*
Instructions
Position a rack in the middle of the oven and preheat to 350ºF.

Use a large, sharp chef's knife to slice off the stem, then cut the squash in half lengthwise. Leave the seeds in for now (they're easier to remove post-roasting).

Place the squash halves cut side down on a rimmed baking sheet lined with parchment paper (or rubbed with oil if not using parchment). Roast in the oven until very tender when pierced with a knife and collapsing slightly, 45 minutes to 1 hour (time will vary based on the size and type of squash used).

Turn the squash cut side up to release some steam and cool more quickly, then cool enough to handle, 30-60 minutes (or refrigerate for up to 2 days).

Use a large spoon to scoop out and discard the seeds and strings. Scoop out the squash flesh, discarding the skin. Puree the flesh in a food processor until smooth. Use in all your favorite pumpkin recipes!

The puree will keep, refrigerated airtight, for up to 1 week, or frozen for up to a year.
Notes
*Feel free to try other winter squash such as kabocha, carnival, red kuri, honeynut, or buttercup.
Storage: For ease, measure or weigh out 15 ounce portions into pint-sized storage containers and you'll have the equivalent of a can of pumpkin to handily defrost and use in recipes.
Troubleshooting: If your squash puree turns out watery, place it in a fine mesh strainer set over a bowl and allow to drain off excess moisture, 30-60 minutes.