The best maple bourbon pecan pie! Salty-sweet with a boozy punch and loads of toasted pecans. No corn syrup required!
Several years ago, when I was slightly less bojon and worked as a barista at Farley's, I used to treat myself to the occasional massage by the brutal thumbs of Helen Hickman. Helen's massages were a masochist's dream of the deep tissue variety, more excruciating than relaxing, but I always knew they would make me feel better in the long run.
One day, Helen gave me something that was excruciating in a different way: a large bag brimming with pecans still in their shell, a gift from her aunt in Texas. While the nuts weren't nearly as heinous to peel as chestnuts, they did take a long time to exorcise from their shells. When I was done, I didn't want to waste them on just any baked good, I wanted to really showcase their freshness. So I baked them into a bourbon pecan pie, adapted from a recipe in Cook's Country, Cook's Illustrated's sister magazine. That pie was excellent, and I have gradually tweaked the recipe to its current configurations.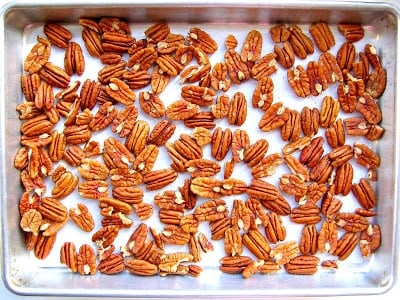 Pecan pie is notoriously sweet. The base is essentially a custard made with sugar, rather than milk or cream, and eggs and butter. Some recipes cut the sweetness of pecan pie with corn syrup, kumquats, coffee or citrus zest. But this recipe deals with the excess sugar by adding generous doses of salt and bourbon.
I substitute maple syrup for the corn syrup because corn syrup scares me. It is heavily processed and doesn't taste very interesting, whereas grade B maple syrup, which is minimally processed, retains some healthy trace minerals and tastes like heaven flowing from a tree. The maple has the added benefit of giving this pie an even softer set.
Bourbon's spicy-tart flavor blends beautifully with earthy maple and rich nuts, and two applications of salt – fine salt in the custard and a sprinkle of flaky salt on top – make this pie as addictive as bourbon is to some. The ample amount of bittersweet molasses in organic dark brown sugar adds complexity.
A few unconventional techniques result in a sublime pie true to Cook's perfectionism. First, the well-toasted pecan halves are broken up with one's fingers, rather than chopped with a knife. This only takes a minute or two longer than chopping (unless you're making 20 pies) and it results in more even pieces and less dust, which would muddy the custard. Next, the custard is warmed in a saucepan. This allows the pie a shorter baking time, and it also helps eliminate the froth that gets churned up when whisking in the eggs. Like Cook's pumpkin pie, the warm custard goes into a warm pie shell, shortening the baking time and helping the crust stay crisp. The custard bakes up clear and creamy, and softly set, the texture of a fine crème brulée, with a thick layer of toasty, almost candied nuts on top. The whole-grain crust flakes and shatters against the smooth filling.
Even with these few extra steps, pecan pie is an easy pie to make. You don't have the potential sogginess of a fruit pie, or the long baking time (vegetables, then pie) of a sweet potato or pumpkin pie. If you're pie-phobic, this would be an excellent and forgiving one to start with. And if you're not pie-phobic, you should also make this pie. Because it is amazingly tasty.
If you don't have the wherewithal to shell your own pecans, just make sure you start with fresh, raw pecan halves. You don't even need to have Helen's burly thumbs to easily break them up.
But it wouldn't hurt.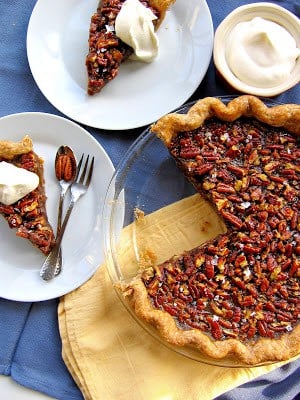 More Pie Recipes:
*Bojon appétit! For more Bojon Gourmet in your life, follow along on Instagram, Facebook, or Pinterest, purchase my gluten-free cookbook Alternative Baker, or subscribe to receive new posts via email. And if you make this maple bourbon pecan pie recipe, I'd love to know. Leave a comment and rating below, and tag your Instagram snaps @The_Bojon_Gourmet and #bojongourmet.*
Homemade Maple Bourbon Pecan Pie
Print Recipe
Pin Recipe
The best maple bourbon pecan pie! Salty-sweet with a boozy punch and loads of toasted pecans. No corn syrup required!
Servings:
10
to 12 servings (one 9" pie).
Ingredients
All-butter crust:
3/4

cup

all-purpose flour

1/2

cup

whole spelt flour

(or whole wheat pastry)

1

teaspoon

sugar

1/2

teaspoon

fine sea salt

4

ounces

cold, unsalted butter, in 1/2" dice

(8 tablespoons/1 stick)

about 4 tablespoons ice water
Filling:
2 1/4

cups

raw pecan halves

6

tablespoons

unsalted butter

2/3

cup

dark brown sugar (preferably organic)

1/2

teaspoon

fine sea salt

3

large eggs

2/3

cup

pure maple syrup (preferably grade B)

2

teaspoons

vanilla extract

4

tablespoons

bourbon, divided use

a few pinches of flaky salt (such as Maldon), for sprinkling (optional)

unsweetened whipped cream, for serving
Instructions
Make the crust:
In a large bowl, stir together the flours, sugar and salt. Scatter the butter pieces over the flour, and rub in with your fingertips until the mixture resembles sand with lots of pea-sized butter chunks. Drizzle the ice water over, 1 tablespoon at a time, tossing with a rubber spatula, until the dough will hold together when you give it a squeeze. Dump the dough out onto a counter, divide it roughly into 6 portions, and fraisage by dragging a portion of dough across the counter using the heel of your hand. Scrape up the dough (a metal bench scraper works well here), gently press it into a ball and flatten into a disc. Slip it into a plastic bag, and chill for at least 30 minutes or up to 2 days.

Remove the dough from the fridge, unwrap, and place on a lightly floured surface. Roll out the dough into a 12" circle, dusting the dough lightly with flour as needed, rotating and flipping it to prevent it from sticking. Ease the dough into a 9" glass pie plate, fit it into the corners, and trim it to a 1" overhang. Fold the overhang under, and flute the crust by pressing it between the thumb of one hand and the index finger and thumb of the other hand.

Chill the crust for 20 minutes, then freeze it for 20 minutes.

Position a rack in the lower third of the oven and preheat to 400º. Remove all other racks from the oven.

Place the frozen crust on a rimmed baking sheet. Line it with a piece of parchment paper, and fill with pie weights, dry beans, or clean pennies.

Bake the crust for 20 minutes, then remove the weights and parchment and bake until the bottom is lightly golden, 15 - 18 minutes longer.
Meanwhile, make the filling:
Spread the pecan halves on a small baking sheet in a single layer and toast in a 350º oven until fragrant and very slightly darkened in color, 12-14 minutes. To check if the pecans are thoroughly toasted, let one cool on the counter, then taste it – it should be crispy and have a toasty flavor. Let the nuts cool, then use your fingers to break each half into 4-8 pieces.

Reduce the oven temperature to 275º.

In a medium-large saucepan, melt the butter with the brown sugar and salt. Off the heat, gently whisk in the eggs one at a time, then the maple syrup, vanilla and 2 tablespoons of the bourbon. Return the pot to a low flame and cook, stirring constantly with a heat-proof rubber spatula, until the mixture is warm to the touch (130ºF on an instant-read thermometer). Remove from the heat and whisk in the remaining 2 tablespoons of bourbon and the pecan pieces. Pour the mixture into the hot, pre-baked pie shell. (If the pie shell has cooled, return it to the 275º oven for 5 - 10 minutes to heat it up.)

Bake the pie at 275º until the custard is mostly set, 25-40 minutes. Ways to tell when the pie is done:

The pie wobbles slightly when you shake it from side to side, but doesn't slosh wetly.

An instant-read thermometer inserted into the center registers 160-165ºF.

When you press down on the center of the pie with the back of a spoon, the custard feels softly set, like Jell-o.

The sides of the pie may be very slightly puffed, but they should not be so puffed that the pie cracks around the edges.

Whew! Take that pie out of the oven and let it cool to room temperature, around 3 hours. Fleck with a few pinches of flaky salt, if desired. For the cleanest slices, chill the pie until firm (an hour or so), then cut slices and let them sit at room temperature, or place them in a low oven for just a minute or two until gently warmed (but not melted).

I like this pie equally cold, at room temperature, or very slightly warm. It keeps well in the fridge for up to several days.
Notes
Inspired by Cook's Country's Bourbon Pecan Pie.
For the best flavor, use fresh, raw pecan halves (rather than pieces) and toast them yourself while the pie dough chills. Breaking up the nuts with your fingers, rather than chopping them, gives you more regular pieces and creates less dust, leaving the custard clear and smooth. Be sure to toast the nuts thoroughly or they will taste bland and soggy in the finished pie. On that note, be sure to par-bake the crust until it is almost fully baked, as it doesn't cook much after the filling is added; it should be golden and dry all over.
Organic dark brown sugar contains more molasses than the conventional stuff and is highly recommended.
Grade B maple syrup counter-intuitively has a deeper color and flavor than grade A; use it.
This is a boozy pie, not for children, expecting mothers or recovering alcoholics. For a milder bourbon bite, omit the 2 tablespoons of bourbon that are added at the end. I used Bulleit bourbon, but I've also made this pie with Jack Daniel's with great results; I'm guessing that any decent bourbon will make a tasty pie.
Unsweetened whipped cream makes a fine foil to this pie; though a slice of warm pie with a scoop of vanilla or coffee ice cream would be sublime, too.
This pie needs to cool at room temperature for 3 hours post-baking. For the cleanest cuts, chill the pie after it has completely cooled, cut slices, and then let the slices sit at room temperature for 20 minutes, or warm them briefly in a 300º oven.
Nutritional values are based on one of ten servings.
Nutrition
Calories:
504
kcal
Carbohydrates:
44
g
Protein:
6
g
Fat:
34
g
Saturated Fat:
12
g
Cholesterol:
92
mg
Sodium:
260
mg
Potassium:
187
mg
Fiber:
3
g
Sugar:
29
g
Vitamin A:
575
IU
Vitamin C:
0.2
mg
Calcium:
65
mg
Iron:
1.6
mg