Pumpkin spice mix gets a vibrant upgrade with freshly grated nutmeg and golden turmeric added to the classic cinnamon, ginger, allspice blend.
Use this golden-hued pumpkin pie spice blend in your favorite fall recipes: pumpkin pie, pumpkin spice lattes, pumpkin granola, pumpkin bread, and pumpkin muffins.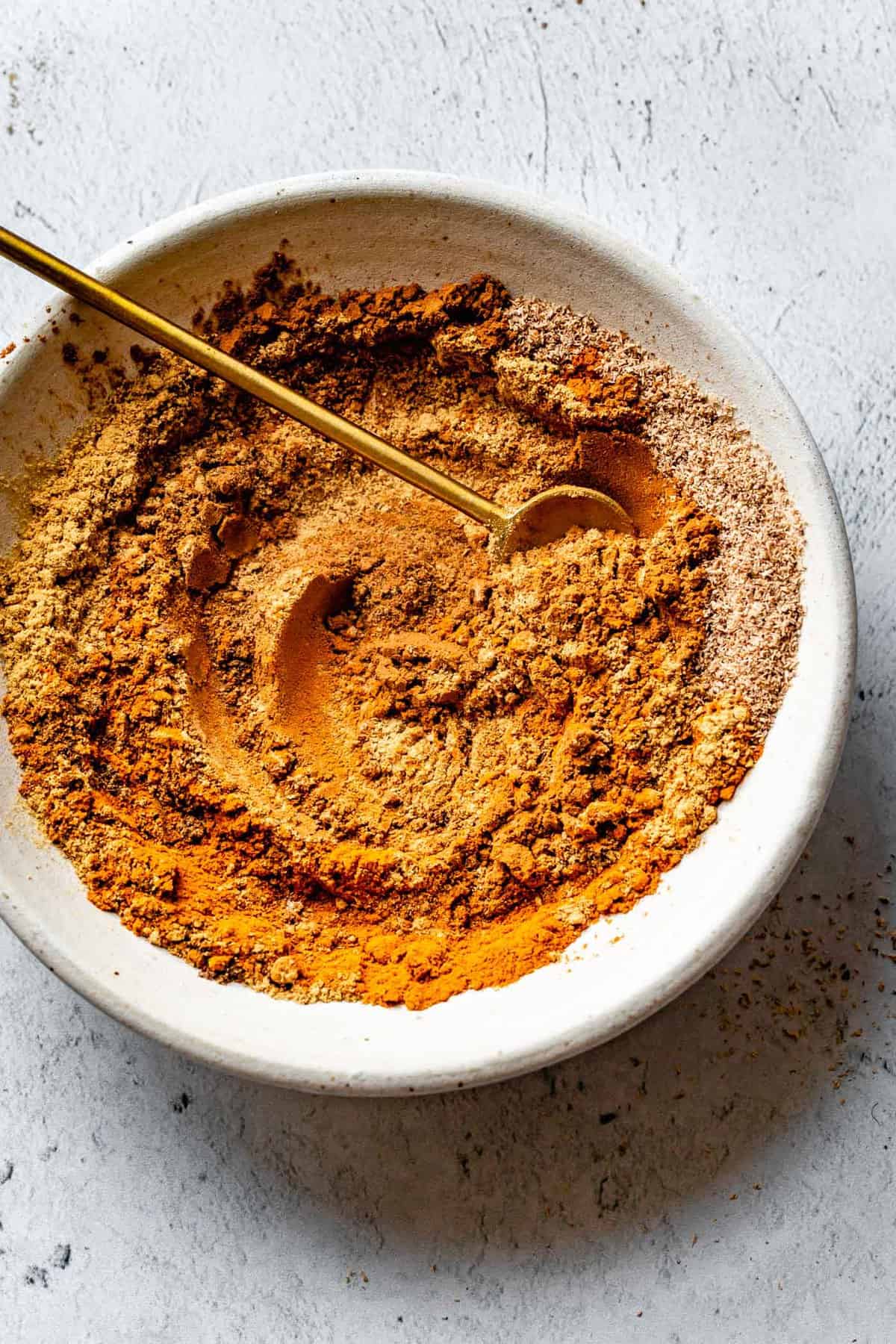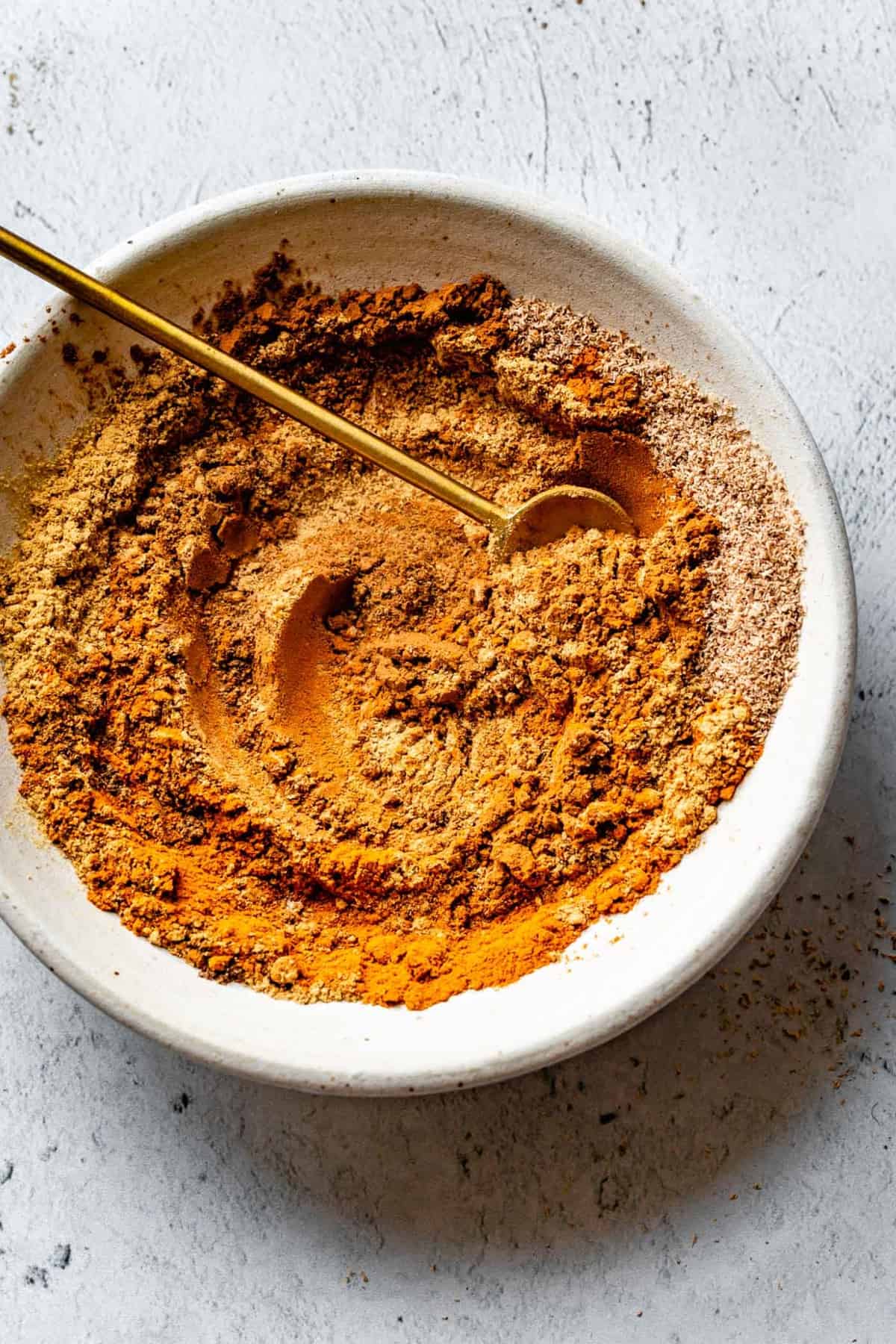 I've made my share of pumpkin baked goods over the years, from gluten-free pumpkin cream pie to GF pumpkin bread to maple-kissed pumpkin pudding cake. But I never saw the point of using pumpkin pie spice, preferring to make my own blends for each different recipe. Why would I want every recipe to taste the same when variety is the *spice* of life?
That all changed last week when I could be found, mad-scientist-like, baking batch after batch of gluten-free pumpkin muffins. I was going for pretty, craggy tops, a floofy yet hearty texture, and easy vegan swaps. After the first 5 batches, I decided that measuring out 5 different spices each time was for the birds.
I made a large batch of pumpkin spice mix using the same ratios that I'd been using in my favorite gluten-free pumpkin bread. This made the recipe testing process much more efficient. Along the way, I found that this pumpkin spice blend works just as well in any other pumpkin dessert recipe (and in apple, carrot, and sweet potato desserts too). Now I'll keep a jar of this homemade pumpkin spice on the counter year-round.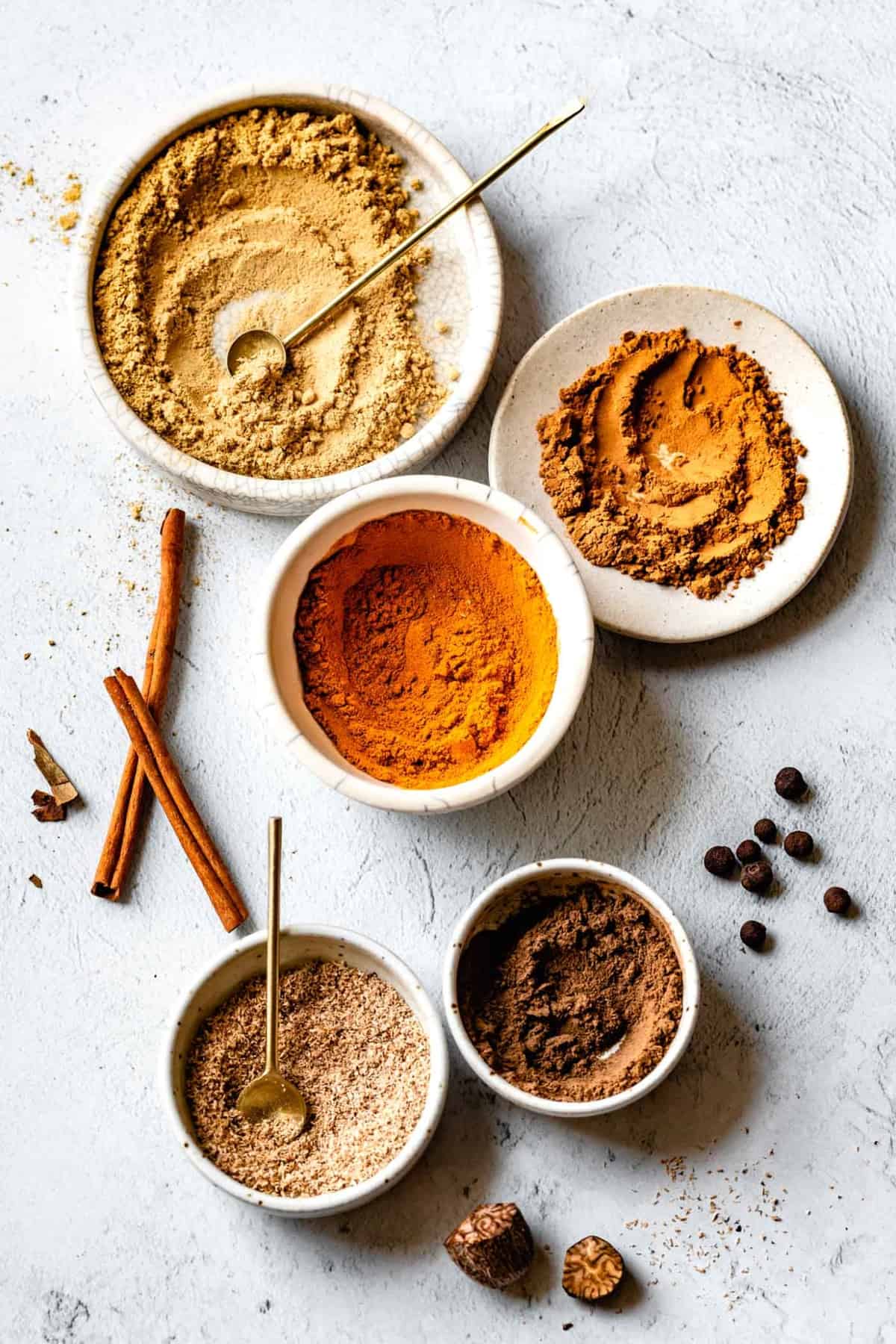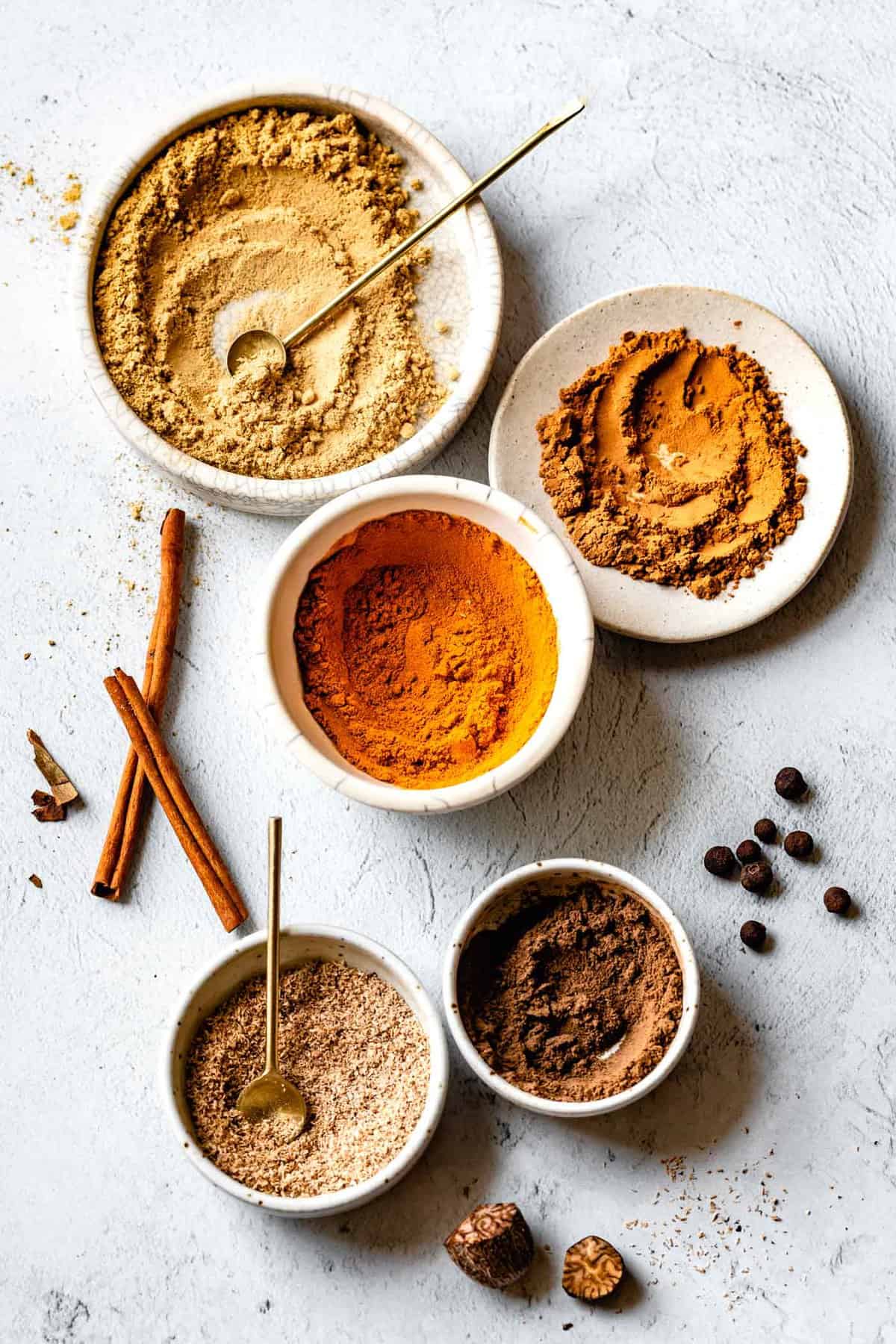 DIY Homemade Pumpkin Spice
Pumpkin pie spice is generally a spicy-sweet blend of cinnamon, ginger, nutmeg and/or mace, and allspice and/or cloves. I like a more ginger-forward pumpkin pie spice which keeps desserts tasting bright and peppy. I add turmeric to accentuate the golden hue of the baked good and add a little extra depth.
Turmeric is used widely in Indian and Southeast Asian cuisines and has become popular in the west in the form of golden milk, a cozy beverage full of digestion-boosting spice and anti-inflammatory turmeric. I've been making golden milk pumpkin spice lattes with this mix and it works wonderfully! Black pepper makes the good stuff in turmeric more bio-available, so feel free to add some here if you like.
For a more classic pumpkin pie spice recipe, omit the turmeric and use more cinnamon in its place.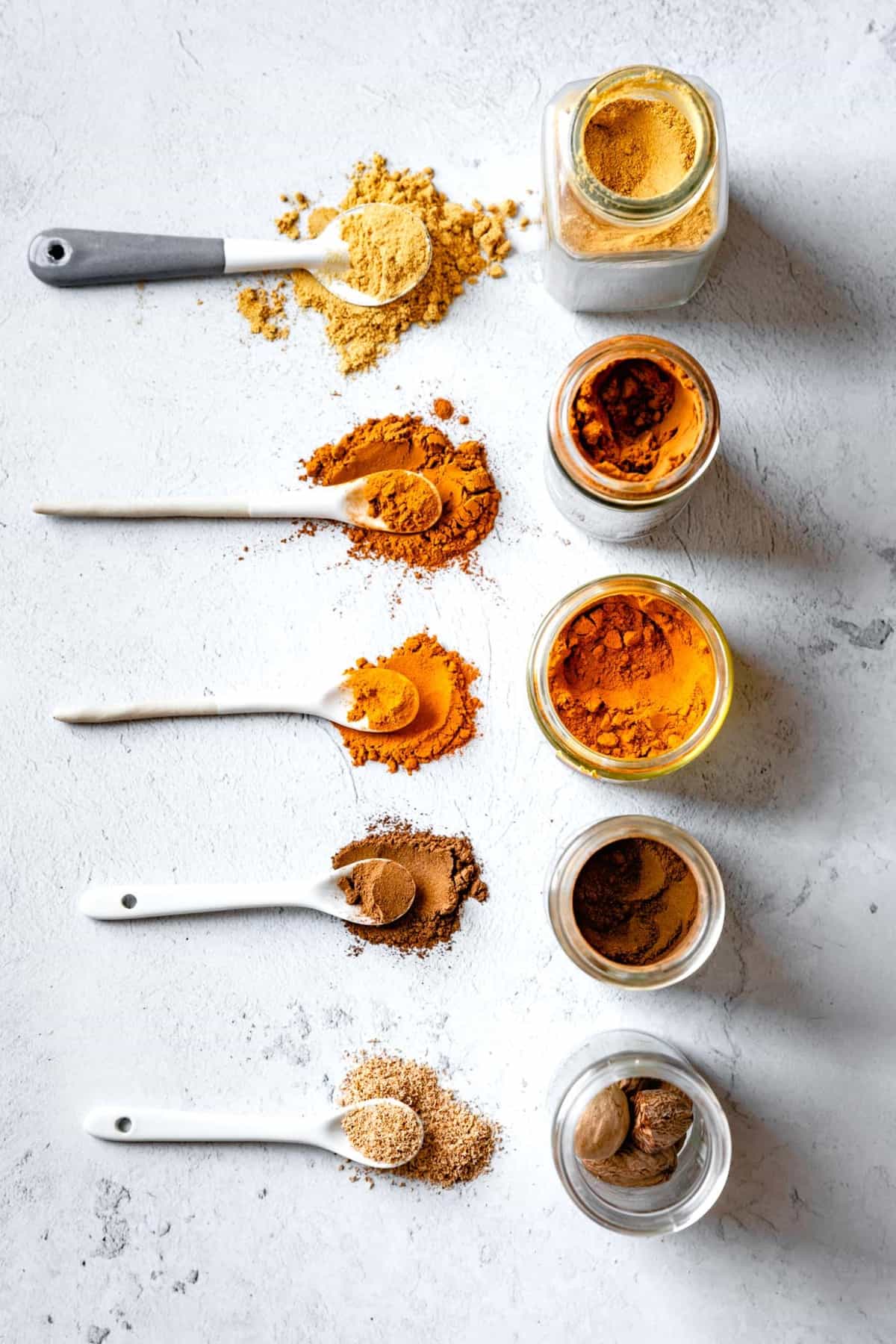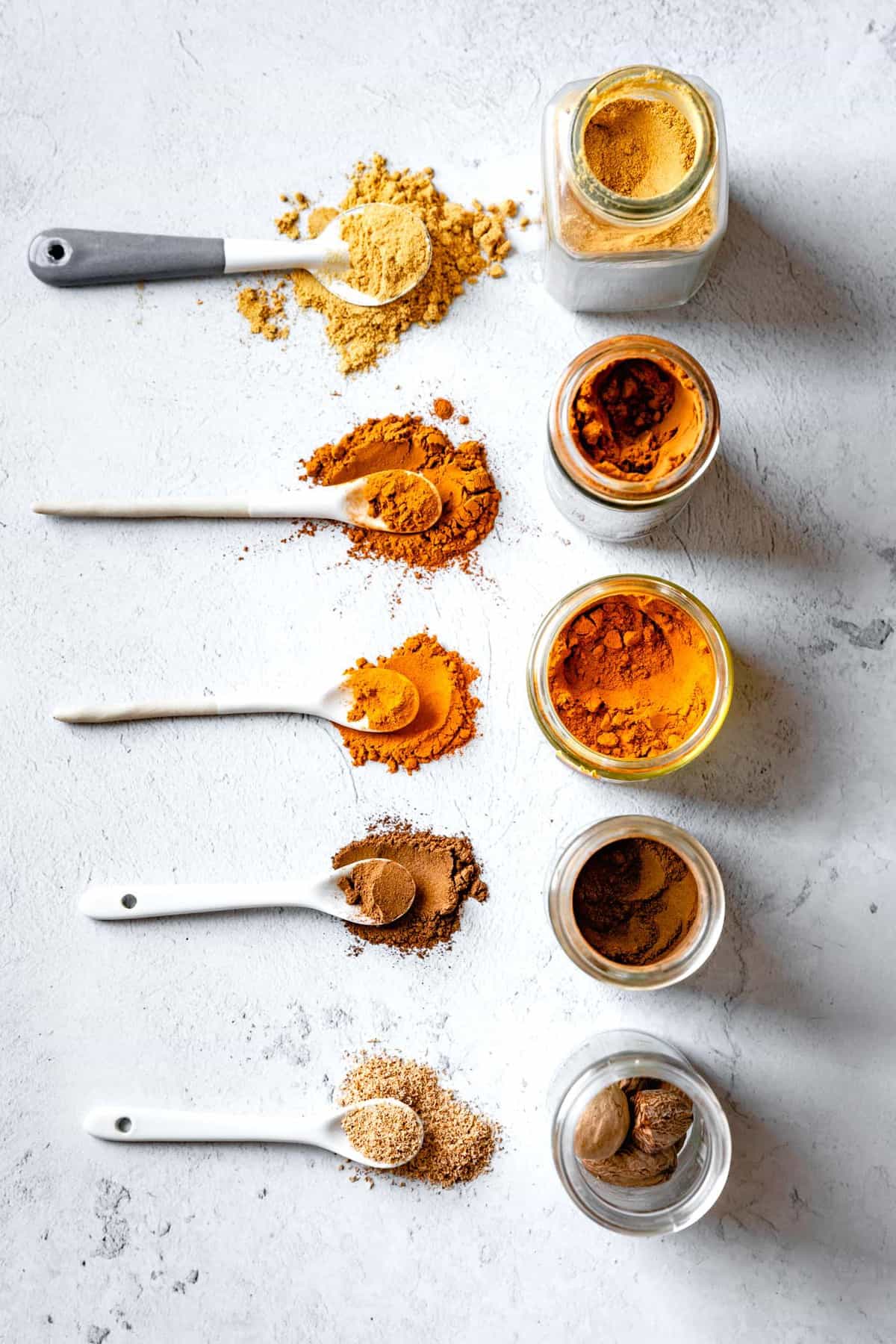 Pumpkin Spice Mix Ingredients
Just a handful of spices go into this pumpkin spice recipe. Be sure your spices are fresh for the best flavor.
How to Make Pumpkin Pie Spice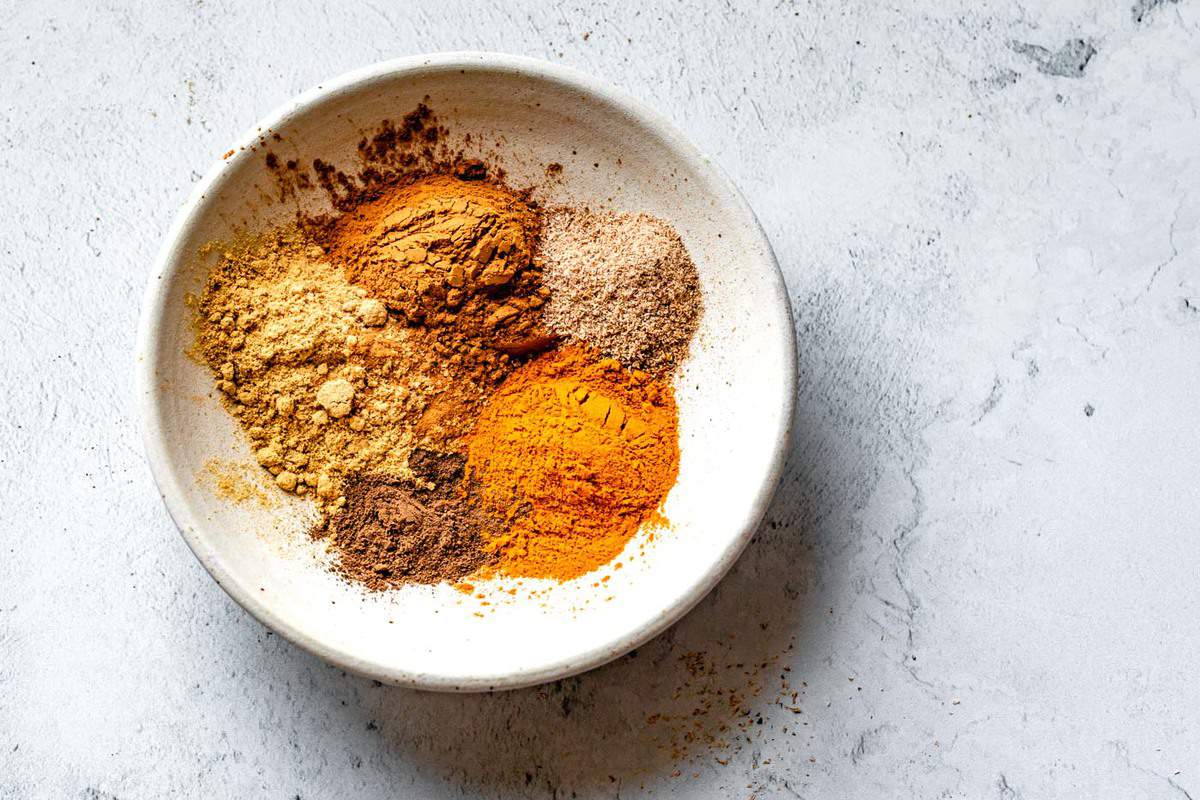 Combine the spices in a jar or bowl.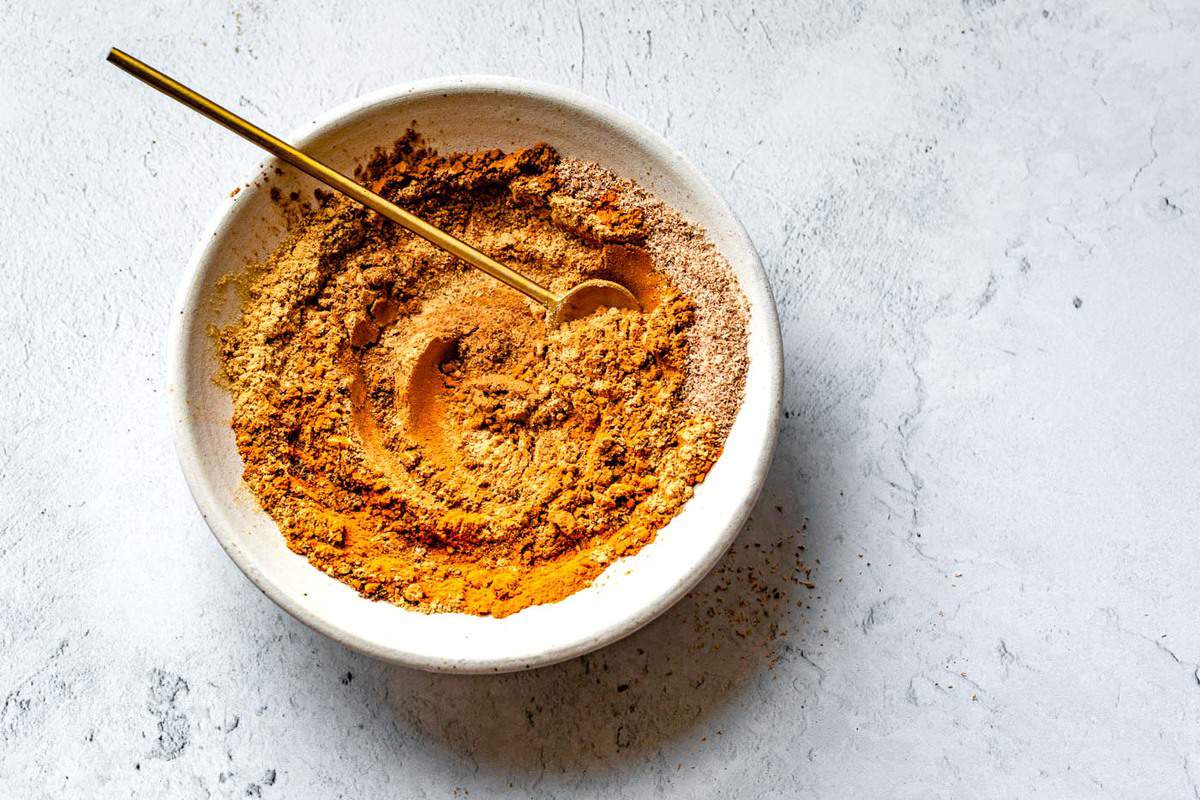 Shake or stir to combine.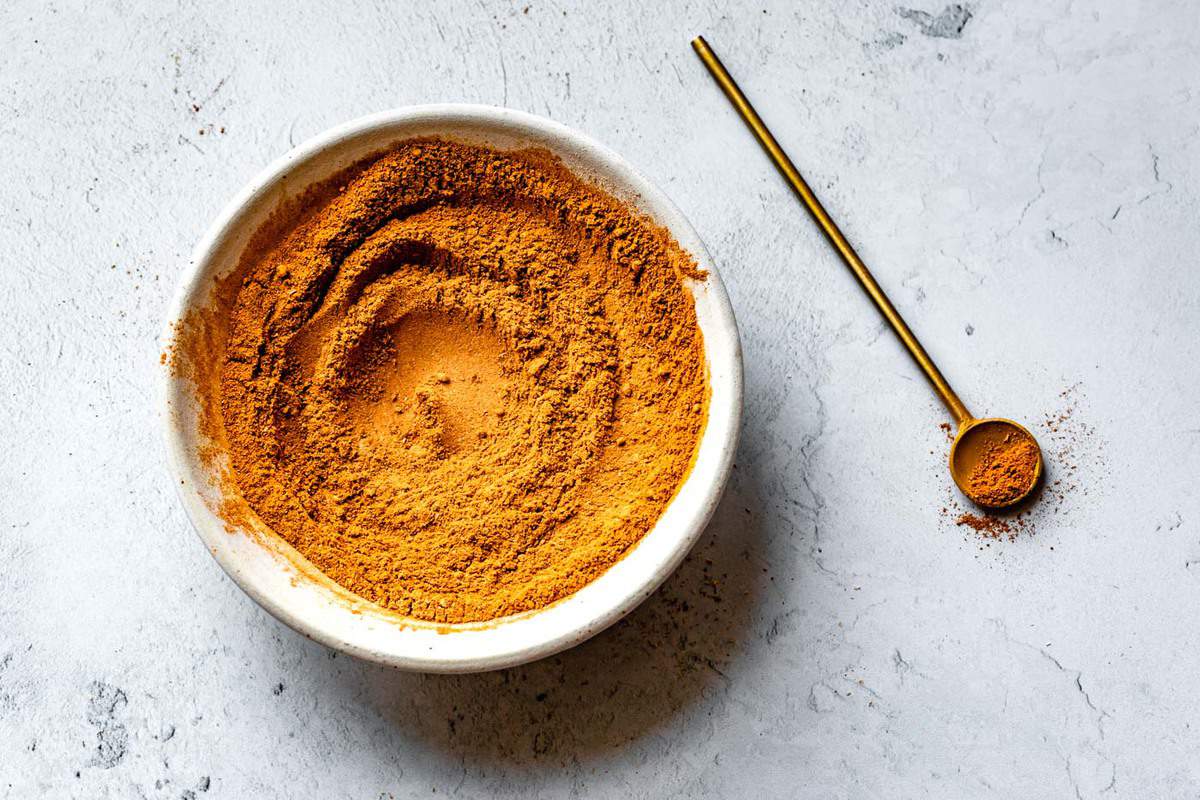 Store airtight at room temperature for up to 1 year.
How to Use Pumpkin Pie Spice
You can use this pumpkin pie spice in any recipe that calls for a warming blend of spices or pumpkin pie spice. I also love it stirred into oatmeal, homemade granola, and in hot apple cider. In addition to pumpkin, it pairs well with apple, carrot, banana, and sweet potato recipes.
Here are some favorites where it would shine:
Pumpkin Recipes
Apple Recipes
Banana Recipes
Other Recipes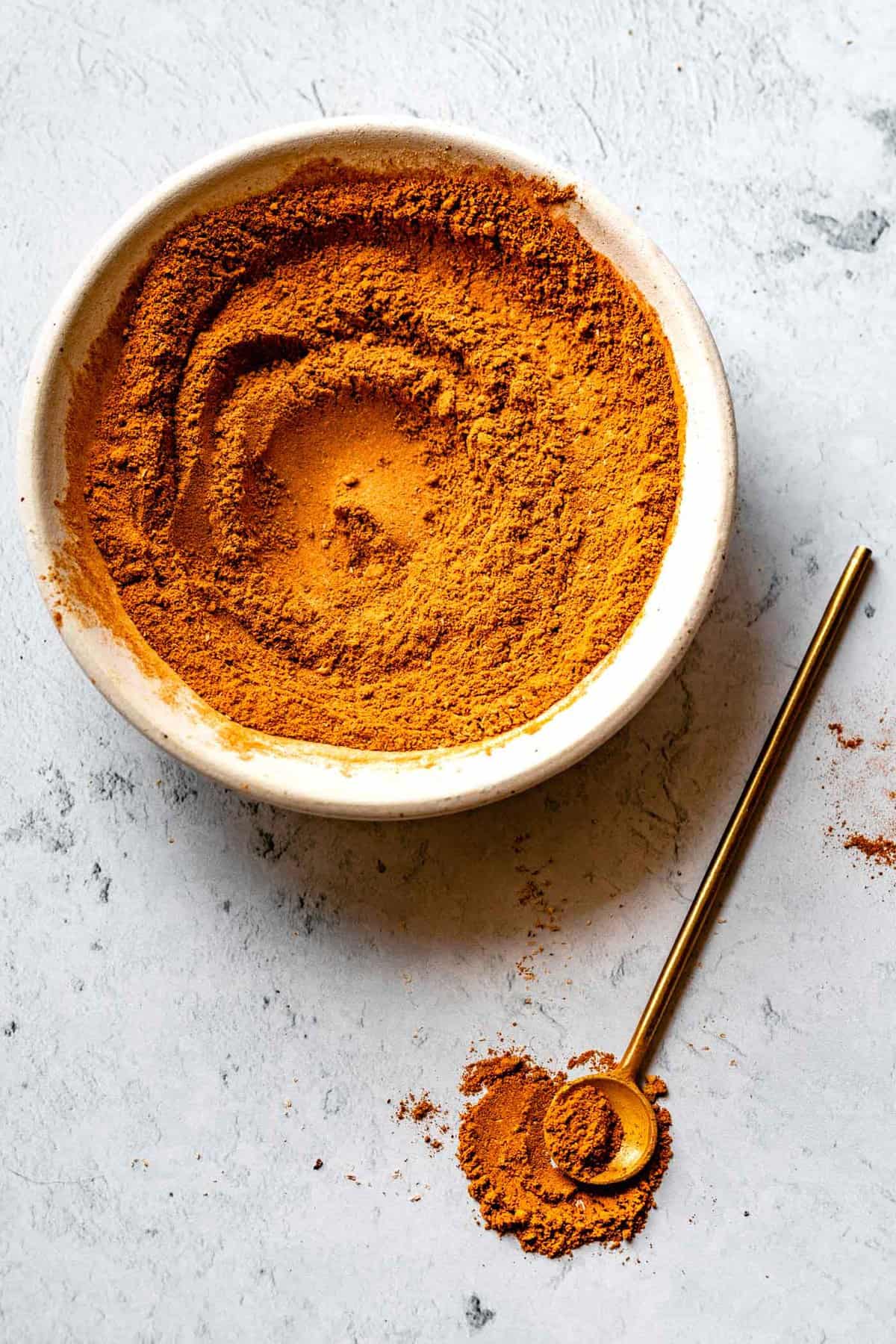 How to Substitute Pumpkin Pie Spice
You can sub this golden pumpkin spice mix into any pumpkin recipe. Just add up the spices it calls for (cinnamon, ginger, nutmeg, etc.) and replace the total amount with the same quantity of golden pumpkin spice mix.
However you use it, I hope this homemade pumpkin spice becomes as indispensable in your kitchen as it now is in mine!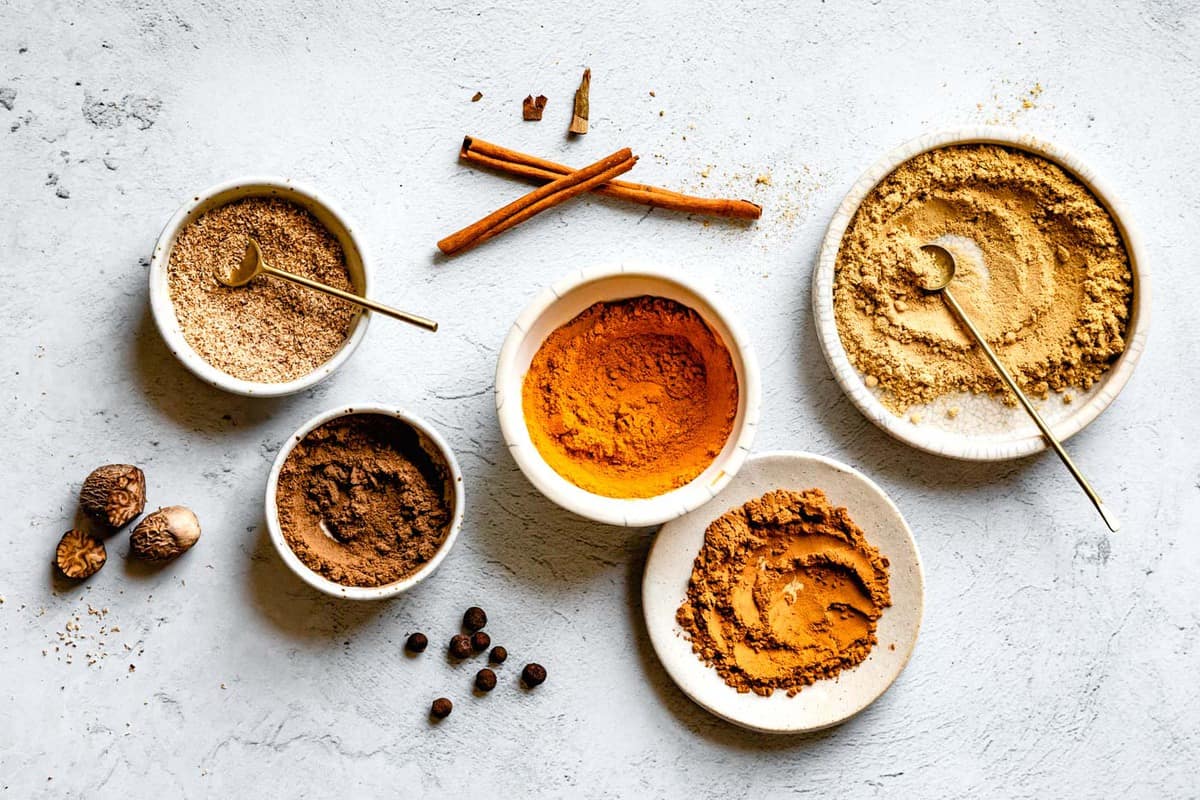 *Bojon appétit! For more Bojon Gourmet in your life, follow along on Instagram, Facebook, or Pinterest, purchase my gluten-free cookbook Alternative Baker, or subscribe to receive new posts via email. And if you make this golden pumpkin spice blend, I'd love to know. Leave a comment and rating below, and tag your Instagram snaps @The_Bojon_Gourmet and #bojongourmet.*
Golden Pumpkin Spice Blend
Print Recipe
Pin Recipe
A vibrant take on classic pumpkin pie spice. Turmeric adds golden color to enhance all your favorite pumpkin baked goods. If you prefer a more classic pumpkin pie spice, omit the turmeric and increase the cinnamon to 2 tablespoons.
Ingredients
2

tablespoons

ground ginger

1 ½

tablespoons

ground cinnamon

2

teaspoons

ground turmeric

2

teaspoons

nutmeg (freshly grated if possible)

½

teaspoon

ground allspice
Instructions
Combine ginger, cinnamon, turmeric, nutmeg, and allspice in a bowl or jar.

Stir or shake to combine.

Store airtight at room temperature for up to 1 year.
Notes
This makes enough pumpkin pie spice for 4 batches of gluten-free pumpkin muffins. Feel free to scale the recipe up or down as you like!
For a classic pumpkin pie spice, omit the turmeric and use more cinnamon in its place.
Feel free to add other spices such as:
1 teaspoon ground cardamom
1/2 teaspoon ground cloves
1/4 teaspoon ground black pepper