Going gluten-free doesn't have to mean going without dessert! These epic gluten free pie recipes (plus some tarts and galettes) go beyond traditional pumpkin and apple. Delicious enough to offer up at any holiday table, whether or not your guests are gluten-free.
Made with whole foods and natural sweetness for healthy yet decadent treats everyone can enjoy. With plenty of paleo-friendly, dairy-free, egg-free, and vegan options.
Great pie starts with great pie crust, and this is by far the best gluten-free pie crust I've ever had! A few key ingredients and techniques make the dough easy to work with, and it bakes up as shatteringly flaky as a whole-wheat crust. Use this in sweet and savory pies, tarts, galettes, quiches, and turnovers.
Need a paleo pie crust? Try this grain-free almond flour pie crust recipe! Or keep it simple with my gluten-free graham cracker crust.
Maple-kissed walnut frangipane, tart apple slices, toasty buckwheat flour crust, and a drizzle of maple syrup. This gluten-free galette is maple-sweetened and easier than pie!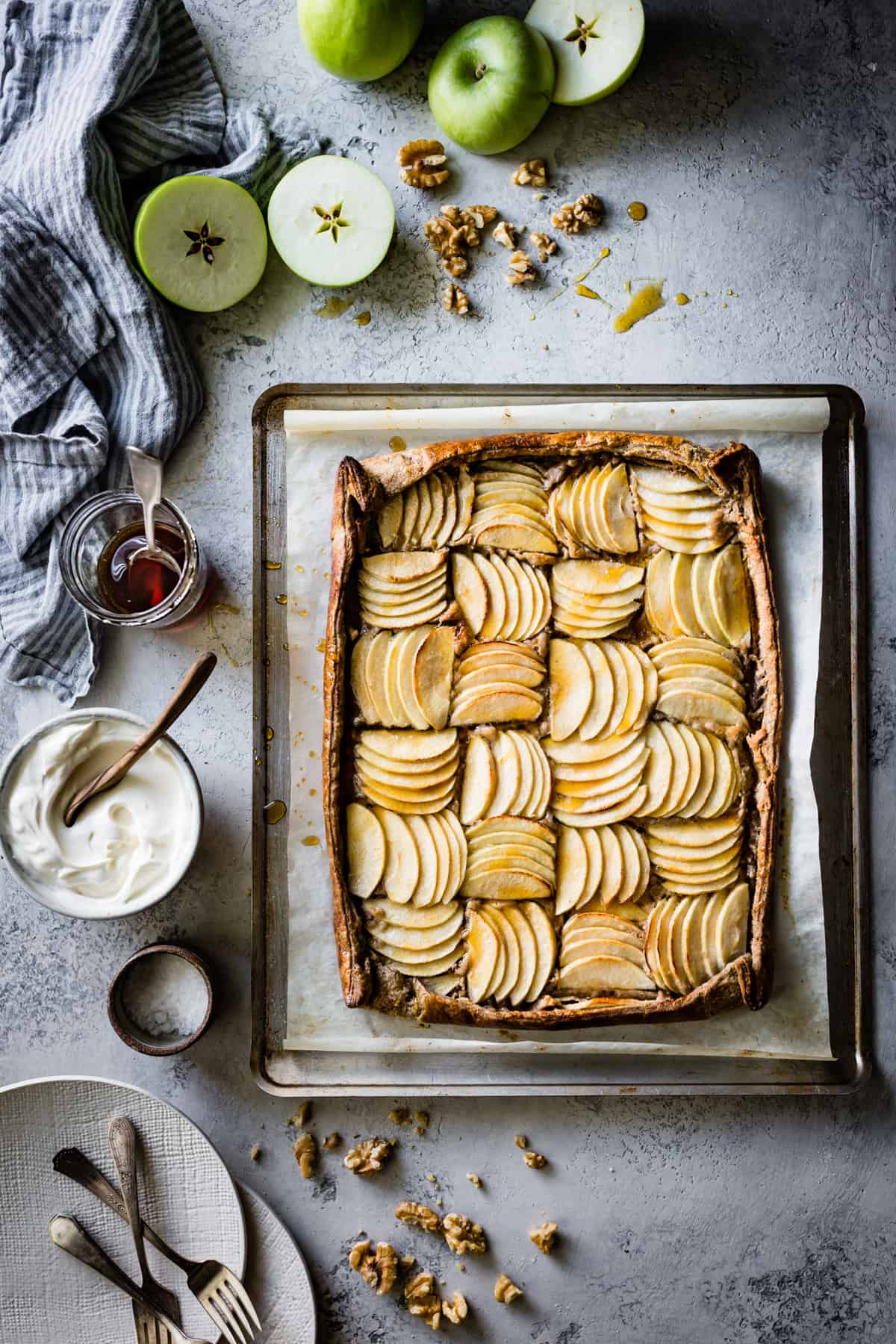 With an easy pecan oat crust, creamy pumpkin pudding, and billows of whipped cream, this gluten-free dairy-free pumpkin pie is more delicate than traditional baked pumpkin pie. You can prebake the crust days ahead and assemble the pie the night before to ease day-of prep. Serve slices topped with a drizzle of maple and crunchy toasted nuts.
Flaky crust meets savory custard filling in the ultimate gluten-free quiche recipe that's perfect for breakfast, brunch, lunch, or dinner.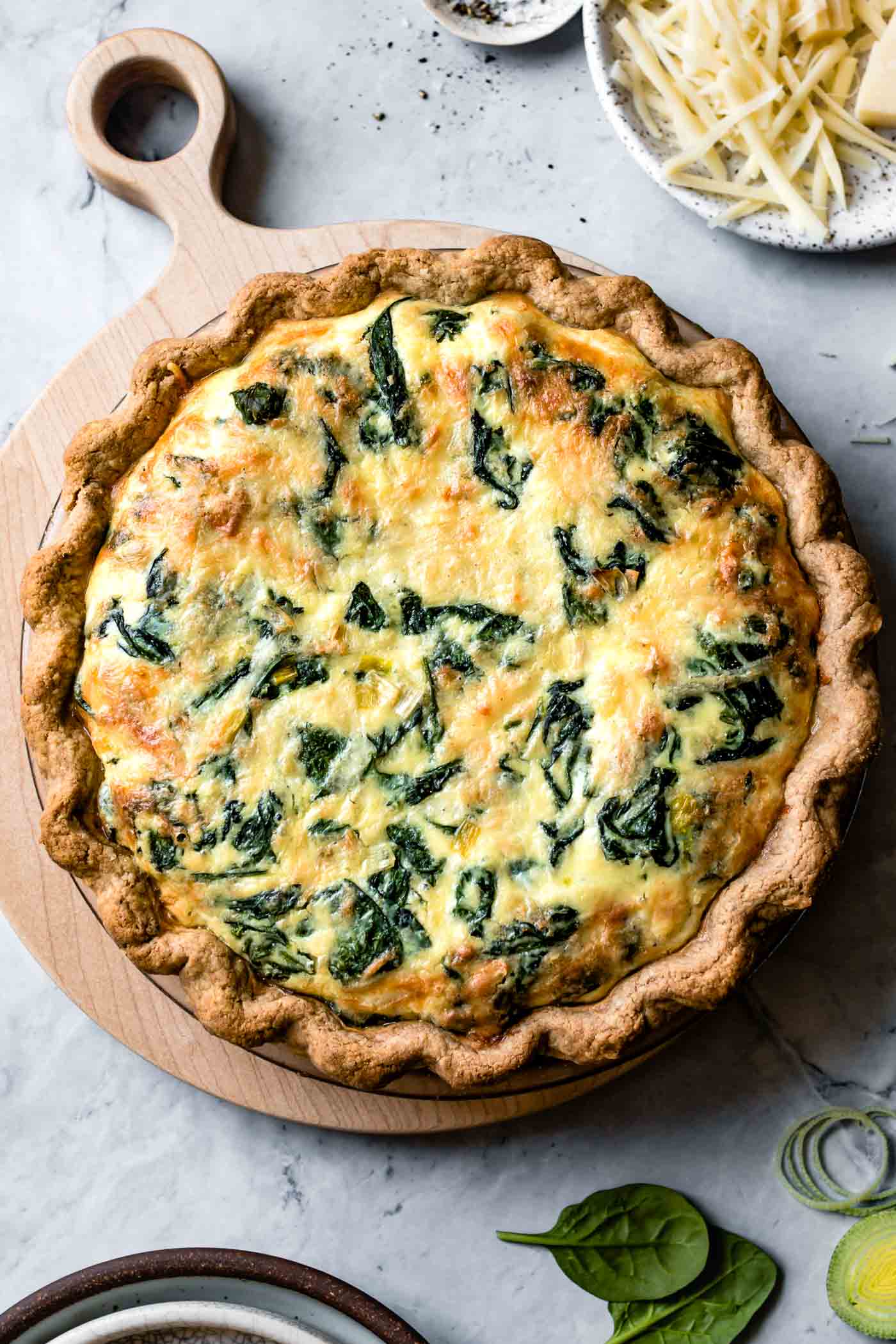 Tangy pomegranate curd kissed with hibiscus and lemon, all wrapped up in a buttery almond flour crust. This bright-tasting tart makes a welcome addition to winter meals, playing counterpoint to the heavy spices of the holidays.
I adapted the recipe from the grapefruit elderflower tart in my book Alternative Baker – another winner!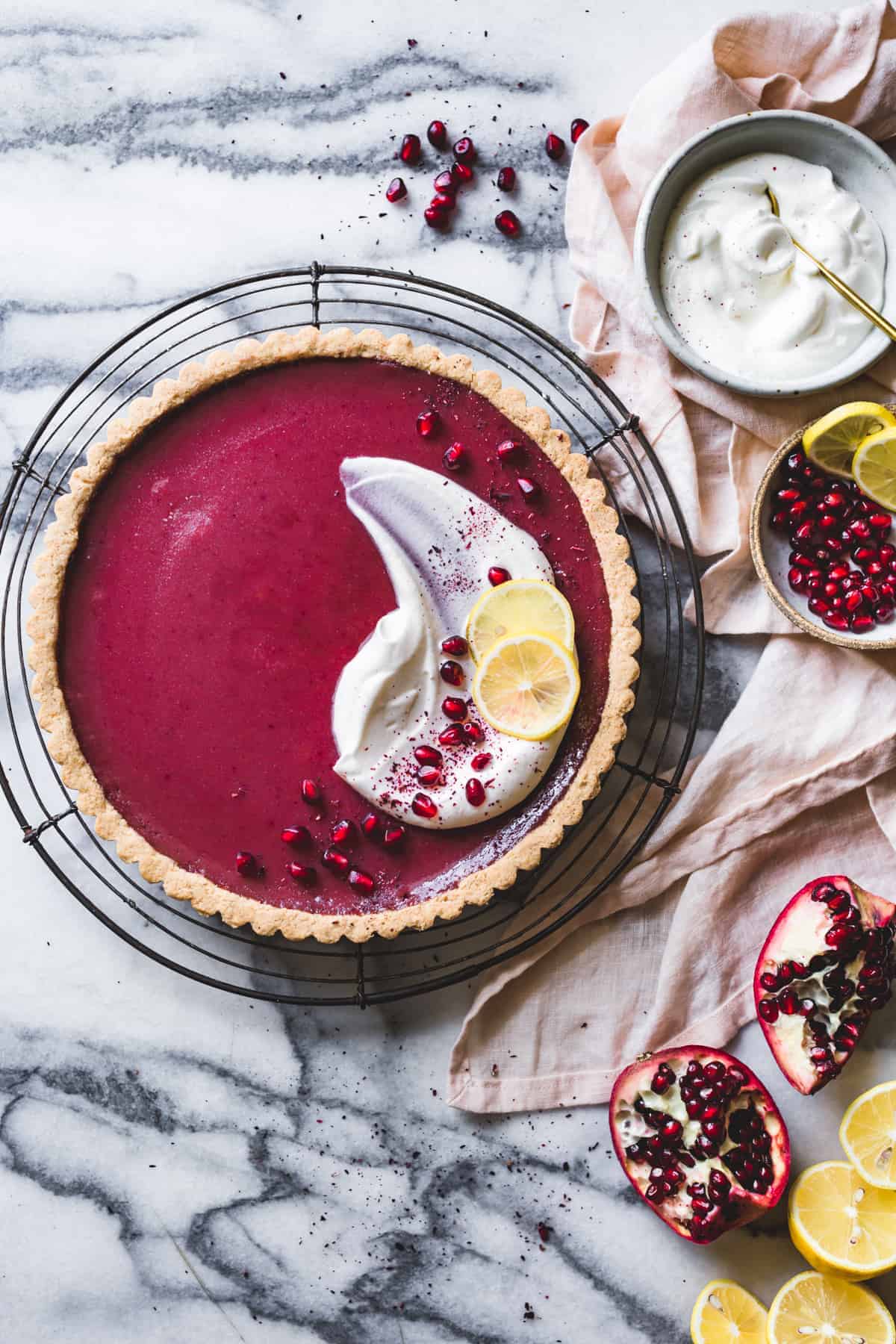 No one will ever suspect this chocolate cream tart of being gluten-free and vegan thanks to a buttery almond flour crust, silky cashew chocolate pudding, and fluffy coconut whipped topping. Garnish with pomegranate arils for a festive touch.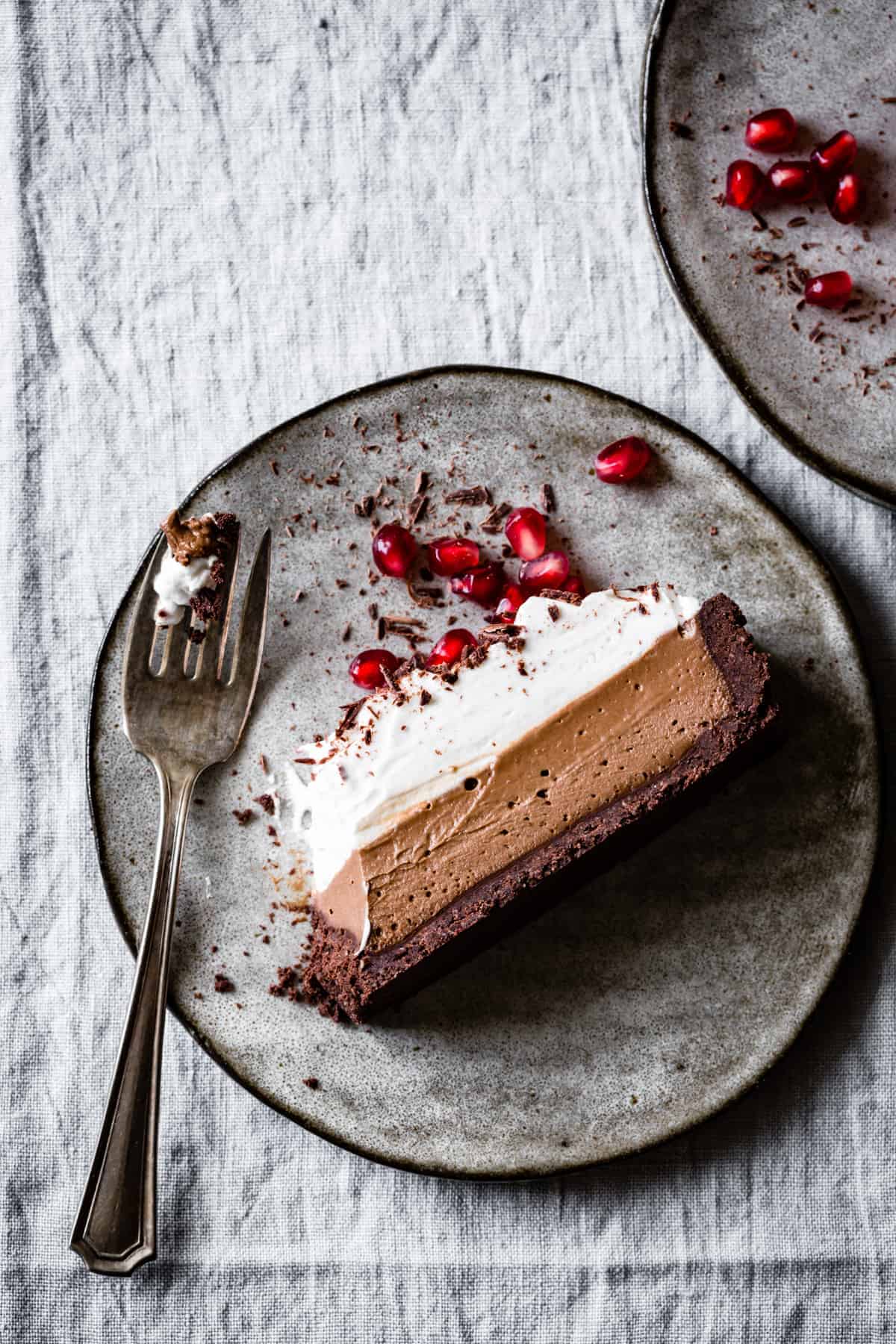 With luscious vanilla ginger cashew cream, layers of fresh figs, and a crumbly crust laced with earthy chestnut flour, this vegan and gluten-free ginger fig tart makes a glorious fall dessert.
Or try this chocolate fig tart instead! Vegan & paleo-friendly.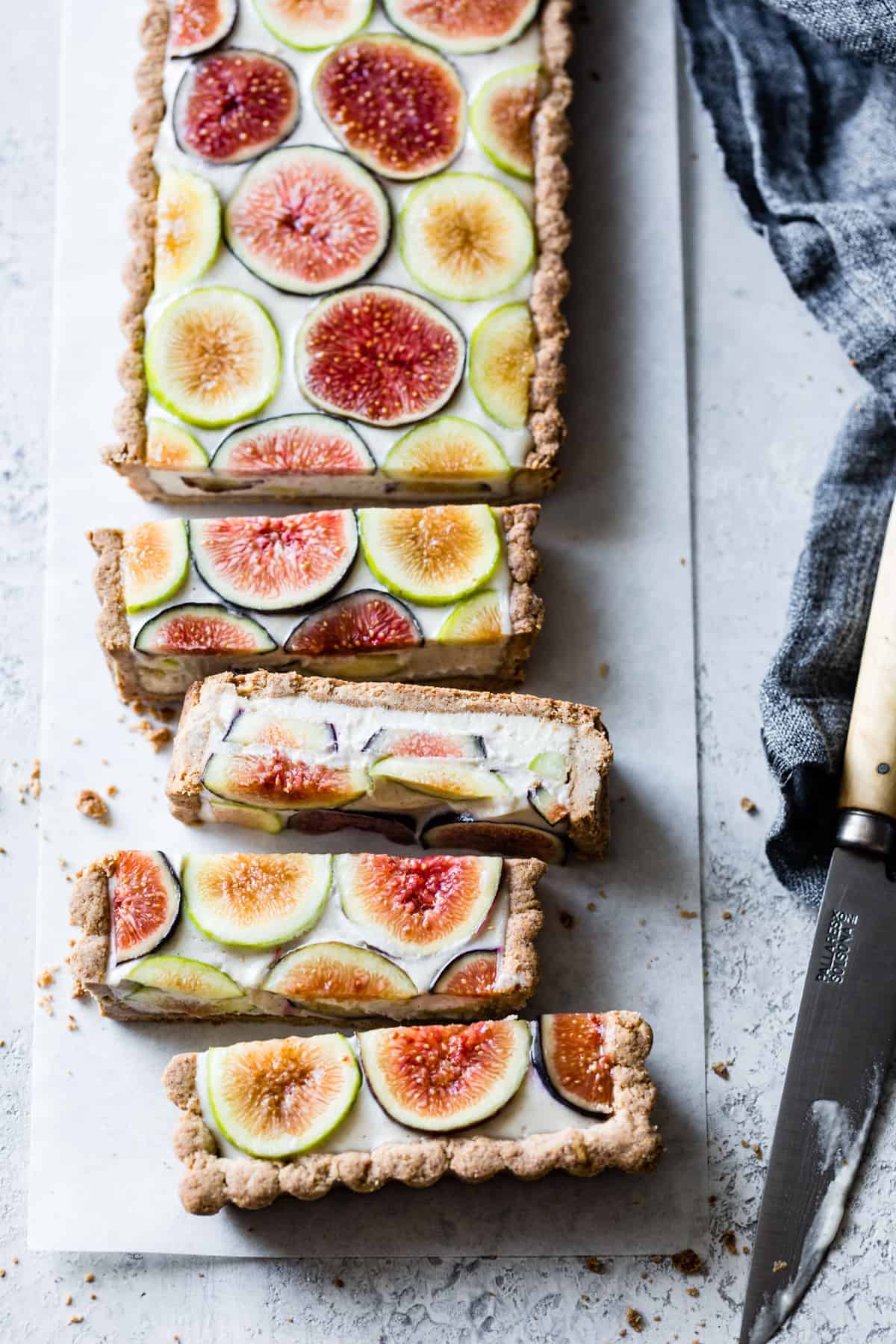 Flaky gluten-free pie dough wrapped around sautéed kale, roasted sweet potatoes, and oodles of cheese makes a spectacular vegetarian main dish (or side dish, or appetizer) for any holiday table.
Apple pie gets jazzed up with spiced poached quinces, all tucked into a flaky GF crust. Look for quinces at farmers markets and specialty grocers – they look like knobby apples that smell like the tropics. If you can't find quinces, up the apples and sugar to taste for a classic apple pie.
Four kinds of chocolate – cocoa, bittersweet, milk, and white – make a super creamy filling all nestled in a cookie-like hazelnut flour crust topped with whipped mascarpone swirled with more chocolate. I adapted this recipe from Marbled, Swirled, and Layered – an epic (though not gluten-free) baking book by my dear friend Irvin Lin.
This savory, rustic tart makes use of the whole beet – from leaf to root. Roasted beets nestle into a pillowy ricotta goat cheese custard wrapped up in a flaky GF crust. Dollop slices with kicky beet green pesto.
A gluten-free version of my favorite maple bourbon pecan pie. Classic pecan pie can be one-note: cloyingly sweet and overly rich. Not so for this gluten-free pecan pie, which gets a kick from booze, flaky salt, dark brown sugar, and sorghum molasses (or maple syrup). Serve slices with barely sweetened whipped cream to round out the flavors.
In this twist on the classic French upside-down tart, apples stew in a buttery apple brandy caramel, covered with gluten-free pie crust dough, and baked. The result: deeply caramelized fruit full of apple flavor and crispy crust with burnished edges. Apple bliss.
This nut-studded pie gets double walnut action from richly spiced Nocino – a liqueur made from green walnuts and spices steeped in grappa. Paired with toasted walnuts, muscovado sugar, maple syrup, and a dose of flaky salt, this not-too-sweet pie makes a nice change from classic pecan.
In this gluten-free riff on banana cream pie, an easy cocoa-buckwheat crust underlines butterscotch custard and whipped cream laced with rum, ripe bananas, and crunchy cacao nibs.
Buttery mashed sweet potatoes meet flaky crust kissed with the earthy taste of teff flour, all topped with candied pecans and whipped cream. I developed this recipe for my Alternative Baking column in GFF Gluten Free Forever Magazine, available here for download or via snail mail.
Or try my pecan-topped sweet potato pie recipe!
Take classic pumpkin pie to the next level with dense-fleshed, flavorful kabocha squash and pretty swirls. Ultra creamy and gently spiced, this gluten-free pumpkin pie gets a cheesecake-like tang from buttermilk and swirls of crème fraîche all wrapped up in a flaky GF pie crust.
Find the recipe in my cookbook! A salt-kissed cocoa crust and fresh cranberries provide a bright counterpoint to the richness of bittersweet chocolate and toasted pecans. While testing recipes for my book, this tart gained cult status among my friends, including people who "find chocolate desserts boring" and others who "don't have a sweet tooth." These people fought over slices. When you try a wedge of buttery crust, gooey pecans and tart cranberries topped with a plume of whipped cream, you'll see why.
With an easy gluten-free graham cracker crust (optionally made with homemade gluten-free graham crackers), a silky chocolate filling, and billows of vegan whipped cream on top, this is a pie to please all chocophiles. Made with just a handful of pantry-friendly ingredients with 5 minutes of active time, no baking or cooking needed.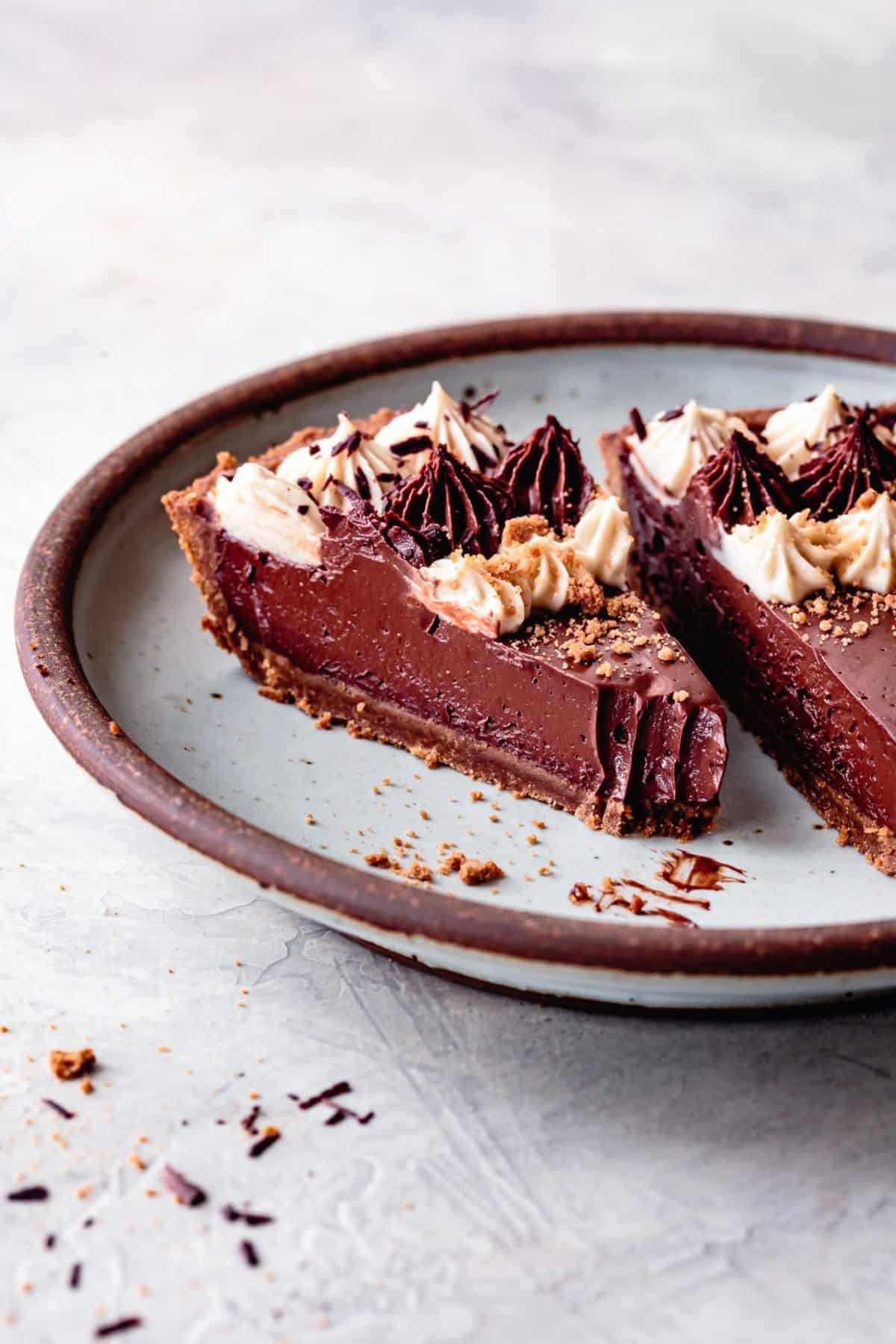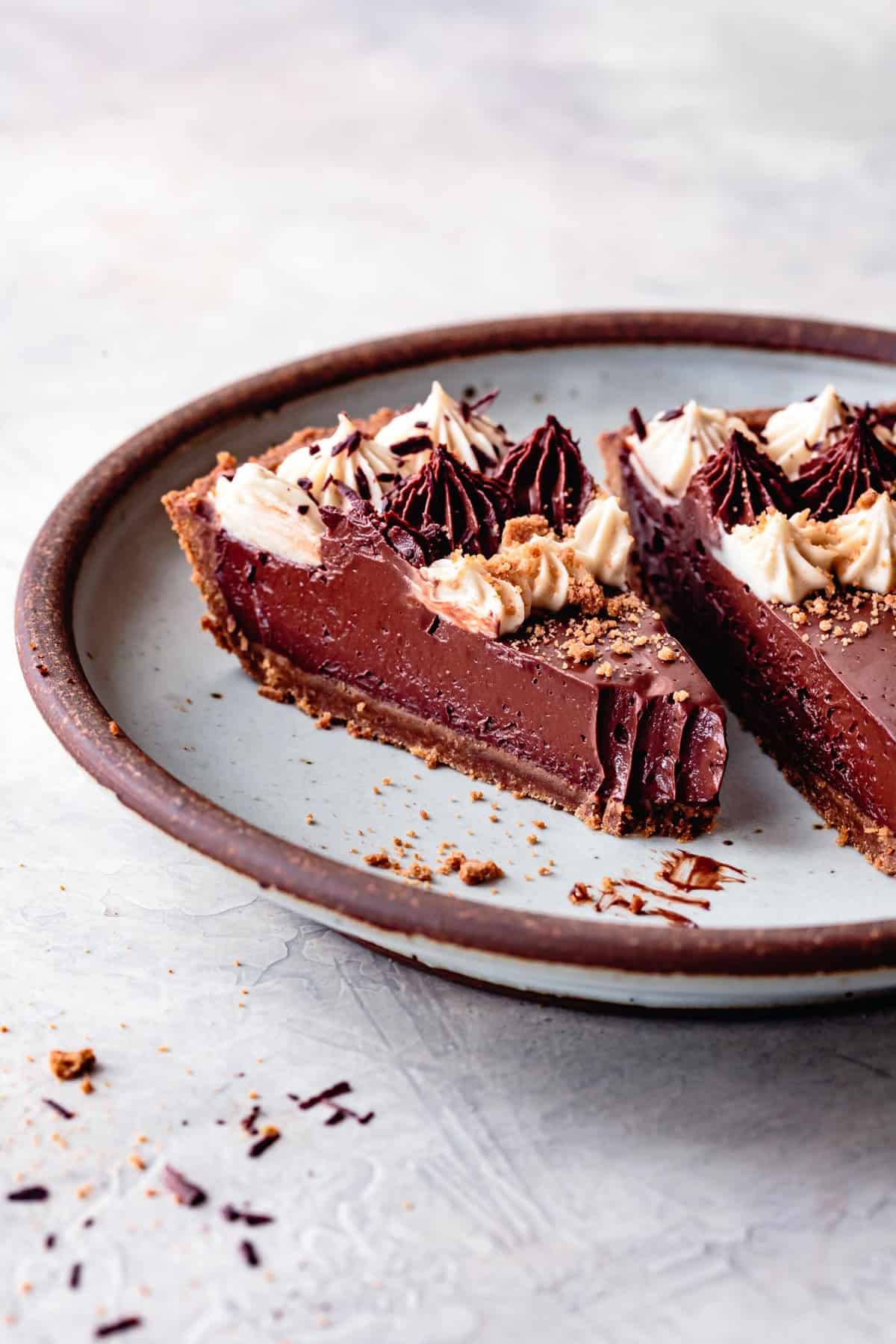 A grain-free take on classic apple pie. Maple-sweetened, cinnamon-kissed and enveloped in a flaky almond flour paleo pie crust.
Vegan gluten-free key lime pie that's entirely grain-free, paleo-friendly, and refined sugar-free bursting with the flavors of bright citrus and luscious coconut. This healthy key lime pie recipe comes together with minimal effort, no baking required.
Find even more gluten free pies, tarts, and galettes in my book Alternative Baker: Reinventing Dessert with Gluten-Free Grains and Flours. Featured in GOOP's gift guide!
Other Holiday Ideas
*Bojon appétit! For more Bojon Gourmet in your life, follow along on Instagram, Facebook, or Pinterest, purchase my gluten-free cookbook Alternative Baker, or subscribe to receive new posts via email. And if you make any of these gluten free pies, tarts, or galettes, I'd love to see. Tag your Instagram snaps @The_Bojon_Gourmet and #bojongourmet.*
Flaky Gluten-Free Pie Crust
Print Recipe
Pin Recipe
This dough is adapted from my book
Alternative Baker: Reinventing Dessert with Gluten-Free Grains and Flours
which is full of luscious pie recipes using this dough and its variations, including a vegan version. It's your ticket to crisp, tender, flaky pie dough loaded with whole grain oat and millet flours and free of gums. See variations below for doughs made with sorghum and buckwheat flours. The buttermilk variation makes for an extra flaky, rich dough that is easier to work with – highly recommended!
Servings:
9
servings (one 9-inch pie crust).
Ingredients
6-8

tablespoons

ice water

(from 1 cup ice cubes filled with cool water)

1/2

cup

sweet white rice flour (mochiko)

(2.75 ounces / 80 grams)

1/4

cup

plus 2 tablespoons GF oat flour

(1.25 ounces / 35 grams)

1/4

cup

millet flour

(1.25 ounces / 35 grams)

1/4

cup

cornstarch

(1 ounce / 30 grams)

2

tablespoons

tapioca starch/flour (same thing)

(.5 ounce / 15 grams)

2 1/2

tablespoons

finely ground chia seed (I grind mine in a coffee grinder)

(.5 ounces / 15 grams)

1

tablespoon

sugar

(.5 ounces / 15 grams)

1/2

teaspoon

fine sea salt

8

tablespoons

cold, unsalted butter (preferably European-style such as Straus), sliced 1/4" thick

(4 ounces / 115 grams)

1

teaspoon

apple cider vinegar
Instructions
Make the dough:
In a large bowl, combine the rice, oat, and millet flours with the cornstarch, tapioca flour, ground chia seed, sugar, and salt. Scatter the butter pieces of the top, and work in with a pastry blender or your fingers until the mixture resembles gravel, with lots of butter chunks the size of large peas.

Stir together 6 tablespoons of the ice water with the apple cider vinegar, and drizzle the mixture into the flour mixture 1 tablespoon at a time, tossing the dough with a rubber spatula to moisten evenly. Add just enough water for the dough to hold together when you give it a squeeze, and add it directly to the dry floury bits that like to hang out on the bottom of the bowl; you may need up to 8 tablespoons of water, total.
At this point you can do one of two things:
Knead the dough in the bowl 10-20 times to bring it together.

Dump the dough out onto the counter and fraisage by dragging portions of the dough across the counter with the heel of your hand (this makes for a flakier dough). Either way, gather the dough up into a ball (a metal bench scraper helps if using the fraisage method) wrap it loosely in plastic wrap, and flatten it into a disk. Chill the dough 30 minutes.
Optionally, for extra flake, roll, fold, roll, or "turn" the dough:
On a lightly floured surface, roll the chilled dough out into a rough square that is about 1/4" thick. Fold it in thirds like you're folding a letter, then roll up from a skinny end into a loose spiral. Gently press to flatten it slightly, and chill for 30 minutes. Optionally, repeat this step once more.
Shape the crust:
Remove the dough from the fridge, unwrap, and place on a lightly floured surface. Roll out the dough into a 12" circle, dusting the dough lightly with oat flour flour as needed, rotating and flipping it to prevent it from sticking. Ease the dough into a 9" glass pie plate, fit it into the corners, and trim it to a 1" overhang. (Save the scraps to patch any tears in the dough post-parbaking.) Fold the overhang of the crust under, and flute the crust by pressing it between the thumb of one hand and the index finger and thumb of the other hand. Prick the bottom of the crust all over with the tines of a fork. Chill the crust for 20 minutes, then freeze it for at least 20 minutes, until solid.

Position a rack in the lower third of the oven and preheat to 400º. If you have a baking stone, put it on the rack. Place the frozen crust on a rimmed baking sheet. Line it with a piece of parchment paper, and fill to the top with pie weights, dry beans, or clean pennies, pressing the weights into the sides and corners of the crust. Bake the crust for 15-30 minutes (shorter for a metal pan, longer for a glass pan), until the dough will hold its shape when you lift off the parchment. Carefully remove the weights and parchment and bake until the bottom is dry and lightly golden, about 8-12 minutes longer (for a parbaked crust) or until deeply golden, 15-20 minutes (for a fully baked crust). Use the saved scraps of dough to patch any holes, cracks, or tears in the dough, baking for a few more minutes post-patching.
Notes
Variation with buttermilk (my favorite!):
Omit the vinegar. For the liquid in the recipe, stir together 4 tablespoons cold buttermilk with 4 tablespoons of ice water. Proceed with the recipe, adding more ice water if needed to moisten the dough after all the buttermilk mixture has been added.
Variation with sorghum flour:
Omit the millet flour, using 1/4 cup (30 g) sorghum flour in its place.
Variation with buckwheat flour:
Omit the millet flour, using 1/4 cup + 2 tablespoons (45 g) buckwheat flour and decreasing the oat flour to 1/4 cup (25 g).
Vegan pie crust variation:
Use vegan butter in place of the butter, and decrease the salt if the butter is salty. I like Miyoko's cultured vegan butter the best.
Paleo pie crust variation:
Instead of the flours, use 1/2 cup blanched almond flour, 1/2 cup cassava flour, and 1/4 cup tapioca flour. Omit the sugar or use maple sugar. Use 2 teaspoons lemon juice in place of the vinegar if you like, and decrease the ice water to 5-6 tablespoons, or until the dough holds together. If you're dairy-free, use vegan butter in place of the butter, and decrease the salt if the butter is salty.
Variation in a food processor:
Once you've made this dough a few times by hand and have a feel for how it comes together, you can throw caution to the wind and make it in a food processor. Add all the dry ingredients to the bowl of the processor and scatter the butter slices over the top, but don't pulse them in yet. Place the bowl on the food processor, put the lid on, and open up the pouring spout. While pouring in the ice water mixture, pulse the processor in short bursts. By the time the liquid is added, the butter should be broken down into the size of peas. Give the dough a squeeze to make sure it's properly hydrated, pulsing in more ice water if needed. Wrap and chill the dough, making the turns if you like for extra flake.
A few notes on ingredients:
This is the flour blend that works for me, but do feel free to experiment as you see fit. If you can't find sweet rice flour, which is widely available in Asian markets, try a GF all-purpose blend in its place, such as Bob's Red Mill 1 to 1 baking mix, which is made largely of sweet rice flour. (I would hesitate to substitute regular rice flour, which is less sticky and will make for a brittle dough). Chia seed can be found at any health food store or upscale market; I use the lighter colored seeds, grind a bunch ahead of time, and keep them in a jar to use as needed. If you can't find chia seeds, try using an equal amount of ground flax seed (these have a slightly stronger flavor), or 1/2 teaspoon xanthan or guar gum in their place. European-style butters have more fat and less water, and will make for the most rich and tender crust; Strauss and Plugra are two widely available brands.
A few notes on timing:
If your dough has chilled for a while and cracks when you go to roll it, let it warm up a bit; this will make it easier to work with. Give yourself three hours to complete a parbaked crust if you plan to give your dough a puff pastry-esque turn (which I call roll, fold, roll), or two hours if you're skipping this step. Most of this time is inactive. The ideal timeframe for making this crust is as follows:
10 minutes to mix and fraisage the dough
30 minutes to chill 10 minutes to roll out and fold 30 minutes to chill
10 minutes to roll out the dough, get it in the pan, shape it, and dock it
20 minutes to chill
20 minutes to freeze
30-40 minutes to par-bake the crust
Do ahead: You can make the dough up to two days ahead; let it soften up a bit before rolling it out. You can also wrap a frozen shell, baked or unbaked, for up to several months.
Nutritional values are based on one of nine servings.
Nutrition
Calories:
189
kcal
Carbohydrates:
19
g
Protein:
2
g
Fat:
12
g
Saturated Fat:
7
g
Cholesterol:
27
mg
Sodium:
133
mg
Potassium:
40
mg
Fiber:
2
g
Sugar:
1
g
Vitamin A:
310
IU
Calcium:
26
mg
Iron:
0.6
mg