This fig galette recipe combines creamy goat cheese, juicy figs, caramelized shallots, and kicky za'atar all tucked into flaky pastry. Drizzled with golden honey, they make a special savory-sweet appetizer for late summer and early fall. Vegetarian, with gluten-free and grain-free options. Created in partnership with Vermont Creamery.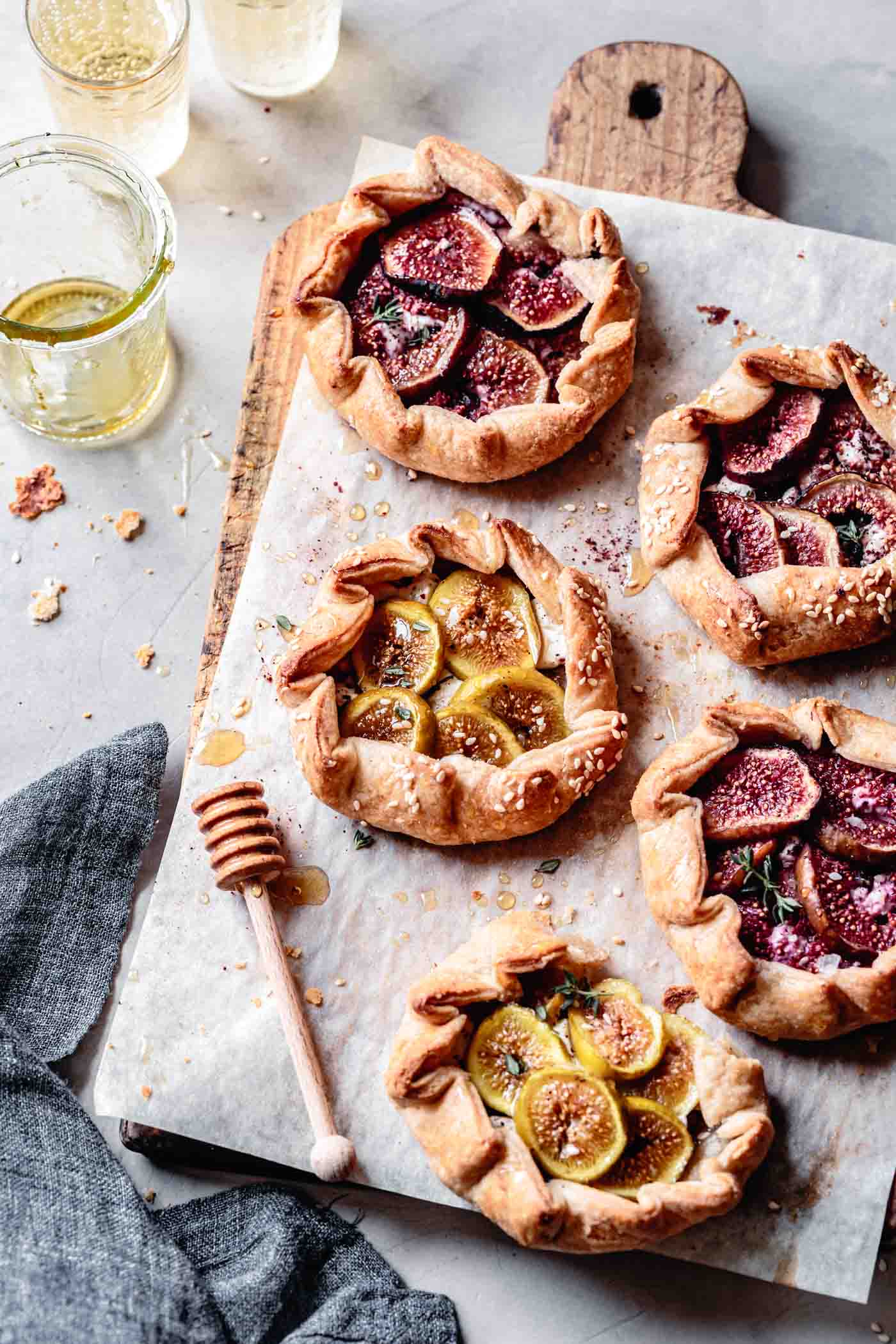 These little savory-sweet fig galettes were inspired by a favorite dessert from TBG archives: goat cheese honey ice cream with za'atar roasted figs. The recipe came from my friend Kimberley's beautiful cookbook Vibrant Food and is a reader favorite here on the site! I wanted to capture those flavors in a more substantial form, so I layered the ingredients into flaky pastry.
Caramelized shallot forms a savory base topped with creamy fresh goat cheese and sweet figs, all drizzled with honey and za'atar. Against a shatteringly crisp crust, these little pastries make a stunning late summer snack.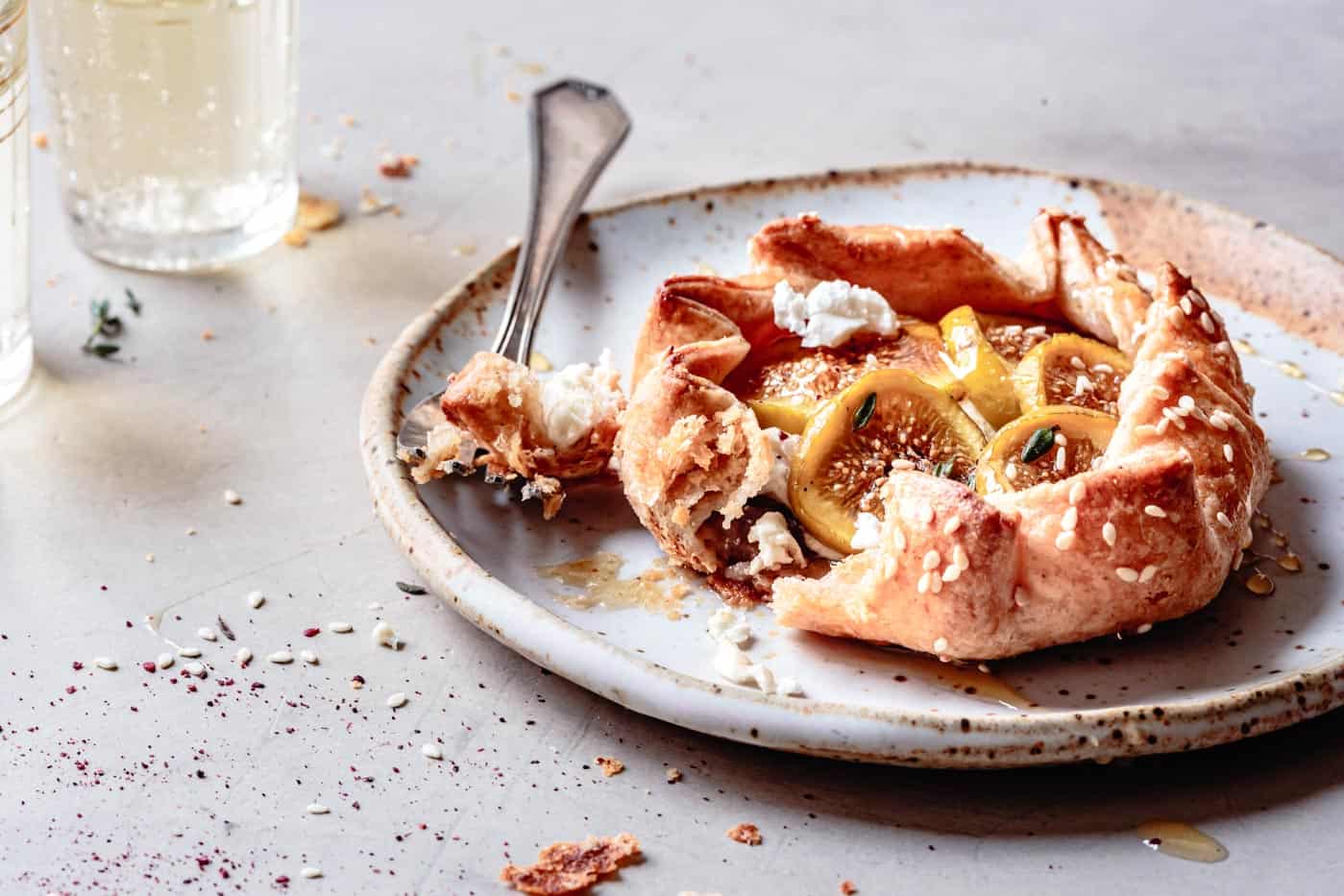 Grain-Free / Gluten-Free Galettes
I'm a big fan of galettes and rustic tarts. They're as satisfying as pie without having to wrestle dough into a dish. You can bake them in any size or shape you like, and fill them with sweet or savory flavors. I've made many different galettes over the years, some with wheat dough and some with gluten-free pie crust.
Here I experimented with a grain-free pie crust was thrilled with the results. The recipe uses cassava, almond, and tapioca flours. And just look at those flakes! Please let me know if you try my paleo pie crust recipe.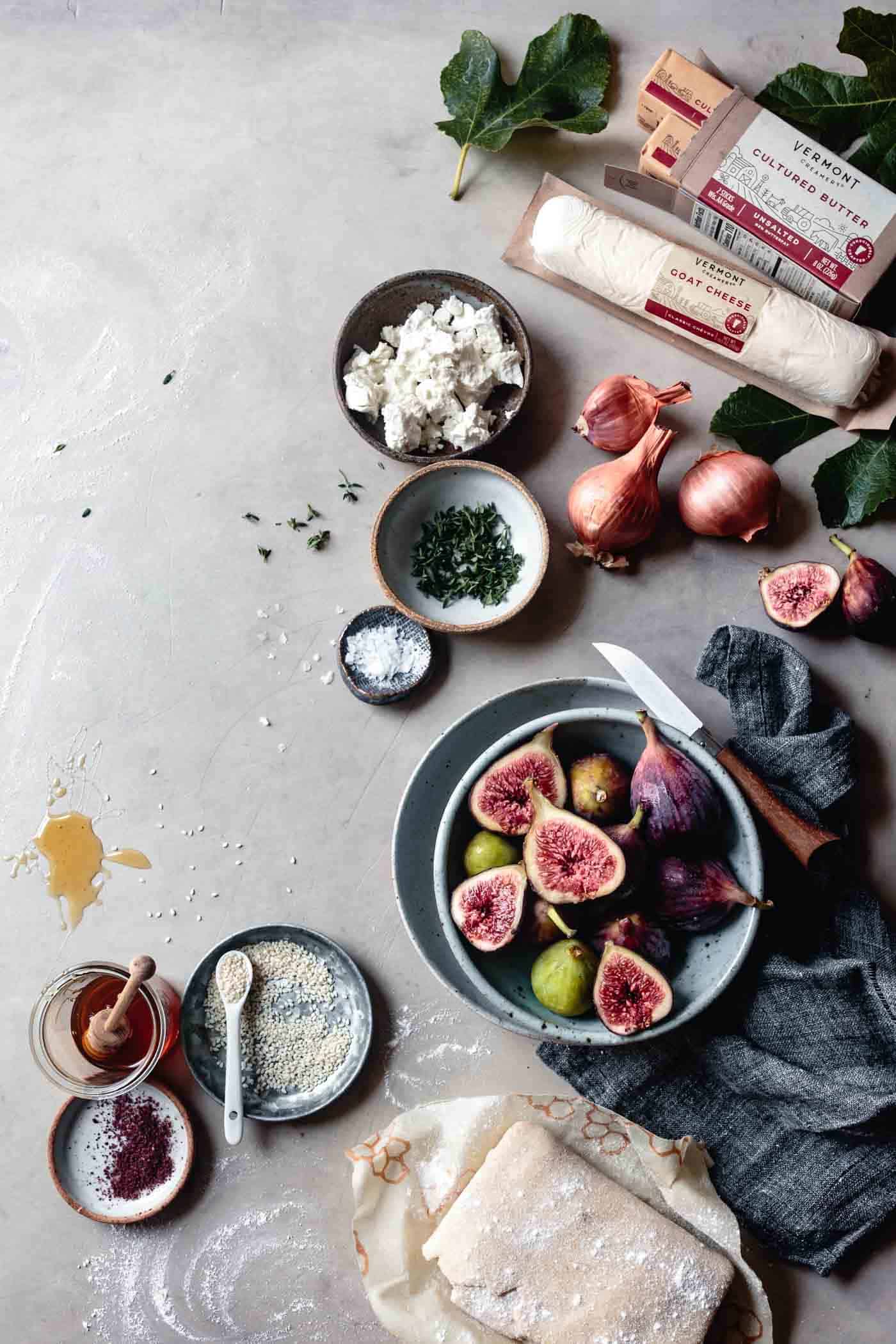 Ingredients and Substitution Suggestions:
Flaky pie pastry is key. Depending on dietary preference, make these with my ultra-flaky wheat pie crust, gluten-free pie crust, or paleo pie crust. Whichever recipe you choose, you'll want to use delicious Vermont Creamery cultured butter for the best flavor.
Shallots caramelized in Vermont Creamery butter form a savory base. If you don't have shallots, feel free to use onions of any color.
Figs should be ripe but firm. Figs don't ripen beyond when they're picked, so choose figs that feel heavy for their size and have a slight give.
Vermont Creamery fresh goat cheese lends gentle lactic tang and creamy deliciousness to these little hand pies. This award-winning cheese is made in small batches in Vermont. Its clean, bright flavor indicates good treatment of their goats and freshness of the milk. Vermont Creamery is a certified B Corp, which means that when you choose their products, you're supporting a company that does good things for our world too. It doesn't hurt that their cheese tastes delightfully tangy, with notes of lemon and freshly cut grass.
Za'atar is a spice blend that hails from the Eastern Mediterranean. It's usually made from a blend of thyme and sesame, often with other flavors added in such as sumac, oregano, or marjoram. Use a store bought blend or make your own (see notes below the recipe). It adds lovely savory notes to these fig galettes. But if you don't have any on hand, you can leave it out or sub minced fresh rosemary or thyme leaves in its place.
Milk, cream, or a beaten egg brushed on the crust give it a nice shine and help adhere the sesame seeds.
How to Make Fig Galette: Step-by-step photos and instructions

Step 1: Caramelize the shallots.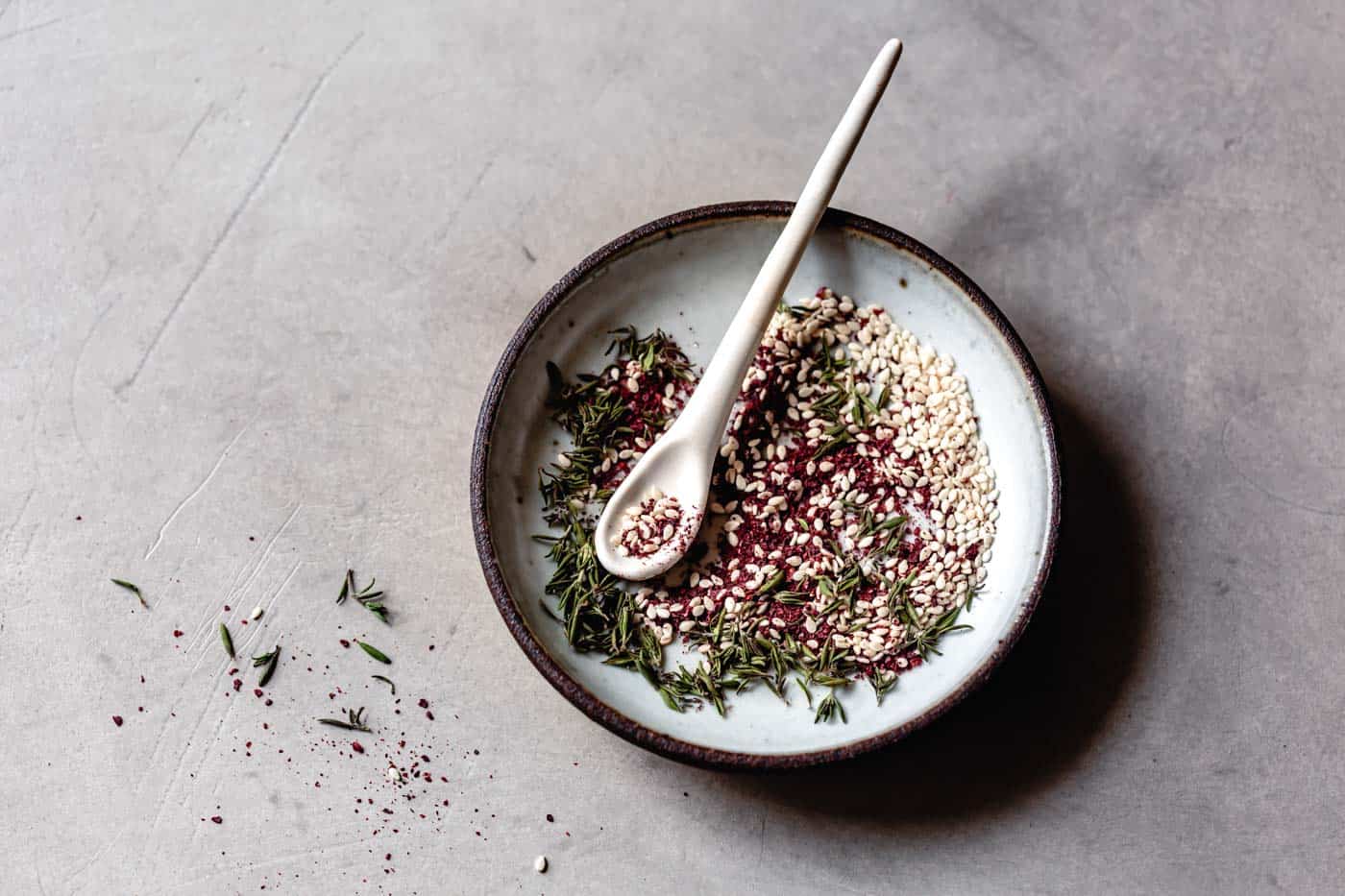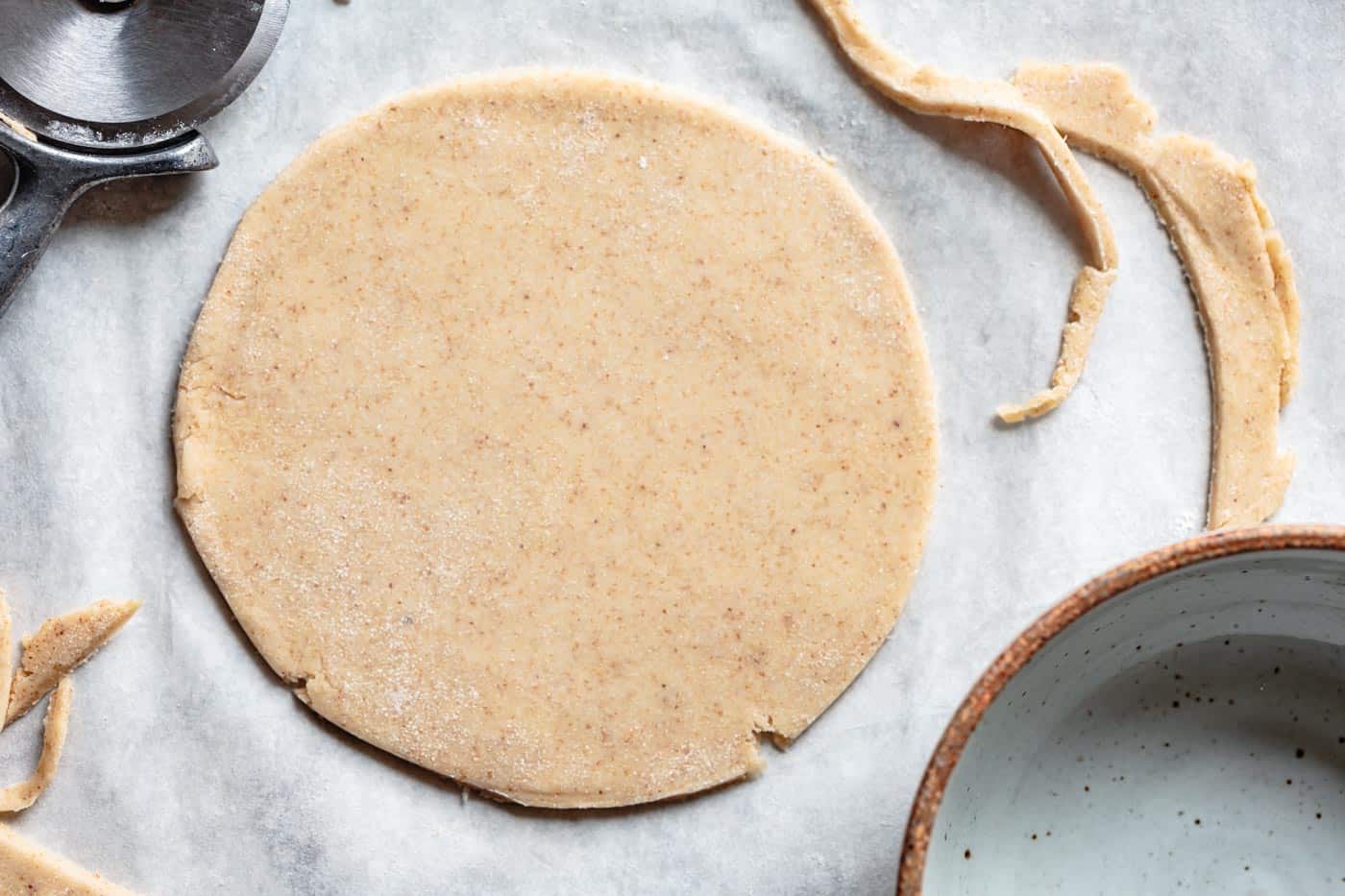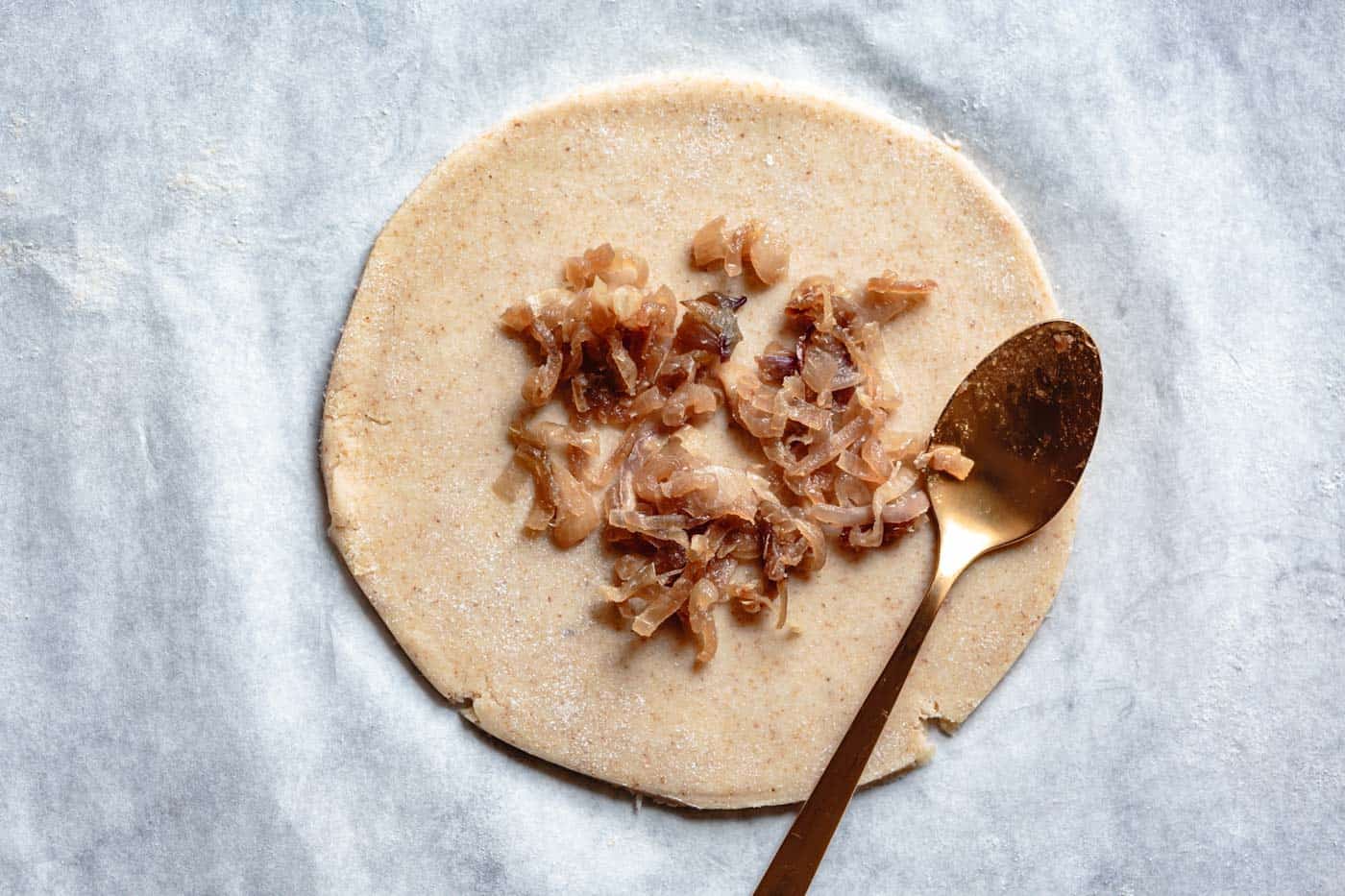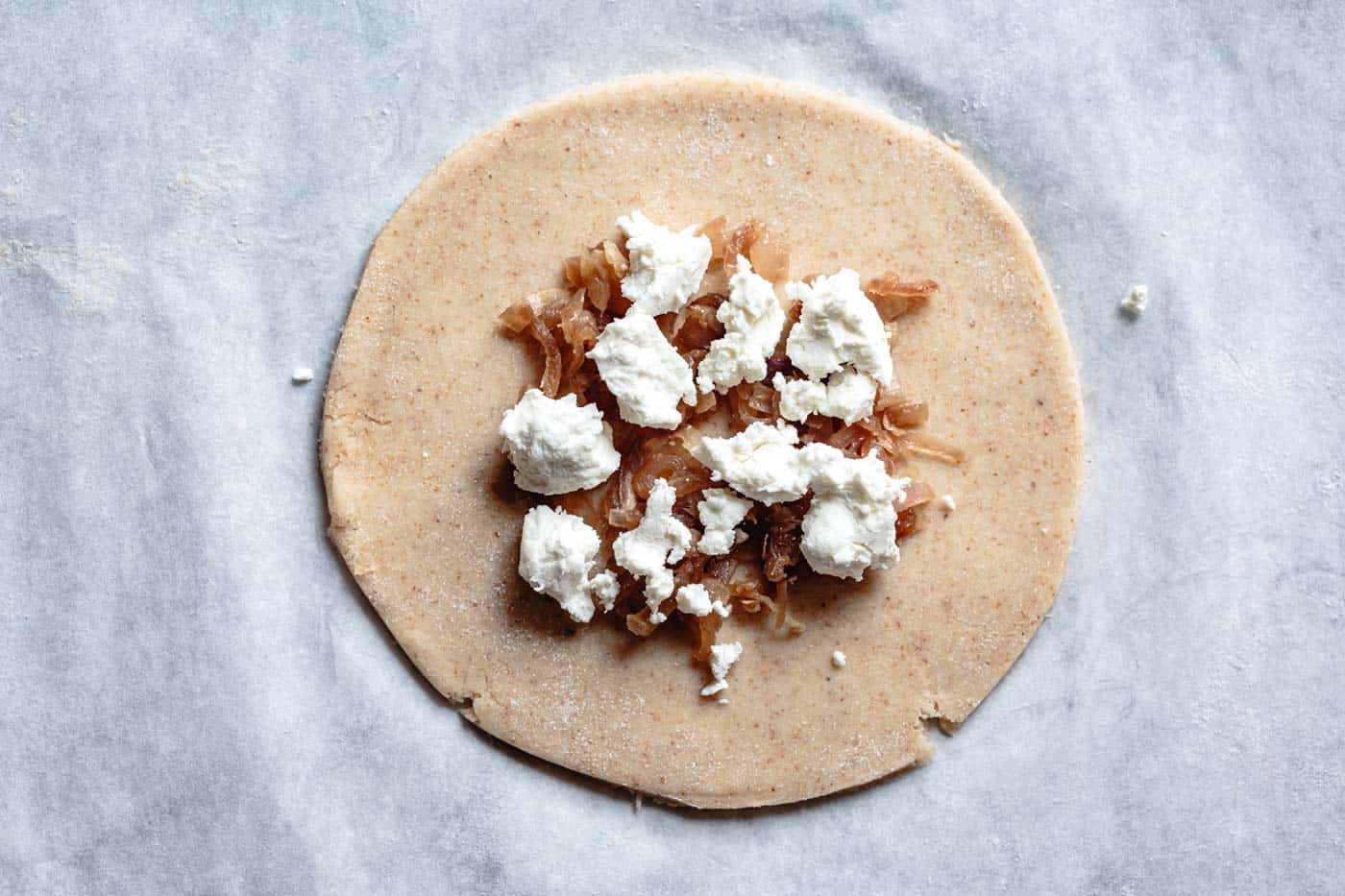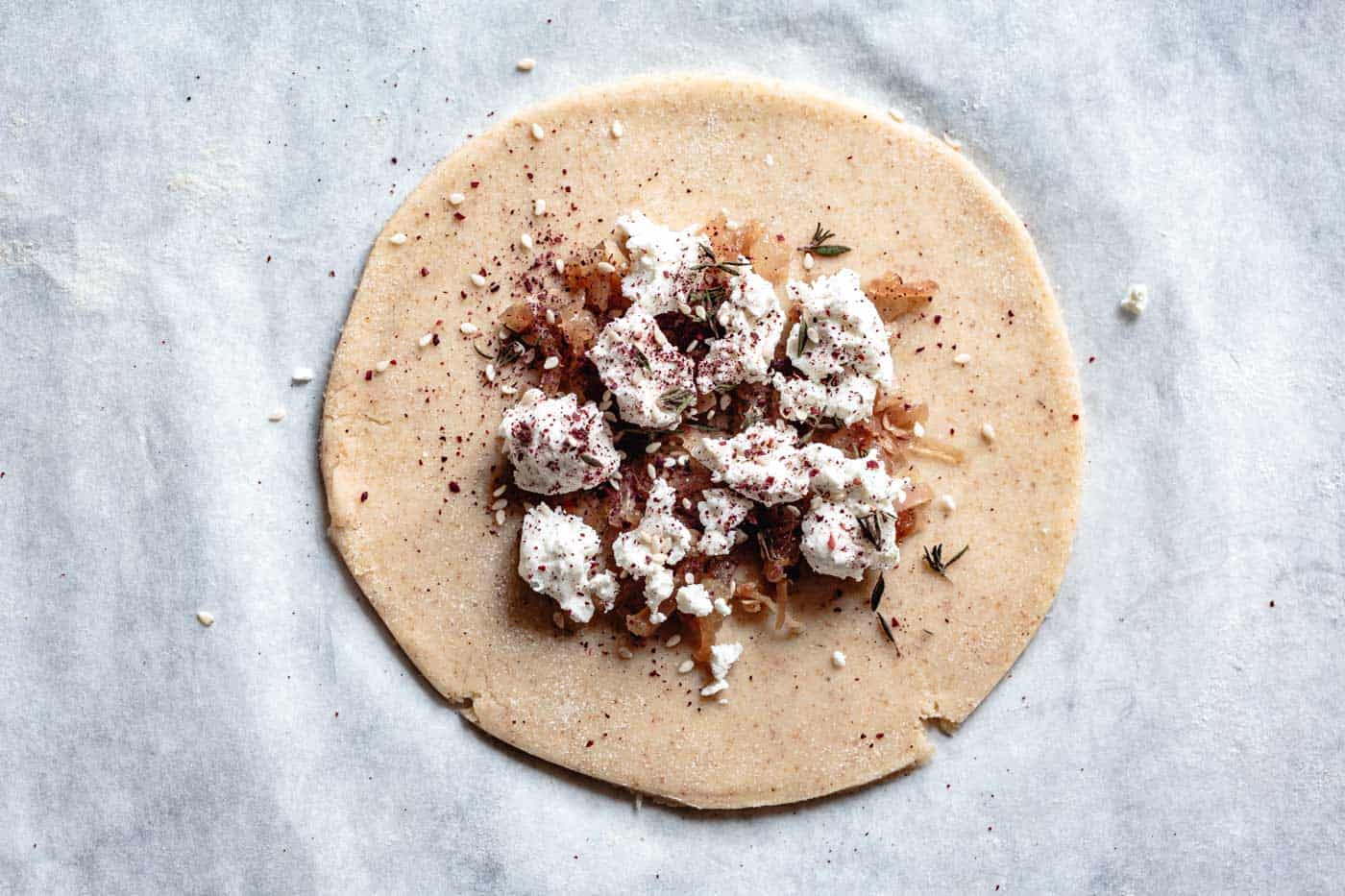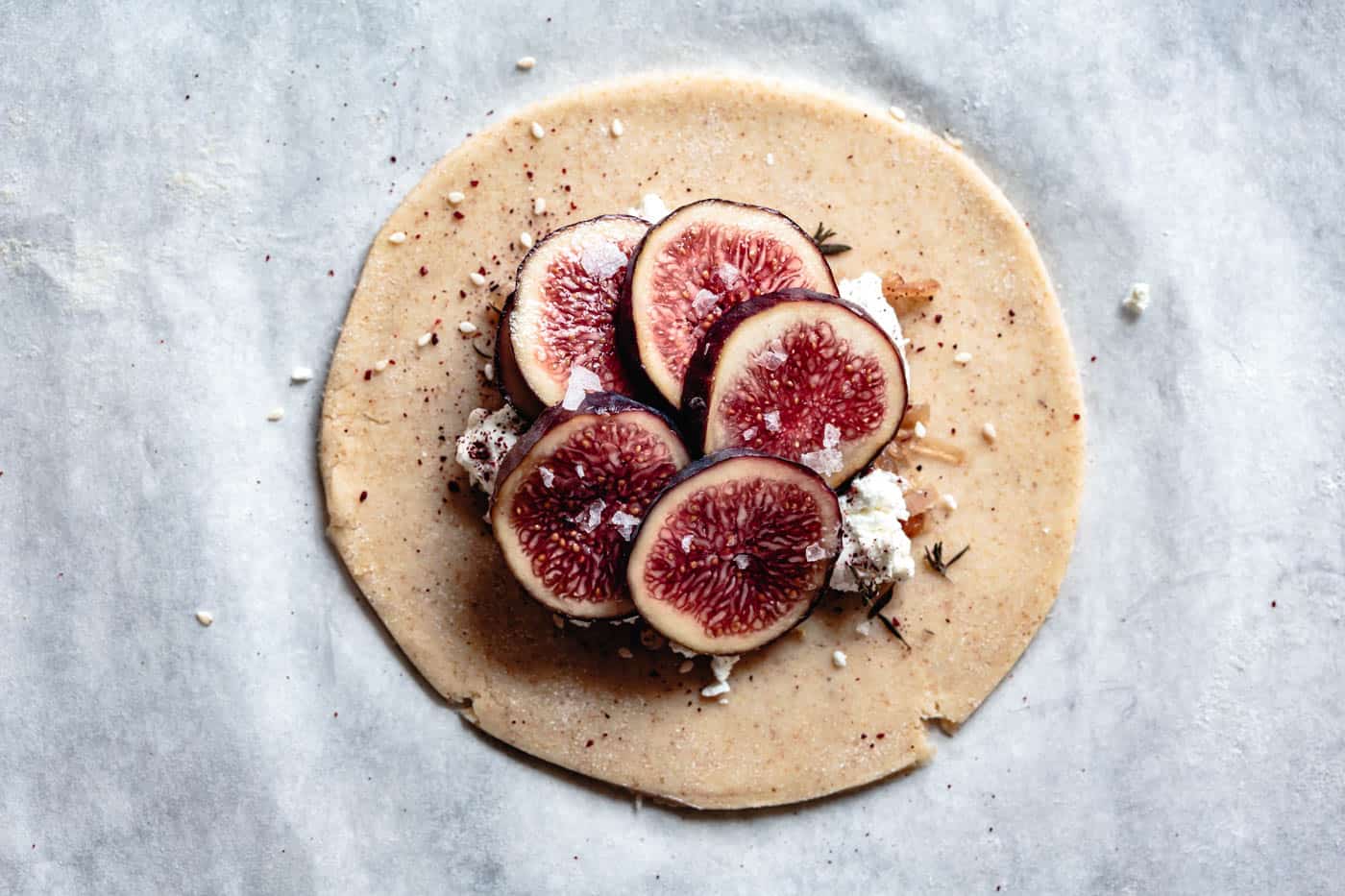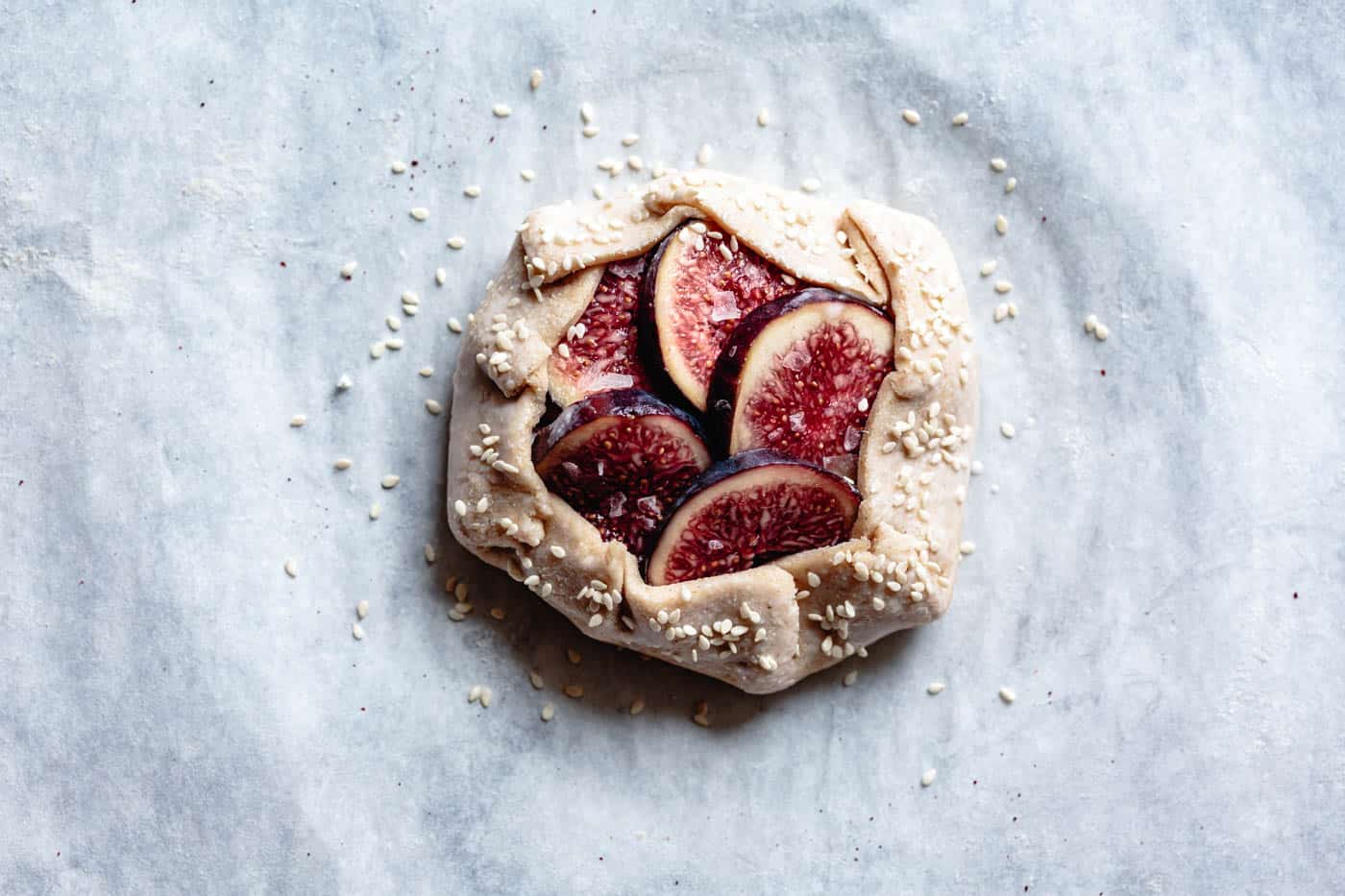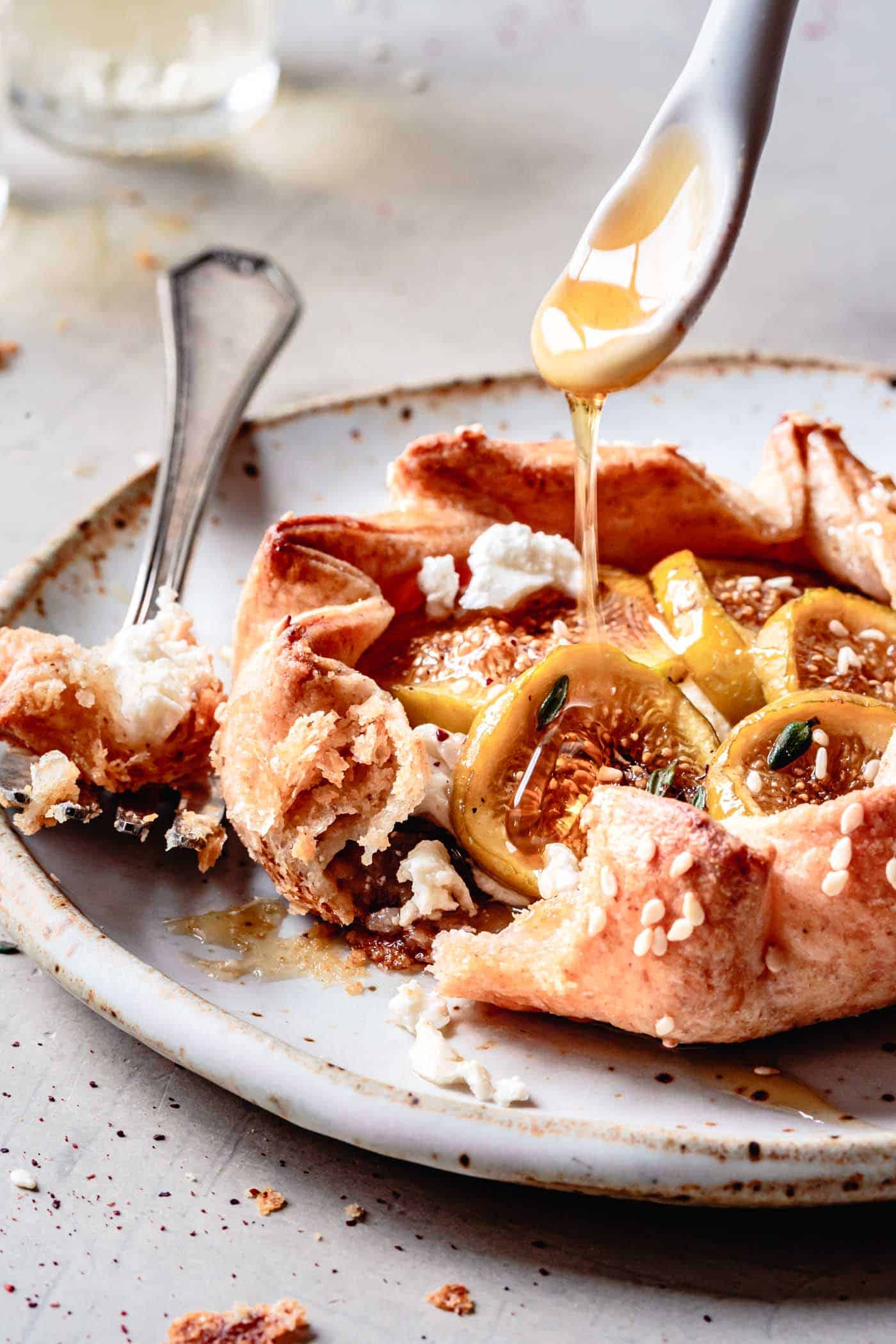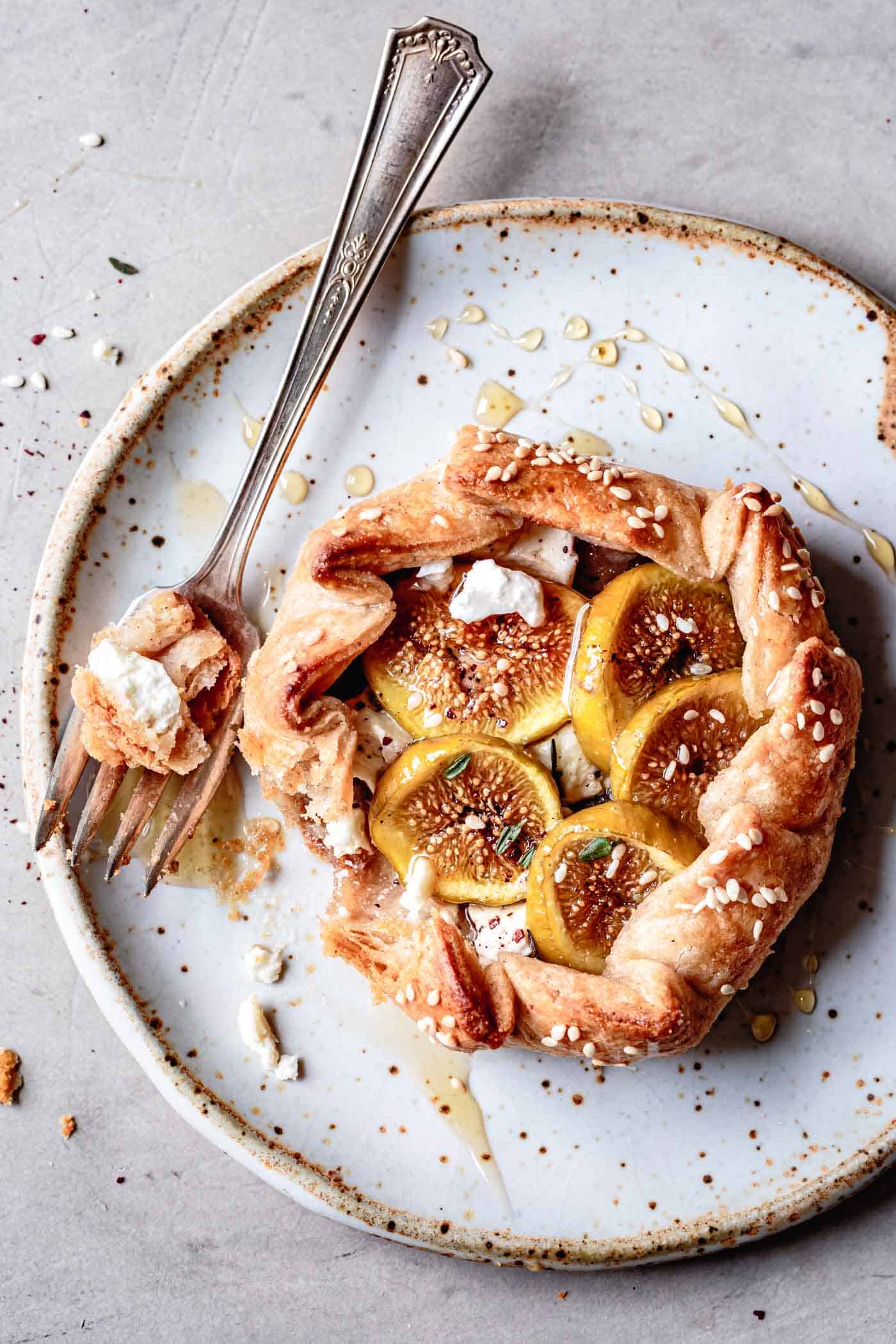 A Fig Galette Recipe for Everyone
Bite into a fig galette warm from the oven and you'll be greeted with a flaky, crisp crust that shatters everywhere. Next enjoy warm, creamy goat cheese, redolent with tanginess, mingling with jammy baked figs. Za'atar spices add beguiling savory flavor, and caramelized shallots offset the sweetness of a drizzle of floral honey. Fig galette bliss.
These fig galettes are perfectly pitched against a glass of crisp white wine or sparkling rosé. Whip up a batch for a special late summer or early fall gathering and savor the flavors of harvest time while you can – before pumpkin spice takes over.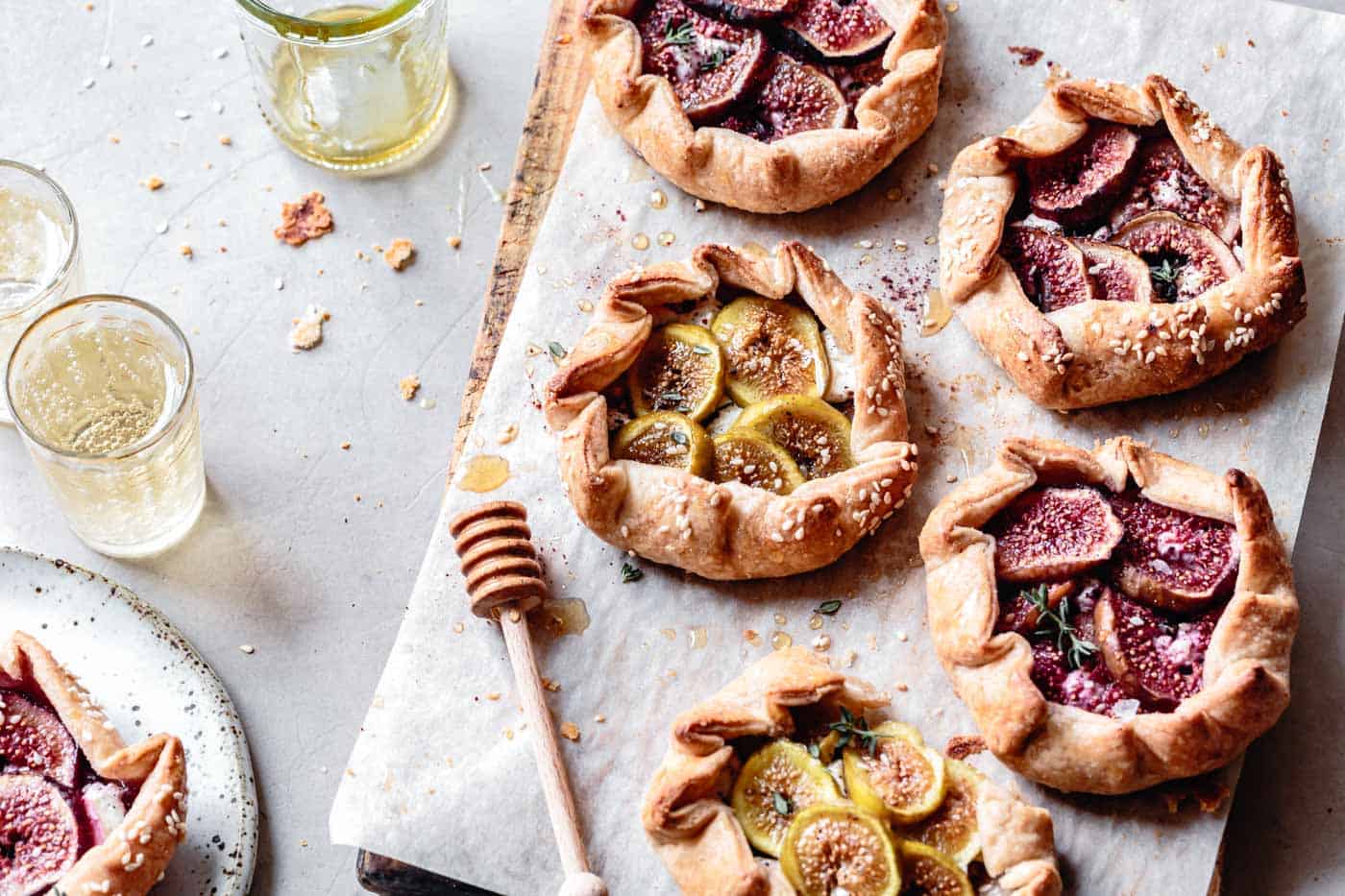 More galette recipes:
More fig recipes:
More collaborations with Vermont Creamery:
*Bojon appétit! For more Bojon Gourmet in your life, follow along on Instagram, Facebook, or Pinterest, purchase my gluten-free cookbook Alternative Baker, or subscribe to receive new posts via email. And if you make this fig galette recipe, I'd love to see. Tag your Instagram snaps @The_Bojon_Gourmet and #bojongourmet.*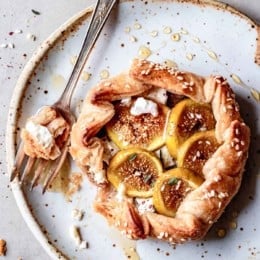 Fig Galettes with Goat Cheese, Honey & Za'atar
Print Recipe
Pin Recipe
Ingredients
1

recipe pie dough for a 9-inch pie (wheat, gluten-free, or paleo)

1

tablespoon

Vermont Creamery unsalted butter

1 ½

cups

sliced shallots (about 4 large shallots)

a few pinches of salt

1-2

teaspoons

za'atar, storebought or homemade (see note) or sub minced fresh thyme or rosemary leaves)

6

large or 12 smaller figs, trimmed and sliced into rounds

flaky salt, for sprinkling

cream, coconut milk, or a beaten egg, for brushing the crust

sesame seeds, for sprinkling the crust

honey, for drizzling
Instructions
Divide the cold pie dough into 6 portions; work with 1 portion at a time and keep the rest chilled. On a surface dusted lightly with flour (wheat, gluten-free, or grain-free), roll out each portion into a round that is roughly 1/8" thick and 6 inches in diameter. Trim each portion into a smooth, even round, and stack them on a plate. Cover and chill until firm, at least 30 minutes and up to 1 day.

While the dough rounds chill, melt the butter in a wide skillet over medium-low heat. Add the shallots and cook, stirring frequently, until golden and caramelized, about 20 minutes. Reduce the heat to low when the shallots start to color, and splash a bit of water into the pan if it looks dry. Season with a few pinches of salt.

Have the other ingredients prepared and standing by.

Lay the dough rounds on a baking sheet lined with parchment paper. Divide the caramelized shallot in the center of each dough round. Top with crumbled goat cheese and a sprinkle of za'atar. Fan the fig rounds over the top and sprinkle them with a little flaky salt. Fold the dough edges over the figs to form a crust, pleating and pressing the dough to adhere.

Return the galettes to the refrigerator and chill until the dough is firm again, 20-30 minutes.

Position a rack in the upper third of the oven and preheat to 400ºF.

Brush the chilled galette crusts with cream or beaten egg and sprinkle with sesame seeds if using. Bake the galettes until the crusts are golden and the fruit is bubbling, 20-30 minutes. Remove to a serving platter, drizzle with honey, and sprinkle with a little more za'atar. Serve warm or at room temperature.

Extra galettes keep well, refrigerated, for up to 3 days. Reheat in a 350º oven or toaster oven.
Notes
To make the za'atar, stir together 1 teaspoon each sumac, sesame seeds, and fresh or dried thyme leaves.
You can make one large galette if you prefer. Roll the dough into a single large round, top with the toppings as directed, fold up the crust, and extend the baking time as needed.
Nutrition values are for 1 of 6 galettes.
Nutrition
Calories:
502
kcal
Carbohydrates:
57
g
Protein:
6
g
Fat:
29
g
Saturated Fat:
11
g
Cholesterol:
9
mg
Sodium:
555
mg
Potassium:
314
mg
Fiber:
4
g
Sugar:
23
g
Vitamin A:
350
IU
Vitamin C:
6
mg
Calcium:
66
mg
Iron:
1
mg