Apricots, plums, peaches, nectarines—use whatever stone fruit you've got for this gluten-free galette. Softly spiced, drizzled with honey, and served up with drippy ice cream, this fruit galette makes a glorious summer dessert.
The galette's gluten-free dough is the secret: it's light, crisp, buttery and extra flaky! With dairy-free, vegan, and paleo options.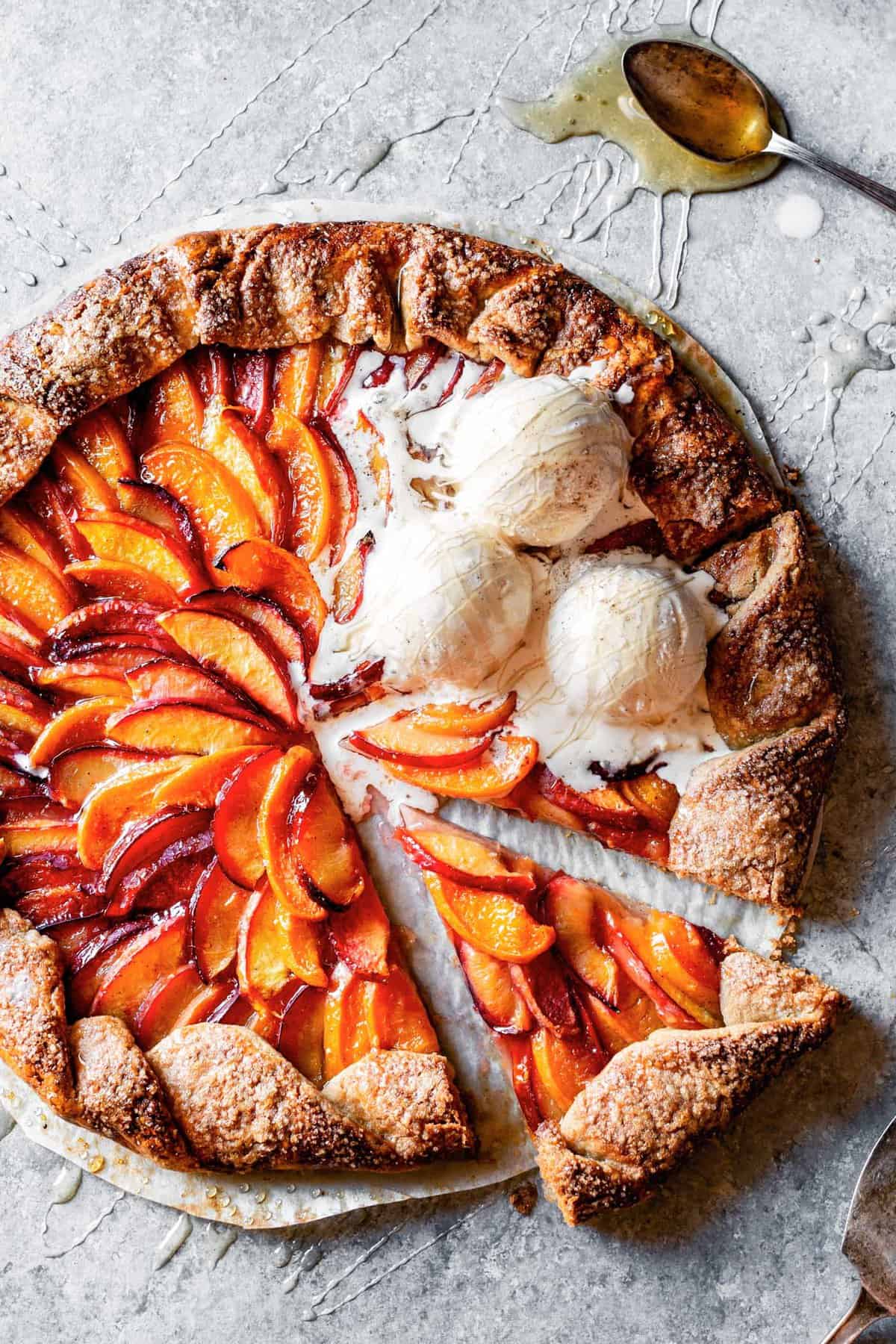 Of all gluten-free dessert recipes, I'm especially a fan of fruit galettes! They're faster and easier than making a pie or tart but they still combine flaky crust with jammy fruit. Plus they're FRENCH so they seem extra fancy.
Galettes can swing sweet or savory – or my favorite: savory-sweet! They work with any fruit including tomatoes, apples, apricots, and even persimmons. (Don't miss the pear galettes with salted caramel in my cookbook Alternative Baker!)
Stone Fruit Galette
Here I'm sharing a stone fruit galette that's perfect all summer long. Use a single type of stone fruit at the start of summer, such as apricots or peaches. Or mix them up as summer goes on and you find yourself with a counter covered in pluots, apriums, nectarines, and plums of all stripes.
I add a dusting of cardamom and a sprinkle of honey to make the flavors pop. The mellow spice of cardamom and floral honey notes play off the the sweet-tart fruit in a magical way. But you can leave those ingredients off if you prefer a more classic gluten-free fruit galette.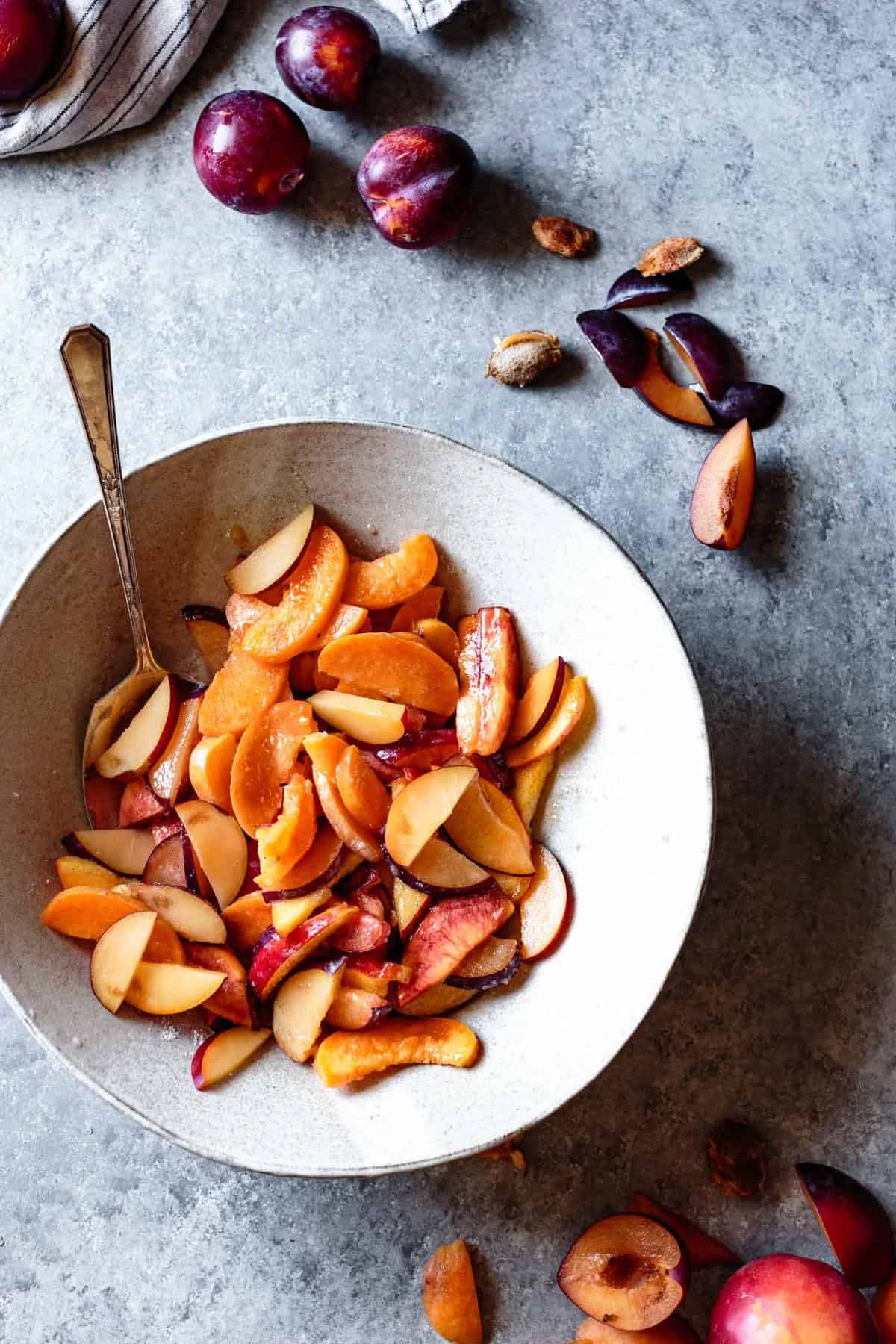 Ingredients & Substitution Suggestions
The best flaky gluten-free galette dough creates a sturdy base that's easy to work around the fruit. With my step-by-step instructions and a flour blend that's full of flavor, you'll be most of the way to galette paradise! For a grain-free paleo option, use my almond flour pie crust. For a vegan galette, use a good vegan butter in the crust such as Miyoko's.
Stone fruit forms the bulk of the filling. Choose apricots, peaches, plums, nectarines (a single fruit or a combination) that are firm-ripe. They should smell fragrant and have a bit of give when you squeeze them, but they should be firm enough to hold a shape when sliced.
A small amount of sugar adds sweetness and helps thicken the fruit juices as they bubble in the oven. Add more or less to your taste and depending on the sweetness of the fruit. For a refined sugar-free option, use maple sugar or coconut sugar instead.
Cornstarch thickens the juices further, helping to keep the galette crust crisp. Tapioca flour or GF all-purpose flour will work, but cornstarch has the nicest texture.
Cardamom adds a hint of spice. Feel free to swap in cinnamon, ginger, or vanilla if you prefer, or leave the spices off for a more classic flavor.
A drizzle of honey over the top adds shine, and the floral flavor plays beautifully with the stone fruit. If honey isn't your thing, you can leave this off – just add a little extra sugar to the filling if you like.
Salt and lemon juice sharpen the flavors.
Brushing the crust with a bit of beaten egg gives it a shiny, golden glaze. If you're egg-free, you can brush the crust with a bit of milk, cream, or water to help the sugar adhere instead.
How to Make a Galette
This gluten-free galette may look fancy, but it's actually easier to make than a pie. Here's how to do it:
Start by making a batch of gluten-free pie crust or paleo pie crust. This takes 2 hours of prep time (mostly chilling time) and can be done up to 3 days ahead.
When the dough has chilled, roll it out into a large round. This version makes one large galette, serving 8. (If you prefer individual galettes, follow the instructions in this recipe.) Chill the crust until firm to keep the butter cold – this will make the dough extra-flaky as it bakes.
Meanwhile, prepare the fruit by cutting it off the pit in large chunks. Cut the chunks into slices. Toss the sliced fruit with the sugar, cornstarch, cardamom, salt, and lemon to coat each slice.
Fan the fruit over the crust in concentric circles, starting on the outside and working inward and leaving a 2-inch overhang on the outer rim. Here I alternated slices of fruit so there would be some in each bite. For a more rustic look, simply dump the fruit over the crust – it will still look beautiful!
Fold the crust up over the fruit, pleating it as you go. Brush it with the egg wash, sprinkle with sugar, and bake for 35-45 minutes.
Drizzle the whole galette with honey and serve up slices of galette with ice cream.
The galette is best served warm or at room temperature within a few hours of baking when the crust is crisp. Extra slices can be covered and refrigerated. To reheat, place a slice in a skillet set over low heat and heat until warmed through. This will crisp the bottom crust back up.
Flaky Gluten-Free Galette
The key to a flaky galette lies in the gluten-free galette dough. Here are my tips for achieving the flakiest gluten-free crust:
Use a good gluten-free flour blend with enough sticky ingredients to create a wheat-like texture. My formula uses sweet rice flour, tapioca flour, and ground chia or flax seed to make the dough pliable plus oat flour and millet flour. My paleo pie crust recipe uses a blend of cassava and almond flours to achieve the same result.
Keep the butter chunks large. When the butter has been incorporated into the flour mixture, there should be a blend of almond-sized chunks as well as some smaller bits that look like peas and large grains of sand. These butter bits of varying size will release steam as they bake, raising the layer of dough above them to create flaky layers.
Keep the dough cold as you work. This will keep those butter bits distinct so that they can work their magic when the galette hits the hot oven.
Fraisage and/or turn the dough for extra flake. For ultimate flakiness and to make the dough smoother and easier to work, use the fraisage method and/or turns. See process photos and video of these traditional French techniques in my posts on gluten-free pie crust and almond flour pie crust.
No Soggy Bottoms: The Key to Crispy Galette Crust
Avoid galette regrets with these tips:
Use enough starch to soak up juices from the fruit. I prefer cornstarch since it thickens into a silky jam, but other options are all-purpose flour and tapioca starch.
Use enough sugar to thicken the juices from the fruit. As the juices bubble, the sugar will help thicken and set the fruit.
Bake the galette in the bottom third of the oven until the bottom is golden. This will concentrate the heat on the bottom of the crust helping it bake through. Use a wide metal spatula to peek under the dough, making sure it's golden, before removing the galette from the oven.
Err on the side of overbaking the galette. A bit of caramelization adds lovely flavor. Just take care not to let if burn, ofc!
If you have extra-juicy fruit, you can sprinkle the galette dough with finely ground nuts before laying down the fruit. This will further help to soak up excess juices.
Galette Vs. Crostata
Galette and crostata are two names for the same dessert. Both involve buttery pastry rolled out into a large round and shaped into a rustic tart around a filling (usually fruit).
Galette is the French version, usually made with flaky pâte brisée which is similar to American pie crust dough.
Crostata is the Italian version. The dough for crostata, called pasta frolla, is usually less flaky and with a shorter crumb.
But in the US, the two terms are used interchangeably. So whether you call this a stone fruit galette or crostata, you'll certainly call it delicious!
Gluten-Free Galettes for All
In this flaky summer galette, buttery dough envelops jammy fruit kissed with cardamom and honey. The crust shatters and flakes, lending its warm taste of caramelized butter and whole grains to the mix. Pockets of cold butter and a bit of buttermilk make the dough extra flaky, and a few turns and folds in the style of puff pastry add extra layers and malleability to the dough.
Feel free to make this stone fruit galette with whatever fruit you have on hand. Plums tend to be the most watery and tart of the bunch, so if using all plums, add a little extra sugar and cornstarch.
As we head out of summer and into fall, I'm imagining a version of this made with ripe pears for a cool weather variation. Whatever version you try, I hope you love this GF galette as much as we do!
*Thanks for reading! For more Bojon Gourmet in your life, follow along on Instagram, Facebook, or Pinterest, purchase my gluten-free cookbook Alternative Baker, or subscribe to receive new posts via email. And if you make this gluten-free stone fruit galette, I'd love to see! Tag your Instagram snaps @The_Bojon_Gourmet and #bojongourmet.*
Gluten-Free Stone Fruit Galette with Honey
Print Recipe
Pin Recipe
Apricots, plums, peaches, nectarines – whatever summer fruit you've got will love being nestled in a flaky gluten-free pie crust, softly spiced, drizzled with honey, and served up with drippy ice cream in this summery stone fruit galette.
Ingredients
1

recipe Flaky Gluten-Free All-Butter Pie Dough, preferably the buttermilk variation made in the food processor and given two turns, chilled (or your favorite pie dough recipe for one 9-inch crust)

GF oat flour, for rolling the dough

2

medium nectarines or peaches

3

large apricots

4

medium plums

⅓

cup

(70 g) organic granulated sugar, plus 2 teaspoons for sprinkling

1 ½

tablespoons

(10 g) cornstarch

½

teaspoon

ground cardamom

squeeze of lemon juice

big pinch salt

2

tablespoons

(30 ml) honey, for drizzling

1

egg, beaten (or 2 tablespoons heavy cream or milk)
Instructions
Let the dough soften at room temperature if it's very cold, 5 minutes or so, until malleable. Roll the dough between two large sheets of parchment paper, dusting it with oat flour and flipping the whole thing over as needed to prevent sticking, to make a 14-inch round that is roughly ¼-inch thick. If the dough cracks or tears, just squish it back together; it can take quite a lot of abuse. Trim the edges into a clean round, then slide the parchment and dough onto a large, unrimmed baking sheet and chill until firm, 30 minutes.

Position a rack in the lower third of the oven and preheat to 400ºF.

Halve and pit the stone fruit (or cut the flesh off the core if they aren't freestones) and slice thinly, about 1/8" thick. You should have about 4 cups of fruit. In a large bowl, stir together the 1/3 cup sugar, cornstarch, and cardamom. Gently toss in the fruit, lemon juice, and salt, until the fruit is coated evenly.

When the dough has chilled, remove from the refrigerator and, leaving a 2-inch overhang, place the fruit in concentric circles, starting with the outside and working in, overlapping the slices slightly. (If you're pressed for time, you can just dump the fruit over the crust for a more rustic looking dessert – no judgement.) Fold the edge of the dough up over the fruit to form a crust, pleating it as you go. Brush the edge of the dough with the egg wash (or cream or milk) and sprinkle with the sugar.

Bake the galette until the crust is golden and the fruit is bubbling, 35-45 minutes, rotating halfway through for even baking. Remove from the oven and let cool to warm, then drizzle all over with honey. Cut into wedges and serve warm or at room temperature with ice cream.

The galette is best the day of baking while the crust is crisp, but extras will keep, refrigerated airtight, for up to 3 days.
Notes
Use any combination of stone fruit you like here, and vary the amounts based on the size of your fruit – you'll want about 4 cups once it's all sliced up. Plums, pluots, apriums, apricots, white or yellow nectarines or peaches – all work well here. Dial the sugar up or down based on how sweet or tart your fruit is, and add a little extra cornstarch if using a larger quantity of plums or pluots, which have a higher water content. Firm-ripe fruit that smells fragrant but holds a shape when sliced will produce the best results.
Be sure to give yourself at least 2 hours of prep time to make the galette dough; most of this time is inactive. The dough can be made up to 3 days ahead and refrigerated airtight. I usually make a double batch and freeze half for later.
For a vegan galette, make the crust using a good vegan butter such as Miyoko's. Omit the egg and brush the crust with a little coconut cream, plant milk, or water.
For a grain-free galette, make the crust with my almond flour pie crust dough.
For a paleo galette, make the above variation and use maple sugar or coconut sugar in the recipe.
In the fall, try this with ripe pears instead of stone fruit.
Nutritional values are based on one of eight servings.
Nutrition
Calories:
240
kcal
Carbohydrates:
37
g
Protein:
2
g
Fat:
10
g
Saturated Fat:
4
g
Cholesterol:
20
mg
Sodium:
202
mg
Potassium:
165
mg
Fiber:
2
g
Sugar:
22
g
Vitamin A:
520
IU
Vitamin C:
7.2
mg
Calcium:
9
mg
Iron:
0.3
mg