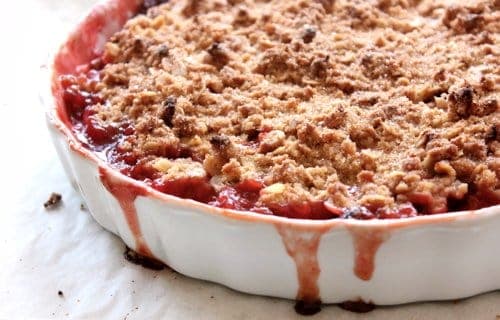 Upon tasting strawberry-rhubarb anything, it becomes evident why this fruit and veg duo are a classic pair. Strawberries soften rhubarb's tart edge, and rhubarb lends complexity to the sweet berries. While strawberries cook down into juicy mush, rhubarb holds its shape – sometimes too much. The strawberries' juices help break down the rhubarb, which in turn lends body to fillings that might otherwise turn soupy. Strawberry's vermillion hue adds color to the sometimes green-red stalks, taking the color of the final dish from drab to rosy red.They are truly a match made in culinary heaven.
With these odds stacked in my favor, I thought that making a strawberry-rhubarb crisp worthy of sharing on this site would be a cakewalk. I wanted it to be gluten-free, not overly sweet, with a well-cooked but thick filling, and with a topping that lived up to its name.
Instead, this is the sixth rhubarb crisp I've made this month. Granted, I've had a lot of rhubarb to work with (many thanks to Jay's folks for the continued abundance!), and eating rhubarb baked into my favorite fruit dessert is hardly a chore. Crisps come together quickly, keep well, and make a superb breakfast, snack or post-prandial treat. But finding a topping that would stand up to the copious juices of the fruit/veg dream-team proved challenging.
I first tried pre-cooking the rhubarb, as recipes by Nancy Silverton (for a cobbler) and Cook's Illustrated (for a pie) directed. But when made into crisps, these were the soupiest of all, needing well over an hour in the oven, the topping dissolving into the filling and leaving only small patches of streusely bits in its wake, the fruit disintegrating into a shapeless (though tasty) compote.
My favorite filling turned out to be the simplest: raw rhubarb cut fairly small and strawberries in larger chunks tossed with sugar (brown for depth) and a small amount of cornstarch. This filling baked into a thick and chunky compote. I took a cue from Heidi Swanson and used a bit more rhubarb than berries, rather than the 50/50 ratio called for in most recipes, which keeps the tart complexity from getting obscured.
After a couple of dissatisfying tries with a typical streusel topping, I turned to the plum crumble that I posted about last September.Marion Burros' recipe contains egg and baking powder in the topping as well as the usual streusel subjects, and employs the curious mixing technique of combining the dry ingredients with egg to make a fluffy crumble, then drizzling melted butter over the top. My friend Amelia discovered that the original recipe could easily be made gluten-free (thanks, A!), so I swapped out the wheat flour for oat and rice flours, and added some rolled oats as well.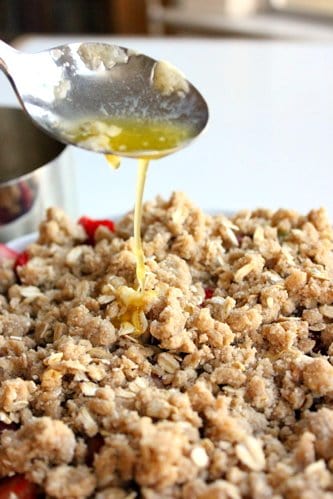 The resulting toppingstood up to the bubbling fury below with aplomb, staying crunchy on top even several days post-baking, and tasting like a lightly spiced oatmeal cookie. The fruit-to-topping ratio is spot-on, with some of each in every bite.
What makes this dessert really pop is a scoop of Fresh Ginger Ice Cream melting over the top, the cream smoothing the flavors of fruit and spice, the ginger turning the fruit duet into a lively ménage à trois. If I were serving this with whipped cream or vanilla ice cream instead, I would add 2 tablespoons minced candied ginger to the filling along with the fruit so as not to miss out on this stellar threesome.
Rhubarb rhumba:
Rhubarb Buckle
Apple-Rhubarb Pandowdy
Rhubarb Chutney
One year ago:
Two years ago:
(Gluten-Free, Vegan) Hippy Crispies
(Gluten-Free) Strawberry Rhubarb Crumble
Adapted from Marion Burros' Plum Crumble via The Wednesday Chef and Orangette
Makes 6-8 servings
Serve this with Fresh Ginger Ice Cream, or add 2 tablespoons minced candied ginger to the fruit and serve the crisp with Vanilla, Black Pepper, or Honey Yogurt ice cream instead.
If gluten isn't an issue for you, you can use all-purpose or whole wheat flour in place of the cornstarch, rice and oat flours. If gluten IS an issue for you or your guests, make sure that your flours and oats are certified gluten-free.
The filling:
1/3 cup lightly packed brown sugar
1 tablespoon plus 1 teaspoon cornstarch
pinch salt
1 pound trimmed rhubarb, sliced 1/4″ thick (about 4 cups)
3/4 pound strawberries, hulled, quartered if large, halved if small (about 3 cups)
The crunchy topping:
1/2 cup plus 2 tablespoons organic granulated cane sugar
3/4 cup oat flour
1/4 cup white rice flour
1 teaspoon baking powder
1/2 teaspoon cinnamon
1/4 teaspoon fine sea salt
1/2 cup old-fashioned rolled oats
1 egg, beaten well
8 tablespoons unsalted butter, melted
1 tablespoons coarse sugar (such as "sugar in the raw") for sprinkling
Position a rack in the center of your oven, and preheat to 375°F. Place an ungreased 10″ tart or pie pan (or a 10″ oven-proof skillet) on a rimmed baking sheet lined with parchment paper, and set aside.
In a medium bowl, whisk together the brown sugar, cornstarch, and salt. Add the rhubarb and strawberries, and gently toss to coat. Spread the fruit in the prepared pan and set aside.
In another medium bowl (or the same one, scraped fairly clean), sift together the granulated sugar, flours, cinnamon, baking powder, and salt. Stir in the oats. Add the egg and, using your hands, mix thoroughly, squeezing, tossing and pinching handfuls of the mixture, to produce moist little particles. Sprinkle the mixture evenly over the plums.
Use a spoon to drizzle the melted butter evenly all over the topping, and sprinkle evenly with the coarse sugar.
Place the crumble in the oven and bake for 45-60 minutes, until the top is deeply golden and the fruit is bubbling thickly. Cool slightly.
Serve the crumble warm or at room temperature (preferably with fresh ginger ice cream!).
The crumble will keep in the fridge for a few days. Re-warm in a 300º oven before serving.