Tender, buttery gluten-free scones made with almond, oat, and sweet rice flours that are undetectably gluten-free. These scones take 20 minutes of active time to make; for best results, chill the dough for 30 minutes before baking.
Mix in juicy blueberries, try the lemon-ginger and orange-currant variations, or play around with your favorite flavors and mix-ins. Browse all of my gluten-free breakfast recipes here. Thanks to Vermont Creamery for sponsoring this post! All opinions are my own.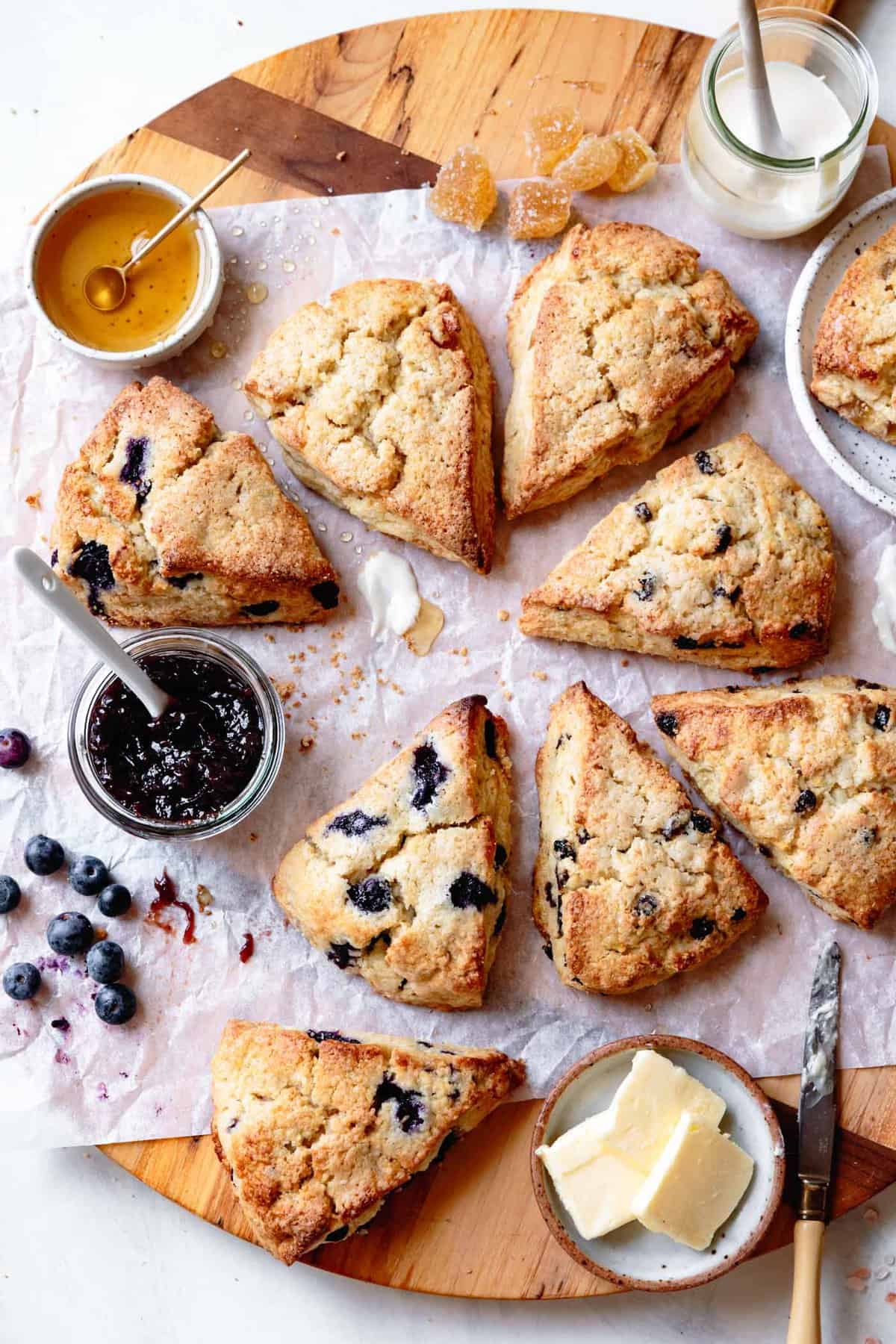 Scones were one of the first "fancy" pastries I learned how to bake as a food-obsessed tween. My scone addiction followed me through college and into my twenties when I'd wake at the crack of dawn and bake batches to sell at my local coffee shop where I worked as a barista.
I found the methodical process of rubbing cold butter into flour soothing. I loved the feel of the cool, clay-like dough as I shaped it into rounds. And that moment of seeing the baked scones in their gently sloped, conical shapes post-baking was like magic.
I never grew tired of playing with different scone flavor combinations – the wilder the better – some of which I've shared on TBG in the past such as maple apple bacon, chocolate bergamot, brown sugar banana, and these reader-favorite buckwheat flour scones studded with jammy blueberries. Find all my favorite biscuit and scone recipes here!
I'm thrilled to share this moist gluten-free scone recipe made with heavy cream and almond flour today. You're going to love it!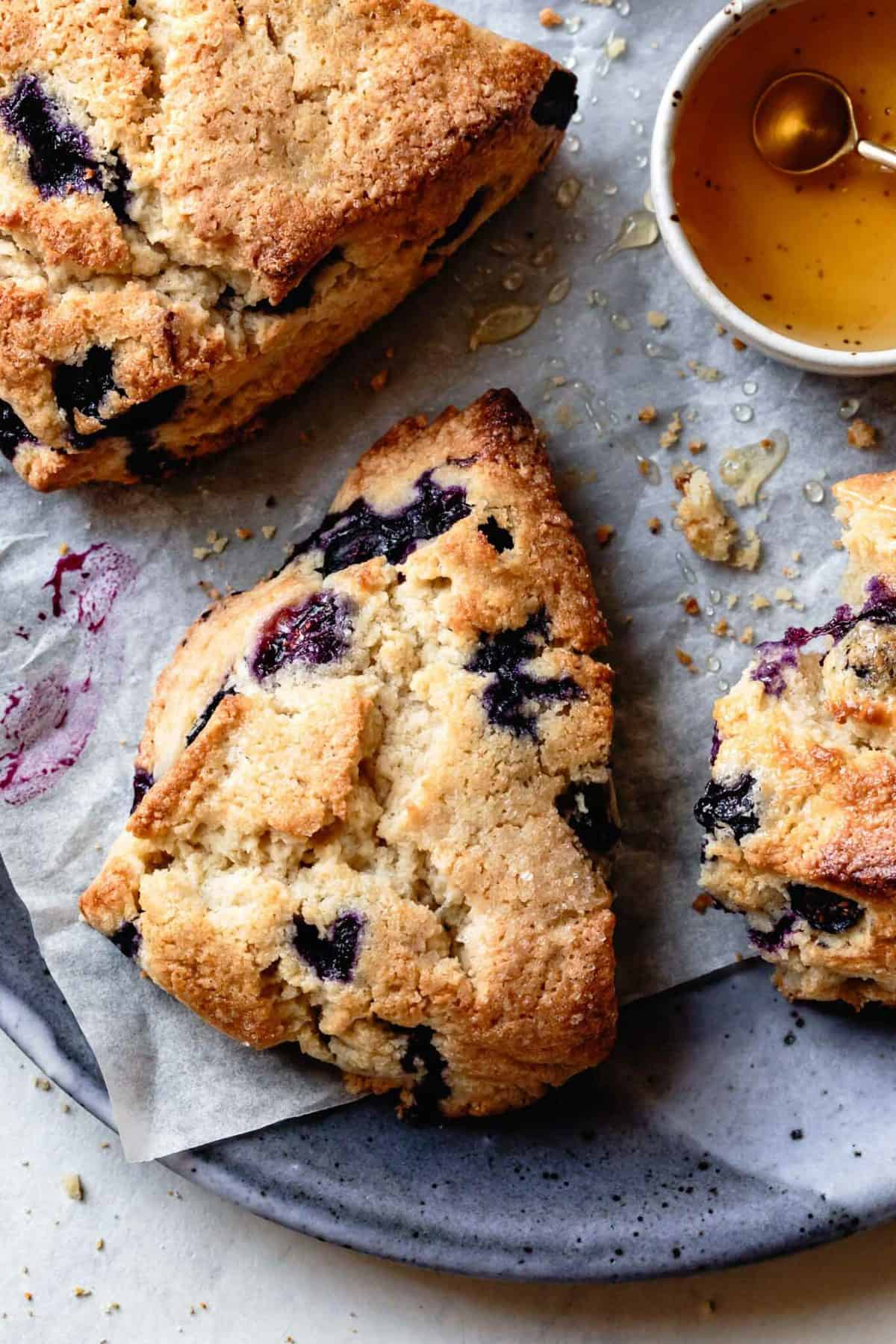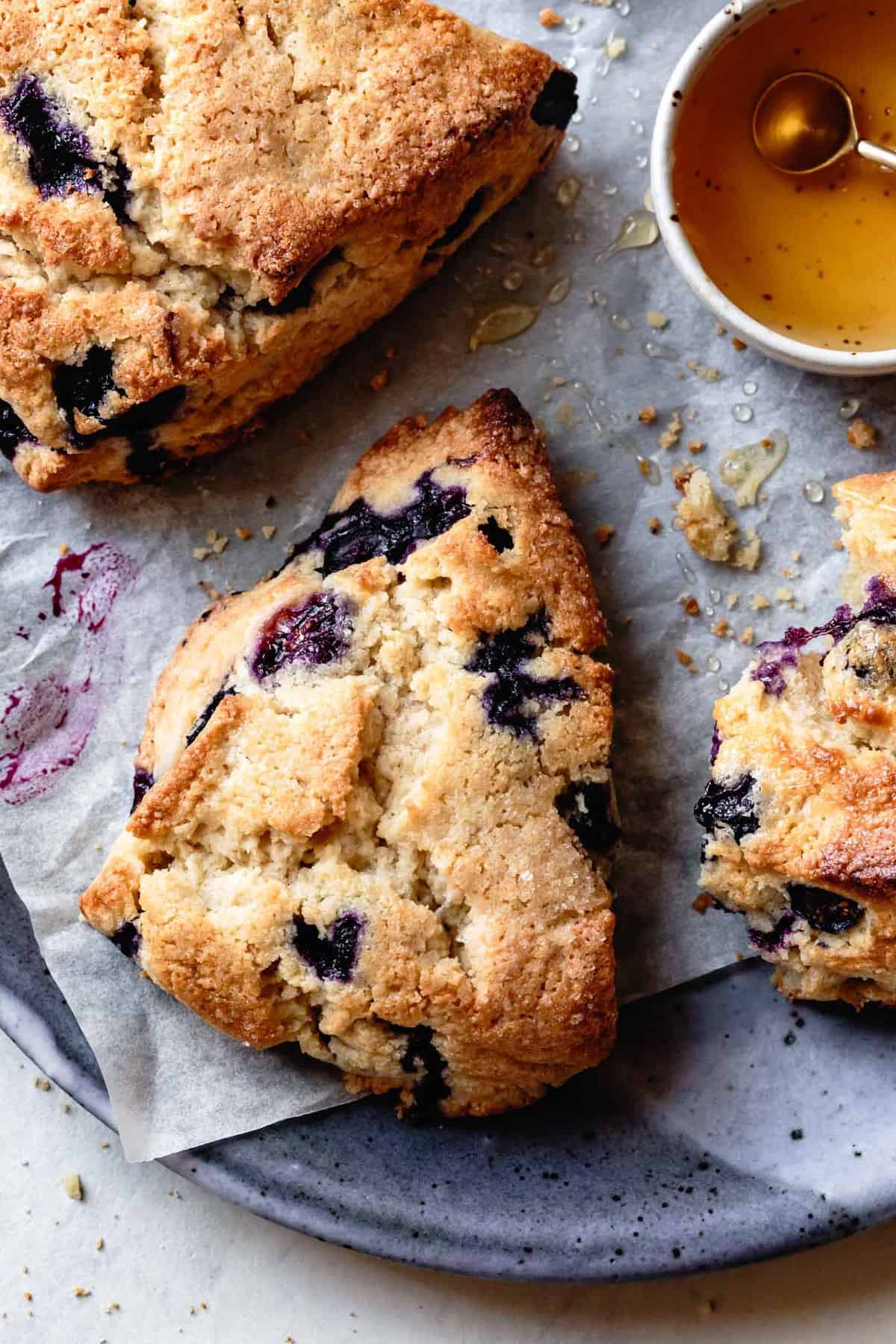 Gluten-Free Almond Flour Scones
I shared a few gluten-free scone recipes in my gluten-free cookbook made with sweet rice, millet, and oat flours: blackberry, banana teff, amaranth cinnamon peach, and chestnut fig. I wanted to have plenty of nut-free recipes in my book for those with allergies.
But I was curious as to how almond flour would play in that same formula since I love almond flour recipes so much. Would the extra protein add structure? Would the extra fat add richness? Would the mild flavor enhance the buttery taste and tender texture?
The answer to all these questions turned out to be a resounding yes! With a few tweaks to the method and ingredients, I had an almond flour scone recipe that rivaled its wheaty counterparts. These gluten-free almond flour scones are so light, tender, buttery, and classic-tasting, I keep forgetting that they're gluten-free!
When you take your first bite of one of these GF scones fresh from the oven crispy, golden edges give way to plushy, warm middles fragrant with buttery steam. Top with a pat of butter and savor the delicate sweetness mingling with creamy melted buttery bliss. Don't forget to wash it all down with a spot of tea!
See this post for more tips for baking with gluten-free flours.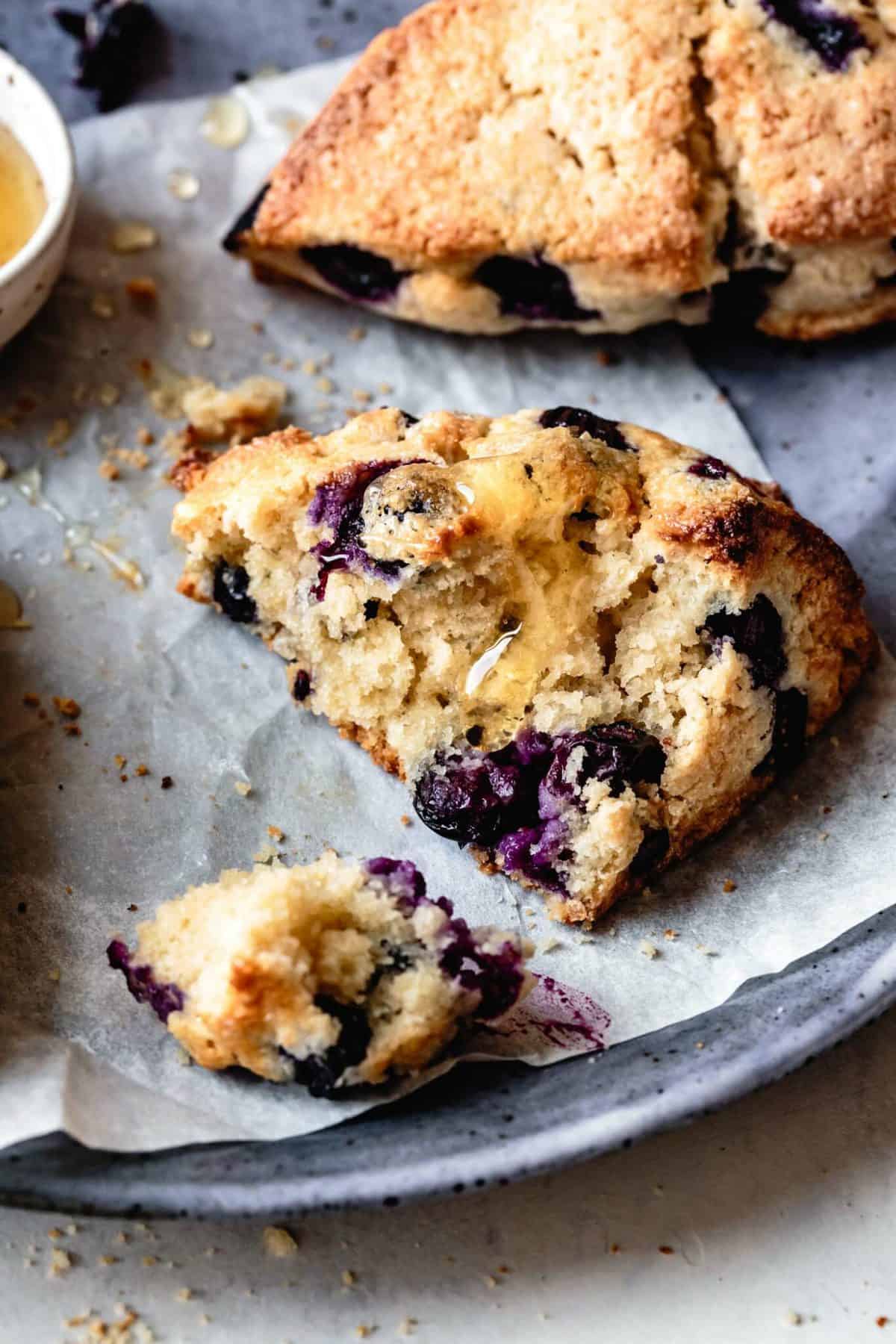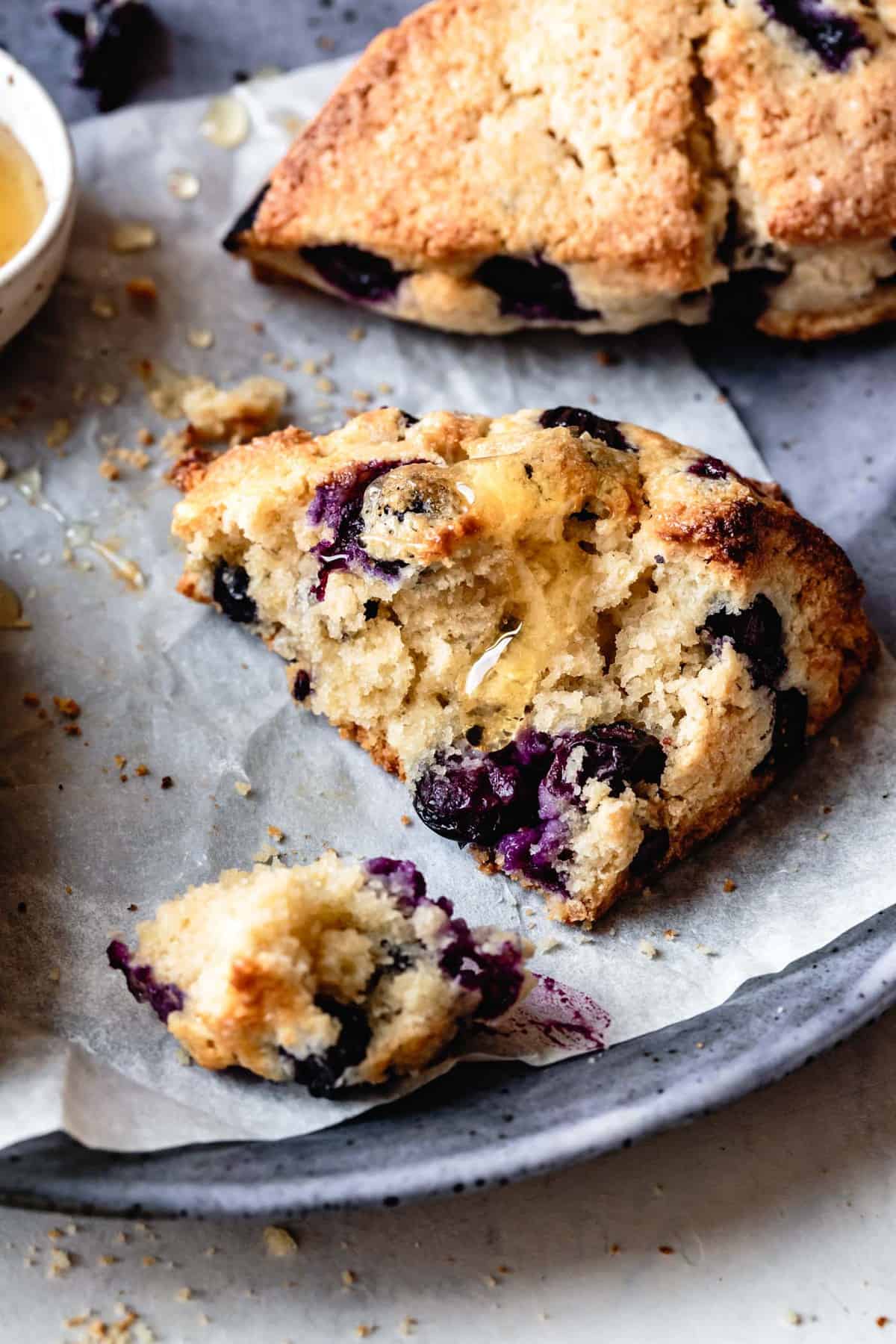 Ingredients and Substitution Suggestions
This gluten-free scone recipe comes together with just a handful of pantry-friendly ingredients.
Great scones start with great butter! I used Vermont Creamery cultured butter here, which tastes fresh and clean with notes of lactic tang from the culturing process. Top warm scones with extra butter, or try my extra-buttery scone variation in the recipe notes!
Sugar adds subtle sweetness. For refined sugar-free, sub maple sugar, coconut sugar, or another granulated sweetener of your choice.
Egg adds additional structure. Wheat scone recipes typically don't contain egg, but here it enhances the texture and makes up for the lack of gluten. For egg-free, make a flax egg (see recipe notes, below!)
Cream brings the dough together and adds richness. Chilled full-fat coconut milk will work for a dairy-free option.
Baking powder lightens the dough.
Salt and vanilla sharpen the flavors.
Use any mix-ins you like! I've shared a few favorites here including gluten-free blueberry scones, lemon ginger, and orange currant.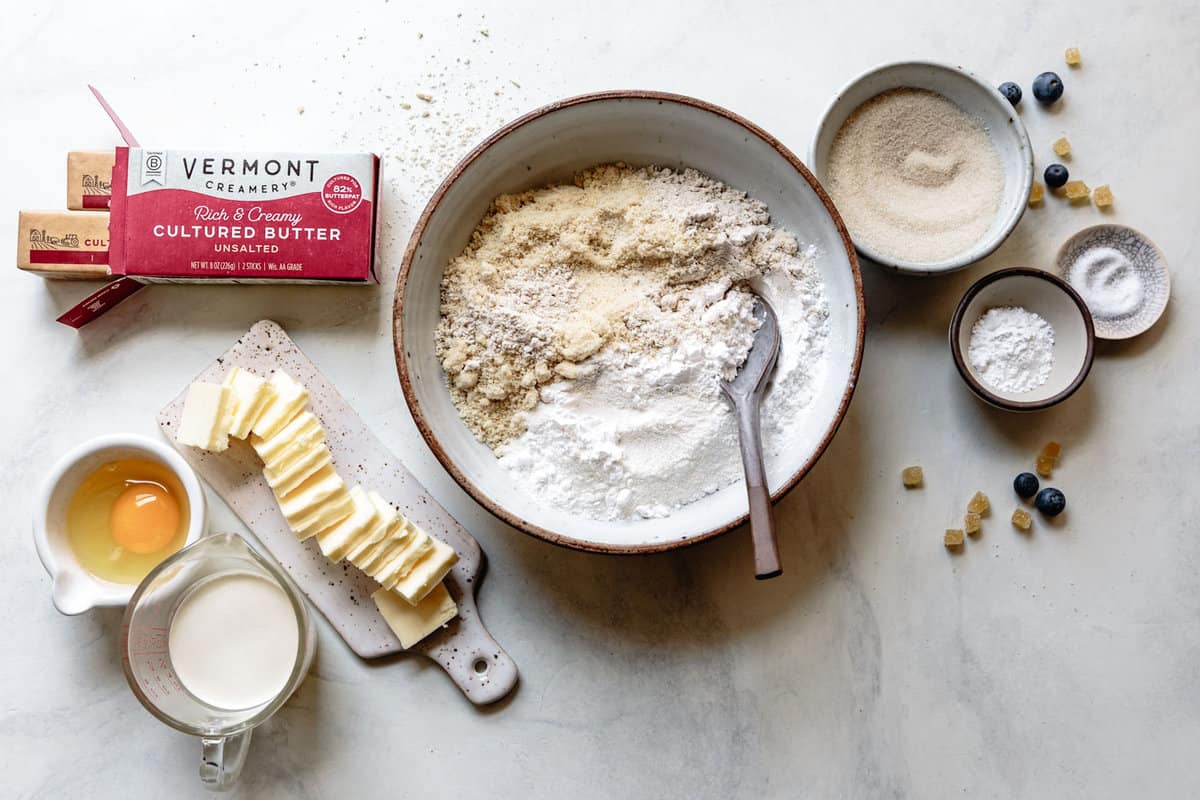 Flours for Gluten-Free Scones
A trio of flours, plus some tapioca starch, creates a dreamy texture that tastes and feels shockingly like wheat-based scones. But I've given loads of substitution suggestions, so feel free to experiment with what you have on hand. You can also use a good GF all-purpose blend in place of any or all of the flours listed here. I'd recommend Bob's Red Mill 1 to 1 GF all-purpose flour.
Blanched almond flour provides protein, structure, and richness. Sub almond meal or another nut or seed meal. For nut-free, sub tiger nut flour, or millet flour.
GF oat flour makes the dough floofy, tender, and wheat-like. Sub sorghum, chestnut, teff, or buckwheat flour.
Sweet rice flour helps stick the dough together. Sub cassava flour or GF AP flour.
Tapioca starch makes these scones light and pillowy. Sub arrowroot starch.
Gluten-Free Blueberry Scones, Plus other Flavors and Mix-Ins
Scones take well to a variety of flavors and mix-ins – sweet or savory – so feel free to go wild! I've shared three of my favorite classic scone flavors here:
gluten-free blueberry scones
lemon ginger scones
orange currant scones
I also asked for favorite scone flavors on social media, and here are a few sweet and savory reader suggestions that I'm eager to try next:
matcha scones
feta spinach olive
apricot pistachio cardamom
cranberry orange
chocolate ginger cardamom
maple oat
cherry corn
earl grey tea and mango
lemon blueberry almond
Stollen scones with candied citrus, boozy dried fruit, and spices (cinnamon, cardamom and nutmeg)
Method: How to Make Gluten-Free Scones
This recipe for breakfast scones is easy to make, and a few techniques really make them shine! They take about 20 minutes of active time to whip up, and the recipe makes 8 scones.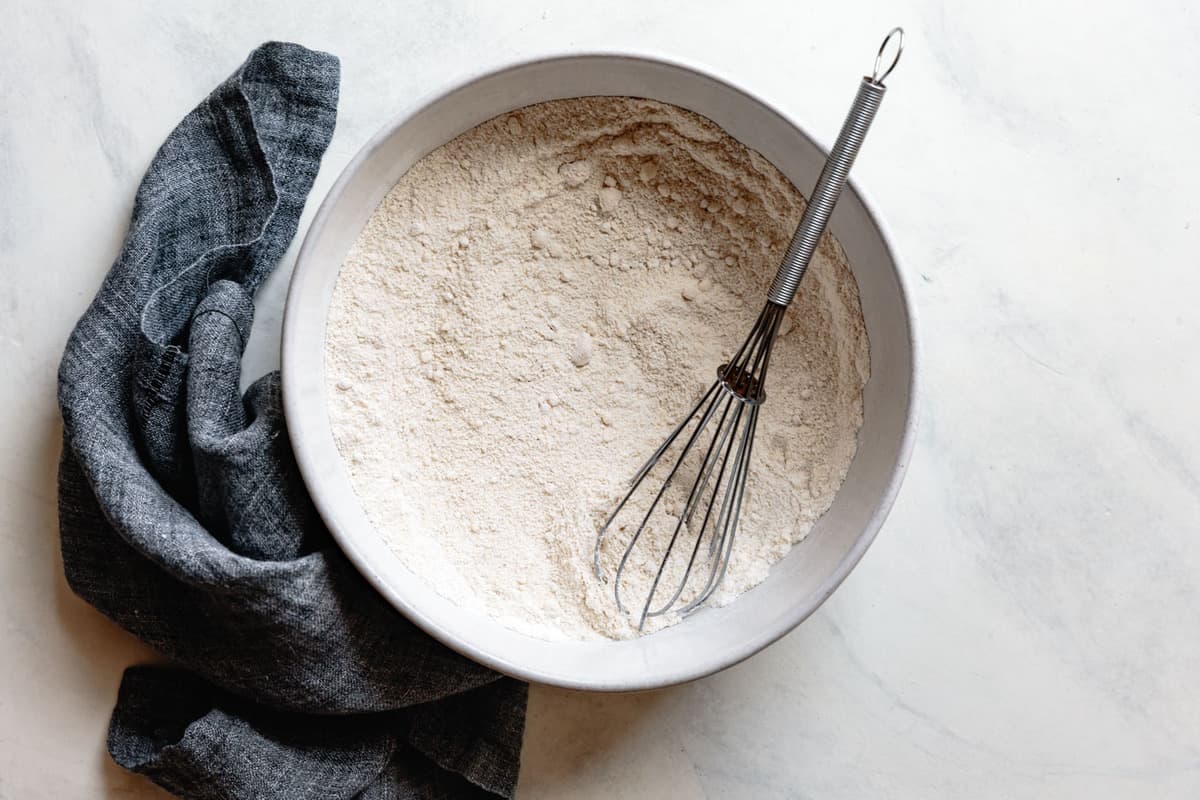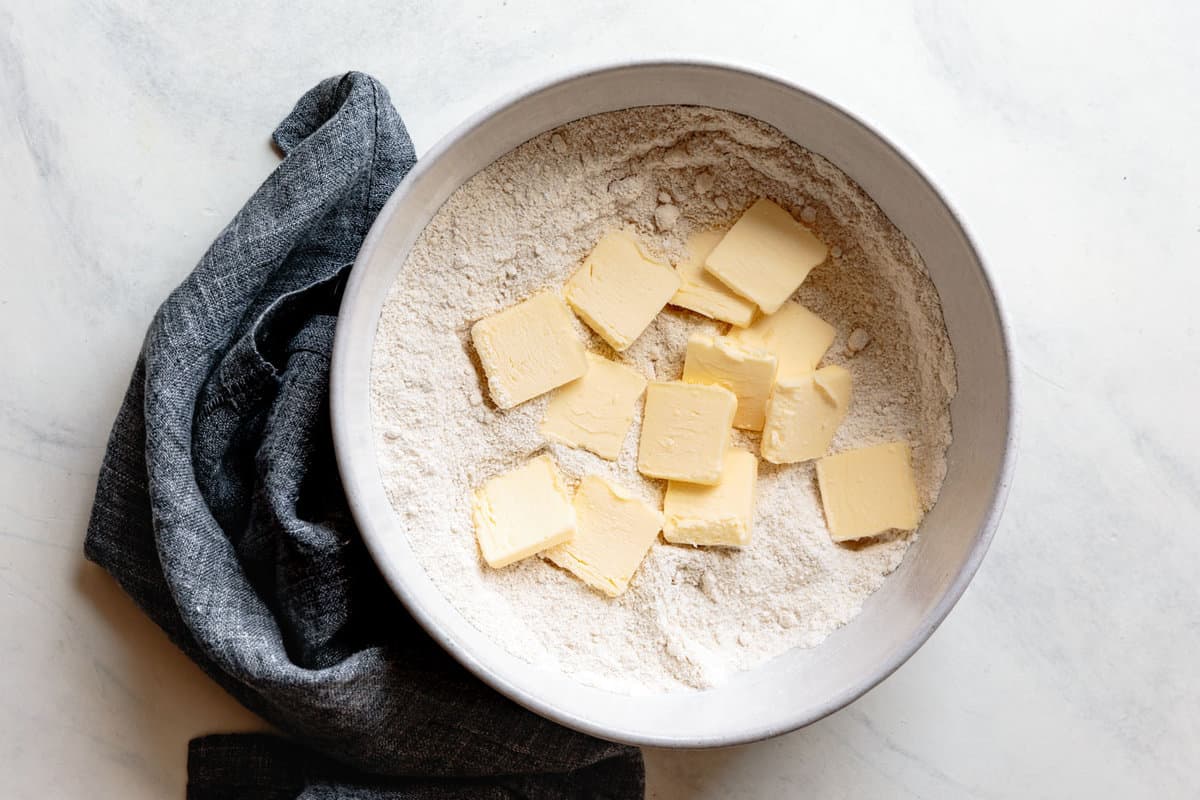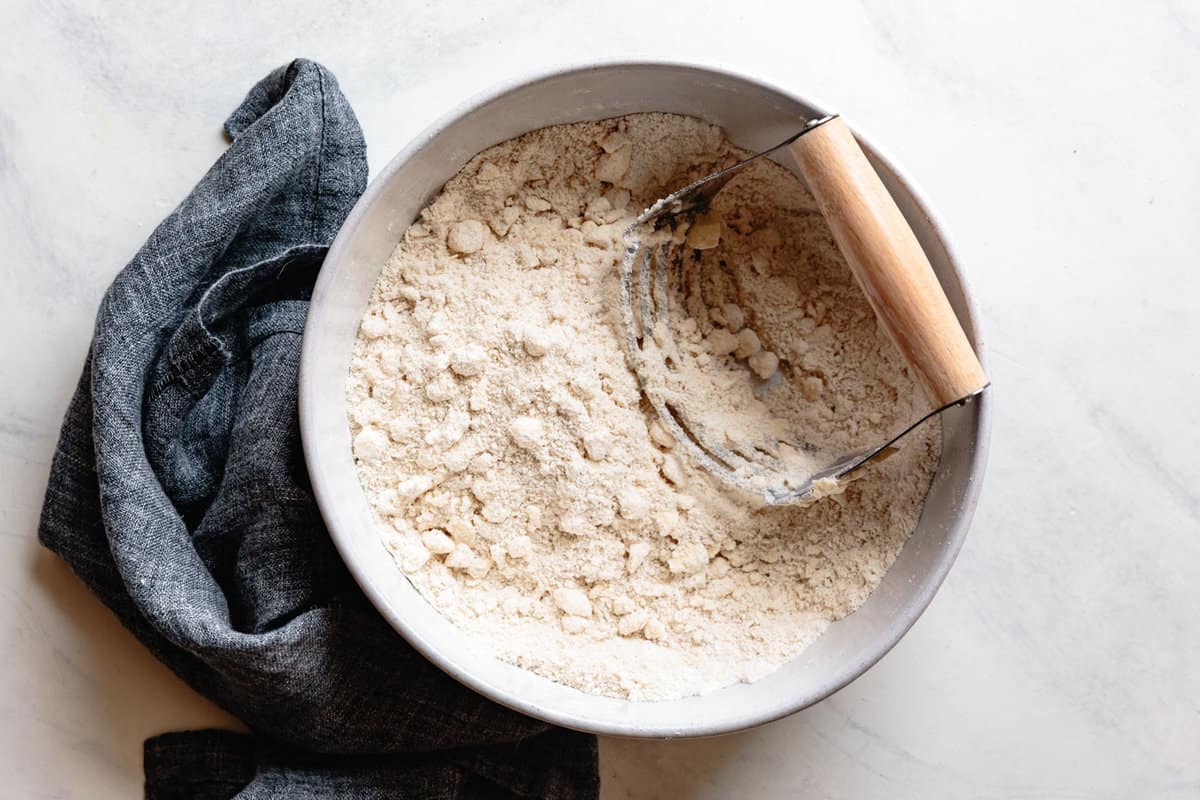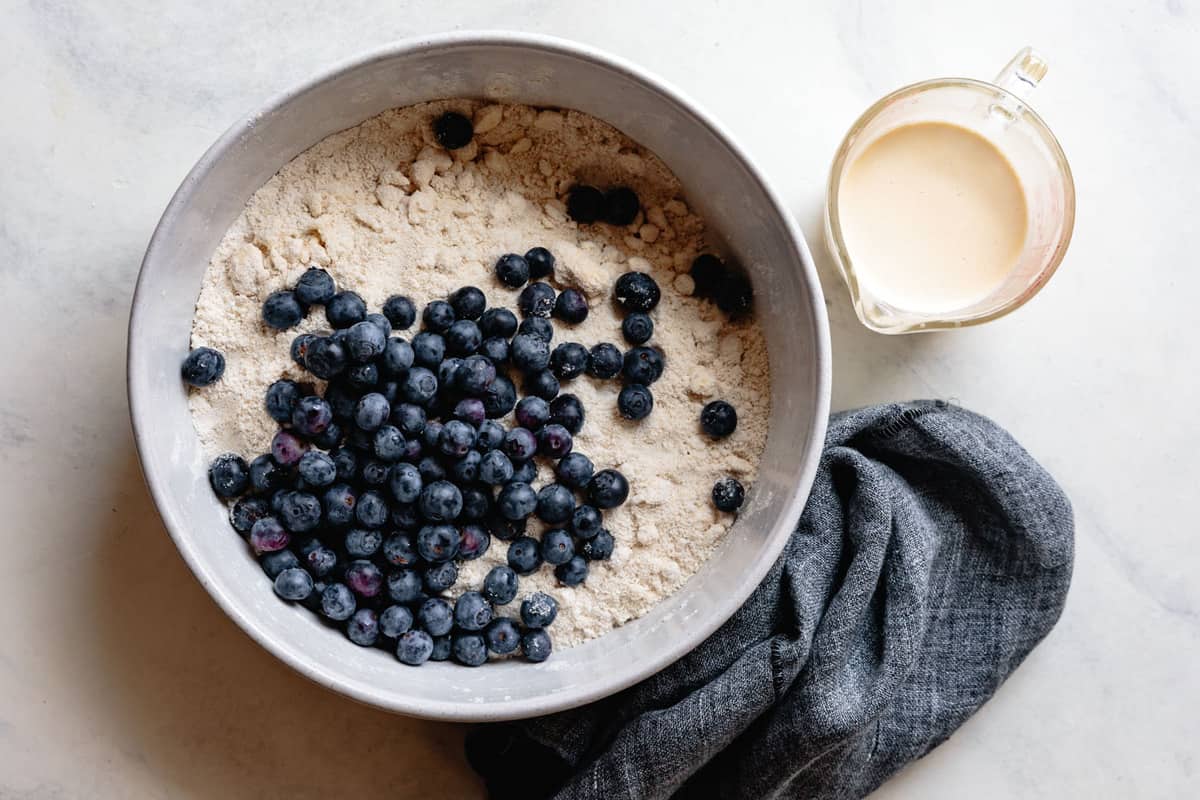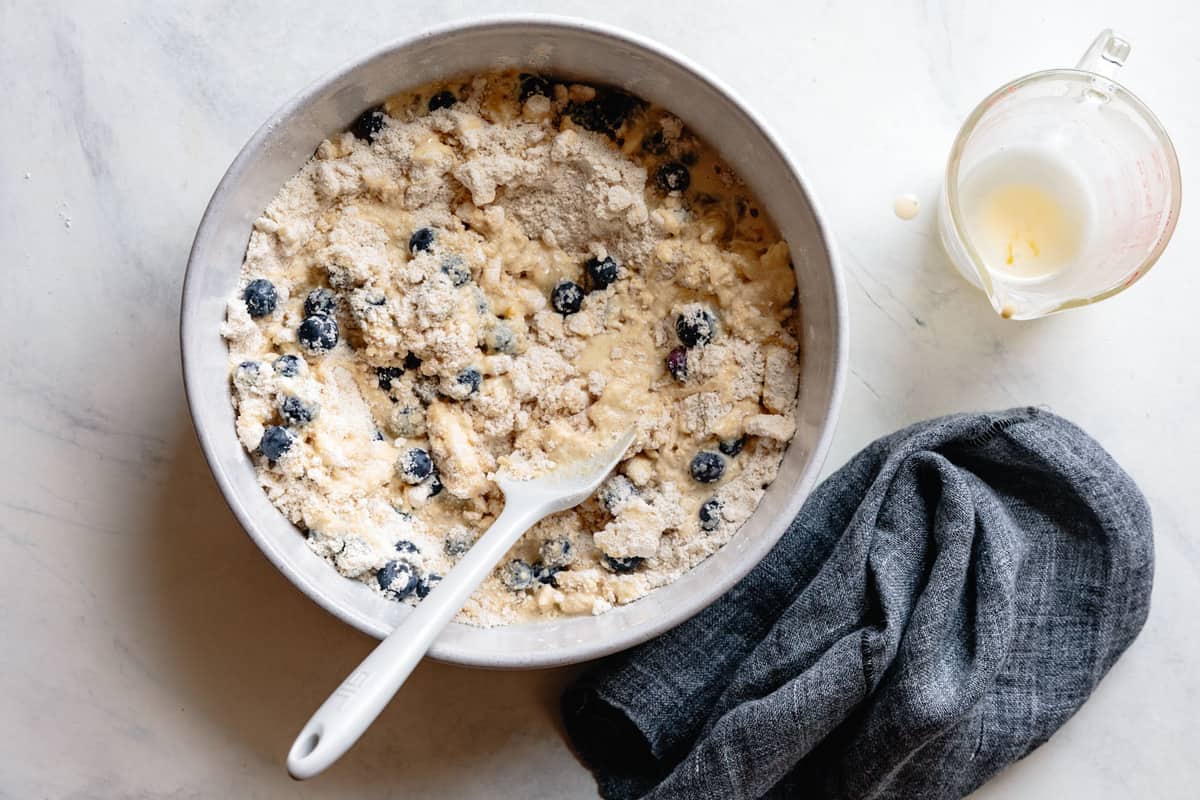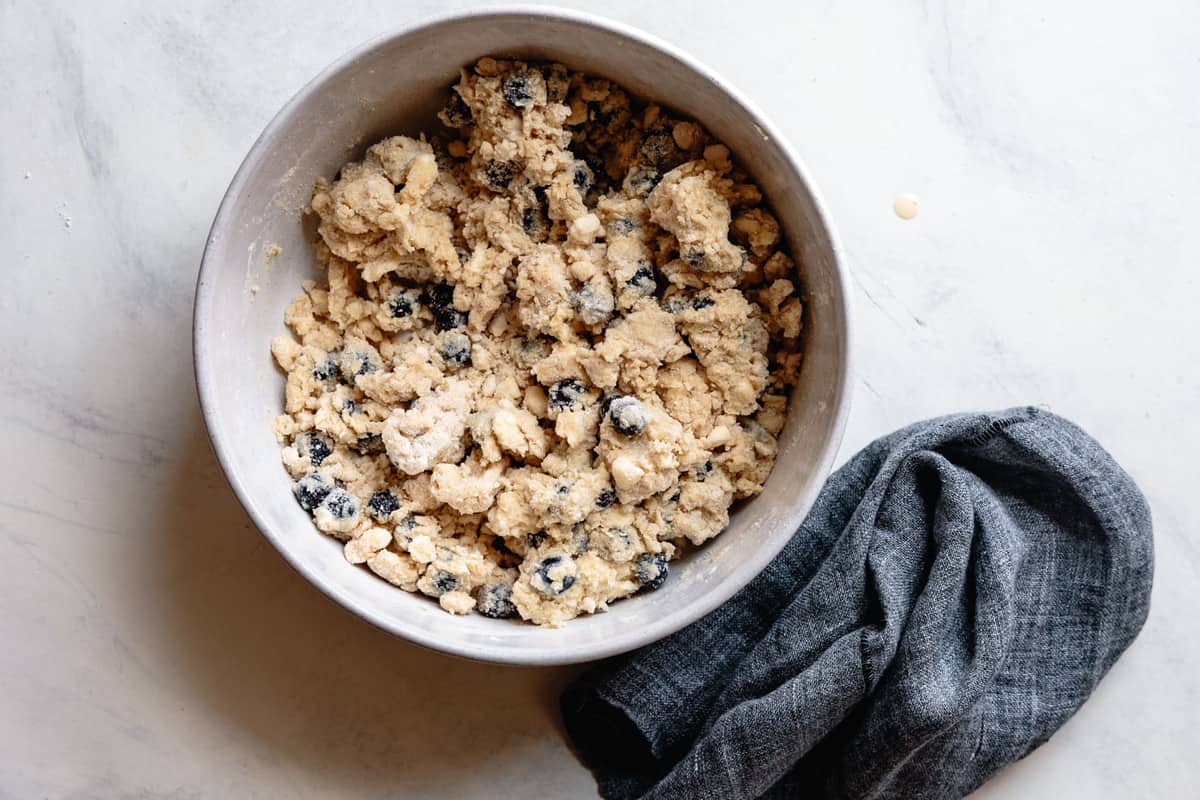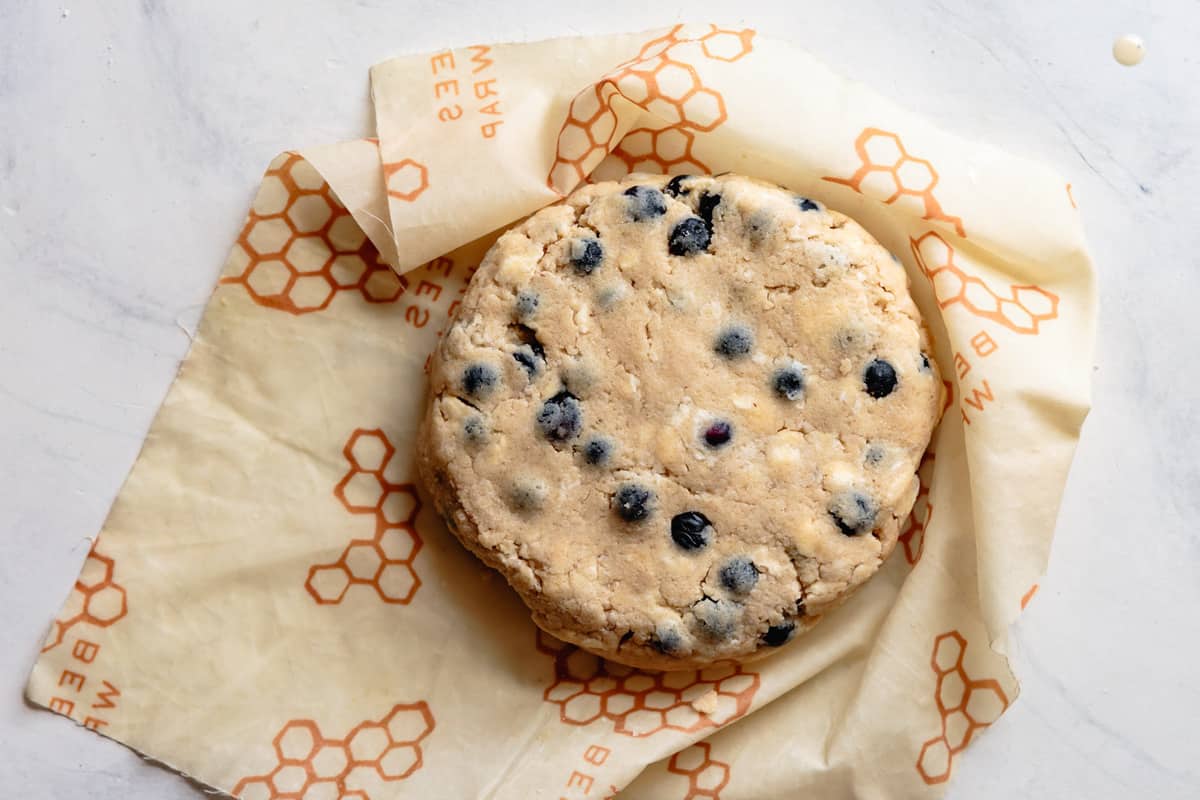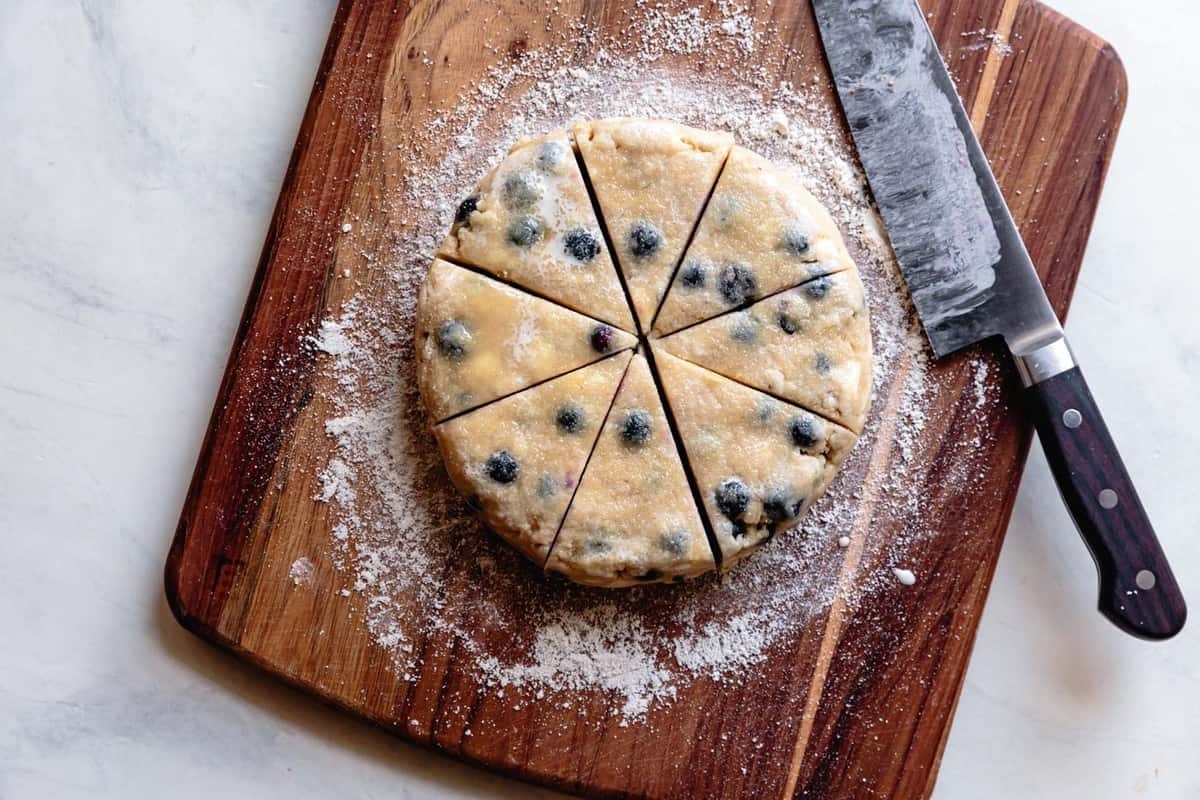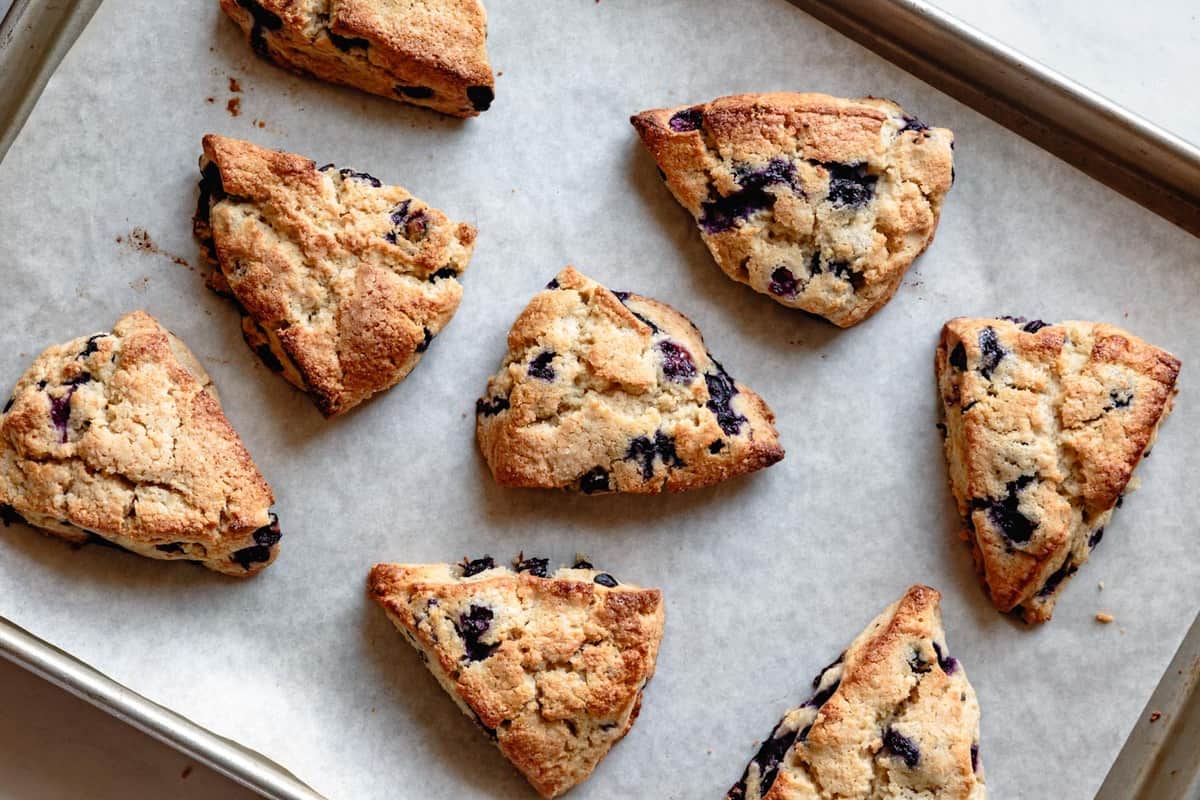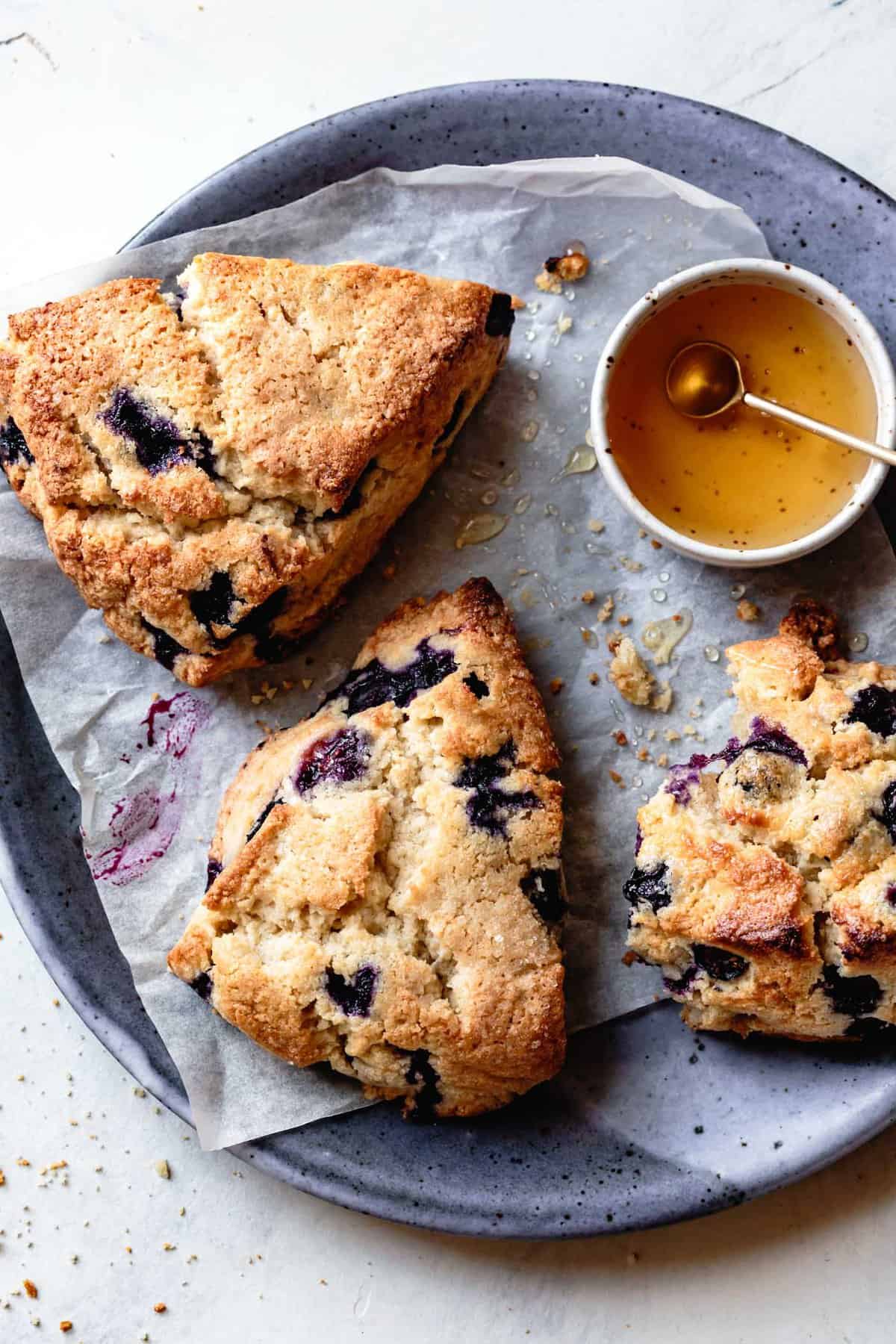 Tips for Baking Gluten-Free Scones
Keep your ingredients and dough cool. Scone dough is similar to pie dough in that small pebbles of butter not fully incorporated into the dough add flake to the finished product. Make sure your butter is cold to start with, work quickly, and chill the dough as directed.
Chilling the dough also helps the gluten-free flours absorb moisture, resulting in a smoother consistency in the final scones.
Scones' bottoms tend to darken rapidly when baking, so always stack two baking sheets on top of each other, line with parchment paper, and bake in the upper third of the oven.
Do ahead: The dough can be made, shaped and refrigerated airtight overnight. Cut, unbaked scones can be frozen for longer storage and baked to order from frozen at 375ºF for about 20 minutes.
What temperature should you bake scones at?
Scones should be baked in a hot oven that's been preheated to 425ºF. This ensures golden, craggy tops and tender, moist middles.
How long does it take to bake scones?
Scones only take around 20-25 minutes to bake. But start checking them at 15 minutes to make sure they aren't browning too much and to rotate the pan for even cooking.
How do you know if scones are cooked in the middle?
Tap the bottom of a scone; if it sounds hollow, it's done! Or you can break a scone open; it should be moist in the middle, but not doughy or wet. Scones will continue cooking from residual heat.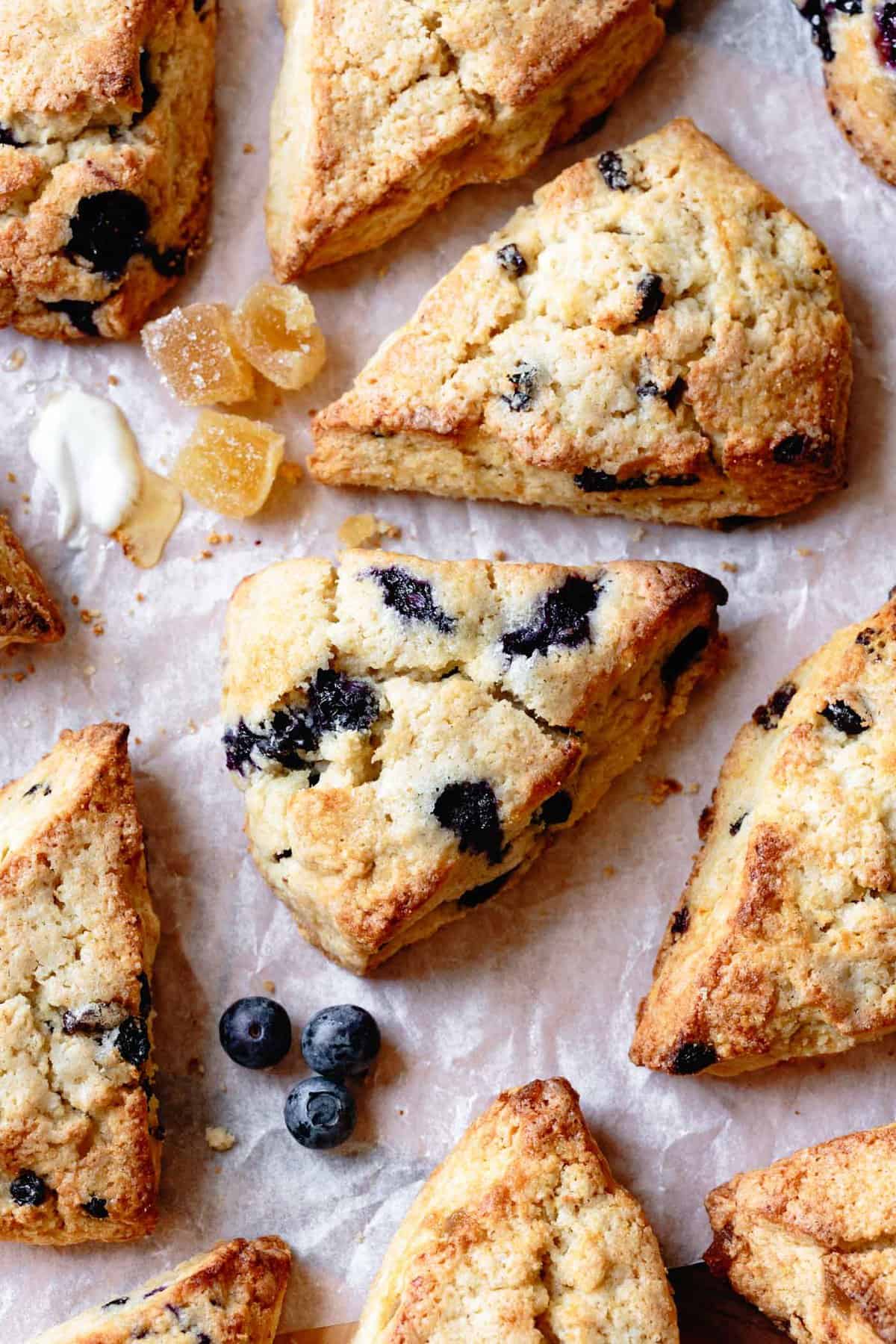 Gluten-Free Scones for Everyone
A few allergy- and special diet-friendly variations to try if need be.
Low-Fodmap Scones
One serving of these scones is naturally low in FODMAPs (fermentable carbohydrates that can bother people with SIBO, IMO, and IBS). To lower the FODMAP count further, use low-lactose cream or coconut milk in place of the heavy cream, and use millet or tiger nut flour in place of the almond flour.
Refined Sugar-Free Scones
Use maple sugar, coconut sugar, or another favorite granulated sweetener in place of the granulated sugar. Best to sub by weight.
Gluten-Free Nut-Free Scones
In place of almond flour, use tiger nut flour or millet flour.
Gluten-Free Dairy-Free Scones
Use a good vegan butter such as Miyoko's in place of the butter and use chilled full-fat coconut milk in place of the cream.
Gluten-Free Egg-Free Scones
Use a flax egg (1 tablespoon ground flax + 3 tablespoons hot water, left to thicken and cool 20 minutes) in place of the egg.
Vegan Gluten-Free Scones
Combine the dairy-free and egg-free variations above!
Paleo Scones
Omit the rice and oat flours, using 1 cup each almond flour and cassava flour. Use coconut milk instead of cream and maple sugar or coconut sugar instead of granulated sugar.
Gluten-Free Strawberry Shortcake
Cut the dough into round biscuits and top with lightly sweetened fruit and whip for almond flour strawberry shortcake.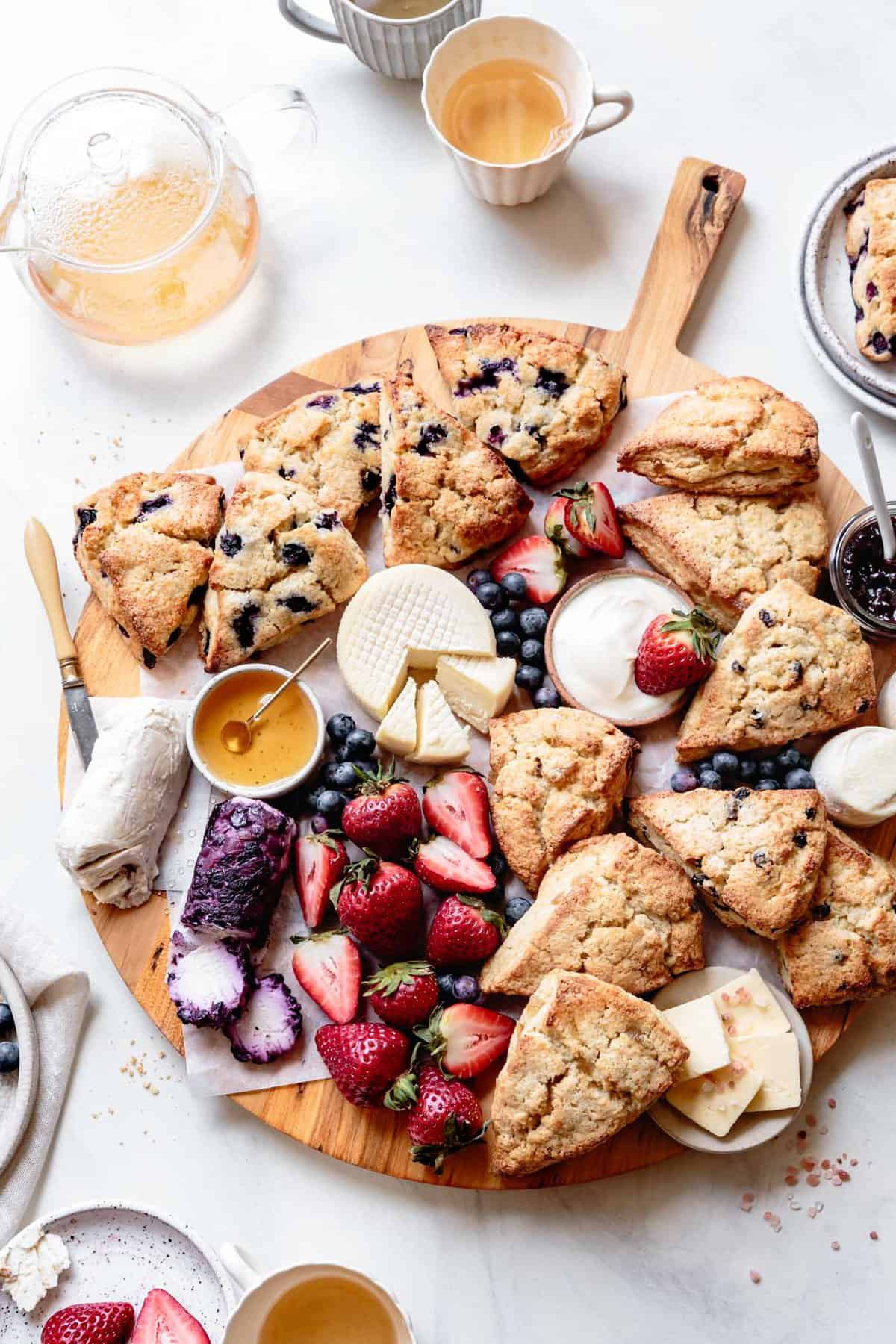 Teatime or Breakfast Cheeseboard with Scones
Scones are delightful for breakfast, brunch, or tea in the afternoon! Make it a party by serving them on a board along with your favorite accompaniments. Here are some of mine:
butter & crème fraîche
fresh and aged chèvre (shown here from Vermont Creamery: blueberry thyme chèvre, strawberry spritz chèvre, Cremont, and Bijou)
honey & jam (especially fond of this strawberry rhubarb chia jam)
fresh seasonal fruit
However you serve these scones, I hope you love them as much I love sharing my recipe!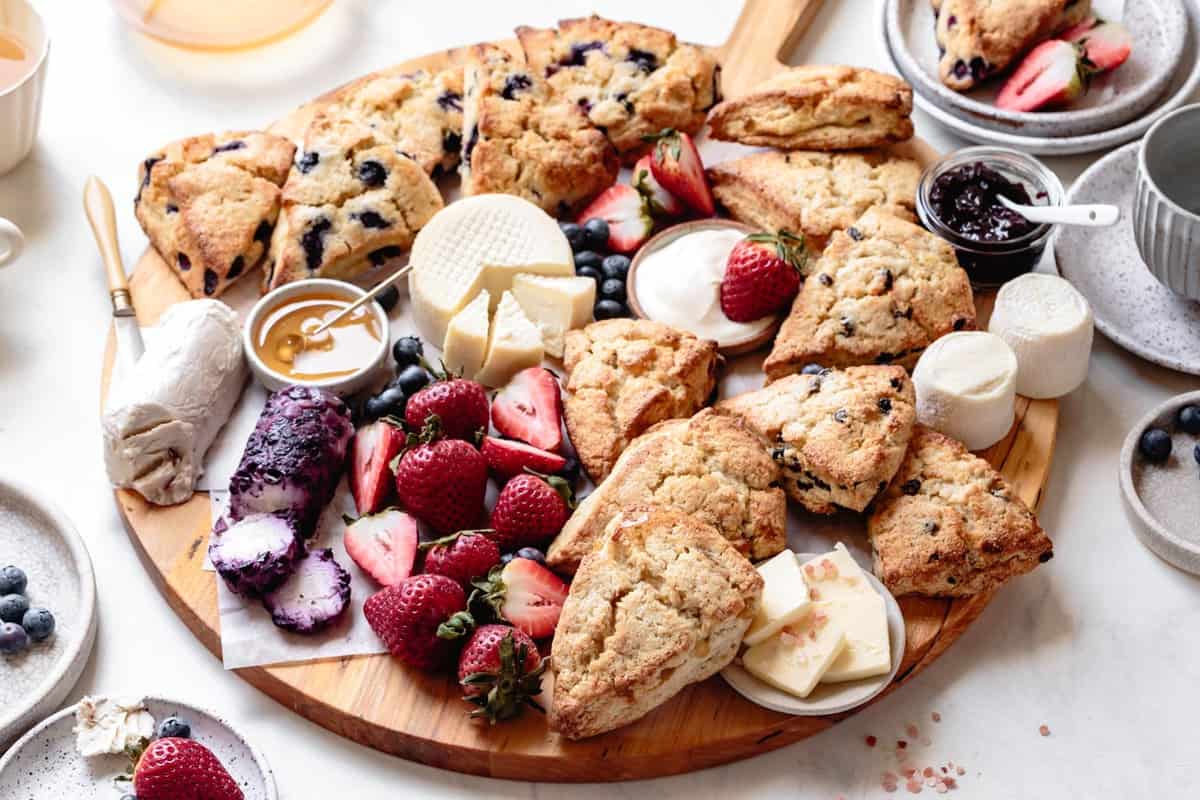 *Bojon appétit! For more Bojon Gourmet in your life, follow along on Instagram, Facebook, or Pinterest, purchase my gluten-free cookbook Alternative Baker, or subscribe to receive new posts via email. And if you make this gluten-free scone recipe, I'd love to know. Leave a comment and rating below, and tag your Instagram snaps @The_Bojon_Gourmet and #bojongourmet.*
Tender Gluten-Free Scones with Almond Flour
Print Recipe
Pin Recipe
Tender, buttery scones made with almond, oat, and sweet rice flours that are undetectably gluten-free. These scones take 20 minutes of active time to make; for best results, chill the dough for 30 minutes before baking.
Mix in juicy blueberries, try the lemon-ginger and orange-currant variations in the notes below, or play around with your favorite flavors and mix-ins!
Ingredients
Dry Ingredients
⅔

cup

(110 g) sweet white rice flour*

⅔

cup

(75 g) blanched almond flour**

⅔

cup

(69 g) GF oat flour***

3

tablespoons

(22 g) tapioca flour****

¼

cup

(50 g) organic granulated sugar*****

2 ½

teaspoons

(7 g) baking powder

½

teaspoon

fine sea salt
Wet Ingredients
6

tablespoons

(90 ml) heavy cream, more as needed

1

large egg

1

teaspoon

GF vanilla extract

1 ¼

cup

(165 g) blueberries (fresh ones look prettier but frozen will work!)
For Serving (optional)
Crème Fraîche, butter, honey, and/or jam
Instructions
Make the Scone Dough
In a large bowl, combine the sweet rice, almond, oat, and tapioca flours with the ¼ cup sugar, baking powder, and salt. Whisk to combine.

Add the butter slices (and citrus zest, if you're using any). Blend with a pastry cutter or your fingertips until the butter is broken down into the size of small peas.

If you're using fresh or dried fruit, toss them in at this time. Pop the flour mixture in the fridge for 10 minutes or longer to cool the butter back down.

Whisk together the 6 tablespoons cream, egg, and vanilla (if using) in a measuring pitcher. Chill until needed.

Remove the flour mixture from the refrigerator. (If you're using frozen fruit, toss it in now.) Gradually add the cream mixture, working with a flexible silicone spatula until the dough holds together when you give it a squeeze. If the dough is too dry, add a few drops of cold cream directly to the floury bits.
Shape the Scones
Gently but firmly press the dough together with your hands and shape it into a rough ball. Place on a piece of beeswax wrap or plastic wrap and form it into a disk that measures 6 inches across and about 1 ¼ inches high. Don't worry about overworking the dough since there isn't any gluten to toughen here!

Wrap and chill the dough disk until firm, at least 30 minutes and up to overnight.
Bake the scones
When ready to bake, position a rack in the uppermost spot of your oven and preheat to 425ºF. Stack a rimmed baking sheet atop a second rimmed baking sheet and line with parchment paper. This will all keep the scones' bottoms from over-browning.

Remove the dough round from the refrigerator, unwrap and place on a cutting board dusted lightly with oat flour. Brush the top of the scone with a little cream and sprinkle lightly with sugar. Use a large, sharp chef's knife to cut the scone into 8 wedges and place the wedges on the prepared baking sheet, spaced well apart.

Bake the scones until golden on top and cooked through, 20–25 minutes, rotating the pan after 15 minutes to brown them evenly.

Remove from the oven and transfer the scones to a wire rack. Let cool until warm, 10-20 minutes; they are still baking from residual heat. Serve warm or at room temperature.
Notes
I use Bob's Red Mill flours for these scones. See below for substitution suggestions for the individual flours. If you prefer, you can use any all-purpose gluten-free flour blend in place of some or all of the flours by weight.
*Sweet rice: Can sub by weight GF all-purpose flour such as Bob's Red Mill or cassava flour
**Blanched almond: Can sub by weight almond meal, hazelnut flour, or millet, sorghum, or tiger nut flour for nut-free
***Oat: Can sub by weight buckwheat, teff, or chestnut flour
****Tapioca: Can sub by weight arrowroot or corn starch
*****Sugar: Can sub

¼ cup + 1 tablespoon (50 g) maple sugar or coconut sugar
Do-Ahead: The scone dough can be made up to 1 day ahead and shaped, wrapped, and chilled until needed. Or freeze the dough round for longer storage and bake from frozen, increasing the bake time as needed.
Reheating scones: Scones are the most sublime fresh from the oven with crispy edges and plushy warm middles. But leftover scones keep beautifully in an airtight container in the fridge (for up to 4 days) or freezer (for longer). To reheat, place scones in an oven or toaster oven at 350ºF for 10 minutes (longer for frozen scones) until lightly crisped on the outside and heated through. They'll taste just like fresh-baked!
Variations
Gluten-Free Lemon Ginger Scones: omit the vanilla and blueberries. Add ½ cup / 75g finely chopped candied ginger + zest of 1 large lemon.
Gluten-Free Orange Currant Scones: add ⅓ cup / 50g currants plumped in 2 tablespoons hot water for 10 minutes, then drained + zest of 1 large orange.
Extra-Buttery Scones: Butter lovers can make this recipe with 8 tablespoons of butter. Note that these tend to flatten out and spread more in the oven, but they taste extra delicious!
Dairy-Free Gluten-Free Scones: Use a good vegan butter such as Miyoko's in place of the butter and use chilled full-fat coconut milk in place of the cream.
Egg-Free Gluten-Free Scones: Use a flax egg (1 tablespoon ground flax + 3 tablespoons hot water, left to thicken and cool 20 minutes) in place of the egg.
Vegan Gluten-Free Scones: Combine the dairy-free and egg-free variations above!
Paleo Scones: (I haven't tested this yet, so proceed at your own risk!) Omit the sweet rice and oat flours, using 1 cup each cassava and almond flours, plus the tapioca flour. Use coconut sugar or maple sugar in place of granulated. Use chilled full-fat coconut milk or cream instead of heavy cream.
Stollen Scones: (From a reader comment that sounds amazing!) Add ~1/2 teaspoon each cinnamon, cardamom, and nutmeg to the dry ingredients. After working in the butter, toss in ~1/3 cup chopped candied citrus peel and ~1/3 cup currants soaked in a few tablespoons rum or brandy. Add in some marzipan crumbles too if you like!